A while ago I was contacted by the people behind Modern Map Art, asking if I'd like to receive and review one of their custom star maps. I nearly missed their emails due to travelling but we got there in the end. So, today I'm going to share with you my Custom Star Map from Modern Map Art Review and tell you what I thought of it.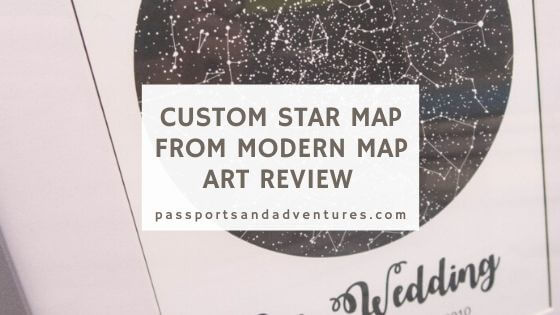 Modern Map Art is a company that was started in 2016 after its founder, Jennifer, returned from honeymoon having travelled the world and gaining an appreciation for different cities she had visited.
Modern Map Art offers, among other things, customisable star maps. And this is what I received for review. The Custom Star Map from Modern Map Art is a way of commemorating or capturing the night sky from a moment in time. Whether it is a wedding, a birth, a special place from a honeymoon, whatever the occasion, a custom star map can show you the night sky from that exact location and time.
Creating your custom star map is very easy. There are a range of options to choose from and each time you change something the preview on the creation page changes too. So, you can check each change as you go along. You can choose from a poster, framed poster or canvas in 5 different sizes. There are 6 different colour combinations for your print and you can customise your title and message in 6 different fonts. So there really is something for everyone.
I chose an 8×10 poster as we don't have a lot of space in our current home as many of you know. We are living in a small two-bedroom holiday home while we save for our ideal home in the sun. So, a larger poster wasn't really going to fit anywhere. I also went for a small print so that it can be part of a family photograph wall in our new home, hopefully sometime next year.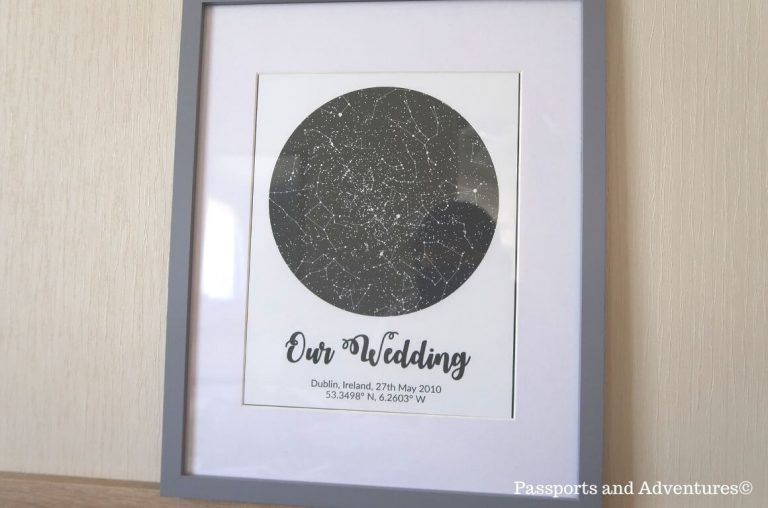 Eventually, I chose a white/grey colour scheme as I like fresh, modern interiors and decorations and know quite a lot of our framed family photos (currently in storage) are in white or grey frames. I chose to commemorate the night sky on the night my husband and I got married as we had some pictures taken outside while lighting lanterns to celebrate it being Buddha's day as well (although I would rethink the lanterns now having become better educated about the dangers of them). Having made my final choice and passing it onto Modern Art Map, I sat back and waited for my print to arrive.
And I didn't have to wait long. When it arrived I was quite happy with it overall. The October Twilight font I chose for our title is lovely. I also managed to find a grey wooden frame to put it into, which I think does it justice.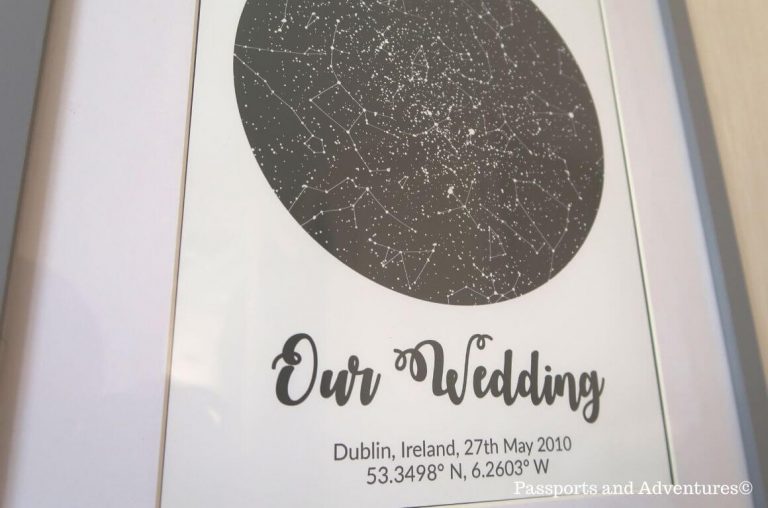 There was just one thing about my print that left me feeling slightly disappointed. The star map looks nice from afar but up close it almost looks blurry. I'm not sure if this is the way it's meant to look as it's the night sky, so we see the stars as small dots and up close they might look blurry. It could be the colour scheme or the size I chose, but it looks a bit messy if I'm honest. My husband did pass comment about the print quality of the map too.
Other than this, I think the Custom Star Map from Modern Map Art is a lovely idea and would make a lovely gift for a loved one or for a couple to commemorate a special date such as a wedding or birth of a child.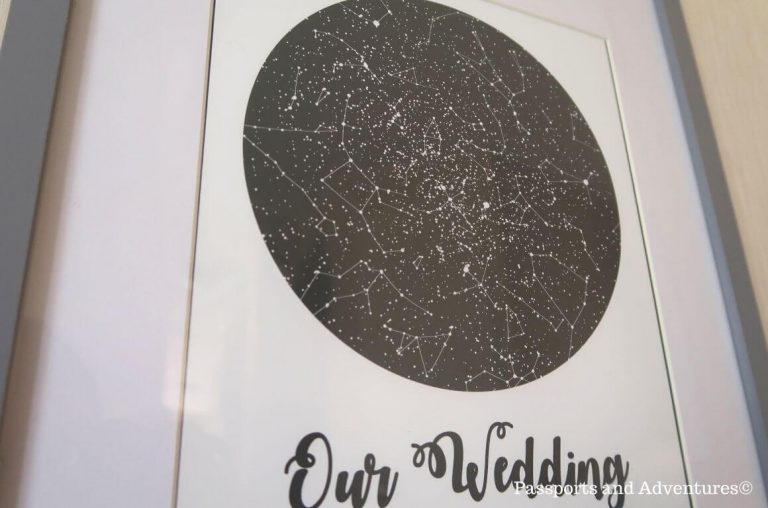 What I loved about the Custom Star Map from Modern Map Art
Great range of options to make it truly personal.
Five different sizes to chose from and 3 different print options.
Six colour scheme combinations with six different font options for both the Title and Message.
Over 500 cities currently available. If your chosen one is not available, Modern Map Art will work with you on the city you want.
A lovely customisable gift starting from just $29.99.
What I didn't like about the Custom Star Map from Modern Map Art
Print quality of the star map appears a bit blurry on mine, particularly when viewed up close.
The Custom Star Map from Modern Map Art is a lovely idea for a gift to encapsulate the night sky from a special moment in time. I haven't come across a gift such as this, which means it is truly unique. The fact you can personalise the map with a range of options means the map you create will be special. And I think a recipient of one would be delighted to receive one.
If you'd like to find out more about a Custom Star Map from Modern Map Art, please check out their website.
Cath x
*I received a Custom Star Map from Modern Map Art for the purpose of this review. However, as always, these are my own honest thoughts about the product.