A little while ago the lovely people behind My Nametags got in touch to see if we'd like to review some of their stick-on or iron-on nametags in relation to our next trip. I jumped at the chance as I believe they'll give us travelling peace of mind when it comes to our son's belongings. So here is our My Nametags Review.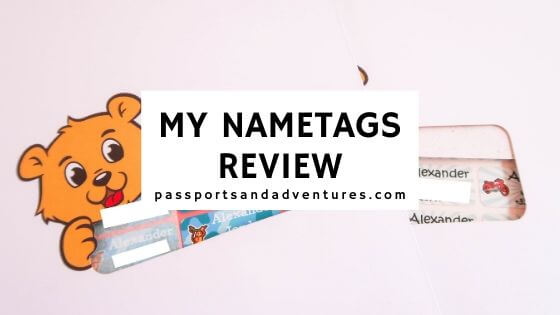 My Nametags are a company I've come across before. I had seen their products before when we were in the UK, but once we left the UK for our new life in Portugal they slipped my mind until their email popped into my inbox inviting us to try their stick-on or iron-on labels.
I've only recently begun to think about labelling our son's belongings. He is in preschool here in Portugal, and while his belongings are safe, you just never know when something will be misplaced. One thing that does worry me is misplacing something of his while we are travelling. So far, we've been lucky to always remember everything but at times I have to make a separate checklist to ensure I pack all his important belongings at the end of a trip.
Enter My Nametags. My Nametags have a range of name tags for kids' belongings, including stick on name tags and iron on name tags. Whether you want name labels for clothes or for personal belongings, My Nametags have you covered.
It's also very easy to create your own custom name tags on the website. The design process is very easy and simple to follow.
Choose the type of name tag you want – either sticker or iron-on.
Decide whether you want colour or black and white labels, or a mixture of black and white sticker AND iron-on labels.
Follow the design process, entering your desired text and choosing your design and background (for colour name tags).
Once you are happy with your design, simply add to basket and you're ready to checkout.
It really couldn't be easier.
Once I had sent my designs for both a set of colour stickers and a set of iron-on labels, I was surprised to learn that My Nametags now has a Portuguese website too. I wasn't expecting that. Within a week, our personalised name tags had arrived, and we were ready to get labelling.
I chose a motorbike design for the stick-on name tags and included our son's name and my mobile number. I thought it would be a good idea to include this in case any of his things got lost while we were travelling. By including my mobile number, if the item was lost and subsequently found, we could be contacted easily.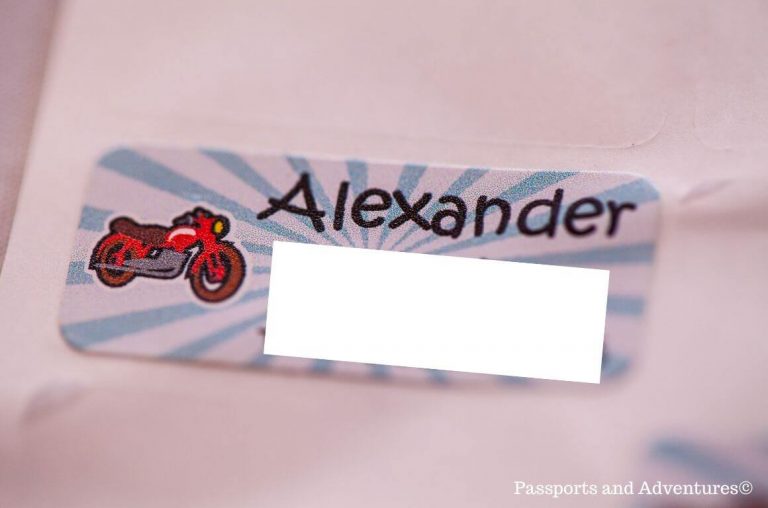 For the iron-on labels I chose a monkey design, as he is still a Curious George fan. Again, I put his name and my mobile number on the label.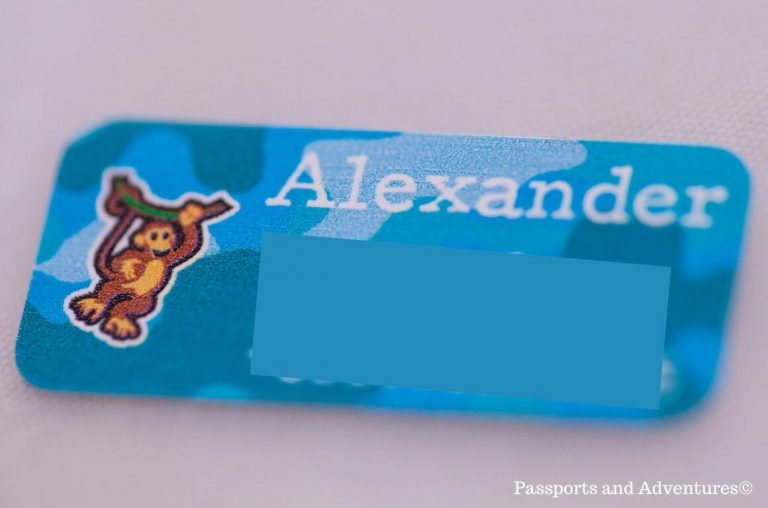 And then it was time to get labelling. I've used the name tag stickers to label things we regularly bring with us when we are travelling like our son's tablet and earphones, and some of his drinks bottles and snacks containers. I also used some of the iron-on name tags on his hoodies and jackets he wears into preschool.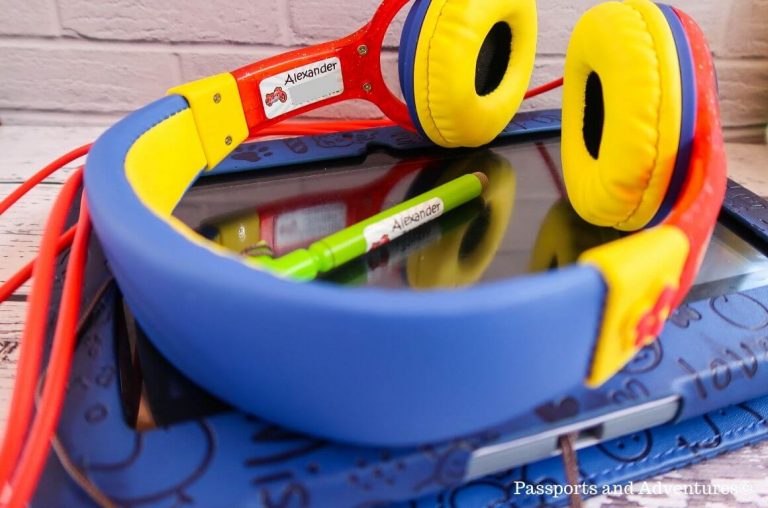 The sticker name tags are brilliant and stay in place, even after washing the bottle and container. They are vibrant, and the text is easily readable. I am really happy with these.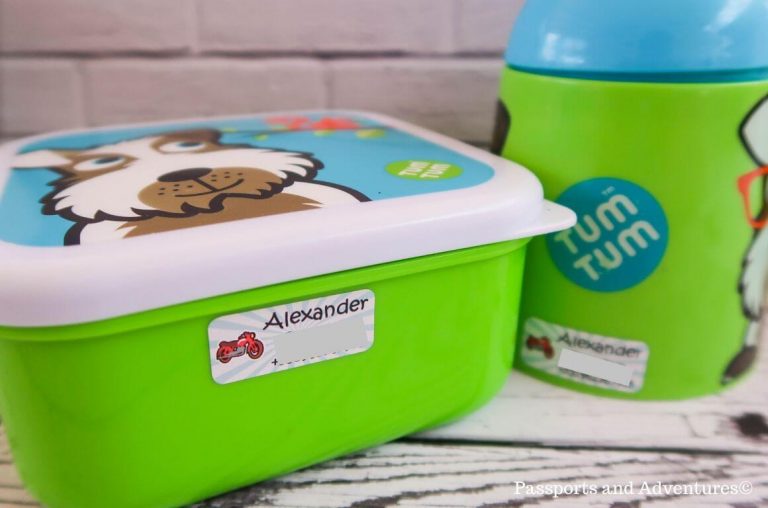 However, I have to report that the iron-on labels did not stay put after washing the clothing. This could have been due to my application of the label as I don't have an ironing board, or it could have been down to the material I was sticking to. I will be trying the labels again on other items of clothing but for now the sticker labels are the ones I'm most happy with and would recommend in a heartbeat.
What I loved about the My Nametags personalised name tags
There is so much choice within the design process from the text font, to the design and the background for colour stickers. You are bound to find something to suit your little ones.
The design process on the website is very easy to follow.
The stick-on name tags are easy to apply and stay put, even after washing.
My Nametag stick-on labels can be used on a range of items and surfaces including clothes, shoes and equipment.
The stick-on name tags are waterproof and durable and are suitable for use in dishwashers, microwaves and even sterilisers.
If you are not sure what design to choose, the website can recommend some to you.
What I didn't like about the My Nametags personalised name tags
The iron-on labels did not stay put on the clothing after washing. As mentioned this may have been down to my application of them, or the material of the clothing I was applying them to. I will try again with different clothing and report back.
Overall, I am very happy with the My Nametags stick-on labels which we received for review. They are easy to use, apply and are very durable. 56 colour stickers cost just £11.95 plus £1.00 P&P, which for travelling peace of mind, is a small price to pay. By adding my telephone number, we can rest assured that, should anything of our sons' get misplaced or left behind on our trips, there is a way of someone contacting us should they find his belongings.
If you are looking for some custom name tags, either for going back to school, or to get some peace of mind while travelling, then I highly recommend the My Nametags stick-on labels.
Cath x
*We received one set of colour stick-on and one set of colour iron-on My Nametag labels for the purpose of this review. However, as always, these are my own honest thoughts and opinions of the product.