During our recent trip to Lapland, we were arriving into Helsinki at 5am local time and had over 12 hours before our overnight train to Rovaniemi. After some searching and contacting local hotels, we were booked into the Clarion Hotel Helsinki Airport. This is our review of our comfortable layover at the Clarion Hotel Helsinki Airport.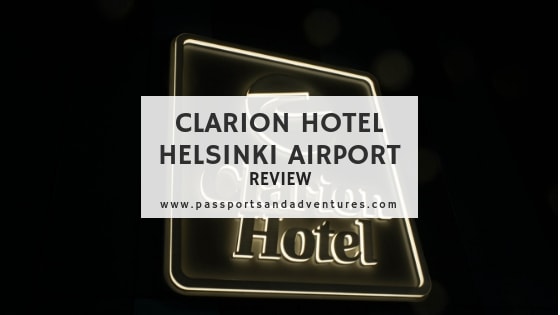 *This post contains affiliate links. This means that should you make a purchase after clicking through the link, I will receive a small commission at no extra cost to you. To read more about affiliate links, please visit my Disclosure Policy page.
As mentioned already, we had an overnight flight from Lisbon to Helsinki for our trip to visit Santa in Lapland and were arriving locally at 5am. However, our overnight train from Helsinki to Rovaniemi was not due to depart until 11pm. We had over 12 hours to kill and I knew we would all be exhausted from our flight as we never sleep well on planes.
So, some months before our trip I started to look into the option of a day room at a hotel near the airport. If you've not heard of day rooms, they are rooms that are available during the day, typically from around 9am until 6pm. They negate the need for travellers to book a hotel room for two nights, therefore saving you some money. Not all hotels do them, but you can be lucky to find one or two at a destination or layover city.
I had contacted a few hotels asking if they could accommodate our very early arrival and either allow us a late checkout or if they had a day room option which we could avail of as early as 6am. The Clarion Hotel Helsinki Airport responded favourably to my request and we were booked into a standard room and the hotel arranged for us to have a late checkout at 6pm rather than their normal 12pm. To say I was relieved would be an understatement.
Review of the Clarion Hotel Helsinki Airport – Our Stay
We arrived into Helsinki Airport just before 5am local time after a 6-hour flight from Lisbon and made our way to the Clarion via a taxi which cost us around €10. We were greeted at reception by Riku who checked us in very quickly. We had prepaid via a credit card authorisation form exchanged via email with the in-house sales team, so we just needed to give our details and get our keys to our room.
Riku was extremely welcoming and friendly, explaining where our room was, the hours of opening for the sauna and gym if we wanted to use them. He also informed us that the early breakfast had just opened, and we were free to avail of it, or the normal breakfast which was open between 7am and 11am. He also said we could avail of both if we liked, and they were included in the price of our room.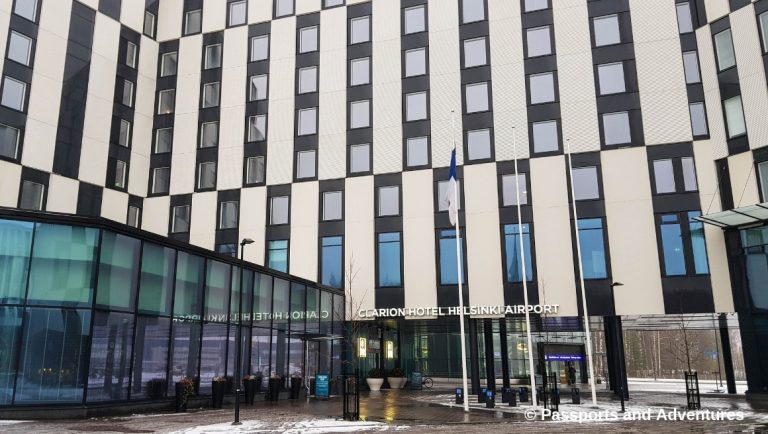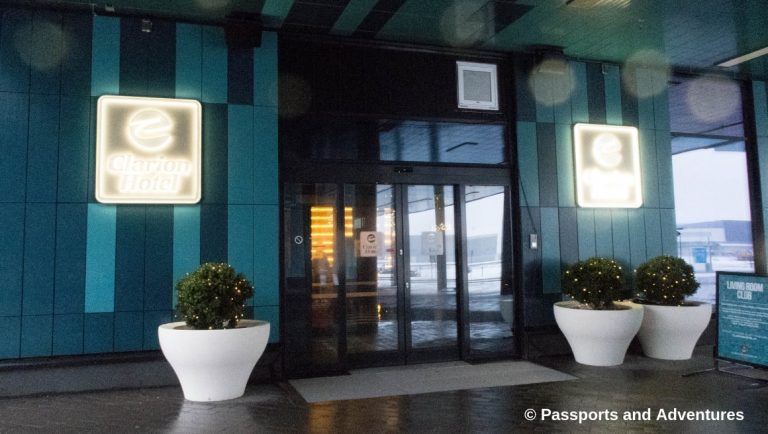 As we had arrived so early after a night flight, he was happy for us to fill out the details forms later but I did it just to get it out of the way. His friendly smile and demeanour were exactly what was needed at that early hour after our overnight flight and he couldn't have been more welcoming and helpful. He even sneaked a gingerbread cookie to our son, which were free from the reception desk. They were delicious too.
After finishing up at reception we made our way to our room on the fifth floor. Our double room was big and comfortable with both a huge double bed and a smaller single bed made up for our son. The room was warm, a must after leaving a temperature of 22°C in Portugal and arriving to below 0 in Helsinki Vantaa Airport. We got into our pj's and settled into bed, soon to be in the land of nod. I was surprised how quickly all of us dozed off and it was all down to the really comfortable beds.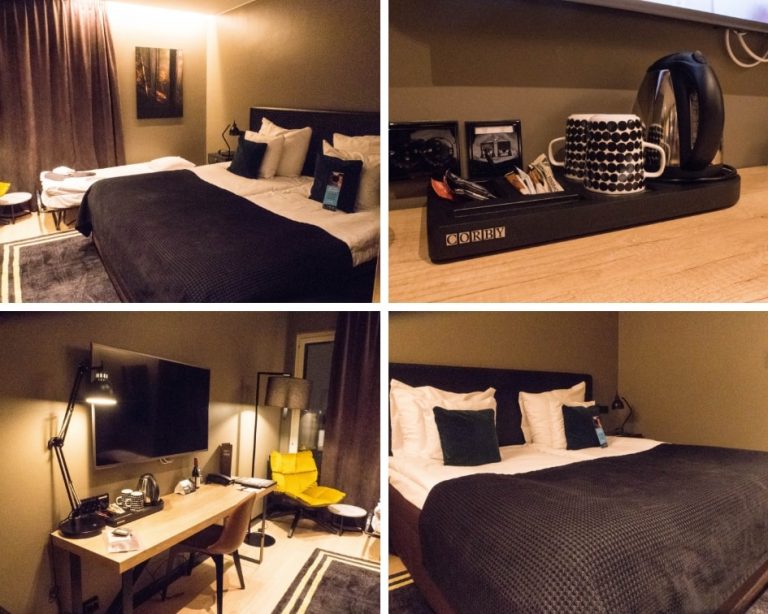 Unfortunately, we totally missed breakfast, having slept for nearly 6 hours. So, I cannot report on the food, only to say that the breakfast hours at the weekends are quite generous from 7am to 11am, with a smaller continental breakfast available from 5am for anyone rising early or heading to the airport for an early departure.
We intended to eat lunch in the restaurant but unfortunately it was closed, as they only serve lunch from Monday to Friday in the restaurant. The lady behind reception kindly informed me that there was a shopping centre nearby where food outlets were located. It was about a 20-minute walk or short 5-minute ride in a taxi. We elected to get a taxi as it was lightly snowing outside, and 20 minutes is just a bit too long of a walk in the cold with a four-year-old. It cost us €15 to get to the Jumbo shopping centre where we found an array of food outlets to choose from. Getting a taxi back to the hotel was also very easy.
Just before 6pm we checked out and the hotel called us a taxi to take us to Helsinki Central Station, so we could stow our bags for a few hours before catching our train to Rovaniemi. Our stay at the Clarion Hotel Helsinki Airport was extremely comfortable and just what we needed in order to rest our weary bones after our early arrival into the airport.
And we weren't finished with the hotel just yet. While trying to find out if our train was departing on time or not, we received a phone call from the hotel informing us that we'd left our passports in the safe in our room. How I did that I have no idea. And as we discovered our train departure time had been moved forward by nearly 4 hours, we were suddenly in a rush to board a different train. The hotel kindly kept our passports in their safe until we returned to Helsinki a few days later to collect them. Note to self, remember to check the safe before leaving a hotel room in future!
To check rates and availability for the Clarion Hotel Helsinki Airport CLICK HERE.
Or
CLICK HERE to search all hotels in Helsinki.
Review of the Clarion Hotel Helsinki Airport – Our Thoughts
The Clarion Hotel at Helsinki Vantaa Airport was the perfect place to catch some much-needed sleep after an overnight flight. All the staff were extremely helpful, friendly and very welcoming. Nothing was too much trouble and they always greeted us with a smile. And the gingerbread biscuits at reception were a lovely bonus, especially to a certain four-year-old.
The hotel, although it does not have a dedicated shuttle bus, does have a shuttle partnership with the Airport Taxi/Yellowline. The shuttle is available as follows: Mon-Sat 07:00 – 01:30 and Sun 08:00 – 01:30. This will cost you €5 per person each way and can be either added to your bill or paid at reception.
At the Airport, go to Airport Taxi / Yellowline service desks at Terminal 1 and 2A arrival halls where a shuttle can be ordered for you. On Departure from the hotel you can order the return shuttle from reception.
The hotel is very well decorated, modern and with a range of facilities to make your stay both a comfortable and relaxing stay. There are 258 rooms from standard double rooms to deluxe rooms and even junior suites, catering for guests from solo travellers to families, who can have interconnecting rooms. All rooms are air conditioned and ours was lovely and warm for us. There is a sauna and gym available for guests, as well as a restaurant and bar. In the lobby you'll find comfortable chairs with blankets to relax on and there are also kids toys available to play with in the lobby. I was particularly impressed by these. And there is free Wi-Fi throughout the hotel.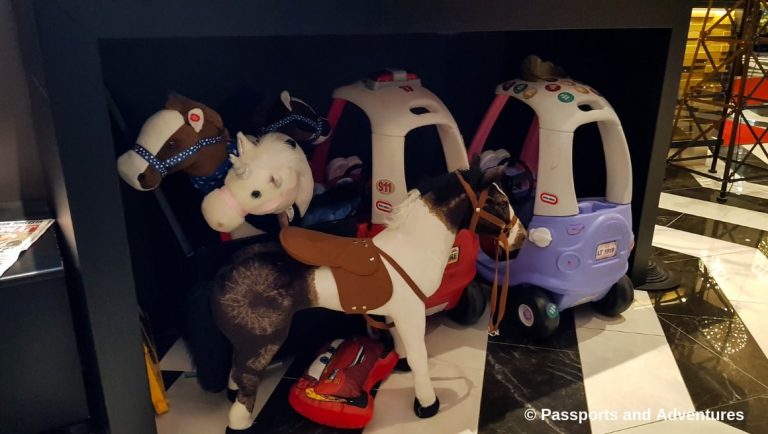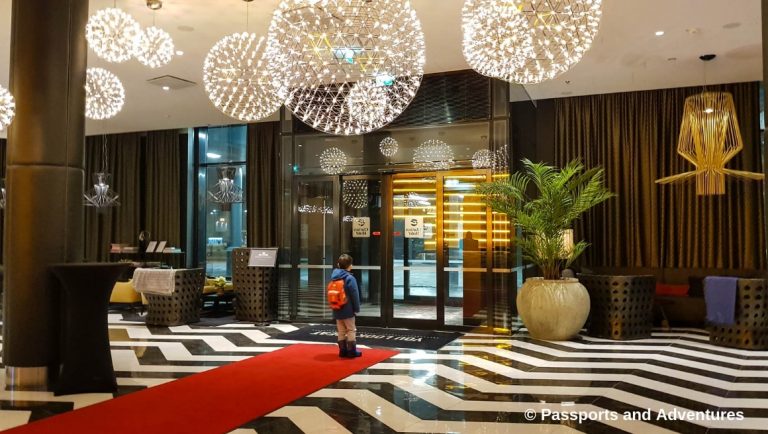 Our double room was spacious and comfortable, and the bathroom was lovely with Rituals bath products available for use. I've just received some Rituals products for Christmas and they are heavenly. The beds are very comfortable, the duvets were great, and both sent us off to sleep almost immediately, even our son who I was worried wouldn't sleep at all.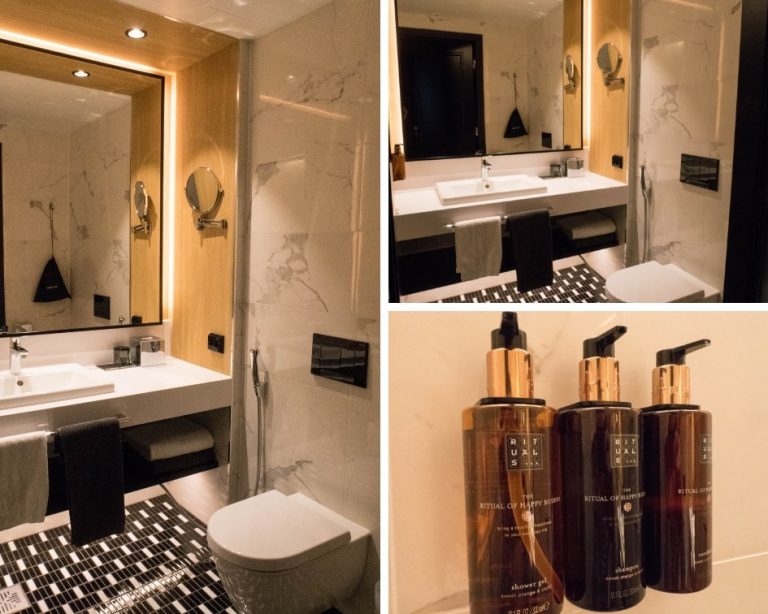 My husband travels a lot for work, staying in hotels for up to two weeks at a time and to say he was impressed by the Clarion would be putting it lightly. Two things made this hotel stand out for him by a mile. He really liked the large water glasses in the bathroom to enjoy a drink of water from the tap, which was like it had come directly from a mountain spring. And the second thing, the proper sized mugs in the room for tea/coffee. Time and time again he is faced with tiny cups which are no good to man nor beast. But the Clarion Hotel provide mugs which give you a decent cup of tea. So, this hotel gets a big thumbs up from my husband.
If you don't want to eat in the hotel, or if the restaurant is closed, the nearby Jumbo Shopping Centre has plenty of eateries to offer alongside a supermarket, lots of shops and pharmacies. A taxi there costs approximately €15 and reception can call you one.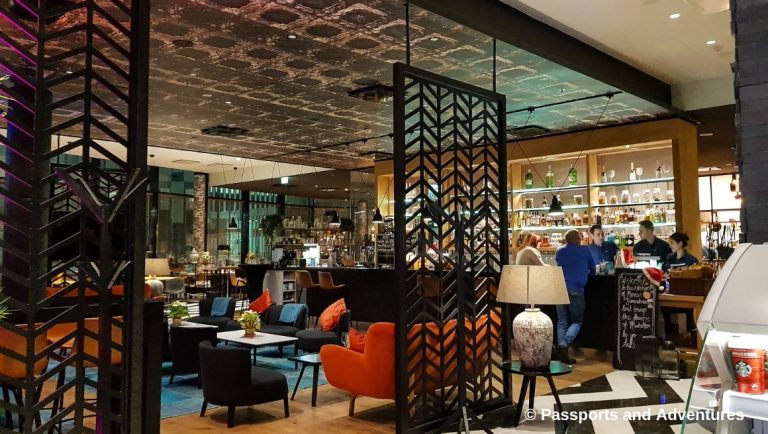 The hotel is also located right beside the Aviapolis station which has a direct train connection with both the airport (2-minute ride) and Helsinki Central Station (30-minute ride). Local buses also stop outside the hotel and there is ample parking if you happen to have a car.
And if you happen to leave anything behind, such as your passports in the room safe like we did, the hotel can store them safely for you until you can return to collect them.
What we loved about the Clarion Hotel Helsinki Airport
Modern, well-decorated hotel.
Extremely friendly and welcoming staff.
Very family-friendly, with toys and a soccer table available in the lobby.
Located beside the Aviapolis train station with direct access to both the airport and Helsinki city.
Room are clean, modern and comfortable.
The beds were very comfortable and sent us straight off to sleep after our overnight flight.
Large mugs in the rooms for tea/coffee and large glasses in the bathrooms – a big thumbs up from Mr Passports who stays in hotels on a regular basis when travelling for work.
Hotel was able to accommodate us with a late checkout.
More great facilities such as a gym and sauna.
What we didn't like about the Clarion Hotel Helsinki Airport
Nothing, except it would have been nice to have been able to have lunch in the hotel at the weekend.
We were so thankful the Clarion Hotel Helsinki Airport could accommodate us with a late check-out so that we were refreshed after our overnight flight from Lisbon and before getting our overnight train to Rovaniemi. The hotel is a lovely hotel, with great facilities and staff to match and if we were ever in Helsinki again, or doing another layover, I'd definitely be booking this hotel again. We cannot fault it in any way and wholeheartedly recommend it to anyone looking for a hotel near Helsinki Airport or for somewhere to lay your head before getting an overnight train to Lapland.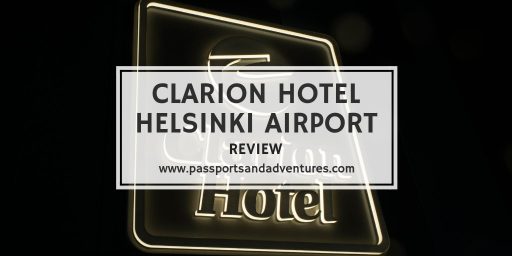 For further details or to check availability, please check out the Clarion Helsinki Airport Hotel website, or their Finnish website. Or if you are seeking a hotel within the city, there is a Clarion Helsinki hotel located in the city as well.
For prices and availability of the Clarion Hotel in Helsinki City Centre, CLICK HERE.
Cath x
*We paid for the hotel room ourselves. We were not asked to write this review. We contacted the hotel only to check if they could accommodate our very early morning arrival and a late checkout. All opinions expressed here are our own honest thoughts about the hotel and its staff.