If you had told me at the start of 2018 that we would have been preparing to visit Santa in Lapland in December, I'd have told you that you were dreaming. However, that's exactly what we were in the throes of come February of that year. And I'm going to tell you the most affordable way to visit Santa in Lapland on a budget with kids. I'm also going to tell you how we bagged a 10-day trip for less than a 1-night trip to Lapland. Interested?
*This post contains affiliate links. To learn more about affiliate links, please read my Disclosure Policy.
POST UPDATED JAN 2020
Taking your children on this fantastical trip to Lapland to see Santa, particularly in December on the run up to Christmas, is the sort of trip parents dream about. They imagine the delight on their children's faces when they come face-to-face with the big man himself in his actual home, Santa's Lapland. It has always been considered the trip-of-a-lifetime, a bucket list destination, one that is usually out of reach for many people.
There are lots of holiday agencies that cater for parents who wish to take their children to see Father Christmas in Lapland, and who can afford it. But the cost of some of those Lapland package holidays put many people off. These are by no means cheap Lapland holidays. Sometimes the cost of a trip to Lapland is utterly eye-watering.
How much does it cost to go to Lapland to see Father Christmas?
There are several options when it comes to going to Finnish Lapland to visit Santa from the UK. There are travel agencies who offer a one day trip to Lapland, Finland, and families often find this is the cheapest way to visit Lapland. But for a family of three, like us, this still costs a pretty penny at an average of £1300 for December. For a Lapland day trip! Cheap Lapland day trips just don't exist.
And to avail of this option, you'll be facing a 6am-ish flight from Gatwick and returning to Gatwick around midnight. I don't know about you but that is not the sort of trip I could face with a young child. Certainly not for that price. Plus, you'll most likely need to add an overnight stay in an airport hotel both before and after your trip. For a family of four, that cost goes up to around £1740, depending on the travel agency you book with. So, Santa day trips and their worth are something to really think about before you book a holiday to Lapland.
So, what's your next option? Well, you could choose to do a 2 day trip to Lapland which would include a one night stay. Again, you'd probably be facing an early morning flight, and returning the following afternoon or evening. I looked into the cost of this for a family of three and the two quotes I got back for these Lapland packages were between £1797 and £2866*, depending on your departure airport and hotel accommodation. For a family of four that increased to between £2316 and £3176. I suspect you could buy a few Christmas puds and mince pies for that money! Cheap trips to Lapland these are not.
And Lapland 2 night breaks were coming in at between £2257 to £3052 for a family of three, a family of four would be facing costs of between £2436 to £3436, again depending on your departure airport and hotel accommodation. So, you can see how these prices could be a bit of a shock for such short Lapland family holidays. Many families wouldn't spend that much on a summer one or two-week holiday in the sun. So, why should Lapland holidays cost more than your summer one? Seems unfair, no?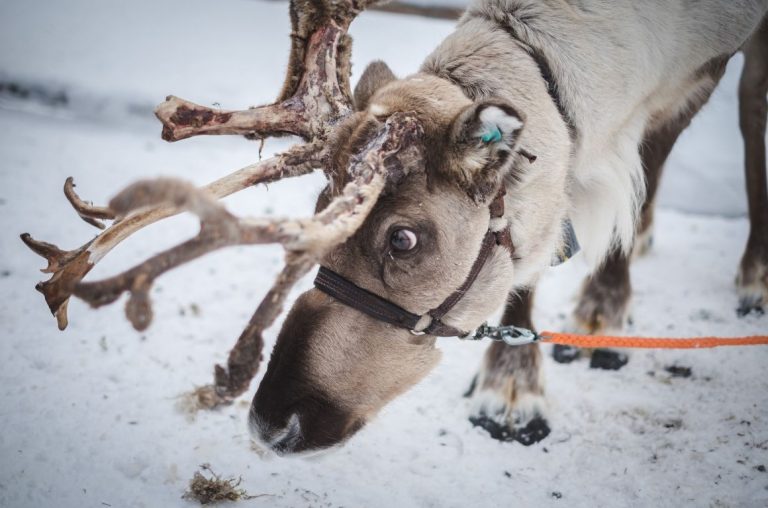 Photo by Jérémy Stenuit on Unsplash
Now, what if I told you that you could meet Santa in Lapland for 4 nights, and visit the Finnish capital of Helsinki for 3 nights and still not spend as much as a 1 night trip to Lapland package holiday? Would you believe me? Are you thinking there is a catch?
Let me tell you, yes you can and no, there's no catch.
My sister-in-law managed to visit Santa in Lapland on a budget two years ago and she has been the inspiration for us, and many others, to finally be able to make this trip-of-a-lifetime in a more affordable way.
So, how can you visit Lapland in an affordable way? By booking everything yourself and doing your Lapland trip DIY style. It may seem like a daunting prospect but it's actually rather easy, you just need to be a bit savvy. And I'm going to share with you how we've done it and how much it's cost us. I hope this will help you DIY Lapland and prove to you that Lapland holidays on a budget CAN be done and help you find the cheapest way to do Lapland.
The most affordable way to visit Santa in Lapland – Lapland on a budget with kids
The cheapest way to go to Lapland is to avoid those package holidays at all cost. DIY Lapland holidays involve booking your flights and accommodation yourself helping you to save a pretty penny. This is how we visited Santa in Lapland on a budget.
Flights
As we are now living in the Algarve in Portugal, we flew with TAP, Air Portugal, from Faro to Helsinki via Lisbon. There was no direct flight for us or other cheap flights to Lapland, so we had a transfer in Lisbon before travelling on to Helsinki. The cheapest flights we found involved a 45-minute transfer on the way out and a one-hour transfer on the way back. When you're travelling with a four-year-old, that is very, very tight.
So, the next price up gave us four hours for our transfers each way, which was much more doable, considering TAP are notorious for being late or delayed. The base cost of our flights was €524 (£468, exchange rate at the time of writing this post). However, as our flight to Helsinki was an overnight flight, we booked extra leg room seats so that hubby could try and be comfortable enough to catch some sleep. So, the total cost of our flights was €693 (£619).
To find flights, availability and latest prices for flights to Rovaniemi (Lapland) or Helsinki, check out Skyscanner.
Overnight Train – Polar Express
We were due to arrive into Helsinki early in the morning and would be leaving later that night on an overnight train with VR to Rovaniemi, dubbed the "Polar Express", arriving early the next morning.
We booked a two-berth cabin which cost us €196 for a return trip (£176, exchange rate at the time of writing this post). This would be the same price for a family of four with two children sharing their parents' berths.
At the time of booking our train tickets the online payment system kept timing out on me. The Christmas timetables and tickets had just been released so there was probably a lot of people trying to book tickets at the same time.
So, to make sure I could avail of the Saver Berth prices of €49 per adult each way, I rang the customer services line for the online shop (+358 800 166888), choosing option 3 for English, and spoke to a very nice lady who did the booking for me over the phone. She also sorted out the additional ticket for our son, which was free of charge.
What do I mean by free? Children under 10 can travel free in the same berth as a full-paying adult provided they are sharing the berth. So, if you are booking online, don't book a ticket for your children (one child per full paying adult). Instead call the VR Customer Services and they will add your children to your ticket. If you book online, you'll be paying more than you need to for under 10's. There is breakfast of porridge included but my sister-in-law reliably informed us it's not the nicest, so our plan was to stock up before we left Helsinki.
VR Customer Services number is 00358 203 32033 and they have English speaking operators.
Accommodation in Rovaniemi
While there are numerous hotels in Rovaniemi, including one at the Santa Claus Village Rovaniemi, we opted instead for an AirBnB. Not only did we get a one-bedroom apartment, but we got the flexibility of being able to cook for ourselves as Scandinavia is not known to be the cheapest for eating out or eating in hotels. With a one-bedroom apartment, we had the option of putting our son to bed and relaxing for the evening after what I was sure was going to be very busy days taking in all of the amazing things to do in Lapland with kids in tow.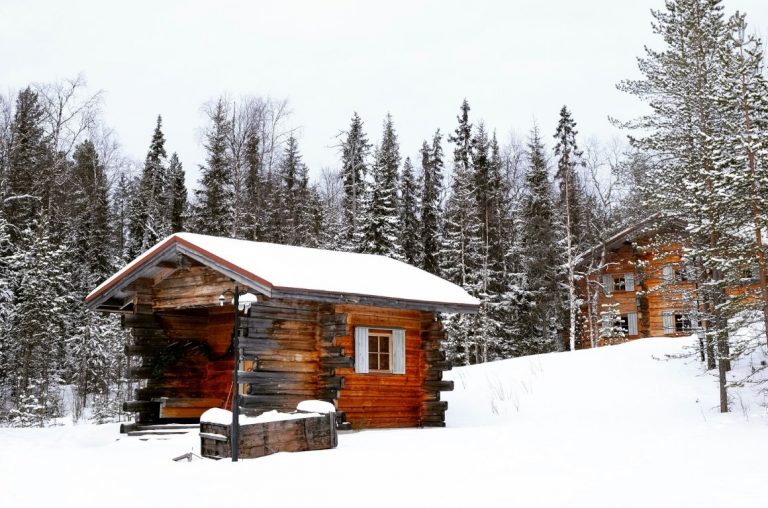 Photo by Rucksack Magazine on Unsplash
I managed to book a centrally located AirBnB in Rovaniemi for four nights which cost us £477. Our host and I had some messages back and forth, and she was very accommodating and helpful. I also discovered that the apartment was conveniently located within walking distance to some of the museums in the city, an Angry Birds Theme park and that there were regular buses to Santa Village and Santa Park from near our accommodation. There was also a large supermarket across the road, so we could buy food for breakfasts and dinners.
Accommodation in Helsinki
Again, I booked an AirBnB in Helsinki within walking distance to the central train station where we would be arriving after Lapland. Public transport in Helsinki is brilliant so getting around wasn't going to be a problem. We were staying in Helsinki for three nights, again in a one-bedroom apartment and this cost us £341. We planned to buy food for breakfast and dinner and possibly eat out for lunch.
If you haven't signed up to AirBnB, use this link to sign up and get money off your first booking and stay.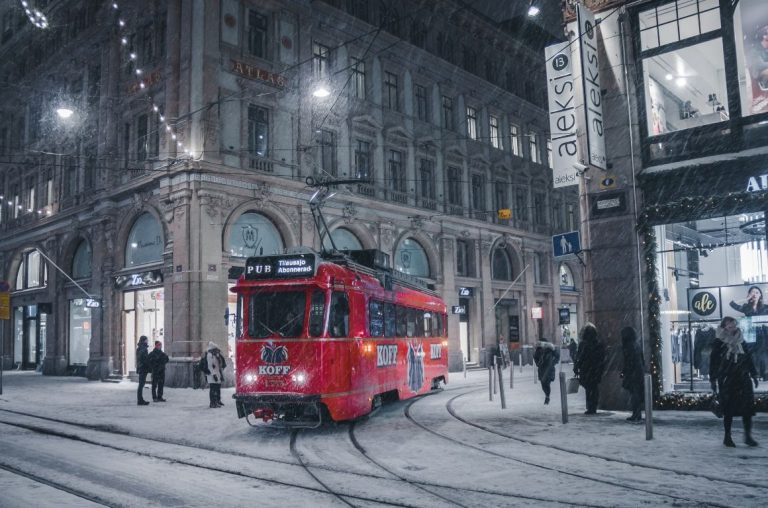 Photo by Alexandr Bormotin on Unsplash
Lapland Cost – Cost of our trip for accommodation and getting to Lapland
Flights from Faro to Helsinki (via Lisbon, with bags and extra leg room): £619

Overnight train return trip from Helsinki to Rovaniemi: £176

4 nights AirBnB in Rovaniemi: £477

3 nights AirBnB in Helsinki: £341

Total spend for flights, train and accommodation: £1613
So, as you can see, although we were spending more than we would have if we were visiting Lapland for the day, we were still under budget for a 1-night or 2-night package trip and we were getting much more out of the trip.
Considerations when doing Lapland DIY
One thing to consider when arranging a DIY holiday to Lapland, you need to remember there will be some additional costs which are covered by a package holiday. You are responsible for having the appropriate winter clothing for this trip, whereas the packages provide the outdoor gear you will need. I know these are probably cleaned but personally I wouldn't want to wear something someone else has.
To get around this, I bought lots of winter and ski clothing for us in the Go Outdoors sale in February of 2018, almost ten months before our trip and bought additional items in both the Blacks and Tiny Trolls of Norway sale. We had to buy almost everything as we have no need for warm, arctic-winter clothing here in the Algarve.
Another consideration is that some meals may be included with the hotel, whereas organising your family trip to Lapland on a budget means you'll either need to cook or eat out.
Also, there are some excursions included in the Lapland package holidays which you will need to pay for. Santa Claus Village, Finland, is free to enter but you need to pay for activities and the pictures and videos of your meeting with Santa. So, research what activities you want to do before you go (see below for a list of Lapland excursions).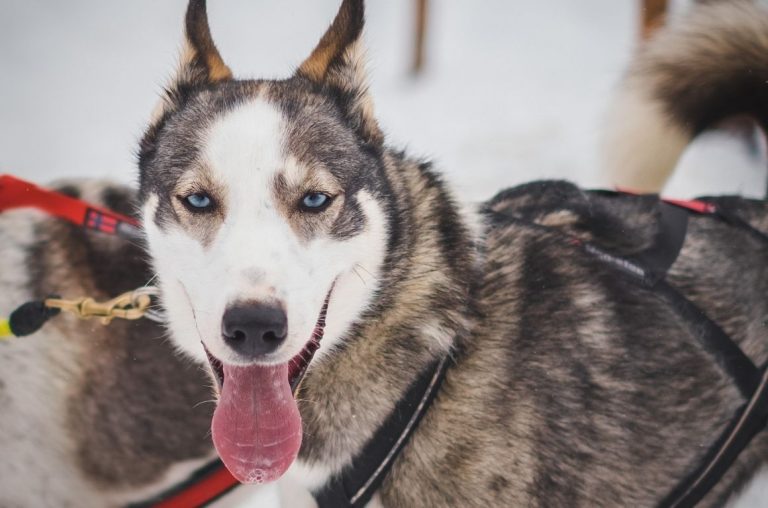 Photo by Jérémy Stenuit on Unsplash
Lapland excursions and things to do in Rovaniemi with kids
Santa – There are two ways to see Santa in Lapland. There is Santa Village where it is free to see Santa in his office but there are additional costs such as for your photo with Santa, reindeer and husky sleigh rides and sending a letter from the North Pole to someone back home. Or you can visit the underground Santa Park where there are activities with Elves and also a visit to Santa included in the entry fee. Plus, tickets are valid for two consecutive day's entry.
Winter Safaris – Longer husky and reindeer experiences or safaris are available but the costs of these can be quite high so shop around. We booked a husky experience with Bear Hill Husky and were really looking forward to it.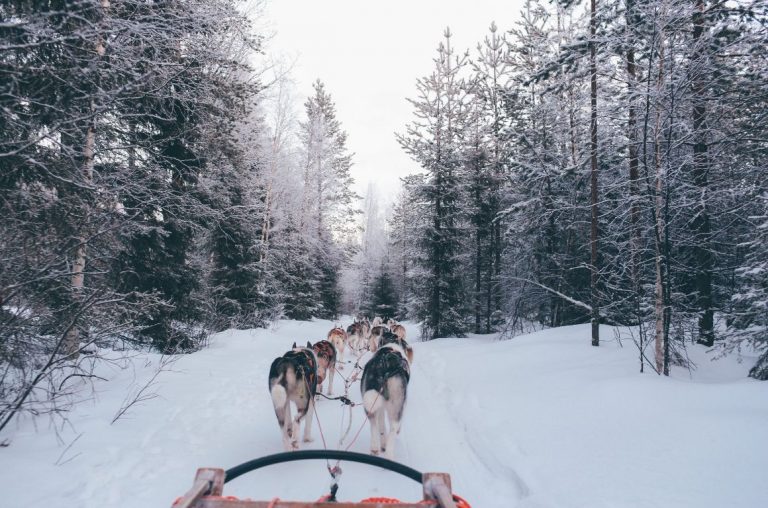 Museums in Rovamiemi – There are three museums in Rovaniemi that are family-friendly, which we planned to visit. They are Arktikum, Pilke and Korundi.
Snowman World – Located at the Santa Claus Village, Snowman World is a place to hug a snowman, see inside an Ice bar and restaurant and where you can try your hand at ice skating and snow tubing. All of the necessary equipment for this is included in your entrance fee.
Northern Lights Tours – one of the big draws to visiting Finnish Lapland is the chance to see the Northern Lights and there are many tour operators to choose from for a Northern Lights Tour from Rovaniemi. Just be aware that these usually take place at night after 9pm so really consider whether the cost of this trip is worth it with smaller children. We really wanted to book one but knew our son won't be able to stay awake too long after a busy day. So, we're going to wait until our next visit. Visit Rovaniemi is one of the best places to check excursions, prices and book Lapland activities and experiences.
The cheapest way to get to Lapland from the UK
So, with all of that in mind, you're probably wondering what will your Lapland trip cost to travel from the UK. Well, I've investigated the cheapest way to visit Lapland from the UK and there are two options both of which are the affordable way to book your Lapland Santa visit. This will be a guide to how you can do your DIY Lapland trip.
Direct flights to Lapland
EasyJet are now flying direct to Rovaniemi from Gatwick twice a week on a Wednesday and Sunday. The flight leaves at 6.30am on a Sunday or 12.45pm on a Wednesday. And returns to the UK at 20.25pm (departing at 18.50pm) on a Wednesday or returns to the UK at 14.25pm (departing at 12.45pm) on a Sunday. For a family of three, a flight with no checked bags was costing £423, rising to £550 for a family of four (prices correct at the time of writing this post in August 2018). 1 checked bag of 23kg would add £52.48 to the cost, 2 checked bags would add £104.96.
Each seat-paying person gets one cabin bag with this saver ticket, the dimensions of which should not exceed 56 x 45 x 25cm (including handles and wheels). EasyJet do not weigh cabin bags, so as long as you can carry it, and the bag fits the dimensions, it's on. But I'm not sure a family of four could do this trip with just cabin bags, considering you are bringing winter clothing.
Check out prices and availability via SkyScanner.
Visiting Lapland via a flight to Helsinki
There are a number of airlines flying from different airports within the UK to Helsinki, including British Airways and Finnair. Departure airports in the UK flying into Helsinki include London Heathrow, London Gatwick, Manchester and Edinburgh.
I checked the cost of a Finnair flight from Gatwick to Helsinki for the same dates we were travelling in December 2018 and the cheapest flights, with no bags, came in at £276.50 for a family of 3 (£356 for a family of four). The cost of flights with a checked bag per person was £394.50 for a family of three (£506 for a family of four). This option saw the flight leaving Gatwick at 10.20am, so no need for an overnight stay in an airport hotel, and leaving Helsinki on a return flight at 8am.
Accommodation
At the time of writing this post, AirBnB's in Rovaniemi were between £76 per night for accommodation outside the city to £150 within the city. AirBnB prices in Helsinki were between £48 and £100 per night in the city.
Cost of visiting Santa in Lapland from the UK
So, a trip from Gatwick to Rovaniemi direct would cost a family of three approximately £1024 for 3 nights (£1162 for a family of four), with one checked bag, staying within the city in a mid-priced AirBnB.
If you wanted to combine Rovaniemi and Helsinki, using the overnight train to get to and from Lapland, a family of three would cost approximately £1438 (£1550 for a family of four), all with checked bags, 4 nights in Rovaniemi and 3 nights in Helsinki in mid-priced AirBnB's, and the return overnight train in a two-berth standard cabin, with children under 10 sharing the berth with their parents.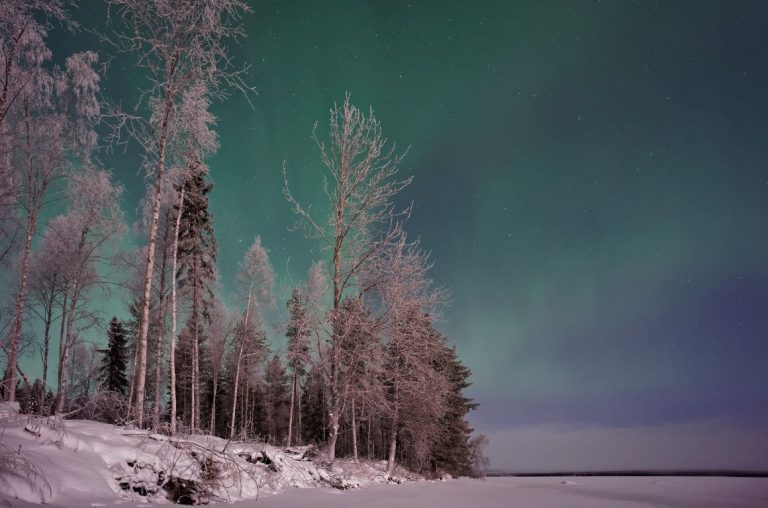 Photo by Vincent Guth on Unsplash
In Summary
Santa trips to Lapland need not be the thing of dreams. There are more affordable ways of visiting Santa in Lapland than the package holidays. By booking a DIY trip to Lapland, you can not only save money, you can also stay for longer, visit two cities if you want and take things at your own pace. Remember, when going on a package holiday, you are at the mercy of their timetable and may not get enough time to really experience the best of Lapland.
You will also be with a whole host of other families trying to jostle for a spot at the front of the queue to see Santa or trying to get the same Instagram-worthy photograph in the same limited time frame as you. By booking your do-it-yourself Lapland trip, you decide how long you want to spend on each activity and how long you want to stay at each destination. You can try beat the crowds by getting to each place at opening time, or you can wait until later in the day when the tour buses have left. You have more flexibility in so many areas and that to me is a no-brainer!
By combining Rovaniemi with Helsinki, you will also get to experience the overnight train, fondly nicknamed "The Polar Express" and while it is certainly not express at 12 hours, it will only add to the whole Lapland experience, particularly if you have a train fan among you.
I hope I've shown you that it really is possible to visit Santa in Lapland on a budget as a family and that Lapland breaks can be affordable without needing to break the bank.
So, what are you waiting for? Book your visit Santa Claus in Lapland, and save yourself money over those package Lapland holidays, using this post as a guide and make all your family's dreams come true.
Cath x
*Comparison of three of the top travel agencies who offer Santa Lapland Trips.
**All prices were correct at the time of writing this post (August 2018), and using the exchange rate on the same day (€1 = 0.8969 approximately).
Find out what you need to pack for Lapland with kids in this post. To find out some of the amazing things to do in Rovaniemi, Lapland with kids, read this post. And for the ultimate Lapland bucket list, check out this post.
And for more great posts about family travel, head back to the homepage and take a look around.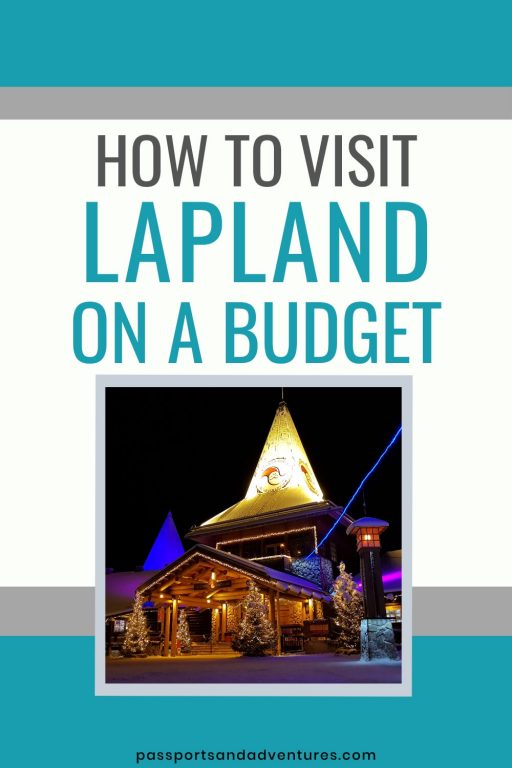 Related Posts