If you can't travel to Disney World or Disneyland Paris, but still want to enjoy the magic of Disney, then why not settle in and watch some Disney movies you haven't seen before. With the help of my free Disney Movie Checklist printable, you can decide which new Disney films to watch.
You can find my free Disney Movie checklist printable at the end of this post.
Disney movies are a great way to pass the time with kids, especially if you cannot travel to see Mickey and Co. in Walt Disney World or Disneyland Paris. Everyone loves a good Disney film, whether it is one of the classics, a live-action remake or a Pixar animated movie. They are feel-good films, often with hidden messages inside or lessons to be learned.
Girls love Disney Princess movies like Cinderella, Beauty and the Beast and Frozen, while boys love the Cars films, Toy Story and The Lion King. In total there are 58 Walt Disney Studios animated films and 23 Pixar movies to date (2021), which means there are plenty to watch. And I am sure that even the most die-hard Disney fans have missed one or two.
One of the best places to start is with some of the classic Walt Disney Studios movies. Some of my all-time favourite Disney movies are Cinderella, the Aristocats and 101 Dalmatians. I could watch these movies over and over again and never get bored.
Yet, there are a few of the classic Disney films that I haven't seen yet such as The Sword in the Stone, The Hunchback of Notre Dame or The Fox and the Hound. I'm not sure why that is but if I get a chance, I will certainly grab the popcorn and tick them off my list.
With this free, printable checklist of Disney movies, it is easy to see which of the best Disney films you have already seen and which are still to be watched. This Disney movies checklist is not the full list of Disney movies but includes some of the best ones to watch.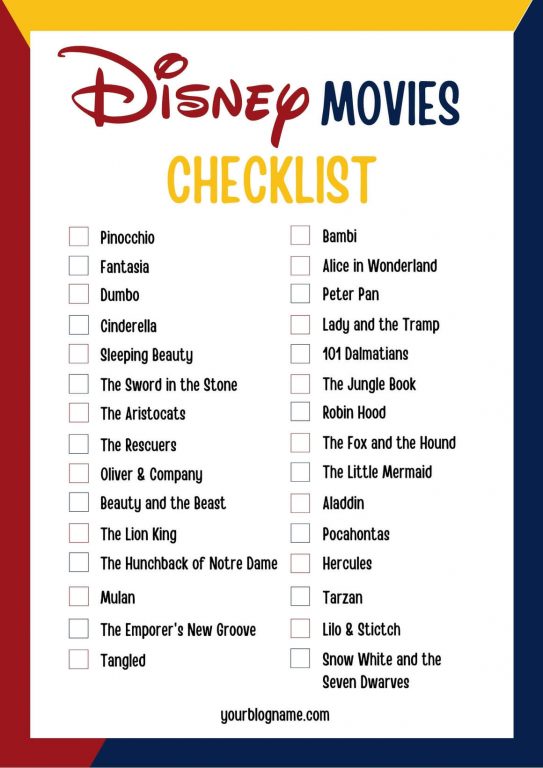 Make a game from the Disney Movie Checklist
If you want to make a game out of it, you could do any of the following:
Print out copies of the Disney film checklist, give it to your friends and see who has seen the most films on the list. Will it be you?
Assign films a certain value and see who has the biggest score after ticking off the films they have seen.
Find common films everyone is yet to watch and see who can watch the most by a certain date.
Another way to use the Disney animated movies checklist is to find out what movies you and your friends have not seen, and organise a series of movie nights to watch them together. You could rotate whose house you watch the next one in. Grab the film, popcorn and snacks and settle in for a great movie night with friends. You could watch them on Disney+ or buy/rent them from Amazon.
No matter which way you choose to use the Disney movie checklist, you'll first need to print it out. Click the link below to download and print your copy of the Disney movie checklist pdf. And if you find another fun way of using it, let me know in the comments below!
NOTE: This printable is for personal use only. You may not SELL or reproduce the file or the printed version of the file for commercial reasons.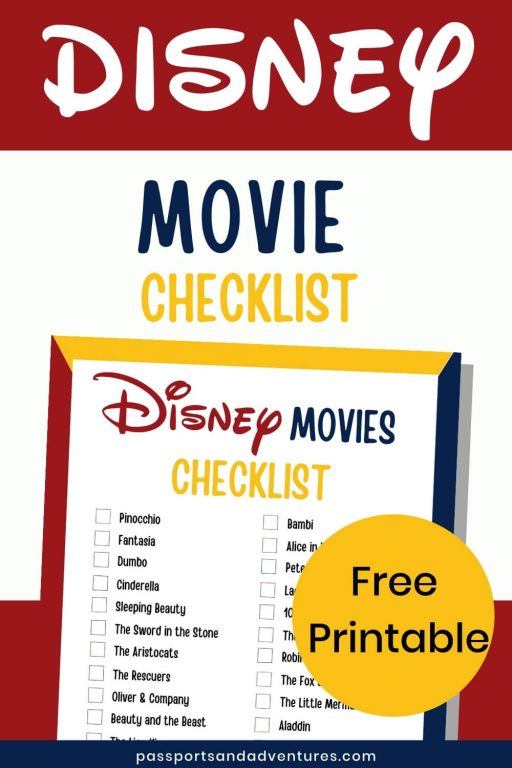 Related Posts