We went to Disneyland Paris as a family for the first time in December 2017, although my husband and I had been before. And it's fair to say I did A LOT of planning before we went, getting the help of the blogging community with things like how to plan Disneyland Paris, the best places to eat in Disneyland Paris and the best rides for under 5's at Disneyland Paris. I can also tell you I learned a lot during both the planning stages and while we were there. So, I thought I would share with you all the knowledge we gained with our top Tips for Visiting Disneyland Paris with Kids; tricks, hints and other secrets.
Post Updated June 2021
*This post contains affiliate links, incuding Amazon affiliate links. To learn more about affiliate links, please read my Disclosure Policy.
Disneyland Paris France, or Eurodisney as Disney Paris was once called, is located in a relatively new town 32km or 20 miles east of the centre of Paris. The Disneyland Resort encompasses two theme parks, Disneyland Park and Walt Disney Studios Park.
The Disneyland Paris opened in April 1992 (and my hubby was part of the opening crew) with the Disneyland Park, while Walt Disney Studios was opened in 2002. It receives just under 15 million visitors every year and is the largest Disney resort outside of the USA. If you are wondering just how big is Disneyland Paris, it spans 4800 acres.
Alongside the theme parks there are Disney hotels and associated hotels, a shopping, dining and entertainment complex, Disney Natures Resort and a golf course.
Eurodisney Paris is now Europe's most visited theme park and often out does the Louvre and Eiffel Tower as Europe's number one tourist destination.
In this post you will find a wealth of information for your visit, including tips for booking Disneyland Paris, where to find the best Disneyland Paris hotel and tickets deals, and lots of tips for helping with your Disneyland Paris planning, among other Disneyland tips and tricks.
Tips for Planning Your Trip to Disneyland Paris with Kids
When it comes to deciding how to visit Disneyland Paris, people are often met with a veritable minefield. Questions like "when is the best time to visit Disneyland Paris?", "what are the best days to visit Disneyland Paris?" and "which is the best place to book Disneyland Paris?" can often leave people feeling overwhelmed.
How to plan a trip to Disneyland shouldn't be a cause of worry. In this section you'll find Disneyland Paris booking tips, ways to travel to Disneyland Paris and a quick run down of the Disney Paris hotels so you can decide on the best place for your family to stay at during your visit to Disney Paris.
COVID- 19: Disneyland Paris phased reopening and important information
Before You Go: Research & Planning
I cannot stress enough that in order to get the most out of your time at Disneyland Paris, I highly recommend that you do your research. Everything from where to stay when visiting Disneyland Paris, to where you'd like to eat, to the rides best suited to your kids; research it.
This will help you plan not only your trip, but also your time in Disneyland Paris so you can get the most out of your trip. I have a few blog posts I wrote during my research and planning which you might find helpful.
Once you've done your research it's time to start your Disneyland Paris trip planning. My husband only half-jokingly said I put as much planning effort into this trip as Disney does to make things look easy. High praise indeed, but well worth it! It can be a logistical nightmare and a huge undertaking, but with the right research and planning, you can take most of the stress out of a trip like this.
And just because it's Disneyland, don't let it fool you. People everywhere, stressed adults, over-excited kids – minimise all of that by getting your research and planning right and let them freak themselves out while you have a great time. Let's look at some of the things to look out for. And if you'd like a copy of our Disneyland Paris Day Planner with an easy how-to-use-it guide (which includes a copy of our daily plan), scroll to the bottom of this page to find out more. With full instructions on how to fill it out, it's an awesome Disneyland Paris itinerary planner.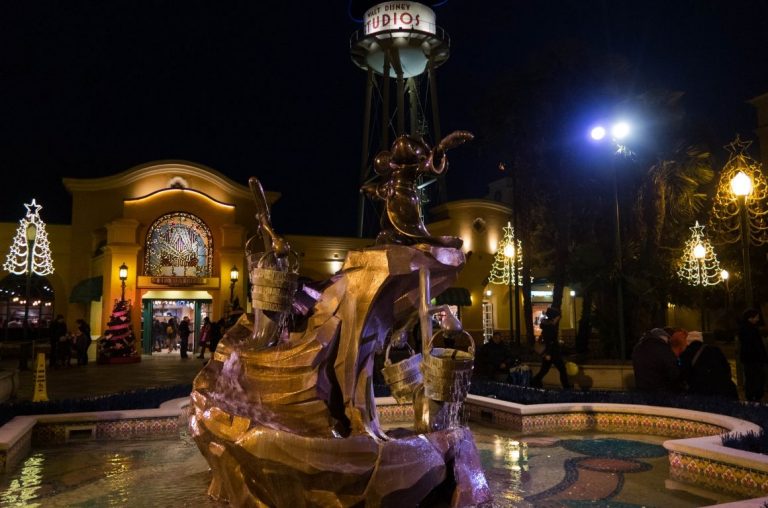 How to Get to Disneyland Paris – Tips for Booking your Disneyland Paris Holiday
There are many companies who will do an all-in-one service for Disneyland Paris holidays with hotel, transport and Disneyland tickets included in the Disneyland packages. These include Magic Breaks, TUI and even EuroStar. However, we booked our stay through the Disneyland Paris Official website. We then booked our flights separately as we were travelling to Paris from Portugal.
Note that with new regulations due to Covid-19 and the need to limit the number of people in the park, all tickets bought through third-parties (not direct through the Disneyland Paris website), non-dated tickets AND all Annual Pass holders MUST be registered on the Disneyland Paris website to guarantee your entry. If you do not register your third-party tickets, non-dated tickets AND Annual Pass tickets prior to your arrival you will likely be refused entry. Click THIS LINK to find out more about how to register your tickets. Anyone who has purchased a dated ticket direct through the Disneyland Paris website DOES NOT need to register their tickets. This includes those who have purchased a Disneyland Paris package. No tickets will be available to purchase on site.
If travelling from the UK, you have a few options for the best way to get to Disneyland Paris. You can travel to Disneyland Paris by plane, by car or by train.
By Plane
Whether you are coming from the UK, Ireland, Europe or further afield, the best way to visit Disneyland Paris is via plane. From the UK and Ireland you can reach Paris using any number of airlines including Ryanair, EasyJet, Air France, Aer Lingus and Transavia, to name but a few. Compare prices through sites such as Skyscanner.
Click HERE to start searching for your flights to Paris.
Most European national and low-cost airlines will fly to Paris and further afield, most national airlines will fly into one of the Paris airports, namely Charles de Gaulle.
By Train
You can get a train to Disneyland Paris from London via the EuroStar as either a food passenger, going all the way to Disneyland direct or via Gare du Nord. Or by car, disembarking when you arrive in Calais and driving to Disneyland Paris.
If you are travelling by train from within Europe, you can reach Disneyland by getting a train to Chatelet des Halles and then catching the RER A. Marne-la-Vallee – Chessy, the station to disembark for Disney Paris, is served directly by Eurostar from London as mentioned, as well as from Belgium with Thalys and TGV Brussels-France and from all throughout France by TGV.
If you are travelling by the EuroStar consider availing of the Disneyland Paris Express Luggage Service. Read this post to find out more about the Express Luggage Service for Disneyland Paris. It's a perfect way to check in to your DLP hotel and get to the parks quickly without worrying about your luggage.
Check prices and availability for travelling to Disneyland Paris by train HERE.
By Car/Ferry
As mentioned, it is possible to reach Disneyland Paris by car via the EuroStar and disembarking at Calais after you exit the Channel Tunnel. You could also reach France via ferry from Ireland or the United Kingdom.
From Ireland, there are 3 ferry routes operating a combined total of 9 sailings per week. Irish Ferries operates 1 route, Dublin to Cherbourg which runs 4 times weekly. Brittany Ferries operates 1 route, Cork to Roscoff which runs 2 times weekly. Stena Line operates 1 route, Rosslare to Cherbourg which runs 3 times weekly.
For latest prices and availability with Stena Line, click HERE.
From the UK, there are numerous ferry crossings operating from France to England. Ferries currently connect 8 ports in France with 5 ports in England. There are a combined number of 63 ferry crossings each day across a selection of 10 Ferry Routes which are operated by 3 ferry companies including DFDS Seaways, Brittany Ferries & P&O Ferries with the shortest crossing taking around 1 hour 30 minutes (Calais to Dover).
For routes, latest prices and availability with DFDS, click HERE.
Once you reach France, you will head towards Paris before circumventing the city. UK ferries, generally, arrive into Caen, Le Harve, Calais or Dieppe with travel time to the Disneyland Paris Resort of between 2HR30 from Dieppe and Le Harve to 3HR from Calais. Irish routes arrive generally into Cherbourg and Roscoff with travel times of 4HR and almost 6HR respectively.
Keri over on Our Globe Trotters has a great post full of information about driving from the UK to France which you'll get driving to Disneyland Paris tips, if you are electing to take your own car. And Luschka from Giving Up Normal has a brilliant checklist for driving in France, which you really should read if you're taking your own car.
How to Get to Disneyland Paris from Paris
If you are wondering how far is Disneyland Paris from Paris city centre, it is 40km with a travel time of approximately 35 minutes by car, depending on traffic. Once you leave the very centre, you join the A4 and drive all the way to Disneyland. On occasion you will hit roadworks, so allow extra time for this.
Alternatively, you can reach the Disneyland Paris Resort from Paris via train, as mentioned above. If you are staying within Paris, the best route is to get the Metro to Chatelet des Halles or Gare de Lyon and change onto the RER A for Marne-la-Vallee – Chessy. This is the option my hubby and I took when we were visiting Paris and decided to do a day trip to Disneyland Paris. The station is just a few minutes walk from the entrance to the parks.
How to Get to Disneyland Paris from the Airport
If you arriving into Paris by airport, you will arrive into one of three airports. Charles de Gaulle is the main international airport and has a direct TGV link to Marne-la-Vallee which takes just 15 minutes. Alternatively you can get an RER B into the centre and change onto the RER A. However, if you've got a lot of luggage and/or strollers, a train might not be the best option.
Orly is the other main airport, located south of Paris. From there, you can get a train to Antony where you will change onto the RER B for Chatelet des Halles. From there you change onto the RER A. This route takes approximately one and a half hours.
Be careful if choosing a Ryanair flight. Ryanair fly into Paris Beauvais, which is located 85km north west of Paris but it is 123km from Disney and there are no direct train links between the airport and the Disneyland Paris theme park. Public transport will take you around two and a half hours with multiple changes.
By taxi, Charles de Gaulle is approximately 34 to 47km from Disney Paris, depending on the route you take, and will take around 45 minutes. Orly is 48km from Disney and will take you around an hour, depending on traffic and road works along the A4. Beauvais is 123km as mentioned and may take up to 2 hours at a considerable cost. So, really consider which airport you arrive into when booking Disneyland Paris.
You can also book the Magic Shuttle transfer bus from the airport to Disneyland. We booked the Magic Shuttle to and from Orly, but I never checked the times before we went. Do this BEFORE you book it. I thought it would be a regular 15 to 30-minute bus but not so. It has a specific timetable. When we landed and cleared customs in Orly, we had just missed the 17.50 bus and the next wasn't until 19.00 (also the last one of the day).
Book your Magic Shuttle tickets HERE.
We didn't fancy waiting around for 50 minutes in the cold with a toddler, so we took a taxi. Which cost us 125EUR, due to the awful rush hour traffic through road works. Be warned! We did get it back to the airport but had to forgo breakfast in order to get one which would leave us at the airport well in time for our flight.
You could book a private transfer, and this may be the best option overall. Had I known about the Magic Shuttle timetable before booking it, I'd have opted for a private booking. Information on these can be found via the Disneyland Paris Advice Facebook group too.
Personally, I will always book separately as that's my preference but by all means you can choose to book via an all-in-one package travel agent such as TUI or Magic Breaks. The choice really is yours, but you've got limited options to make savings if you do an all-in-one trip so bear that in mind.
The best place to book Disneyland Paris when booking separately is the official websites. When booking your trip, I recommend you check out the Disneyland Paris UK site, the Disneyland Paris French site and Disneyland Paris German site, and compare the prices. There is also a Dutch site and Spanish site, which should be checked as well. The main reason for this is there are different Disneyland Paris deals on at different times for each of the country websites.
Sometimes you'll find one is doing great Disneyland Paris package deals where the others aren't. And don't worry about the language. Just use the Google translate button on the web page and you'll be fine.
Check HERE for the latest Disneyland Paris Deals, Prices and Availability
One final tip before booking Eurodisney is check out whether there are any European school holidays on while you plan to visit, particularly if you are visiting Disneyland Paris outside of UK and Irish school breaks. Just Google "school holidays (country name) (year)" and you should find pages giving this information.
Be especially aware of booking your visit while there are French school holidays as the parks have the potential to be incredibly busy during this time.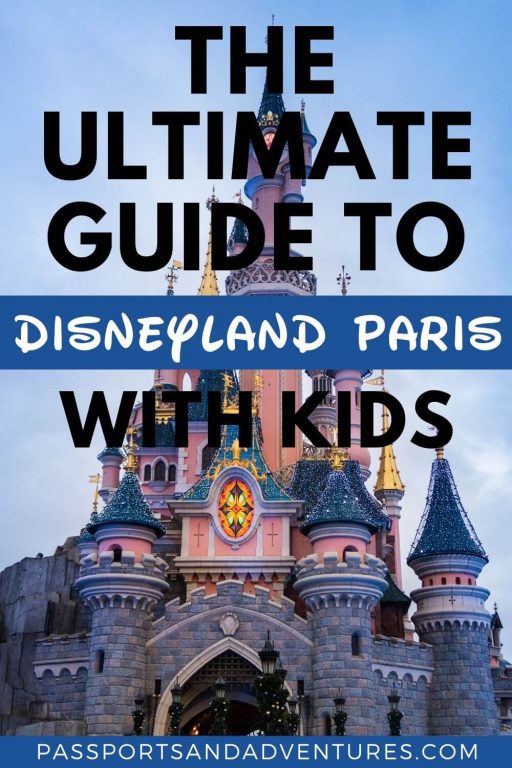 Where to Stay When Visiting Disneyland Paris
Whether you are planning to book one of the Disneyland Paris packages with a travel agency operator like Magic Breaks, or you plan to book Disneyland Paris separately, you are probably wondering which is the best hotel to stay in Disneyland Paris.
This is very much dependent on your budget and whether there are any Disneyland Paris offers on at the time of booking your stay. For the best Disneyland Paris deals, check all the country-specific websites and compare to a package holiday if you are looking to include flights or EuroStar tickets.
Disneyland Paris Hotel Guide
Disneyland Paris has six hotels in total, ranging from 2* to 5*. The hotels are, in descending order:
Disneyland Hotel – 5* – A Victorian-style luxury hotel right at the entrance to the Disneyland Park. Facilities include a gift shop, Inventions restaurant, Cafe Fantasia and the California Grill restaurant. There is also an indoor pool, spa, Minnie club playroom, Mad Hatter's Arcade and special kids' menus. NOTE: this hotel will be closing for refurbishment, most likely in 2020 once the Disney Hotel New York reopens. For latest prices and availability, click here.
Disney's Hotel New York – 4* – Currently undergoing refurbishment, this hotel is busy being transformed into an homage to Marvel Super Heroes in the style of a New York art gallery. It will reopen in Summer 2020. This hotel is a 10-minute walk from the entrance and there is a free shuttle bus for guests. Prior to closing for refurbishment, the Hotel New York has two restaurants and a bar, indoor and outdoors swimming pools, outdoor tennis courts, a times Square Arcade and special kids' menus. Check latest prices and availability here.
Disney's Newport Bay Club – 4* – Just a 15-minute walk from the park entrance or 8 minutes by free shuttle, this hotel has a nautical theme. The Newport Bay Club is a Cape Cod-style mansion set by the peaceful waters of Lake Disney and even has its own lighthouse. This hotel was completely renovated by Spring 2016 and among its facilities are an indoor and outdoor pool, two restaurants and a bar, a kids corner near the bar, Sea Horse Club Game Arcade and special kids' buffet. For prices and availability for this hotel, click here.
To learn more about this hotel, read this Disney's Newport Bay Club review from The Life of Spicers.
Disney's Sequoia Lodge – 3* – Set surrounded by lush pines and on the edge of Lake Disney, this hotel is just a 15 minute walk through the Disney Village to park entrance or 8 minutes on the free shuttle. A homely retreat at the heart of nature with lodge-style rooms, the Sequoia Lodge has two restaurants and a bar/lounge, a swimming pool, outdoor play areas and special kids' menus. To check prices and availability for this hotel, click here.
Disney's Hotel Cheyenne – 2* – Hotel Cheyenne offers you a chance to step back in time to the Old West with rooms decorated in wild west-style, and a frontier village complete with a saloon, shop, restaurant and outdoor areas. This hotel is a 20-minute walk to the park entrance or 8 minutes by shuttle. Facilities include the saloon, Chuck Wagon Cafe and kids play areas with TV/games, outdoor play area with teepees, pony rides and games arcade. To check latest prices and availability, click here.
Disney's Hotel Santa Fe – 2* – If you've got a Lightening McQueen fan on your hands, this is the hotel for you. With a car-theme running through the hotel, immerse yourself in Pixar's Cars. The hotel has a bar and tex-mex restaurant, a pow wow kids arcade games room, kids corner, special kids' menus and is a 20-minute walk from the park entrances or 8 minutes by shuttle. For latest prices and availability, click here.
The hotels at Disney Land each have their own theme, facilities and all have a regular free shuttle service to the parks, apart from the Disneyland Hotel which is located right at the entrance to the Disneyland Hotel. The Sequoia Lodge, Hotel Cheyenne and the New York (reopening soon) can cater for up to 4 people in rooms. The Disneyland Hotel has rooms catering for up to 5 people, although most will hold 4. The Newport Bay Club and Hotel Santa Fe cab cater for families of up to 6 people. Note that most standard rooms in the hotels will cater for families of 4.
To check availability and latest prices for all the Disneyland Paris hotels, click HERE.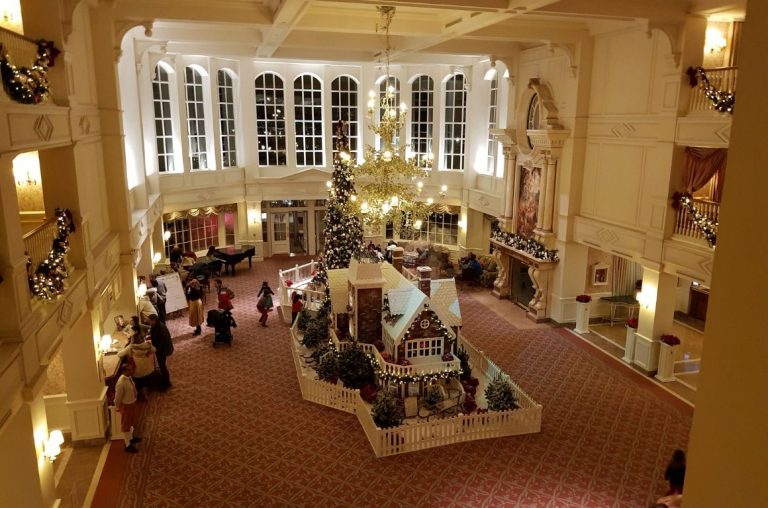 Other Disneyland Paris Accommodation Options
There are self-catering options for families at Disneyland Paris in the form of the Davy Crockett Ranch and Les Villages Nature.
Davy Crockett Ranch – Has an American colonial feel with cabins set in the woods which are self-catering, allowing families to visit Disneyland Paris on a budget by saving money on meals. The Ranch is located 15 minutes by car from the Disneyland parks. There is no shuttle service so if you elect to stay here you will need your own transport or rely on taxis. Facilities at the Davy Crockett Ranch include a tavern, saloon, shop, game arcade, outdoor playground and an indoor themed pool.
Les Villages Natures – 4* – This Disney Nature Resort has five immersive worlds to explore with the Aqualagon, the BelleVie Farm, the Extraordinary Gardens, the Forest of Legends, and the Lakeside Promenade. This resort is located 15 minutes drive from the Disneyland Resort and there is a paying public shuttle available which takes 25 minutes. Note that Les Villages Natures is not easily accessible for those arriving by train or air with transfer. However, if arriving by car, either your own or a hire car, it could be the perfect Disney accommodation. Rooms are one- or two-bedroom apartments, have a charming rural retreat feel to them and have self-catering facilities.
Check availability and latest prices for these hotels HERE.
These two options allow families to go self-catering and have parking on-site. They also allow you to bring all your own food and necessary items you might need if you are arriving to Disneyland from a ferry crossing. Dogs are welcome at the Davy Crockett Ranch and you get free parking at the Disneyland Paris Resort. Rooms at both can cater for families up to 6 people, meaning if you have a large family you don't have fork out for two hotel rooms. Just note that there is no free shuttle bus from here as mentioned. All the Disney hotels, the Ranch and Villages Natures can be found, and prices compared, on the relevant Disneyland Paris website, or here with booking.com.
Should You Stay in an On-Site Disney Hotel?
There are quite a few advantages to staying in one of the Disney hotels over any of the non-Disney Hotels located near Disneyland Paris. I was actually surprised at what was included such as:
Park tickets for each day of your stay including the day of your arrival and departure. Note with Les Village Natures you get Disneyland Paris Park tickets for two days over your entire stay.
Hotel Fast Pass (only available with certain hotels).
Extra Magic Time included (more on this later) but times may vary.
Character meet and greets in the hotels (not at the Villages or Davy Crockett Ranch).
Free shuttle bus to the parks from your hotel (not needed for the Disneyland Hotel and not available for the Davy Crockett Ranch/Les Villages Natures). That said some of the non-Disney hotels run their own shuttle buses to the parks but check this out before booking.
Sometimes you can get free breakfast or half board deals when booking a Disney hotel, or extra days free. Please note that bed and breakfast is no longer a guaranteed deal, this stopped early in 2017. Also, your breakfast included in your deal may be within the parks themselves at one of the fast-counter restaurants.
You might ask which is the best Disneyland Paris Hotel. Truthfully, we have only stayed in the Disneyland Paris Hotel itself, and while it was amazing, so too was the price. I would advise you to read reviews of the hotels within your price range and decide from there. Realistically you won't be spending all that much time at your hotel unless the weather is particularly dreadful. I would also suggest reading this post from The Life of Spicers who details all the hotel options to help you discover which Disneyland Paris hotel is the best one to stay in.
To read reviews of all the Disneyland Paris hotels, visit TripAdvisor HERE.
My best advice for Disneyland Paris hotels is watch out for deals for Disneyland Paris hotels with park tickets. These are often included and will save you money in the long run if your park tickets are included. And if you are still wondering how much is Disneyland Paris going to cost, well that's the 64 million dollar question. Set a realistic budget and go from there.
Dining at Disneyland Paris
You have many options for dining while visiting Disneyland Paris, whether you have a meal plan or not. There are fast-food restaurants, table service restaurants and also character dining experiences. Full information about all the places to eat at Disneyland Paris can be found on the website here.
For Full Details About Meal Plans, Click Here
The other minefield when it comes to visiting Disneyland Paris is whether or not to get a meal plan if staying in one of the Disney hotels. Food can become very expensive if you are eating on the fly in Disney Paris, and the other thing you'll find difficult is securing a table, particularly in the popular Disneyland Paris restaurants or during busy times. So, considering your food options is a must.
Decide Whether You Want a Meal Plan or Not
Breakfast used to be included in your hotel booking but it was changed early in 2017 and it is now an add-on option, unless part of a special deal. At the time of our original booking, we added it on. However, we later changed it to a Full Board Plus Meal Plan.
I could remember wandering around for ages at lunchtime with my husband during our pre-kid trips, trying to find somewhere to have lunch. We ended up in Toad Hall, eating awful over-priced fish and chips, and I didn't want history repeating itself with a toddler in tow.
There are different levels of meal plans from Standard to Plus to Premium, and which one you choose will depend on both your budget and where you want to eat. We chose the Plus as we could eat in places like Captain Jack's and Bistro Chez Remy without having to budget additional money for them. If you choose Standard and want to eat there, you will need to top-up on your meal vouchers.
Also, I would recommend thinking long and hard about your Disneyland Paris dining plan, and whether you need Full Board or could manage with Half Board. We chose full board and I ended up giving away three sets of meal plans vouchers because we didn't use all ours. We could have easily managed with just Half Board and perhaps paying for an extra meal or two, if necessary.
Next time we go to Disneyland Paris, I think we'll go Half Board. The food is plentiful and good quality, but we didn't need a large breakfast then a three-course meal at lunch time and a three-course meal at dinner time. It was just a bit too much for us.
*Update Jan 2018
We paid for breakfast at the time of making our booking with Disneyland Paris, as there were no meal plan deals on offer, and we received vouchers for the buffet breakfast in our hotel upon our arrival. Our friends also received hotel buffet breakfast vouchers, although they had to eat in one of the Studios restaurants as the restaurant in their hotel was undergoing refurbishment.
It was also brought to my attention by one of my readers that with some "Free Half Board" deals, you may not get a buffet breakfast in your hotel, that you may instead receive vouchers for breakfast in one of the Quick Counter Service outlets in the park instead. I have also read that this is where the "free" included breakfasts often take place and become very busy.
There also seems to be a rotation on which country deals include a hotel breakfast buffet and which will be the quick counter service breakfast.
Please make sure to check exactly what is on offer when you book, and if you really want the buffet breakfast, and not a counter service breakfast, I'd suggest ringing the Disneyland Paris customer service telephone number to see if you can "top up" for the buffet breakfast.
Disneyland Paris Meal Plans Advice
If you have a meal plan, you get one voucher per meal per person. For half board you will get a breakfast and one meal voucher per day, full board is one breakfast and two meal vouchers per day. Each meal plan voucher has a nominal monetary value (not shown on the voucher), and these can be used towards a meal if you want to eat away from the menu your voucher is for.
For example, we had Plus meal vouchers, so were able to eat at most restaurants from the Plus menu. However, my husband fancied the Premium meal at Captain Jack's so he ordered from that menu and we paid the difference (although the difference turned out to be more than the advertised price difference between the Plus and Premium menus so be sure to ask). We paid 20EUR instead of the advertised 6EUR difference. Not a problem, but if you're on a strict budget be aware of these little surprises.
On the Disneyland Paris Advice Facebook Group, there is a file containing full information about each meal plan, the restaurants included in it and where you might need to top up. Be aware that there are certain restaurants in the Disney Village that DO NOT accept meal vouchers including Planet Hollywood, Vapianos, King Ludwigs Castle, Rainforest Cafe, McDonalds and 5 Guys.
Character Dining at Disneyland Paris
With character dining, where you get to meet characters while you eat, there are a few options. The first is a character breakfast in Plaza Gardens within the park, which we did. I've written about that in my Disneyland Paris Holiday Diaries. Please note, there are no longer characters present in Cafe Mickey before lunchtime. There are two time slots for the Character dining breakfast, one at 8.15am and one at 9.45am. We attended both and much preferred the atmosphere at the 8.15am slot, but it did mean we missed out on some valuable EMT time.
You can also do character dining at Inventions in the Disneyland Hotel, Cafe Mickey or Princess Character dining at Auberge de Cendrillon, within the Disney castle. Both of these options are significantly pricier than the character breakfast, although I've heard are a more relaxed affair than the breakfast experience. There are both lunch and dinner options for these. For full details on character dining at Disneyland Paris, click this link.
Booking Meals in Advance – Booking a Specific Restaurant, Disneyland Paris
One thing I cannot stress enough is to book your meals 60 days in advance. My husband and I never did in previous years, and as mentioned, ate over-priced awful fish and chips for lunch in the only restaurant we could find with space in it. For our family visit to Disneyland Paris, I rang 55 days in advance and booked our table for Bistro Chez Remy, Steakhouse, Captain Jack's and the California Grill, ensuring we had nice meals planned.
If you want to eat at the best Disneyland Paris restaurants while there, you can book these 60 days in advance. DO IT. Call the reservations number (+33 1 60 30 40 50) and make all your bookings in one go. I have read there is a UK freephone number for restaurant bookings, but have also read of people not being able to get through or being kept on the line for hours. My recommendation is to ring the direct French reservations number very early in the morning. I rang at 7.15am UK time and was answered immediately. The French number is open 24/7 so avoid calling at peak times.
However, once we were there, we discovered our Bistro Chez Remy meal was mixed up and we had to go to a later sitting than planned, screwing up our planned day in Studios. So, my advice is to confirm your Disneyland Paris restaurant booking BEFORE you go, just in case. I confirmed our time for Captain Jacks early in the morning on the day we would be eating there just to be certain there was no further mix ups.
Whether you have a meal plan or not, or whether you are just visiting Disneyland Paris for the day, I cannot stress enough that you must book your restaurant table in advance, particularly for popular restaurants like Captain Jack's and Bistro Chez Remy. Same goes for your character dining experiences.
Tips For Preparing to Visit Disneyland Paris
So, you've booked your hotel and Disney Paris park tickets, decided on a meal plan or not, now what other tips for going to Disneyland Paris do you need to remember before you actually arrive. Well, there's a few more things you need to consider before you go, and a few to prepare the kids for going to Disneyland Paris.
In this section you'll find some Disneyland Paris tips and hints for preparing yourself and the family for your visit.
Decide Whether You Want to Buy the Photo Pass
This pass can prove very useful if you plan on doing quite a few meet and greets, but less so if you are not. I knew we were going to try get to a few meet and greets, so added it to our original booking (costing 45GBP in June 2017). If you don't buy before you go, you can still get it in the parks or your hotel boutique (if staying in a Disney hotel), and in December 2017, it cost 70EUR when bought at Disney itself. Current prices for the Photo Pass within the parks is 75EUR.
In the end it proved very useful for us. Not all the meet and greets we did had official photographers at them, but those that did resulted in at least three pictures or more. Between rides and meet and greets we came away with 43 photos. Those from the meet and greets were worth buying it for alone. I've heard of some people coming away with 100+ photos, so consider whether you want it or not. And if you do, buy before you go so it works out more cost-effective.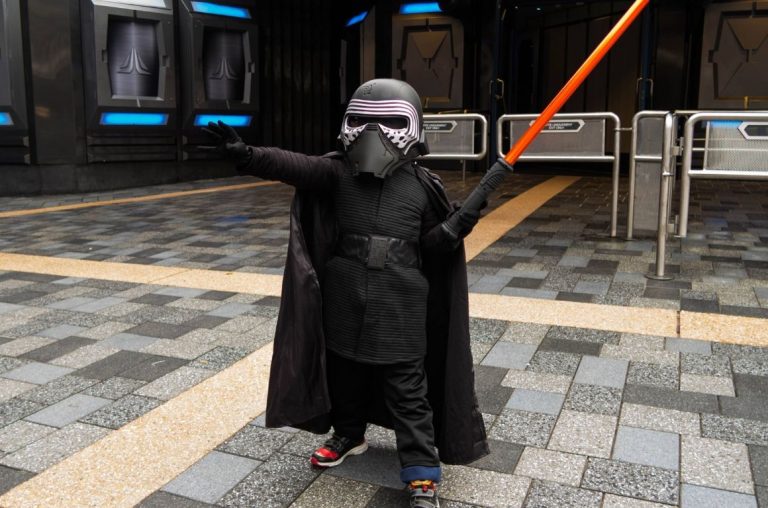 Watch Disney Films
Disney films are part and parcel of growing up, but that said, the films are always changing, and classics are being replaced in the eyes of our children by newer, shinier films.
Before visiting Disneyland Paris, we made sure to watch a few of the classics with our son so he would at least be aware of the characters before going on certain rides. We had never watched Peter Pan with him but knew we wanted to go on the ride, so we watched it with him in the weeks before our trip. We watched the following films:
Peter Pan
Jungle Book
Dumbo
Ratatouille (a first for us adults as well)
Toy Story 1 and 2
Cars (a regular in our house).
We also watched a few episodes of Mickey Mouse Clubhouse so the characters were fresh in our son's mind should we meet them at the character's breakfasts we had booked. This was one of the Disneyland Paris top tips I'm glad we heeded before our trip.
Why not make it even more exciting by using my Disney Movie Checklist to tick off the films as you watch them before your trip. Get my printable checklist for Disney Movies here.
Prepare Your Snack Bags
One thing I can remember from our previous visits to Disneyland Paris was the cost of food and drink in the parks. And one of the best tips for Disneyland Paris preparations I received was to bring snack bags to keep hunger at bay with little ones, especially in between meals, or for use in queues.
So, I packed two snack bags per day for our son, which was overkill but better to be safe than sorry. I found it quite hard to fill them here in Portugal as we don't have kids treats and snacks such as the Kiddylicious range or the Organix range.
In our snack bags, which were Ziploc bags, I packed the following:
Two small Kinder chocolate bars (from a multipack)
A packet of apple crisps
Oaty Biscuit bar
One fruit/yogurt pouch
One small chocolate bar
A few jelly teddy bears.
However, to be more environmentally-friendly, I suggest you get some silicone food bags like THESE to use in place of Ziploc bags.
Anything that doesn't need refrigerating, could melt, or go off quickly, will be ideal, especially individually wrapped items. I also brought apples and grapes in our luggage, as well as a knife (in our hold luggage), so I could bring a small lunch box with fruit into the park each day.
Pack Your Refillable Drinks Bottles
Remember your drinks bottles when packing. We brought Disney-themed drinks bottles in our luggage which doubled up as drinks bottles for the plane trip. Always remember drinks and snacks when flying with kids.
Browse the full range of Disney-themed drinks bottles HERE on Amazon.
Although there are numerous drinking fountains throughout Disneyland Paris, we found none working during our trip in December 2017. None! Whether this was due to the cold weather or not, I don't know. So, we had to buy some water in our hotel and fill our drinks bottles from those (and from the bottles at breakfast, but this can be frowned upon). But if they are working they will be a godsend.
Also, get yourself a bottle or two of concentrated squeezy juice to make flavoured drinks for your kids if they're not big on simple water. Grab them in Boots or a newsagents through security in the airport if going to Disneyland Paris by plane.
Prepare Your Kids for the Crowds by Watching Some Youtube Vlogs
One of the very handy Disney Paris tips and tricks given to us before we went was to watch some YouTube videos with your kids to prepare them for how crowded and busy Disney might be. Although I did this with our son, I don't think he quite got it at his age (almost 4), so I think this would be better for slightly older kids who might be going for the first time.
One thing to note, don't watch vlogs from the year you are going, especially if it is one of the anniversary years. I started to watch the Illuminations 25th anniversary video and stopped a minute in as I didn't want the fireworks show ruined for our visit.
Visitors With Disabilities Or Special Needs
There is a plenty of information on the website with regards to those visiting Disneyland Paris who might have disabilities or special needs. From whether you can get priority passes, to the documentation you'll need to get these, I suggest you check out the website. If your answer cannot be found, ring the Disneyland Paris number (UK – 08448 008 111 , Paris – +33 160 306 053).
For more information for guests with disabilities or special needs, click HERE.
One of the Facebook groups I joined prior to our visit, which has so much useful information, is the Disneyland Paris Advice Group. You can search for relevant threads, or ask your question. They are really helpful and willingly give advice to those who need it. This is your best bet for specific questions about visiting DLP with disabilities or special needs. I did join another Facebook group which I won't name, but found it less friendly than the Daniel Potter one!
Additional Tips Before Visiting Disneyland Paris With Kids
One of the top tips for Disneyland Paris I must stress again is to ensure you book your meals for the most popular restaurants as soon as the reservations open, which is 60 days prior to your visit. Please don't leave it too late or you might find yourself disappointed.
Also, buy your children's autograph books and costumes before you go as they are more expensive to buy in the Disney parks. There are some great ones on Amazon.
If you don't already have waterproofs for the family, buy them before you go, particularly if you are visiting outside of summer. All-in-one's for kids and waterproof over-trousers for adults would be a must in my opinion. Although we didn't need them in December, the French weather is an unpredictable as the UK or Irish weather so it's best to be prepared. Why bring waterproof over-trousers for adults? Who wants to sit on a wet seat on a ride and have wet pants for the rest of the day!
Before you go, or as soon as you arrive, get yourself a lanyard for your park tickets, at the very least. This will save you so much time when entering the parks or going between the two. I also had my hotel charge card, hotel room card and my driving licence (more on this later) in my lanyard, along with our park tickets. Saves you rummaging through your bag to find them. Again, you buy Disney lanyards on Amazon.
If you can find the Disneyland Paris timetable prior to your visit, download a copy. When it comes to how to plan a trip to Disneyland Paris, this will become invaluable. It will contain all the Disneyland Paris information, including times for the Disney Parade, the Disneyland Paris meet and greet times, and the Disneyland Paris shows.
My biggest piece advice for for visiting Disneyland Paris, plan your visit! Find the Disneyland Paris opening hours on the website and start from there. I wasn't going to do this until I read about it on the Disneyland Paris Advice Facebook group and was glad I did it in the end. We fitted in so much more than if we had just gone there to 'wing it'. I am planning another post about what we fitted in, so watch out for that. For now, get our DLP itinerary planner and guide at the bottom.
I would also suggest learning a few phrases in French. They can go a long way, especially when checking into your hotel or making purchases both inside and outside the park. This post from Adventure Out There details 10 French phrases everyone should know.
Disneyland Paris Hints and Tips – At the Parks
Whether you are spending 3 days in Disneyland Paris like us, have a Disneyland Paris weekend booked, or are visiting with just Disneyland Paris day tickets, the following tips may come in useful.
Getting into the Parks and Planning Your Day
If you are arriving for one day at Disneyland Paris, you will either need to show your pre-paid tickets, or pay your Disneyland Paris entry fee at the gates. Details of Disneyland Paris entrance fee prices for single and multi-day tickets are available on the Disneyland Paris website.
Get your Disneyland Paris one-day tickets HERE. Or get your multi-day tickets HERE.
Arriving by car, you will need to park your car and walk to the entrance. Arrival by train will also involve a short walk. You will also need to pass through security before you reach the entrance gates to the parks.
If you are staying in the Disneyland Hotel, you have the shortest distance to travel to the parks as you are right at the Disney park entrance. Walking times from other hotels range from 10-20 minutes.
You can either walk to the parks from Disney hotels, or get the free shuttle buses. Be warned that these get very busy at peak times, so you might have to wait on the next bus. And you will have to collapse buggies.
If you haven't already done so, pick up a Disneyland Paris Schedule leaflet in the park for the most up-to-date times and programme. This will also tell you what meet and greets are taking place, where and when, and whether there will be an official photographer there (handy for those with the photo pass). Then plan out your day if you haven't already done so. They will also give you up-to-date times for any Disneyland Paris parade times and shows being held during your visit.
There are two parks and we spent more time in the Disney park than the Walt Disney Studios park. We had three days so spent two in Disney. When my husband and I visited for one day, we did Disney in the morning and finished off in Studios. But this meant we missed the castle lights show as we had to travel back into Paris each time.
Disneyland Paris Extra Magic Time – EMT Disneyland Paris
If you are staying in a Disneyland Paris hotel, you get additional time in the parks called Extra Magic Time (EMT) – formerly Extra Magic Hours. The length of this time will depend on the time of year you are visiting but is typically from 8.30-9.30. And don't worry about that missing half hour. You remain in the park, and can keep enjoying this quieter time before the parks open to the public.
And if you have EMT, USE IT. We entered the parks just before this time and enjoyed rides which normally have long wait times, as well as did one or two meet and greets. We enjoyed EMT in the Disney park one morning and ticked off all but one of the rides we wanted to do in Fantasyland with our son, which freed up more time in our day. At the time of our visit, only rides in Fantasyland in the Disney park were open during EMT.
*UPDATE JULY 2019
A reader (thanks for the update Simone) who visited in July 2019 has informed me that additional rides are now open during Extra Magic Time and they are as follows:
Disneyland Park:
Thunder Mesa Riverboat Landing (Frontierland, FRL)
Big Thunder Mountain (FRL)
Peter Pan's Flight (Fantasyland, FL)
Dumbo (FL)
Les Voyages Pinocchio (FL)
Le Carrousel de Lancelot (FL)
Mad Hatter's Tea Cups (FL)
Princess Pavilion (FL)
Buzz Lightyear Laser Blast (Discoveryland, DL)
Star Wars Hyperspace Mountain (DL)
Orbitron (DL)
Star Wars: L'Avetnure Continue (DL)
Walt Disney Studios:
Crush's Coaster
Flying Carpets Over Agrabah
Ratatouille
Toy Soldiers Parachute Drop
Slinky Dog Zigzag Spin
RC Racer
The Twilight Zone Tower of Terror
Rock'n'Roller Coaster staring Aerosmith
For rides or areas that are not available during EMT, you can queue at the entrance to other areas/rides and be one of the first to arrive at your ride of choice. My husband went to do Indiana Jones at 9.45am and was first on at 10am.
Getting into the Disney park before EMT will also give you a chance to get a picture of the castle with no one in front of it as they have a rope across the entrance until the official EMT opening hours. For example, we got to the castle at 8.20am one morning and that is how I got my castle picture as used in my graphics for this post.
I would recommend doing the Peter Pan ride in Disney and the Ratatouille ride in Studios during this time. This will leave your hotel Fast Pass (if you get them) free to use for other rides during your visit. These were two rides recommended to us as ones not to be missed.
Disneyland Paris Fast Pass Tips
As mentioned, if you stay in certain Disney hotels you will receive one Fast Pass per person, per day of your stay. These can be used on certain rides to beat the queues. You simply scan your ticket at the Fast Pass machine at the entrance to the ride. You will receive a ticket with a return time, enabling you to continue to enjoy the rest of the park without queuing for that ride.
There are now different levels of Fast Pass tickets when staying in the Disneyland Hotel. Standard rooms give you standard Fast Passes, which you use in the manner described above. Suites in the Disneyland Hotel give you hotel Fast Passes which you can use to access a Fast Pass ride at anytime except between 1 and 4pm.
However, you can only use one Fast Pass at a time or when 2 hours has elapsed. I'll be honest and say that although we had Fast Pass tickets, we didn't use any of them as we managed to get the rides we wanted to do done either in EMT or without queuing because the wait times were incredibly short. Rides which have Fast Pass can be found here.
Photo Pass and How to Use It
As mentioned, the Photo Pass can be purchased before your visit or while you are at the parks. This gives you digital copies of all your photos from rides, and meet and greets as high-resolution copies, which you can access on line for one year from first use. Note, not all rides have photos, nor do all character meet and greets. Those that do are clearly marked by a symbol on the park's timetable and Disneyland Paris map on the app or online.
Before you go, create a photo pass account on the Disneyland Photo Pass website, and download the Photo Pass app too. Once you get your photo pass at the parks, insert the code into your account and start collecting your photos.
You will receive one main photo pass card, and two smaller fobs. These are handy if your party wants to split up for any reason.
On rides, you can either use your QR scanner on your phone to add your photo to your account. Or, each photo has a code associated with it in the format A1234. Simply add this to your account and hey presto, ride photo will be added.
As for meet and greets with official photographer's present, simply hand them your photo pass card when it's your turn and they will do the rest. Alternatively, if you haven't got a photo pass, they often hand you a card which you can bring to a booth to get your photos, or which you can add to a photo pass account later. But be aware there is a time limit on this, and you cannot put them onto a photo pass account after you've left Disney.
As already mentioned, it can work out cheaper to buy before you go. The Photo Pass lasts for 10 days from first use, but you can access and download your photos for 1 year. And you do get a warning email when your Photo Pass is about to expire.
Shopping While Visiting Disneyland Paris
If you are staying in a Disney hotel, you can shop until 4pm and avail of the free delivery service to your hotel, meaning you can remain bag free. And whatever you do, DO NOT leave shopping bags on strollers or in the basket underneath. You run the risk of your bag being stolen.
Kids will be tempted by EVERYTHING they see, so why not give them a spending limit and once it's gone, it's gone. Our son had his own spending money from us and his grandparents, and apart from his Buzz Lightyear action figure, he paid for everything else he wanted. He even came home with some money left.
My advice is leave your shopping until the end of the day. We waited until after the Illuminations to visit the shops along Main Street. This was for two reasons; one, we didn't plan to shop during the day, and two, we wanted to kill time before attempting to get "The Picture" (see below).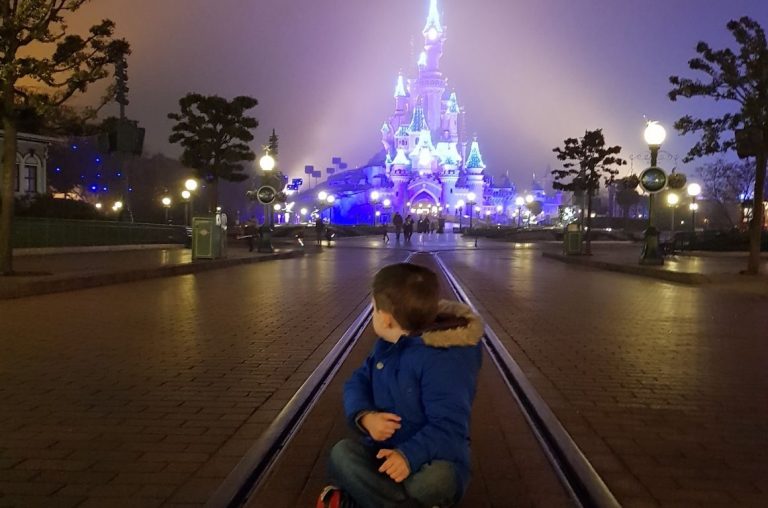 We also did most of our shopping after our day in the Studios in the World of Disney shop in the Disneyland Paris Disney Village. While it was busy, we were heading for our hotel straight afterwards, so this was the best time for us to get it done.
A word of warning: If you are going to use a hotel charge card, like the one we got in the Disneyland Hotel, please make sure you have ID with you at all times, corresponding to the person whose name is on the card. We had used the card for small charges without needing it.
However, in the World of Disney, our total was well over 100EUR, and the lady on the cashier desk asked to see my ID for the card. I didn't have any with me and as a result, my husband had to run back to our hotel with our son to get my driving licence. So, carry your ID, preferably your driving licence, in your lanyard along with your charge card. Better to have it with you, than be caught out without it like me.
Other Tips for Inside the Parks
There are a couple more tips for Disney Paris that you should be aware of and bear in mind for during your visit and time in the parks.
Download the Disneyland Paris App
This proved so useful during our time in the parks. Not only does it have approximate wait times for each ride, but also has other information along the top scroll bar such as dining, photo pass rides and also restroom locations, essential for while visiting Disneyland Paris with toddlers.
It also has details of the character meet and greets, where they take place and at what time. This feature is very hand for planning your time at Disneyland Paris, so use it when organising your itinerary.
Strollers/Buggy's at Disneyland Paris
Do not second guess yourself on this. We nearly did, and it would have been to our detriment. Whether your child uses one at home or not, bring it with you, just in case. Our son hadn't used one for six months prior to our trip to Disneyland Paris. Although he was fine on our first day, albeit with a little carrying, he asked for his half way through our second day. And we were glad we had it in our room to grab! You other option is to hire one in the park.
Bring your Character Costumes From Home
I've mentioned this already but it's really important. Make sure to buy your children's costumes outside of the parks as the costumes in Disney shops within the parks are a lot more expensive. I wasn't convinced of this, but bought our son's costumes before we went. However, I was soon convinced when I saw the cost of the Buzz Lightyear costume within the park.
I paid 30.99GBP for the costume including gloves from the UK Disney Store online. The same costume, without gloves, was priced at 59.99EUR, and you had to pay for the glove separately! Why bring costumes? Not only will your kids get more interaction with cast members and characters but you could be allowed to skip the queue if your children are dressed as the character such as the Buzz Lightyear ride.
Get your kids Disney character costumes HERE.

Buy Your Autograph Books Before You Go
These too cost more inside the parks. And also bring pens with you into the park. No one wants to get caught short at a character meet and greet without a pen. And the characters and their minders will not have any! Check out the range of Disney-themed autograph books on Amazon here.
Eat at Unusual Times
If you're planning to wing it when it comes to meals, if you are prepared to eat at unusual times, then your wait will be shorter than at peak times. For example, we strolled over to Annette's in the Disney Village at 4.00pm one afternoon and were seated straight away as a party of 7. This is the time most people were headed to the Disney park for the Parade at 5pm. The evening before we'd been in the village from 8.30pm and the queue for Annette's was out the door and extremely long.
Our friends had also visited the Village at 7.15pm and managed to get a table at Cafe Mickey within in a few minutes as people were watching the Illuminations in the Disney Park. So, if you can time your meal at those unusual times you can get lucky.
Queue to the Left
If there is an option, queue to left for a ride (e.g. at the turnstiles in Pirates of the Caribbean just before the boats). These always move quicker than right hand queues, most likely because most people are right-handed so naturally gravitate to the right.
Single Riders
Many of the rides have a line for single riders, meaning if only one of you wants to do a ride, you can get onto the ride quicker by being a single rider, willing to fill up empty seats. My husband went on both the Tower of Terror and Indiana Jones as a single rider and didn't have to wait more than a few minutes for a seat. One of our friends went on Ratatouille and was on within 5 mins while the larger queue was 45 mins.
Use the Baby Switch Facility
I wasn't aware of this before, but this facility enables parents to enjoy the rides, one after the other, if they are with a child who cannot or doesn't want to go on the ride. One parent rides first, while the other waits with the child. Then when the ride returns, they swap without having to queue again. Just mention it to the crew member when you reach the top of the queue.
Bring Spare Batteries and Memory Cards
Ensure you have at least one extra battery and one extra memory card for your camera. You will need them. I can highly recommend the Canon G7X Mark ii digital camera. And also bring a portable charger for your phone with you. This can come in handy if you are using your phone to keep kids entertained in ride queues.
Leave the Selfie Sticks at Home
Selfie sticks are banned in Disneyland Paris, as are camera tripods with extendable legs. You can bring Gorilla pod type tripods into the park if you really want to. I brought one with me but didn't use it at all. My advice, leave it at home, it's one less thing to carry.
Try Catch the Parades, Disney Castle Lights Show and a few Studios Shows
These are three events you really don't want to miss. We caught the Christmas parade but missed the main one. That said, the Christmas one was at a perfect time and was a perfect length for keeping our son's attention. He even got good interactions from some characters as he was dressed as Kylo Ren.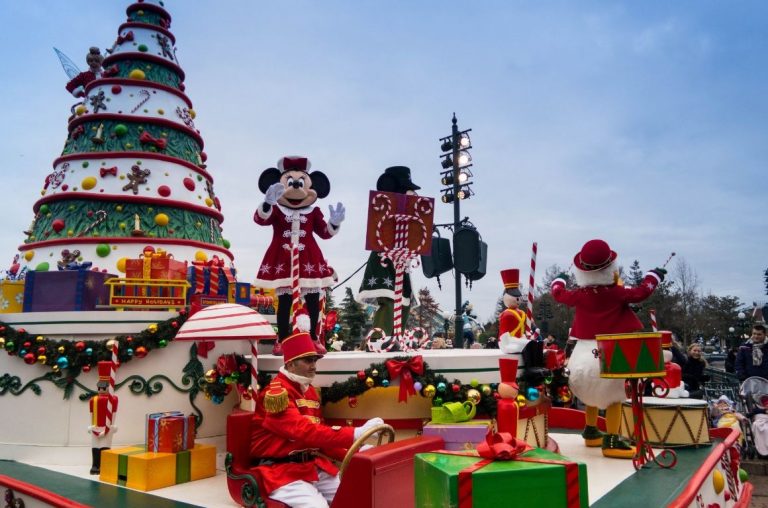 The Castle lights show, called Illuminations for the 25th anniversary, was amazing. And we managed to see both the Moteurs Action Show (a big hit with our bike-and-car-mad son) and Mickey and the Magician. The shows in Studios could be a good option too if the rain is particularly heavy during your visit.
Disneyland Paris Tips and Tricks – Other Things to Watch Out For
You might find some people advising you to take a bike lock for your buggy/stroller, as it has been known for them to go missing from the entrance to rides, in order to lock your buggy to the railings at the entrance to rides.
However, during my final check of hints and tips for Disneyland Paris I discovered it is NOT allowed to lock buggies to railings. The best you can do is put the lock through your buggy wheels (if you have one that allows this), to deter it being stolen. Otherwise you just need to take a chance if you are all going on the same rides.
I have a long Velcro strap for our buggy (the folding catch doesn't work great) and when we were with our friends, I strapped the two buggies together. Also, never ever leave anything on or in your buggy while it is unattended.
I advise you to get an ID bracelet for each of your children and put your contact details on it, just in case you should get separated. I found some on Amazon called IdME. Our son wore them everyday in the park and after the first few hours didn't notice it at all.
Watch out for families placing a 'seed' in the queue in front of you. What do I mean by that? I took our son on the Dumbo ride while my husband went to do the Indiana Jones ride himself. We had one girl of about 10 years of age in front of us in the queue. It turned out that her siblings and mother were behind us. As we got nearer the front, she dragged her siblings through to her. I turned a blind eye to this. As the ride was a two-person ride, I allowed the mother to join her three children. It just made sense for them to take two elephants rather than three.
And as we got to the entrance, this mother then called forward SIX more adults to join them! Six adults! For the Dumbo ride! I was furious and let them know, but they just pretended they didn't understand English (they were Spanish). My warning is do not be polite unless you know exactly who and how many may join this 'seed' person in front of you.
Adults, please can I ask you to look down when rushing about the place. Our son was nearly knocked over three times by adults in a hurry who didn't look down and check for a child in their way. You cannot avoid children of any ages when you visit Disneyland Paris. Each time our son was only saved from a nasty fall by my husband grabbing hold of the person before they knocked him down. None had bothered to look down.
If you are planning to watch the parade I would advise you to stake your spot at least 20 to 30 minutes before the start and guard it with your life. We found a great spot to the left of the castle if you're facing it from Main Street, with our backs to Discoveryland. We also chose to stand beside a rubbish bin and we put one of the buggies at the other end of our line to avoid people trying to push through. On the other side of the buggy (not in our line) I saw a family push their kids through at the last minute in front of people who had been waiting as long as we had. It's the height of rudeness and is no example for your children. Get there early and wait your turn.
And for those of you planning to watch the lights show (Illuminations), please do not sit children on your shoulders right in front of people who have been waiting 20 minutes already. You obscure their view, especially if they want to capture pictures or videos, and you force them to move. We had this happen to us and it is infuriating.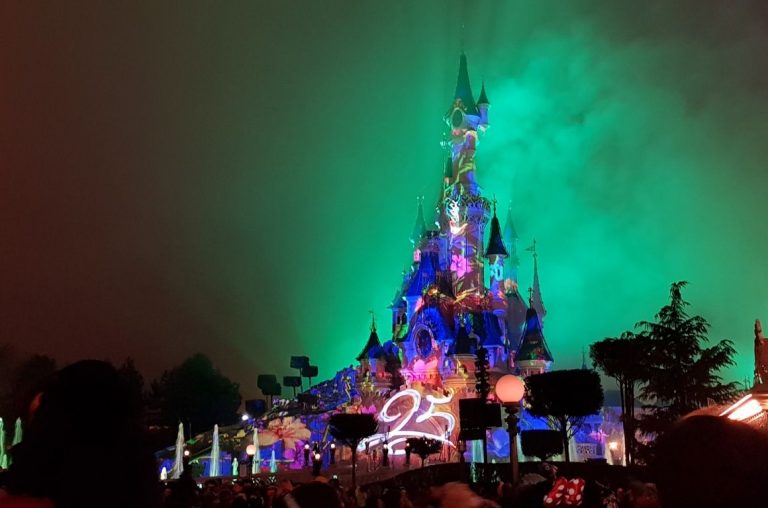 For shows, I'd advise arriving 20 minutes before the show in order to get a good seat. We arrived about 15 minutes before Mickey and the Magician was due to start and there were already two massive queues to get in. We ended up with seats to the side of the stage. Now our view wasn't bad, but if you want the prime seats, arrive extra early.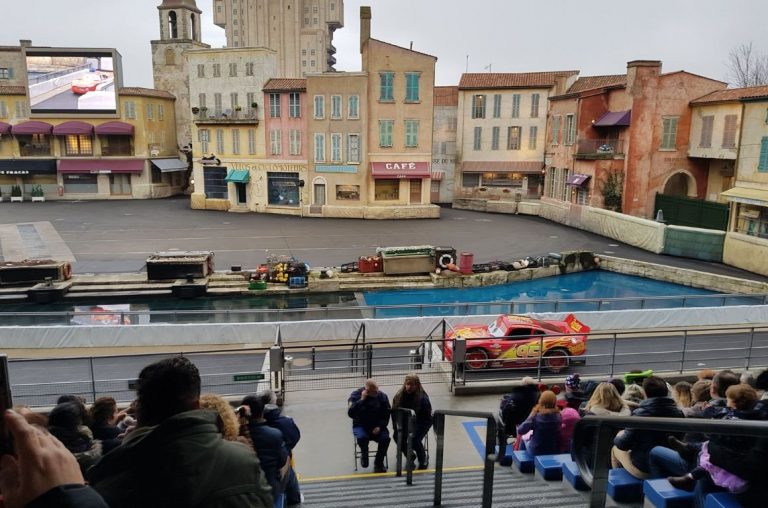 In Summary
Most importantly, enjoy yourself. Visiting Disneyland Paris with kids can be a magical experience and you should still take time to just enjoy yourself and soak up the atmosphere. If you want to get the most out of your visit, make sure to plan your time there. But be prepared to deviate from your plan, as we had to on two days. This was due to a mix up with one of our restaurant bookings and also due to one meal over-running quite a bit.
I hope you have found this guide to Disneyland Paris useful and that the hints and tips included within prove helpful. While I've tried to cover as much as I can, there may be one or two items I have missed or not covered. If you have any questions, please drop them in the comments below and I will do my best to answer them, or update this post accordingly.
If you fancy getting out of Disneyland Paris and seeing some Paris sights, then why not pay a visit to Versailles with kids a place Kirsty from Travel With Meraki has featured on her blog.
And last but not least, you could also head into Paris itself with the kids if you fancied a change of scenery.
Are you planning a trip to Disneyland Paris soon? Have you got any further Disneyland Paris tips to share?
Cath x
Other information:
For full details on Disneyland Paris tickets, please visit the Disneyland Paris website for full details. Here you'll find information about prices of tickets. Be aware you can buy Disneyland Paris tickets at the gate, as my husband and I did on our two previous day trips.
Up-to-date Disneyland Paris Park Opening Times can also be found on the Disneyland Paris website here. The website also has a full list of things to do in Disneyland Paris and there is a Disneyland Paris Rides list too.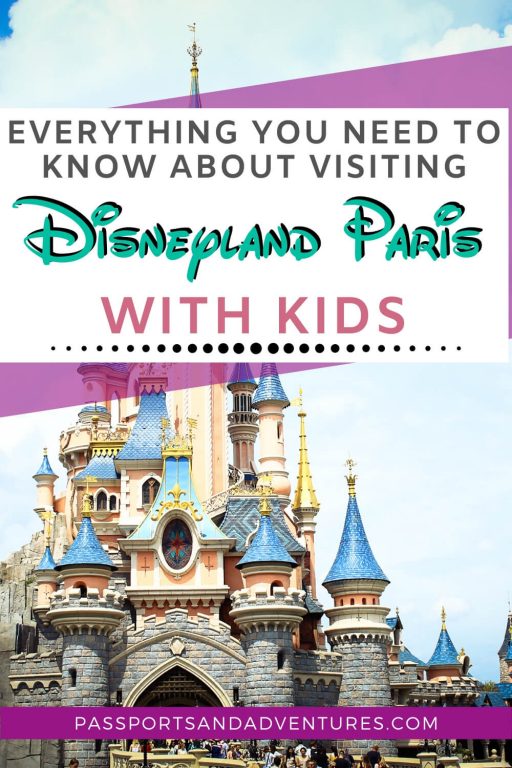 Passports and Adventures is a participant in the Amazon Services LLC Associates Program, an affiliate advertising program designed to provide a means for sites to earn advertising fees by advertising and linking to amazon.com, amazon.co.uk, amazon.ca. Amazon and the Amazon logo are trademarks of Amazon.com, Inc. or its affiliates. To learn more about affiliate links, read my Disclosure Policy here.
If the form for the planner is not visible, or if you are on mobile, please use this link to sign up and get your planner: Disneyland Paris Planner Form.

Related Posts