Welcome back to Fearless Family Travel. It's time to link up your latest (or older) family travel posts so we can see what you've all been up to and what exciting places you've been visiting.
What I've been up to
Well, December came and went in quite a hurry. I can't believe we're into Janaury already. How are you all, did you have a good Christmas?
As you all know we finally headed East as a family in December and we were really looking forward to it. But alas, as 2019 was such a horrible year, our trip did not go as smoothly as we wanted.
Our poor boy developed a fever within 2 days of arriving in Thailand and we spent our 6 nights in Ao Nang mostly relaxing and doing very little, not what we are used to when it comes to holidays anymore. We are usually up and out exploring as much as we can in the time we have available.
But, he just wasn't up to it and we spent a lot of quiet time around our villa, only venturing out on our last day to do some island hopping. After we arrived in Bangkok he was still quite ill so we saw a doctor who diagnosed Influenza A. He had the flu, most likely picked up on one of the planes we took over the 24 hour period it took us to get to Ao Nang from Portugal. It also meant we did very little in Bangkok apart from visit 1 temple.
Dubai was a bit more successful with us taking the sightseeing bus over 2 days to explore the city. But, it was not the holiday we were hoping it would be to end the rubbish year we'd had on high. We've never been so glad to see the end to a year and the start of a brand new one as we were on January the 1st. Here's hoping 2020 is infinitely better!
We've got some holiday plans already set and two more exciting ones in the making. We're waiting for hubby to take receipt of his new pick-up (a Ford Ranger) and then we can get the two exciting ones nailed down. I'll let you know more once we're in full on planning mode. But fingers crossed, this year's travel is a hundred times better than last year. And I hope my Mum is working her magic from heaven.
Before I get into this week's linky, thanks to everyone who took the time to link up to Kirsty's first one. We really appreciate you all showing your support.
Let's get going with this week's Fearless Family Travel. We cannot wait to read some more awesome travel posts.
Lonely Planet Competition
We are so excited to partner with Lonely Planet Kids for the Fearless Family Travel linky. Each fortnight we will select ONE winner from all of those who have linked up with their family travel post.
Link up your family travel post this week to be in with a chance of winning the Hidden Wonders book. This book is a new addition to the Lonely Planet Kids products. It takes you on a journey to the unknown to discover hidden sights, secret places and more. Ideal for feeding the curiosity of your little wanderlusters.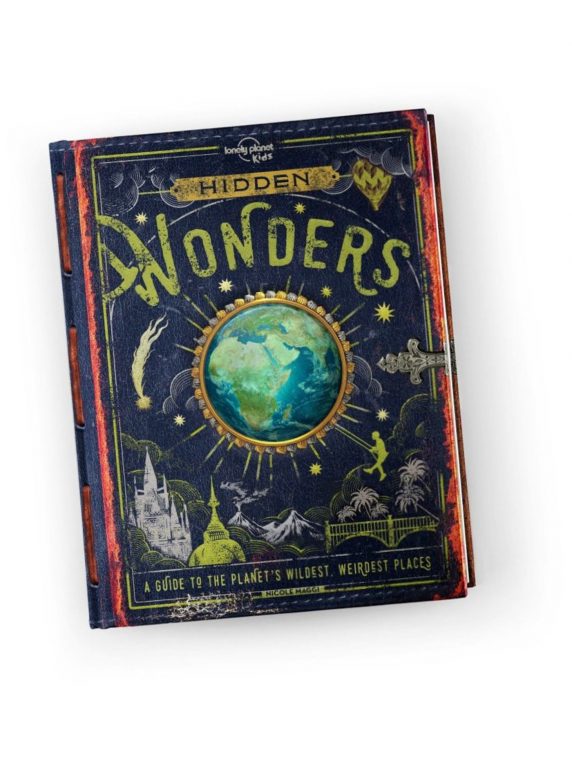 The winner will be announced on 27th January, when Leona will be hosting. And please note that we can only post out the prize to those living in Europe.
Faves from last time
But, onto our regular monthly features. As always, with so many good posts linked up, it's difficult to pick our favourites but Kirsty's favourites from the last linky of 2019 were:
Disney's Caribbean Beach Resort: A Review (Allison Gygi Travels)
Babu Gili at the Sydney Opera House (Holidaze and Hellidaze)
A Festive Afternoon Tea in London – Grosvenor House's Nutcracker Afternoon Tea (Ladies What Travel)
And the WINNER of the Lonely Planet
Myths and Legends is……. Ladies What Travel!
And a huge thank you to all of you who have been tagging your Instagram photos with #fearlessfamtrav. We are featuring them weekly on our instastories every Tuesday, so keep tagging.
FEARLESS FAMILY TRAVEL #44 LINKY
#fearlessfamtrav is the place to come and link up all your favourite family travel posts. From days out to holidays, city trips to beach breaks, top tips,a ccommodation and product reviews. If it's about family travel, them we want to hear about it!
THE RULES
Link up ONE post – old or new.
We have a brand new BADGE! Copy and paste the html (below) to the bottom of your blog post, or if badges aren't your thing, just link back to passportsandadventures.com.
Please share the linky love and comment on the two host posts and at least two others! Please add the #fearlessfamtrav hashtag to all comments!
Tweet your links @wandermustfam @goliveyoung @passportadvntr along with the #fearlessfamtrav hashtag and we will retweet to all our followers.
Tag your Instagram pics with #fearlessfamtrav to be selected and featured in our weekly round-up of favourites over on our instastories.
Please follow me on all my social media channels as I'll be sharing the posts on there too (Facebook, Twitter, Instagram, Pinterest). Leona has a #fearlessfamtrav Pinterest group so drop her a message to be invited!
The Fearless Family Travel with go live every fortnight on a Monday and will stay open for four days.
The winning Lonely Planet Kids book can only be posted to those living in Europe.
I can't wait to read all your posts!
Remember that the next Fearless Family Travel will be hosted by Leona and will be live on 27th January.
  Instructions: Select all code below, copy it and paste it inside your blog post as HTML <div style='width:100%;text-align:center;'><span style='margin:5px;padding:5px;border-radius: 5px;border:1px solid lightgrey;display:inline-block;'><a rel=_nofollow href='https://passportsandadventures.com'> <img style='border: 1px solid gray;width:200px;height:200px;' src='https://passportsandadventures.com/wp-content/uploads/2019/09/Fearless-Family-Travel-logo.png'> <p style='align: center;'></p></a></span>