As many of you know, we are a family that enjoy exploring places by taking road trips. Whether it is a trip to Yellowstone or discovering our home country, road trips are something we've enjoyed for years now. And with the many road trips has come experience in what you need to bring with you. In this post I'm sharing with you our road trip packing list for families to let you know what to pack for a road trip with kids and what not to bring! There is also a chance to download a printable road trip packing list for families at the end of this post.
We do love a good road trip. They are such a great way to discover what's out there – whether that's in your own country or overseas. So far, we have taken road trips with our son through Spain when we were emigrating to the Algarve, we've explored Central Portugal in 7-days, take an epic USA road trip from Portland, Oregon to Yellowstone National Park (and road tripped around Yellowstone in 3 days), and of course not forgetting exploring our heritage country of Ireland.
So, you could say we know a thing or two about family road trips and also know that travelling with kids requires a little extra forethought. Making your road trip packing list doesn't have to be difficult, however. In this post we share our experience with you to make life on the road much easier – and more enjoyable. Here it is – the essential road trip packing list for families. And we have a FREE, downloadable printable available too. Read on to find out more!
To find out more about how we get ready for the road trips we've taken and get some tips to help with your own road trip preparations, check out our post on preparing for a family road trip.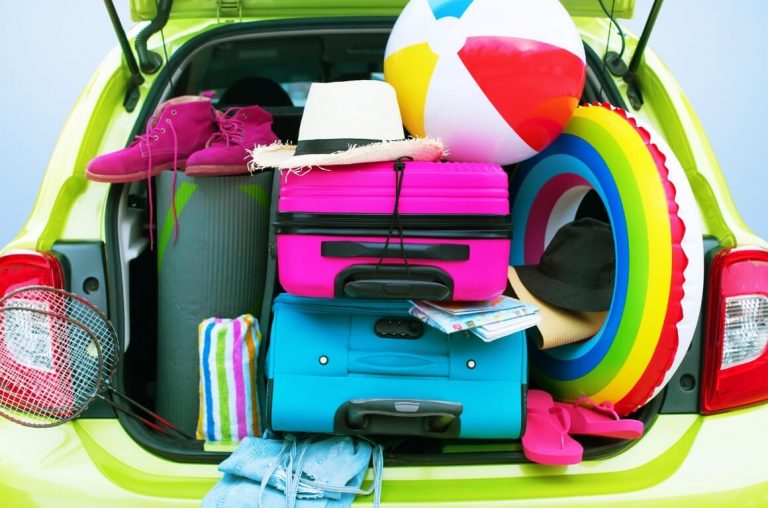 Things to consider when making your family road trip packing list
It's a good idea to consider the following issues – before you even get started on your road trip packing list with kids.
Spatial awareness
The first thing to think about, before packing for your road trip with kids, is how much space you have available. How big is your car boot? Do you have any other space you could use, such as any unoccupied seats, space beneath seats or footwells? Could you create more space – for example, by purchasing a roof bag? The latest models are indeed bags rather than boxes, making them far more lightweight and thus easy to fit.
The ToolGuard heavy duty roof bag is suitable for vehicles with or without a roof rack. It's fully waterproof and wind-resistant, and comes with a whole host of extras. These include a protection mat to protect your roof from scratching, a storage bag and a range of straps to attach it.
Small child, large load
There seems to be an unwritten law that states the younger the child, the more equipment you have to take with you. If you have a child who still uses a stroller, then you'll need space for that. Some take up a lot of room, in which case it could be worth investing in an inexpensive folding buggy that is more portable. You may also need a highchair, changing mat, travel cot, nappies and more for a baby or toddler.
A foldable lightweight stroller is a great investment if you want to make the most of your available space, and doesn't have to come with a high price tag. This Kolcraft compact travel stroller weighs under 12 lbs and has a one-hand folding system. It even has a useful storage basket beneath the seat.
FIND OUT more about the Kolcraft Travel Stroller HERE in the US and HERE in the UK.
A highchair is another must for small children, but it doesn't mean it has to be the traditional type. The 'Pop and Sit' Booster Seat, for example, folds up small and includes a carry bag, so you can take it anywhere. This makes it ideal for camping and travel. Another great alternative is the Chicco Pocket Snack Booster Seat, which folds up flat and has a carry strap.
VIEW the Pop and Sit Booster seat HERE. Find out more about the Chicco Pocket Snack Booster seat HERE in the US and HERE in the UK.
A travel cot can be bulky, so why not take a look at a travel bassinet instead if you have a baby? It is far more compact and thus portable. The Munchkin Fold and Go Travel Bassinet makes a great baby bed, and is so small to store and transport.
DISCOVER the Munchkin Travel Bassinet HERE. Find a UK alternative HERE.
Bigger children may need more space – but remember that a travel cot can double up as a very handy playpen – ideal during those days away when you want keep your little one safe and content. The Uniplay travel cot is an all-in-one travel solution for infants or toddlers, providing and cosy and safe spot for play as well as sleep.
READ MORE about the Uniplay Travel Cot HERE. Find a UK alternative HERE.
A travel change mat can even save you space, and may have a very small price tag indeed. The Childress one is compact, yet folds out into a larger mat than most other travel models.
SEE the Childress Travel Changing Mat HERE. Find it on UK Amazon HERE.
School age children may wish to take a lot of toys and books to keep them busy, while teenagers might claim additional space for all their clothes, shoes, accessories and even make-up. A road trip packing list for teens, for example, may be very different from one for a couple plus a baby. Bear this in mind when preparing your road trip packing list or using this post as a guide.
Happy campers
If you're heading to one or a series of campsites, then you'll have to bring along all your camping gear, such as tents, sleeping bags and campfire cooking equipment. It's important to note this first, before you begin to pack the clothes, box, toys and other accoutrements you want to bring on holiday, as this may limit your available space.
A day bag
What will you need in the car with you, to keep your children fed, watered and entertained? Having what you need at hand is guaranteed to make your trip more fun and less stressful. Keep whatever you'll need during the journey in a bag that you can easily reach. You may also want to pack items that you could need en-route – such as swimsuits and towels if you planning to stop at a beach. These microfiber towels can double up as both beach towels and picnic blankets. This CleverMaid Collapsible Cooler bag can double up as your day bag and a picnic cooler bag.
Your furry friend
If you're travelling with the family dog, make sure you ahem enough space for them – as well as water, food, bowls and, of course, a supply of dog poop bags!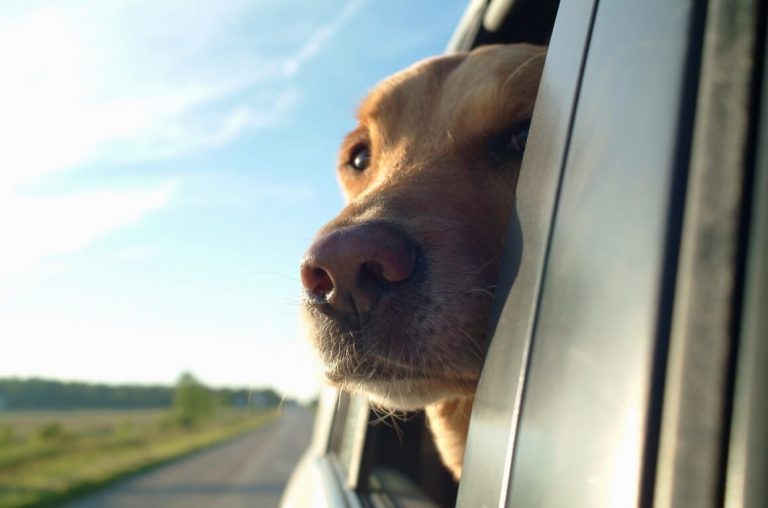 The destination
They say it's about the journey, not the destination – but your destination is important when planning what to pack. A USA road trip packing list might vary hugely from one state to another, for instance. The clothing you and your kids will need depends largely on the climate, but also on how long you're away for, what you'll be doing and whether you will have access to laundry facilities .
Travel sickness
Kids tend to be more prone to car sickness than adults, so it's best to be prepared – even if they've not suffered from it before. So make sure you pack a box of age-appropriate travel sickness pills in your day bag. We also find travel sickness bands helpful for our son.
REVIEWS and prices for Sea Band travel sickness bands can be seen HERE.
Do take along a change of clothes, wipes and some nappy or carrier bags for the waste and soiled clothing. Dry, plain biscuits can help with upset tummies, and make sure you always carry plenty of water. Some odour-neutralising air freshener may also come in handy!
The ultimate road trip packing list for kids by age
Road trip packing lists really do depend on the ages of the children in your family. Here are some key pointers to get you started.
Babies and toddlers
If you're travelling with a young child, make sure you carry enough nappies, baby wipes and milk or food to last. Allow for a few extra hours, just in case. Make sure all this kit is packed into your day bag, not some inaccessible part of the car boot! According to age, you may also need pull-up pants and a travel potty. Always ensure that you take at least one change of clothes.
If you have a baby, aside from the obvious nappies and wipes, make sure you have enough formula, if bottle-feeding. We always took a baby flask or thermos with us so we could make our son's bottle while on the way.
SEE the Thermos 'Funtainer' water flask HERE.
Five to ten year olds
A child of school age will not need all the baby gear – but they will be easily bored. They are likely to want lots of snacks too! So food is a must, as is entertainment. A kids' tablet is a good option – but may be best avoided during the journey itself if your child is prone to car sickness. The same applies with books. Get thinking – sometimes the old fashioned ways are the best! Games like "I spy" are always great, and you could also challenge each other to tell jokes or stories.
If you do want a kids' tablet, the super sturdy Amazon Fire is great value, and they'll even replace a broken one. We have had this one for our son for over a year and it is by far one of the best investments we've made when it comes to traveling with kids!
READ about the Amazon Fire kids' tablet HERE.
Tweens
Tweens are kids aged nine or ten to twelve. A road trip packing list for tweens will depend on what they like to do – and can do – while sitting down for a while. Again, a tablet or iPad is great – as long it's not going to make them car sick while travelling. Kids this age are old enough to think about what they might like to take – although they will probably expect you to remember everything on their behalf! Thus sitting them down in advance and agreeing on a list is a wise way to tackle this.
For usability for every family member, the Apple iPad is hard to beat. This popular family tablet can be loaded with games, music, films and TV shows to provide lots of entertainment. Make sure your tween doesn't forget headphones so you don't have to listen to their favourite teen movie for the 1,497th time!
SEE the latest Apple iPad HERE.
Teens
The great thing about teens is that they're old enough to pack for themselves. Again, it may be a good idea to discuss this in advance and agree a packing list together. Another reason for doing this is that some teens might want to take far too much in the way of clothes and accessories. If that's the case, it's probably best to get that argument out of the way before you set off on holiday together!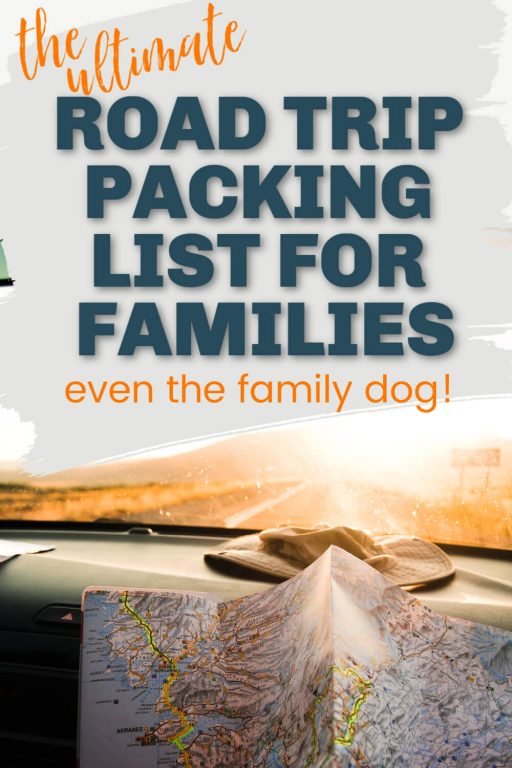 A road trip packing list template for your family
As it varies so much according to the ages of your children, we thought it a good idea to create a template for you to use rather than one printable road trip packing list. After all, your teenager isn't going to be impressed to see nappies on the list, while a baby is unlikely to make much sense of an iPad or some make-up. Although the latter might see them making a fine old mess!
To make your own family road trip packing list printable, just copy the sections that apply to you and paste them to create a bespoke MS Word, Apple Pages or Google document before pressing print. Job done.
NOTE: This printable is for personal use only. You may not SELL or reproduce the file or the printed version of the file for commercial reasons.
Your road trip packing list printable
This section is divided into several categories. Firstly there are must-haves for every family. Some for the day bag, some for the car boot or roof box. These also depend on where you're staying – especially if you're camping. Then suggested lists are given according to the age/s of the child/ren, according to what we've found helpful.
A tip we've found really helpful is to imagine the typical day. At each stage, what do you or they need? They get out of bed – wearing nightwear. If you're camping – sleeping bags, pillows and perhaps air or camping beds. Brush teeth – toothbrush and paste. And so on. Thinking about what they need at each stage of the day can be very helpful when making any packing list. As already mentioned, use the following sections to create your very own bespoke family road trip packing list.
Family packing list
Adults/family
Day bag
Travel sickness pills (take some before leaving if you've been car sick before)
Water (enough for the journey plus a few extra hours)
Snacks (including dry biscuits)
Baby wipes
Nappy bags (for soiled wipes & small clothing items)
Carrier bags (for soiled clothing)
Change of clothing
Air freshener
Road map
Car boot
Phone, tablet & other device chargers
Nightwear
Swimsuits and beach towels
iPad or tablet (plus charger)
Books
Clothing (including underwear, socks, shoes, jumper/s, coat, hat)
Hairdryer
Toiletries (including make-up)
Accessories (e.g. belts, handbags, scarves, jewellery)
Camping
Tent (including ground sheet & pegs)
Air or camp beds
Sleeping bags (or duvets)
Pillows
Towels (1 each plus a couple of spares)
Cooking equipment, cutlery and crockery
'Furniture' (e.g. camping chairs, folding table)
Torches
Board games
Food and drinks (if required)
Baby and toddler
Day bag
Favourite soft toy or comforter
Changing mat
Nappies or pull-ups
Baby wipes
Formula powder
Flask of hot water
Snacks (age-appropriate)
Car boot
Nightlight
Stroller
Highchair
Travel cot
Changing mat
Nappies or pull-ups
Baby wipes
Formula and bottles (if bottle-fed)
Clothing (including underwear, socks, shoes, jumper/s, coat, hat)
Kids 5-10 years
Day bag
Favourite comforter or soft toy
Snacks and drinks
Tablet or other form of entertainment (but beware if travel sickness prone!)
Car boot
Nightlight
Toys
Books (including colouring or sticker books)
Pens, pencils and paper
Tablet plus charger (if not in day bag)
Clothing (including underwear, socks, shoes, jumper/s, coat, hat)
Tweens
Day bag
Snacks and drinks
Tablet or other form of entertainment (but beware if travel sickness prone!)
Car boot
Gaming device and games
Books
Pens, pencils and paper
Tablet plus charger (if not in day bag)
Clothing (including underwear, socks, shoes, jumper/s, coat, hat)
Teens
Day bag
Snacks and drinks
Tablet or other form of entertainment (but beware if travel sickness prone!)
Car boot
Gaming device and games
Books
Tablet plus charger (if not in day bag)
Toiletries (including make-up)
Clothing (including underwear, socks, shoes, jumper/s, coat, hat)
Family dog
Dry and wet food
Food bowls
Dog poop bags
Lead (for walkies!)
Dog bed
Coat (during cold weather)
NOTE: This printable is for personal use only. You may not SELL or reproduce the file or the printed version of the file for commercial reasons.
Family road trip luggage
What sort of bags or cases should you use? Again, it depends on your family, what you plan to do and where you're headed. Adventurers and campers might find a backpack best and older kids may carry their own if you take one each. You can't go wrong with established brand Berghaus for a backpack that may well last a lifetime.
Cases can prove bulky when you're trying to squeeze them into the car – but they are the best for keeping clothes flat. This also makes finding everything easier. If you do prefer to use a case, it's well worth investing on a good one that will last, such as the Samsonite Centric 28-inch case that has the backing of a 10-year warranty.
Don't forget one or more bags – such as a daypack – for when you're out and about, too. As with all luggage it is again worth investing in a long-lasting product, like the Osprey Daylite Plus than comes in a choice of 14 colours.


VIEW a Berghaus 65-litre backpack HERE.


SEE the Samsonsite Centric Spinner Case HERE.


DISCOVER the Osprey Daylite Plus Daypack HERE.
And finally – don't overpack!
Whatever you do, don't be tempted to overpack. You will need a set of clothes per day – but can often re-wear shorts, skirts or trousers. You might need a second set of clothing for evenings – but do you need it every day? Can you dress up by using accessories wisely instead? Two to three pairs of shoes for each person is almost always enough – think one practical pair and one smart. There may well be laundry facilities where you stay, such as at camping or caravan sites, reducing the amount you need to bring.
Family road trips are fun
It's true, we promise. Plan ahead, make your list and get organised, and hopefully it will go like a dream!
Cath x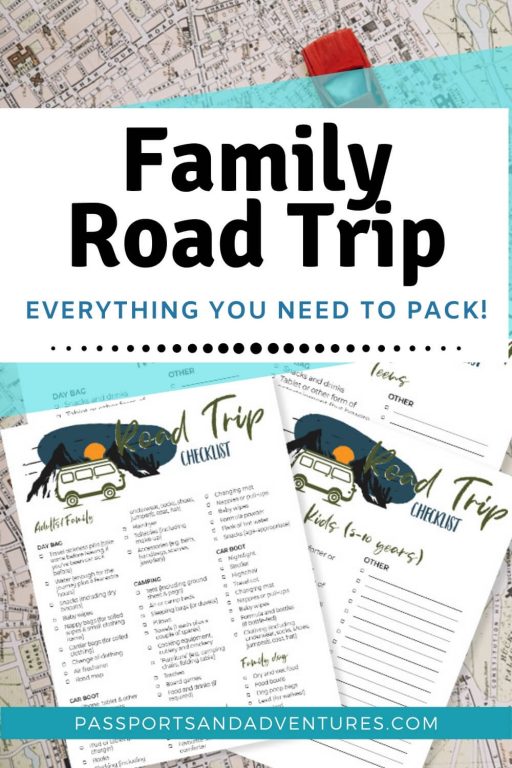 Related Posts
Passports and Adventures is a participant in the Amazon Services LLC Associates Program, an affiliate advertising program designed to provide a means for sites to earn advertising fees by advertising and linking to amazon.com, amazon.co.uk, amazon.ca. Amazon and the Amazon logo are trademarks of Amazon.com, Inc. or its affiliates. To learn more about affiliate links, read my Disclosure Policy here.