Hello, everyone. And welcome to the Fearless Family Travel linky. I'm so excited to be hosting my first edition of this awesome linky and also feel incredibly honoured to have been asked by Leona and Jenny to come on board along with Nicky. I hope I make them proud.
So, for those of you who don't know me, let me take a moment to introduce myself. I'm Cath, hi, and I blog here at Passports and Adventures. I'm a 41 year old Irish expat now living in Portugal with my Irish husband and our 5 year old son. We spent 15 years living in the UK before our move south. We've always enjoyed travelling but with me not working a full-time job we want to do even more of it. A bigger place to live is on the cards this year and then we'll see. If you'd like to know more about the Passports family, then read here.
What I've been up to
Well, where to start. I guess I'll share with you our most recent trip. We travelled to Finland to visit Santa in Lapland before spending a few days in Helsinki. Lapland was amazing. We were hosted by Visit Rovaniemi for our excursions and we met Santa Claus, did a husky safari, had a reindeer sleigh ride and even had a family photo shoot. While we were in Helsinki we took a day trip to Tallinn, which is just the most gorgeous little city. We had so much fun, although it was an exhausting trip. We were also very grateful to get back to the warmer weather, I can tell you.
Over Christmas we unexpectedly booked a trip back to Ireland for St Patrick's weekend in March. A local band that my husband and I used to see in Dublin are playing over the bank holiday weekend. With my sister on the case for the concert tickets, we booked our flights and it'll be our first weekend at home for Paddy's Day since we left over 16 years ago. I'm looking forward to seeing what our son makes of it.
Lonely Planet Competition
We are so excited to partner with Lonely Planet Kids for the Fearless Family Travel linky. Each fortnight we will select ONE winner from all of those who have linked up with their family travel post.
Link up your family travel post this week to be in with a chance of winning the How Airports Work book. This interactive, lift-the-flap book shares things like what happens to luggage after check in to how planes actually fly, that children and adults alike will be delighted and surprised. This is one I'd love to get my hands on!
The winner will be announced on 4th February, and please note that we can only post out the prize to those living in Europe.
Faves from last time
But, onto our regular monthly features. As always, with so many good posts linked up, it's difficult to pick our favourites but Jenny's favourites from the last linky were:
Bagan with Kids: Incredible temples and more! (World for a Girl)
2018 A Year in Review: A Year of Change (5 Lost Together)
Trans Pennine Trail with our kids: Liverpool to Sheffield (Eco Family Travel) WINNER OF LONELY PLANET KIDS BOOK. Please get in touch to claim your prize.
And a huge thank you to all of you who have been tagging your Instagram photos with #fearlessfamtrav. Both Nicky and I have joined the team and we are all featuring them weekly on our instastories so we can feature more of you!
FEARLESS FAMILY TRAVEL #25 LINKY
#fearlessfamtrav is the place to come and link up all your favourite family travel posts. From days out to holidays, city trips to beach breaks, top tips,a ccommodation and product reviews. If it's about family travel, them we want to hear about it!
THE RULES
Link up ONE post – old or new.
We have a NEW BADGE! Copy and paste the html (below) to the bottom of your blog post, or if badges aren't your thing, just link back to passportsandadventures.com.
Please share the linky love and comment on the two host posts and at least two others! Please add the #fearlessfamtrav hashtag to all comments!
Tweet your links @travelynnfamily @wandermustfam @goliveyoung @passportadvntr along with the #fearlessfamtrav hashtag and we will retweet to all our followers.
Tag your Instagram pics with #fearlessfamtrav to be selected and featured in our weekly round-up of favourites over on our instastories.
Please follow me on all my social media channels as I'll be sharing the posts on there too (Facebook, Twitter, Instagram, Pinterest). Leona has a #fearlessfamtrav Pinterest group so drop her a message to be invited!
The Fearless Family Travel with go live every fortnight on a Monday and will stay open for four days.
The winning Lonely Planet Kids book can only be posted to those living in Europe.
I can't wait to read all your posts!#
Remember that the next Fearless Family Travel will be hosted by Nicky at Go Live Young and will be live on 4th February.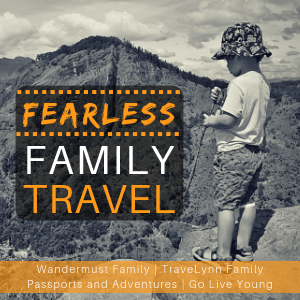 Instructions: Select all code below, copy it and paste it inside your blog post as HTML <div style='width:100%;text-align:center;'><span style='margin:5px;padding:5px;border-radius: 5px;border:1px solid lightgrey;display:inline-block;'><a rel=_nofollow href='https://passportsandadventures.com'> <img style='border: 1px solid gray;width:200px;height:200px;' src='https://travelynnfamily.com/wp-content/uploads/2018/12/fearlessfamtrav_logo.png'> <p style='align: center;'></p></a></span>  
Inlinkz Link Party