Welcome to another fortnight of Fearless Family Travel. As this goes live I am somewhere over the Bay of Biscay on my way back to Portugal from Ireland, where my son and I have spent a few days sightseeing while catching up with family.
A lot has happened in our household since I last hosted Fearless Family Travel. Grab a cuppa and let me enlighten those of you who haven't been following the saga on Instagram stories.
What I've been up to
So, while getting through the short but chilly Portuguese winter, I've been looking forward to our trip to Ireland which was due to be followed four weeks later by our first family trip East. We were going to Thailand and stopping in Dubai on the way home for a few days.
I was dreaming of a week on the beach, relaxing as a family, maybe visiting some islands, visiting temples and saying hi to Buddha like we did during our road trip in Central Portugal last year, before spending two days in Bangkok.
But, we've had to postpone that Easter trip until December because…..
My hubby only went and broke his leg in the first week of February, requiring surgery. He's five weeks post-op and about to start physiotherapy to get him walking again. It's been five very busy and tiring weeks, not only with looking after my hubby as well as the house, our son and dog, but we've also had a lot of running around to do and I've been trying to rearrange our flights and accommodation rather than cancelling our holiday all together.
Thankfully we got our main flights changed, our internal Thailand flights reimbursed (and now I have to rebook them) and rearranged accommodation for our three stops. I'm just thankful that, despite our son being five already, he is not due to start formal schooling in Portugal until September 2020. So, we were in a position to decide to change it until the end of November. It means even longer to wait for this trip but it gives us something to look forward to before Christmas. Drama, hey!
That said, my son and I enjoyed some time on the beach with friends who were visiting just after the accident. The seas was quite rough, despite it being a lovely day.
I must admit I've been looking forward to Ireland and will update you on how the weekend went in my next round of hosting Fearless Family Travel. I still have a girls weekend away in London coming up in May to make up for the postponement of our Thailand trip. But at least we're still going, albeit later than we had originally planned.
Anyway, enough about our family drama, let's get going with this week's Fearless Family Travel.
Lonely Planet Competition
We are so excited to partner with Lonely Planet Kids for the Fearless Family Travel linky. Each fortnight we will select ONE winner from all of those who have linked up with their family travel post.
Link up your family travel post this week to be in with a chance of winning the Cardboard Box Creations. With this book you can get crafty by making cardboard creations from around the globe. From a Big Ben to a New York cab, this starter kit includes step-by-step instructions for creating your travel-inspired masterpiece and even comes with a starter kit of cardboard sheets with cut-out template guides.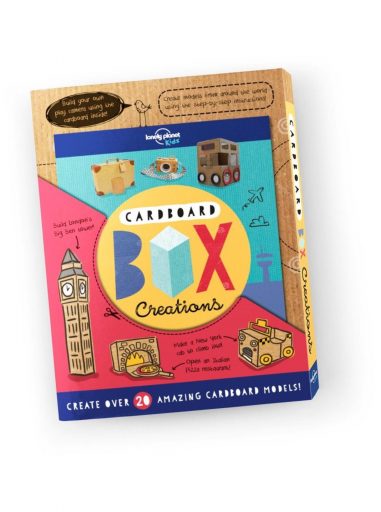 The winner will be announced on 1st April (no, we're not fooling you), and please note that we can only post out the prize to those living in Europe.
Faves from last time
But, onto our regular monthly features. As always, with so many good posts linked up, it's difficult to pick our favourites but Jenny's favourites from the last linky were:
A Family Short Break in Norfolk (Smudged Postcard)
How to Teach Your Toddler to Ski (A Bavarian Sojourn)
Tokyo's Hidden Tropics: Exploring Japan's Niijima Island (Happy Place Hunters)
And the WINNER of the Lonely Planet
101 Small Ways to Change the World is……. Happy Place Hunters. Congratulations! Please drop me an email to claim your prize.
And a huge thank you to all of you who have been tagging your Instagram photos with #fearlessfamtrav. We are featuring them weekly on our instastories every Tuesday, so keep tagging.
FEARLESS FAMILY TRAVEL #29 LINKY
#fearlessfamtrav is the place to come and link up all your favourite family travel posts. From days out to holidays, city trips to beach breaks, top tips,a ccommodation and product reviews. If it's about family travel, them we want to hear about it!
THE RULES
Link up ONE post – old or new.
We have a NEW BADGE! Copy and paste the html (below) to the bottom of your blog post, or if badges aren't your thing, just link back to passportsandadventures.com.
Please share the linky love and comment on the two host posts and at least two others! Please add the #fearlessfamtrav hashtag to all comments!
Tweet your links @travelynnfamily @wandermustfam @goliveyoung @passportadvntr along with the #fearlessfamtrav hashtag and we will retweet to all our followers.
Tag your Instagram pics with #fearlessfamtrav to be selected and featured in our weekly round-up of favourites over on our instastories.
Please follow me on all my social media channels as I'll be sharing the posts on there too (Facebook, Twitter, Instagram, Pinterest). Leona has a #fearlessfamtrav Pinterest group so drop her a message to be invited!
The Fearless Family Travel with go live every fortnight on a Monday and will stay open for four days.
The winning Lonely Planet Kids book can only be posted to those living in Europe.
I can't wait to read all your posts!
Remember that the next Fearless Family Travel will be hosted by Nicky at Go Live Young and will be live on 1st April.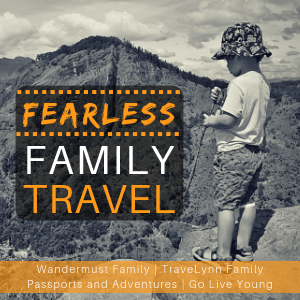 Instructions: Select all code below, copy it and paste it inside your blog post as HTML <div style='width:100%;text-align:center;'><span style='margin:5px;padding:5px;border-radius: 5px;border:1px solid lightgrey;display:inline-block;'><a rel=_nofollow href='https://passportsandadventures.com'> <img style='border: 1px solid gray;width:200px;height:200px;' src='https://travelynnfamily.com/wp-content/uploads/2018/12/fearlessfamtrav_logo.png'> <p style='align: center;'></p></a></span>