Welcome to another fortnight of Fearless Family Travel. This is my last link up before we take a summer break, but we'll be back in September for more link ups. Once again, things on the home front have been pretty quiet. Let me update you.
What I've been up to
We're coming towards the end of the preschool year here in Portugal. The main schools broke up in June but (thankfully) preschool remains open until the last Friday in July. I'm counting my blessings as it allows me to get some blog work done during the day.
Travel-wise, I've done none, zero. BUT, hubby started his new job with a client based in Frankfurt. He's been twice and last week was also in Lisbon trying to sort out a visa so he can visit Shanghai at the end of the month. If the boy and I were not already heading to Ireland, we would have gone with him! As it is, we'll overlap with hubby not arriving back until after we're gone. So, we won't see each other for nearly 4 weeks!
We're also looking into kennels for the dog. Up until now we've been lucky that my parents have taken him but as my Mum isn't well and both of them are in Ireland, we're looking into kennels. The black beast is used to them so no worries with him. And we've got a recommendation for one near us so that's good.
Aside from all that, we finally have travel plans for the end of the summer. Hubby is due in London for client meetings during the last week of August and to meet up with his business partner. As his company is paying for his flight and accommodation, we thought we'd all go, with us just needing to cover flights for the boy and I.
We'll be there for five full days with hubby working three of them. So, the boy and I will do some things we've done before like the Tower of London, the London Eye and Sea Life, along with some hubby doesn't mind missing. And on his two free days we'll do things together as a family.
I'm very excited as I've already started booking some things for us to do, namely KidZania and a Mary Poppins themed Afternoon Tea. I am so excited by these. And I've a jam-packed itinerary planned.
I've also started planning our Ireland trip and have made bookings for Dunguaire Castle and the Cliffs of Moher, and also a return visit to Imaginosity.
AND, if the kennels works out well, we might extend the week in August into the first week in September and head north again for another Portugal road trip. We didn't get to spend much time in Obidos or Sintra (blog post coming tomorrow on that) so we might book the dog in for two weeks and do another road trip North. Watch this space!
That's my update for now, let's get going with this week's Fearless Family Travel.
Lonely Planet Competition
We are so excited to partner with Lonely Planet Kids for the Fearless Family Travel linky. Each fortnight we will select ONE winner from all of those who have linked up with their family travel post.
Link up your family travel post this week to be in with a chance of winning the Atlas of Monsters and Ghosts book. In this book you can learn about some of the world's most famous ghosts and mythical creatures.
The winner will be announced on 9th September when I'll be back with our first link up after the summer break, but I'll be contacting them before then to arrange their prize. And please note that we can only post out the prize to those living in Europe.
Faves from last time
But, onto our regular monthly features. As always, with so many good posts linked up, it's difficult to pick our favourites but Leona's favourites from last time were:
Ultimate Wildlife Adventure at Camp Baboon (The Curious Pixie)
A Guide to Fun Family Walks on the Northumberland Coast AONB – Bamburgh to Boulmer (Kids of the Wild)
Towers in Italy to climb for a great view (Smudged Postcard)
And the WINNER of the Lonely Planet
Around the World Craft and Design is……. Smudged Postcard! Please drop me an email to claim your prize at: cath@passportsandadventures.com.
And a huge thank you to all of you who have been tagging your Instagram photos with #fearlessfamtrav. We are featuring them weekly on our instastories every Tuesday, so keep tagging.
FEARLESS FAMILY TRAVEL #36 LINKY
#fearlessfamtrav is the place to come and link up all your favourite family travel posts. From days out to holidays, city trips to beach breaks, top tips,a ccommodation and product reviews. If it's about family travel, them we want to hear about it!
THE RULES
Link up ONE post – old or new.
We have a BADGE! Copy and paste the html (below) to the bottom of your blog post, or if badges aren't your thing, just link back to passportsandadventures.com.
Please share the linky love and comment on the two host posts and at least two others! Please add the #fearlessfamtrav hashtag to all comments!
Tweet your links @travelynnfamily @wandermustfam @goliveyoung @passportadvntr along with the #fearlessfamtrav hashtag and we will retweet to all our followers.
Tag your Instagram pics with #fearlessfamtrav to be selected and featured in our weekly round-up of favourites over on our instastories.
Please follow me on all my social media channels as I'll be sharing the posts on there too (Facebook, Twitter, Instagram, Pinterest). Leona has a #fearlessfamtrav Pinterest group so drop her a message to be invited!
The Fearless Family Travel with go live every fortnight on a Monday and will stay open for four days.
The winning Lonely Planet Kids book can only be posted to those living in Europe.
I can't wait to read all your posts!
Remember that the next Fearless Family Travel will be hosted by myself and will be live on September 9th after the summer break.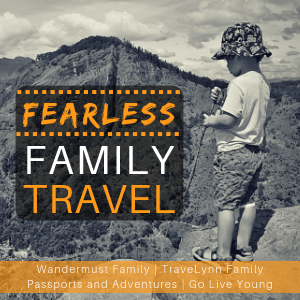 Instructions: Select all code below, copy it and paste it inside your blog post as HTML <div style='width:100%;text-align:center;'><span style='margin:5px;padding:5px;border-radius: 5px;border:1px solid lightgrey;display:inline-block;'><a rel=_nofollow href='https://passportsandadventures.com'> <img style='border: 1px solid gray;width:200px;height:200px;' src='https://travelynnfamily.com/wp-content/uploads/2018/12/fearlessfamtrav_logo.png'> <p style='align: center;'></p></a></span>