Shortly before we headed off on our USA road trip, I got the chance to receive an Adventure Belt from More-2-Explore for review. We had used traditional baby reins with BattleKid when out and about until they got too small for him shortly before he turned 3. Since then, and as he has grown older and more stubborn, we have struggled to keep hold of his hand, especially in busy places. So, when I discovered the Adventure Belt from More-2-Explore I knew it might be the answer to our problems. And I was even more thrilled to receive one for review.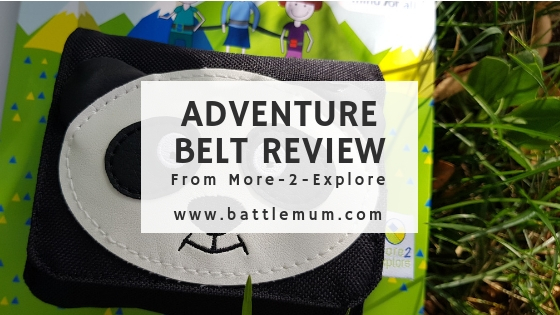 The Adventure Belt is the brainchild of Lucy Bostock. It came about after her 5-year-old son got separated from them during a family trip to Legoland. Although he was only missing for 10 minutes and was found safe and well, she immediately started to think about ways to keep him close to her without him losing his independence. And so, the Adventure Belt was born.
We received the Panda Adventure Belt from More-2-Explore, although there are three other colours in the range as well. I held off opening the Adventure Belt until just before we were ready to head off on our trip. We had to get a flight to Heathrow to get our flight to Portland as we had booked our trip before we moved to Portugal. The only flight I could book direct to Heathrow, to save us messing around with changing airports in London, was on the Thursday evening. This resulted in us having 36 hours to ourselves in London before heading to the USA.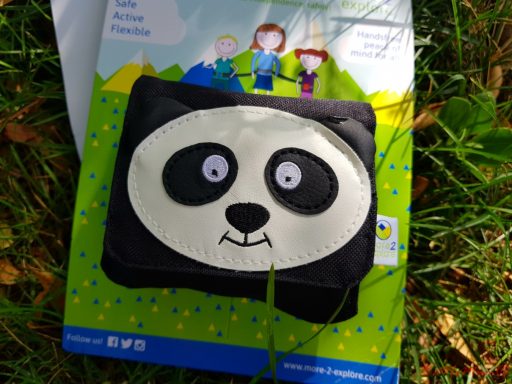 What better way to spend 36 hours than a family day trip into London itself. BattleKid has never been to London before, so we considered things to do with him and decided on a trip to the London Eye, SeaLife and the Tower of London. I knew when planning this day trip that the Adventure Belt from More-2-Explore was going to get its first outing.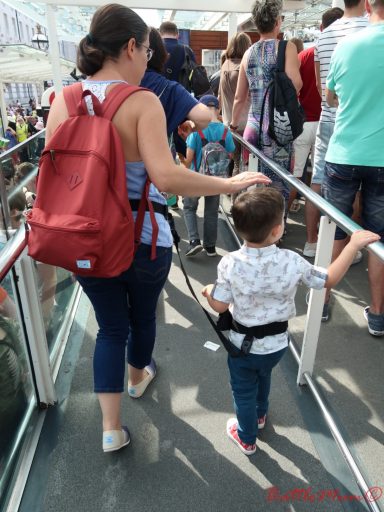 And boy did it come in useful around the London Eye. I had booked Fast Track tickets but despite this, we still had to negotiate our way through the crowds at the Eye. We had brunch in Southbank before walking around to the London Eye, but before we left the café, I put the Adventure Belt on BattleKid and me. This meant he was free to walk slightly ahead himself but not so far as to become separated from us.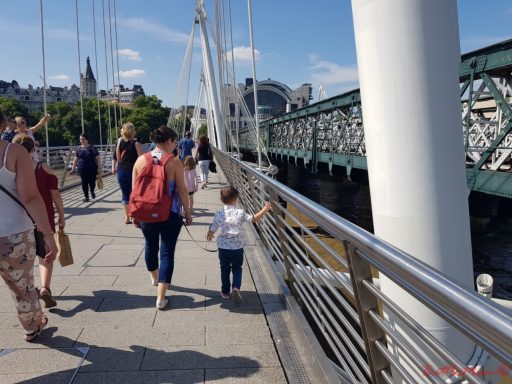 We kept it on while we waited in the Fast Track queue and removed the bungee cord while we were in the Pod itself. But as soon as we exited the Eye, it was back on so we could walk to SeaLife. Again, we removed it while we were inside so BattleKid was free to enjoy the aquarium but it was firmly back on while we walked to the tube to get to the Tower of London.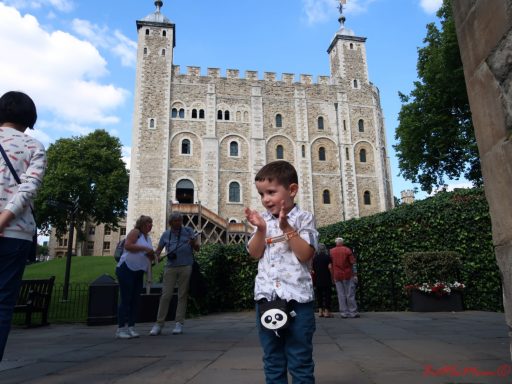 BattleKid never once resisted putting on the Adventure Belt from More-2-Explore, as he used to with his baby reins, probably because it wasn't as restricting as them. His hands, and mine, were free and he still retained his own sense of freedom. That said I could pull back on the bungee to get him closer to me if necessary.
We also used the Adventure Belt in Yellowstone National Park, one of the destinations we visited during our USA road trip. It came into its own around the geysers and springs. Many of them around accessible via boardwalks but not many have side rails. The Adventure Belt meant we could keep him close to us at all times around these beautiful but dangerous natural wonders.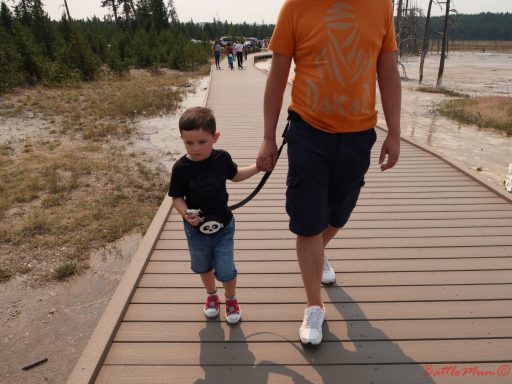 In Portland, our final destination, we used the Adventure Belt to keep BattleKid close to us during our shopping trip into Downtown Portland. I don't know about you, but I generally worry about the safety of BattleKid when we visit new cities and places for the first time. Although it feels like a very safe city, there are tram lines on the roads, and a train-mad fan like BattleKid might easily become excited or distracted and wander onto those roads. The Adventure Belt meant he could still enjoy spotting the trams (or trains in his eyes) but from a safe distance. It also put our minds at ease knowing he couldn't wander into the road as he was tethered to one of us at all times.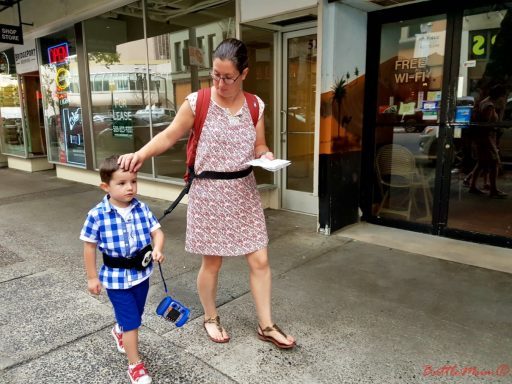 The Adventure Belt from More-2-Explore got a lot of remarks from parents while we were in America, many of whom said it was exactly what they needed for their pre-schooler. I have also had comments from followers on Instagram with older children saying it looks brilliant. And it really is.
What we love about the Adventure Belt from More-2-Explore
It is the ideal alternative to traditional baby reins.

The Adventure Belt doesn't look or feel like traditional reins and that is why I think BattleKid was more than willing to put it on.

The pouch, which measures 10cm x 10.5cm, is the perfect little place for them to store their treasures, or small bag of SeaLife toys as BattleKid did. It also fits several Disney Cars models as I can testify to. It closes via Velcro so is easy for kids to use.

Because the Adventure Belt from More-2-Explore physically links child to parent, there is no chance of them running away from you.

With no rein to hold, your hands are free to browse the shops, or take pictures if acting as a tourist for the day, as we were. 

The elasticated bungee strap is adjustable from approximately 40 to 80cm and can be detached when you want to let them be completely independent.

Because the buckles to the bungee and child's belt have a three-way opening system, it means little hands are unable to open it themselves.

The Adventure Belt from More-2-Explore is designed to be used with children aged 2 years or more who are walking independently.

It fits a hip waist of 75 to 150cm and complies with EU safety regulations for children's toys and accessories (standards I used to test against in my job as a scientist).

While we received the Panda Belt for review, there are four colours in the range including the Panda, a black, a blue and a purple belt. So, there is one to suit everyone. Personally, I love the Panda one and am thrilled it's the one we received for review.
What we didn't like about the Adventure Belt from More-2-Explore
The Adventure Belt is available via the More-2-Explore website and costs just £15.99. A Two-pack is available to purchase for £27.99 and a triple pack for £37.99. And yes, you can use the Adventure Belt with more than one child.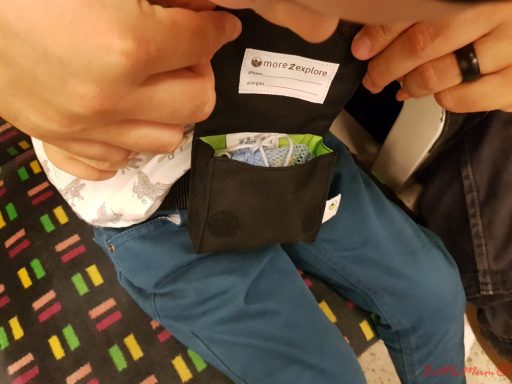 I cannot tell you how much we've loved the Adventure Belt while on our own adventures. It has made our lives less stressful while acting as tourists. Before it came into our lives, BattleDad and I would be constantly fighting with BattleKid to keep him close to us while out and about, particularly in new places. Being an independent almost 4-year-old meant the battles were real. He's not called BattleKid lightly! But with the Adventure Belt he retains his independence, has a hidey hole for a few toys and his hands are free to enjoy discovering new things. It hasn't bothered him in the slightest putting it on and he really likes his Panda.
For those of you with children who have outgrown their baby reins, or who refuse to wear their reins, the Adventure Belt from More-2-Explore might be the solution to your problems. It has certainly eased things for us, leaving us all free to enjoy the things we love doing the most, exploring and discovering new places.
Cath x
*We received a Panda Adventure Belt from More-2-Explore for the purpose of this review. However, as always, these are my own honest thoughts and opinions of the product.
**This post contains an Amazon Affiliate.