Chepstow Castle, on the River Wye is a great castle in South Wales to visit with kids. In this post I am sharing our visit to this great historical site and give you some tips and information to ensure your visit to Chepstow Castle with kids is a successful one.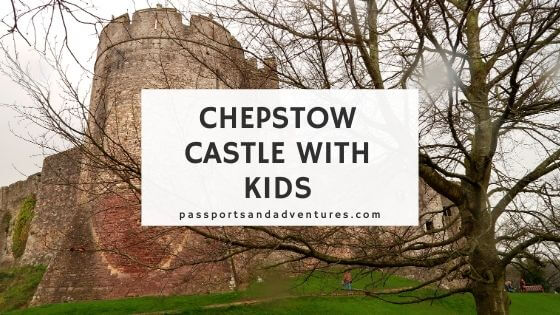 *Post originally published in October 2017. Updated in April 2020.
Although our son and I had visited once before, we had never been dragon hunting at Chepstow Castle until earlier this year. When my nephew and Dad were visiting when our son was 4 months old, we took a drive to Chepstow Castle. However, I couldn't explore the castle as our son was so small and I had his buggy. Fast forward three years and we, as a family, finally visited this wonderful castle on the banks of the River Wye.
Our sole intention this time was to not only explore the castle, it being my husband's first visit, but also to do a spot of dragon hunting at Chepstow Castle. We were sure there must be a dragon lurking inside as we'd found dragons in other Welsh Castles like Carreg Cennen.
Chepstow Castle is an amazing castle which sits on the banks of the River Wye in Monthmouthshire, Wales. It is the oldest surviving post-Roman stone fortification in Britain and is a castle not to be missed. The castle also boasts the oldest castle doors in Europe. Over 800 years old, the wooden doors hung at the main gateway until 1962. They are still on display in a special exhibition.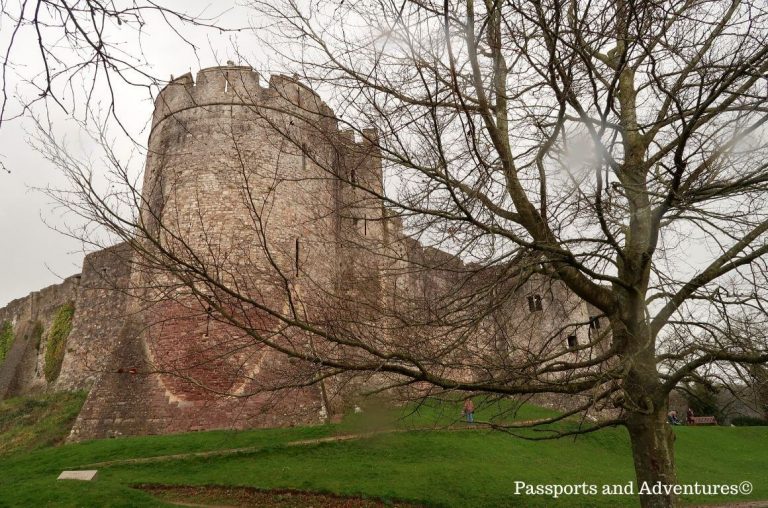 Construction began in 1067 and continued well into the 18th century. It has four baileys, or courtyards, each added during its long history. Perched on a clifftop along the bank of the River Wye, Chepstow Castle overlooks an important crossing point on the river which was a major artery to Monmouth and Hereford. It is a Cadw site, open to the public, and was even used for filming of the Doctor Who 50th anniversary programme.
When you arrive at Chepstow Castle, there is a car park at the bottom of the hill upon which it is located. I have been very lucky in that both times I have visited I've been able to get parking in the car park. I'd imagine on busy days it must fill up quickly. My husband, our son and I parked up, used the public toilets beside the car park (as there are none in the castle itself) and up we went to show our Cadw membership cards before entering through the gift shop.
We entered through the Outer Gatehouse and started our dragon hunting at Chepstow Castle in the Chamber Block and Kitchens. Checking all the nooks and crannies as we moved though, we just didn't find any sign of a dragon hiding out. What we did stumble upon was an amazing cellar. The stonework and ceilings were stunning. My husband and I could just imagine it being filled with wine, grains and other assorted food for the inhabitants of the castle. But no dragon.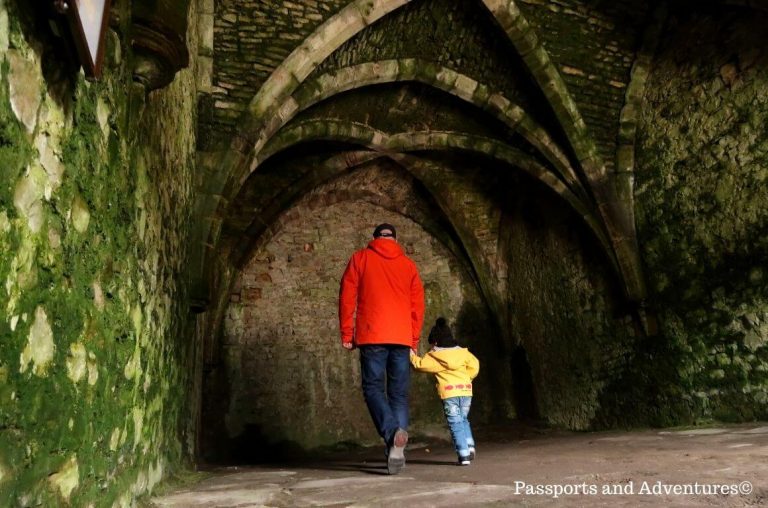 Next, we moved onto the Great Hall and although we saw no sign of a dragon, we did enjoy the amazing views from the balconies overlooking the River Wye.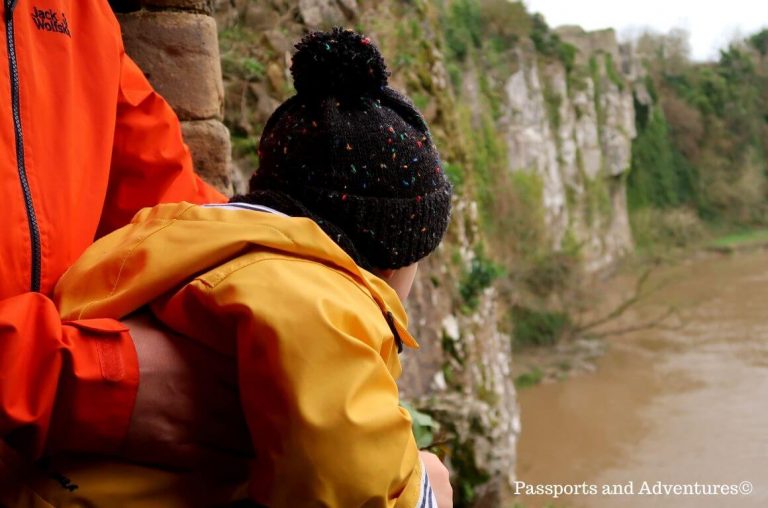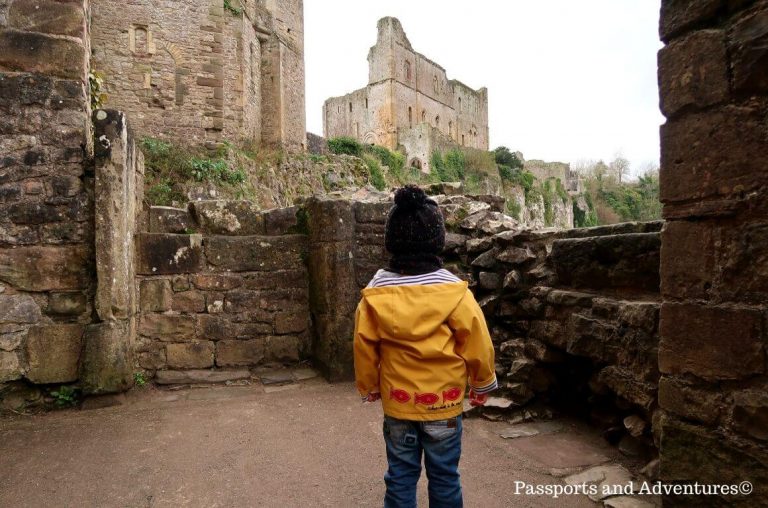 From the Great Hall, we moved from the Lower Bailey into the Middle Bailey. There weren't many places a dragon could be hiding in the Middle Bailey but our dragon hunting at Chepstow Castle took us into the Great Tower. Our son and I actually had a lot of fun running from one end of the Great Tower to the other. One gentleman inside must have thought we were mad. We searched high and low for the dragon but decided he must have been hiding further in the castle.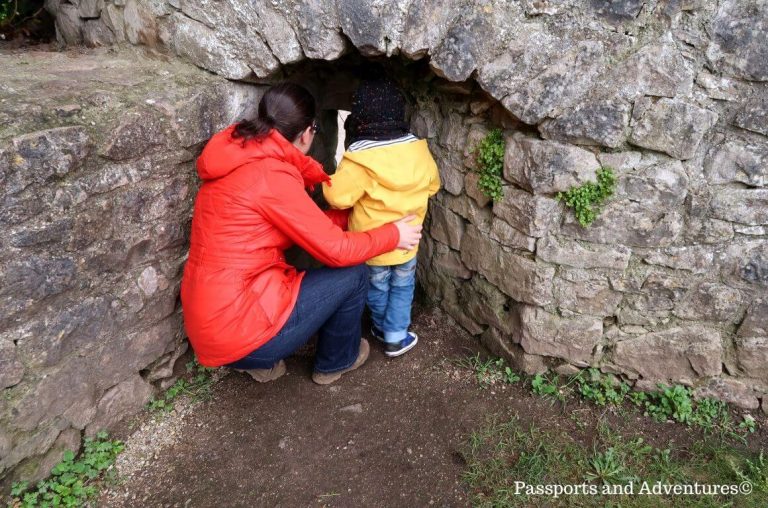 From the Great Tower we passed through the Gallery, again with lovely views over the River, into the Upper Bailey. There were lots of places in here a dragon could be hiding. We checked around the knight in the bailey, behind some trees, under the bridge that leads to the Barbican and a gorgeous wooden door at the very end of the castle. Our dragon hunting at Chepstow Castle was taking some time.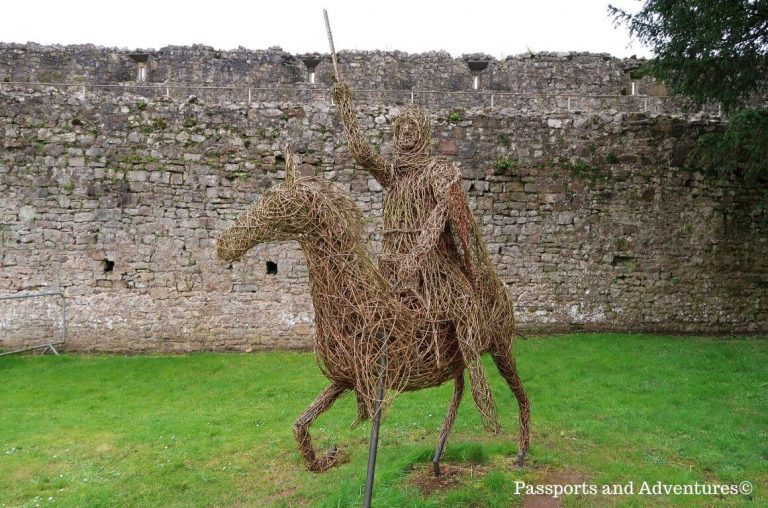 We knew he wasn't in the lower end of the castle and eventually found him hiding in a hole in the wall in the Barbican near the South Tower. Finally, we had found the Chepstow Castle dragon, albeit a small one.

Our son was thrilled and even offered the Chepstow Castle dragon some flowers to eat. Hmm. Not exactly what you'd call dragon food. As our successful visit dragon hunting at Chepstow Castle was nearly at an end, we made our way back to the Lower Bailey where we took a few family selfies and checked in a well, just to make sure there weren't two dragons in the castle. You never know these days!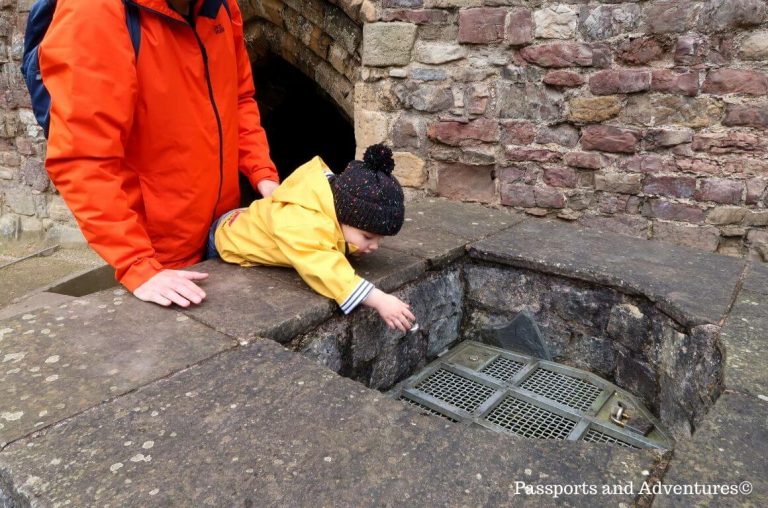 We finished off our visit to dragon hunting at Chepstow Castle with a spot of roly-poly down the hill outside the castle walls. And yes, I joined in. We were also very lucky to be leaving just as the rain rolled in. All-in-all a successful visit dragon hunting at Chepstow Castle.
Things to note if visiting Chepstow Castle with kids
Chepstow Castle is a Cadw site as mentioned and is open every day from 9.30am to 6pm from the 1st July to the 31st August. Between 1st September to the 31st October it is open from 9.30am to 5pm. From 1st November 2017 and 28th February 2018, the castle is open between 10am and 4pm from Monday to Saturday and 11am to 4pm on Sundays*.
Last admissions are 30 minutes before closing and costs £6.50 per adult, with children, senior citizens and concession tickets costing £4.20. Children under 5 years of age enter free. As Cadw members our admission was included in our annual pass.
There are no toilets on site, although there are public toilets located beside the car park.
The castle has some benches but there is no coffee shop.  There are also no baby changing facilities at Chepstow Castle.
The courtyards and walkways are mainly accessible to buggies and wheelchairs. Upper levels are not accessible.
There is a car park at the bottom of the hill of the castle, and it is a pay-and-display car park.
We thoroughly enjoyed our time dragon hunting at Chepstow Castle and can recommend it as a place to visit if you are in the Chepstow or Monmouth area. It is quite a big castle, with plenty of rooms are areas to explore, and dragon hunt if you wish. Chepstow is a lovely little town and has plenty of cafes to grab a cuppa and a cake after your visit. And dare I say it, dragon hunting at Chepstow Castle was more fun than our dragon adventures at Abergavenny or Tretower Castle. I'd love to take our son dragon hunting at Conway Castle one day after seeing some amazing pictures of it in post by Sassy Probinsyana.
Have you taken your children dragon hunting yet?
Cath x
*Prices and visiting times correct at the time of updating this post.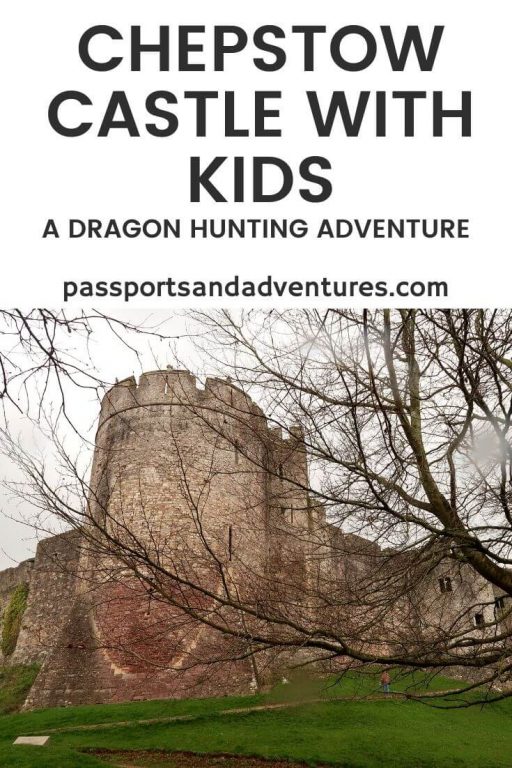 Related Posts