In this post I am sharing with you our visit to a small castle in South Wales and give you some tips and information for making sure your visit to Carreg Cennen Castle with kids is a great one.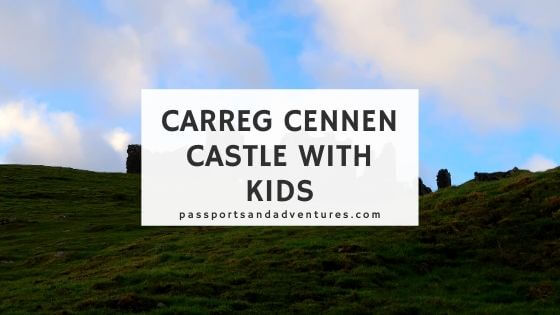 *Post originally published in September 2017. Updated in March 2020.
One of the things I wanted to do with our son before we left the UK for Portugal was to visit as many castles in South Wales as we could. We love nothing more than getting out and doing a spot of dragon hunting while we explore old castles and forts. So, while my husband was away one weekend, I did a search for castles in South Wales and came upon one which looked great from the picture. And so it was that we went dragon hunting at Carreg Cennen Castle, just me and the boy.

Carreg Cennen Castle, located near Llandeilo in Carmarthenshire, is perched high on top of a hill. Originating somewhere in the 12th century, it has been ruinous since the 15th century when it was vandalised during the War of the Roses. It dominates the skyline of the area around the River Cennan and surrounded by mountainous farming land.
Although quiet and peaceful today, it would have been a hive of activity at the height of its time with stables, workshops and kitchens keeping the castle going on a day-to-day basis. Carreg Cennan Castle is now a part of Cadw.
After visiting a friend in Swansea, my son and I drove the 23 miles from Swansea past Ammanford to start our dragon hunting at Carreg Cennan Castle. I kept looking out for it but it didn't come into view until we were only a few minutes from it. The closer we got, the more spectacular it looked. I can only imagine what people must have thought back in the 13th and 14th centuries as they approached the castle.
We parked in the car park and walked to the gift shop/restaurant to show our Cadw membership cards. And then it hit me that we had to walk up the hill to get to the castle. I genuinely did not think my son would manage it. There is no way you will get a buggy up that hill. Considering he had not long turned 3 when we visited, I was sure I would hear "Mummy, up" half way up the hill.
However, whether it was the promise of seeing the castle or going dragon hunting, he walked the whole way up the hill. I was so proud of him and secretly thankful as I just about managed the climb myself while holding his hand.
As you approach the castle, the views across the countryside are spectacular and you can see why they chose to build a castle on this particular hill. To enter the castle, we climbed a few stone steps before crossing a modern-day steel bridge to the Barbican which led to the Middle Gate Tower, with stunning views.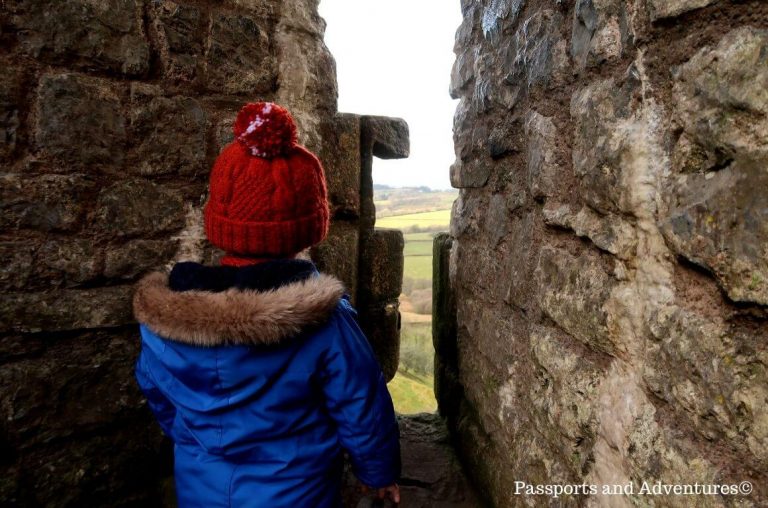 From there our son and I turned left and went into the area leading to the North-East Tower. We checked in holes in the walls and any other nook and cranny a dragon might use to hide in. But our first check in our hunt didn't turn up a dragon.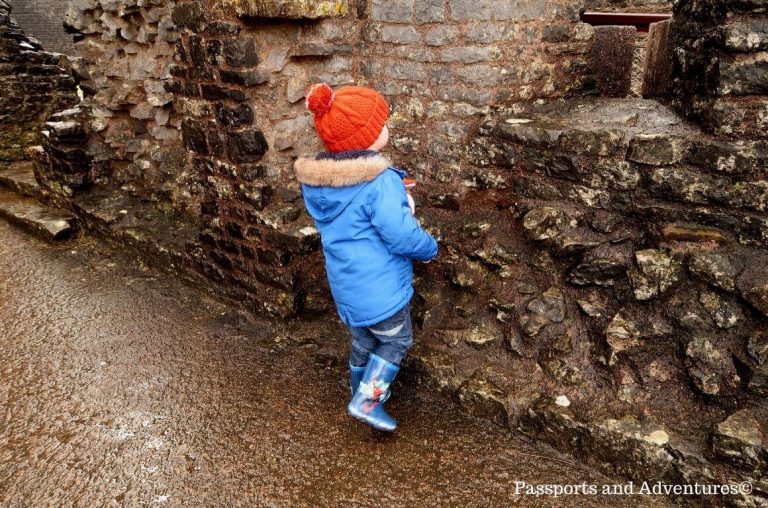 We continued our dragon hunting at Carreg Cennen Castle by going into the Hall and Chapel Tower, but no matter where we looked, we couldn't find the dragon.
We headed across the Inner Bailey to the King's Tower. However, as it was closed off, we just checked the stairs that we could see but alas, no dragon. I must say, when we visited in January it was bright and sunny, but boy was the wind cold. Despite hats and gloves, we still felt the sharpness to the wind and I can just imagine how hard the inhabitants of the castle must have had it during winter in the 12th to 15th centuries.
But Carreg Cennen Castle is still very beautiful. We carried on across the Inner Bailey to check around the North-West Tower. Despite no sign of a dragon we had lots of fun jumping in puddles left behind by rain.
Then something caught our son's eye from across the Bailey and off he went running towards the Hall again. He had spotted something red and came back clutching his dragon, having found him hiding in a high hole in a wall. Dragon hunting at Carreg Cennen Castle was a success and he was chuffed with himself.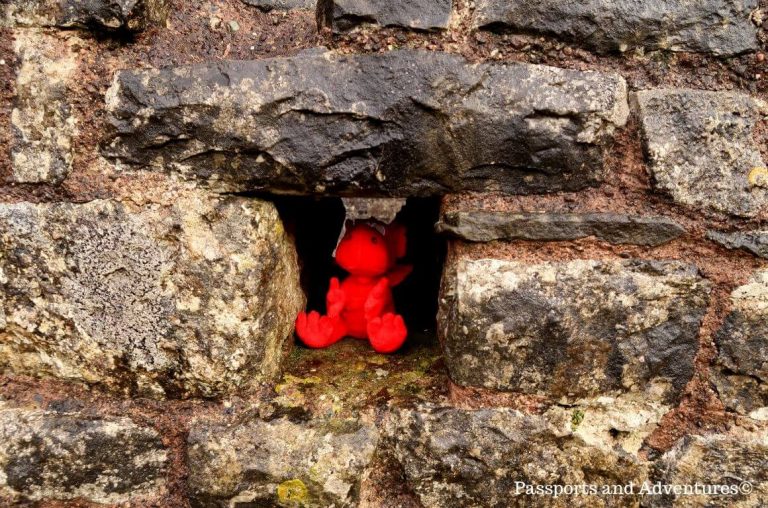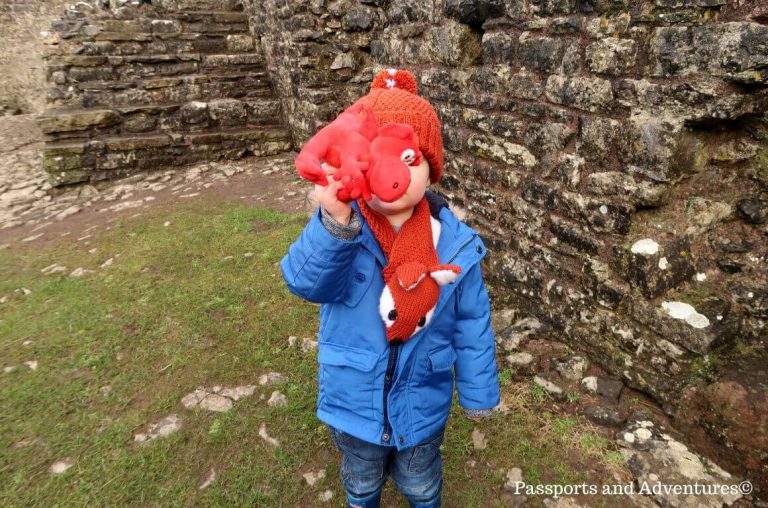 After some more puddling jumping, I decided we should start heading back down the castle to the restaurant to get something to warm us up. I was feeling cold and so were my son's hands. We didn't do any roly-poly's here as the ground was slippery and mucky but our son did do some jumping off mounds in the grass.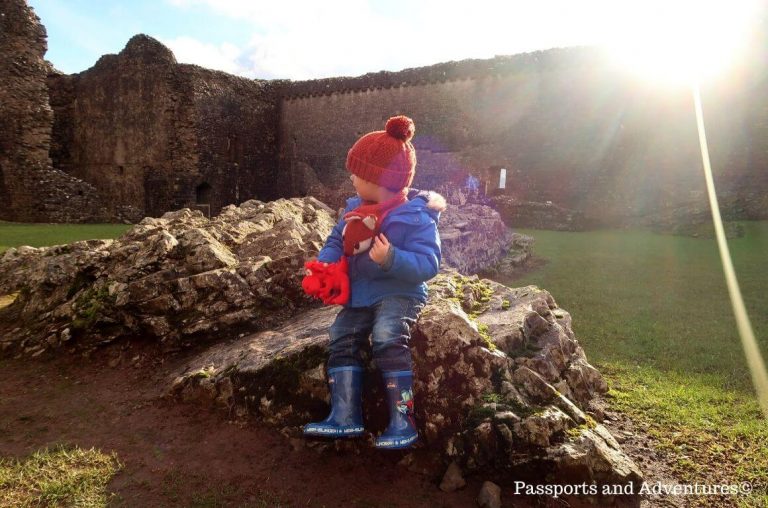 Once we had descended the hill and passed through the Outer Gate, we went into the restaurant where I ordered a Welsh Cawl for my son and I to share. And my word, was it amazing. Not only was it nice and warm, a very welcome thing, but it was extremely tasty. Certainly, the best Welsh Cawl I've ever had. And it wasn't expensive either at £4.50 for the cawl, some bread and butter, and a chunk of cheese. Our son devoured most of it!
As we were having a nice day out, I took the long way home from Carreg Cennen through the Brecon Beacons National Park. A certain little boy slept most of the way home. I can safely say that our dragon hunting at Carreg Cennen Castle was a resounding success and I'm so glad we visited it before leaving Wales.
Things to note if you visit Carreg Cennen Castle with kids
Carreg Cennen Castle is a Cadw site as mentioned and is open every day from 9.30am to 6pm from the 1st April to the 31st October. From 1st November to the 31st March, the castle is open from 9.30am to 4.30pm. The castle is closed on Christmas Day.
The whole site and car park are locked daily at 6.00pm.
Last admission is 45 minutes before closing, and it costs £5.50 per adult, with children, veterans and student tickets costing £3.50. Seniors costs £4.50. Children under 5 years of age enter free. As Cadw members our admission was included in our annual pass.
There are toilets on site, located in the restaurant or in the car park.
There is a restaurant and gift shop on site, and I can highly recommend the Welsh Cawl. There are benches available too.
Because the castle is located on a rocky hill, this site is not wheelchair or buggy friendly.
There is a car park at the bottom of the castle hill beside the farm and shop, is free and can hold approximately 50 cars.
Be aware, due to the location, mobile signal is poor, as I found out.
As the castle is privately owned (but managed by Cadw), there are livestock nearby. You are advised not to interact with them on your way to/from the castle itself.
My son and I really enjoyed our time dragon hunting at Carreg Cennen Castle. It made a nice change seeing a castle further away from us rather then visiting Tretower or Abergavenny again. I can recommend it as a place to visit if you are in the Llandeilo area or are looking for a nice day out in South Wales. Be aware that, as it is situated on the top of a hill, you need to climb there to get it, but if our 3-year-old son can manage it, anyone can. The views from the castle are spectacular and the descent down the hill is easy, although be careful if the ground is wet. And do stop off at the restaurant for a well-deserved break afterwards. The Cawl is well worth it.
Have you taken your children dragon hunting yet?
Cath x
*Prices and visiting times correct at the time of updating this post.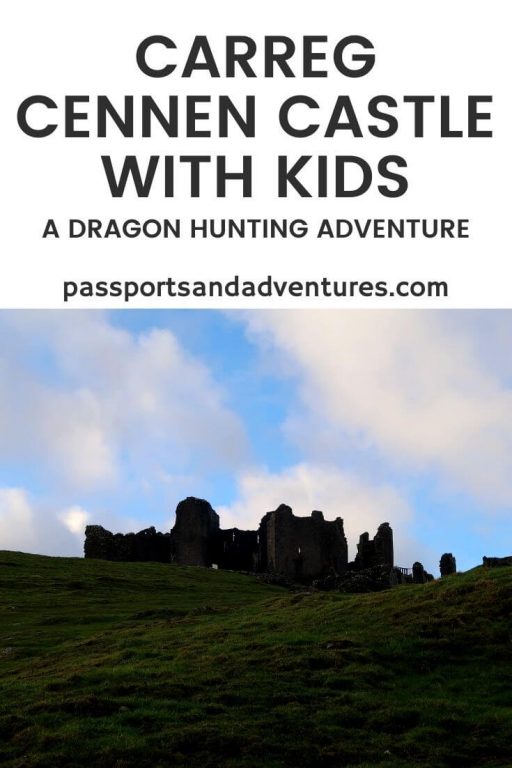 Related Posts