Beautiful Thailand offers children a window into a different culture; different experiences, food, religion, the best beaches on earth and so much more. I'm a big believer that if kids are encouraged to have their eyes open from an early age about how other people live in different countries, it's not only good for their development, but for the future of our multicultural planet. The Thais also live by the word SANUK, which translates roughly to mean 'fun.' This encapsulates exactly why it's wonderful to travel to Thailand with children.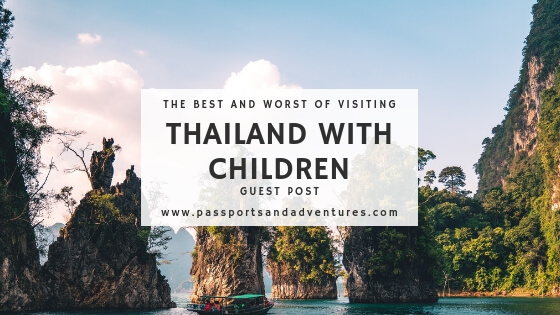 Photo by Colton Duke on Unsplash
The best time to visit Thailand with children
The time of year you decide to visit Thailand with children really depends on your personal preference and the age of your kids. During Thailand's peak season, December to January, it is very busy and although the weather is hot, it's a lot cooler than Thailand's hottest time of year, April. Peak season also has many clear days. So, if you think your kids can handle the busyness of it all and you don't mind paying peak prices, this is the perfect time to visit.
The wet season is May to October but that really shouldn't put you off because we all know how much kids love running around in the rain. Inclement weather is just another opportunity for adventure and play! Usually though, the rain isn't constant, it's more like sudden downpours that are over relatively quickly. Apart from the rain being a welcome cool down, the wet season is usually a lot cheaper and less busy.
The best places to take children in Thailand
One thing is for sure, the Thais love children, particularly foreign babies and toddlers. They love to play peekaboo and sneak in a cuddle. Older kids are likely to make friends wherever they go because most resort hotels have kids' clubs. Just imagine relaxing in a spa while your kids are having great fun with organised activities in the kids' club!
It's really easy for kids to make friends with Thai kids, even if they don't speak the same language. In the towns away from big cities, you'll find Thai kids playing soccer on the beach or in the streets and they'll always welcome your kids to join them. What a way to foster multicultural relationships from a young age!
Songkran is, by far, the best fun any adult or kid can have in Thailand and probably in their lifetime. Songkran is the Thai New Year's national holiday which the Thais celebrate with a crazy, three-day water festival. Everyone is welcome to join the madness, taking to the streets, spraying everybody with water guns or filling up buckets and throwing water at passers-by.
We had loads of fun experiencing Songkran in Chiang Mai. It is considered good luck for the coming year to take part in this water festival. Kids particularly love the opportunity to spray Mum and Dad – this may not usually be allowed at home!!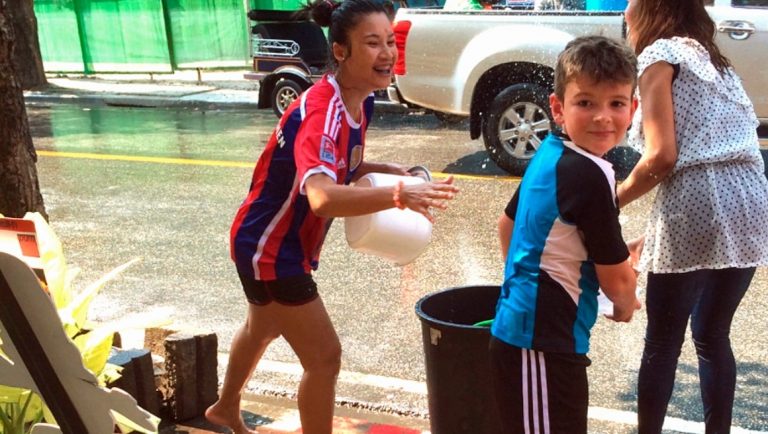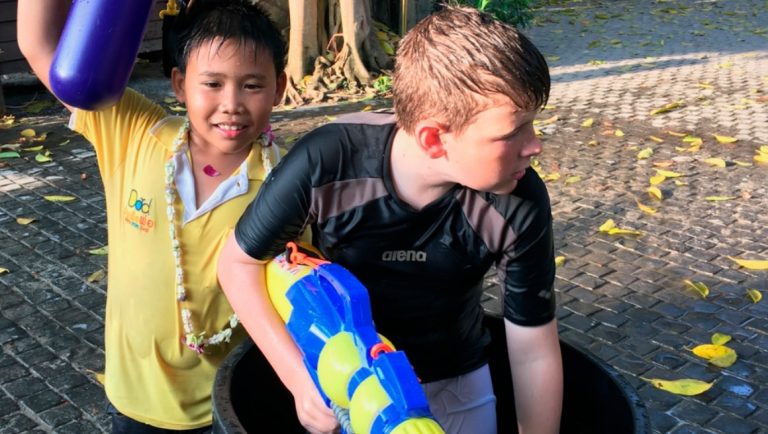 Some other places that are great to take children in Thailand include:
Koh Samui – Koh Samui has some beautiful beaches which are a hit with kids, particularly the most popular Ko Samui family-friendly beach, Hat Chaweng. You can take the track inland to visit beautiful waterfalls and jungles, enjoy elephant treks, go-carting and zip lining. Ang Thong National Marine Park is also off the coast, a marine park made up of 40 islands where you can enjoy snorkelling and kayaking. There are also plenty of adventure water parks in Ko Samui.
Hat Caweng – Great for teenagers because of its social scene and commercial feel.
Ayutthaya – A day trip to the historic city of Ayutthaya is a must. There are historic ruins all over the town which provides a wonderful history lesson for the whole family.
The Eastern Seaboard of Thailand and Ko Chang – This is where you'll find the best shallow water beaches that are perfect for younger kids. In these areas there are jungles, elephants and mangrove kayaking.
Phuket – Phuket offers a fabulous variety of activities for kids, including surf lessons. There are a number of islands along the Andaman Coast which are perfect for families to chill but do avoid Patong's party scene.
Pai – Located in Northern Thailand is a lovely little country community best reached by rental car via Chiang Mai. Pai has a circus school, jungle trekking and rafting. During your travels to Pai, don't forget to stop in Chiang Do to visit the caves and temple.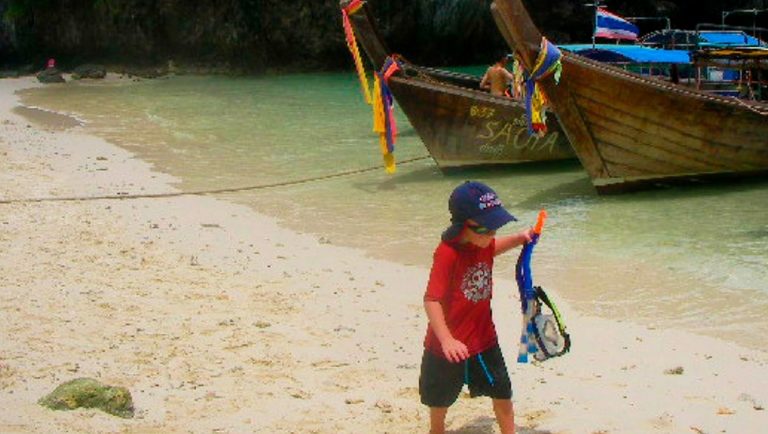 What to avoid when visiting Thailand with Children
Thailand is generally very safe, however, there are some locations that are just not suitable for a family holiday. As mentioned above, Patong's party scene should be avoided and any Thai destinations that are all about partying and adult entertainment, Pattaya in particular.
Pavements are not easy to negotiate with prams and pushchairs in Thailand. The paving is often uneven, and you'll be constantly faced with obstacles like street food stalls. I recommend babywearing or a toddler backpack to reduce the stress involved. Alternatively, you may like to take a Tuk Tuk but I'd recommend only quick trips that don't go on the highway.
If your children are shy or you are uncomfortable about the Thai people touching or staring at your cute blonde-haired toddler, the polite way to ask them to stop is to tell them your child is 'shy', pronounced 'kîi ai'.
The street food in Thailand is magnificent but much of it is laden with chilli, not exactly a favourite of young kids. In this case, opt for noodle or fried rice options for kids. These can be found all over Thailand because Thais understand that Western kids don't like chilli!
If you are looking for great food experiences in Bangkok, check out this post from 101 Holidays.
The best kid-friendly food in Thailand
A great way to get kids to taste food that isn't the usual burgers, hot dogs and spaghetti is by travelling to Thailand. They don't have to eat chilli or curries but they can enjoy omelette, grilled or fried chicken, sticky rice, chicken with cashew nuts, Hainanese chicken rice, satay sticks, amazing noodle dishes like my favourite Khao Soi or lovely barbequed chicken or corn.
Hint: When buying street food, always buy from the carts that are bustling with locals, that way you know it's safe to eat.
The best kid-friendly places to stay in Thailand
It can be very hard to pick a hotel in Thailand because so many of them have so many kid-friendly options but basing yourself in the towns that are great for children's activities is a great place to start. Here are a few suggestions.
Koh Samui
Koh Chang
Phuket
Chiang Mai
Kid safety in Thailand
Health and Safety in any Asian country isn't the same as in Australia or the United Kingdom. For example, pool fence legislation is different in Thailand and so it's essential that you supervise your little ones very closely. Also, kids need to know to drink bottled water and clean their teeth with bottled water instead of tap water.
Other safety considerations when travelling to Thailand with kids are:
Tuk Tuks and taxis don't have seatbelts.
Kids should be encouraged to always wash their hands (but not drink the tap water).
Maintain good hygiene and shower at least once a day. The high humidity can cause irritated skin.
Children shouldn't touch animals because they may have rabies and they could also be aggressive. e.g. wild monkeys
It's essential to prevent mosquito bites because dengue fever is common in Thailand. Use mozzie repellent that contains 12% DEET. You can usually find this in convenience stores and stores like 7-Eleven in Thailand but it's a good idea to pack sufficient bottles before you travel.
In busy Thai cities, it can be quite busy and overwhelming for children. Explain this to them so they know what to expect and ensure they know to follow your instructions and practice street safety.
Summary
All in all, the good definitely outweighs the bad when it comes to visiting Thailand with children. The most important thing is to be prepared and then you'll be able to take everything in and enjoy the experience with your family.
Judith is an avid traveller who has spent many years in South East Asia with her growing family. Judith is passionate about empowering Thai locals to earn a living wage through her ethical gift store Temples and Markets . The empowerment of women is a focus of one of her local sources, Zsiska, and you can read about them here.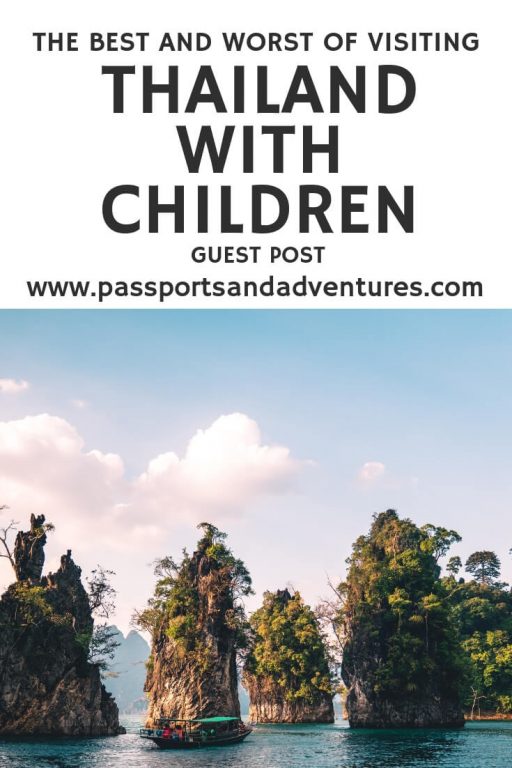 Related Posts