When it comes to travelling somewhere for the first time, I always like to do my research and find out some important things before we go, so we are prepared. The same is true when we came to plan a trip to Thailand. As it was going to be our first time in Thailand, I wanted to know ahead of time some top tips for visiting Thailand for the first time. So, I asked my fellow bloggers for their advice and in this post, you'll find out what their top first-time tips for Thailand for us were.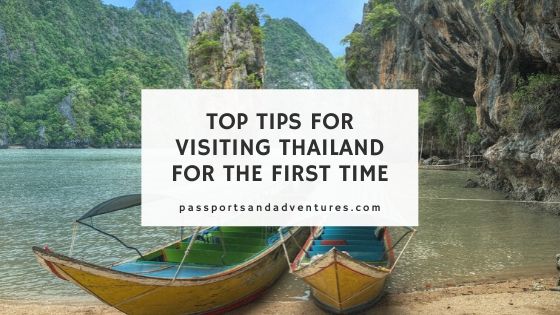 As a family, the furthest East we've been together is Slovenia in Europe. But, in 2018 we began planning our first time visit to Thailand. It was due to take place over Easter 2019 but, due to my husband breaking his leg in a motorbike accident, we postponed our visit to South East Asia it until later in the year.
As we got nearer, I asked my fellow bloggers to share with me their top travel tips for Thailand, so we could prepare and ensure we were forewarned about certain things. In this post they share their tips for travel to Thailand, tips for traveling in Thailand and also some safety tips for travelers in Thailand.
Tips Before Going to Thailand
While I was aware of certain things we needed to know before we headed to South East Asia for the first time, there were others I wasn't. Here you'll find some tips for visiting Thailand that you should consider before going.
Get an International Drivers Permit
Getting around the cities in Thailand is relatively cheap and easy using taxi's, songthaews and Ubers. But to fully appreciate this beautiful country, you'll want to get out and explore the surroundings, the best way to do this is by hiring a scooter/motorbike (or a car if travelling with kids).
Finding a scooter to hire shouldn't be a problem, if your hostel/hotel doesn't offer this service, most tourist areas will have numerous hire shops. Prices can vary significantly across the country, for example 24hrs cost me 100 baht in Pai but 300 baht in Phuket.
My biggest tip for anyone planning a trip to Thailand, is to acquire an international driving permit (IDP) before travelling. Whilst it's rare that you'll need a licence when hiring a scooter, Thai police are increasingly cracking down on tourists driving illegally. Particularly in popular areas such as the islands in the south.
Police will cordon off parts of the road and pull over tourists to check paperwork. For foreigners, an IDP is the only licence they will accept. The correct IDP is the 1949 version but when I was stopped, they didn't check inside and were happy to wave me through once they could see it.
The fines (aka bribe) are usually around 1000 baht but I've heard of some corrupt officers charging a lot more. The process for getting an IDP will vary by country but in the UK, it's possible to get an IDP before travelling from the Post Office for £5.50 so well worth the investment.
Kieran – Got My Backpack
Bring cash and set up your Grab App
Our number one tip for first-time visitors to Thailand is that you should be prepared to pay cash at most places. Even shops and restaurants that do accept credit/debit cards often won't take them for amounts less than about $30 USD. And because prices are low, you will usually be spending less than that for a meal for two.
Related to this, download the Grab app and get it completely set up including your payment information before you arrive. This will enable you to get around even if you don't have cash. You can even order an electric Tuk Tuk and have food delivered with it!
Laura – VeganRV
Don't book excursions before you go
As someone who has gone to Thailand many times for scuba-diving and with my family, my advice would be to never book any tours before you arrive in Thailand if you want to save money. We often book tours and touristic attractions online before arriving at the destination, but in Thailand, you should always go local!
There is so much competition between zip-lining, jungle trekking and guided tours of touristic attractions, so you should shop around for bargains. The best way is to walk around the city where your staying, ask local tourist agencies and will find some crazy discounts. Especially if you are there during off-season, where you can really find some great deals. Just remember, always negotiate as the initial price is never the final offer!
Torben – Dive.in
Use Agoda to book your accommodation
Before traveling to Thailand for the first time, you will no doubt be presented with hundreds of accommodation options to choose from. Visiting Thailand for the first time, it was evident that Thailand is a country that receives thousands of tourists every day, meaning, the majority of the best hotels get booked very quickly.
I found that one of the most effective ways to not only save money on accommodation, but to find a wide variety of places to stay, was by using Agoda.com a cheap hotel booking site that offers great discounts. Also, I found it worked out significantly cheaper to book my accommodation in advance.
Daniel – Layer Culture
Get vaccinations and travel insurance
There is a lot of preparation you can do in advance to ensure a fun and healthy trip to Thailand, and this includes getting vaccinations and travel insurance. What vaccinations you should get will depend on where you go, and it's a good idea to make an appointment with a travel clinic for more information. Getting sick while you travel is no fun, especially when it's avoidable!

This leads me to suggest purchasing travel insurance. Honestly, I never used to get it. When I visited Thailand for the first time, I met two people who had lengthy hospital stays: one due to an injury and the other due to illness (that likely would have been avoided had she received the recommended vaccinations). Since then, I heed the message and always get travel insurance. It's not costly and the peace of mind of knowing I will be protected in the case of a medical issue is worth it to me. And added bonus – policies often provide coverage for flight delays, lost bags, and other travel mishaps that can arise.
Sam Glauser – My Flying Leap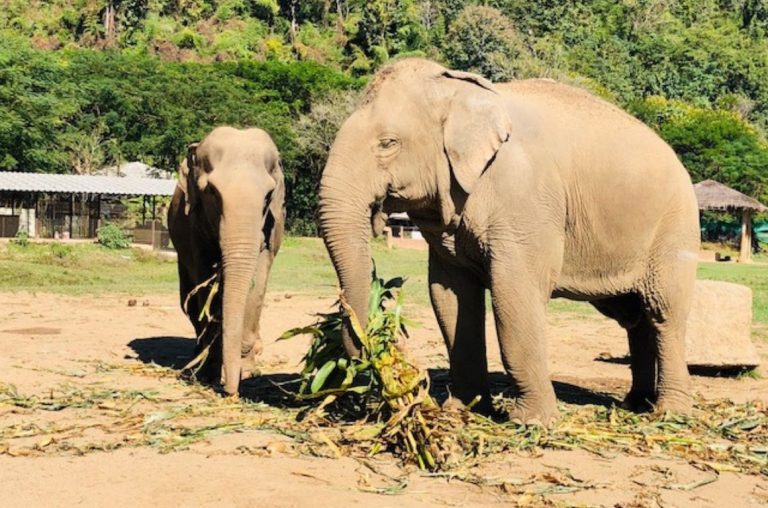 Getting Around in Thailand
While we already had our itinerary for Thailand planned, in this section you'll find some tips for Thailand travel for getting around, both within Bangkok and in general. Many of us associate Thailand with tuk tuks but there are a few things I wasn't aware of that I've since learned.
Taxi's
While Thailand maybe cheap, there are a couple of things you should check to ensure you're not being taken advantage of as a tourist when taking a taxi. All taxi's in Thailand are supposed to adhere to a strict metre rate. I'd always advise saying to the driver "Meter?" to ensure you're both aware that's the service you expect providing.
Any driver refusing to use a metre and instead haggling for a fixed fare is only going to be the start of your problems on this taxi journey. Instead, get out of the taxi (or step back away from the car) and instead look for another taxi who is willing to offer you the journey on a metre rate. There's plenty of taxi availability in Thailand, especially in major tourist locations such as Bangkok and Phuket so you shouldn't have to wait long.
Cora – Inside Our Suitcase
Getting around Bangkok
At roughly 10 million people, Bangkok can be crowded and imposing to first-time visitors. Like most big cities, however, knowing how to get around helps you flow through the city faster and easier.
The address system is similar to what's used in North America and Europe, but different in two big ways. First, the street numbers are odd and even, but these can get very far apart. Number 74 might be across the street from 29! Second, there are soi (pronounced 'soy'), which are basically side streets connected to a main road. Sukhumvit soi 11 is the 11th side street from where Sukhumvit starts.
Aim to get around with the Skytrain (the overhead metro line) or the MRT (the underground metro line). Buses are fine, but there's rarely enough signage to help you understand the system (use Google Maps if necessary).
One final pro-tip: walking on sidewalks can be chaotic in some areas, since they're used by street vendors, places of conversation, and sometimes used by motorcycles! Walk safe and keep your travel companions close.
Chris – Worthy Go
Scooters
Scooters are the way to get around in Thailand, especially on the islands. So, if you are thinking about renting a scooter with kids here are a couple of helpful tips to know for your first time.
We always asked before we confirmed our scooter rental to see if they had helmets that were the right size for the kids and tried them on. Bonus if they had a face shield! We always made the kids wear a hat underneath the helmets too to help prevent head lice or other germs from being transferred.
Look for scooters where small kids can fit comfortably in front of you while you drive and they can put their feet down. Or for older kids that can hold on behind you, ensure their feet touch the pegs on the scooters so their legs are away from the hot pipes. It's a fun way to explore Thailand and can be safe with these extra tips.
Nicole – The Passport Kids
Catch an overnight train
Catching overnight transport saves time and money in Thailand. If you're short on time when traveling through Thailand, catching an overnight train or bus is a great way to save an extra day. Instead of using valuable day-time on a bus or train, many of the longer routes have overnight options. Not only does this save time, it also saves you money, as your "accommodation" is included in your ticket price.
A couple of tips to make your journey easier:
Sleeping aids, such as melatonin, can provide a much nicer sleep and leave you feeling well rested.
If catching an overnight train, it is common for the carriage lights to be left on all night, so top bunk users should bring a face mask.
Ben – Horizon Unknown
Travel by train from the airport
Thailand is a nice destination for budget-conscious travellers. If you are travelling to Bangkok and arriving at Suvarnabhumi International Airport then it is advisable to take the Bangkok Airport Rail Link (ARL) to save money. It is not only economical, it's also fast if you are travelling during the day.
Trains operate from 05.30 AM to midnight on all days of weeks every 10 to 12 minutes. The tokens for travelling by the ARL can be bought from the Automatic Token Dispensers. You have to select your destination and the number of passengers, and the fare will be calculated. The token dispensing machine accepts both coins and bills. There is a total of 8 stations on ARL.
The Airport Rail Link connects with the MRT underground at Makkasan City Interchange Station (MRT Petchaburi Station) and the BTS Skytrain at Phayathai Station. You have to buy separate tickets for these trains from stations.
These trains connect to all major areas of Bangkok. If your hotel or hostel is a couple of km from the train station then take a tuk-tuk. Travelling by train costs one-fourth of taxi fare and during rush hour it is fast as you avoid traffic jams.
Sapna- My Simple Sojourn

Staying Safe in Thailand
With this being our first visit to Thailand and, due to the fact we were travelling with our son, I wanted to ensure we stayed as safe as possible. Thankfully my fellow bloggers had plenty of first-time traveller tips for Thailand to ensure you stay as safe as possible.
Avoiding mosquitoes
Mosquitoes are more than just an itchy annoyance. While in Thailand they don't carry malaria, some may be infected with the Dengue fever. It's not a pleasant one to go through and one might feel its consequences for the rest of life.
Mosquitoes come mostly in two sizes in Thailand – the regular small ones and then the bigger "tiger" mosquitoes. These tigers should be avoided as much as possible, since it's usually them with the dengue virus.
Mosquitoes are mostly active in the morning and then about an hour before sunset. In their prime time, using a repellent is key. Buy the local one, which locals use too. Usually they feature citronella and other natural ingredients.
You can help yourself with other techniques such as wearing light clothing and not using perfume or scented body lotions.
For keeping rooms mosquito-free, the best is to just seal them and not have windows open for extended periods of time. For children rooms you can find a special one-use diffuser that's safe to breathe for babies and kids, yet keeps the mosquitoes away.
Veronika – Travel Geekery
Staying safe with street food
Street food does often get a bad rap as being unhygienic or even dangerous to eat, when in reality, as research shows, the incidence of contaminated is no higher than with restaurant foods. At the same time, it is best for first-timers in Thailand to be wary with street food as they have not yet built any immunity to potential ugly organisms. And while food poisoning is extremely unlikely, Traveller's Diarrhoea is common with many visitors to Thailand.
But it tends to be water that is the culprit in the majority of circumstances, so it is best to be careful with things like opened water, ice cubes, and water washed fruit, as well as uncooked foods, just to be safe. Otherwise I would forever recommend exploring the world of street food, starting slow, and avoiding the unnecessary backpacker bravado. It is also best to start with popular street food carts, as they are trusted locally, and go with meals cooked in front of you over pre-cooked canteens. Then it is just common sense from there, if there are flies or dodgy looking counters, then maybe move to the next.
Allan – Live Less Ordinary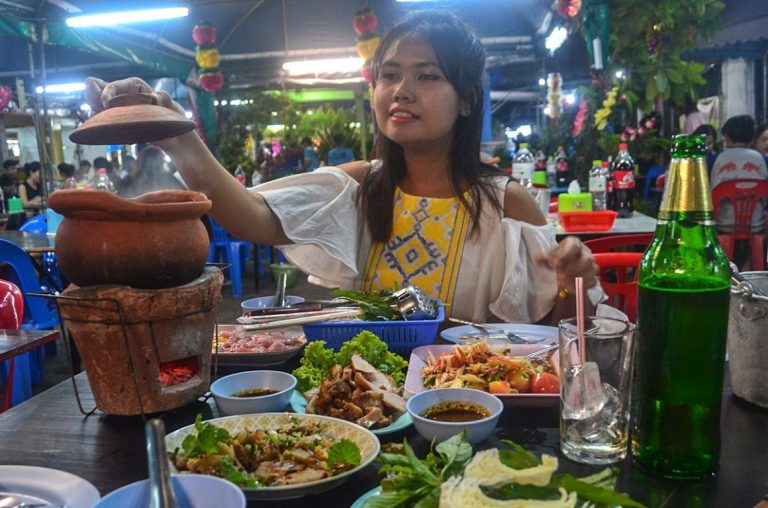 Bring a water filtration bottle
In Thailand, like in many other countries in South East Asia, you can't drink the tap water. This means that whenever you want to have a sip, you're forced to buy a plastic water bottle. It's not hard to see that is bad for your wallet and for the environment.
If you're going to Thailand for the first time, we highly recommend you bring a water filtration bottle with you. There are a ton of options out there, our favourite is the Lifestraw Go. It basically makes any fresh (non-salty) water drinkable, whether it be from the tap or the river.
It's such a small investment that will help you save money and save the environment all at the same time. Well worth it, if you ask us!
Carine & Derek – We Did It Our Way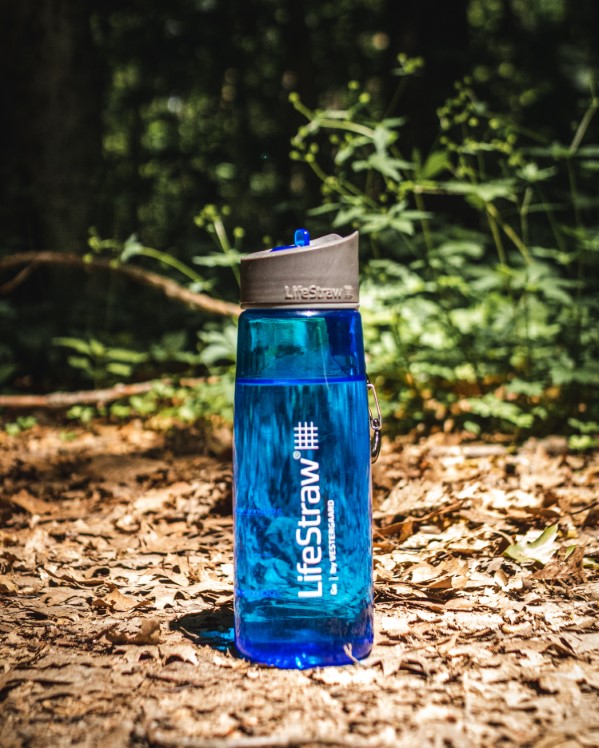 Temples and Customs
Of course, no trip to Thailand would be complete without visiting at least one temple. And with a close friend of ours having introduced us to Buddhism many years ago, visiting temples is high on our Thailand bucket list. So, some tips about visiting temples and being respectful of customs was something I welcomed when asking for some top tips for Thailand from my fellow bloggers.
Be friendly and meet the locals
One of the best experiences with your Thailand trip could be the meetings with the super-friendly locals. Of course, if you take the step and talk to them and get to know them. By respecting the Thai culture and customs, and with a curious way of communicating with the people you meet, you can get extremely, positively, surprised by the unique experiences you can have.
Some of the friendliest people I've met while traveling have been in Thailand, and it all started with a conversation. Sometimes you might not understand each other's language, but sign language and a big smile go a long way in the Land of Smiles.
Linn – Brainy Backpackers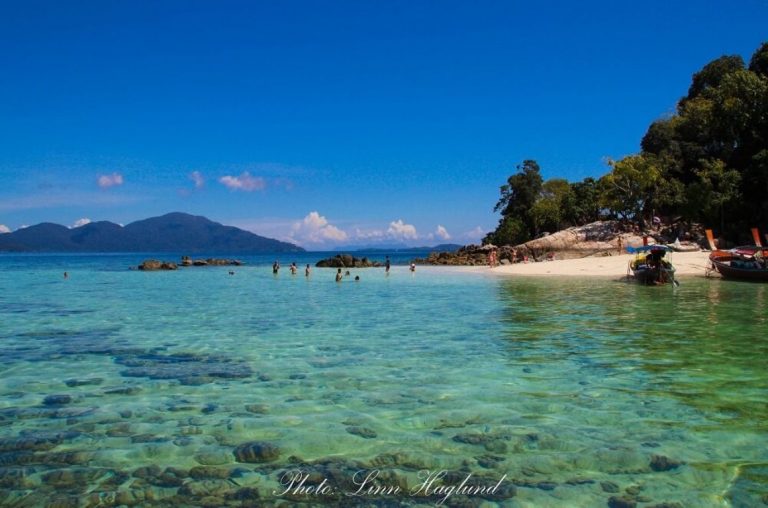 Dressing appropriately
Dressing appropriately is something that every tourist should adhere to when visiting Thailand. It's important to note that Thailand is a modest country. While it's okay to wear a bikini at the beach or just swim shorts for men, it's not okay to walk around in apparel like this. What you wear on the beach should not be worn anywhere but there. Not only will you get unwanted attention, but you're also disrespecting the culture.
I totally understand that you should be able to wear whatever you want. However, you should also be a respectful guest of the country you're visiting. For example, women should always cover their shoulders and anything below the knees when visiting temples. All in all, first impressions are important in Thailand and you should always dress properly to respect the culture.
Disha – Disha Discovers
Almsgiving
Buddhist monks in Thailand are not supposed to earn or spend money, so the only way for them to obtain food and other basic necessities is by begging for alms. The laypeople who give the alms earn merit for their good deed, so it's a virtuous cycle where everyone wins.
If you get up very early, around 6 am, you will see the monks making their rounds with their alms bowls under their arms. They often congregate around markets, as this is where they're most likely to find people at that time of day. Some market vendors even sell packaged alms gift sets with food and toiletries.
This is probably the safest way of buying gifts for the monks, as you can be sure the items in the gift set will be appropriate for the occasion. If you decide to choose your own items, toiletries like soap and toothpaste are a safe bet. Not shampoo, though, as monks are bald! And any food you give them should be cooked and ready to eat and should not contain any animal products, as Thai monks eat a vegan or vegetarian diet.
If you'd like to go to a place where you're certain to find monks, rather than hoping to bump into them at the market, there's one temple in Bangkok where they line up outside and wait for offerings. It's called Wat Benchamabophit and is also known as "The Marble Temple".
Wendy – The Nomadic Vegan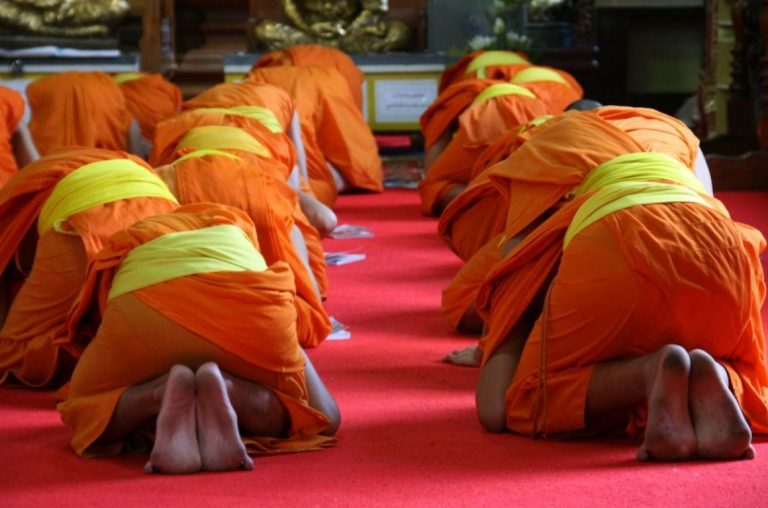 Visit some temples
In Thailand, the Buddhist faith is the religion the majority of the Thai people belong too. For centuries the Thai people have been constructing amazing temple all throughout Thailand each one uniquely different and beautiful.
Many of these temples offer a monk chat where you can sit down with a monk and they will share with you their life and explain more in depth about the rituals and customs of Buddhism. Not all temples offer this but if you can this is definitely a unique experience.
Our favorite temples in Bangkok include Wat Arun Ratchavararan, a very detailed temple made of pieces of tile, and one of the biggest temples we have seen in Thailand. And Wat Phra Chetuphon (Wat Pho), home of the giant reclining gold Buddha, and over 1,000 images of Buddha.
In Chiang Mai, our favorites included Wat Suan Dok (Gold Temple), a lesser known temple, but the most beautiful in our opinion. The white and gold contrast of the temple makes it so unique and special. And also Wat Sri Suphan (Silver Temple). This one you just have to see for yourself! Tapping on the sides of the temple you realize that yes, it is in fact made of silver!
Analisa – The Honeymoon Vagabonds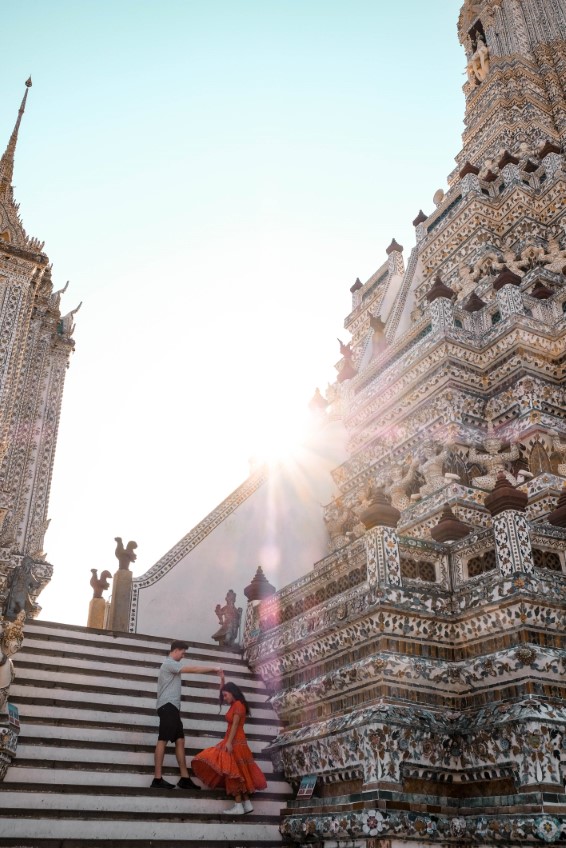 Where to Visit in Thailand
As well as tips on traveling to Thailand, although our itinerary has already been planned, there may be some of you still wondering where to visit in Thailand. It is a large country with beaches, jungles, islands and vibrant cities.
Visit Northern Thailand
If you visit Thailand and go to Bangkok as your main hub, make sure that you also visit the northern regions of Thailand around Chiang Mai, Chaing Rai and the Loei regions to see the amazing cultural sites, eat some of the delicious thai foods in the region and explore the stunning natural landscape in the hill tribe areas along with some fantastic adventure experiences that you can do up there.
The northern part of Thailand has so many unique cities and towns unlike the busy metropolis of Bangkok and the more relaxed beach regions in the south. The north has more cultural gems to explore along with beautiful landscape to discover throughout the region.
Noel – Travel Photo Discovery
Visit the Phuket Old Town
If you are a first time visitor to Thailand, you may choose to visit Phuket – a mountainous island in southwest Thailand. In Phuket, most people would stay in Patong, Karon, or Kata. But if you are traveling with kids and you are not into nightlife, it's best to avoid these areas. Instead, head over to the old town for a more authentic and cultured experience.
The Phuket Old Town is the place where you get to explore and live like a local. In this quieter area of Phuket you will find colourful Sino-colonial buildings, bustling local market, massive Chinese shrines, quaint eateries and cafes, private and public museums. Chances are, you will be pleasantly surprised by this hidden gem as Phuket is more than just beaches and clubbing! One advise though, start your walking tour early in the afternoon or late in the evening to avoid the heat.
Ming – Flyersim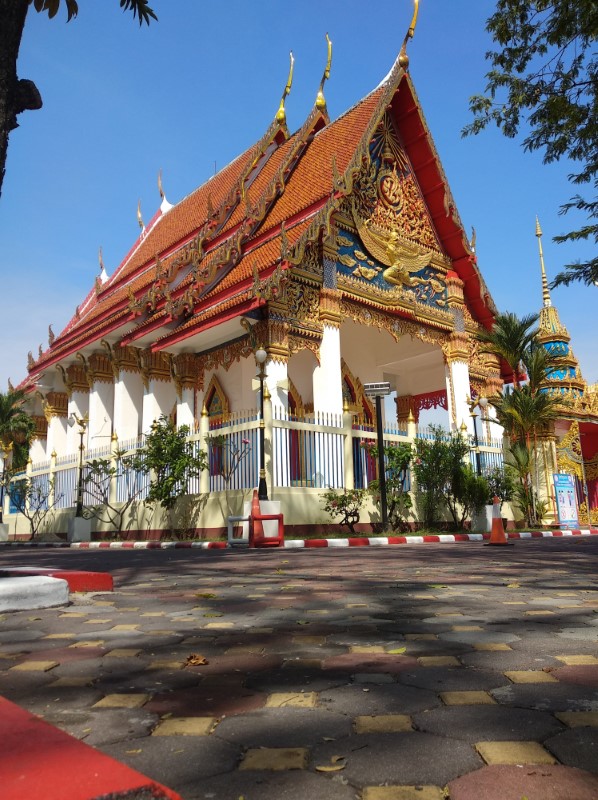 Check out the islands
Phuket is a really fun place to go, it has great family friendly resorts with amazing pools, waterslides and world class dining. We were, however, surprised to discover it didn't have amazing beaches. If you want to see incredible beaches in Thailand, we would recommend visiting one of the islands located off Phuket.
Our favourite islands are Koh Phi Phi and Koh Lanta. You can easily reach these islands by ferry from Phuket. Go to Koh Lanta island if you want to relax in a slow paced paradise. Visit Phi Phi island if you want an action packed beach island with the ability to visit world famous beaches like Maya Bay.
Nadia – Couple Travel The World Blog
Don't plan on spending all your time in one place
Thailand is connected really well through buses, flights, and trains in some places. When visiting Thailand make sure to see more than just one place. Going to Bangkok for just a few days is enough, we visited for a week and felt this was too long. Bangkok has some amazing temples and street food but at the end of the day it is a city.
If you want to experience more of all that Thailand has to offer visit either the north or the south. Up north you have the spiritual capitol of Thailand in Chiang Mai where there are many different beautiful temples and green luscious mountains. While down south is where gorgeous white sand beaches are, each part of Thailand has its own unique feel.
Analisa – The Honeymoon Vagabonds
Other Top Tips for Thailand
In this section you'll find other tips for travelling in Thailand, including travelling more sustainably, tips for making good choices within the country and other useful things to know before you go.
Try to travel sustainably
When visiting Thailand for the first time, you may not think to bring metal straws and cutlery or reusable totes. However, keep in mind that Thailand ranks amongst top five countries that produce the most amount of plastic in the world. Whether you are getting a fresh coconut or purchasing a small snack from 7-Eleven, you can find single-use plastic pretty much everywhere.
When possible, ask vendors to not bag your items or bag them in your own reusable shopping bag. Make sure to keep an eye out when your food and drinks are being served as well. Bring your own metal straws and utensils and avoid using plastic cutlery. We don't each have to do a lot, but if we all contributed little by little, it all adds up!
Jasmine – My Suitcase Journeys
Beware of the common Thailand scams
Thailand is a great place to visit. However, my first few days in Bangkok were marred by scams. I wish I had done my research and avoided them, but my misery can save you some pain. So here goes… the common scams/signs that you should look out for:
Don't trust overly friendly people giving you unsolicited advice. For example, some friendly strangers may approach you and tell you that it's a special day in Bangkok called the Lucky Buddha Day when there are special discounts available for various hotels/tour packages at the Tourism Information Centre. This is a scam! It's just a ploy to get you to purchase some over-priced tour packages/hotel rooms.
The second scam is when tuk-tuk drivers approach you near the Grand Palace and tell you that the temple is closed for special prayers. They will then offer to take you to some other temple that is open. On the way to the so-called temple, they'll stop at some jewellery store, where they are offering "special discounts". See where this is going…
The lesson I learned from this is that even though the people of Thailand are lovely there are some bad apples. So, it's better to do your own research and save yourself some heartache.
Pari – Traveling Pari
Avoid the snorkel scam
With beautiful beaches and warm clear water, Thailand offers plenty of good snorkelling opportunities and many boats have their own equipment you can use. On this trip I brought my own snorkel, but my friends didn't and they used the ones provided.
We spent a few hours going in and out of the sea then left the boat for lunch. When we returned, one of the borrowed snorkels was mysteriously missing. At the end of the trip the crew tried to charge us far more than the cost of replacing it. We hadn't lost the snorkel in any case. All the snorkels were there when we left the boat to eat. I refused to let my friends pay anything and we walked away, but that didn't stop one of the crew harassing us for money as we walked back along the beach.
After speaking to the receptionist at our hotel in Ao Nang, I found that this is a common scam, and that the boat crew often take back a snorkel or two, making them appear 'lost' and charge a replacement fee. To avoid this scam, if you're wanting to snorkel, I would advise you (and your friends) to bring your own snorkel and mask; not only will this avoid you becoming a victim, it's also more hygienic.
Haley – Borderlass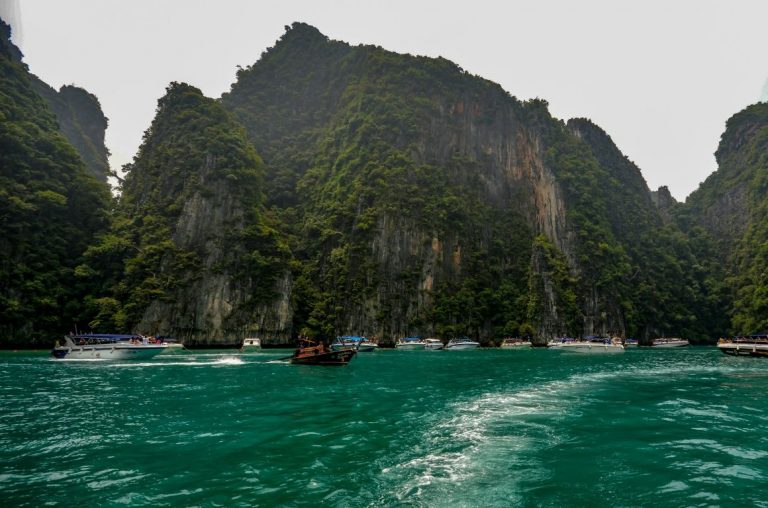 Use the Grab App and get a local SIM
Don't leave yourself open to the multitude of taxi and tuk tuk scams in Thailand! Instead use the Grab app to book your local transport rides. Like the southeast Asian version of Uber, Grab allows you to enter your pickup and destination location within the app (so no language barriers), and will tell you the cost before your journey.
Unlike Uber, Grab offers a multitude of different options, including locals cars, taxis, multi-seater vans, and luxury cars. If you're travelling by yourself or just heading out alone and feeling adventurous, book a Grab motorbike (GrabBike), it's cheaper, faster (since you can sneak through all the traffic), and lots of fun! All GrabBike drivers provide a helmet for passengers, and have a hands free holder for the drivers phone to provide directions.

While WIFI is readily available at most tourist locations, make sure to get yourself a local Thai SIM card from 7-11 or a phone provider (AIS, truemove, or dtac) to make booking your Grab easier. All of these providers have tourist SIM packages that include calls and generous mobile data allowances for 1-2 week stays. If your holiday is longer than two weeks, head into a phone store and get a 49baht sim, then simply top up with data/calls packs as needed to last your stay.
Ashlea – Dashing Around The World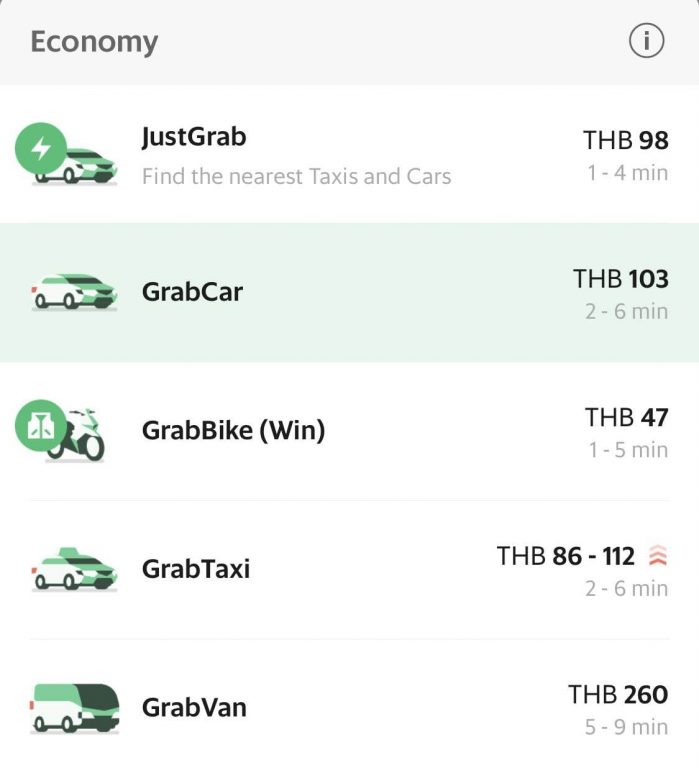 Avoid overcrowded tourism
As a traveler, seeing other tourists is common, but is often overlooked how over-tourism can harm a fragile location.
You see those images on Instagram showing nothing short of paradise – clear waters and golden sands with not a single soul in sight, but in reality, that is often not the case.
The most beautiful islands in Thailand are often swarmed with visitors, loud speedboats and packed ferries. The corals, fish, sharks and other marine life are disturbed by the vibration from motors and hundreds of swimmers.
These islands in Thailand are beautiful and there is a valid reason as to why they are so popular, but by spreading out the number of visitors to different unforgettable destinations, we can live and thrive together with marine life – all while experiencing beautiful destinations.
Ben – Horizon Unknown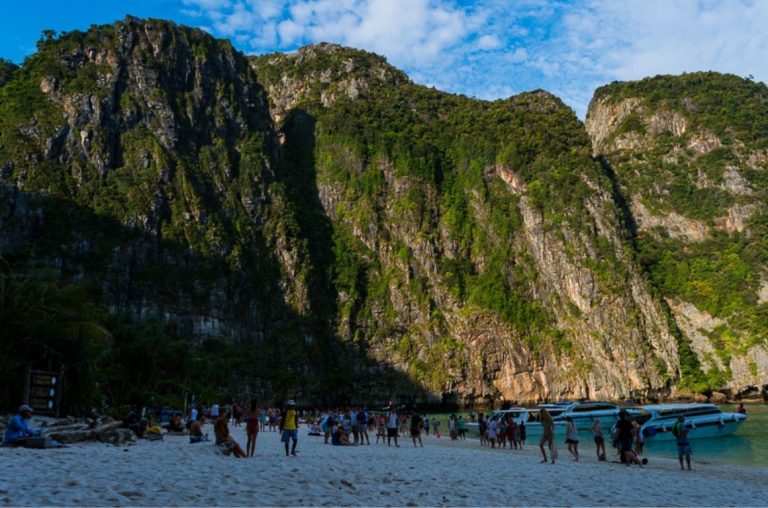 Visit an ethical Elephant sanctuary
The chance to interact with elephants is one of the biggest draws to Thailand. Unfortunately there is a lot of animal abuse when it comes to tourist camps and elephant riding. Therefore it's important not to support this industry and instead, to do your research and visit a reputable and ethical sanctuary.
Ethical sanctuaries are found throughout Thailand, and provide a happy, healthy and safe home for rescued elephants to thrive in. You can interact with them in a totally natural way, such as walking with them, feeding them bananas or bathing the elephants. This way your money is going toward the conservation and well-being of these gentle giants, instead of an industry that torments them, physically and mentally.
Roshni – The Wanderlust Within
Bartering at markets
One of the most overwhelming things about visiting Thailand for the first time is figuring out how to barter at night markets and food markets. Bartering, the process of back and forth to negotiate a price on an item, is a standard part of commerce in Thailand and throughout Southeast Asia. If you've never done it before, it can feel very unnatural!
The first thing to know is that anything sold at a market in Thailand without a marked price is probably up for negotiation. This mainly applies to clothing and souvenirs, but can also include fresh produce and some cooked food items.
The best way to approach haggling is with a smile on your face! Treat it as a bit of fun and a good opportunity to interact with a local person rather than a test or a stand-off. If you're interested in an item, start by enquiring about the price. Your first counteroffer should be roughly 50 percent. From there, you can go back and forth until you settle on a number you're both happy with.
Emily – Australia Up Close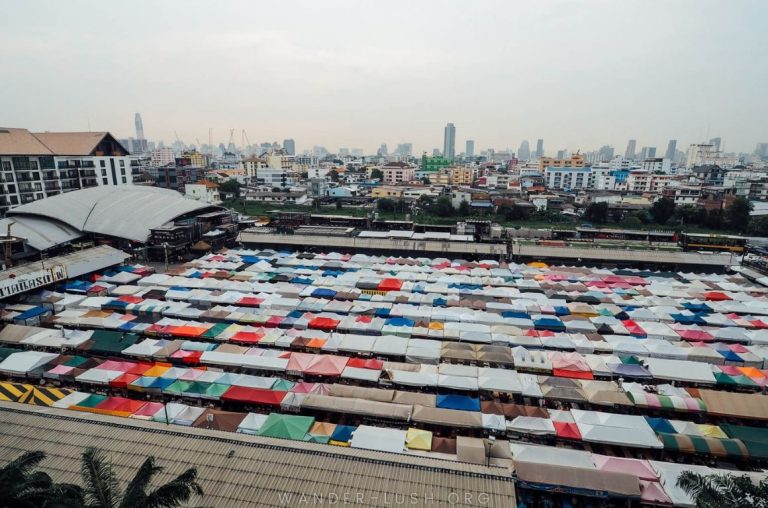 Never overstay your visa
My tip to those traveling to Thailand for the first time? Don't overstay your visa! Even though Thailand offers visas upon arrival, this isn't a go ahead to malinger in the country once it's expired.
Travelers who overstay their visa will be penalised with a charge of roughly $16 per day they overstay. If you intend to stay for longer than a month in Thailand, let it be known that you can apply for a visa ahead of time that can extend your stay for up to 2 months.
Jose – The Passport Office
Avoid the tuk-tuk scams
Exploring the different temples in Thailand is one of the many popular activities for tourists, especially if it is their first time. Exactly for that reason, the locals have many scams they would try on tourists. The one that is very common is the Tuk Tuk scam. You probably already know what a Tuk Tuk is, but if you don't, it is the most popular form of transportation in Thailand. Chances are you will be taking one to visit the temples. That is when the Tuk Tuk scam happens.
When you try to tell your Tuk Tuk driver you want to go to a temple, say Wat Pho, the driver will tell you it is closed, even though it could be noon on a Wednesday. Then the driver will recommend you to another temple where you will have to pay for an entrance even when you don't. He will act super friendly and tell you that he will help you with the tickets and everything. He might even start giving you other recommendations, such as this overpriced restaurant (where he gets commission) with only an English menu. This is when you know you have fallen for the scam. If you encounter something like that, simply take another Tuk Tuk or insist on going to the place you planned.
Sean – Living Out Lau
Look beyond the bustle of Bangkok
I'm a digital nomad based out of Bangkok, Thailand. I often have people passing through as it's such a transit city and so have a lot of experience giving out advice to first-timers. My biggest advice to everyone is to look behind the initial surprise of the 'bustle' of Bangkok as Thai people and culture is incredibly calm and honest in nature. It's a deceiving aesthetic for the actual way in which you'll be treated with respect and the level of safety here.
Another big piece of advice is to take out more money than you need, ATMS charge a flat fee ranging from 200-250 thb ($5-6) for EVERY transaction, so take out more if you're relying on ATMS.
When things become frustrating, because they will, demonstrating a calm demeanour will get you far. I cannot count the amount of times I have overheard an angry foreigner voicing their anger – Thai people will completely shut down, they don't respond well to, nor appreciate a scene being made. Finally, please learn how to say the very basics in Thai, Hello and Thank you is often enough – and never underestimate Bangkok traffic!
Hannah – Digital Nomad Kit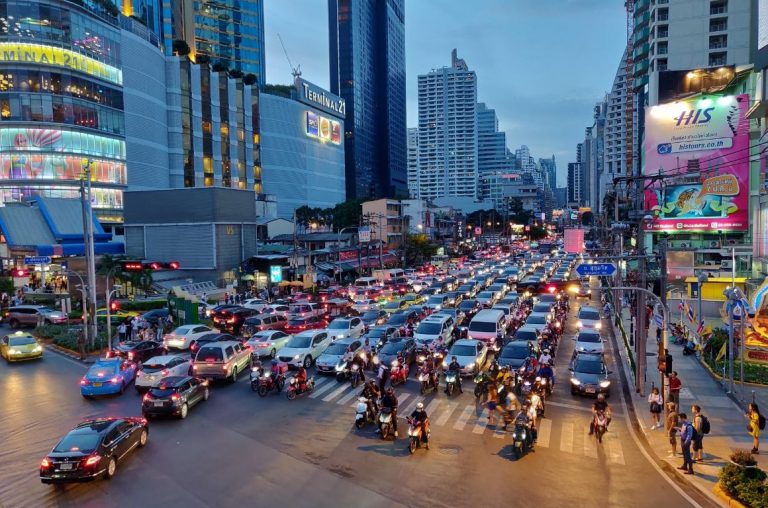 Top Travel Tips for Thailand With Kids
Families should also be aware of a few things before embarking on a trip to Thailand with kids. Here you'll find a few useful tips for a Thailand holiday as a family.
Consider your itinerary carefully
For first time visitors to Thailand, be sure to research different cities, villages and regions to explore. It takes navigation to get around Thailand, and each place is distinctly differently, from its cultural significance to its natural beauty. A family could spend weeks travelling throughout Thailand, finding adventure and treasures everywhere; however most of us are limited to ten to fourteen days. Therefore, it is important to plan each day and every destination so to maximise your overall experience.
If your family is looking to explore the beautiful beaches of Thailand, for example, your itinerary will look quite different from a family that wants to spend most of their time visiting ancient temples, museums and other historical sites. Foodies are likely to spend three or more days in Bangkok, whereas, others will use Bangkok simply as a place to fly to and from. Not to say that it isn't possible to combine different experiences into one trip, we recommend that you allocate enough time in each place you visit so your family doesn't feel like its spending too much time transferring from one place to the next. Plus, time spent at airports and travelling from one destination to another is exhausting, especially for children.
We also recommend to families travelling to Thailand that they consider joining a family tour group for at least part of their trip. This way your children can interact with other children while sightseeing. Family group tours have been proven to entertain and culturally enrich everyone in the family. Their designed to make family travel a lot less stressful, as everything is pre-arranged and well organised including lodging, transfers, activities and most meals. For example, you could spend 7-10 days travelling to Bangkok, Chiang Rai and Chiang Mai on a group tour, while ending your trip more privately on an island or off the coast near Phuket or Krabi for 3 to 5 nights.
Angie – Boutique Travel Advisors
Go at the right time
December – January will be busy as it is peak season. The weather is slightly cooler (but still hot) and clear during this period. April is the hottest time in Thailand, and I mean HOT! But you can cool off with the Songkran Festival (the throwing of water) as Thais and tourists roam the streets with containers of water or water guns and drench each other and passersby.
The rainy season is May to October (mind you it's mostly just sudden downpours that cool you down. I however, was once stuck in my bungalow on the beach in Koh Samui for two days during torrential rain.) The rainy season is a much cheaper and less crowded time to visit Thailand. Think of how much your kids will love to play in all that rain.
Jordan – Yore Oyster
Families should go prepared
Ensure that you buy all the supplies needed to keep baby's skin as soft and supple as the day they were born: sunscreen, mosquito repellent (DEET-free) hats, long-sleeved shirts, rashies. Pack a first aid kit and stock it with panadol, antibiotics, sterilised needles, band-aids, antiseptic cream, bandages and any medication your child may personally need. A doctor's letter to verify this is sometimes a good idea. It's a handy checklist of what to pack in your travel medical kit.
If your child has any food allergies (or yourself), carry a card with what they can't eat written in Thai. For celiacs or gluten-free requirements, I found having this sort of Thai travel card invaluable. If you have an infant, take any formula that your baby may need with you as well as enough nappies (including swimmer nappies) just to be sure.
Jordan – How I Travel
General tips for families visiting Thailand for the first time
When we were in Thailand for the first time, my children were 11, 12, 14 years old. I have a couple of tips.
Food is AMAZING. Unlike most countries, the quality of food offered at an inexpensive restaurant is usually as good as the food served in expensive restaurants. Accordingly, save your money for tours and experiences.
Avoid all animal experiences. We saw unbelievable cruel treatment of elephants and monkeys solely to entertain tourists. Do not support them. However, if you are tempted to do so, do as much research as possible to make sure that they treat the animals humanely. Animal sanctuaries do exist and welcome visitors, but just because they call it a sanctuary or say that they treat the animals respectfully doesn't mean they actually do. In addition, avoid all places that offer elephant rides. The way they train the elephants to do this is often horrible and can hurt them.
If you want authentic Thai experiences, you need to stay away from tourist driven islands like Phuket and Koh Samui. Go to the smaller islands, usually ones that you can't access directly by plane, but need to take a ferry. Koh Phangan is one example. The smaller islands usually offer cheaper accommodation, cheaper restaurants and excursions, and it is easier to see how the locals live and raise their families.
Nicole – Go Far Grow Close
Take a baby carrier
If you are travelling to Thailand for the first time with a young child, we recommend that you take a baby carrier with you. Having a baby carrier gives you the freedom to explore anywhere you like, whether that is climbing the 1000+ steps to the Tiger Cave temple or navigating the streets of Bangkok.
It is also really handy to have a baby carrier when you are travelling around, it allows you to have your hands free to carry your stuff, and offers a safer way to carry your child on tuk-tuks, taxis and speedboats.
We think that a baby carrier is more useful than a stroller as in many places there are no pavements, and where you do find them they are often in poor shape or blocked by motorbikes or chairs. For more tips and inspiration for travelling around Thailand with a baby or young children, please visit us on our blog.
Chris – More Life in Your Days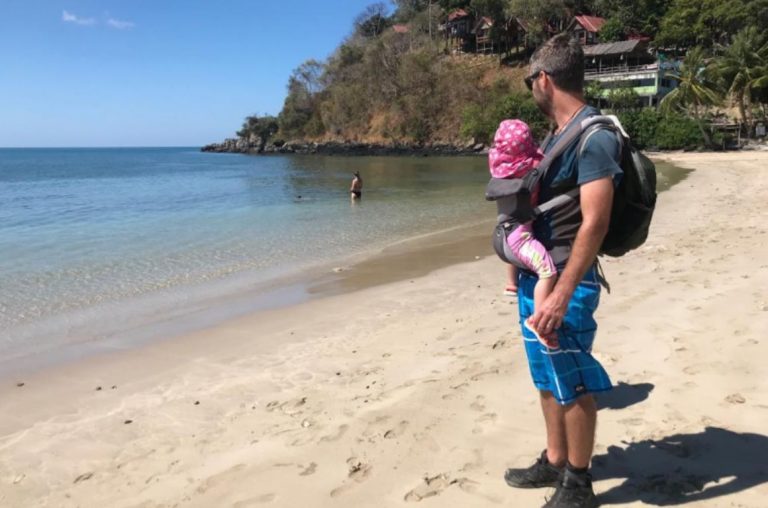 In Summary
If you are embarking on first time travel to Thailand like us, I hope you've found this post useful. My fellow bloggers certainly helped us prepare for our first trip to Thailand, with advice covering just about everything I wanted to know in advance.
With their tips on traveling to Thailand, other helpful advice covering everything from temples, customs, scams, travel within the country, things to consider both before you go and while you are there and even how to travel sustainably in Thailand, these first time tips for Thailand should have you prepared for an awesome trip.
Have you been to Thailand and are there any other tips you think a first-timer to Thailand needs to know?
Cath x
Want to know more about visiting Thailand with kids? Then read this post. And for more destination inspiration and tips for travelling with kids, start at the homepage.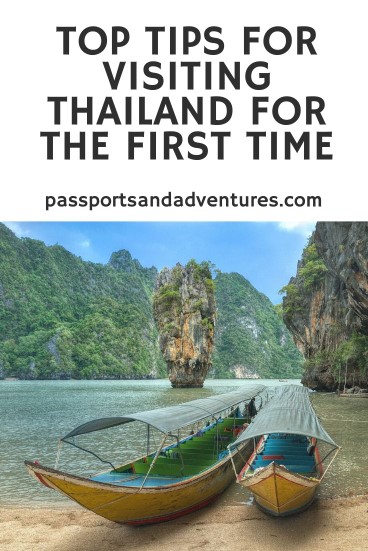 Related Posts