BattleDad and I had visited the Tower of London a few times in our pre-BattleKid days. It gained our interest after we watched the Tudors television series, and we always enjoyed our visits to the Tower. When I realised we had 36 hours to kill in London, I started looking into fun things to do with kids in London. And a dragon hunting adventure at the Tower of London was a must with our little dragon hunter, BattleKid.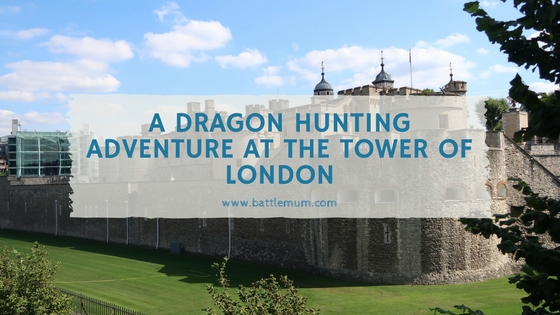 *This post contains affiliate links. This means that if you click on a link and then make a purchase, I receive a small commission at no extra cost to you. To learn more about affiliate links, please read my Disclosure Policy.
As you will already know, we started dragon hunting with BattleKid in an effort to make visiting castles interesting for him. Living in Wales until our move to Portugal, we were surrounded by castles, but they're not always interesting places for toddlers and young children. So, to make our visits more appealing to BattleKid, the dragon hunting adventures were born. We've hunted dragons at Chepstow Castle, Carreg Cennen and Powis Castle, to name but a few. But we'd never ventured further than Wales. Our family day in London was a chance to hunt dragons further afield and our destination was going to be the Tower of London.
The Tower of London is a historic castle located on the north bank of the River Thames. It is a UNESCO World Heritage Site and it dates to around 1078. It is a complex of several buildings set within 2 rings of defensive walls and a moat. The Tower of London has been used for a variety of things including as an armoury, treasury and menagerie. Once the home of the Royal Mint, it was also used as a public records office. It was even used as a prison between 1100 until 1952, when it housed the Kray Twins. The Tower of London is still the home of the Crown Jewels of England and is one of London's most popular attractions.
Get your Tower of London tickets before you arrive HERE!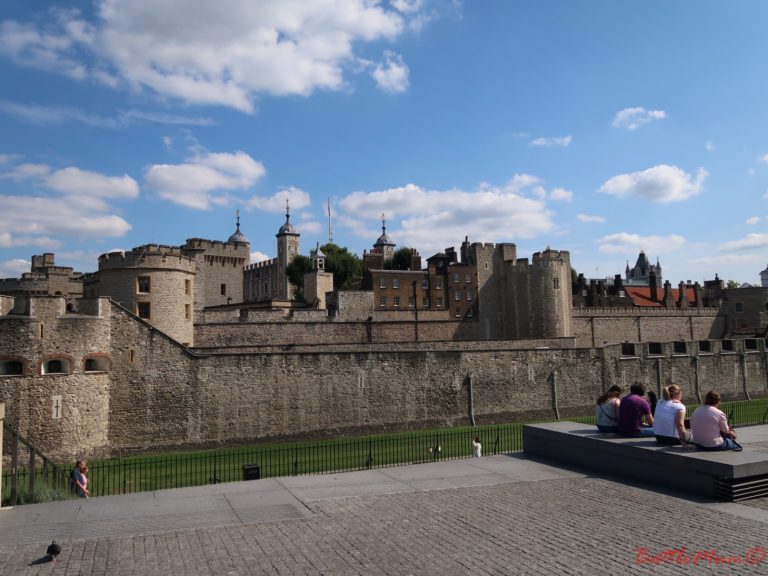 And it was the scene for one of our dragon hunting adventures. We made our way to the Tower after visiting Sea Life at Southbank and had precooked tickets, so we could make our way through security and through the main entrance gate of the Tower of London. The Tower of London can be both an educational place to visit as well as something being part of a fun kids day out in London.
The first part of the castle we visited was St. Thomas' Tower, the building which sits over Traitor's Gate, and which forms part of the Medieval Palace. We searched the rooms in here but there was no sign of a dragon. From the Tower, we checked nooks and crannies around Traitor's Gate but still no dragon.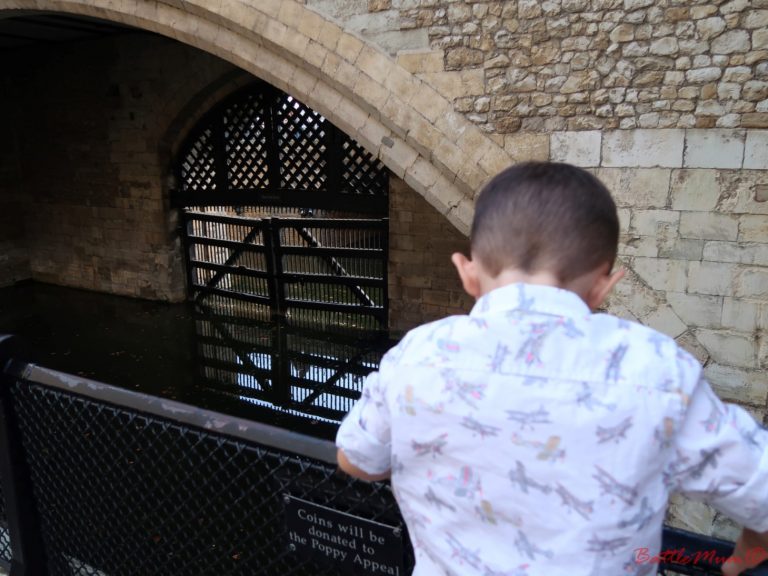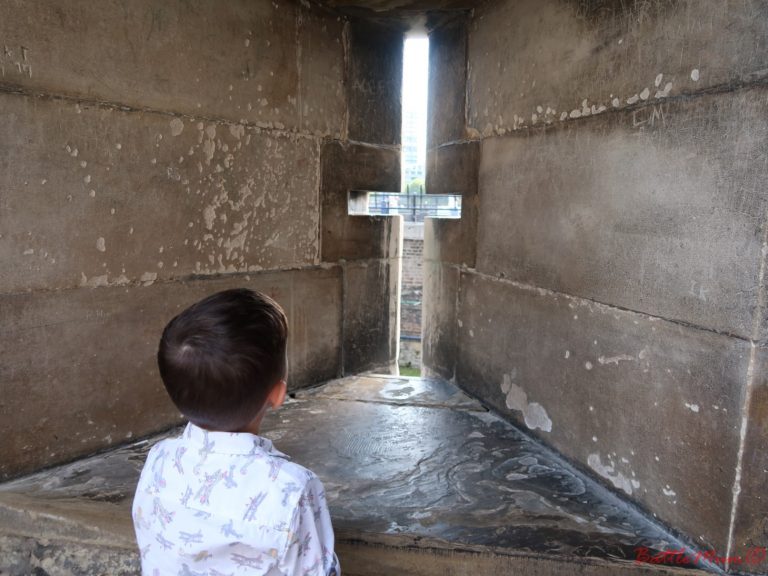 We moved on past Henry III's Watergate and into the area where the ravens are housed. I can remember thinking how big the ravens were the previous times we visited, and I was reminded again. But alas, no dragons were lurking around these huge birds.
At this stage we were all a bit pooped, having been on both the London Eye and visiting Sea Life, so we decided to stop at the Raven's Café for a cuppa and some cake. We also visited the Raven's Shop for a souvenir before carrying on our dragon hunt. I got us a keyring (to turn into a Christmas tree decoration) and BattleKid picked out a set of knights and horses.
Our port of call was the White Tower. This is by far one of my favourite parts of the Tower of London. Although there is a lot of steps and parts to it, it is filled with history. You can even view the armour worn by previous kings, including Henry VIII.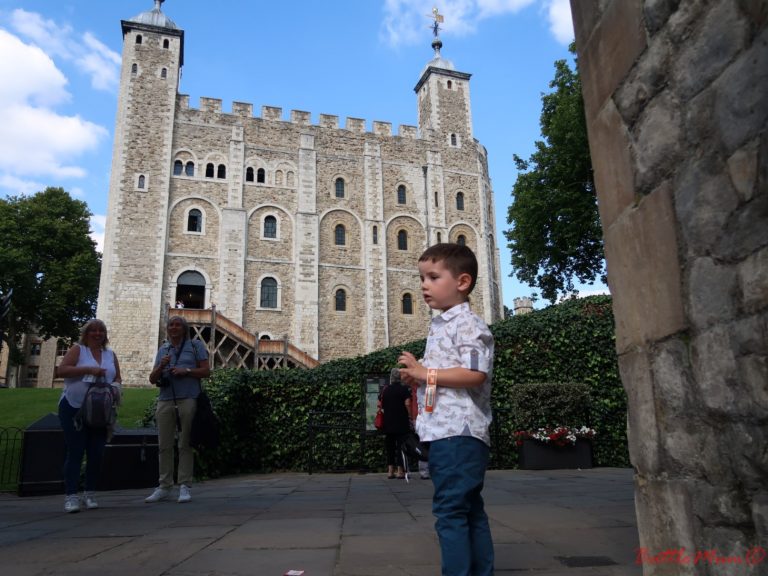 We checked each room on each floor that is accessible to the public and we finally found our dragon on the top floor. He was hiding in an alcove on the same floor as the magnificent treasure dragon which lies within the White Tower. (We hid BattleKid's dragon just beside a wall in an alcove, and thankfully the security guard in the room was very accommodating of a little boy on his dragon hunt. I'll admit it looked slightly suspicious as one of us distracted the boy while the other placed said dragon to be found. But she was very understanding when we explained what we were doing. We certainly didn't want to get locked away in the Tower!)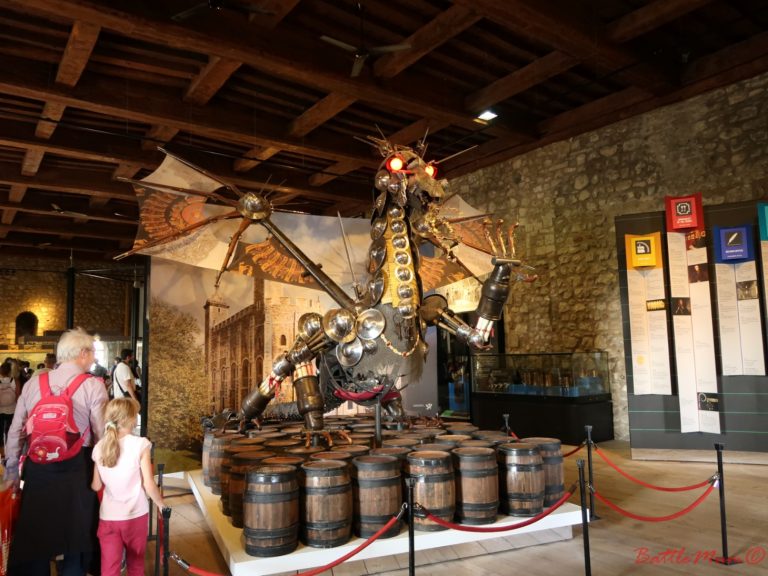 This wasn't the dragon we were hunting!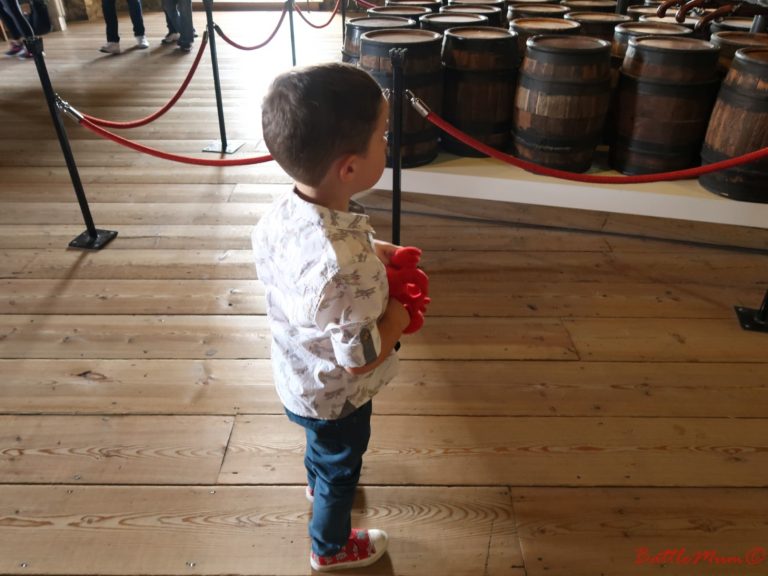 Happy that we'd found the dragon, we made our way downstairs and as a certain little person was starting to get tired, we decided to start making our way to the exit. We didn't get a chance to visit the Crown Jewels, although BattleDad and I have seen them on our previous visits and to say they are stunning would be an understatement. Nor did we take one of the Yeoman Warder's tours, another thing BattleDad and I have done on our previous visits. We exited the Tower of London onto the banks of the Thames beside Tower Bridge, satisfied we'd achieved what we'd come to do.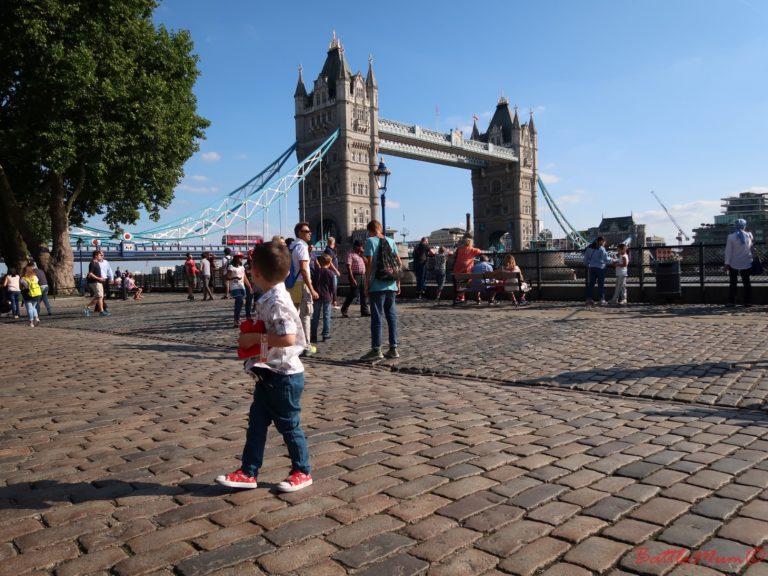 Things to note if you're planning a dragon hunting adventure at the Tower of London
Tickets for the Tower of London cost £21.50 per adult (16+), while children cost £9.70 (5-15 years of age). Under 5's are free and members have free entrance to the Tower.

Opening times for the Tower of London are as follows: Tues-Sat 9am to 4.30pm, Sun-Mon 10am to 4.30pm. Last admission is 4pm.

There are toilets in various locations within the Tower of London as well as baby changing facilities and wheelchair accessible toilets.

There is free WiFi at the Tower of London, although we didn't use it.

Four eateries are located within the Tower of London. We had drinks and cake at the Raven Café. There is also the Wharf Kiosk, New Armouries Café and the Perkin Reveller.

Five gift shops are located at the Tower of London.

The Tower of London is not completely buggy or wheelchair friendly due to the cobbled ground in certain parts of the site. Many of the buildings contain stairs. There is a buggy park for buggies located next to the Salt Tower, the Middle Drawbridge and at the entrance to the White Tower. For areas not accessible by wheelchairs, there are virtual tours of these areas.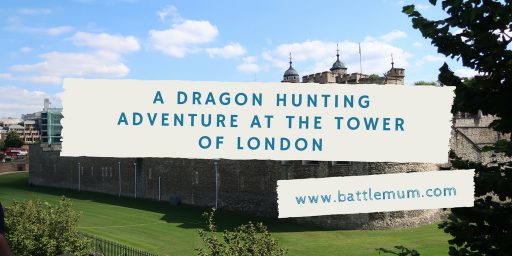 There is plenty to see and do at the Tower of London and it is just one of many fun things to do in London with kids. I wondered whether the Tower of London would be suitable for young kids, but by having a dragon hunting adventure there, we had no tantrums or tears from BattleKid, and we all enjoyed ourselves.
Some of the other things I'd like to try in the future with BattleKid are the Yeoman Warder tours. As mentioned we've been on two of these pre-BattleKid, and they were brilliant. One Beefeater (their other name) was full of funny stories and facts about the Tower, while the other Beefeater whose tour we joined gave us interesting facts about the Tower that we hadn't learned in the previous tour. Each Yeoman has his own style and stories and they really do make visiting the Tower of London really interesting.
I'd like to also see the Crown Jewels again and to visit the Chapel Royal. But the one part of this London attraction that would be amazing to witness would be the Ceremony of the Keys. This is a 700-year-old ceremony conducted every night to lock the Tower of London. While it is no longer a residence of the Royal Family it does house the Crown Jewels. However, I recently learned that tickets to this event are booked up a year in advance!
Either way, there is no doubting that this is top of the list of things to do in London with kids. It can even be made interesting for younger kids and toddler with a little imagination as we've demonstrated. And if you have only one day in London with kids, you can easily squeeze in a visit to the Tower as we did.
I hadn't been too sure if the Tower of London was a London attraction for young kids, but BattleKid enjoyed his visit, albeit a dragon hunting adventure, and we adults enjoyed it again. Would I recommend it as part of a family day out in London? Absolutely.
And if you are looking for some other historic sites to visit in and around London, Leona of Wandermust Family has a great post about the best castles and palaces near London.
Have you visited the Tower of London yet?
Cath x
If you'd like to read of our dragon hunting adventures, just check out our Dragon Hunting Series section.
*We were not asked to write this post. All prices are correct at the time of writing this post (February 2018)