If your little boy is anything like BattleKid, he is a huge Thomas the Tank Engine fan. Every afternoon after nursery before we left the UK, BattleKid would make a beeline for our cwtch room and ask for Thomas and his friends to be put on the TV. It was on so often I even knew the words to the theme tune. But imagine my delight when I discovered we could bring BattleKid on a fun day out with Thomas the Tank Engine.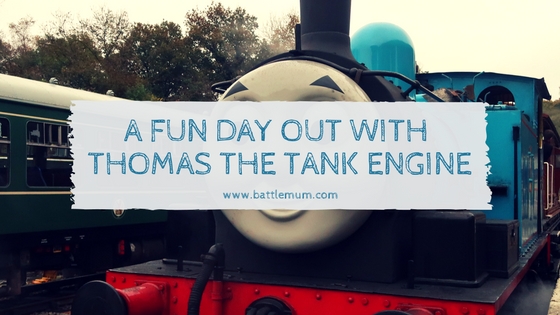 While researching family days out in the UK, I came across the Thomas the Tank Engine Days Out. I discovered that these days out were held across various locations in the UK and were a chance for fans to meet Thomas the Tank Engine and friends. Looking at which locations were near us in South Wales and on what dates Thomas and his friends would be there, I found a suitable date at the end of October at the Forest of Dean Railway. This was just over an hour drive from our house in South Wales, perfect for a family day out.
I booked our tickets many months in advance on the Day Out with Thomas website and they arrived promptly in the post. All that was left to do was wait until the day for our visit arrived.
A Day Out with Thomas is a family day in which your little fans can meet a real Thomas the Tank Engine and some of his friends, as well as the Fat Controller. There are many locations across the UK to choose from and I'm sure there is one near you. There's even a chance to meet Thomas and friends in Denmark in 2018!
We left our house just after 9am on the Saturday of our visit with Thomas and friends, and headed for the Forest of Dean Railway. We arrived before our friends who were joining us for the day and parked up. There is a large car park just a short walk from the entrance to the Railway. Once our friends had arrived we got ourselves ready and headed in for our fun day with Thomas.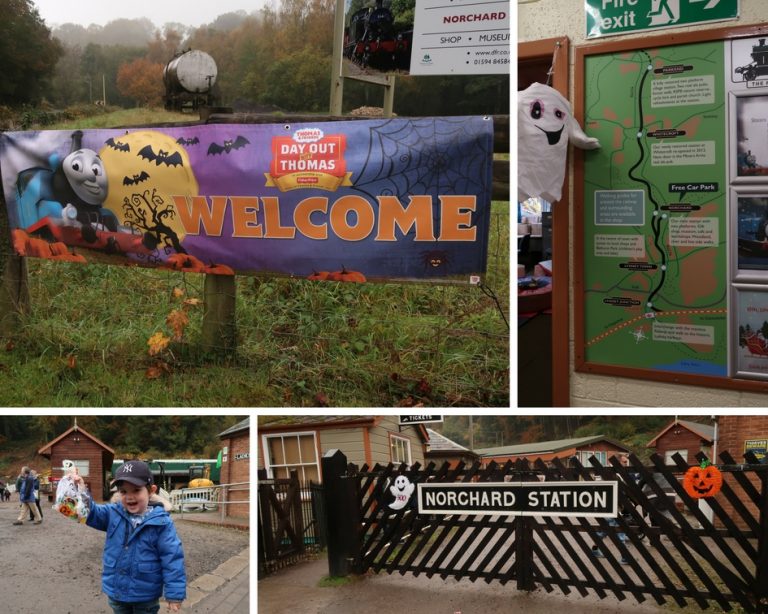 A day with Thomas the train starts at the entrance to Norchard Station and we immediately had a certain little boy shouting "Thomas", who happened to be pulling into the station just as we arrived. Norchard Station was decorated for Halloween as we visited towards the end of October. After we had handed in our tickets at the office, we were given little goodie bags for the boys which had some activities and sweets inside. There was even a Halloween spider in the bag for BattleKid, much to his delight.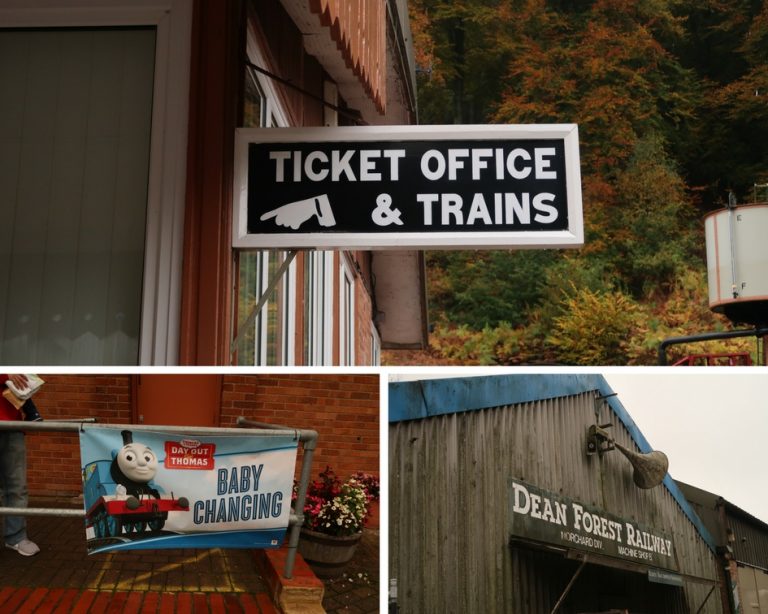 We decided to leave our ride on Thomas himself until the end of our day and we began by heading to the café for some breakfast rolls and a cuppa while we caught up with our friends who joined us for the day. Next up, we went to Platform 3 for the train to Parkend. As we waited for the large steam train to arrive, we spotted a naughty Diesel on the tracks. Once our train arrived, we found a seat and off we set, bound for Parkend.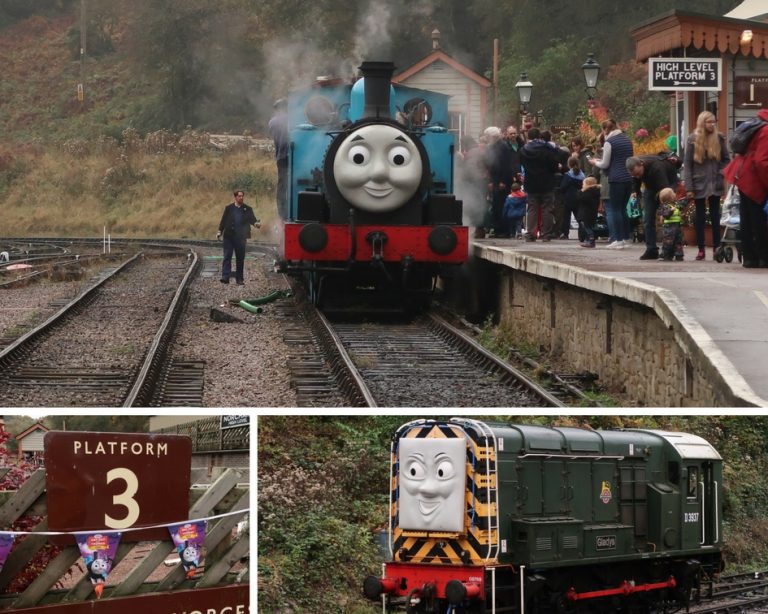 We were greeted by a marquee and a large bouncy castle. This is where the other fun activites were held. There was a Brio-type train set on a table for little ones to play with. Story-tellers were reading different Thomas the Tank Engine characters' stories, and there was also a magician. We spent about an hour in the marquee and managed to avoid a rain cloud that had rolled in.
After this, we let the boys run off steam at the bouncy castle before getting the train back to Norchard for our date with Thomas himself. Thomas pulls Toad the brake van up and down the track and this is your opportunity to meet Thomas the Tank Engine and ride with him. BattleDad agreed to stay with S, who had their buggy with her, while BattleKid and I went on Thomas with W and L. You are pushed back along the tracks a certain way before Thomas pulls you back to Norchard Station, leaving a trail of steam behind him.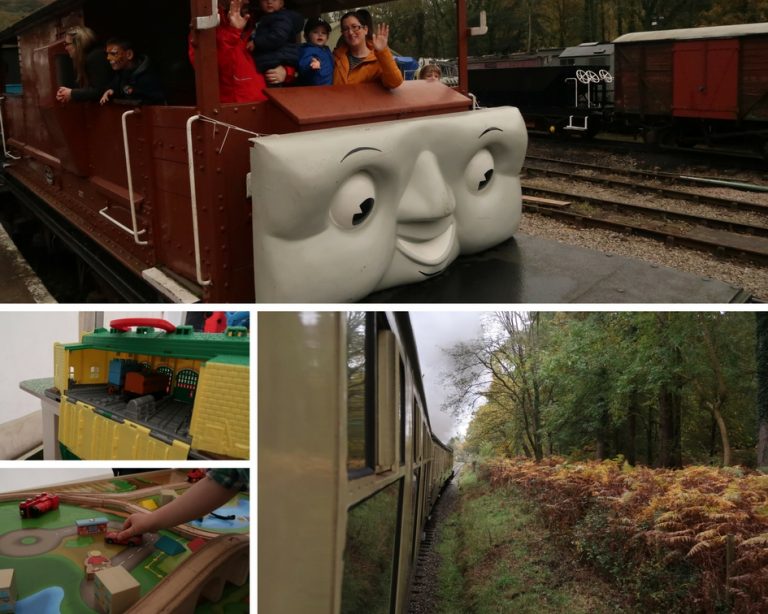 With peep-peeps and a steam trail, BattleKid was thrilled to be on real life Thomas the train and was singing the theme tune the whole way. We left the Forest of Dean Railway just after lunch with a very happy boy who slept the whole way home. He talked about his visit with Thomas and friends for months afterwards. Here's a little vlog from our fun Day Out with Thomas the Tank Engine.
Things to note if you are planning a fun day out with Thomas the Tank Engine
A Day Out with Thomas is held across various locations in the UK (and now in Denmark) on selected dates throughout the year. Check out the website for more details and the Day Out with Thomas schedule.
Day Out with Thomas tickets cost £16 per adult, £10 per child and under 2's are free.*
For the Forest of Dean Railway, we had unlimited train rides throughout the day between Norchard and Parkend, and all fun activities were included in our ticket.
Norchard Station had baby-changing facilities, toilets, a gift shop with lots of Thomas the Tank Engine merchandise and a café.
There was ample parking at Norchard Station.
The station was also wheelchair accessible.
I would suggest you look into the facilities available at your location of choice as they may differ slightly from place to place.
The Forest of Dean Day Out with Thomas opened at 9.30am and closed at 4.30pm.
We had a great time during our fun Day Out with Thomas and I can highly recommend it, especially if you have little Thomas the Tank Engine fans in your house. With lots of activities and unlimited train rides included in your ticket, it's great value-for-money and makes for a brilliant family day out.
If a Day Out with Thomas isn't enough for your Thomas fans, why not spend an entire day with Thomas and friends at Thomasland at Drayton Manor. Here's a great post with hints and tips from Learning Escapes.
And if you are looking for another train-themed day out in South Wales, I highly recommend a visit to the Brecon Mountain Railway!
Cath x
*Prices correct at the time of writing this post.
**We were not asked to write this review.