Last October we drove to the northern half of Portugal to visit a place called Trialmotor run by Filipe Paiva. It was a chance to see if BattleKid could handle a mini motorbike and, to see if he would listen to instructions. The idea being that if he did, on both accounts, Father Christmas might bring him his first motorbike. Today I want to share with you why I believe Trialmotor is the best way to introduce your kids to motorbikes, especially if you are living in Portugal.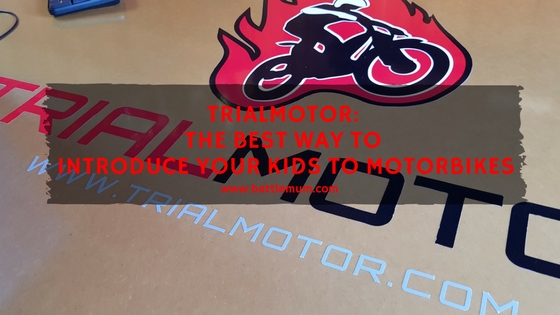 Now, if you haven't guessed by now, we are a biking family. Motorbikes that is. BattleDad got his motorbike licence over ten years ago and bought his first proper motorbike while we were living in Wales, a Yamaha FZ6. Since then he's had many different bikes, and I've enjoyed riding pillion. When BattleKid was less than 18 months old, he was introduced to MotoGP one Sunday and his love for motorbikes was born. We never pushed it onto him, it happened quite naturally. We would watch MotoGP most Sunday afternoons when it was on, and he would be in the living room with us.
He soon got into motorbikes, and at aged 2, he got a balance bike, which he renamed his 'motorbike'. Aged 3 saw Father Christmas bring a peddle bike and within six months, BattleKid was cycling independently on his 'motorbike'. BattleDad wanted to progress him to a kid's motorbike and he started doing a lot of research. He realised that trials bikes might be the way forward and he eventually happened upon Trialmotor, run by Filipe.
Trialmotor, based out of Lousã, in northern Portugal is the passion and commitment of Filipe. After doing a Master's Degree in Pre-Historic Archaeology and Rock Art, during which time he would ride his trials bikes into the mountains to do some of his research, Filipe started an online business (www.trialmotor.com) for trials bikes and equipment, and it became successful, very quickly.
As well as having a successful online business, Filipe also became a very success trials rider, competing in competitions throughout Europe and becoming the Portuguese Trials National team rider and captain. He opened his training school and academy at his home in Lousã, where riders of all ages and experience can be introduced to trials bikes and receive coaching from him. And it was for this reason we headed north.
We left the Algarve on the Friday at lunchtime and drove four and a half hours with BattleKid to stay at Filipe's family business, the Quintal de Além do Ribeiro, a rural hotel from the XVIII century.  After meeting Filipe and checking in, we enjoyed a short visit to the nearby castle (we didn't manage any dragon hunting), and a fabulous dinner in a local restaurant as recommended to us by Filipe. BattleKid's introductory lesson was booked for Saturday morning, so we got an early night once we got back.
Filipe and his wife Shabrina run a B&B at their home, and it's an amazing home. As well as the B&B (and their own quarters), they also have the trials school and academy there. They have a pool for guests to use on hot summer days, a lovely bar area to socialise in, and they really do welcome their guests with open arms. You're even welcome to pick your own fruit from their trees.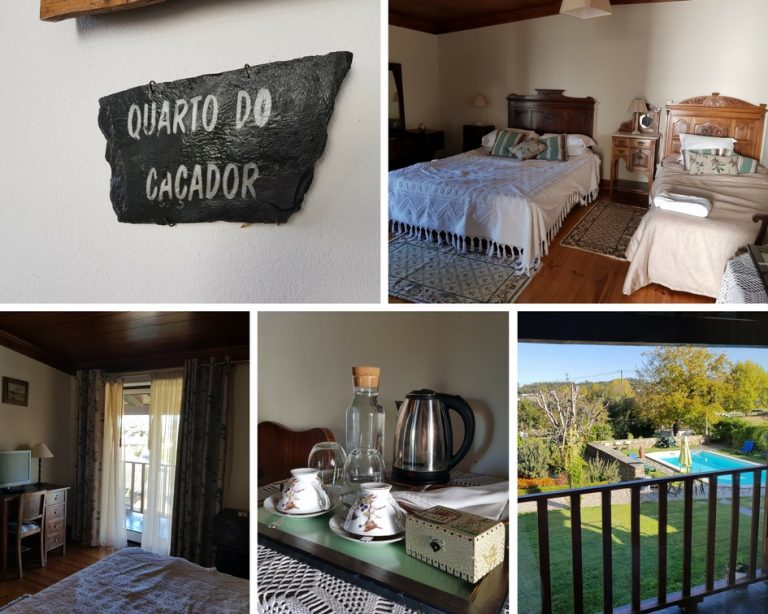 On the Saturday morning, after a continental breakfast in the breakfast room, we packed up our room, which was extremely comfortable and spacious I might add, and met Filipe in the courtyard. Filipe started by giving us a tour of his training grounds and office. Then, it was time for BattleKid's lesson.
Now, I'll be completely honest and say I had reservations about a motorbike. We live in a gated ex-pat community where there are a lot of retired residents, and I wasn't too sure they would welcome a noisy bike into the community. However, I was pleasantly surprised when Filipe started the OSET 12.5 trials bike, and how quiet it was as he wheeled it over to the beginners' grassy area. It was really quiet.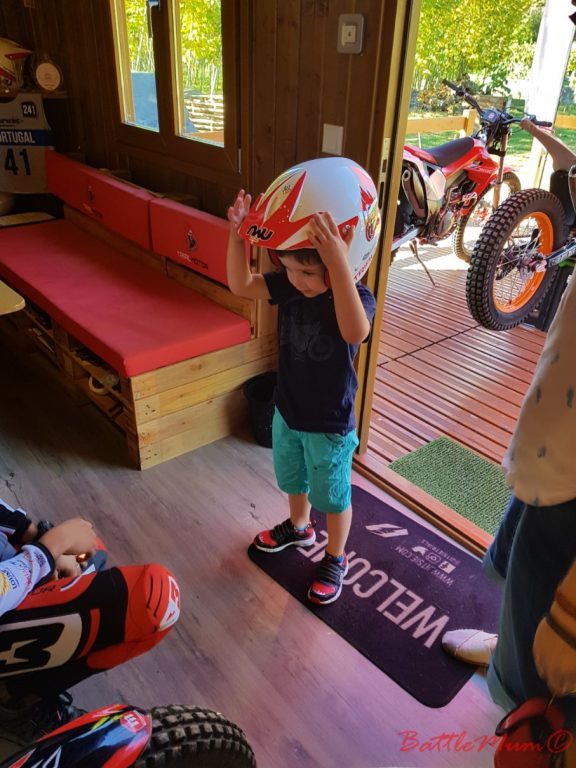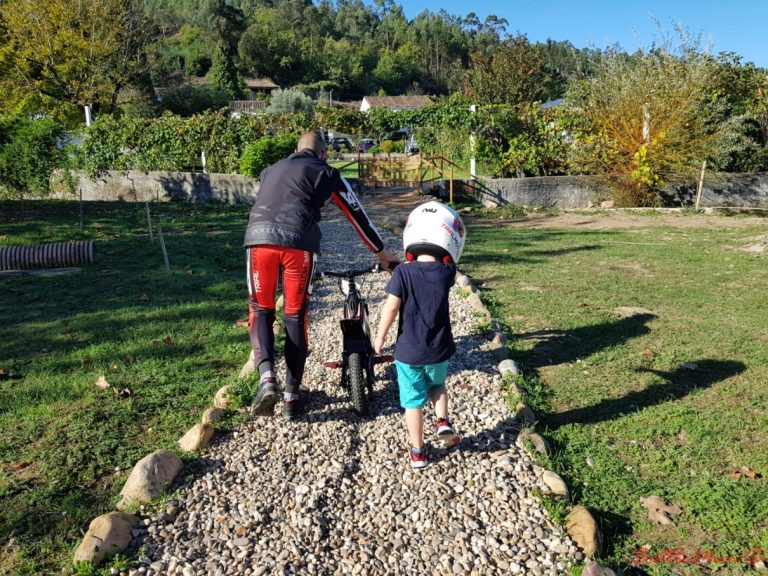 BattleDad and I decided to stand back and let Filipe give the instructions to BattleKid as it was better to have one adult talking to him rather than three. With his helmet on his head, BattleKid was ready for his first lesson. Filipe explained how the bike worked, how to turn the key and how to use the throttle, something BattleKid had no experience of before.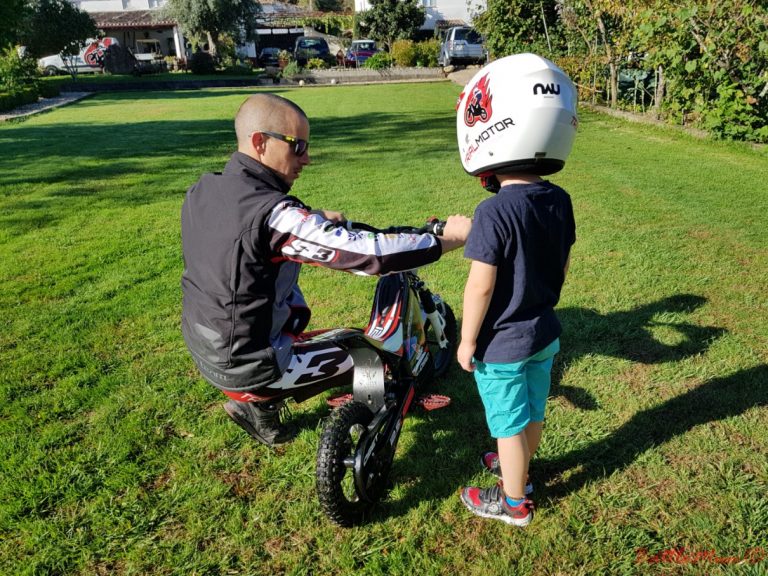 And in no time, he was off. He started off slowly but with each passing minute we could see his confidence growing. He was listening to Filipe's instructions and doing as he was told. From doing big circles around the cones to figures of eights, he looked like a natural. Although we had only booked an hour's lesson, Filipe carried on with BattleKid, encouraging him to try standing up, a technique needed when riding a trials bike. Our lesson was an hour and a half long, and BattleKid didn't want to get off.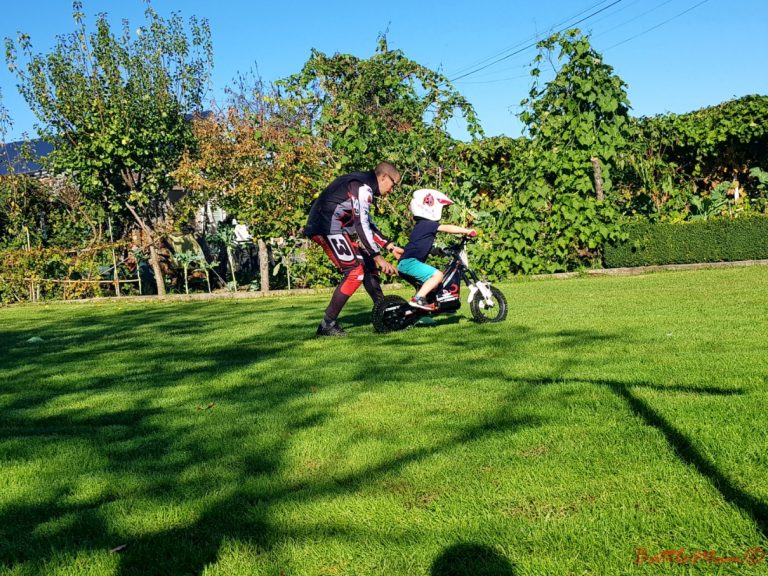 BattleKid was keen to get over to the track area that had jumps and ramps, but he needs to get standing on the bike first before he tackles that. However, we are planning a return visit to Trialmotor and Filipe, so perhaps with some practise on the bike Father Christmas brought him, he'll be able to try the track out next time! Needless-to-say, we had a very happy boy in the car on the drive back down to the Algarve.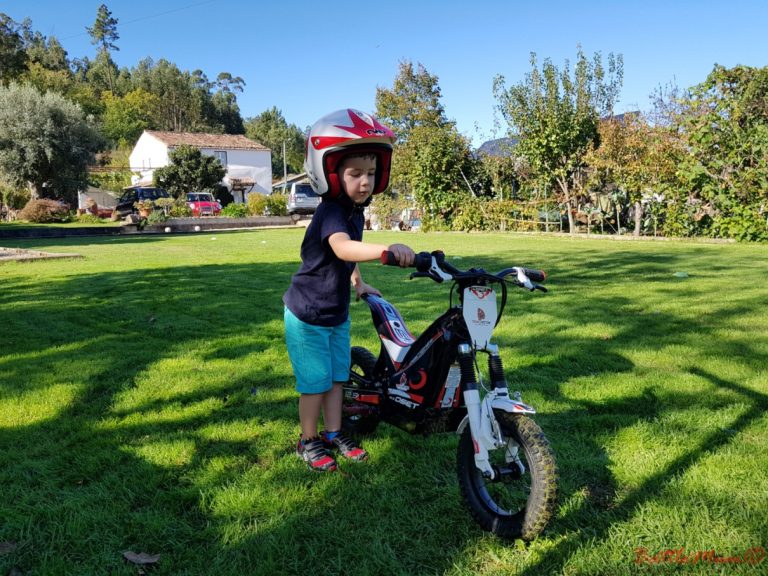 Trialmotor, what a way to introduce your kids to motorbikes. Be they experienced riders, or complete novices, Filipe has an area tailor-made for each level of riding. Beginners start off on a flat, grassy area, getting to grips with the bike and controls, and learning to handle the bike at a basic level.
Once riders have completed basic lessons here, or are medium-level riders, then there is a track as mentioned with ramps, small jumps and obstacles to try your skills on. And for the more advanced riders, Filipe can take you out into the mountains nearby where you can test your riding skills in the natural environment idea for trials bikes.
For those of you who might have reservations about letting your kids loose on a trials bike, let me reassure you, this is the best way to introduce your kids to motorbikes. Trials bikes are designed for slow speed riding and manoeuvring. These bikes, although quite capable of speed, are not meant for normal riding as you and I might know it.
Trials is a great family-orientated sport, with people of all ages from 4 years to 74 years enjoying riding across the world. I've watched a few videos on YouTube which explain trials in greater detail than I can, and the big point I came away with is that it is a safe sport to be enjoyed by everyone in the family.
I had no idea what trials riding was before BattleDad started his research into the best way to introduce BattleKid to motorbikes, but I am very thankful to him for all his efforts. As mentioned I was worried about a noisy bike around our place, but the bikes Filipe has, in order to introduce your kids to motorbikes, are OSET electric bikes, so there is very little noise from them. You can hear how 'loud' they get in our video below.
Filipe's academy and school offers lessons for riders of all levels. Children can start from the age of 2 on the electric bikes, and Filipe has a range of bikes to suit all ages. Beginners, as we've shown and discussed, start on a flat, grassy area and remain there until they learn control of the bike. Medium level riders can then start to tackle the ramps and obstacles area, while advanced and expert riders are taken into the Hardcore area to experience real terrain.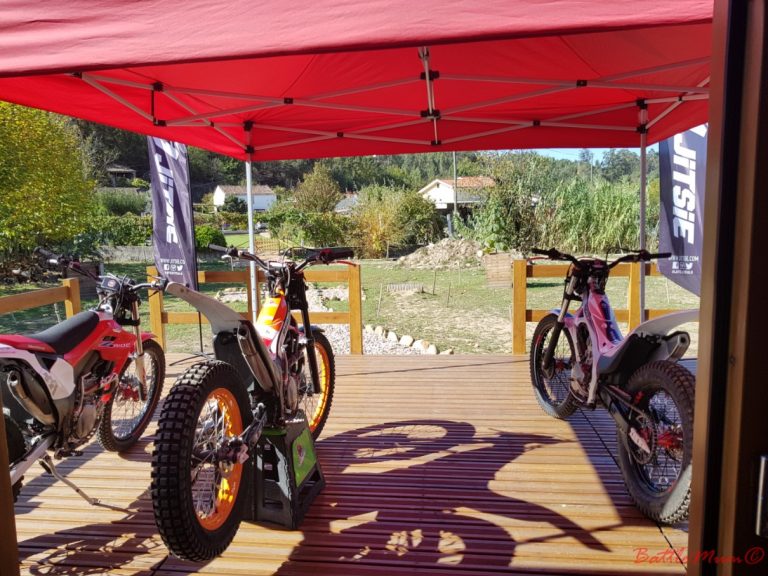 Filipe is extremely patient and a good teacher. His English is excellent and as well as being a native Portuguese speaker, he also speaks Spanish and French. Trialmotor is the best way to introduce your kids to motorbikes because all lessons are tailored to their riding levels and skills, and both beginner and medium skilled riders' lessons are held within the grounds in enclosed, safe areas.
Filipe also works to the speed of learning of each individual, and doesn't pressurise his pupils to progress any further than they are comfortable with. We couldn't have asked for a better person to teach our son the basics, and get him started on the right path with motorbikes, than the Portuguese National Team Captain and 2002 National Trials Champion, now 2nd best Portuguese on the Elite Portuguese Championship.
You can also combine lessons with a weekend getaway and stay at Filipe's place, Quintal de Além do Ribeiro. The Quintal de Além do Ribeiro is a beautiful rustic house, located in Lousã, approximately 22km east of Coimbra. There are nine rooms of varied capacity, two of which are wheelchair accessible, all with en-suite facilities. Accommodation is offered on a Bed and Breakfast basis, with a continental breakfast on offer. Guests may pre-order evening meals, but these must be in advance of arrival. There are many restaurants located in Lousã itself, which Filipe can recommend. We ate at the restaurant Casa Velha on his recommendation and the food was excellent.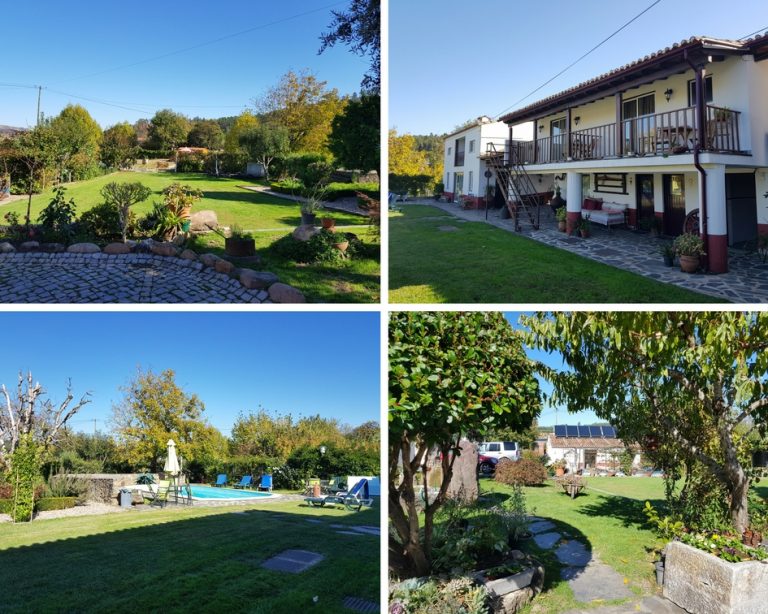 The Quintal also has a pool for guests to use as mentioned already, and is dog-friendly, depending on the size and breed of dog. If you aren't doing a lesson or tour with Filipe, there are lots of things to do around Lousã like fishing, cycling and other outdoor activities. Within the Quintal you are welcome to partake in activities such as fruit picking, grape harvesting and even wine making (depending on the time of year).
Filipe and his family are extremely friendly and welcoming. Should you be looking for somewhere in northern Portugal for a getaway, I cannot recommend the Quintal enough, even if you aren't going to partake in any lessons or tours on the bikes.
So, you can see why I truly think a lesson at Trialmotor for your budding little riders is the best route to starting them off with motorbikes. The trials bikes are slow starting off, and they learn the control and skills necessary to ride safely. The environment in which they learn is very safe, and they have the best person to teach them the skills necessary to get them started in Filipe. We are already looking forward to a return visit to Trialmotor!
Cath x
*We were not asked to write this post, nor to review the Quintal de Além do Ribeiro. We paid for our stay and for BattleKid's lesson ourselves.