When I worked in Cardiff I used to travel down the A470 from Tredegar and would take Caerphilly Mountain road towards Pentwyn. I passed a sign for the Mountain View Ranch every day since the sign went up and always wondered what it was. One weekend, while wondering what to do with BattleKid, I looked it up. And discovered the Caerphilly Mountain Ranch was somewhere to take kids, so off we went. One of our main reasons for visiting – hunting a Gruffalo at the Mountain View Ranch.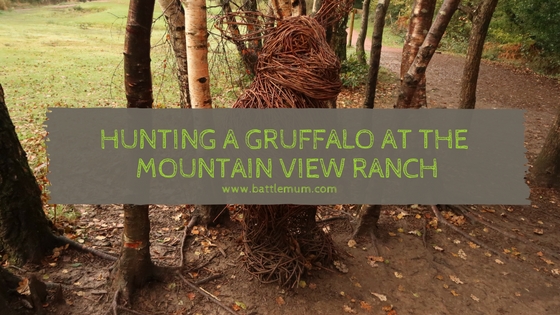 As I've said, the Mountain View Ranch in Caerphilly is on the mountain but is tucked away nicely, where it can't be seen from the A470 or A469. With over 100 acres of fresh air fuelled fun for all the family, it is a treasure hidden on Caerphilly Mountain. From archery to high ropes, from a fairy forest, to the official Gruffalo Trail Wales, the Mountain View Ranch has something for everyone.
So, one Saturday morning we stuck on our wellies and water proof boots (it was drizzling), put warm waterproof coats on and off we went to see what the Mountain Ranch between Caerphilly and Cardiff had to offer.
Arriving at 10.15am, not long after they opened, we drove into the car park only to find a handful of other cars there. I think the rain might have put others off but we were undeterred. One of our main aims in visiting the Mountain View Ranch in Caerphilly was to check out the Gruffalo Trail. BattleKid is a HUGE Gruffalo fan, and we knew he'd enjoy a Gruffalo hunt. He's a big fan of our dragon hunting adventures, so knew a Gruffalo one would go down a treat too.
We paid our entrance fees (see below for details) and we started our walk past an adventure play area. It looked great but BattleKid was on a mission. There was a Gruffalo to hunt! We went past a pen with goats in it and I had to stop, goats being my favourite of all the farm animals. At the goats, there was a great bridge with a troll living under it. Not far from here is the start of the Gruffalo Trail. The clues say follow the footprints. And that's what we did.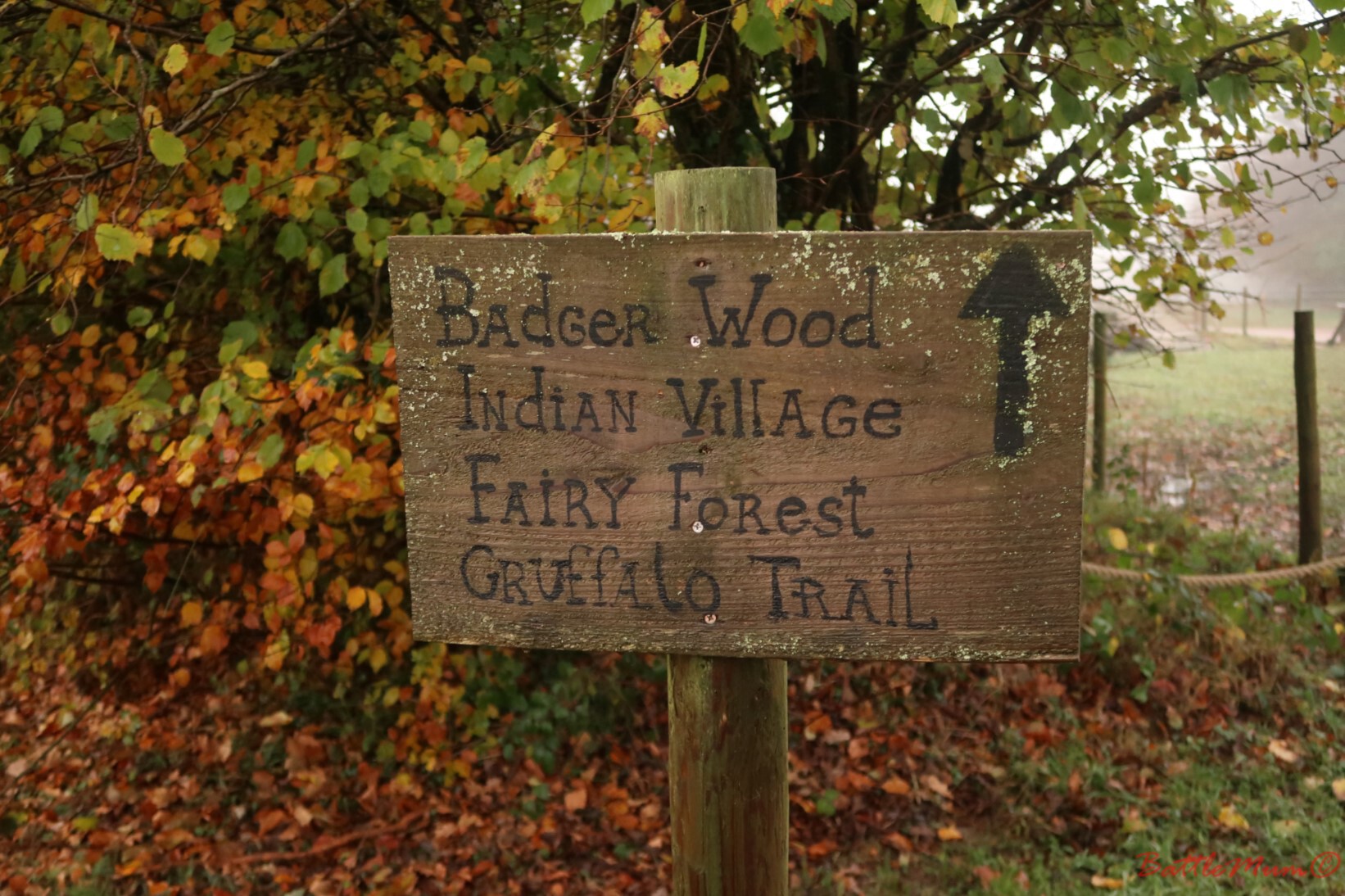 The first character we met on the trail of the Gruffalo was Mouse. The story started being recited to us from a certain little boy! At first, he was unsure of Mouse but he soon got over his fears and went in to give him a rub. I'll admit you probably aren't meant to go into Mouse behind the ropes. But as we seemed to be the only people there, we cheated.
Carrying on from there, we stopped briefly to have some fun jumping in puddles. Since he was well equipped I did nothing to stop BattleKid and let him enjoy himself. As you can see from the picture, he had fun amidst the misty morning. Unbelievably there were people playing golf on the course next to us!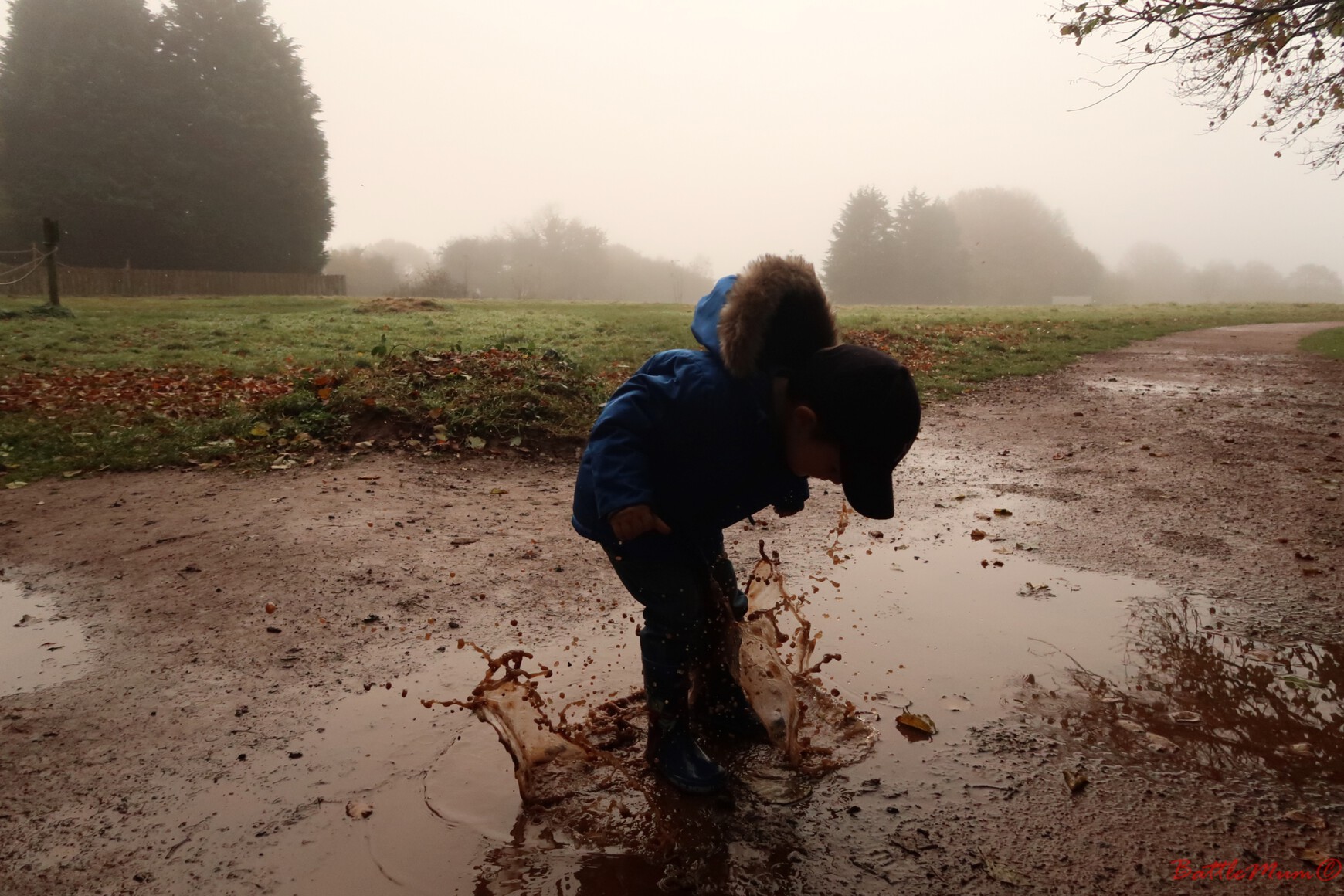 More footprints led us onto the next character from the story, Fox. This is where BattleKid really had to battle with himself. He really didn't want to go near Fox as, at the time, Fox was the character that scared him a little in the TV adaptation of The Gruffalo's Child. It was the eyes I think.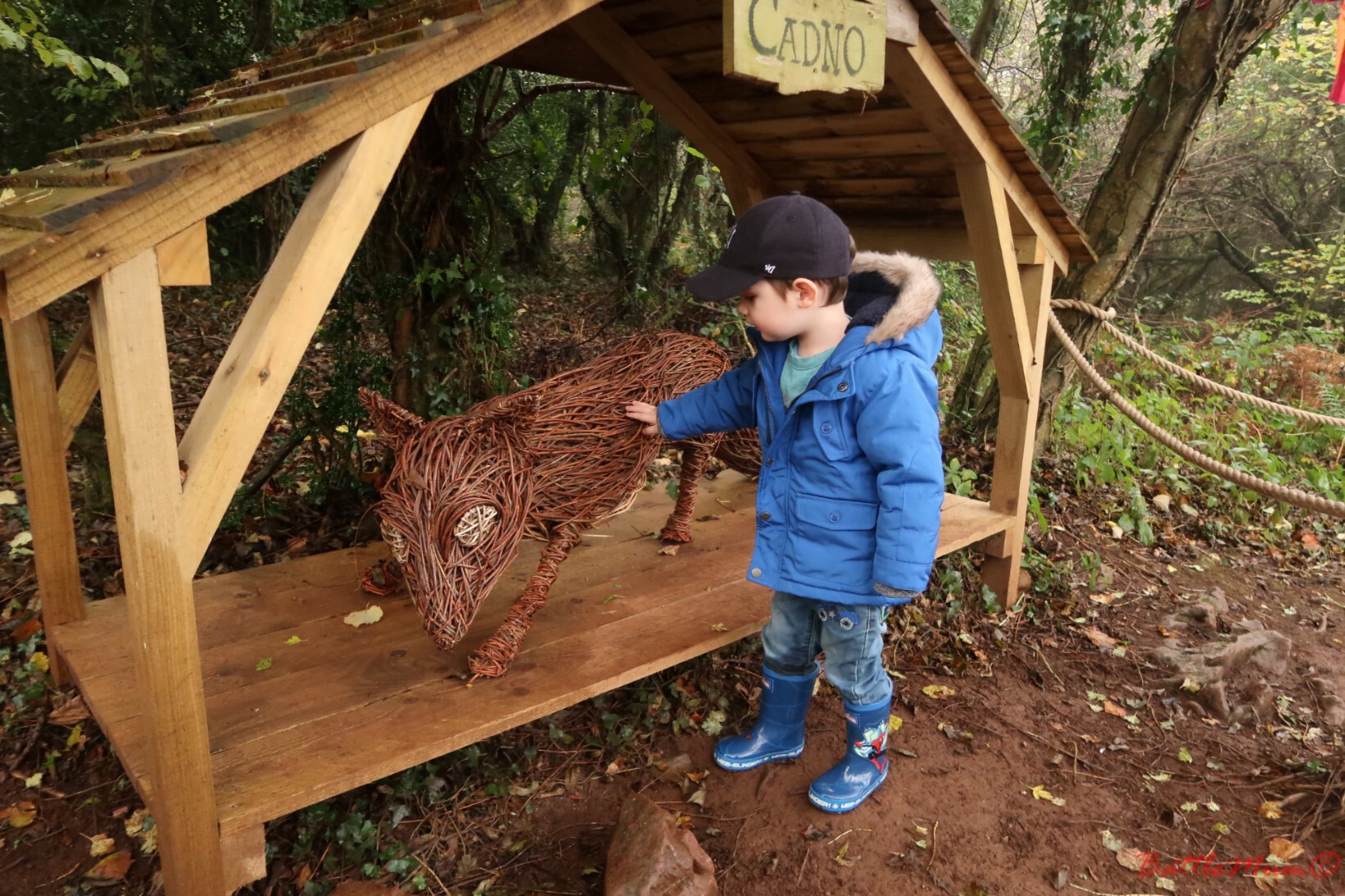 Owl proved a little more elusive for us. We weren't expecting him to be in a treetop house, but that's exactly where he was. In an effort to bring the story and Gruffalo Adventure Trail alive for BattleKid, we had brought his [amazon_textlink asin='085757759X' text='Owl teddy' template='ProductLink' store='batt07-21′ marketplace='UK' link_id='f5adb459-faac-11e7-87bd-577699d45526′] from home. BattleDad kindly hid him and we let BattleKid find him, at the bottom of the tree where Owl was perched. Clutching his owl, BattleKid hurried us along the trail and instead of finding the Gruffalo, we stumbled upon a different but familiar character. It was the dragon from Room on the Broom. He was standing beside a gorgeous red wooden dragon.
And, although we hadn't planned it, we did an impromptu dragon hunt and found our own dragon hiding in the wings of the wooden one. It took some coaxing of BattleKid to get him to retrieve it. I think the fact that the wooden dragon was on the ground, and looked big, had something to do with his reluctance.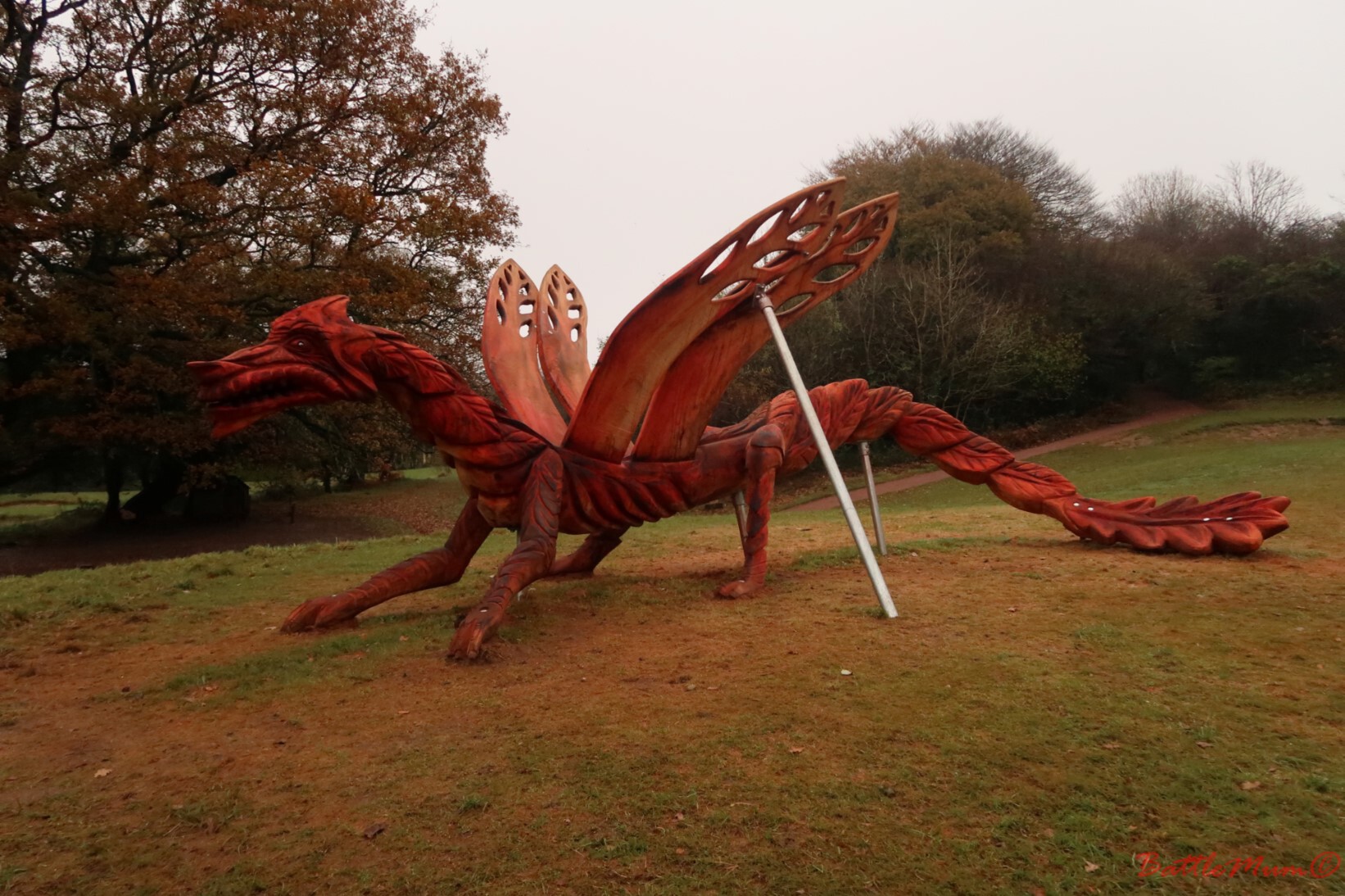 We soon found signs for Snake after leaving the dragon, and this character BattleKid refused to go near. Footprints from here led us across a small bridge towards a wood. And guess who was in there. Not only Gruffalo himself, but also Gruffalo's Child! And we found a [amazon_textlink asin='B002TVAJT0′ text='Gruffalo teddy' template='ProductLink' store='batt07-21′ marketplace='UK' link_id='10b20db5-faad-11e7-8e49-db81d3924279′] hidden among the purple prickles on Gruffalo's back, strategically planted by BattleDad. BattleKid was thrilled with himself.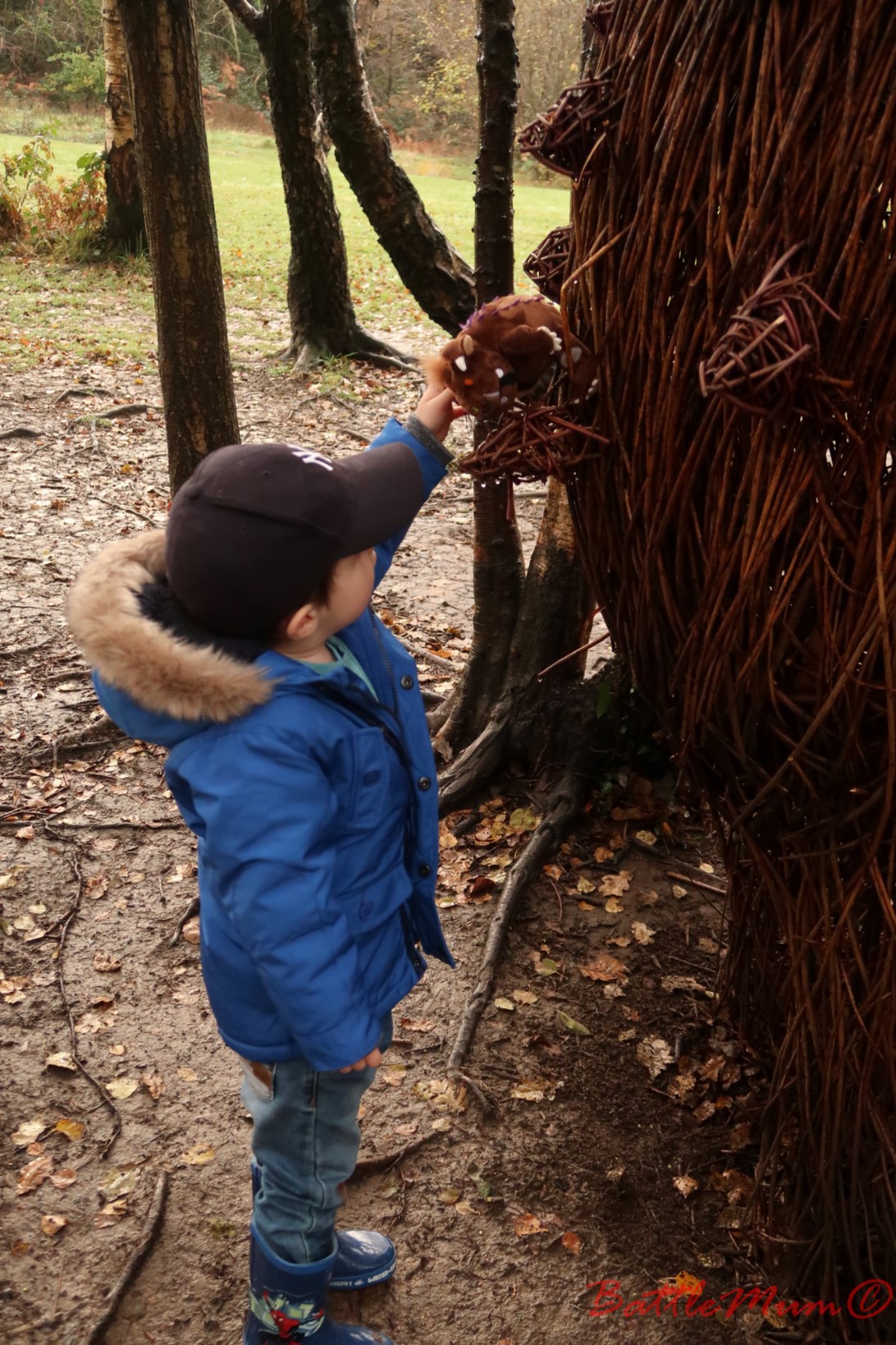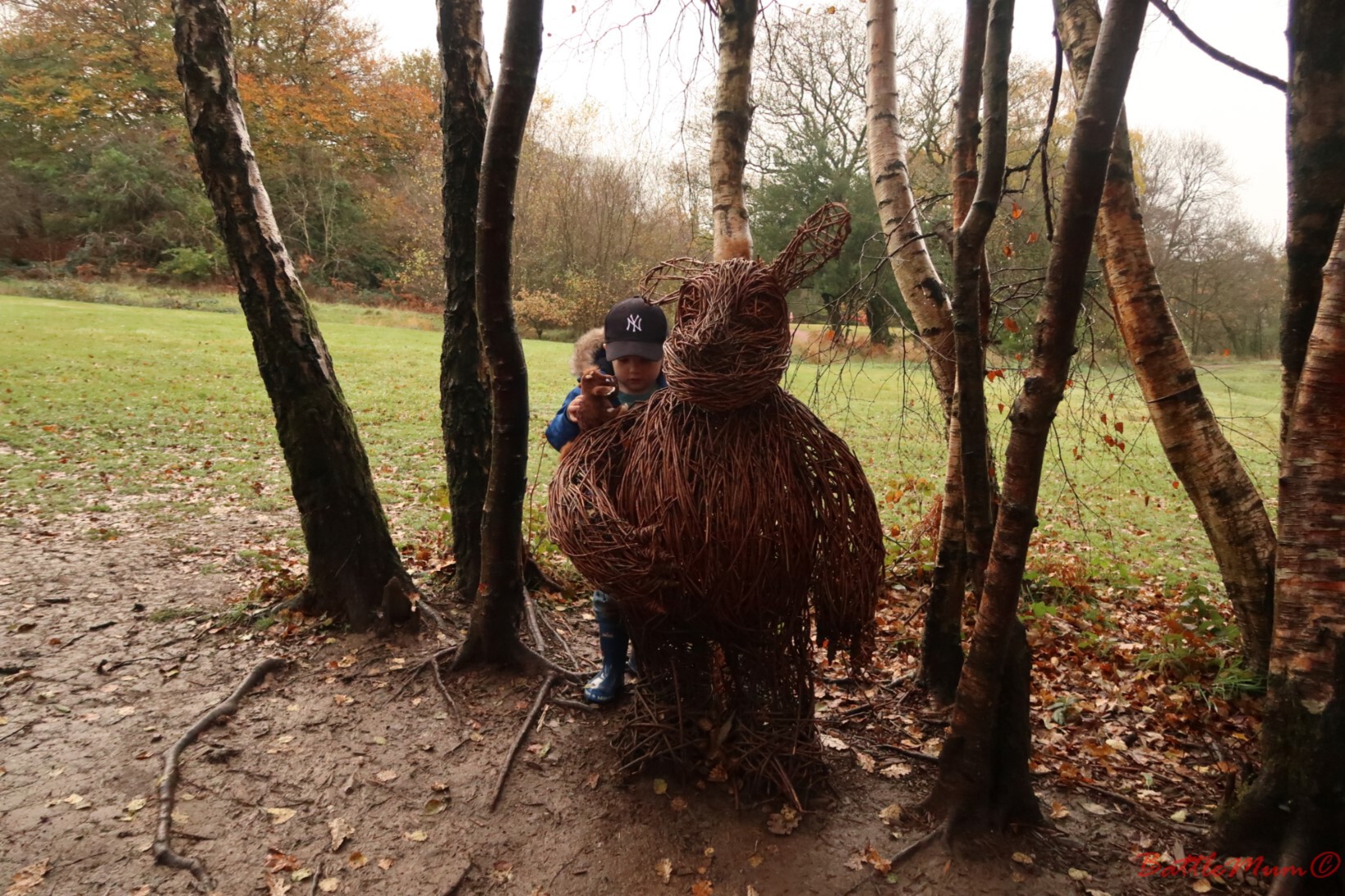 I have to say, despite to grey gloom of the day, the Mountain View Ranch Gruffalo Trail, South Wales, was absolutely brilliant. It brought the story alive for BattleKid. A few character teddy bears also helped keep his interested, although truthfully we didn't need them. The craftsmanship that went into creating the characters is excellent and they are instantly recognisable.
Satisfied we had found the Gruffalo, we doubled back to the dragon and passed some people on Segway's on our way to Hobbiton. I told you there is something for everyone at the Mountain View Ranch in Caerphilly.
Hobbiton, or Hobbit Hill as they call it, looked so cute but BattleKid wasn't having a bar of going in. So, a picture from afar was all I got. From there we walked past the three bear pods, making our way to a treehouse. However, BattleKid was too young to go into it so we moved on, heading for the Fairy Forest.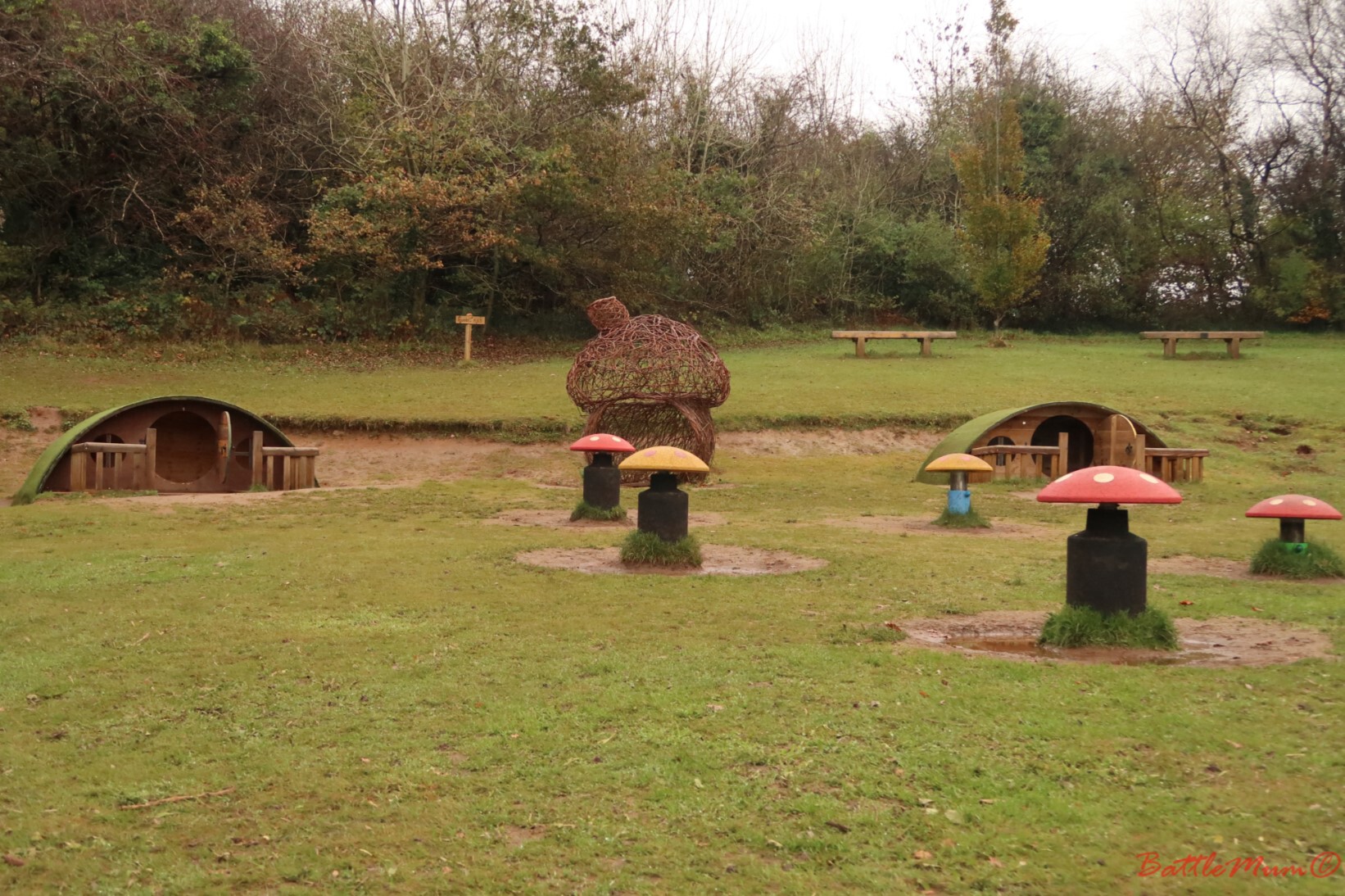 Fairy Forest is located up a slight hill, and we decided to leave our buggy at the bottom and walk up. With wet grass, we were struggling enough with it, without adding a hill into the equation. There was a tree house in the clearing that BattleDad helped BattleKid into. There was a tree with fairy doors in it and a swing. It was a lovely little place, set away in the woods from the main area of the Ranch.
BattleKid was chuffed to get into the treehouse. When he got down he made a beeline for the fairy doors and wanted to cross the rope to touch them. I think he thought he could, as we have a fairy door at home. It took all our efforts not to let him across the rope. Distracted with the swing, he soon forgot about it.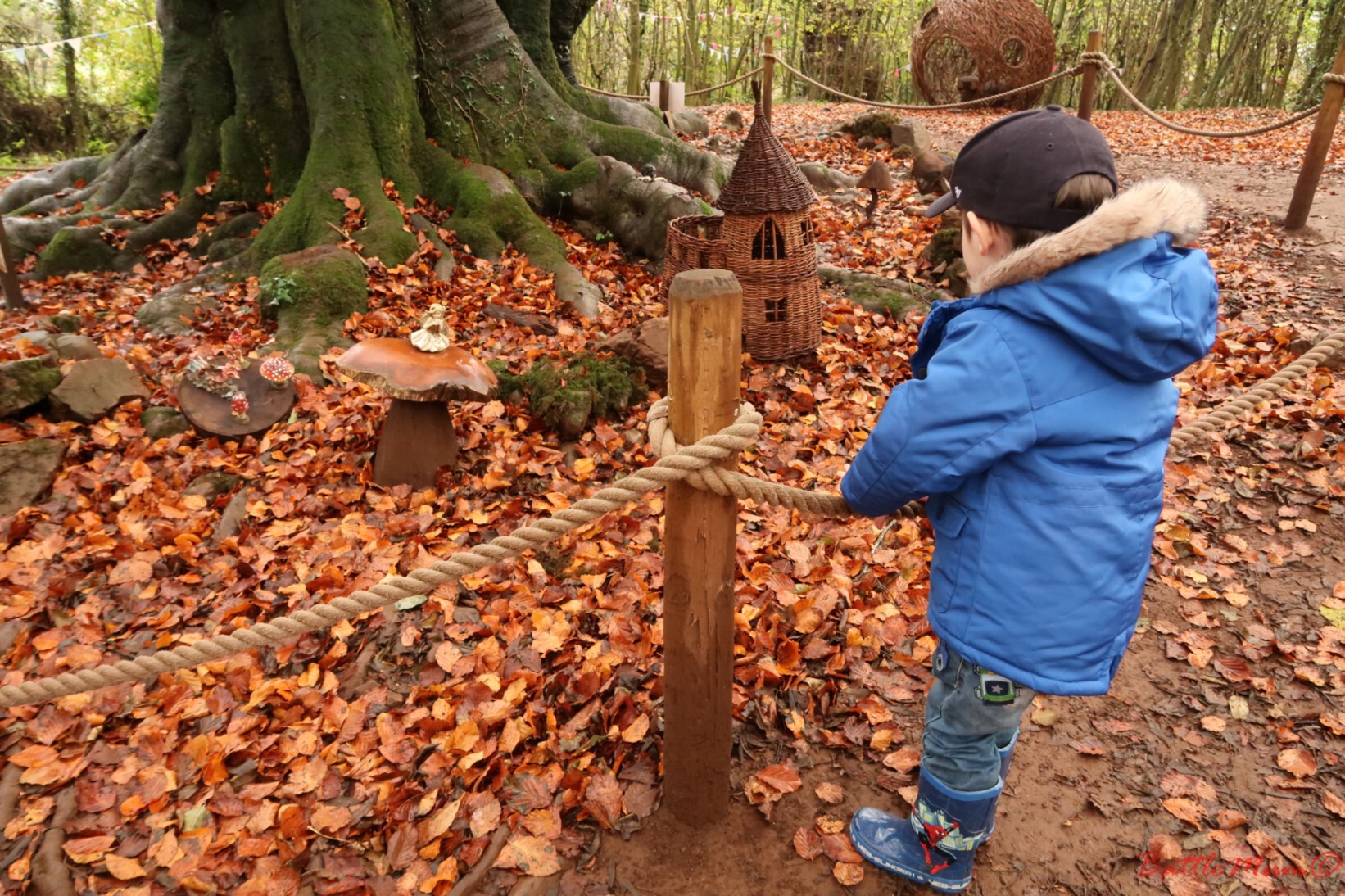 Someone was starting to get a little tired at this stage and, as we had seen quite a lot of the Mountain View Ranch in Caerphilly, we decided to head back to the car. Even when leaving the Ranch, there were very few cars in the car park, but bear in mind it was a grey and drizzly day in November when we visited. I have seen pictures of the Ranch in the sunshine and it looks lovely. That said, with the right clothes, this fabulous family place can be enjoyed at any time of the year, in any weather. Although I might stop when there's snow involved.
We thoroughly enjoyed our few hours, hunting a Gruffalo at the Mountain View Ranch. I had hoped we might get a chance to return to it before we left the UK, but alas we didn't have time. If we ever return for a holiday, I'll be making time to go back to the Gruffalo Trail, Wales.
Things to note if you plan on hunting a Gruffalo at the Mountain View Ranch
Open from 9.30am to 4pm on weekdays and 5pm on weekends, during the summer. During winter the ranch is open 10am to 4pm, at weekends and is closed during the week.

Adults cost £6 in peak times, £4 in off-peak times, children are £6/4, seniors are £3/2. Under 18 months go free. There are also family tickets available which will save you a little bit of money. Peak times are weekends, bank holidays and school holidays.*

Dogs are welcome but must be kept on a leash at all times, must not enter the sand areas and must be cleaned up after. (We chose not to bring BattleDog with us so we could enjoy our visit more).

There is a café on site which closes at 3.30pm during the week and 4pm at weekends.

Toilets and bins are located near the goats before you enter the Gruffalo walk. These are the last ones in the Ranch, so visit the toilet before going further and keep your rubbish with you until you return.

There is a Gruffalo Trail sticker to be collected at the office once you complete it (we didn't bother) and there is also a wider Ranch Trail to complete on the map (printable from the website).

The Ranch has ample parking in the car park and it is free.

There is a snacks and gifts kiosk beside the Adventure Play Area.
I highly recommend the Mountain View Ranch in Caerphilly if you are looking for a great day out for the family. Older kids will love the High Ropes, Archery, Treehouses and Climbing Trees, while there is loads for younger kids as already discussed. You could even rent Segways. A 45-minute tour costs just £25 and includes your entrance fee into the Ranch. Just be aware there is a minimum age of 13 years for these.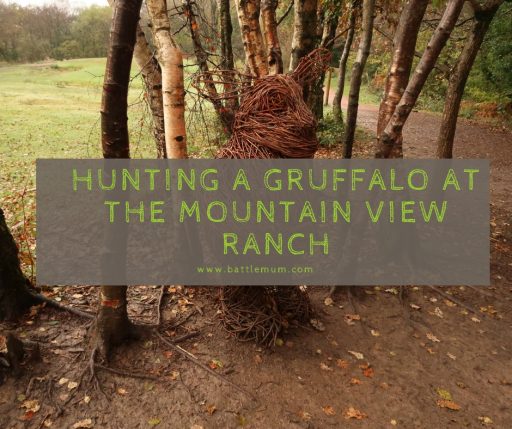 The Mountain View Ranch on Caerphilly Mountain can be enjoyed in any weather, as we prove, so long as you go prepared. It really is a great family day out venue in South Wales. If you are wondering "is there a Gruffalo Trail near me?", check out the Forestry Commission's website for details. 
Cath x
*Times and prices were correct as the time of writing this post.
**We were not asked to write this review.
***This post contains Amazon affiliate links. This means that if you click the link and make a purchase, I will receive a very small commission, at no extra cost to you.