Have you heard of Grobags? They are baby sleeping bags which revolutionised the way babies sleep. They became my favourite thing to buy when our son was young. Read my Grobag Baby Sleep Bag review to find out what we thought of them in detail.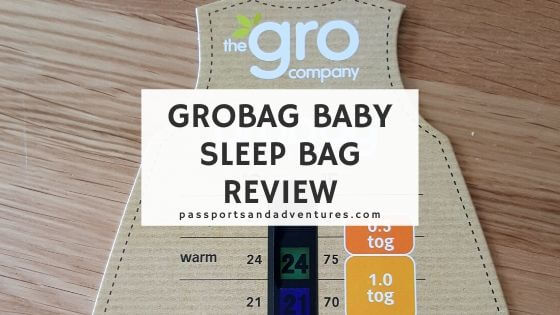 Grobag Baby Sleep Bag – Review
Grobag Baby Sleep Bags were launched in 2000 by the Gro Company and have changed the way babies sleep forever. Starting out as a safer concept to sheets and blankets, Grobags are now the market leaders in baby sleep bags, conforming to a new British Standard (BS8510:2009) for baby sleep bags.
While I was aware of baby sleep bags while pregnant I didn't know much else about them and wasn't really considering them for our son until a friend gifted me one. Along with other gifts she sent me a Carnival 2.5 tog 0-6 months travel Grobag.
It was to be the first of many.
Browse the range of Grobag Baby Sleep Bags on Amazon HERE.
Our journey with Grobags
As per the guidelines, we had to wait until our son reached a weight of 8.8lbs (at 1 month old) before we could use it but we were then using Grobag Baby Sleep Bags as part of our nap and bedtime routine ever since!
I purchased an additional one as a spare, and when our son was six months old, we moved up in size. I purchased two of the 2.5 tog Grobags, a 3.5 tog for the coming winter and also a 1.0 tog for our first holiday abroad as a family. It worked out brilliantly bringing a Grobag on holiday as it meant our son knew it was bedtime once we put it on despite his new surroundings.
And even when he outgrew his 6-18 months Grobags, we bought the next size up as he was still in his cot and not attempting to climb out. I firmly believe his Grobags delayed that trick!
I have gifted Grobag Baby Sleep Bags to friends and family, keeping on the tradition my friend started and they've all been received with a lot of thanks.
Exactly what are Grobags?
As already mentioned, Grobags are the market leaders in baby sleep bags, having won multiple Mother and Baby gold awards and two Practical Parenting Holds. Over 3 million have been sold to date*, with us owning quite a few over our son's short life!
Grobags are extremely useful and versatile and negate the need for copious amounts of baby sheets and blankets. We used them in conjunction with our son's Sleepyhead™ sleeping pod and in his cot, only ever alternating two sheets at a time. That said I had spare sheets in case of illness or tears in the current ones.
Grobags are also much safer than blankets as our son could never get tangled up in them or have his face covered by them. Their design also stops a baby from wriggling down into them so their face will never accidentally get covered during their sleep. The design of Grobags are such that they still allow your baby to move around during their sleep, important as your little one grows up if they like sleeping on their front as our son did, and still does.
Grobags do not have arms and this is to allow a baby to regulate their temperature, important for the prevention of SIDS (Sudden Infant Death Syndrome). That said, if the temperature in your baby's room drops significantly during the night, the Gro company do sleepsuits with padded arms designed especially for use with Grobags.
Grobags come in a range of TOG ratings depending on the temperature conditions in which your baby sleeps. These range from between 0.5 tog and 3.5 tog. These ratings are much lower than a bed duvet tog rating as Grobags are designed to trap a pocket of warm air around your baby and provides insulation from both above and below. In combination, these are more than sufficient to help your baby sleep comfortably.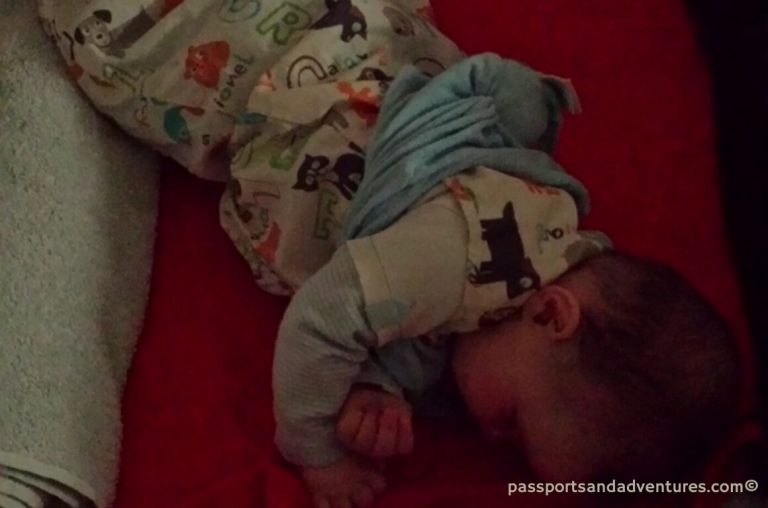 How do you know which Grobag tog to use?
Each Grobag Baby Sleep Bag comes with a handy free room thermometer to help you decide which tog to use, when and what clothes to dress your baby in for the tog rating and temperature conditions of their room.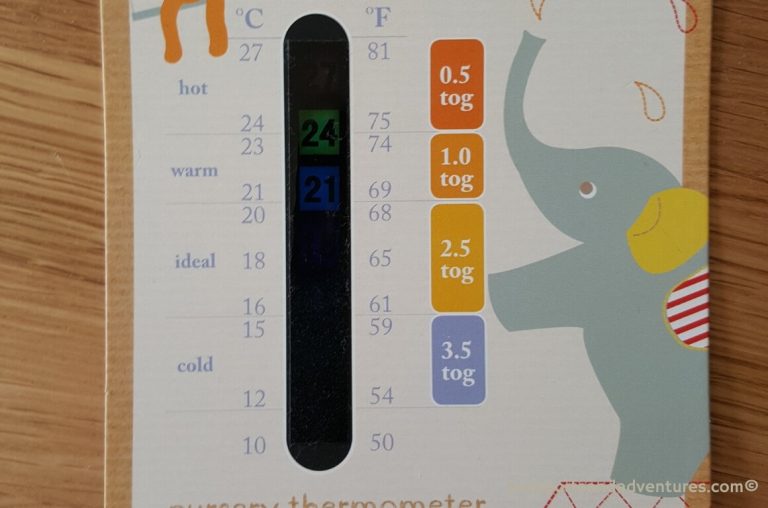 In the UK, the most versatile tog is 2.5. Your baby's clothes can easily be adjusted to suit the room temperature without needing to change the Grobag itself. Although we had a range of togs, the 2.5 tog is the one we used 90% of the time, for both naps and bedtime. That said, we had Grobags in all tog ratings and found the 0.5 and 1.0 tog great for warmer climates when we've been to the Canaries, and the 3.5 tog came in very useful during winter on very cold nights, especially when it snowed. If I was to recommend only one for UK and Ireland readers it would be a Grobag with a tog rating of 2.5.

What sizes do Grobags come in?
Grobags come in a range of 3 sizes; 0-6 months, 6-18 months and 18-36 months. UPDATE: Grobag Baby Sleep Bags are now available in sizes 3-6 and 6-10 years! I found the 0-6 months quite a generous size, with our son in these until nearly 8 months old. At almost 18 months old he was still in his 6-18 months bags with a little room left at the toes. I had bought some 18-36 months Grobag Baby Sleep Bags in preparation for our move up and they looked huge!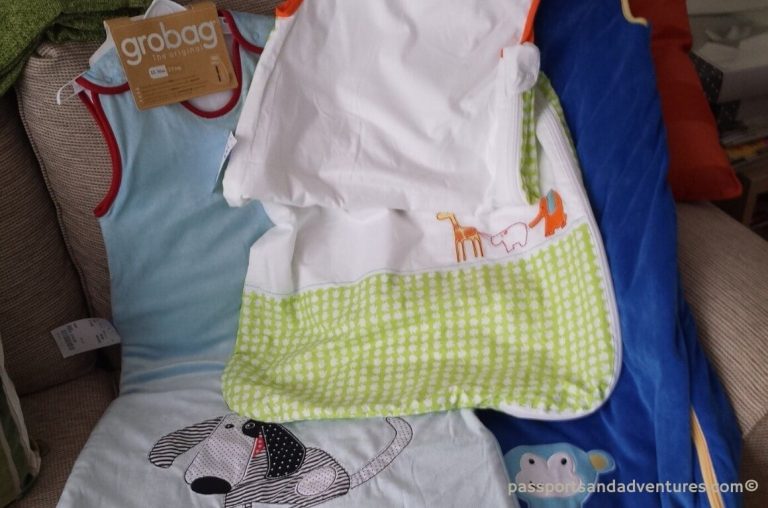 Is there just one type of Grobag?
Grobags come in two types; normal and travel versions. The normal version has a zip around the side of the body from the feet to under the arm and has two armholes, secured over the shoulder with poppers which conform to British Safety Standards.
The travel version is designed to be used with the 5-point harness of car seats and prams/buggies. This type has proper armholes and a front zipper which also conforms to the BSS. We used this type in the car seat on occasion. Both versions fit securely around your child at the arms and neck, and the 0-6 months has an additional popper under the arm for babies at 8.8lbs for extra safety. So you see, there is no way for your baby to wriggle down into Grobags.
Other Grobag options
Grobags come in a range of designs for girls, boys and several which are unisex. There are lots of choices so I'm sure you'll find one you like. I would recommend you buy two as that way you will have a spare when the other is in the wash.
Do they wash well?
I've always found Grobags to be excellent quality. They wash very well, and if you wash them with appropriately matched colours, they keep their colours and whites quite well. They dry well either out on the line or on a clothes horse (as I did). You can also tumble dry them on a low heat setting too, which I have done from time to time. You can even iron them, although I've never done this!
The Grobags we've owned
Since we got our first Grobag I've been a big fan with our son owning (but not limited to):
Alphabet 0.5 tog
Day & Night Hippo Ho Pack 1.0/2.5 tog
Hippo Friends 2.5 tog
Carnival Travel 2.5 tog
Jolly Jungle Pals 2.5 tog
Fly a Kite 3.5 tog
Mr. Moose 3.5 tog
We also had the following in the next size up ready to go in the 18-36 months size:
Jungle Friends 1.0 tog
Carnival Travel 2.5 tog
Rascal Racoon 2.5 tog
Monkey Magic 2.5 tog
Fly a Kite 3.5 tog
How much do Grobags cost?
Grobags vary in price depending on size, tog rating, design and where you buy them from. The price of a 2.5 tog, current season Grobag in the 0-4 months range, through the Tommee Tippee website (Grobags are now sold through there) starts from £25.99, depending on design as mentioned. I have bought Grobags from the Gro Company website, from their Amazon shop and also from TK Maxx, who occasionally sell previous seasons Grobags half-price.
The last Grobags I purchased for our son were two 2.5 togs and one 1.0 tog in 18-36 months size from TK Maxx. The RRP was £101, and I got all three for £50. The Grobags are sometimes on sale through the official selling partner, Tommee Tippee, keep an eye on the website for sales. So, if the initial price frightens you, rest assured you can buy genuine Grobags for less if you shop around and check for sales.
Either way I think they are great value-for-money. If you only ever buy two in the size you need, that would work out at £1.87 per week for a 6-18 months size if you used them for one year (based on a price of £35.99). That is great for peace of mind from a safety point of view if nothing else. Plus, you could sell them on or gift them after your baby has outgrown them.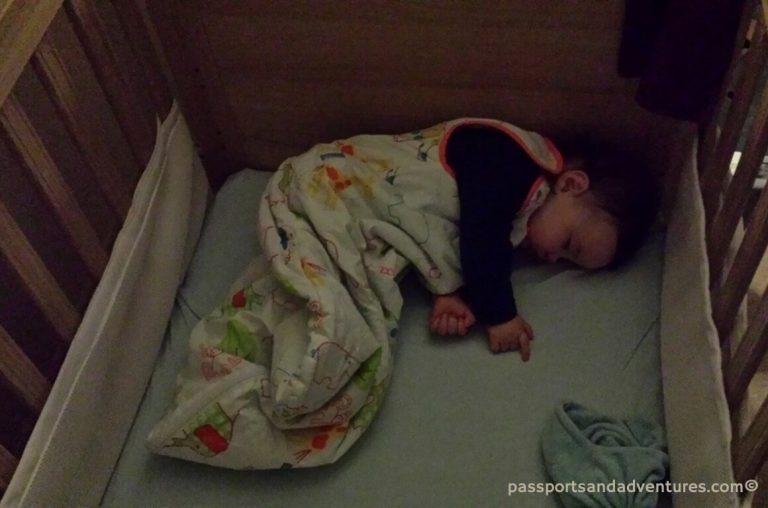 What I love about Grobag Baby Sleep Bags
Where do I start! The easiest way for me to convey why I loved them so much is through a list of all the great about Grobags and their advantages.
Value for money
Excellent quality
Wash and Dry really well
Huge range of designs to choose from
Variety of tog ratings
Normal and travel versions
Range of sizes
Safe to use from 8.8lbs
No need for loads of sheets and blankets
Award winning Baby Sleep Bags
Conform to British Safety Standards (extra plus in my books)
Free room thermometer
Easily incorporated into your baby's nap and bedtime routine.
What I don't like about Grobag Baby Sleep Bags
That they aren't available in adult sizes! (Not really). There's nothing we don't like about them as a family.
Summary
I hope you've enjoyed this Grobag Baby Sleep Bag review. As you can tell I was a big fan of Grobags ever since that first one. They became a firm favourite and a big part of our nap and bedtime routines.
They travelled with us wherever we went to keep those routines going including Gran Canaria, Lanzarote and Ireland. I highly recommend Grobags as the only bed-clothes you need for your baby. You'll never look back, I promise!
Cath x
* Gro Company website at the time of writing.
**I was not asked to write this post.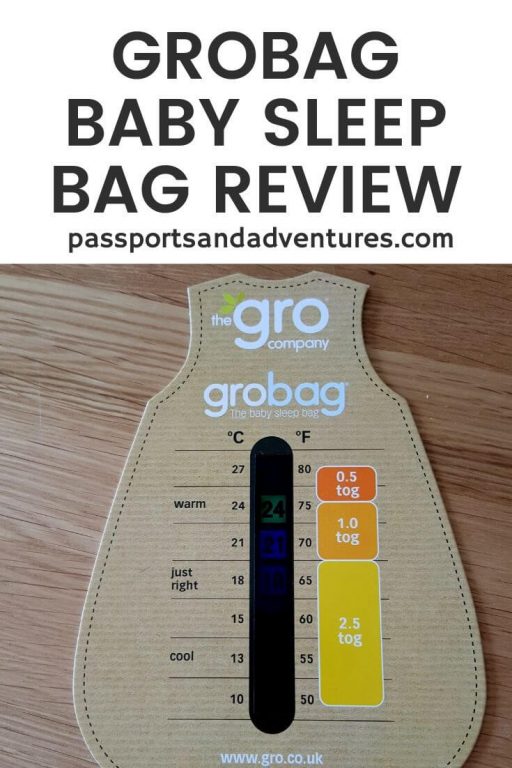 Related Posts