When we were planning a visit to London, there was one thing that I just had to make sure I included in our London itinerary and that was to visit HMS Belfast. Although both my husband and I have paid HMS Belfast, London a few visits in the past, we had never done so with our son. So, on this visit to London, I was going to ensure we visited this iconic London attraction with him. In this post you will find out about visiting HMS Belfast with kids and read the review of our visit, tickets for which were kindly given to us complimentary by the Imperial War Museums under which HMS Belfast is a part of.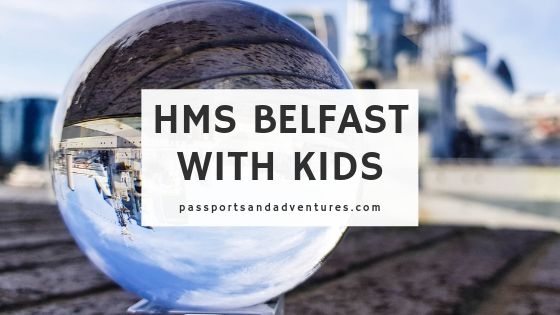 *This post contains affiliate links. To find out more about affiliate links, please visit my Disclosure Page.
Visiting HMS Belfast with Kids
If you are wondering exactly what is HMS Belfast, she is a decommissioned Royal Navy warship. And if you are wondering where is HMS Belfast, well, she is now permanently docked in London opposite the Tower of London at The Queen's Walk. During his time with the Royal Navy, one of my uncles worked on the ship and this is one of the big reasons for our HMS Belfast visit, as well as to bring our son to one of my favourite London attractions. HMS Belfast in London is a popular attraction and is a great historical place to visit with kids in the city.
Facts about HMS Belfast
Before I share the review of our visit, I thought I would give those of you unfamiliar with the ship a few facts about HMS Belfast. The HMS Belfast ship is Town-class light cruiser that was built for the Royal Navy. She is moored permanently as the HMS Belfast museum on the River Thames.
If you are wondering when was HMS Belfast built, she was ordered by the Royal Navy and begun being built in 1936. Wondering where was HMS Belfast built? Well, she was built at the famous Harland and Wolff shipyard in Belfast. She was launched approximately 15 months after in 1938 and was commissioned in 1939, just before the outbreak of World War II.
HMS Belfast history includes service during World War II, which saw her involved in the D-Day Landings among other battles. After WWII she cruised the Far East before the Korean War broke out, during which time she undertook patrols and supported troops. Following that, she sailed to numerous places around the world before being decommissioned in 1963 into reserves.
In the 1970's the Belfast Trust was established which open the ship as a museum before the Imperial War Museum took over from the trust towards the end of the 1970's and under whose care the ship remains today.
Our Visit to HMS Belfast with Kids – Review
Our visit to HMS Belfast occurred at the end of August during our family trip to London. As mentioned, both my husband and I had visited the ship before, but this was the first time either of us were visiting with our son.
After collecting our tickets from the desks located in the HMS Belfast gift shop and ticket office, which were kindly gifted to us by IWM HMS Belfast, we walked along the boardwalk to board the ship. I was back on one of my favourite London attractions and was getting the chance to introduce our son to it. And even better, the sun was shining on a glorious day.
We started our self-guided tour of HMS Belfast on the second deck before walking up to the upper-most top deck. But we had to start over again. Let me explain why. HMS Belfast has mostly a one-way directional system in place, which means if you've passed the first set of toilets on the second desk (as we had) before a little person says (on the Admiral's Bridge) "I need the toilet", you are going to have to follow the one-way system back to the start. After visiting the bathrooms, which were spotless I might add, we started over, taking our time to visit each room and deck.
We visited the Fo'c'sle first where you can admire the HMS Belfast guns, the A-Turrets, see the chains for the anchors and enjoy views up the Thames River. This is one of my favourite parts of HMS Belfast and makes a great backdrop for some pictures.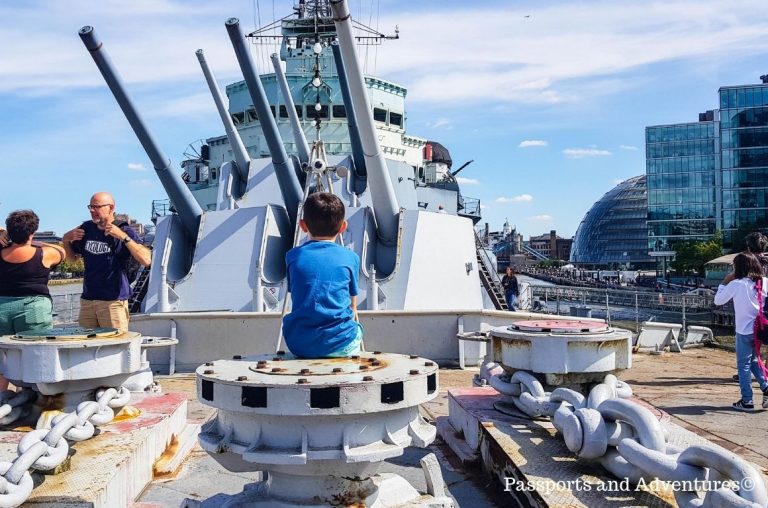 From there we climbed up a few flights to stairs to the second level where we admired the view from the Admiral's Bridge (for the second time) and peeked inside the Admiral and HMS Belfast Captain's Sea Cabins. They actually looked pretty roomy for cabins dating back 70 years.
From the Admiral's Bridge we continued up to the Compass Room where a certain young boy enjoyed checking out the views from the Navigating Officer's Chair. They were really tall chairs, his and the Captains chair! I imagined they were both peaceful and chaotic places to be depending on whether you were in wartime or peace times.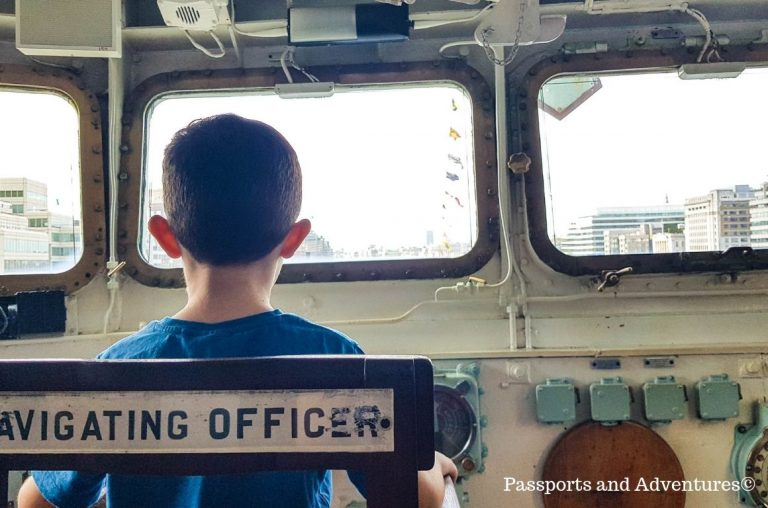 From there it was into the Operation's Room where we had fun on an interactive mission trying to recover wreckage from a plane. We found three pieces before we ran out of time. It was in here our son became interested in the radar display and he wanted to know what it was and how it worked. Even though there were no enemy ships bleeping on the display, it still piqued his interest. And trying to drag him away from the interactive mission map was a mission in itself.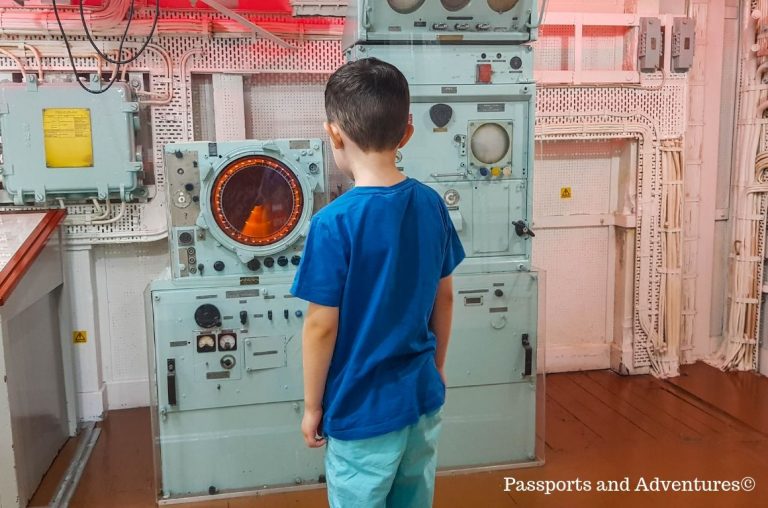 Once we had finished in the upper levels, we made our way down to the second deck where we got the chance to see the HMS Belfast interior and discover what life was like inside HMS Belfast for her crew on board.
We passed by the mail room, post-war Messdeck and the ship's galley which had some mannequins were peeling potatoes and vegetables for dinner. After this we visited the ship's Sickbay where there was a scene of an operation taking place (all dummies though). This reminded our son of the 'job' he had done the day before at KidZania in the operating theatre.
After passing the NAAFI, we visited some other Messdecks where we saw models playing cards, some sleeping in hammocks hung from poles along the roof and the ship's cat. The boy was surprised to see this and asked why a cat would be on a ship. "To get rid of any rats or mice that get onto the ship" I replied.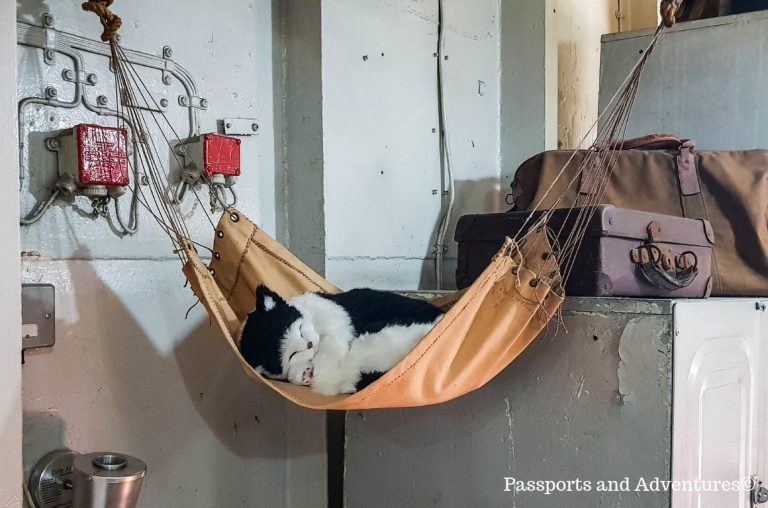 From the second deck, we descended to the fourth deck where we came to my other favourite place on the ship, the Shell Room and Hoist. In here you can imagine HMS Belfast in action during war time with the shells being loading into the hoists from their crates. I don't know what it is about this room, but I've loved it from the first time I ever visited this iconic ship. There is a distinct smell in there too. The boy was too busy playing hide and seek among the circles of shells though.

Once we'd finished in there and passed another group of visitors admiring the Forward Steering Position room, we ascended back up a few flights of stairs to view the Workshop and Laundry room before briefly visiting the "Serving the Seas" exhibition room where you can learn more about the history of HMS Belfast. Unfortunately, I didn't get to enjoy this room as a certain little boy wanted to get back outside to the Fo'c'sle. But had I had more time I think I would have learned a lot more about this incredible ship.
Once back outside on the main deck, our son enjoyed an impromptu picnic in the sun before we finished off our visit. It was only on our way out I learned about HMS Belfast and the D-Day Landings, something I had somehow missed on previous visits.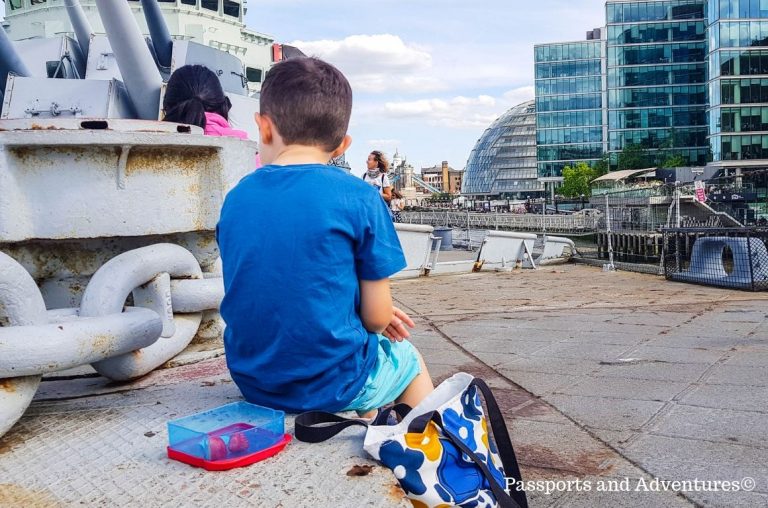 There was one area on the main deck that was closed for works and we didn't manage to visit the HMS Belfast engine room, but during our (nearly) two hours on board, we covered most areas (some twice) and enjoyed our time on board thoroughly. Some rooms really caught our son's interest like the Operation's Room, Sickbay and Fo'c'sle.
We didn't use the audio guide radios, although my son asked for one during our visit. But I think next time we visit we'll get them, as he will be a bit older and might enjoy it more. We also didn't use the HMS Belfast deck plan which you get when you get your tickets, as we wanted to explore ourselves, but with the one-way systems on board, especially for the flights of stairs, you can find your way around without getting too lost.
Tips and Tricks for Visiting HMS Belfast with Kids
In this section I'm going to share with you some tips and tricks for visiting HMS Belfast with kids to ensure your visit goes as smoothly as possible.
How to get to HMS Belfast
I have already shared where it is located and for those of you wondering, the HMS Belfast address is The Queen's Walk, London, SE1 2JH. With the HMS Belfast location being on the dockside at The Queen's Walk, there is no parking near the ship. The best way to get to the ship is via the tube (London underground). The nearest tube to HMS Belfast is London Bridge station, although you could go to Tower Hill and stroll across Tower Bridge itself. The boy and I walked across Tower Bridge after spending the morning in the Tower of London.
Information and Tips for Visiting HMS Belfast with Kids
The ship is open everyday except December 24th, 25th and 26th. HMS Belfast opening hours are from 10am to 6pm with last admission at 5pm.
The HMS Belfast prices are as follows: £18 per adult and £9 per child (between the ages of 5 and 15, under 5's are free). Concession tickets cost £14.40 and there are two levels of HMS Belfast tickets for families. You can buy your HMS Belfast ticket online to avail of a 10% discount.
Book your HMS Belfast tickets online HERE.
There are two types of HMS Belfast tours; self-guided or audio guided. To take an audio guide, you need to pick up the radio at the ticket check desk just as you board the ship. I elected not to do this with our son as I felt he was a bit young. Instead we explored the ship ourselves.
On board you will find toilets on deck 2 at the rear and front of the ship. Make sure to bring younger kids to the toilets at the rear of the ship BEFORE you start exploring the ship. As mentioned, in many parts there is a one-way system between areas so to avoid getting caught short, visit those toilets before starting your exploration.
HMS Belfast is accessible on the main deck (deck 2, the main passageway through the ship where the crew's living quarters are found) to both wheelchair users and buggies/strollers. Also, be aware that the route through the boiler and engine rooms have a height minimum of 120cm or 4ft tall.
If you are peckish during your visit and haven't brought anything with you, you can find the HMS Belfast café on deck 2 towards the rear. You could also enjoy the River Cottage deli located above the gift shop at the quayside entrance. Alternatively, there are plenty of places to eat near HMS Belfast along the quayside, including a Café Rouge where we had dinner with a friend of mine after our visit in the Hay's Gallery.
Your visit to HMS Belfast will last around 90 minutes. Ours lasted a bit longer due to a detour for the toilets and my son's impromptu picnic. If you choose to dine on the ship, allow longer for your visit.
Take care with younger children when climbing up and down flights of stairs. Many require you to face the stairs, which can be steep, so ensure you keep a close eye on younger children and help them if needed. Also, mind your head on doorways and staircase openings. One man bumped his head on a low ceiling light and I nearly banged my head on the opening of a staircase. It was a war ship after all, so be careful of the metal surroundings.
Be careful with your footing, especially going through doorways, and on the main outer decks. And keep a hold of children if standing close to the edge of the deck. That is the River Thames and you don't want them falling into it.
To find out more about HMS Belfast events, the history of the ship and more, visit the IWM HMS Belfast website.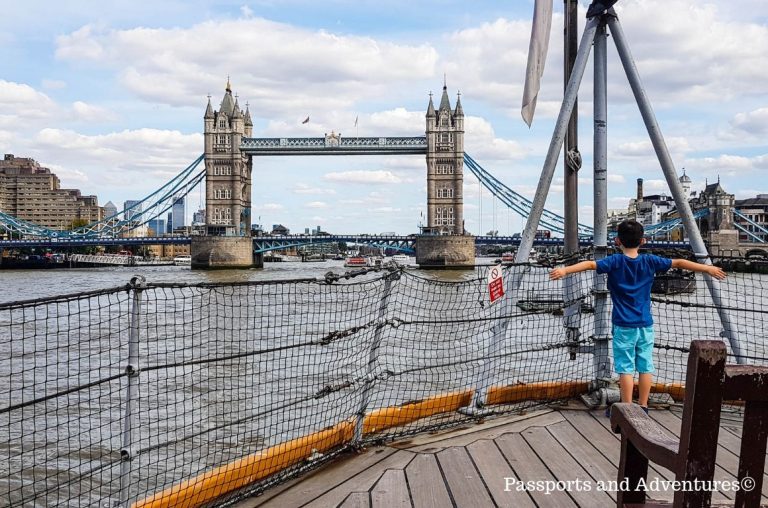 In Summary
I wasn't quite sure what my son was going to think about visiting HMS Belfast. Having been a few times before, I knew I was going to enjoy our visit. If I'm honest, I didn't think we would be there as long as we were as we'd already spent several hours at the Tower of London on what became our historical discovery day in London.
But, once we were on the ship and exploring the nooks and crannies of the ship, my son thoroughly enjoyed himself. He particularly loved the upper deck where the anchor chains were, the Operations Room and sitting in the Navigating Officer's Chair.
I think visiting HMS Belfast with kids can be a brilliant half-day out in London for families and the fact our son was five and a half meant he could explore, ask questions and take part in the mission. Had he been any younger, I think he might have gotten bored pretty quickly. But overall, he thoroughly enjoyed our visit, as did I. I'm so glad I got the chance to revisit my favourite ship with our son.
I hope you've enjoyed my HMS Belfast review. If you are looking for a family-friendly attraction in London with some interesting history thrown in, you can't go wrong with a visit to HMS Belfast. And with it being located just across the river from the Tower of London, why not make it a full day dedicated to history with a visit to the Tower, either before or after your visit to HMS Belfast.
Have you visited this iconic ship yet?
Cath x
*We were kindly gifted our tickets for our visit by the Imperial War Museums. However, all words and opinions are my own.
If you are looking for some other things to do in London with kids, why not consider checking out this post about our visit to Shrek's Adventure. And if you are going to be in London with a toddler, check out this post. For more destination inspiration, head to the homepage and take a look around.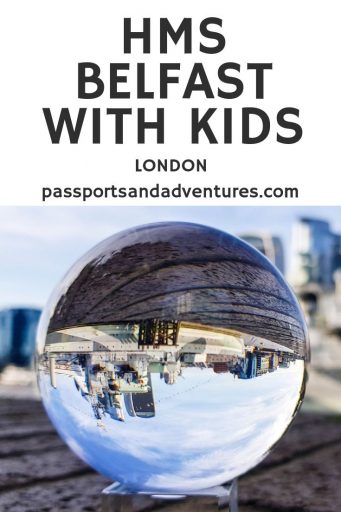 Related Posts