During our recent trip to London, we had the pleasure of visiting Shrek's Adventure. This London Attraction is a Merlin Pass attraction and we were kindly gifted our tickets for our visit. In this post I'm going to share our Shreks Adventure review, telling you what we thought of it, and give you some hints, tips and tricks for visiting Shrek's Adventure with kids.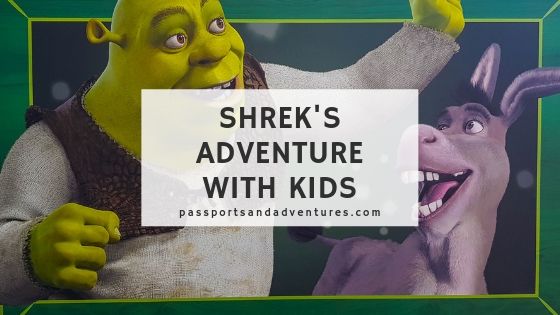 *This post may contain affiliate links. To learn more about affiliate links, please read my Disclosure Policy.
What is Shrek's Adventure, London?
Shrek's Adventure, London is a family-friendly attraction in London based on Shrek's movies, with a 4-D movie and interactive fairy tale shows. Set in the Land of Far, Far Away, you meet Shrek's wife Princess Fiona who helps you board a flying bus tour, driven by none other than Shrek's Donkey, before you need to find your way to the ogre himself through interactive shows with character actors after an unfortunate incident on the bus (I won't spoil the experience for you). Based on the Dreamworks animation movies, it features many of the characters from the movies.
Our Visit to Shrek's Adventures in London
We visited on a Tuesday morning, just after the UK August Bank Holiday weekend. After collecting our tickets, we were greeted by a member of staff who showed us into a lift which took us to the start of Shrek's Adventure land.
We were greeted by a tour guide who got the small group we were part of gathered together, and then he did a safety talk in which we learned there was no photography or filming of any kind allowed. And phones were to be put on silence. So, you won't see any pictures by me taken from inside the tour.
Once this introduction talk was over, as mentioned, we were greeted by Princess Fiona who invited us to create some magic through the famous Shreks song from the films (Believer) and once we'd created enough magic she invited us to hop on board a flying tour bus driven by Donkey, to take us on a magical bus ride. We hopped on board (with our 4D glasses on) and off we set. We encountered some of the Dreamworks Shrek's Adventure characters, before finding ourselves being passed by other Dreamworks characters. There was one set of characters, in particular, our son was extremely pleased to see and that was Hiccup and Toothless from the How to Train Your Dragon films.
However, there was an unfortunate incident involving the bus and a Shrek character which meant we needed to alight and find our way out of the trouble we had landed in. And so, our Shrek's Adventure began.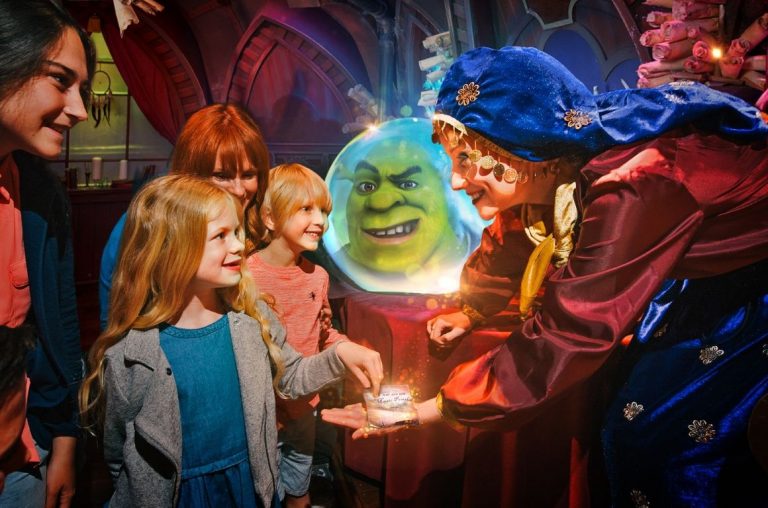 Our group passed through different areas, each with a character from the Shrek movies, in which we had to help the character and interact in order to proceed to the next part. I don't want to give too much away but along our tour we met Cinderella, A Fortune Teller, Doris and Puss in Boots in the Poison Apple Bar, Pinocchio and some more. And each time we interacted with the actors. There were quips for adults and a few jokes even the kids got. And there were enough fart and burp incidents and jokes to make our son laugh out loud. We also had to find our way out of a maze of mirrors, and this was great fun for most guests.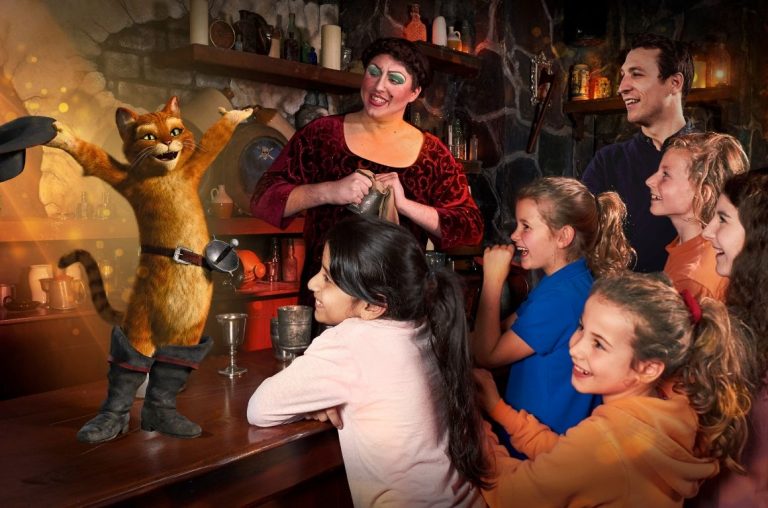 Although you don't meet Shrek during the tour, you do get to see glimpses of Shrek's face and hear Shrek's voice, particularly at the end of the tour, in the last scene.
Once you complete your final task, helping Shrek in the process, you break free of the Land of Far, Far Away and at last you get to meet the man himself. Here you can take pictures of your meeting and get an official photograph with the loveable green ogre before passing into a sort of Hall of Fame.
This last section is where you can take as many pictures as you want. It features scenes and characters from many of the Dreamwork films and my son was thrilled to see Marty from Madagascar and also Toothless and Hiccup again. There's also a game or two (at an additional cost) in this section, which then leads you to the exit via the gift shop, where a Toothless and Light Fury teddy may have been purchased by a certain boy!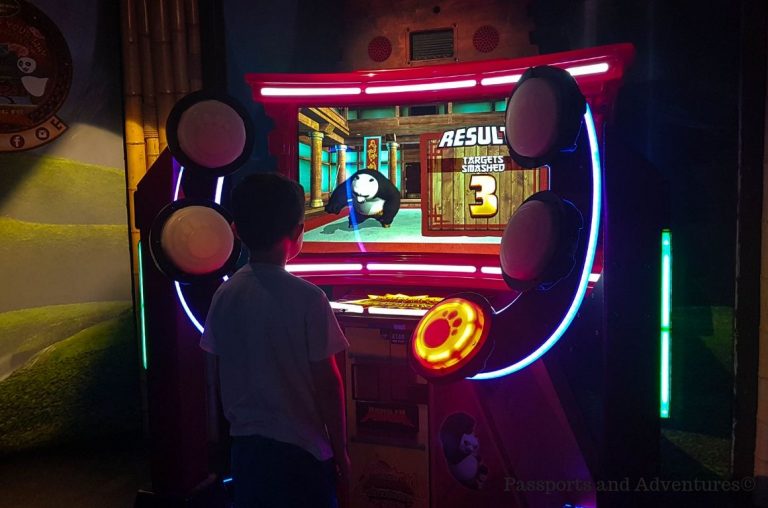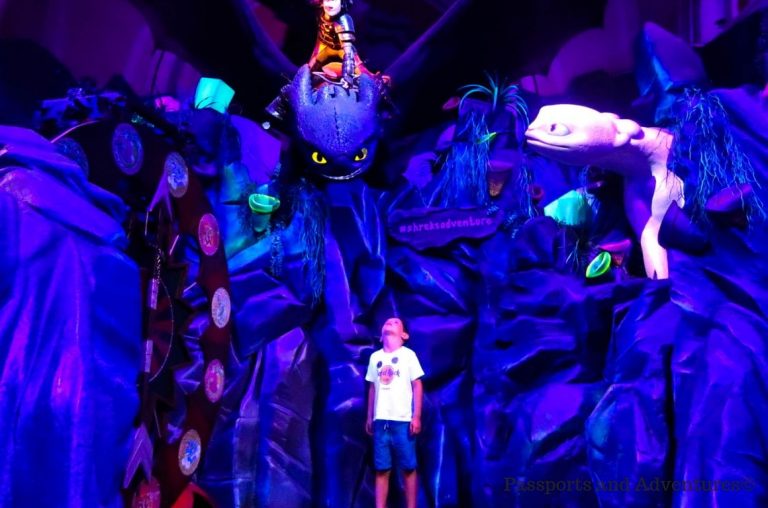 Our visit to Shrek's Adventure was complete and we both came out with smiling faces after a pretty special awesome experience.
Information, Tips and Tricks for Visiting Shrek's Adventure with Kids
In this section I'm going to give you some information about Shrek's Adventure, London, and give you some hints and tips to ensure your visit is an awesome one.
Where is Shrek's Adventure, London?
Shrek's Adventure tour, London can be found on Southbank, located at County Hall. If you find the Coca Cola London Eye, it is located on the same bank in the building facing it.
Shrek's Adventure Address: Riverside Building, County Hall, Westminster Bridge Rd, Lambeth, London SE1 7PB.
How long does Shrek's Adventure, London last?
If you are wondering how long does Shrek's Adventure, London take, we were in the experience for an hour. It did not feel rushed nor did it feel too long. There was enough going on to keep everyone occupied and entertained throughout our time in the show. So, I think duration wise, it's the perfect length of time.
Is Shrek's Adventure included in the London Pass?
No, Shrek's Adventure is not part of the London Pass, nor does the London Pass offer discounts for this London attraction. Shrek's Adventure is part of the Merlin Pass which offers free entry to its members. Discounted tickets are available online.
Buy your discounted Shrek's Adventure tickets HERE.
Tips for Visiting Shrek's Adventure with Kids
Shrek's Adventure tickets cost £30 per adult and £24 per child (between the ages of 3 and 15) at the door or £21 per adult and £17 per child when bought online prior to your visit. Under 3's are free, although I would not say this attraction is suitable for under 3's. Family tickets and fast-track tickets are also available to buy.
I advise pre-booking your ticket before you arrive to avoid a long wait, particularly during busy times such as school holidays. Each group is limited to a small number of people, and entry is timed to allow each group to pass through each scene with enough time.
Shrek's Adventure opening hours are generally from 10am to 5pm. On Thursday, opening hours start from 11am, while Shrek's Adventure, UK stays open an hour later, until 6pm, on Saturday and Sunday. During school holidays, opening hours are generally extended until 6pm. But I would advise checking the Shrek's Adventure website before planning your visit for the latest opening hours.
Note that there is no parking at Shrek's Adventure. To get to the attraction, you are best getting a London Underground tube to either Waterloo station or Westminster station and walking to the attraction, which takes no more than 5 minutes. You can also get a tube to Embankment and walk across the Golden Jubilee Bridge to Southbank.
Buggies/strollers cannot be taken into the attraction, as many of the walkways and connecting tunnels are narrow. There is a complimentary buggy storage area before the start of the tour.
Shrek's Adventure is mostly wheelchair accessible, except for the flying bus ride. For more information, check this page on their website.
Shrek's Adventure is designed for children over the ages of 3, although if your child is nervous or an easily scared child, it may not be suitable for them due to encounters with witches and some dark tunnels and scenes. Even my 5-year-old son was slightly nervous going into certain areas. There was also an older girl in our group who was very nervous and was crying in certain parts. So, you know your child better than anyone else, so decide yourself if you think it will be something they will enjoy or not.
The flying bus ride at the start is a 4D experience, so it is advised that it is unsuitable for those who suffer from Epilepsy, motion sickness, asthma (due to the water spray, fog and other special effects) and any other chronic illnesses.
There is no café inside Shrek's Adventure, although you will find plenty of food outlets and cafes around the Southbank area of London.
There are toilets with baby-changing facilities on the first floor, before the Adventure begins. It is advised to use them before your tour starts as there are no other toilets during the experience.
As mentioned, no photography or filming is allowed during the Shrek's Adventure tour and you will be asked to put your phones on silence during the safety briefing to ensure they do not disturb or disrupt the characters during the tour.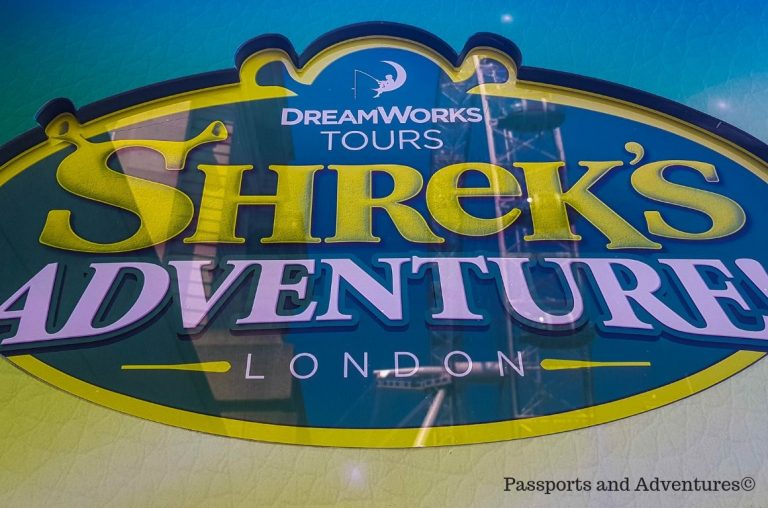 In Summary
We thoroughly enjoyed our visit to Shrek's Adventure during our recent trip to London. It was a great London family attraction to visit and was just the right duration with a great selection of characters to keep the whole family entertained. There were jokes for the kids and a few only the adults understood which great too. If you pre-book your tickets online before you go, the price is great value for what you get. Just be careful in that gift shop as you exit. Our son wanted All The Things!
I hope you've enjoyed my Shrek's Adventure review. Have you visited this great London family-friendly attraction yet?
Cath x
*We were kindly provided complimentary tickets in return for this review. However, all words and opinions are my own.
If you are visiting London with a toddler and are wondering what toddler-friendly attractions are in London, check out my post about visiting London with a toddler. Or for more destination inspiration, start at the homepage.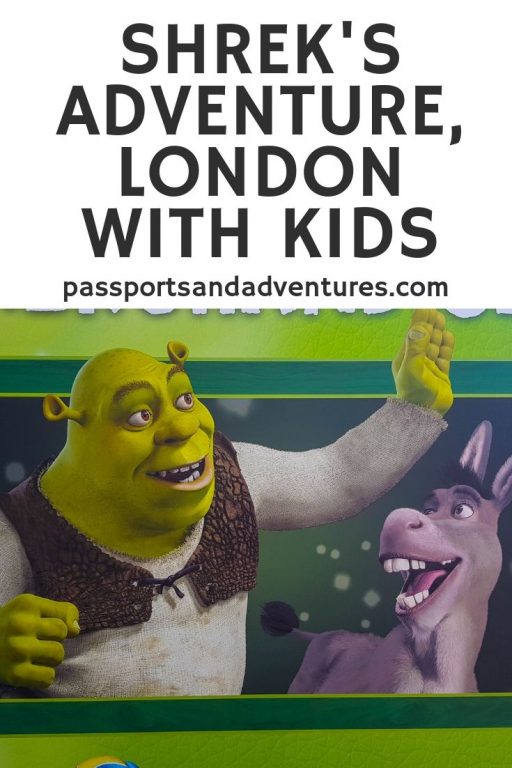 Related Posts