If you find yourself with some time in London, perhaps like us between flights, and you've got a little traveller with you, if you're anything like me you'll be researching things to do in London with toddlers. Some of you might think London with toddlers is your idea of hell, but I'm going to share with you 5 awesome things to do in London with a toddler in tow to show that London CAN be enjoyed with little ones tagging along. These things can also be used to form an itinerary for a day out in London with young kids.
5 Awesome Things to Do in London with a Toddler in Tow
Breakfast at Le Pain Quotidien.
Start your day at this fabulous boutique café in London's Southbank. I discovered Le Pain Quotidien when in London with my sisters last June and we had the most delicious brunch I've had in a long time. Baked eggs with chorizo was my dish of choice that day and it was really tasty. Fast forward two months and we were going to be enjoying a family day out in London, so I knew exactly where we were going to start our day.
BattleDad enjoyed baked eggs with salmon, I had a lovely chorizo and potato frittata and BattleKid tucked into scrambled eggs with crispy prosciutto. We also ordered a mixture of breads, which we unfortunately didn't finish, there was just too much in it. To say BattleDad was impressed would be an understatement and the boy ate everything on his plate. It was the great way to start our day out in London and I can highly recommend it for your little ones as well.
Take a Ride on the London Eye
After fuelling up at Le Pain Quotidien, why not pop around the corner and take a ride on the London Eye. Again, I had done this with my sisters and thought the boys would enjoy it, so I booked us tickets online. As our tickets were Fast Track Anytime, we were able to arrive in our town time, and with our tickets printed before we arrived, we joined the Fast track queue, avoiding the other long queue. Despite it being the August Bank Holiday weekend, our queue moved relatively quickly and before long we were stepping into our pod to enjoy the views.
You might be thinking I'm mad to put this on my list of things for toddlers to do in London. But rest assured, BattleKid thoroughly enjoyed his time in our London Eye capsule, especially the interactive tablets which point out the various landmarks you can see from the Eye. And, as the rotation is only 30 minutes long, there wasn't time for BattleKid to become bored before we were getting ready to disembark. So yes, the London Eye is something that you should include on your list of places to go with toddlers in London. My only recommendation is to book Fast Track tickets to prevent little people from getting too bored in the queues, which can be over an hour at times for the standard tickets queue.
If you're looking to spend longer than one day in London, then check out this perfect 4-day London itinerary from Wandermust Family.
Visit the Fish at Sea Life, the London Aquarium
Conveniently located beside the London Eye, Sea Life is another ideal place to visit in London with toddlers. Again, for our visit to the London Aquarium, we got Fast Track Anytime tickets as we hadn't been sure when we would visit (and finish) on the London Eye. This meant we could arrive at our leisure. We only had to collect a Ranger Pack for BattleKid from one of the ticket desks and in we went.
And I must say I was really impressed by Sea Life London. With it being located on the banks of the River Thames, I did wonder what it might be like inside, but I was pleasantly surprised by it. Spread over three floors with fish of all shapes and sizes, Sea Life had a vast array of fish and animals to keep any toddler occupied for hours. BattleKid loved seeing them all, especially Nemo of course, and he also enjoyed visiting the penguins. By far his favourite part was stamping on jellyfish lights in the newer exhibition. And my personal favourite was the largest of the tanks which spreads across all three floors and which contains Easter Islands Head statues. Very impressive I must say. We can highly recommend Sea Life if you're wondering what to do with toddlers in London. You can never go wrong with a good aquarium.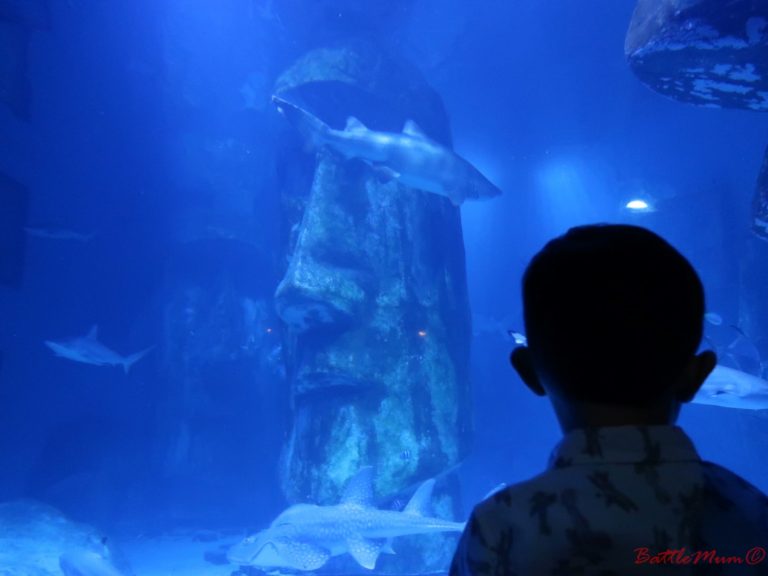 Go on a Dragon Hunting Adventure in the Tower of London
BattleDad and I had visited the Tower of London a few times in the days before BattleKid came along, and we always enjoyed our visits. When our dragon hunting adventures started with BattleKid in Wales, I knew we had to take him dragon hunting at the Tower of London if we ever got the chance. And during our family day out in London last year, we did exactly that.
After seeing the fish in Sea Life, we walked across the Golden Jubilee Bridge to Embankment and hopped on a direct tube to Tower Hill. This was BattleKid's first ride in the Underground. And once he clapped eyes on the Tower itself, he knew we were going to visit a castle to hunt a dragon. It's such an impressive looking building from outside.
As you may or may not know, we always carry a little red dragon teddy bear with us, and we plant this for BattleKid to find. It makes visiting castles much more fun for him, and in turn we get the chance to wander around castles without someone saying, "can we go home". However, if you don't have a teddy bear on you, you can still hunt a dragon in the Tower of London without one. How? Just make your way to the top floor of the White Tower where you'll find a huge dragon guarding some treasure.
There are lots of places to explore in the Tower of London and a few places to grab a cuppa and a slice of cake if little legs are getting a bit tired. You can always continue your dragon hunting after cake. Just remember to leave your visit to the White Tower until towards the end of your visit if you aren't planting your own dragon for your toddlers to find.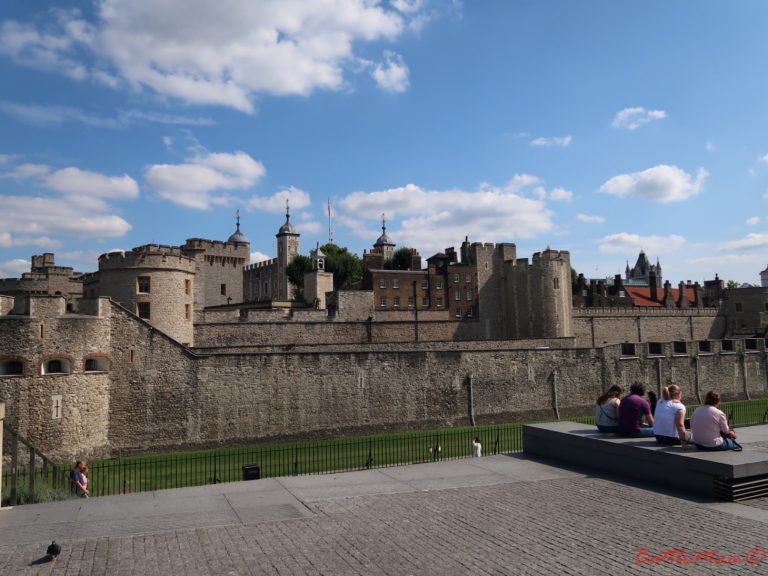 Visit Paddington Station and get your own Paddington Bear Teddy
The last stop on our family day out in London was Paddington station. We were heading back to our hotel at Heathrow airport and we took a Circle Line train from Tower Hill direct to Paddington Station. I had forgotten that there is a Paddington Bear shop there, naturally because this station is where Paddington Bear first arrived in London.
Unfortunately, a certain someone had fallen asleep in the tube on the way, so I had to venture into the shop myself. There are gifts of all sorts from bears and t-shirts, to keyrings and books, there's something for everyone. I picked up a lovely Paddington Bear teddy for BattleKid who travelled all the way to Portland and Yellowstone with us. He now takes pride of place on BattleKid's bedroom shelves. And coincidentally, we watched the Paddington movie during our two-week USA road trip which followed our day in London.
There are lots of places to take toddlers in London as I hope I've shown. You need not be worrying about visiting London with toddlers and whether you can find interesting and enjoyable things for them to see and do. London is filled with so many attractions, that you are bound to find a few to take your little ones to. Our list includes just some of the best things to do in London with toddlers. But don't be limited by these. 
And if your family loves the theatre, why not check out this Family Day Out in London post by Freddie's Mummy for some theatrical inspiration for your own family day out in London.
So, will you be visiting London with your toddlers in the future?
Cath x
If you enjoyed this post Pin It, or share it.