If you find yourself with some time in London, perhaps like us between flights, and you've got a little traveller with you, if you're anything like me you'll be researching things to do in London with toddlers. Some of you might even be thinking "a toddler in London, no way", but I'm going to share with you 5 awesome things to do in London with a toddler in tow to show that there are lots of things in London for toddlers to enjoy with you. These things can also be used to form an itinerary for a day out in London with young kids.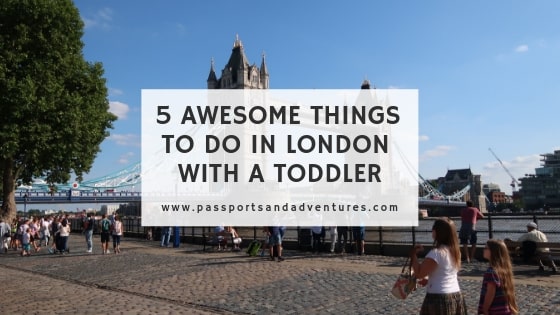 *This post contains affiliate links. This means that should you make a purchase after clicking through the link, I will receive a small commission at no extra cost to you. To read more about affiliate links, please visit my Disclosure Policy page.

Post Updated January 2020
In London, everyone is different, and that means anyone can fit in.

Paddington Bear
London, the UK's capital city and one of the world's most important global city, it is located in the Southeast corner of the United Kingdom. A city that has stood for millenia, Londinium was founded by the Romans in 47AD. With a population of nearly 10 million people, London is one of the UK's most popular cities with tourists.
Now, much like we initially thought New York with a toddler was a silly idea, many families think the same of London. They out off visiting this amazing city because they worry about what to do in London with a toddler and where to take toddlers in London. Well, in this post I'm going to show some of the best things to do with toddlers in London and some of the other top London toddler attractions.
I'm also going to share with you some tips about visiting London with a baby or toddler like how to get to London with kids, where to stay in London with toddlers and how to get around so you can get planning a great city break with kids in London.
5 Awesome Things to Do in London with a Toddler in Tow
With a huge host of toddler activities, London can offer families travelling with babies or toddlers some memorable adventures. The London toddler attractions featured below include a castle, a huge Ferris Wheel, an aquarium, a great place for brunch and somewhere special to end the day. Just make sure your London itinerary with a toddler includes one or two things you can both enjoy together.
Breakfast at Le Pain Quotidien
Start your day at this fabulous boutique cafe in London's Southbank. I discovered Le Pain Quotidien when in London with my sisters last June and we had the most delicious brunch I've had in a long time. Baked eggs with chorizo was my dish of choice that day and it was really tasty. Fast forward two months and we were going to be enjoying a family day out in London, so I knew exactly where we were going to start our day.
My hubby enjoyed baked eggs with salmon, I had a lovely chorizo and potato frittata, and our son tucked into scrambled eggs with crispy prosciutto. We also ordered a mixture of breads, which we unfortunately didn't finish, there was just too much in it. To say my hubby was impressed would be an understatement and the boy ate everything on his plate. It was the great way to start our day out in London and I can highly recommend it for your little ones as well.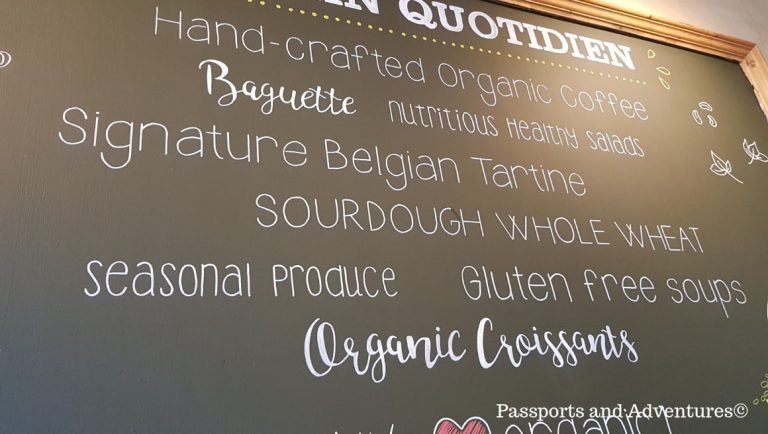 Take a Ride on the London Eye
After fuelling up at Le Pain Quotidien, why not pop around the corner and take a ride on the London Eye. Again, I had done this with my sisters and thought the boys would enjoy it, so I booked us tickets online. As our tickets were Fast Track Anytime, we were able to arrive in our own time, and with our tickets printed before we arrived, we joined the Fast track queue, avoiding the other long queue. Despite it being the August Bank Holiday weekend, our queue moved relatively quickly and before long we were stepping into our pod to enjoy the views.
You might be thinking I'm mad to put this on my list of things for toddlers to do in London. But rest assured, our son thoroughly enjoyed his time in our London Eye capsule, especially the interactive tablets which point out the various landmarks you can see from the Eye. And, as the rotation is only 30 minutes long, there wasn't time for him to become bored before we were getting ready to disembark.
So yes, the London Eye is something that you should include on your list of places to go with toddlers in London. My only recommendation is to book Fast Track tickets to prevent little people from getting too bored in the queues, which can be over an hour at times for the standard tickets queue.
Get your London Eye tickets before you arrive by clicking HERE.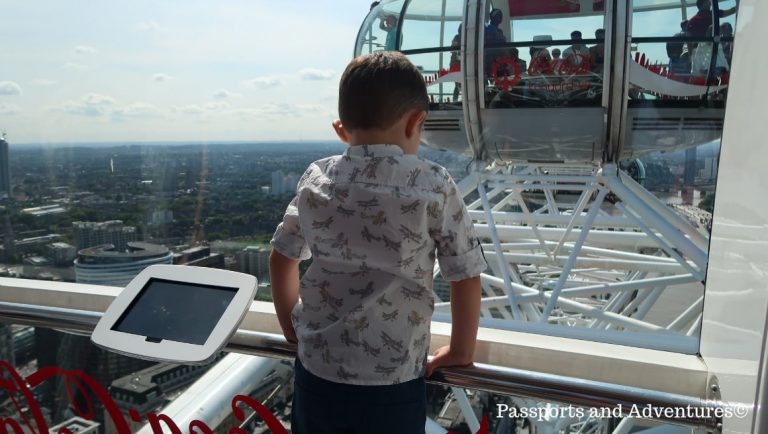 If you're looking to spend longer than one day in London, then check out this perfect 4-day London itinerary from Wandermust Family.
Visit the Fish at Sea Life, the London Aquarium
Conveniently located beside the London Eye, Sea Life is another ideal place to visit in London with toddlers. Again, for our visit to the London Aquarium, we got Fast Track Anytime tickets as we hadn't been sure when we would visit (and finish) on the London Eye. This meant we could arrive at our leisure. We only had to collect a Ranger Pack for our son from one of the ticket desks and in we went.
And I must say I was really impressed by Sea Life London. With it being located on the banks of the River Thames, I did wonder what it might be like inside, but I was pleasantly surprised by it. Spread over three floors with fish of all shapes and sizes, Sea Life had a vast array of fish and animals to keep any toddler occupied for hours.
Our son loved seeing them all, especially Nemo of course, and he also enjoyed visiting the penguins. By far his favourite part was stamping on jellyfish lights in the newer exhibition.
And my personal favourite was the largest of the tanks which spreads across all three floors and which contains Easter Islands Head statues. Very impressive I must say. We can highly recommend Sea Life if you're wondering what to do with toddlers in London. You can never go wrong with a good aquarium to visit with kids.
Get your Sea Life tickets ahead of your visit by clicking HERE!

Go on a Dragon Hunting Adventure in the Tower of London
Mr Passports and I had visited the Tower of London a few times in the days before our son came along, and we always enjoyed our visits. When our dragon hunting adventures started with our son in Wales, I knew we had to take him dragon hunting at the Tower of London if we ever got the chance. And during our family day out in London last year, we did exactly that.
After seeing the fish in Sea Life, we walked across the Golden Jubilee Bridge to Embankment and hopped on a direct tube to Tower Hill. This was our son's first ride in the Underground. And once he clapped eyes on the Tower itself, he knew we were going to visit one of the best castles in the world to hunt a dragon. It's such an impressive looking building from outside.
As you may or may not know, we always carry a little red dragon teddy bear with us, and we plant this for our son to find. It makes visiting castles much more fun for him, and in turn we get the chance to wander around castles without someone saying, "can we go home now". However, if you don't have a teddy bear on you, you can still hunt a dragon in the Tower of London without one. How? Just make your way to the top floor of the White Tower where you'll find a huge dragon guarding some treasure.
There are lots of places to explore in the Tower of London and a few places to grab a cuppa and a slice of cake if little legs are getting a bit tired. You can always continue your dragon hunting after cake. Just remember to leave your visit to the White Tower until towards the end of your visit if you aren't planting your own dragon for your toddlers to find.
Get your entry tickets to the Tower of London and the Crown Jewels before you arrive by clicking HERE.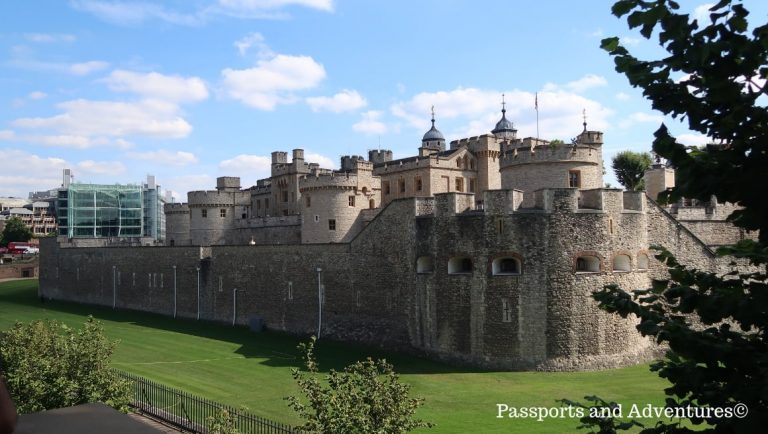 Visit Paddington Station and get your own Paddington Bear Teddy
The last stop on our family day out in London was Paddington station. We were heading back to our hotel at Heathrow airport and we took a Circle Line train from Tower Hill direct to Paddington Station. I had forgotten that there is a Paddington Bear shop there, naturally because this station is where Paddington Bear first arrived in London.
Unfortunately, a certain someone had fallen asleep in the tube on the way, so I had to venture into the shop myself. There are gifts of all sorts from bears and t-shirts, to keyrings and books, there's something for everyone. I picked up a lovely Paddington Bear teddy for our son who travelled all the way to Portland and Yellowstone with us. He now takes pride of place on our son's bedroom shelves. And coincidentally, we watched the Paddington movie during our two-week USA road trip which followed our day in London.
There are lots of attractions for toddlers in London as I hope I've shown. You need not be worrying about visiting London with a toddler and wondering whether you can find interesting and enjoyable things for them to see and do. London is filled with so many attractions, that you are bound to find a few to take your little ones to. Our list includes just some of the best things to do with a toddler in London. But don't be limited by these.
And if you're going to be in the city with older kids, Kirsten from Kids Are A Trip has a great posts about the things no-to-be-missed when visiting London with teens.
Other Things for Toddlers in London
Whether you are planning some London toddler days out or are planning a longer visit to London, you don't have to be limited by my suggestions above. There are a huge number of other London toddler activities that you might want to consider for your time in the city. Here are a few more ideas for places to visit in London with toddlers or babies.
Visit a park
One of the best free things to do in London with toddlers is to hit a park, and London has a huge range of parks which are fun places for toddlers in London. Let them get out of the stroller, stretches their legs and run free. The best parks in London for toddlers include Hyde Park, the Diana Memorial Playground, St. James Park and Regents Park.
Check out some animals
Tucked into a corner of Regent's Park you'll find the London Zoo, one of the world's oldest scientific zoos. Spread across 36 acres and housing nearly 20,000 animals from over 600 species, this is one of the top ten London attractions for toddlers.
There is a smaller zoo in the form of the Battersea Children's Zoo and the Hackney City Farm is another one of the top places for toddlers in London.
Visit a Museum
You'll find some of the best museums for toddlers in London and many double up as the top London indoor activities for toddlers. Museums for toddlers, London include the Science Museum where they can enjoy all manner of sensory play, the London Transport Museum where they can climb aboard the driver's seat of a real London bus and the Natural History Museum.
Enjoy the sights of London
Other places to enjoy the sights of London and which make for great toddler days out, London include the Shard for a bird's eye view of the city and on board a Hop On Hop Off Sightseeing bus. There's no better way to see the city and they're one of those London things to do with toddlers you'll both enjoy.
Why not consider a London Pass for your visit to London. Choose either a 1, 2, 3, 4, 5, 6- or 10-day digital London Pass and enjoy access to over 80 attractions and a 1-day Hop On Hop Off Tour. Click Here for more information and latest prices.
And if your family loves the theatre, why not check out this Family Day Out in London post by Freddie's Mummy for some theatrical inspiration for your own family day out in London.

Tips for Visiting London with a Toddler
As well as deciding what to do with a toddler in London, you also need to consider the more practical aspects of visiting the city, such as how to get there, where to stay and how you get around London with a toddler. In this section I'm going to help you with these.
How to get to London with kids
London is the capital of the United Kingdom and is easily accessible, whether you live in the UK or not. Getting to London from within the UK will involve one of three things, a car, train or bus. From outside the UK, the easiest way is by plane.
By Car
If you are a resident in the UK, you might elect to drive to London. There are several motorways which lead to London from the various corners of the UK.
From Wales, the easiest route is straight along the M4, a trip my husband and I have made many times during our time living in the UK. Those living in Bristol, Swindon and other M4-corridor cities, this is also the route you will take to the capital.
From the West Midlands, Birmingham and Oxford, the M40 is your best motorway. From the North of England and East Midlands, you are likely to be taking either the M1 or the A1. And for those living in the Southwest corner of the UK, the M3 is your route towards the city.
Once you hit the outskirts of London, you may need to traverse the M25, depending on where you hit Greater London and where you are staying. And yes, the reports of how bad the M25 can be during peak and busy times are true. A veritable car park across three, sometimes four lanes.
Also be warned that to take a car into London will incur additional daily charges in the form of car parking, even if your hotel has on-site parking, and congestion charges too. So, think carefully before driving your car to London.
By Bus
There are several bus companies servicing London from cities across the UK. The biggest ones with regular services to and from London include National Express and Mega Bus, with tickets starting from around 5GBP each way, depending on your route.
Check latest prices and availability with MegaBus HERE.
By Train
One of the easiest and most convenient ways of getting to London from across the UK is by train. Again, there are a whole host of train companies operating regular services to and from London. The main train stations you arrive into in London are Euston, Paddington, Waterloo, King's Cross, Charing cross, Victora, London Bridge and St Pancras. Each has connections to the London underground meaning you can access anywhere in the city easily enough.
By Plane
For those of us located outside of the UK, the best way to reach London with kids is by plane. In fact, for some based in the North of England, Northern Ireland and Scotland, arriving into London via plane is the easiest way to reach the city.
If arriving into London by plane, you will arrive into one of five airports. London City airport is located within the city Docklands area, and is very popular with businesses located in Canary Wharf. It does not have a tube line, but visitors can reach the heart of the city via the Docklands Light Railway or DLR.
The most popular route to London via plane is to arrive into either Gatwick or Heathrow, one of the world's busiest international airports. Both have train and/or tube connections into the city, along with regular bus services, making them the most popular London airports.
The two other main London airports are Luton and Stansted, both with good connections to the city. These are the main European, low-cost airline hubs for London.
I recommend checking Skyscanner for the latest prices and availability for flights to and from London.
Where to stay in London with a toddler or kids
London is a huge city, so narrowing down where to stay in London with kids can be a minefield. But there are a few areas which are really good places to stay in London with family.
Whenever my husband and I visited London, we generally stayed in the South Kensington area. It is home to some of the best museums in London for toddlers, you will also have great links into the very centre of London and also be within close proximity to two Royal parks.
Click HERE to find great family-friendly accommodation in South Kensington.
Another great area of London for family-friendly accommodation is the Southbank area of Central London. Waterloo station is located here as are the London Eye, Sea Life London and you are just across the river from Big Ben and the Houses of Parliament.
Click HERE to find the latest prices and availability for family-friendly accommodation in Southbank and Waterloo.
My preferred area of London to stay with my sisters in Greenwich, mainly because we are usually attending a concert at the O2. However, I do plan to stay in this area during our next visit to London with our son. North Greenwich underground station has direct connections to London Bridge and Waterloo. It is also home to the National Maritime Museum and the Emirates Air Line cable car.
To find brilliant family-friendly accommodation in Greenwich, see the latest prices and check availability, click HERE.
And if you are a family that like the convenience of some home comforts, why not book an AirBnB. I always book one with my sisters in Greenwich, as we get more space than hotel rooms for catching up over a cuppa or a glass of wine (in their case, not mine), and we have the option of eating in or going out. AirBnB offers families more flexibility over hotel rooms and can work out cheaper.
For money off your first AirBnB stay, click HERE and find your perfect London family accommodation.
How to get around London with a toddler
London is one city I have never found any problem getting around, with a toddler or not. Most footpaths are wide enough to accommodate strollers/buggies. However, be warned, many of the sights are a fair distance from one another in terms of walking distance. Not so bad if the weather is nice, but not ideal if the weather turns bad.
Aside from walking, London has a great public transport system with connections to pretty much anywhere via either the London Bus service or the Underground.
You can preorder an Oyster card to be delivered to your home in the UK, or for a Visitor Oyster card for your visit to London, you can also preorder it and have it delivered to your home. Note that under 11's have free travel on London bus, tram and Underground services when travelling with a fare-paying adult.
If you are a UK resident with a contactless bank card, you can use that in place of an Oyster card and the daily caps are the same as an Oyster card.
You can also get taxis (London black cabs) around the city and Uber is in operation in London as well.
You could also opt for a Hop On Hop Off Bus within London, especially if your accommodation in centrally located. They are a great way of getting around the city while seeing the sights.
Get your Hop On Hop Off sightseeing bus tickets HERE.
In Summary
I hope I've shown you that London is very toddler-friendly and also shown you some of best places for toddlers in London. London is an easy city to reach, as well as a city with a huge amount of options for families in terms of accommodation. It is also a very easy city to navigate with a toddler, just be prepared to fold that stroller.
Whether you choose to visit London for a day, or for a longer city break with kids, there are no end to brilliant activities in London for toddlers and older kids. The hard part will be narrowing down what you do in the time you have available.
So, will you be visiting London with your toddler in the future?

Cath x

For more city break ideas with kids, why not consider a visit to Dublin, Barcelona or Lake Bled with kids. And for more destination ideas, and hints and tips for travelling with kids, start from the homepage and have a look a round!
I recommend the following Lonely Planet books to help you further plan your visit to London with a toddler.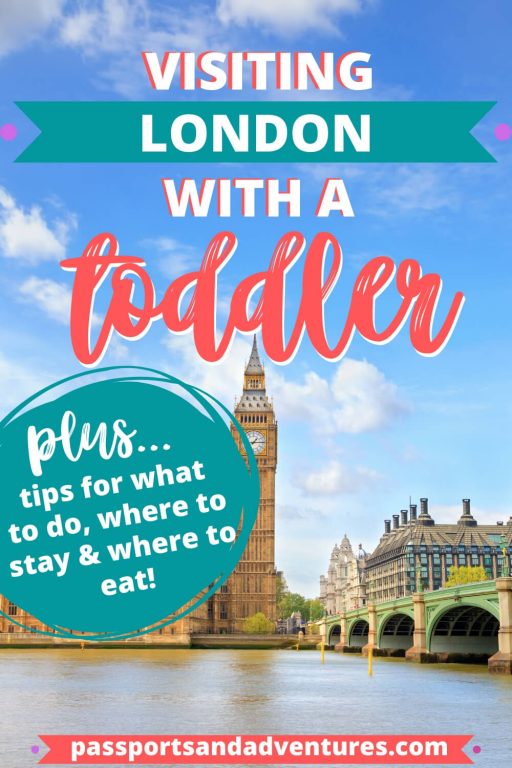 Passports and Adventures is a participant in the Amazon Services LLC Associates Program, an affiliate advertising program designed to provide a means for sites to earn advertising fees by advertising and linking to amazon.com, amazon.co.uk, amazon.ca. Amazon and the Amazon logo are trademarks of Amazon.com, Inc. or its affiliates. To learn more about affiliate links, read my Disclosure Policy here.