In this post you'll find our Disneyland Paris Diaries for our first family visit to Euro Disney'. While I have written out a 3-day Disneyland Paris itinerary, this gives full details of our time at Disney Paris. It'll give you a clear idea of what you can expect if you decide to visit Mickey and friends with your kids.
Day 1
We left our house at 10am, and headed for Faro to pick up our car which had been in for a service. Trying to fit all our bags and our son's buggy into a Land Rover Evoque was fun. You don't realise how used to your own boot you become until you don't have it. We were soon on our way to the airport which is no more than 5 minutes from the garage, destination – our first family holiday to Disneyland Paris.
We checked in, got rid of our bags, headed through security and grabbed a bite to eat before boarding our plane for our departure to Paris Orly at 13.55. Our flight was on time and we left the warm blue skies of Portugal, me more excited than the two boys put together. I had done a lot of planning and was hoping this trip was going to run smoothly and be enjoyed by us all.
We landed early but had a trek to get to our bags. However, this was where we came up across our first hurdle of the holiday. I had booked the Magic Shuttle bus when I organised our trip back in June. I thought it would be a regular service, but oh no. Due to the delay in getting off the plane, we'd missed the 17.50 bus and the next one wasn't until 19.00, a 50-minute wait.
Paris was cold compared to Portugal and I really didn't fancy waiting around for 50 minutes so we decided to hop into a taxi. This in itself was easy enough but there was a horrendous amount of traffic on the road between Orly and Disneyland, and it took us an hour and twenty minutes to travel the 31 miles. It was stop-start traffic almost the entire way to the turnoff for Disneyland. Our son ended up falling asleep for the journey and I had a job to wake him at 7pm so that he didn't sleep too long.
We finally arrived at the stunning Disneyland Hotel just before 8pm. It was amazing to see it all lit up and decorated for Christmas. Our bags were taken from us, to be delivered to our room for us. We checked in and couldn't have had a more helpful gentleman, who not only gave our son a badge and some balloons, but explained all our vouchers in detail. He even changed our Fast Pass for that day to the next day as the parks were closed and we'd missed out on using the Fast Pass that day. I was not expecting that, and it was so kind of him.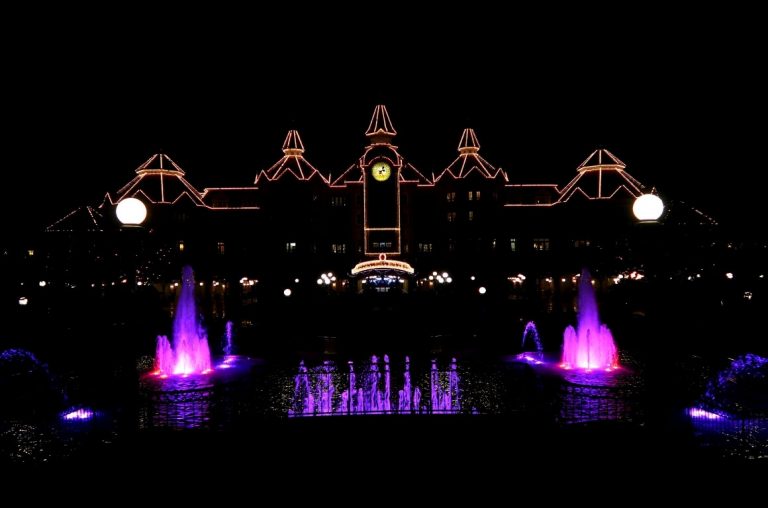 We went up to our room, put our passports and valuables in the safe, and headed out to get some dinner. The Disney Village was open, and we tried to get a table in a few of the restaurants where we could use our meal vouchers, but they were all full. It had been a long shot but there was no harm in trying. It felt strange walking through the Disney Village as the last time we'd been there we were still just a couple. This time we were there as a family of three.
In the end we managed to get a table in Planet Hollywood before 9pm and opted to just have mains before heading back to get some sleep. Now, Planet Hollywood was chaotic. We were seated within 10 minutes of our arrival and our waiter took our order quickly, but it was very loud and when our meal finally arrived it was lukewarm at best. It was as if it had been sitting ready to be brought to us for quite a while. The food tasted fine, albeit presented a little strangely but none of our dishes were hot.
My lasagne was brought out and I initially thought I'd been given the wrong meal as it certainly didn't look like lasagne. It tasted lovely but just looked strange. My husband had a burger, and again, while it tasted fine it was a little too cool for his liking. After paying up we headed back to our hotel and got one or two pictures of it all lit up before heading to our room for pj's and bed.
Surprisingly our son went to sleep shortly after 10pm, as did we parents. We were planning to be up early to make the most of our first day in Disneyland Paris as a family.
Day 2
The alarm went off at 7.30am and we got up and dressed, taking some chocolate croissants with us as we had a character's breakfast booked for later that morning. At 8.10am we left our hotel via the very handy entrance located beside the exit gates of the Disney park and headed for the entrance gates. I had decided we were going to make the most of Extra Magic Time, as it is now called.
There were a few people already in the queue which was for residents of the Disneyland Hotels and made our way into the park to be met by the amazing looking Christmas tree and snowmen in the Town Square outside City Hall. My husband had first taken me to Disneyland Paris ten years ago for my 30th birthday and we'd visited in December, but I had forgotten how beautiful and well decorated they make Disney at this time of year.
There weren't many people already in the park and as we walked down Main Street, the excitement in me was building. I had been looking forward to visiting Disneyland with our son since he was a baby and it was finally happening. We headed towards the castle and got a spot at the rope to take some pictures of it.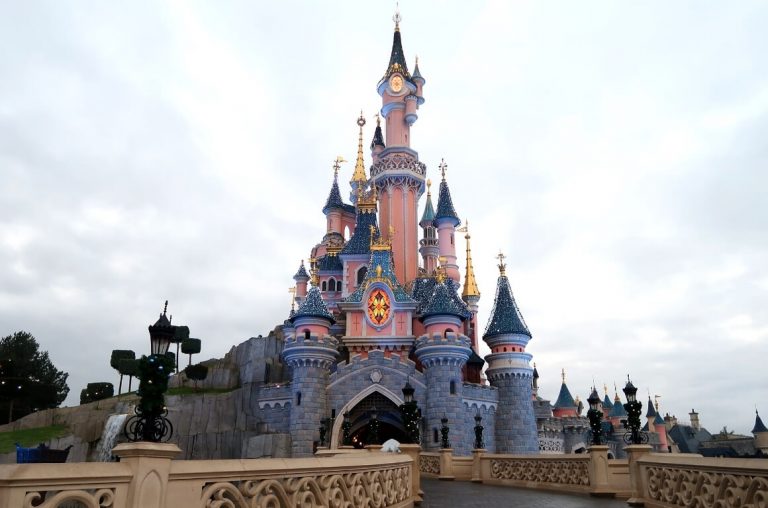 Our son was in awe of the castle. I don't think he fully understood what was going on. We waited patiently for the ropes to be lifted at 8.30 and once they were we made our way into Fantasyland and headed for Peter Pan. In my research before our trip, many people had said Peter Pan was a great ride but should be done in EMT or that you should Fast Pass it as the wait time for it is always long.
The ride wasn't quite ready when we got there and the cast members suggested we could either wait in line until it opened or come back. As we were only about ten people from the front we elected to wait. We said we'd give it half an hour and if it still wasn't ready by 9am we'd Fast Pass it later. We didn't have to wait that long and we were in about the third or fourth boat for the ride.
My husband hadn't been on the ride in 25 years and this was my first time on the ride. My husband, having been a member of the opening crew, had ridden the Peter Pan ride before the park had even opened to the public back in 1992. Now we were all sharing that ride together. And it was amazing. Lots of people had said it was a must-do and I can see why now. Flying above the scenes from the film was brilliant. And before we knew it, our first Disney ride together as a family was over.
As we came out of the ride, our son was literally lost for words. Between having his mind blown and not fully understanding what was going on, I think he was having a "WTF just happened" moment and got a bit emotional. He wanted to go back home.
That said, once we mentioned the Dumbo ride, he was all for staying. After Peter Pan we went on the Dumbo ride, the Tea Cups and the Carousel before starting to make our way to Plaza Gardens for our character's breakfast.
Now, I had read on a few of the Disney Facebook groups that the character's breakfasts were rather chaotic, and I was a bit apprehensive. I had booked two so that we could share one with our friends who had come to Disney as well and one for just ourselves. When we arrived shortly before 9.45 the queue to get in was very long and I thought this was a sign of things to come. However, once we showed the lady on reception both sets of vouchers we were soon seated at our allocated table.
Now, a word of warning. If you are booking a character's breakfast on top of a normal hotel breakfast, make sure you have two vouchers per person with you. You need BOTH your hotel voucher AND your character's breakfast supplement voucher in order to gain entry. If you forget either you can gain entry but will have to pay for the breakfast and get a refund when you return with both sets of vouchers. This happened to the couple in front of us and also our friends, whose hotel hadn't given them the correct information at the time of check-in.
I have to say, the gentleman at the check-in desk in the Disneyland Hotel where we were staying was very efficient. He stapled our vouchers together and fully explained the ramifications of forgetting one or the other. So, think you sometimes pay for what you get.
Once seated, Mickey made a beeline for us and his was the first ever signature in our son's Disney autograph book. Daisy Duck soon followed before we started getting our breakfast from the buffet. And despite the warnings from people on the various Facebook groups, I didn't find the breakfast too chaotic. In truth, yes, it is busy, and the characters can only spend a few minutes at your table before they have to meet and greet other guests, but that's really all you need in order to get their signature and a few pictures. As long as your expectations are to get an autograph and a picture or two you won't be disappointed. You just need to keep in mind that it is a large restaurant, there are lots of tables and other families, and the characters have to try see all of them in the short time that breakfast is on for.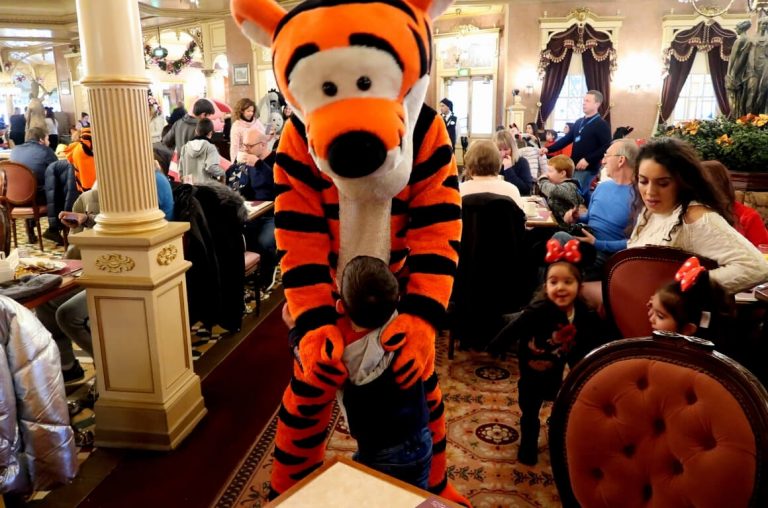 Breakfast itself was quite nice. There is a good range options from a cold continental breakfast, to cereals, fruit and yogurt, to a hot buffet. There are delicious pastries too, so there is something for everyone. And we never found a section lacking in anything. My only gripe for this breakfast was only one tea and coffee machine was working so it took a while to get our hot drinks.
Shortly after we had eaten our breakfast, the characters switched sides of the room and we got to meet Tigger, Piglet and Eeyore. Each of them signed our son's autograph book and we got a picture taken with each of them. I think our son enjoyed this breakfast after his mind-blowing morning on the rides.
Suitable refuelled, we left the restaurant and decided to stake a claim to a spot for the Christmas parade at 11.50. I checked online where might be the best place to watch it. Our friends' husband missed it due to a missing bag.
The parade was brilliant and was on for about 15 minutes. One cast member came over to our son and played with his Kylo Ren mask from his costume which we'd dressed him in after breakfast.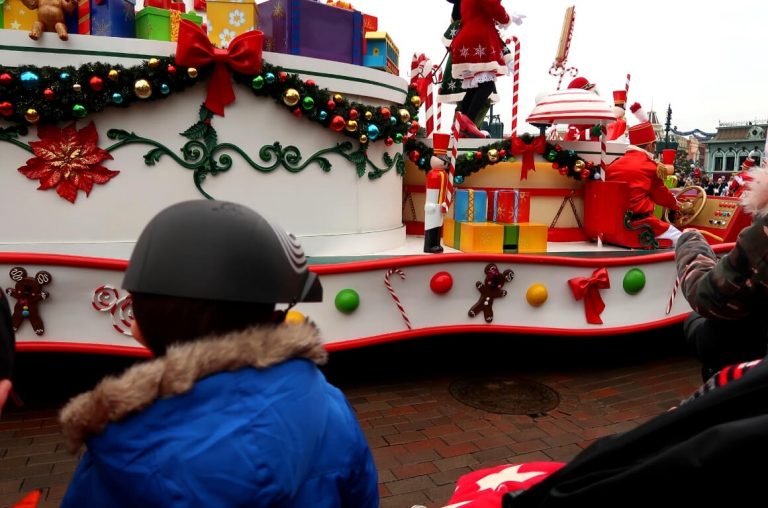 A much-needed toilet break was taken before we wandered through Adventureland and headed towards the Pirates of the Caribbean ride. My husband and I have always gone on this ride whenever we visited, and we wanted to go again. So, we took a chance and brought our son with us, talking him through what we were going to see when we got into the boats. This ride is by far my favourite ride and I didn't want to miss it.
One thing that surprised me was there was barely any queue for the ride. In previous visits we've queued for 40 minutes to go on this ride, but we were on within 5 minutes. Handy when doing it with a toddler. He was a bit unsure at first but we pointed out things that we knew would pique his interested and after the ride he said he enjoyed it. I'm not sure if that was true or whether he was saying it after buying himself a pirate's sword in the shop.
After we'd finished Pirates our friends' husband rejoined us with the missing bag and we made our way towards Discoveryland. We wanted to tick off the Buzz Lightyear ride and also meet Darth Vader. The Buzz Lightyear ride was first up and our son thoroughly enjoyed this. Again, the queue was not as long as we'd imagined, and we were soon shooting Emporer Zurg's henchmen with our lasers.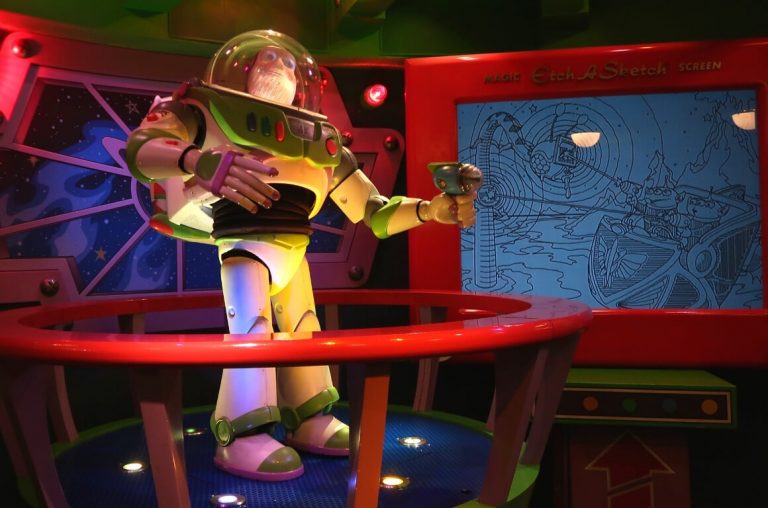 Then, it was time for the one thing my husband had said was on his non-negotiable list. A meeting with Darth Vader. We had bought our son a Kylo Ren outfit in Portland and this was why we'd dressed him in it after breakfast. We only had about a 20-minute wait for this meet and greet.
As you enter the waiting area, you are met by an assistant, who I might add was very serious. We had been talking and laughing with the couple in front of us about our son's outfit and it was frowned upon by the assistant. Lord Vader then came into the room to invite the couple before us onto his bridge and he spotted our son and, despite no words, I think was impressed by him.
We waited our turn before Lord Vader ushered us in. My husband got into the first few pictures. Then Lord Vader indicated he wanted a picture with the little man by himself before we got one or two family pictures. It was a very serious affair but one of our best meet and greet pictures from the entire visit came from this visit.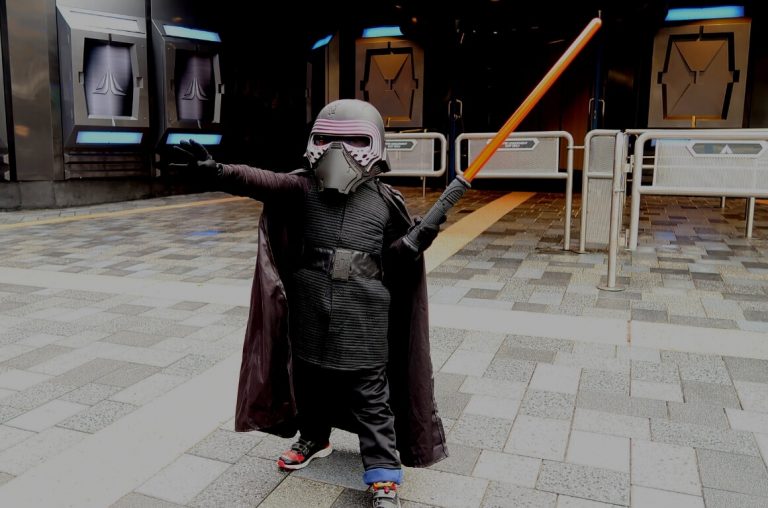 While we waited for our friends to come out, the boys went into the Star Wars shop and came out empty-handed. I really thought there would be a bag or two with them. Afterwards, the boys and dads went on the Autopia ride before we decided to head to Annette's in the Disney Village for dinner. We detoured via our room to layer up some more and grab our hats and gloves as it was getting colder and our intention was to see the Illuminations that night.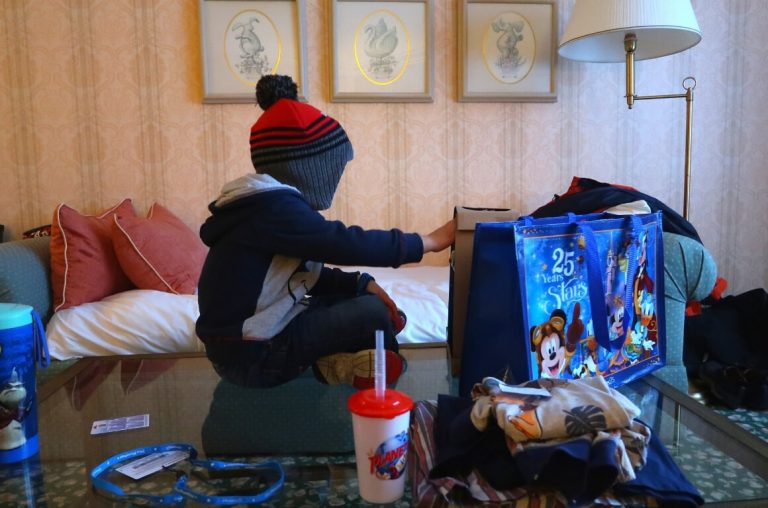 We arrived at Annettes about 4pm and were seated straight away. There were plenty of seats available as I think most people were getting ready for the main parade at 5pm in the Disney park. We had a lovely three course meal, all the adults opting for tasty burgers. And while all the food was very tasty, it again came out lukewarm.
After dinner we headed back into the Disney park and found a spot to watch the Illuminations from. And what a show that was. The combination of music, lights and fireworks was brilliant and once again, the little man's mind was blown.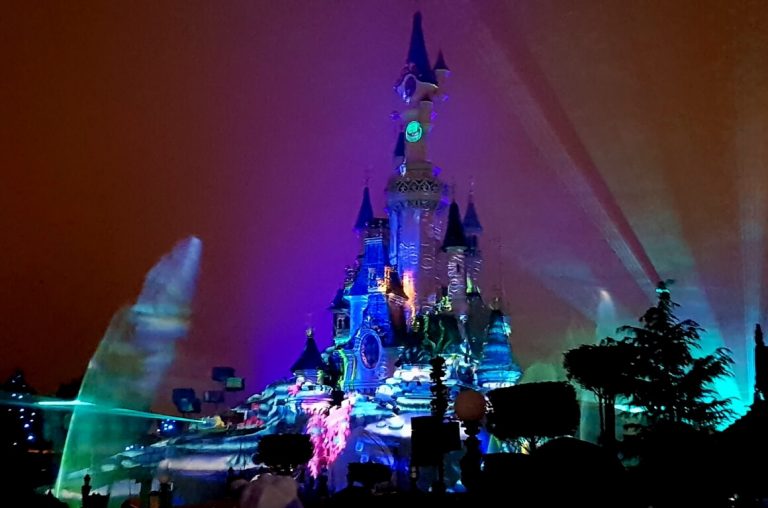 After the show we browsed a few shops before attempting to get 'The Picture'. We sort of managed it by blocking out some stranglers with a strategically placed our son. To me, it would do as it was cold, and I didn't want to hang around anymore. We headed for the exit past the fabulous Christmas tree, said goodbye to our friends and headed to our room for a bath to warm up. We were completely satisfied with our day and ticked off so many things from our timetable.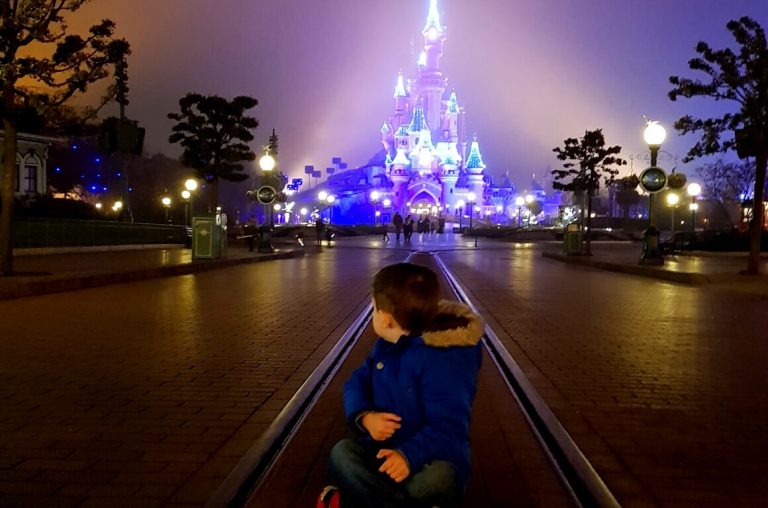 Our son had been great too, enjoying himself despite being in awe of everything, and also, was quite good not wanting everything he saw in the shops. I really thought we'd have tears over leaving shops without certain things, but he didn't. He had gotten a pirate's sword after our ride and he was treated to a Buzz Lightyear interactive doll after the Autopia ride and he seemed happy with them.
We all went to bed exhausted but thoroughly happy with our first family day in Disneyland Paris. Next up was to be Studios!
Day 3
We were up shortly after 7.20am, got ourselves dressed and headed for breakfast in the hotel restaurant. We had a nice table with a view of the castle. Breakfast was quite similar to that on offer at the character's breakfast with both a hot and cold buffet, fruits, yogurt and cereals. We filled our bellies and were going to head straight to Studios having brought our day bag with us.
But, we had an unexpected but delightful stop just outside the restaurant when we happened upon Minnie Mouse doing a meet and greet. We weren't going to miss this chance to meet the main lady herself, especially as the queue was short and she had an official photographer with her. Our wait was less than 10 minutes. She kindly signed our son's autograph book before he, and then us as a family, had photos taken with her.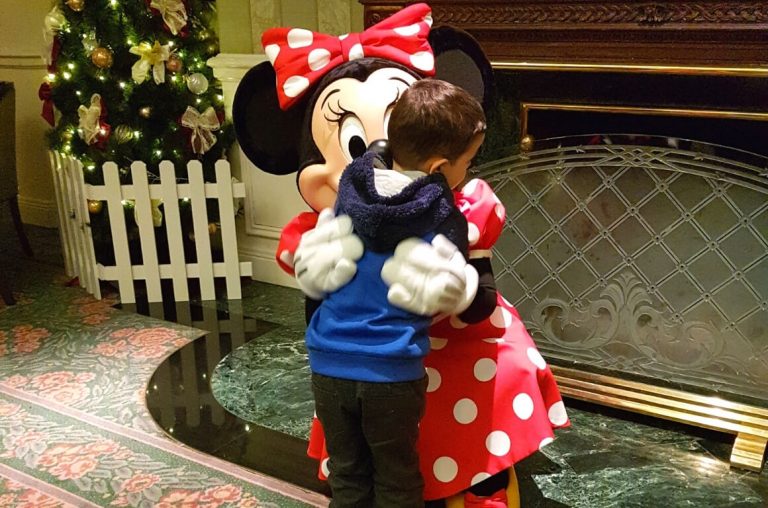 What a lovely surprise to find coming out of breakfast. It did mean we were running slightly behind getting into Studios. And once we were in, we had one other special appointment to make. Our meet and greet with my favourite, Goofy. This was my non-negotiable, so we joined the queue. Halfway around we heard those dreaded words "I need a wee". So my husband ran with our son to find toilets and ran back, just in time for our turn. I had let two Spanish families go ahead of me by this stage.
And whether we got disapproving looks from anyone or not for me keeping our place, I didn't care. We'd queued and waited our turn and I was getting those pictures come hell or high water. During our wait we had a change over of Goofy and unfortunately the official photographer never returned with the character. So, we could only get our own photos. But at least it was done.
Next on the agenda was Ratatouille. Again, this was a ride everyone had said do during EMT or Fast Pass because of the length of the queues, so we joined the queue shortly after 9am and it moved reasonably quickly, with us getting on the ride within 20 minutes.

And what a ride it is. A 3-D interactive ride, our son wasn't too sure of it again but, having only watched the movie for the first time recently, Mum and Dad thoroughly enjoyed it.
After Ratatouille, we dressed our son in his Buzz Lightyear outfit and I took him into that queue while my husband went to do the Hollywood Tower of Terror. It's not a ride that appeals to me, so it made sense to let him do that while we waited to meet Buzz. I was praying our son wouldn't want the toilet before our turn and thankfully he didn't.
Buzz was brilliant with our son thanks to his costume. Once we'd got our photos and his autograph (a stamp) we headed off to find my husband via the toilets. We had a quick costume stage as we were heading to meet our friends at the back-lot stage for the Moteurs show. Just outside the show area is one of our son's favourite characters, Lightening McQueen. We got some pictures and headed into the show.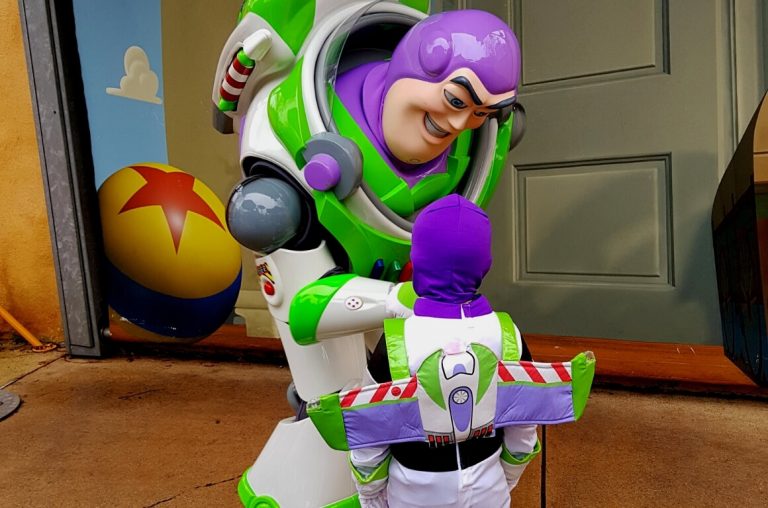 And my word, it was great, especially for our motorbike-mad child. It is set up like a movie set and a director talks you through the stunt scenes they are shooting. First up was a drive through by Lightening before the motorbikes took to the stage. Following these are dramatic car chases and even our friends 11-month-old daughter was enthralled.
I have to say it was very well done and enjoyed by us all. We had a little bit of time before our friends had planned a meet and greet with Spiderman. Although he hadn't been on our hit-list, he was very good with the boys and showed them how to do Spiderman hands. Our son is still practising them at home!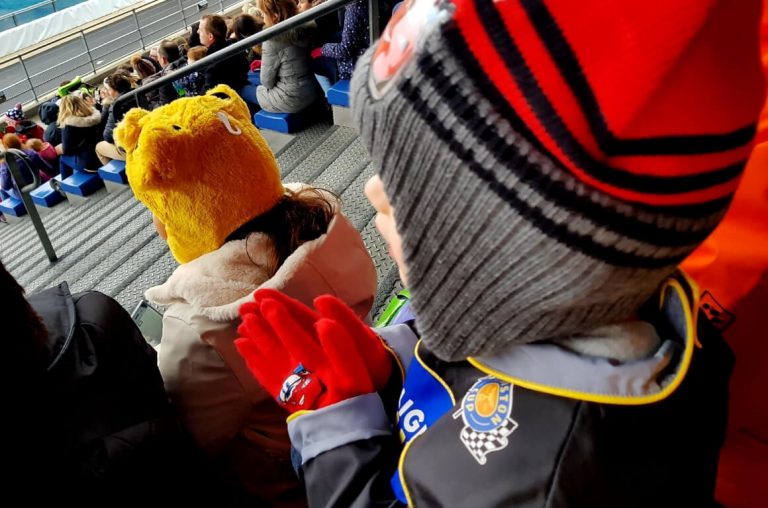 Following this, we had enough time to do the Cars Quatro Rally ride before heading to Bistro Chez Remy for lunch at 1pm. And this was our second hurdle of the holiday. When we went to the reception desk we were told that our booking had been for 12pm, not 1pm! I had definitely booked for 1pm and we were told if we wanted to eat there we'd have to come back at 2.30pm. I couldn't believe it. We took the new reservation as I did not want to miss the chance to eat there, with it having had glowing reviews and recommendations by many of my fellow bloggers.
We had a walk around the Studios and visited the shops in the main building before heading back to Chez Remy for 2.20pm. However, it took until 2.50pm to be seated. As we walked through the restaurant towards our table at the back beside the windows to the ride I spied A LOT of empty tables. It didn't make sense that they were all empty, despite the receptionist telling people they were fully booked. I can only put it down to a lack of staff as there was not a lack of tables.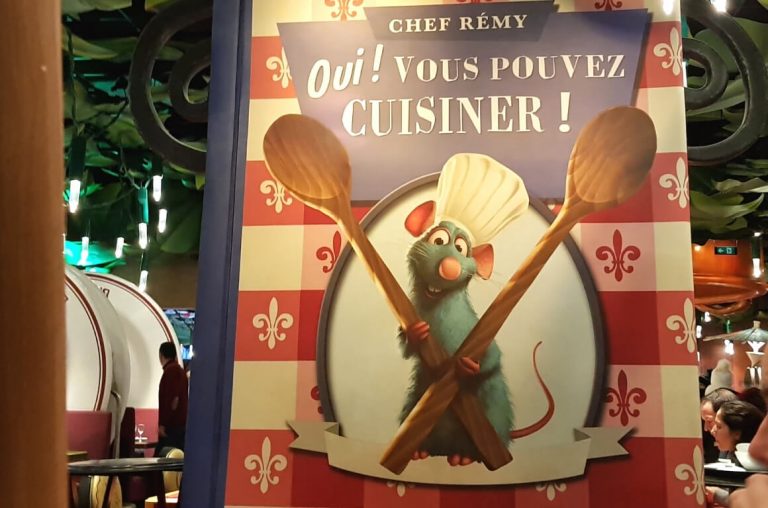 We were seated, placed our order and had a lovely time chatting before our meal started to arrive. Again, not hot, but warmer than previous meals, the food was very good, and our steaks were amazing. I fully understood why this restaurant got some big thumbs up from others. The ambience and decor were perfect, and the food was very good. It could have been a little bit warmer though.
We didn't leave the restaurant until nearly 5pm (due to a problem with our friend's son) and by then it was starting to get dark and colder. We wandered around the Toy Story area before making our way out of Studios and into the Disney Village.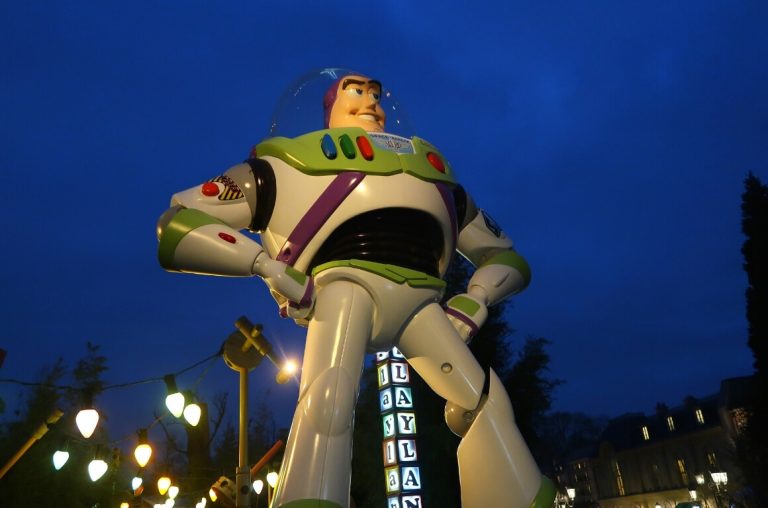 We waved goodbye to our friends as we were headed for the World of Disney shop in the Village for some shopping.
And here was hurdle number three. I filled a basket with some shopping including lots of Christmas decorations for us, my folks and for our son's two classroom assistants here in Portugal. As I headed for the tills, my husband waited outside with the boy. I had my hotel charge card so thought I didn't need our bag. However, as the total was over €100, the lady on the till needed to see some ID to confirm the name on the charge card.
We hadn't needed ID using the card before, but then again, all transactions up to that point had been below €100. I had to call my husband to come back with ID, at which point he said he was at our room as our son needed the toilet. Within 10 minutes he was back with my driving license and we could pay and leave with our purchases. My license went into my lanyard with the charge card at that stage in case I needed it again. Finally, we were headed for our room and another bath to get warm.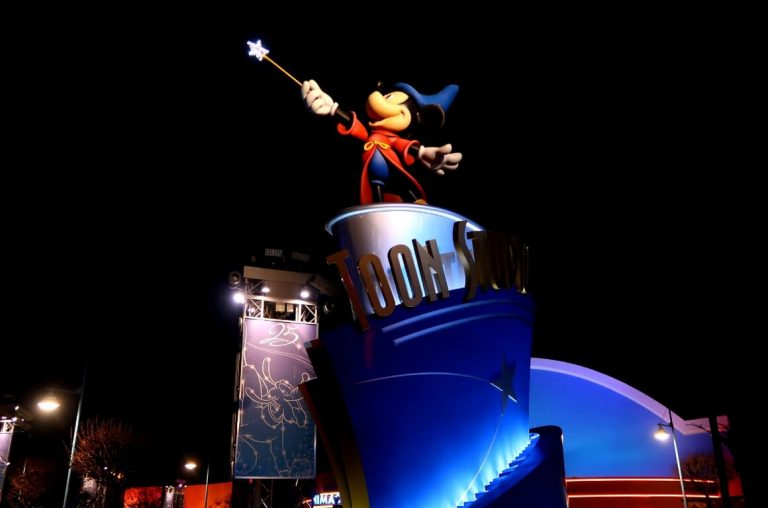 Afterwards we ordered room service. A pot of tea for my husband and I, and a plate of biscuits arrived quite quickly. The biscuits turned out to be macarons and a slice of cake (all for just €5) and we shared them with our son before getting into bed. Tomorrow was to be our last day in Disneyland and we planned to spend it in the Disney park ticking off some final wish-list things.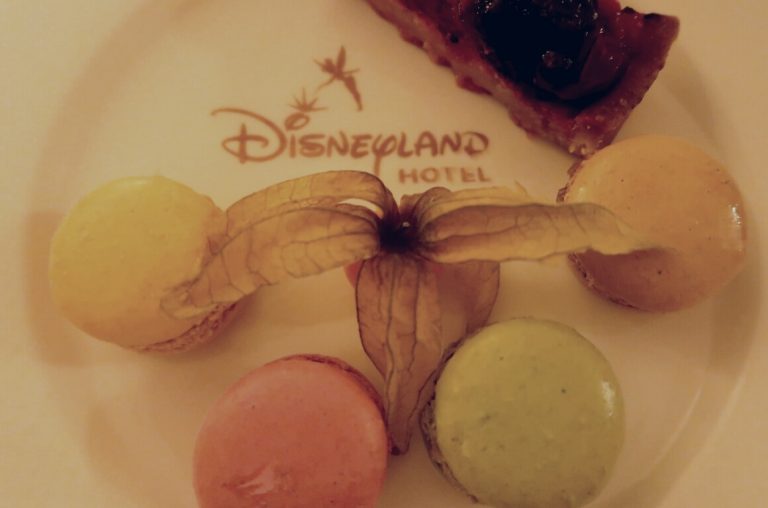 Our restaurant booking mix-up meant we didn't get on as many rides as I had hoped in the Studios park, but we got to do three meet and greets, eat in Chez Remy and caught the Moteurs Action show, so we were happy with that.
Day 4
We were up by 7.20am and got ourselves dressed and packed for the day. As we had another character's breakfast this morning at 8.15am, we left just before 8am and waited behind just two other groups before being let into the Disney park at 8am.
We managed to properly get 'The Picture', albeit in the early morning light before heading over to the Plaza Gardens restaurant for our second characters breakfast. This was an all-together quieter affair as there was no queue to get in at 8.15am. A lot of people arrived afterwards. We were seated in a different section to the first day and once again Mickey Mouse made a beeline for our table.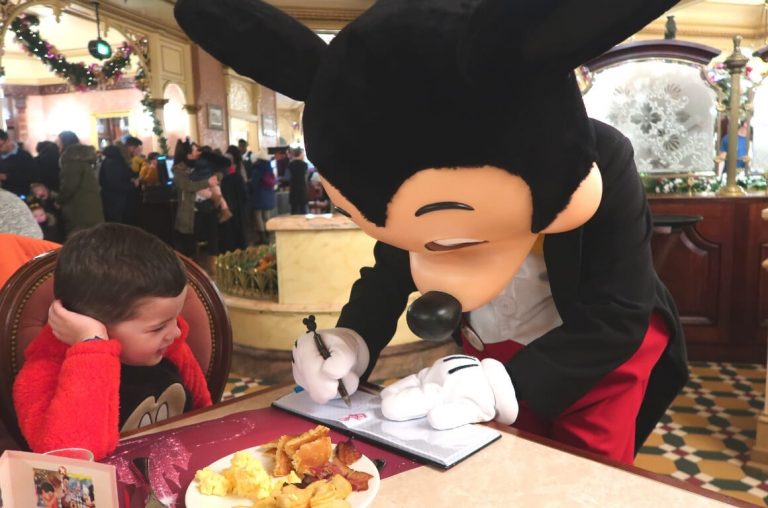 We saw Daisy Duck again and this time also met Scrooge McDuck who hadn't been at our previous breakfast. We filled our bellies and decided to leave before the Winnie the Pooh characters came over. We figured we had our autographs and pictures with them from the first breakfast so didn't really need to see them again.
As it was still EMT, we decided to go and do the official Meet Mickey. Although we had the photos from breakfast, we wanted to meet Mickey in the official capacity as we had done the meet and greet with Minnie Mouse the previous morning. So, this would top off the meet and greets nicely. On our way there we walked through the dragon's cave under the castle and our son wasn't having a bar of the green dragon, despite him being a dragon hunter!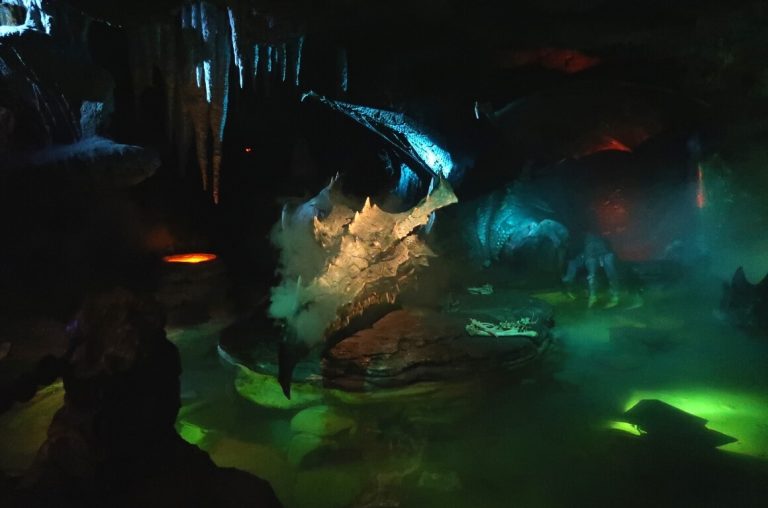 Then, we headed for Mickey's building at the back of Fantasyland and saw the queue time was 40 minutes. This was doable, especially as they had old Mickey Mouse cartoons running on a screen in the queuing room.
However, one thing we had forgotten to do in our haste to get out of the restaurant was visit the toilet. Our son was occasionally dancing like he does when he needs to go, but as we were halfway through the queue I didn't really want to leave it. The decision was made to wait it out and hope we got to meet Mickey for those dreaded words were uttered. If they were I was fully prepared to drink my water in my drinks bottle and let him pee into that.
Thankfully it didn't come to that and it was soon our turn to meet the main man himself. It's slick operation (one I won't go into too much detail about). We took some photos on our cameras before the photographer took the official ones. Mickey was brilliant with our son once he spotted his jumper. We got some family pictures too, before leaving satisfied with our visit. A trip to the toilet was done before we did anything else. The Mickey queue had felt like we were in a race to see which would come first. Mickey or a discreet wee into a bottle! And I was glad we had done the meet and greet when we did as the queue time had jumped from 40 minutes to 70 by the time we came out.
After this we took our son on the It's a Small World ride and he loved it. I, too, was suitably impressed by this ride and was glad we'd fitted it in. It is a very colourful, vibrant ride and yes, the song is still stuck in my head!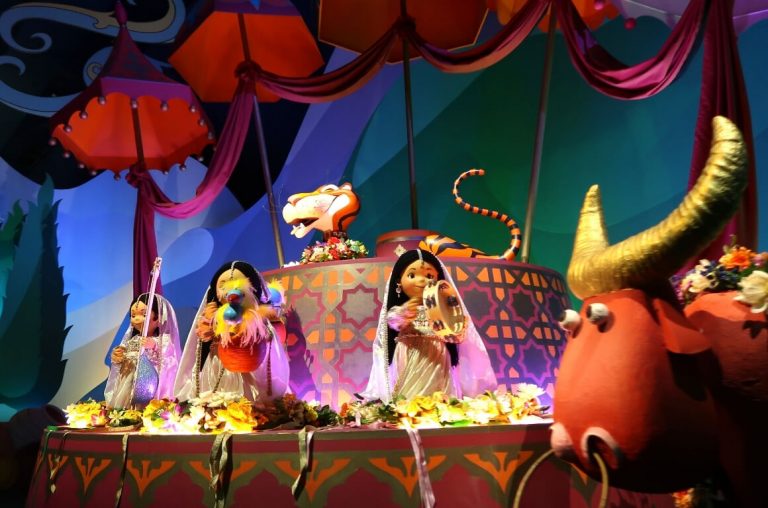 At that stage we'd pretty much ticked off everything I wanted to do in Fantasyland. As it was nearly 10am, I let my husband head for the Indian Jones ride, while I took our son on the Dumbo ride again. It made sense to split up, so everyone got to do what they wanted.
I came across some extremely rude and ignorant Spanish people in the queue for the Dumbo ride and their behaviour and rudeness just beggar's belief. Disney can bring out the worst in people I can tell you! They basically pushed their way past our son and I as we got towards the entrance to the ride as one child in their party had gotten in the queue before us. I had let their mother and two siblings past us, but as we got to the entrance, SIX adults pushed past us to join this mother and three children. SIX adults for a kids ride! I really couldn't believe it. I stared into their faces and down at our son, but they just didn't care. I was livid. And the outcome of their rudeness. Two had wait until the next rotation.
Anyway, we enjoyed the ride together and after it ran to meet my husband in the queue for the Baloo and King Louie meet and greet. There was no official photographer with them, which I already knew, but I had hoped to do this meet and greet and thankfully we got the chance.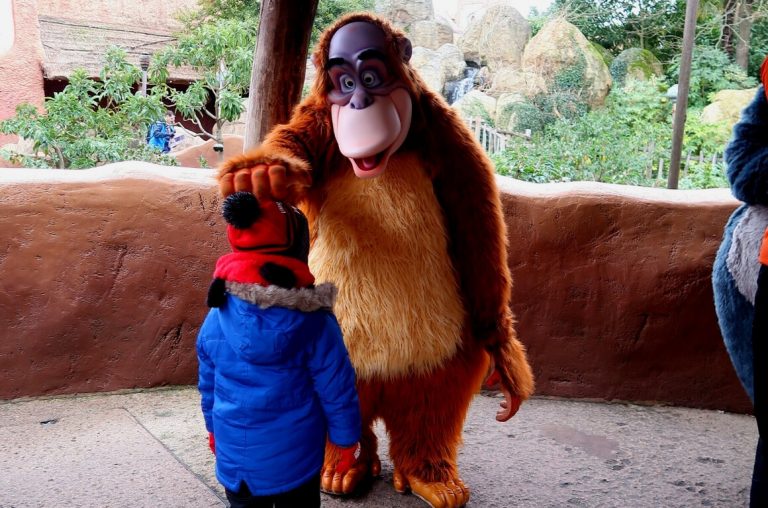 After this we visited Captain Jack's restaurant to confirm our booking for 1pm, especially after the mix up the day before. It was confirmed, and we decided to take a ride on the Disneyland train around the edge of the park for something different to do. We timed it well as we only had a few minutes to wait before the train pulled into the Fantasyland station. And our son thoroughly enjoyed it.
With a little bit of time before lunch, we did Pirates of the Caribbean again as the queue was just 5 minutes and our son enjoyed it more this time, pointing out the dog with the jail key and the man with the several hats on his head. And before entering the restaurant, I met a lady to give her some of our meal vouchers we weren't going to use on the Friday and she was very grateful.
We were still waiting on our friends to arrive, but as it was cold we went inside and were seated straight away. And who should wander over to our table but Captain Jack Sparrow himself. I had forgotten he sometimes roams the restaurant. He had a chat with our son before we got some pictures with him and he left our son a lovely message in his autograph book. Our friends made it in just in time for a quick photo and signature from him.
Our meal was very nice, and we enjoyed a Mickey Mouse birthday cake, as between our two families, we have 5 birthdays within five weeks around the Christmas period. It was an amazing chocolate cake and worth the money I paid for it.
We were a bit later leaving the restaurant than I had hoped. We had missed the Mickey and the Magician show in Studios the day before due to our reservation mix-up and it was a show everyone had been raving about. Our choice at this stage was to run for the 3.35pm time, so we could get back for the main parade at 5pm in the Disney park. Or, we could forgo the main parade, take our time and catch the 4.40pm showing of it. The latter is what we opted for, particularly as it was raining by now and none of us wanted to be standing in the rain for the parade and the waiting time before it.
We decided to stop by our hotel room for our son's buggy and meet our friends at the entrance to the Mickey and the Magician show around 4.20pm. We wandered up Main Street via one or two shops in a bid to find my husband a 25th anniversary jacket in his size to no avail. Thankfully we had another option.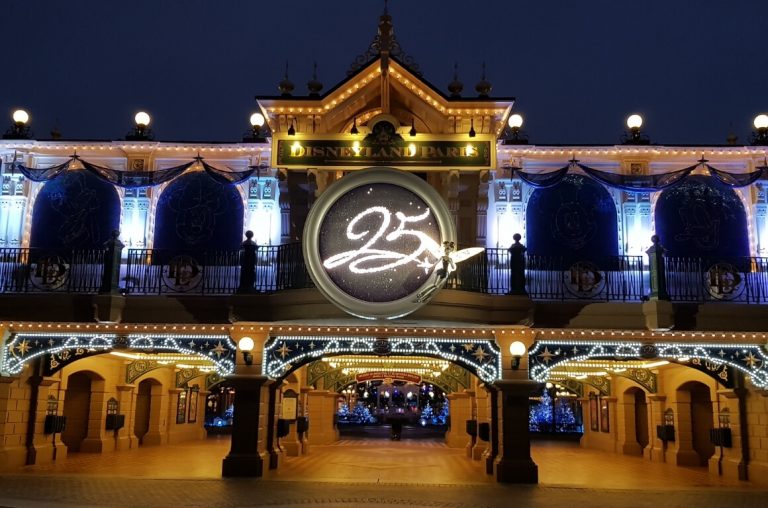 We had spoken to a cast member in the boutique in our hotel the previous night who had given my husband the official product code and an email for the manufacturers. The cast member, Rocky, said to email them and if they had them in stock we could buy direct from them. As no shops within the parks had his size, my husband tried this option, and as I type this post, a 25th anniversary jacket in his size is on its way to Portugal!
We met our friends outside the auditorium at our agreed time and by then the queue was at the turnstiles. Again, we met more ignorant and rude people and our son ended up falling asleep in my husband's arms. At 4.40pm, the doors opened, and we found a seat for us all. We managed to wake our son and enjoyed the fabulous show with some popcorn I'd bought the day before. I was so glad we took the decision to go see this show as it was well worth it.
We figured that we'd seen the Christmas parade, and our friends had caught some of it again earlier this day. Everyone on the Disney Facebook groups said it was not to be missed and they were right. It was worth missing the main parade for and as a bonus, we were out of the rain.

After the show we said a fond farewell to our friends as we'd booked dinner in our hotel restaurant for ourselves that night. We got back shortly after 5.30pm, had warm baths and got ourselves dressed for dinner in the California Grill in the Disneyland Hotel.
And it was a meal worth waiting for. This restaurant is a fine-dining experience and we had to top up our vouchers for the meal. And it was worth every penny. Hot, tasty food that was well presented. Our son even surprised us by eating his vegetable starter in full. He also enjoyed his fruit salad for dessert. It was a fabulous way to end our first family trip to Disneyland Paris and is a meal we won't forget in a hurry. It was by far the best meal of the entire trip.
After dinner we bought our final souvenirs in our hotel gift shop and took some pictures of the amazingly decorated lobby.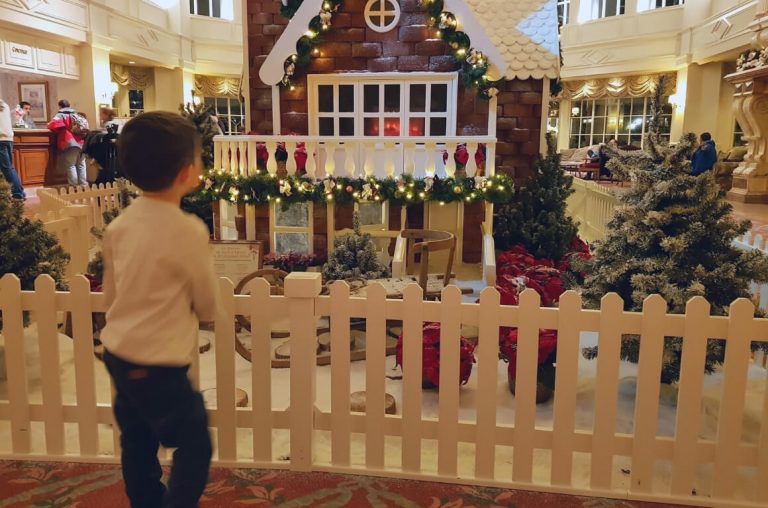 We did our final packing before bed as we had an early start to the airport. We were all in bed before 10pm, shattered after three great days at Disneyland Paris. Our next planned visit is in five years' time and I think it will be an all-together different affair. Our son will be eight and I think the meet and greets will be replaced by roller-coaster thrills.
Day 5
We woke just after 7am and got ourselves washed, dressed and ready to head to the airport. Given the traffic on the way to Disneyland four days ago, we didn't want to leave anything to chance.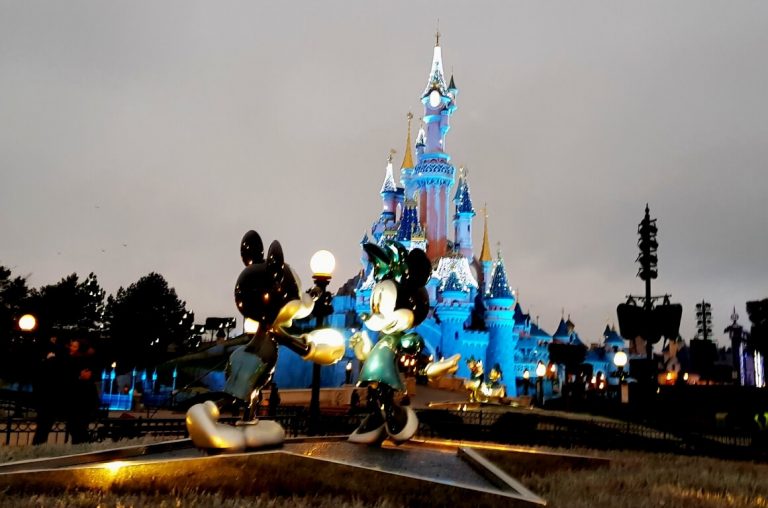 We checked out and my husband was about to call an Uber until he noticed the pickup point was by the RER station. We really didn't want to have to walk all the way there, and the Magic Shuttle bus was parked outside so we decided to hop onto it. It left on time and started making its way around the various Disney hotels for picked but, with only two to spare, hurdle five of the holiday happened.
Somehow, and I really don't know how he managed it, the driver collided with the steel gate to the Sequoia Lodge Hotel. A gate that was open. It resulted in the bus stopping at the barriers while the driver called a supervisor. He arrived within minutes, but we sat there for almost 20 more minutes while the hotel gate people and the supervisor argued it out.
My husband ended up arguing with the supervisor to get us moving, as there was nothing wrong with the bus other than some superficial damage. The supervisor was also arguing with another couple who didn't have a Magic Shuttle voucher. My husband said either get the bus moving or call taxis for everyone on the bus as we were now running late. He soon changed his tune when my husband said, in French, I also speak French my friends. I don't think he was expecting that.
Finally, at 9am, the time we should have been arriving at the airport, we left the Sequoia Lodge and still had 30 miles to go in heavy rush hour traffic. I watched the clock getting closer and closer to our check-in time closing. But, with only about 30 minutes to spare, we arrived at Orly. We tipped the driver as he was having a bad start to his day and said we hoped he had a better day tomorrow after a bottle of wine on us. He was very grateful.
We then had a job to find the Transavia check-in desks which are hidden away on a lower floor of Orly, with NO signs indicating which way to go. I've never come across a more disorganised set of desks. We checked in, got rid of our bags and very quickly made our way to security where we somehow missed the Fast Track security line. Thankfully the gentleman directing people in the main line ushered us into a quieter line that happened to leave us closer to our gate.
We had just enough time for my husband to grab some Laduree macarons before heading for our gate where our flight was already boarding ahead of schedule. I dread to think how things might have turned out if my husband hadn't argued with the supervisor to get us moving. There was no need for the bus to be sitting there as the supervisor was perfectly capable of sorting out the mess with the hotel after the driver had given his license details.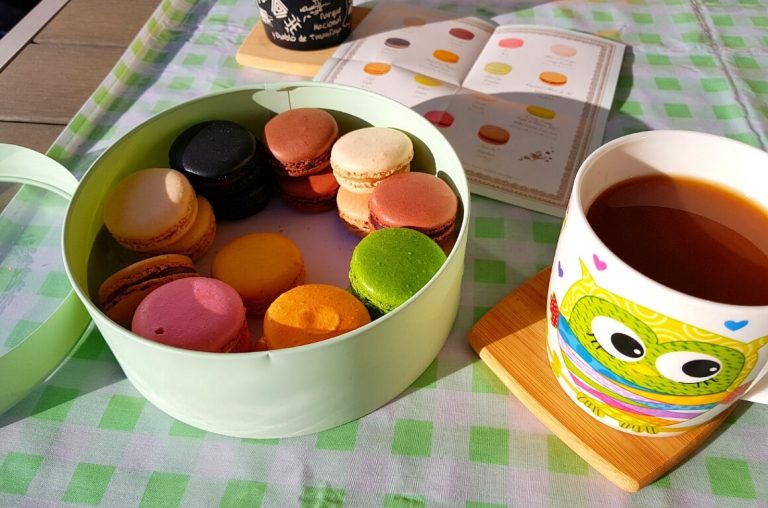 We left Orly on time and thankfully left the rain and cold too. We flew south and were greeted by blue skies and temperatures heading for 20C. A stark contrast to the previous few days. We picked up our car and drove home, absolutely shattered after our first family visit to Disneyland Paris. See you in 2022!
Cath x