I was recently sent several products from a company called Inateck. I must admit that I have never come across the company before, but I was intrigued to see what their products were like and whether they would be any good compared to things that we have already. Inateck kindly sent me a multi-point USB charger, a laptop bag, and a waterproof camera bag for review. Today I want to share with you my thoughts about the Inateck products we received and my thoughts on the camera bag. So here is my Inateck Camera Bag Review.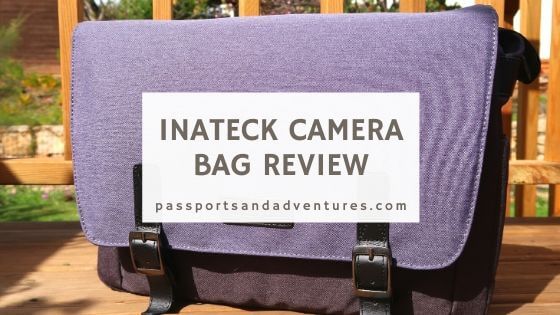 *This post contains affiliate links, including Amazon affiliate links. To find out more about affiliate links and how they work, please read my Disclosure Policy.
Let's start with the two other items I received for review before I tell you about the awesome Inateck camera bag.
Inateck multi-point USB fast charger
The first thing we received for review was an Inateck 3-Ports 45W USB Wall Charger. This multi-point fast-charger comes with a 2m USB-C cable and comes with the different adapters for use in the UK, Europe and America.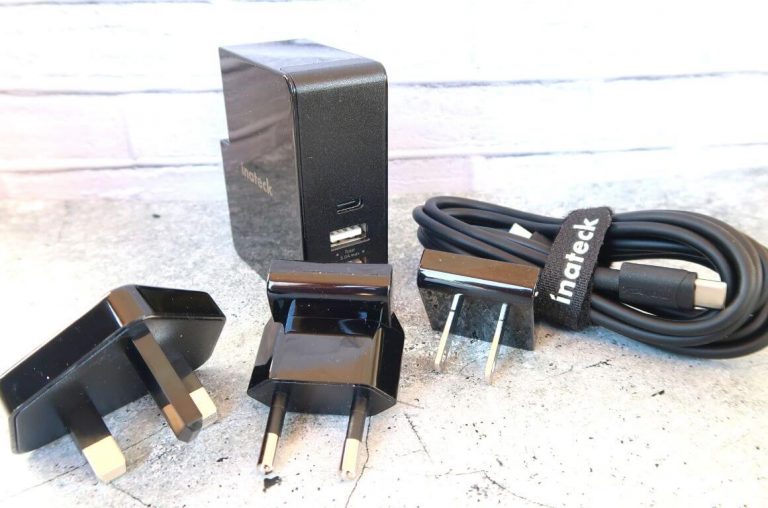 It is a fast charge which is always great in today's world of high-tech and lots of tech. This feature satisfies the fast-charging requirement for multiple devices with one USB C-type port and two smart charging A-type ports. This means can charge your laptop, your phone and your tablet at the same time (by using additional cables not included, you are provided with one).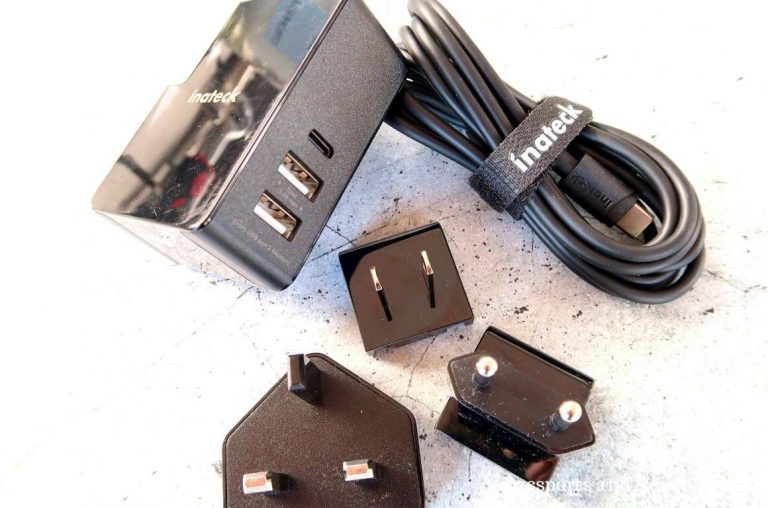 This multi-point USB charger is something a family with a lot of technology will appreciate and use. And let's face it, fast-charging is always a bonus. There's not a lot more I can say about this product other than it is extremely useful and will be used within our household. Retailing at less than £30, this is a good-value charger.
Inateck Laptop Bag
The next item I received for review from Inateck was a waterproof laptop bag. This laptop bag is one of their new range and comes with several compartments, pockets and hidey-holes for all your pens, chargers, cables, batteries, flashcards, micro SD cards and even camera. You name it, it'll fit in here. The bag itself is not waterproof but it does come with a separate waterproof cover which is always useful, especially if you're in the UK or Ireland where the weather is extremely unpredictable.
The bag comes with padded back shoulder straps and comes with a strap for across your chest, something that I think a lot of bags lack and is something that I prefer in a rucksack or backpack-style bag. There are two front pockets at the front of the bag with zips and these also have a reflector strip sewn into the seam, which I think is useful for rainy days when it might be a little bit dark, or if you happen to be out at night with this bag on your back. These front two pockets would be ideal for things like a small notepad, for your phone, your wallet, some pens and your batteries for your camera. There's an additional front section which is quite large which will hold notepads and books, larger items that won't fit into the 2 smaller front pockets.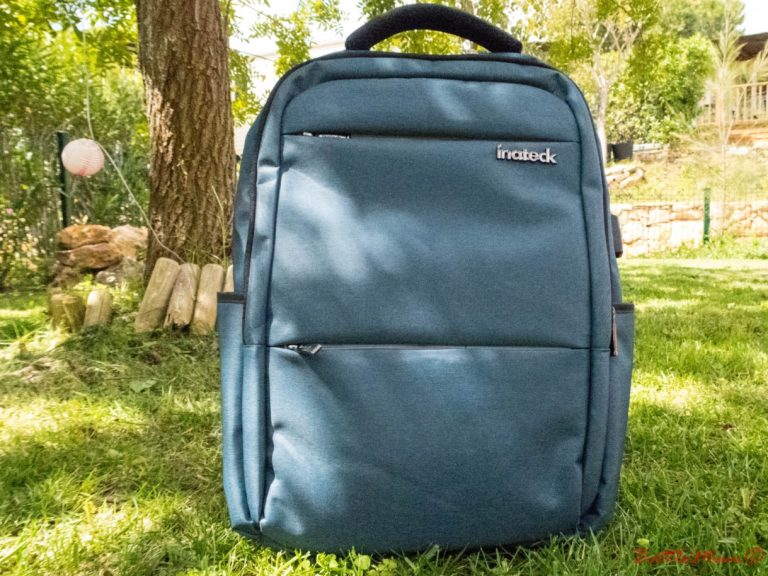 All the sections or compartments have very sturdy, strong-feeling zips, all branded with the Inateck label. There are two side pockets which could be useful for a tripod or an umbrella, and there was also a side USB charging point for your phone. To use this, you would connect the cable that is attached to the charging point to your battery pack, and then you would use an additional USB cable to charge your phone externally from the bag. This is one of the first bags I've ever owned that have an external charging point for your phone, always handy when you're a blogger and run down the battery your phone quite a lot.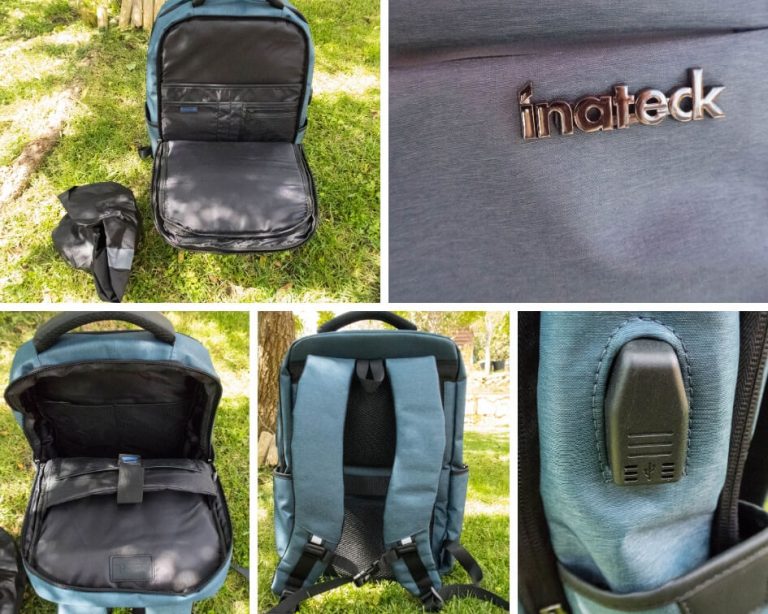 The main compartment, in which you would store your laptop itself, or your camera, has a zip towards the back of the bag for added security, making it an anti-theft bag. It is a double zip system. In the back compartment there is an additional set of two mesh pockets for other items that you might want to store here. This compartment is quite large and will easily fit a 15.6" laptop, a Surface Pro or an iPad Pro as well as a MacBook Pro. The extra room in the compartment will hold things like your camera, charger, additional notebooks or notepads. There is plenty of room in this bag, you aren't going to be tight on space.
This bag feels well-made, the zips feel sturdy and the carry handle at the very top of the bag is padded and feel secure. The shoulder straps are well-made and padded giving lots of support and there is an additional chest strap for across your chest, as I've mentioned, to secure the bag to your body, a feature that a lot of bags lack these days. All the handles and straps, as I've mentioned feel secure, and it just feels like a quality bag.
This bag feels well-made, is great value for money (retailing at below £30), won't break the bank and has plenty of space for everything you would need to carry on a day-to-day basis. As mentioned there is an external waterproof cover for this bag, it is not integrated into the bag, but will provide protection from rain and wind and anything else that might damage your valuables inside. I'm really impressed with this laptop bag and I think it will be very comfortable to wear especially on the commute to the office.
Waterproof Inateck Camera Bag Review
The last item I was sent for review is the new Inateck AB02001-L waterproof camera bag. I was so excited when I first opened this camera bag, and started placing my camera gear in it, that I did an Instagram live to share with my viewers and followers my excitement at how lovely and awesome it is.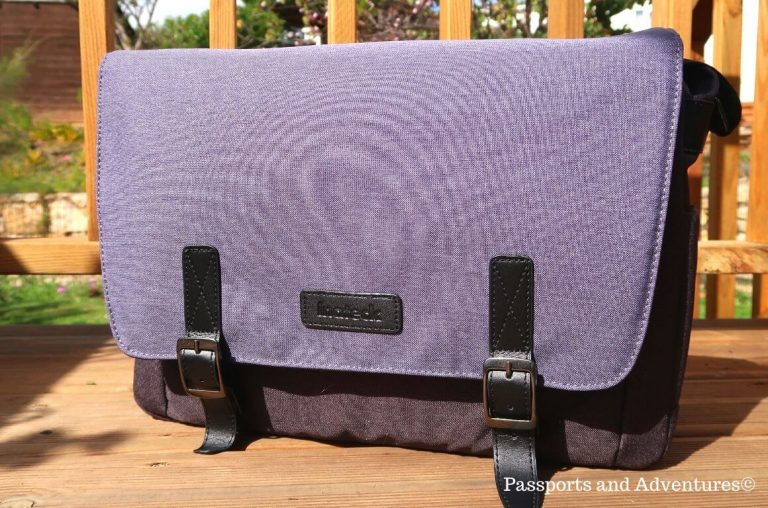 Firstly, the bag is made from nice, almost denim-looking material. The shoulder strap is long but padded, so it will suit small people like me or tall people like my husband. The bag is secured with two magnetic clasps at the front of the bag. These are not your ordinary small magnetic clasps. The outer part of the clasp fits over the receiver part. This makes the clasps feel like they're a bit more secure than general-purpose magnetic clasps. Overall this bag is quite large inside. I was really surprised by how much I could fit into the bag.
Let's talk about some of the compartments this bag has. You first have a set of side pockets on the bag which will fit a small tripod, or your phone, or drinks bottle if necessary. There is a zip compartment at the back of the bag which could be your security compartment for your phone, your wallet or your keys. When you lift the front of the bag you are faced with the main compartment and a smaller zip compartment. The front zip compartment has a few compartments to it. There is the main section, there are two pen holders and two additional pocket sections for holding things like cables, flashcards or additional camera batteries. There is also a security ring for attaching things like your keys, your purse or wallet.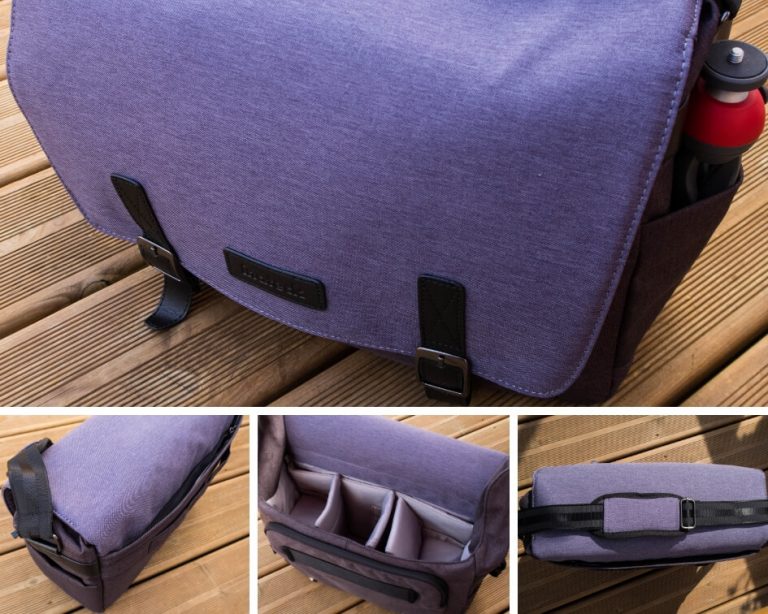 The main compartment is quite large. It has a number of padded dividers which you can use to section out your camera body from additional lenses and there is also a back padded section in which it will hold a 14" laptop, MacBook Pro or a Surface Pro. When I started packing this bag with my camera gear, I was really impressed to see how much it will hold.
I got my Canon 5D camera body with my 100mm macro lens attached to it in a main section. In another section I got my Canon zoom lens and in a third section I have my nifty fifty (50mm lens) along with my landscape lens. I also put my Surface Pro in the laptop compartment at the back of this main section. In the front zip compartment, I have a pen, because let's face it, bloggers never go anywhere without their pens. I have additional camera batteries, compact flash drives, charging cables, and of course a lens wiping lint-free cloth, everything that a blogger or photographer would need.
Although I have all of this in the bag already, there is still room for me to add in things like my phone, a small notepad, my purse and even room to put my Canon G7X camera in, something that I use alongside my DSLR.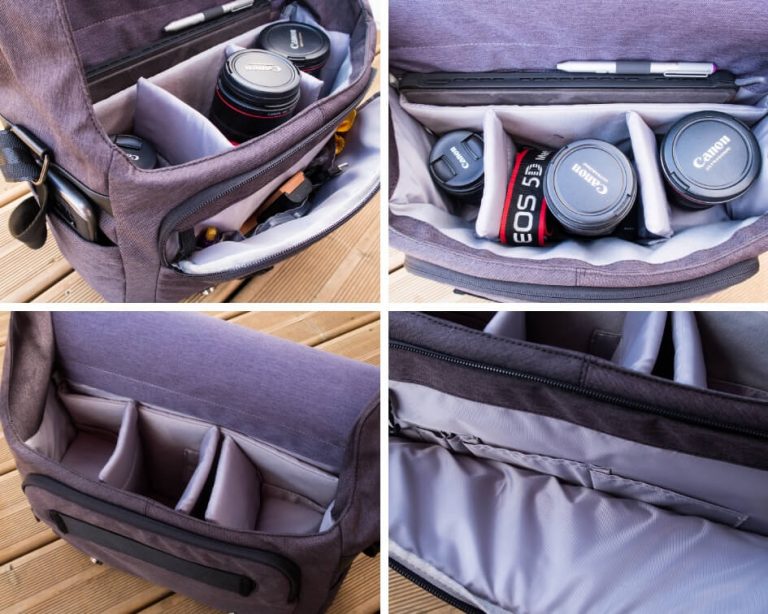 I must admit I have been like a child at Christmas opening this bag, fitting everything into it and using it. It is strange to think that I've gotten this excited about a camera bag, but no none of my previous camera bags live up to this one so far. I have multiple camera bags. I have a rucksack-type one, I have an over the shoulder, bring-around-your-body-type camera bag. But for a long time now, I've not felt comfortable using any of them especially with my son in tow. This bag is going to make using my DSLR more enjoyable than it has been of late.
What I love about the waterproof Inateck Camera Bag
Waterproof.
Large compartments.
Zipped compartments.
Lots of separating pads.
Padded shoulder strap.
Holds lots of gear.
Feels well-made and sturdy.
Value-for-money, retailing at less than £30.
Comfortable to wear.
What I don't like about the Inateck Camera Bag
Summary
I am absolutely thrilled with my new camera bag. Would you believe, I think this camera bag is one of the best camera bags I've ever owned. I haven't been taking my DSLR camera out much because I haven't liked the camera bags I currently have. However, I have a feeling all of that is about to change now that I have my hands on the Inateck AB02001-L Waterproof Camera Bag.
I can highly recommend this bag if you are looking for a bag that will hold a camera body, four lenses, a tablet, MacBook Pro or Surface Pro, and other wires, batteries and memory cards. I'm also impressed with the other Inateck products I was sent for review.
So, if you're looking for a new camera bag, a new laptop bag or a multi-point USB charger, I highly recommend you check out Inateck. You can find all their products that I have been sent for review on Amazon and they are all great value for money.
Cath x
*I was sent these three Inateck products for the purpose of this review. However, as always, these are my honest thoughts and opinions about the products.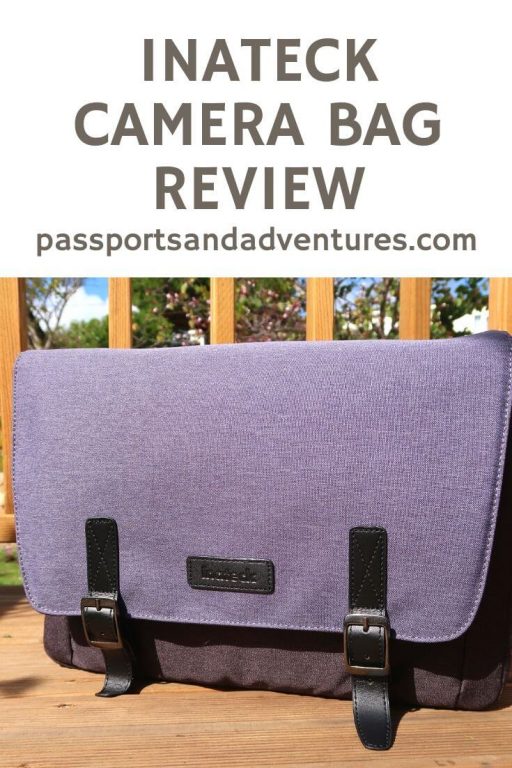 Passports and Adventures is a participant in the Amazon Services LLC Associates Program, an affiliate advertising program designed to provide a means for sites to earn advertising fees by advertising and linking to amazon.com, amazon.co.uk, amazon.ca. Amazon and the Amazon logo are trademarks of Amazon.com, Inc. or its affiliates. To learn more about affiliate links, read my Disclosure Policy here.