Welcome to a brand new feature here in the blog, the Local Family Guide Interviews. In this new series, I am inviting family travel bloggers to share their local knowledge, and give us some hints and tips, to visiting their hometowns, cities they live in or regions they know like the back of their hands. Who better to tell us about somewhere than those who live there or who call it home. And I am very excited to welcome Marta from Learning Escapes as the first blogger to share their Local Family Guide Interview about Rome. Marta also runs the blog, Mama Loves Rome.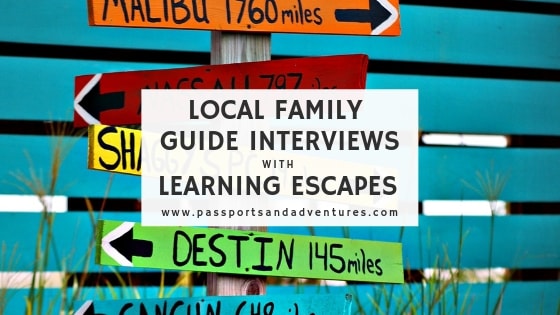 *This post contains affiliate links. This means that if you click on a link and then make a purchase, I receive a small commission at no extra cost to you. To learn more about affiliate links, please read my Disclosure Policy.
Please introduce yourself, your family and your blog.
My name is Marta and I usually describe define myself as a 'travel loving expat mum of two who loves coffee, books and long road trips'. This introduction doesn't say everything about me but I feel catches some of the most important aspects of my life: the fact that I have two kids I adore (they are now 6 and 8 years old) and the fact that I adore travel and the fact that I am an expat: an Italian expat in Ireland, to be precise!
I work as a family travel blogger and share my best tips and experiences about family travel on two blogs: a worldwide one called Learning Escapes and a newer, local one about Rome, Italy.
Where are you located/where do you call home?
I am from Rome and Rome is the city I call home, even now that I find myself living abroad. I spent in Rome the first 30 years of my life and got to know the city not just as a local but as a Roman history scholar too: in university, I studies classics and this allowed me to learn about my home town incredible stories and secrets. I loved every minute of it!
Nowadays I love sharing this knowledge with my children. My family still lives in Rome and we go visit three or four times a year, usually for a week or so each time. When we are there, I always make an extra effort to show the kids my city and see if they can feel it is somehow their city too.
Tell us about your hometown/location?
Rome is a wonderful city and one I recommend everyone to visit with kids (or without!). It is a place you can spend a lifetime in and still not cover in its entirety but easy to enjoy as a tourist too: the main Rome attractions are surprisingly close to each other, you can visit many even with just one day in Rome and they pack a punch in terms of historical significance and beauty.
The Colosseum and St Peter are the most famous of all, but it is incredible the numbers of things you can see if you just stroll around Rome city centre. Charming cobbled streets, churches, shops: you cannot throw a stone in Rome without hitting a wonderful corner.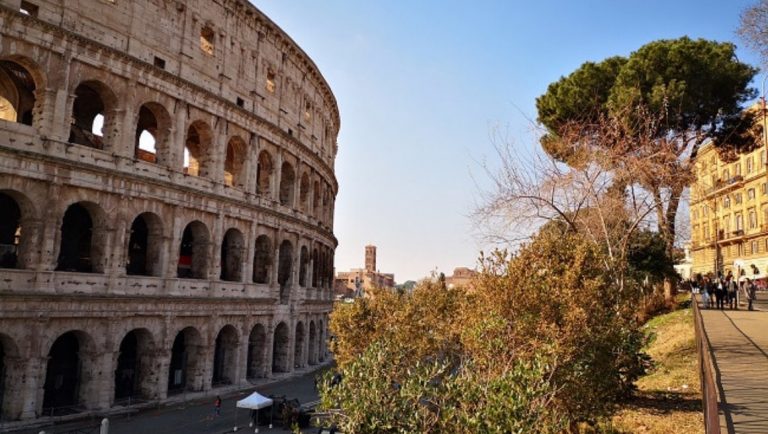 Share with us your top 5 cool things to do in your city/hometown/region for families.
1 – Visit the Colosseum. The Colosseum is not an attraction for children but one that is easy to enjoy at all ages. I always recommend families to start taking in its massive size from the outside: as you get off the metro station just in front of it, it towers above you and no matter how many times you have seen it in photos, it is so impressive it is bound to stop you in your tacks! Children are likely to recognize it from cartoons and books and usually are drawn to the gory aspects of the history of this monument such as the gladiator fights. I recommend taking a tour inside the Colosseum and also reinforce what kids see with one of the 'there and then' books, for sale in all Rome bookshops and showing reconstructions of the Colosseum as it used to look.
2 – Another wonderful historical attraction to visit with children in Rome is palazzo Valentini and specifically its underground area where you can see ancient Roman houses. This is a very special museum: a few years ago archaeologists discovered the remains of some Roman houses under a Reinassance palace and came up with a clever way to make the public enjoy them. They excavated them and then covered them with Plexiglas so you now walk above them, on a transparent floor! The experience is scary if you are afraid of heights (you walk almost 2 meters above the houses) but a thrill for kids. Light effects bring the houses to life giving the experience a great interactive element: only suitable for kids who are not afraid of the dark as in some moments the lights go down!
3 – A very different attraction for kids in Rome is Explora, Rome children museum. The museum has nothing specifically 'Roman' about it but is a great place for small children who may want a space that is just for them. Here you have role play areas (kitchen, supermarket etc), interesting engineering machines teaching about the laws of physics and a soft play are for under 3's.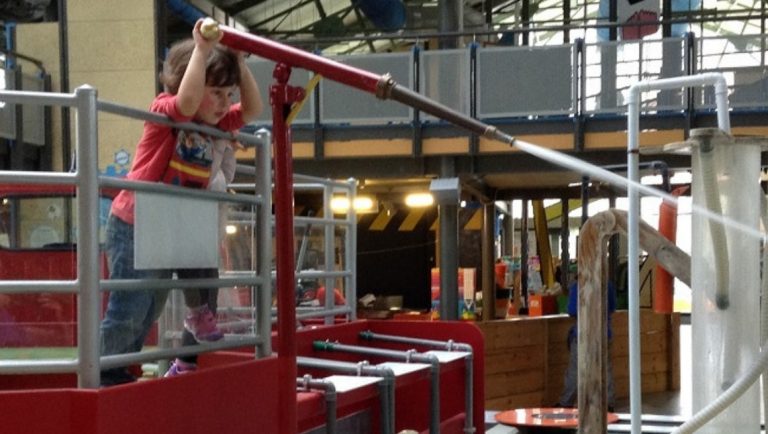 4 – Eat Pizza. And gelato. One of the best things to do in Rome with children is to indulge in the city's amazing food, namely pizza and gelato. You can indulge in these wonderful bites while strolling or you can do what we did and take a pizza making class! This may sound like an activity for tourists and in a way it is, but it is remarkably fun: you get into a real Rome pizzeria, get your hands dirty with flour and water and cook your own pizza in a real wood fire oven before tucking in and eat it. I wasn't expecting it to be as fun as it was but after our experience it is one of the things I recommend everyone to do when in Rome!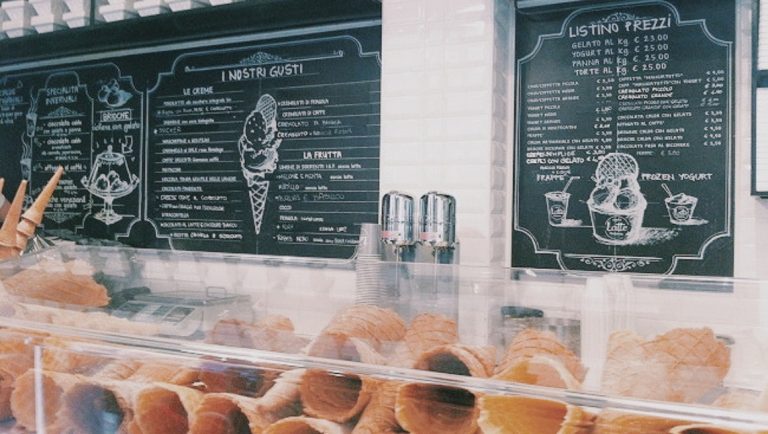 5 – Go to the park. Rome is a large city but it much greener than people expect. In the city centre it has some gorgeous parks and they are always worth visiting. Villa Borghese is beautiful and is home to the Zoo and galleria Borghese (both worth visiting, get a family tour for the gallery) and Villa Doria Pamphili offers wide play areas and stunning views over St Peter's dome. Both amazing park to mix play with sightseeing!
It's raining in your city/hometown/region. What rainy day activities can you recommend for families?
Rome is not well equipped for rain and indoor spaces for kids are few and far between. My favourite are Explora and Palazzo Valentini, already mentioned, as well as La Casina di Raffaello, which is a small and indoor play area in Villa Borghese. The good news about Rome is that even when it rains it is showers more than solid rain: usually an umbrella is enough to wait out the heaviest downpour.
Is there anything families need to know/should be wary of in your city/hometown/region?
The main thing to know about Rome for families is that the city is busy and sadly poorly kept. If you have a child in stroller, you will soon notice that the roads have potholes, the pavements are often dirty and taken over my wildly parked cars and accessibility is almost non existent.
This is not to say the city cannot be enjoyed with kids but more that you have to take some precautions: for instance, always choose a baby carrier over a stroller if you can.
The other thing to know is that it gets very busy. I highly recommend booking skip the line tickets for the main attractions, especially if hoping to see the Colosseum (My recommendation on how to skip the lines are here).
To find skip the line tickets for the Colosseum, and to check availability and prices, check out Get Your Guide.
What are your top 3 tips for families visiting your city/hometown/region?
1 Book early. No matter the season, Rome is crowded so both accommodation and tours fill out fast. As soon as you know you are going, secure a room and tour tours to avoid crazy last minute prices.
2 Stay in the centre. Rome traffic is crazy and having to use public transport daily can easily prove too much, especially with children (buses are not stroller friendly and usually very crowded). Rome has some lovely family hotels in the centre that strike a great balance between location and price.
3 Get a tour or a good book about the city. Rome is stunning and you can easily enjoy the city just strolling around. However, there is so much history there and so many monuments you will find yourself missing out if you don't know what you are looking at and this is true for kids too. To get them ready for the city, I love the Lonely Planet kids series about Rome with titles such as Rome city trails and their not for parents Rome book. Fun and easy to carry!
What type of travelling do you and your family enjoy, and where has been the top family destination that you've visited?
I love cultural travel and this hasn't changed when the kids came along. We love visiting both cities and areas of natural beauty and no matter how much time we have, we try and learn something about the place. In America for instance, we love taking the junior park rangers programmes and in Europe we always try and learn as much as we can about the cities we visit. It is a great way for us all to enjoy a trip together, as both adults and kids can have fun this way.
For fun: if money was no object, where would you take your family and why?
If I could, I would bring my kids on a long trip in the American continent, both North and South! I could love to start from the very South and work our way up across Argentina, Chile, Peru and then end up in the US and Canada, of course including islands such as Galapagos, Rapa Nui and Hawaii. I wouldn't mind adding a stop in Polynesia too…. We are dreaming right?
Thanks so much to Marta for sharing her advice, hints, tips and local knowledge about Rome with us. While we visited before having our son, we are yet to return and are eager to do so.
If you are thinking of visiting Rome with your family, check out Booking.com for hotels and family-friendly accommodation. If you like home comforts like us, why not consider an AirBnB. Click this link to get money off your first booking. And remember to check Skyscanner for the latest flights, prices and availability to Rome.
To find out which destinations we've been to, or for tips on travelling with kids, head back to the homepage and have a look around.