Welcome to another Local Family Guide Interviews, the series in which my fellow family travel bloggers share their local knowledge, and give us some hints and tips, to visiting their hometowns, cities they live in or regions they know like the back of their hands. After all, who better to tell us about somewhere than those who live there or who call it home. And I am very excited to welcome Suzy from Where to go with kids who is sharing her knowledge of Bridlington with us.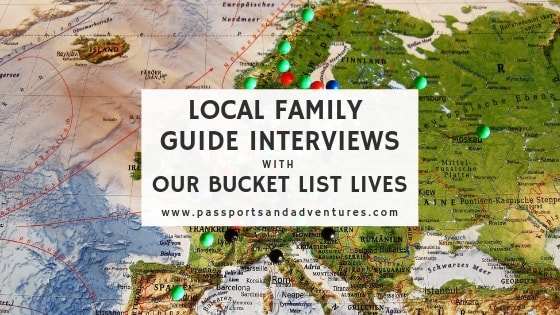 *This post contains affiliate links. This means that if you click on a link and then make a purchase, I receive a small commission at no extra cost to you. To learn more about affiliate links, please read my Disclosure Policy.
Please introduce yourself, your family and your blog.
My name is Suzy McCullough and I write over at Where to go w ith kids, formerly Our Bucket List Lives. My website is focused on our family travel bucket list. It is a list packed full of ideas and inspiration for travel overseas and in the UK. Plus a few non travel related ideas as well. There is also my son who is 5 and loves exploring and going away on holiday. My husband and Grandma also
often join us on our adventures.
Where are you located/where do you call home?
We moved from Lincolnshire to Bridlington last year. We have always wanted to live by the sea and we are so settled and happy here with no regrets. It was quite major moving our son from his school and not only his friends but my friends as well. While we haven't settled in with a group of friends like we used to have, we are happy and we love it here. We can't wait for the weather to warm up so we can visit the beach more often.
Tell us about your hometown/location?
Bridlington is on the coast of the East Riding of Yorkshire. It is one of the more popular coastal resorts on the eastern side of the UK. It is well known for its amusements and fishing harbour with fabulous shellfish. Bridlington possibly dates back to the Bronze age and may even have once been the site of a Roman station. There is a factory on the outskirts of town that makes the famous John Bull Rock. You can even
visit there and go on a tour of the factory.
Share with us your top 5 cool things to do in your city/hometown/region for families.
Bridlington has so much to offer for families. Even out of season there are still things to do. If I had to pick a top 5 I would pick the following:
1 – The harbour. There are plenty of boat rides on offer from the harbour during the warmer months. You can go on a pirate ship, a boat tour to see plenty of sea birds, a speed boat ride and fishing trips.
2 – The fairground rides. Also during the warmer months there is a fairground with plenty of rides for young and old.
3 – The amusements. The largest of the amusement arcades is also home to a cinema and bowling.
4 – The land trains. You can take a land train from Bridlington's north beach up to Sewerby Hall. Or down on the south beach there is a land train that runs between the beach and the park and ride. Which is very handy for a
town with very little parking.
5 – The beach. No visit to Bridlington would be complete without going on the beach. The south beach is perfect
for shell spotting and the north beach is excellent for rockpooling.

It's raining in your city/hometown/region. What rainy day activities can you recommend for families?
If it's raining they have a great indoor pirate crazy golf. Just across from this there is a pub with a soft play area. This is also the main area for amusements where you can also find bowling and a cinema. We love the recently built leisure centre. They have a wonderful pool plus splash area with slides. The water is always lovely and warm and it
isn't too expensive to visit.
Is there anything families need to know/should be wary of in your city/hometown/region?
If you are visiting by car it may be an idea to go to the park and ride during busier times. There is very limited parking in the town centre. Most of it is restricted to one or two hours unless you have a parking permit. As a local we do know the places to try but even at the wrong time of day we can struggle. Bridlington has struggled over the years economically so some of the centre is quite run down. Please don't let that put you off. There's plenty of fun to be had in Bridlington and with lots of recent investment, it really is worth a visit.
What are your top 3 tips for families visiting your city/hometown/region?
Top tip number one would be to eat at one of the fish and chip shop restaurants. The fish and chips in Bridlington are fantastic. With Bridlington having a harbour they have to be great! Top tip number two is to arrive in the town early. It can get very busy from lunch time onwards so if you want to visit in relative peace and quiet and find a parking space then I'd recommend arriving around 9:30-10:00am. My third
top tip would be to also eat early. A lot of the restaurants such as the Cookhouse and pub can get booked up very fast. Booking in advance is always recommended. Our favourite restaurant is Rags which over looks the harbour. This can often be booked up.


What type of travelling do you and your family enjoy, and where has been the top family destination that you've visited?
We love to take short breaks. Mostly because we have pets that can't be left for long. We also love to stay at Caravan parks either with or without our caravan. There's always plenty to do on site and off site as well. We loved our short break to meet Santa in Lapland. It was just magical and actually topped our holiday to Disney World.
For fun: if money was no object, where would you take your family and why?
If money was no object I'd take myself and my family to cruise the Galapagos islands.
Thanks to Suzy for sharing her knowledge, and hints and tips for families visiting Bridlington. You can also find Suzy on Facebook, Twitter and Instagram.
If you are thinking of visiting Bridlington with your family, check out Booking.com for hotels and family-friendly accommodation. If you like home comforts like us, why not consider an AirBnB. Click this link to get money off your first booking.
To find out which destinations we've been to, or for tips on travelling with kids, head back to the homepage and have a look around.