Regular readers of the blog will know that we have been to Bluestone several times in the past. But last week, we were kindly invited to experience a mid-week stay at Bluestone. We have always had a weekend break at Bluestone but since giving up my job to move to Portugal, a mid-week stay at Bluestone suddenly became a very real option.
So, with our new stylish cabin bag in tow, and plenty of warm clothes, off we headed to Faro airport for our return flight to Bristol Airport to experience our first ever mid-week stay at Bluestone.
A weekend break at Bluestone lasts 3 nights and 4 days but was really only the two weekend days for us, as we have always been travelling on the Friday and Monday. This time we were treated to a 4-night stay and enjoyed 3 full days at Bluestone. That said you can arrive early and use the facilities from 11am on the day of your arrival, and on your checkout day you can enjoy them until 3pm. You cannot check into your lodge early though so do be aware of your arrival time and plan accordingly. Check in time for accommodation is generally 4.30pm.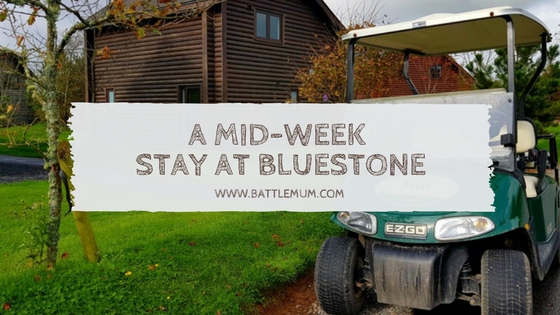 Day 1 of Our Mid-Week Stay at Bluestone
Due to our flight being delayed we didn't arrive until 5.20pm and we headed straight for the Farmhouse Grill for dinner with our friends who were joining us for this stay.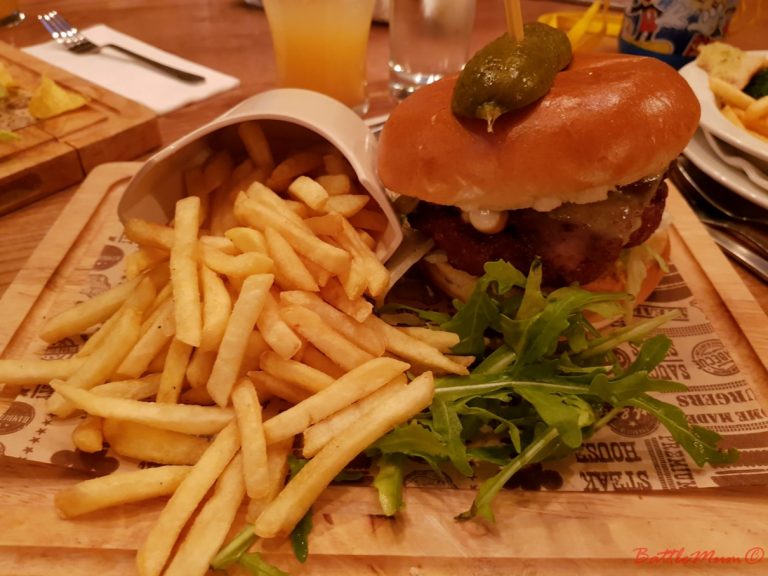 I had booked this restaurant so that we didn't have to think about cooking and could start to relax and enjoy ourselves. We had two sharing platters to start and they were enormous! Plenty of food that tasted delicious. Most of us ordered a burger while BattleKid enjoyed the chicken strips from the kids' menu and L enjoyed a kids' burger. The main courses were generous and tasty. However, as I'd eaten quite a lot of the sharing platter, I couldn't finish my burger. In truth, the sharing platter could easily have covered us four adults.
While everyone else enjoyed some amazing looking desserts, I walked (in the rain!) to our lodge to grab some pictures and a walk-around video for my YouTube channel. The sacrifices we bloggers make in the name of our work hey! Shortly after I'd finished, the others arrived back in our buggy for the week, which I had pre-booked, so that we could all get unpacked and get the kids ready for bed. Following a catch up over a cuppa we all headed to bed suitably tired but happy to be back in Bluestone once again.
Day 2 of Our Mid-Week Stay at Bluestone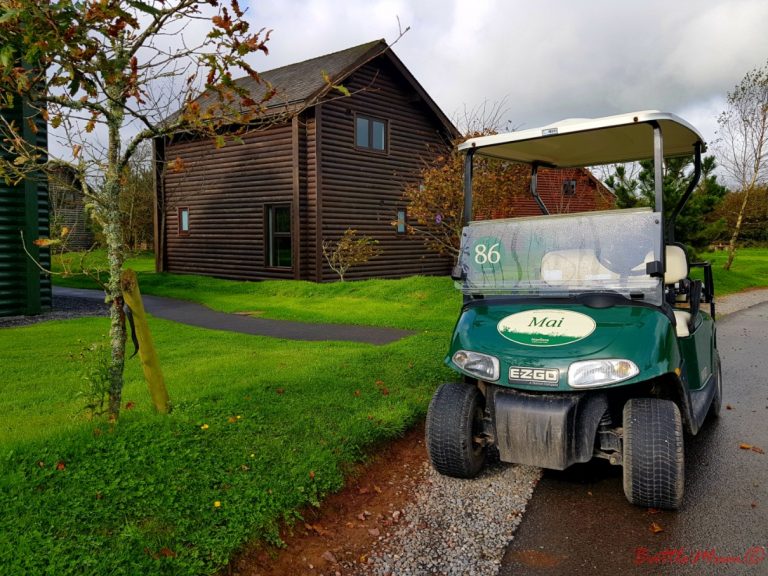 After a breakfast cooked from our Family Welcome Hamper, we got ourselves ready to head out of Bluestone to explore some of Pembrokeshire.
The Family Welcome Hamper has everything in it to start you off food-wise in your lodge. It can be really helpful if, like us, you are travelling from afar and either won't get a chance to visit a supermarket, or don't want to carry fresh food in the car. Including everything you need for a hearty breakfast, a cuppa and a few snacks too, it can work out as a great time saver.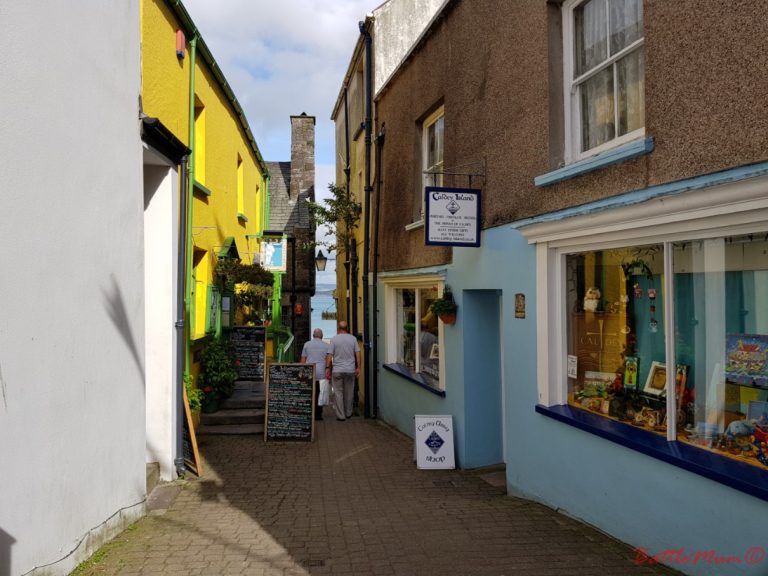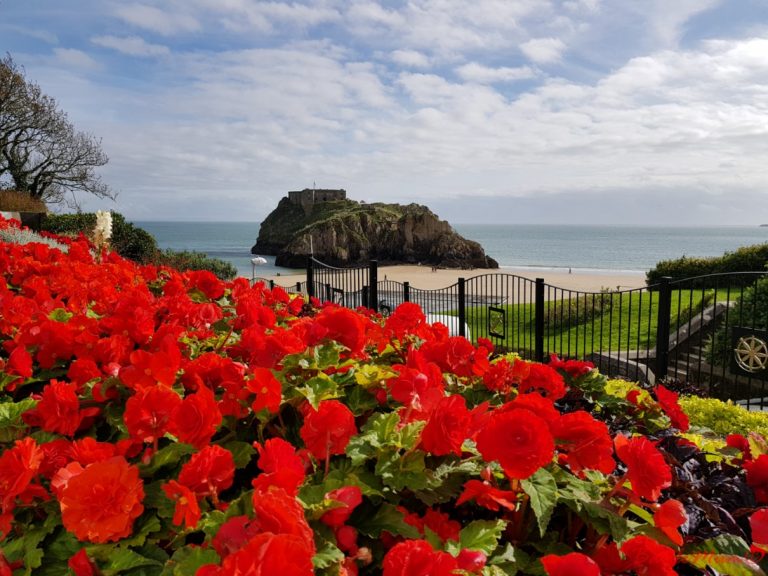 We decided to visit Tenby as the Battle Family had never been before. It had always been on our radar but somehow, we never got the chance. We were very lucky that the rain and grey skies we had that morning cleared by the time we headed out in the cars.
Tenby is a lovely little seaside town in Pembrokeshire and we had a lovely time wandering around the walled town and around the coastal head. We visited the RNLI boathouse and I visited a Boots for some supplies before we enjoyed fish and chips. Afterwards, we then drove to Barafundle Bay but I had to wait in the car while a certain little boy caught up on his beauty sleep.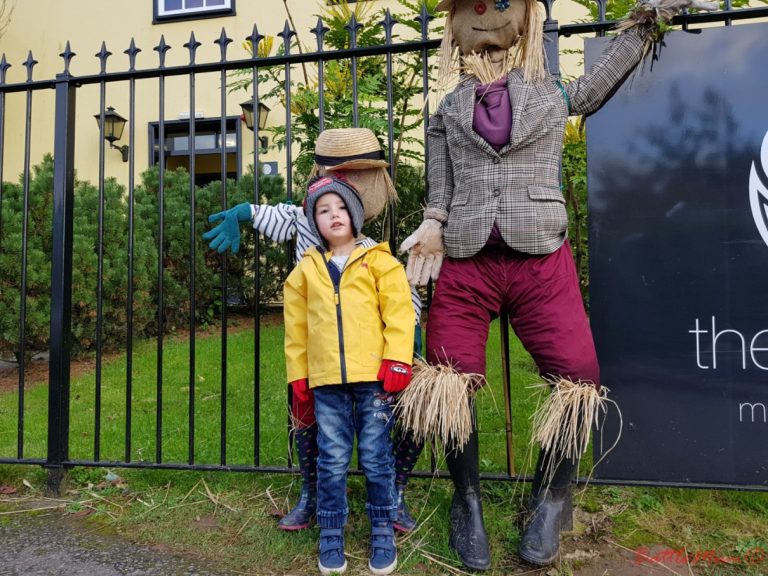 Back at Bluestone, we visited the Oak Tree Restaurant for dinner. Unfortunately, we were a little bit disappointed to find it had changed from the last time we had visited.
The Oak Tree Restaurant had always felt a little more grown up than other eateries in Bluestone, one adults could enjoy even with the kids in tow. With an Italian inspired menu comprising fantastic dishes made from locally sourced ingredients, it felt like the 'treat' restaurant. This time around it was more of a set Italian menu with just pizza and pasta dishes, geared very much for families. Gone were the starters and variety of main dishes. That said, the food was still really delicious and was enjoyed by one and all. Even my main of olives and a salad (still full from my seaside fish and chips) was lovely. BattleKid certainly enjoyed his spaghetti and tomato sauce, even wearing some of it on his eyebrow. After dinner, and once the kids were in bed, we enjoyed our first board game for ages. And I won!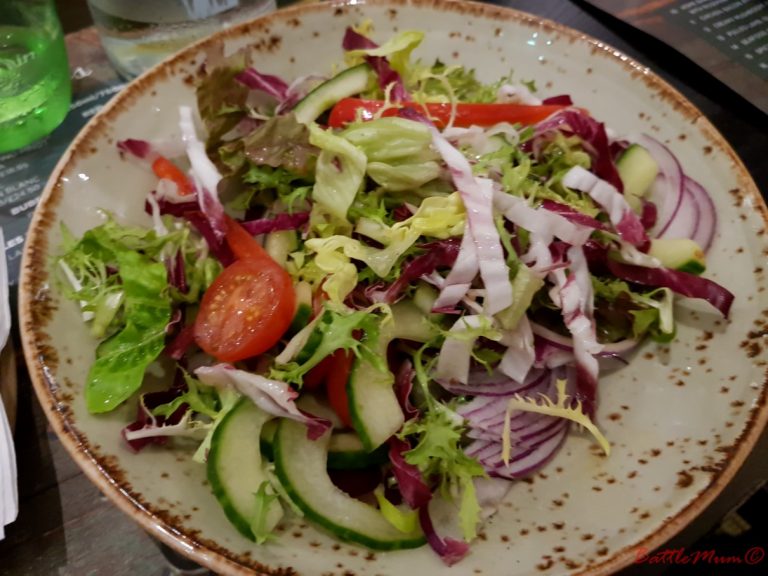 Day 3 of Our Mid-Week Stay at Bluestone
I had been looking forward to this day at Bluestone. Why you may ask? Because as it was her birthday the following week, I had booked myself and S into the Well Spa at Bluestone. I had never visited before and it had been a long time since I'd had a spa day and both us mums were really looking forward to it.
We wandered down at 9am and enjoyed some of the facilities until it was time for our Celtic Combo. This 50-minute treatment involved a back massage and facial and boy was it enjoyable. My therapist Katy found knots in my back I didn't know existed and the facial felt and smelled lovely.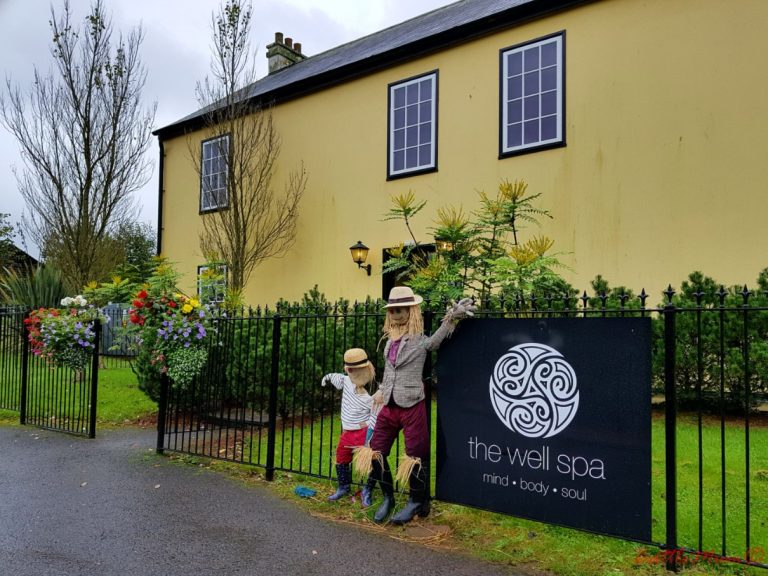 After our treatments, we continued enjoying the facilities, even braving the rain to get into the plunge pool, before having afternoon tea at midday in the café. Once we were suitably relaxed and refreshed we visited the spa shop before going back to reality and our respective children. I cannot recommend the spa enough for mums, dads, couples and grandparents alike. And yes, we saw a few of them in there!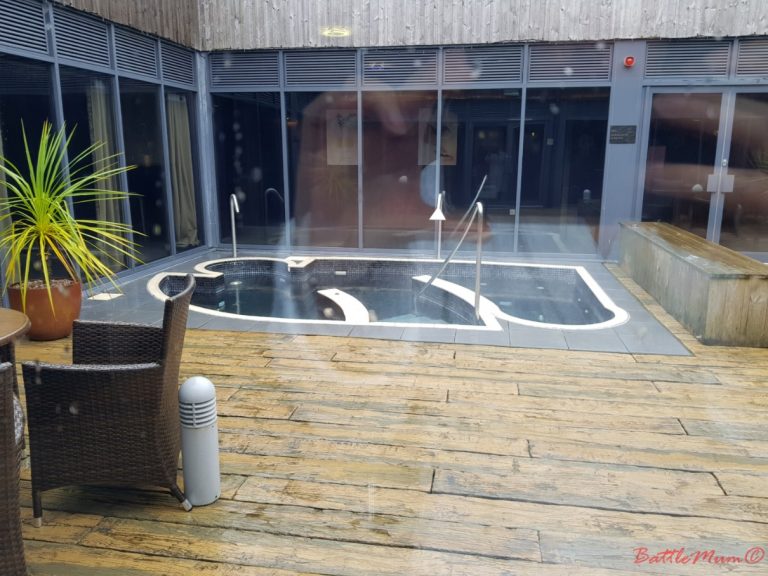 After lunch we all went to the Blue Lagoon for some splashy fun. This is by far one of the best places to visit at Bluestone with kids. The boys thoroughly enjoyed themselves in the waves, the lazy river and the toddler pool. It was a struggle to get them out.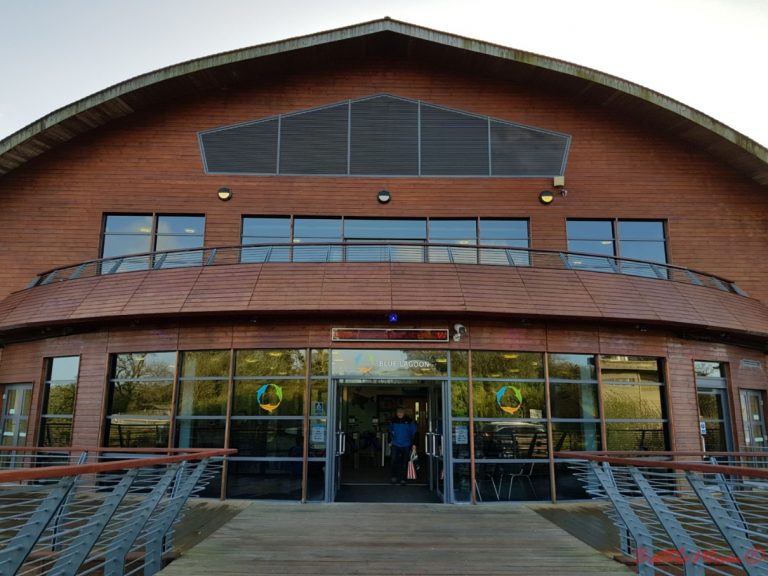 Back at the lodge we got the Dads to collect a Chinese from a takeaway in Narberth. Despite it only getting a 3.5* rating on Google, the food was hot, delicious and enjoyed by everyone. I really cannot understand why it has a low rating. Again, once the boys were in bed we enjoyed some board games but alas, it wasn't my lucky night.
Day 4 of Our Mid-Week Stay at Bluestone
I was up at 7.15am to call Disneyland Paris to make our restaurant bookings for our forthcoming visit in December. Yes, you must book certain restaurants that far in advance! Then, once BattleKid and I were dressed and fed, I took him for a walk while BattleDad worked and the others got themselves up and sorted.
We started by having a walk around the lake and although it was cold, it was a dry morning. Around the lake we spotted the ducks, waved to the tractors and the men working on them. We also saw mushrooms, spotted a bug hotel and a scarecrow fishing in the lake.
Then, we went on a Gruffalo hunt in the deep, dark, wood and found him hiding in a tree. We also spent some time watching a squirrel jumping from branch to branch high in a tree. BattleKid wanted him to come down to the ground and he did, albeit a bit away from us.
To finish off our morning together, I took him to the new playground where he enjoyed time on the slide (getting a wet bum in the process!) and the swings. This is a new addition to the Village since our last visit and it is really good, a great place for little ones to run off some steam.
After our morning together, we returned to everyone in lodge and got ready to head out of Bluestone again. Our destination for this morning was Pembroke Castle for a spot of dragon hunting.
We had never visited Pembroke Castle, and it's quite a lovely one. The boys enjoyed running around the big map of Wales that sits in the centre of the courtyard, before we enjoyed some cake and tea. Afterwards, we hunted the dragon and found him hiding in a hole in the wall. It's a big castle, with many rooms and buildings to explore and is a great place to let two little boys burn off some of that never-ending energy.
On our return to Bluestone we spent a few hours relaxing in our lodge before heading to the Wildwood Café in the Adventure Centre for the Scarecrow Dinner Show.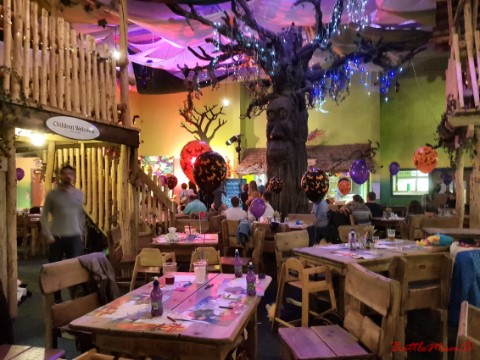 There are shows on twice a week in the Wildwood Café and during certain times of the year they have a theme, such as for Easter, Halloween and Christmas. This show is an interactive one that includes a two-course meal and was enjoyed by us all. The room was decorated perfectly for Halloween and the show involved a scarecrow and crow singing and telling stories and the kids really enjoyed it.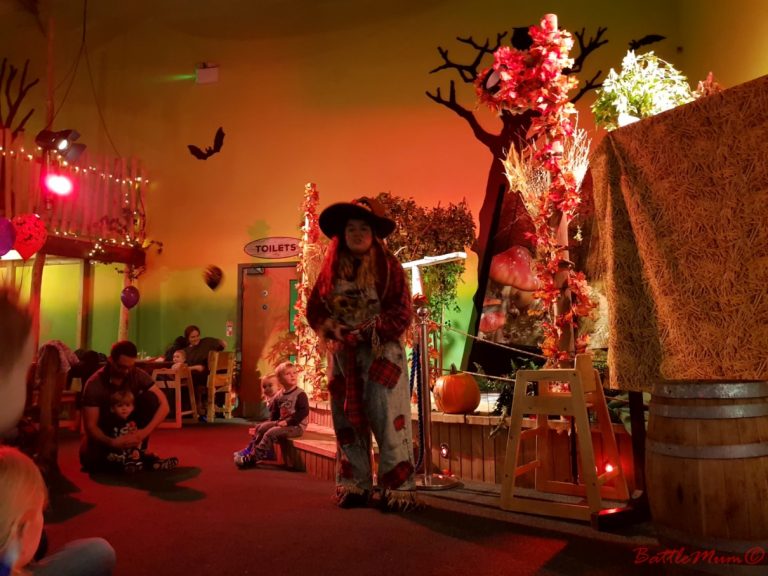 Afterwards we joined the Bwbach Parade down to the village before the Bwbach Festival started in the centre of the Village with games and music.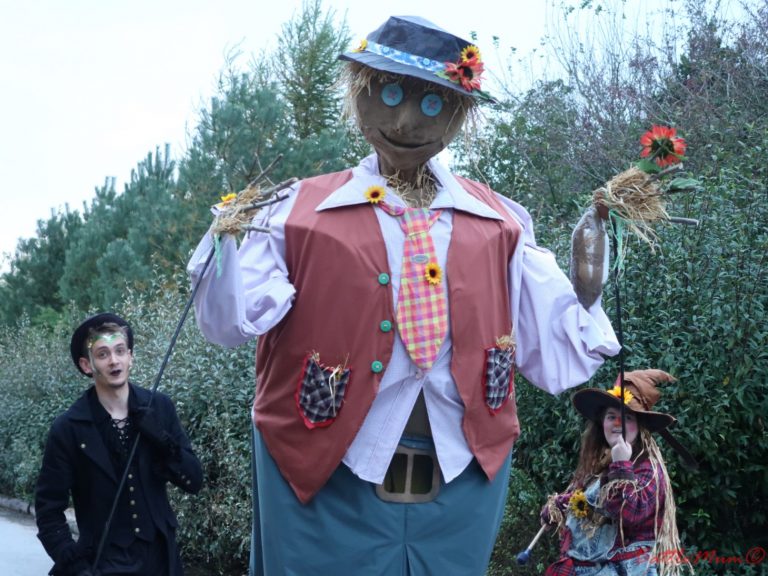 The boys also enjoyed some time playing in the playground before we hopped onto our buggy back to our lodge in the rain. It was a great way to end our first ever mid-week stay in Bluestone and I think our whole party enjoyed themselves.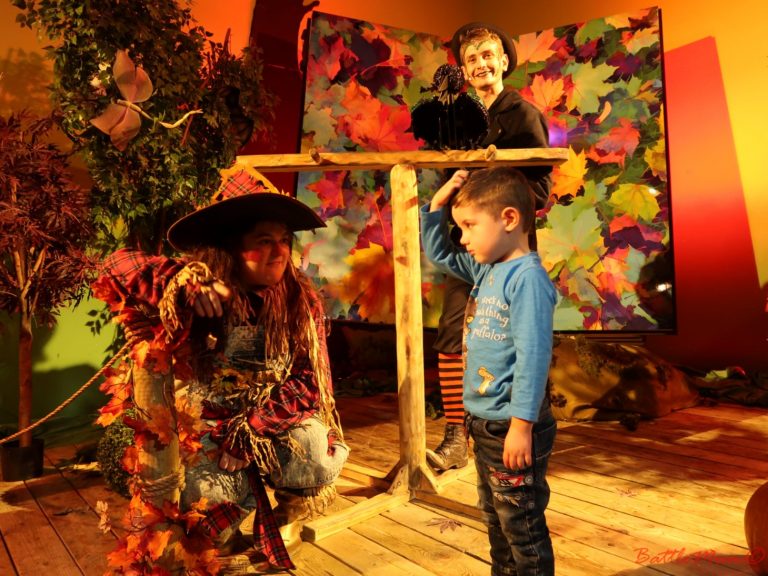 Day 5 of Our Mid-Week Stay at Bluestone
As is normal, check out on your last day is 10am. We were all up early and as BattleDad and I had some errands to run before we headed back to Bristol for our return flight to Faro so we left just after 9am.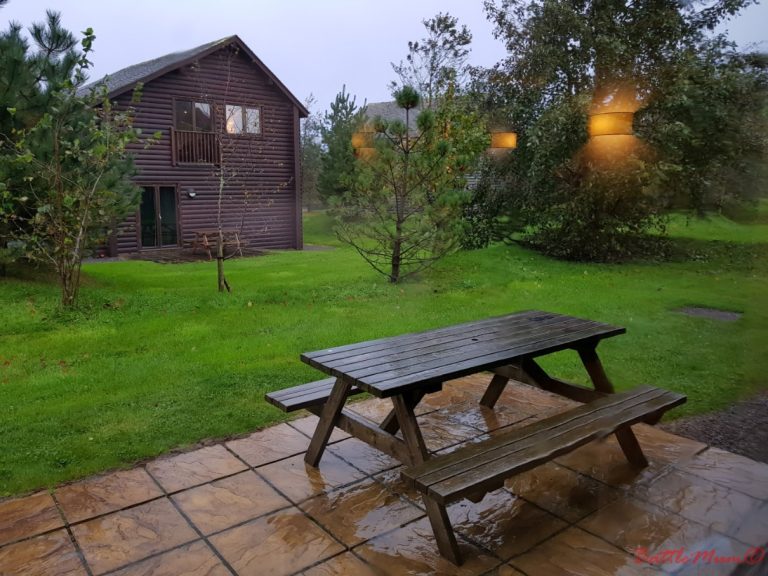 As mentioned above you are welcome to stay and use the facilities at Bluestone until 3pm, handy if you aren't in a rush. BattleDad and I visited our old stomping grounds in Wales before stocking up on sausages and rashers in Asda. We also visited Abergavenny for a last cuppa after getting the boys' feet measured in Clarks.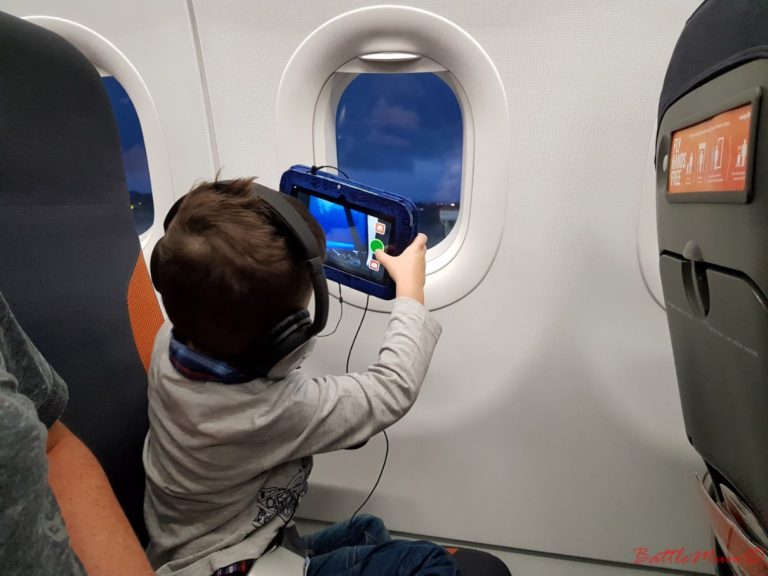 A Mid-Week Stay at Bluestone versus a Weekend Break
I thought it might be useful to sum up how a mid-week stay at Bluestone compares to a weekend break. We've actually stayed at Bluestone for a weekend at the same time in October before, so it's easy for me to compare the two.
While we've always enjoyed our weekend visits to Bluestone, they have always felt a bit rushed. Spending most of Friday and Monday travelling, you only really get two full days at Bluestone. A mid-week break gives you at least one extra full day and it felt more relaxed for us. The restaurants also didn't feel as full or rushed compared to weekends and the Blue Lagoon wasn't as busy.
The playground only got busy after the Bwbach Parade but didn't feel full at other times. When BattleKid and I took a stroll around the lake and into the woods we hardly saw anyone.
Having that extra day meant we could also explore areas of Pembrokeshire for two days while still having a day to enjoy ourselves in Bluestone. Our mid-week stay at Bluestone felt more relaxed and less busy than weekends and given the choice I'd do a mid-week again. That said, Bluestone is enjoyable, no matter whether you chose a weekend, mid-week or 7-day stay.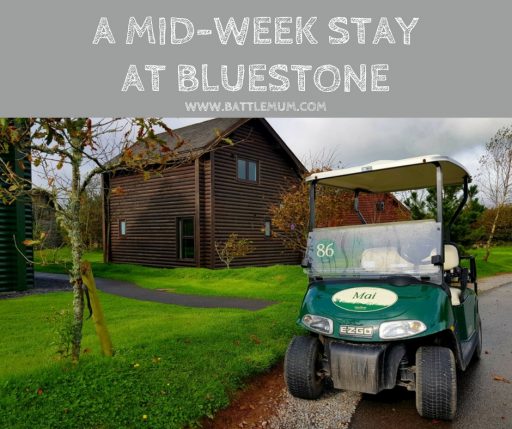 I cannot recommend Bluestone National Park Resort enough as THE place to go for a relaxed family holiday in Wales. Whether you only have a weekend break, or longer, it is a great family-orientated place to stay. Ideally located for exploring Pembrokeshire and more of West Wales, you can be as outdoorsy as you like, or not. There are plenty of things to do for the whole family at Bluestone and in the surrounding areas, so you won't be bored. Each lodge really is family orientated and with everything a family would need for a home-away-from-home holiday. I'll be talking about our Grassholm Lodge in greater detail in a forthcoming post next, but suffice to stay, like all the lodges we've stayed in, it was comfortable, homely and had everything we needed for our mid-week stay at Bluestone.
Have you visited Bluestone before? If not, why not check out their website and see the range of lodges they have and availability! And if you are still not convinced Bluestone is THE best holiday destination, then please take a look at this great review from Are We Nearly There Yet, who I think might have also stayed in a Grassholm Lodge!
Cath x
*We were kindly invited to enjoy a mid-week break at Bluestone, receiving complimentary accommodation for the duration of our stay. However, as always, these are my own honest thoughts and opinions about our stay at Bluestone. Please note, we paid for all activities, restaurant visits and the buggy hire for the duration of our stay.