As a wanderlust family, we love to travel and do so as often as our finances and BattleDad's work allows. We average about three holidays a year that involve flying, with weekends away thrown in for good measure. Packing a family for a holiday is no mean feat, as I'm sure most parents will agree, but one thing that is always a bug-bear of mine is getting our carry-on luggage sorted. I have been on the hunt for a carry-on bag that will fit all our needs. And I might just have found the ultimate cabin bag from CabinZero. Imagine my delight when they recently got in touch and offered me the chance to review one of their bags.  They also have a special offer for you, so read on.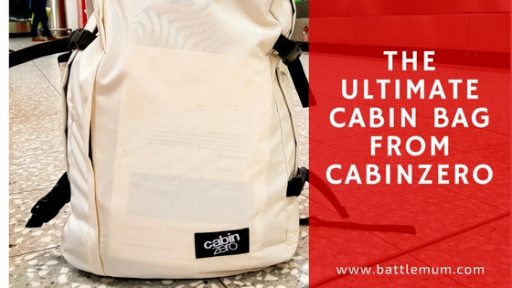 CabinZero bags first came to my attention earlier in the year but for some reason their name escaped me when I started trying to find the ultimate cabin bag. As a mum of a pre-schooler I have travelled with a baby change bag for a few years. This always had everything I needed for him but we had to travel with at least a second bag for anything my husband and I needed for flights. Even worse, I had to travel lightly myself if I was flying solo with our son.
However, after our son was toilet trained I no longer had the need for a cumbersome change bag. And so, my search for the ultimate cabin bag commenced. We considered normal backpacks but nothing quite suited our needs. Large weekend bags were just awkward to use with an energetic pre-schooler in tow.
What I believe is the ultimate cabin bag from CabinZero has been designed by a British company and is the brainchild of Neil Varden, the founder of CabinZero. In his own eternal quest to find a lightweight, lockable, trackable, durable travel and cabin bag, he designed his own and CabinZero was born. Hailed as an urban carry-on, these lightweight cabin and travel bags are not only practical but very stylish. All the CabinZero range are cabin sized and fits 55 x 40 x 20cm. They can be carried in a variety of ways including by hand or as a backpack. This alone was a huge advantage for me. Having both options when travelling with a pre-schooler is a must.
CabinZero bags come in a range of capacity from 28L to 44L, they have global tracking built in with Okaban, have lockable YKK zips, are made from lightweight, yet durable materials and come with a minimum 10 years warranty. And there are loads of colours to choose from. All of this, in my eyes, makes them the ultimate cabin bag.
I received the Classic 44L Cabin Zero bag in white for review and was absolutely thrilled to receive it prior to our recent visit to Bluestone in Wales. And believe me, choosing one colour is not as easy as it sounds as the range available is large. We have visited Bluestone many times before, but this time we were going as part of their Bloggers Programme and we were also flying into the UK from Portugal. So, this gave me the perfect opportunity to road test our CabinZero bag.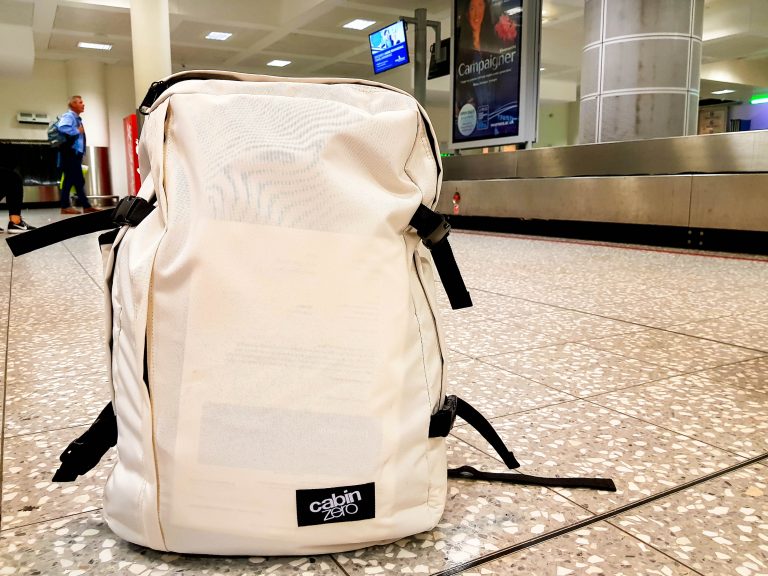 When I received my bag from CabinZero I knew instantly what it was that first piqued my interest in them. It's how stylish they are! They don't resemble your typical hiking backpacks and yet still maintain a look of versatility, durability and most importantly, style. On closer inspection it's a great bag made of high-quality materials. The outer shell is a waterproof polyester, with the inner being made from polyester. The zips are YKK zips and are strong and have loops to allow them to be locked for safety and security. The seams and stitching are well constructed too.
The main compartment is large, mine with a 44L capacity. There is an internal zipped compartment and a netted one too. In the front is a side-zipped compartment which is large enough to store my 15" laptop with room to spare. The sides are secured with strong side release luggage straps too. The bag has two carry handles, one on top and one on the side and has strong, padded shoulder straps to convert it from a carry bag to a backpack. The back is also padded.

Do I really think this is the ultimate cabin bag from CabinZero?
Simply put, yes. On our recent trip back to the UK this bag ticked all the boxes for us. BattleKid had his own little bag with his tablet and a few small toys in it for the plane, while our CabinZero bag contained everything else we needed for the plane journey and more. I packed the following items into it, with room to spare:
A bag of spare clothes for BattleKid.

A bag of spare t-shirts for BattleDad and I.

A set of Bose QC15 headphones for BattleKid (not small in their case!).

Toiletries bag containing essential just-in-case items for the plane.

Spare tablet for BattleKid.

My blogging notebooks and pens.

Wallets, sunglasses and light jackets for all three of us.

Portable chargers and cables for our phones and tablets.

All our travel documents and papers.

Snack boxes for BattleKid and his drinks bottle.

Additional bottles of water bought at the airport.

BattleKid's Adventure Belt.
On the way back from the UK I fitted even more into the bag. And again, had room to spare. The 44L CabinZero Classic bag really is big.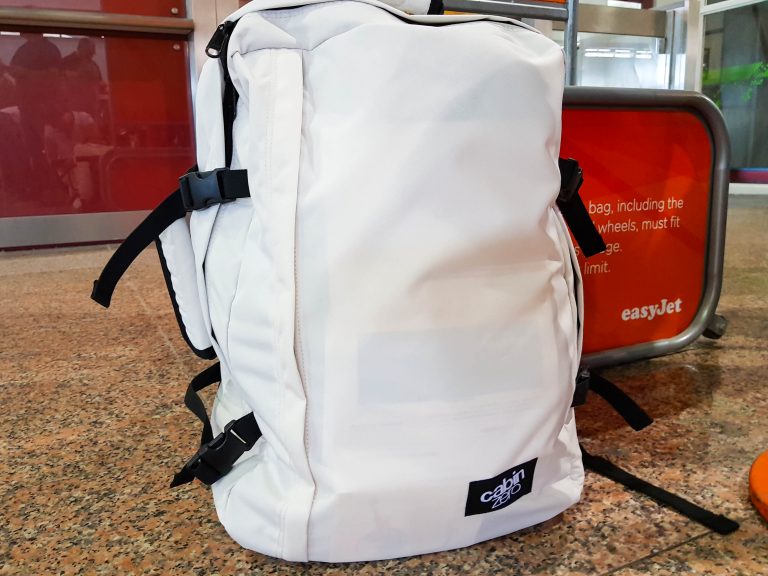 And while we were visiting Bluestone, it doubled up as a day-out bag. I hadn't brought a spare bag with me, so for our trips out to discover some of Pembrokeshire, it worked well to carry spare clothes and snacks for BattleKid.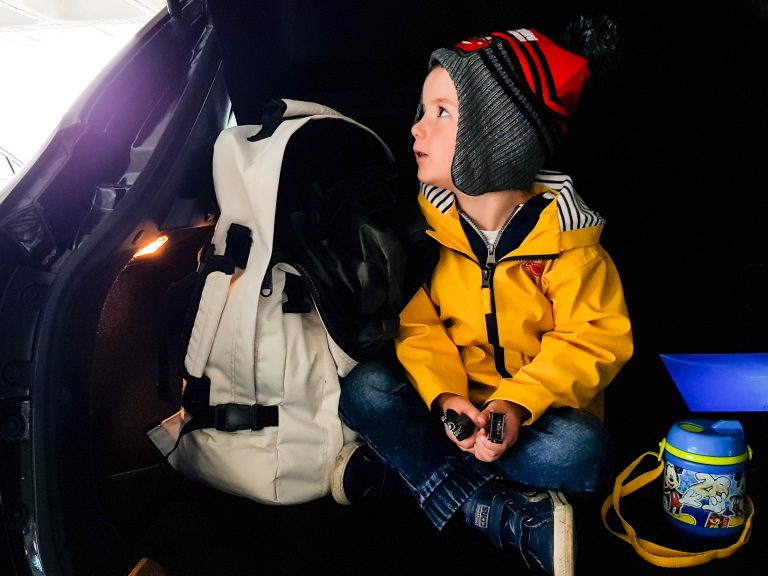 Within Bluestone, it came into its own when we visited the Blue Lagoon, their swimming pool. I managed to fit all our swimming gear, towels and toiletries inside. And it fit neatly into the changing lockers too. It was truly an all-round perfect bag for our trip to Bluestone from Portugal.
What I loved about the ultimate cabin bag from CabinZero
Ultra-lightweight, weighs only 760g so doesn't impact your weight allowance like some bags.

Airline approved (50 x 40 x 20cm) so will fit even the meanest of airlines' carry-on limits.

Made from strong, durable materials and has a waterproof outer lining.

Made with YKK zips which are lockable for safety and security.

Thick padded shoulder straps to use as a backpack. Has two carry handles on top and at the side.

Comes in a range of capacities from 28 to 44L and a large range of colours are available.

Fitted everything we needed into it, with lots of room to spare.

Doubled-up as a day-out bag while out and about in Bluestone and wider afield in Pembrokeshire.

Very comfortable to wear and easy to fit into overhead lockers on the plane.

Having a backpack type bag is always handy when travelling with a pre-schooler as it leaves both hands free to keep hold of them in busy airports.
What I didn't like about the ultimate cabin bag from CabinZero
Nothing at all, although a chest or waist belt could make it just that little bit more secure when travelling. But this is not essential
Our overall verdict is this bag is absolutely brilliant, as not only a cabin bag, but as a day-out bag too. For families it is by far an extremely versatile bag, that is not only stylish but comfortable to wear, and with lots of room for both kids and adults' essentials.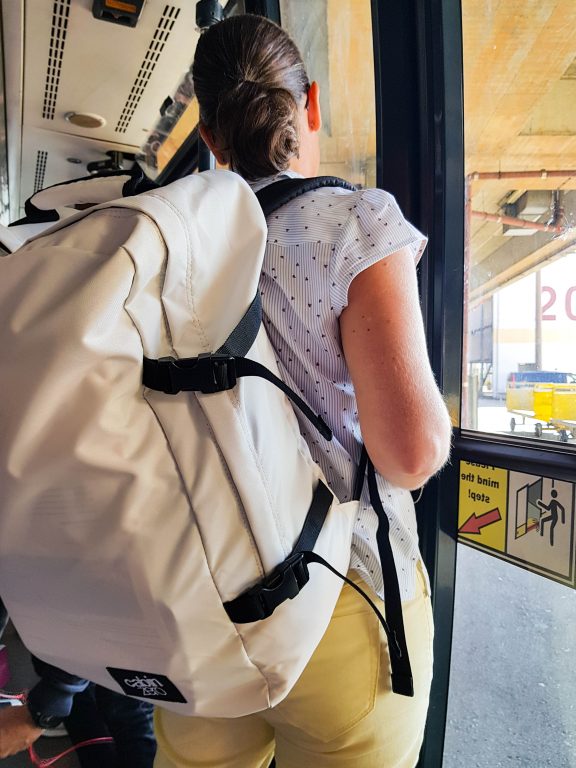 I cannot express how thrilled I am to have had the opportunity to receive a CabinZero bag for review, and have already gotten rid of one of my other backpacks that I'd been using as a travel bag. This fits everything we, as a family, need for a comfortable plane journey (and more), and will get a lot more use from here on in, starting with an overnight stay in Northern Portugal tonight and also our forthcoming trip to Disneyland Paris in December.
So, if you are sick of struggling with cabin bags and are on the hunt for one that ticks all the boxes, I highly recommend you check out what I believe is the ultimate cabin bag from CabinZero. There are bound to be a few that will fit all your needs. Not only will you have a cool and stylish cabin bag, but also something that easily and comfortably doubles up for days out, wherever your wanderlust takes you. BattleDad has already hijacked it for a business trip back to London this week!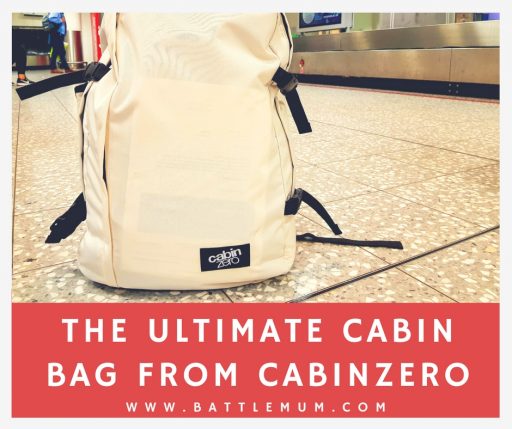 And that's not all. The lovely people at CabinZero are offering my readers a 10% discount off their entire order on the CabinZero website for the next 30 days (expires 27th November 2017). Just use the following code at the checkout:
CZBATTLEMUM
If you'd like to get your hands on a great cabin bag from CabinZero, check out the full range on their website.
Cath x
*I received the Classic 44L white CabinZero bag for the purpose of this review. However, as always, these are my own honest thought and opinions of the bag.
**To remain fully transparent, please be aware that this post contains affiliate links. That means that I receive a small commission if you make a purchase after clicking the link – this doesn't cost you anything extra and helps support my blog. Thank you.