After an alright night's sleep with just two shout-outs from BattleKid we got up at 6.30am, got dressed and my Mum dropped us out to the airport. Although it was a very short stop-over in Dublin, we were grateful for the chance to see our families (although we didn't get to see Corrina) and to share in my parents good news. I'm so excited for them and of course delighted to have somewhere nice to go for holidays in the future. Tavira and the surrounding areas that I visited during a visit with them and I know my parents will be happy there.
We left my parents' house at 7.15m, taking just 25 minutes to get from Tallaght to the airport thanks to light Sunday traffic. We checked in, went through security and headed to one of the restaurants in Terminal 2 for breakfast. I ordered Eggs Florentine, which I had never had before, and it was rather yummy. I'll be ordering it again if I ever see it on a breakfast menu. BattleDad was sorry he hadn't ordered it once he tasted it!

At 9am pre-clearance opened so we made our way there and got through fairly quickly. It's such a good idea to be able to do immigration clearance in Dublin airport before you get on your plane to America. It certainly made a huge difference to us travelling with a toddler in tow and it's something we will do in the future should we visit America again.
After pre-clearance we made our way to our gate, stopping at a duty free shop along the way to get BattleKid an Aer Lingus teddy for the flight as we'd left George at home. We waited by our gate for our flight to start boarding and BattleKid was quite well behaved, watching planes taking off and landing and shouting "oh aerflane".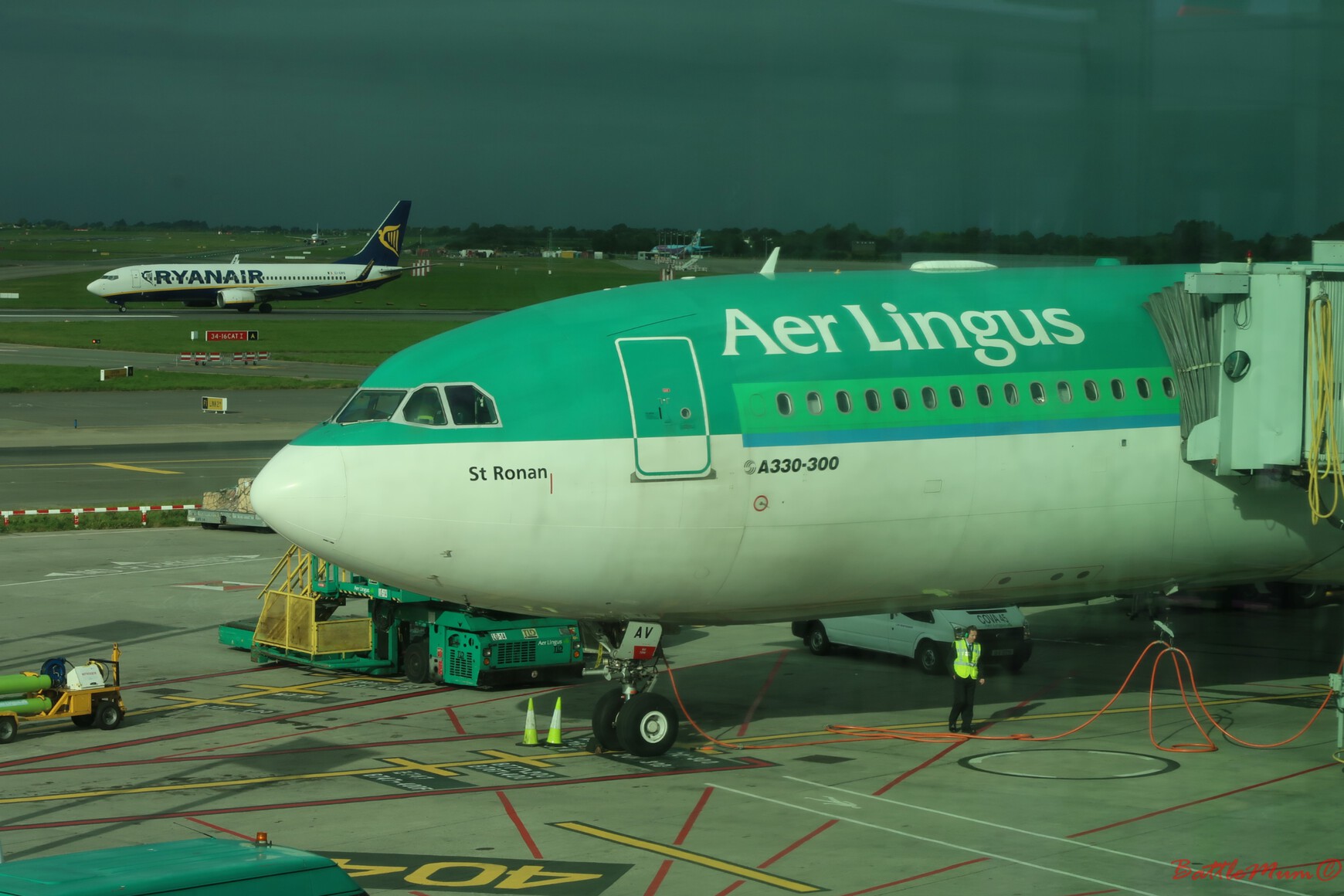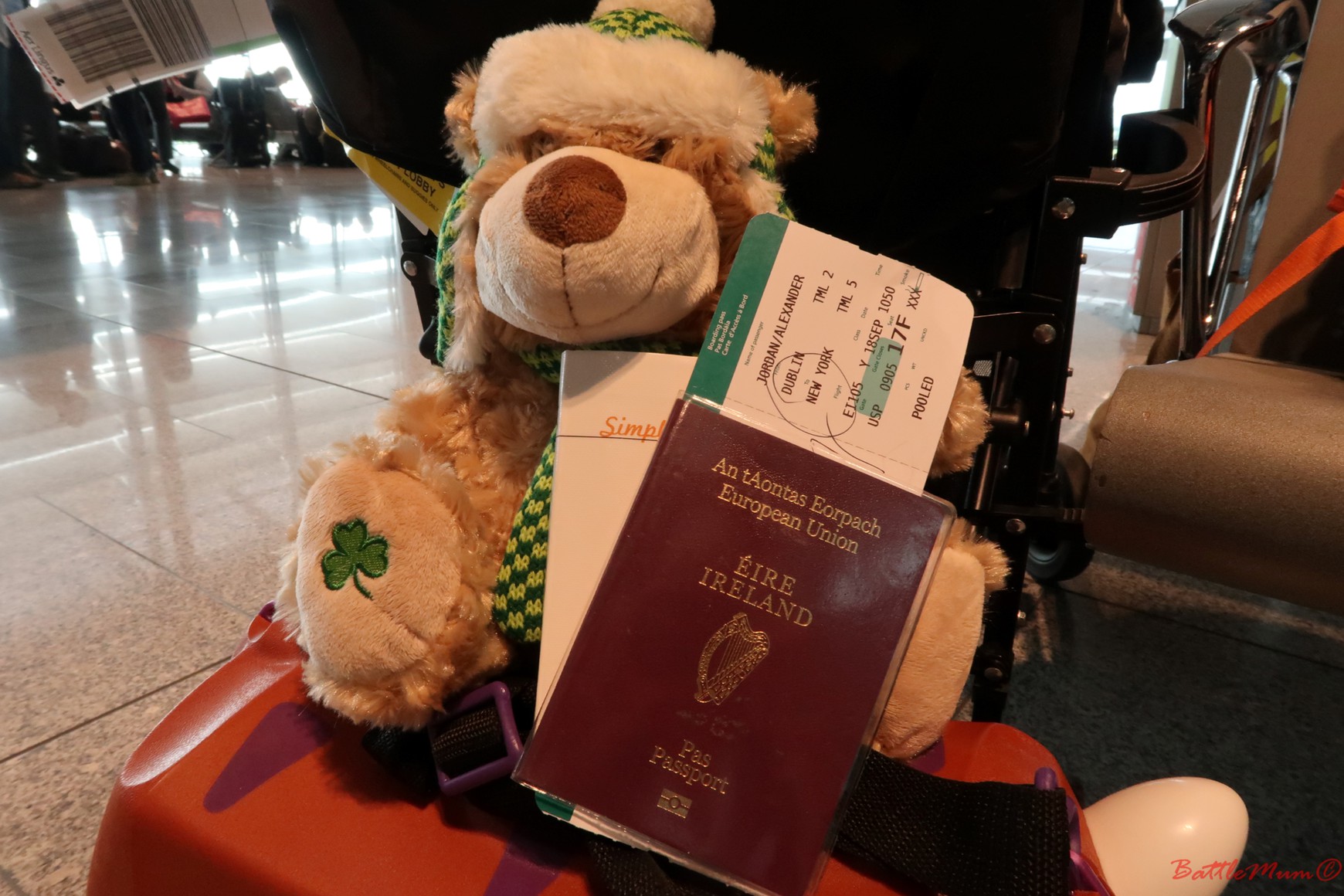 We were lucky to be able to board with the first and business class people as they called for families travelling with young children to board alongside first and business class. Again this was great as it meant we could get BattleKid settled and sort out what we needed from our bags before everyone else boarded. We stowed our bags and got into our seats, leaving the aisle free of us and our toddler, haha.
Surprisingly the movies were available to start watching as soon as you board which was a first for me. When I'd travelled long haul before they didn't start until you were in the air and I tell you, it was a treat because we found The Jungle Book 2 was showing so that was BattleKid sorted for an hour or so! After he got bored of this, BattleKid moved onto his tablet where he watched episodes of Curious George, The Gruffalo and Room on the Broom on repeat. He was quiet and content which was the most important thing for Mum and Dad.
Come lunch time and BattleKid only picked at the chicken I ordered for him as it was a spicy tomato sauce for him. It was really nice though and I enjoyed it. BattleDad had a beef chili con carne so that was out of the question for BattleKid. If there is one thing I was disappointed with the flight, it was the lack of options food-wise for BattleKid. I never thought to fill in the dietary requirements section of our booking to request non-spicy food for BattleKid but I know in future. So if you take one thing from these Holiday Dairies it is to request certain foods for your children if they are not into spicy foods or if there are certain ones they won't eat.
After lunch I had about an hour and a half's sleep until the afternoon snack was served. BattleKid hadn't slept but he had been quiet the whole time, either watching his tablet or playing on the Sony PSVita that BattleDad had put into our bags last minute. That was a stroke of genius on his part as BattleKid got stuck into the car game that BattleDad loaded up for him! This has been duly noted for our trip to Tenerife in December I can tell you.

We landed before 1.30EDT (local time). We let most of the other passengers disembark before us and many of those who had been seated around us commented how good BattleKid had been on the flight. This is always nice to hear as a parent who, like many before us I am sure, had fretted about how the longer flight would go with a toddler in tow. We collected our bags and headed straight for a taxi, having done immigration pre-clearance already.
I turned on my phone to bad news that BattleDog #1, our female black German Shepherd, had taken ill. I text our kennels lady, S, back after getting her answering machine and while we were on our way to our AirBnB accommodation I managed to get through to her. Now T was twelve and a half and her hind legs had been getting weaker due to hip dysplasia so I was expecting it to be joint related. However, S thought T may have had a mini stroke as her hind legs were drastically weaker than before. S had used a harness to get T on her feet and had given her some medicine to help open up the blood vessels to get oxygen around her body. T had improved slightly with this and had eaten a little bit and S said she would do everything she could to keep T going until we got back. But I did have the difficult conversation with S that if she thought it was time to let T go we were giving her permission to make the decision if it was in T's best interest.
This news was a bit shocking and I think both BattleDad and I were brought back down from our "we're in New York" high with a bump. We knew there was nothing we could do from where we were so we had a chat about it, while BattleKid slept, and decided that we should just try and enjoy ourselves and deal with any call from S if it should come. And it was during that phone call to S that we were informed of the bombing in Chelsea the day before. Scary, not what we wanted to hear on the day of our arrival into New York.
BattleKid slept all the way from the Airport to our AirBnB accommodation in Astoria, just across the river from Manhattan. We met Jada, our host, who let us drop our bags in the apartment before she showed us around it and let us collect keys. We were 2 hours early for the check-in time so we decided to head for the Subway and go into Times Square as Jada had said it was only 20 minutes direct from Astoria Boulevard Station into Times Square.
So that's what we did. And as we came up the stairs from the Subway, the first thing we did, like typical tourists, was look up and go "Wow". You see the skyscrapers in films and TV shows but nothing quite prepares you for seeing it in person.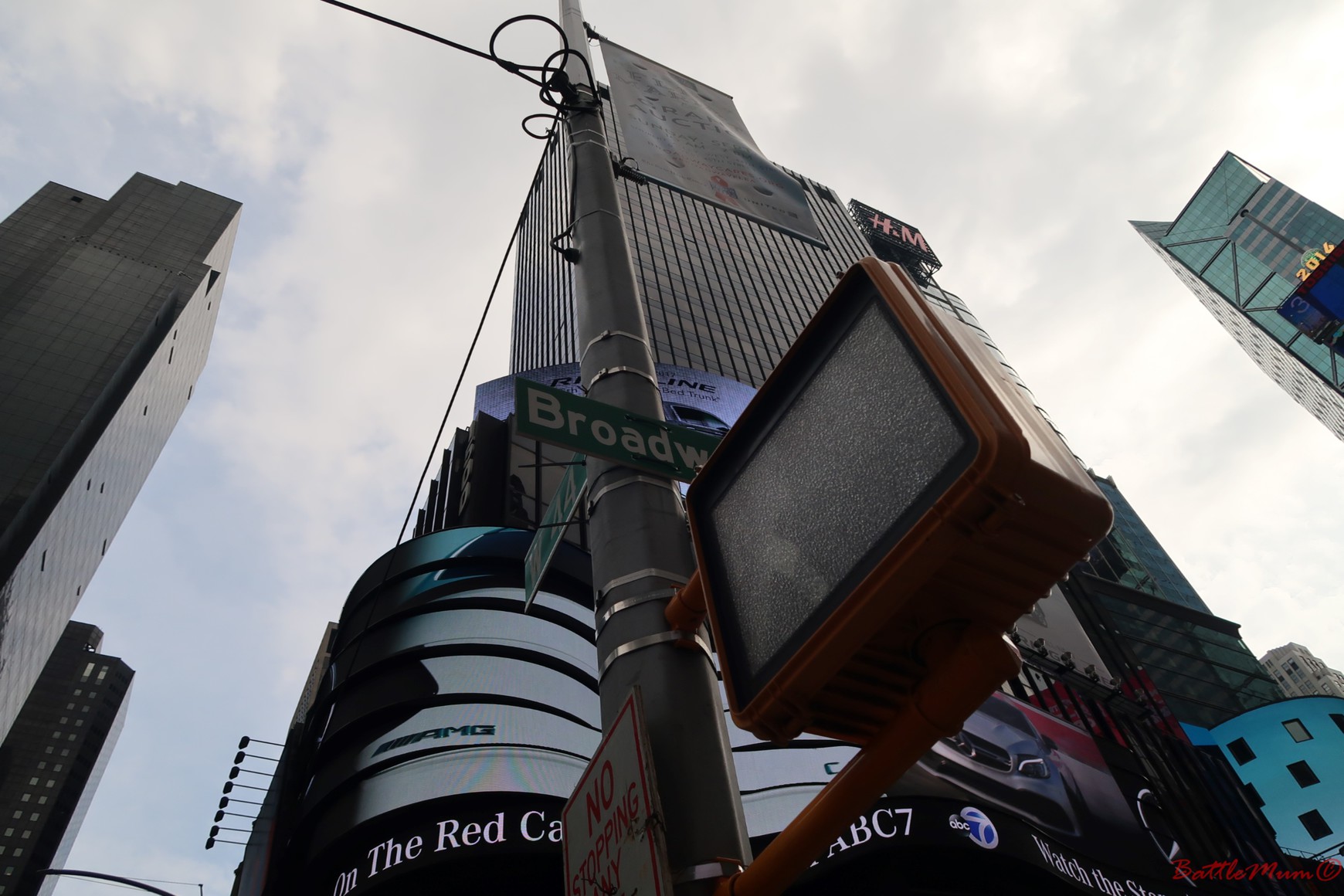 We walked around the corner and hit Times Square and did another "Wow". Unfortunately, the main section was fenced off, either for refurbishment or due to the previous day's events but we still got the full effect of the bright lights in the big city. We had watched the recent BBC2 mini-series about New York and had seen behind the scenes of the billboards and it was amazing seeing them with our own eyes.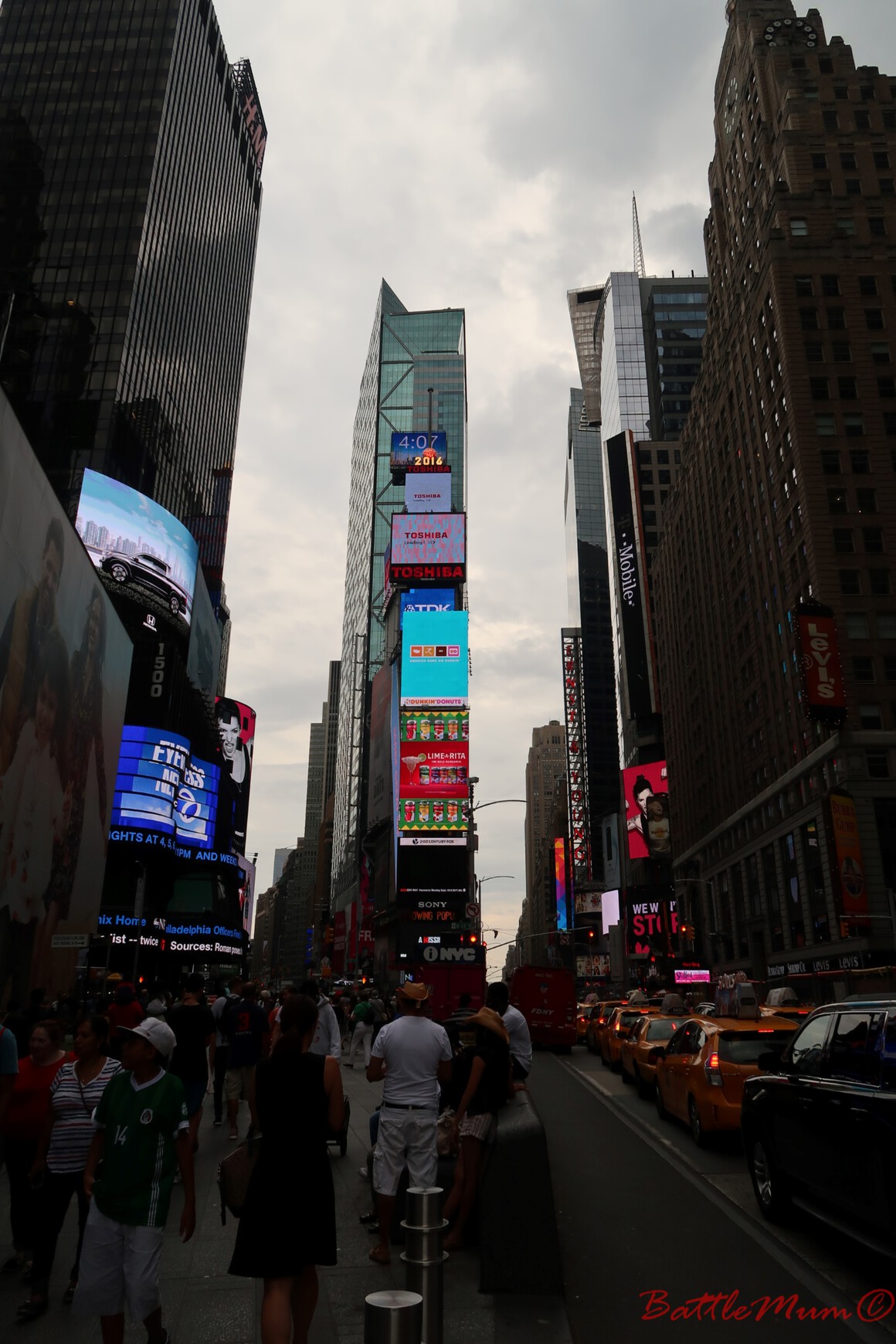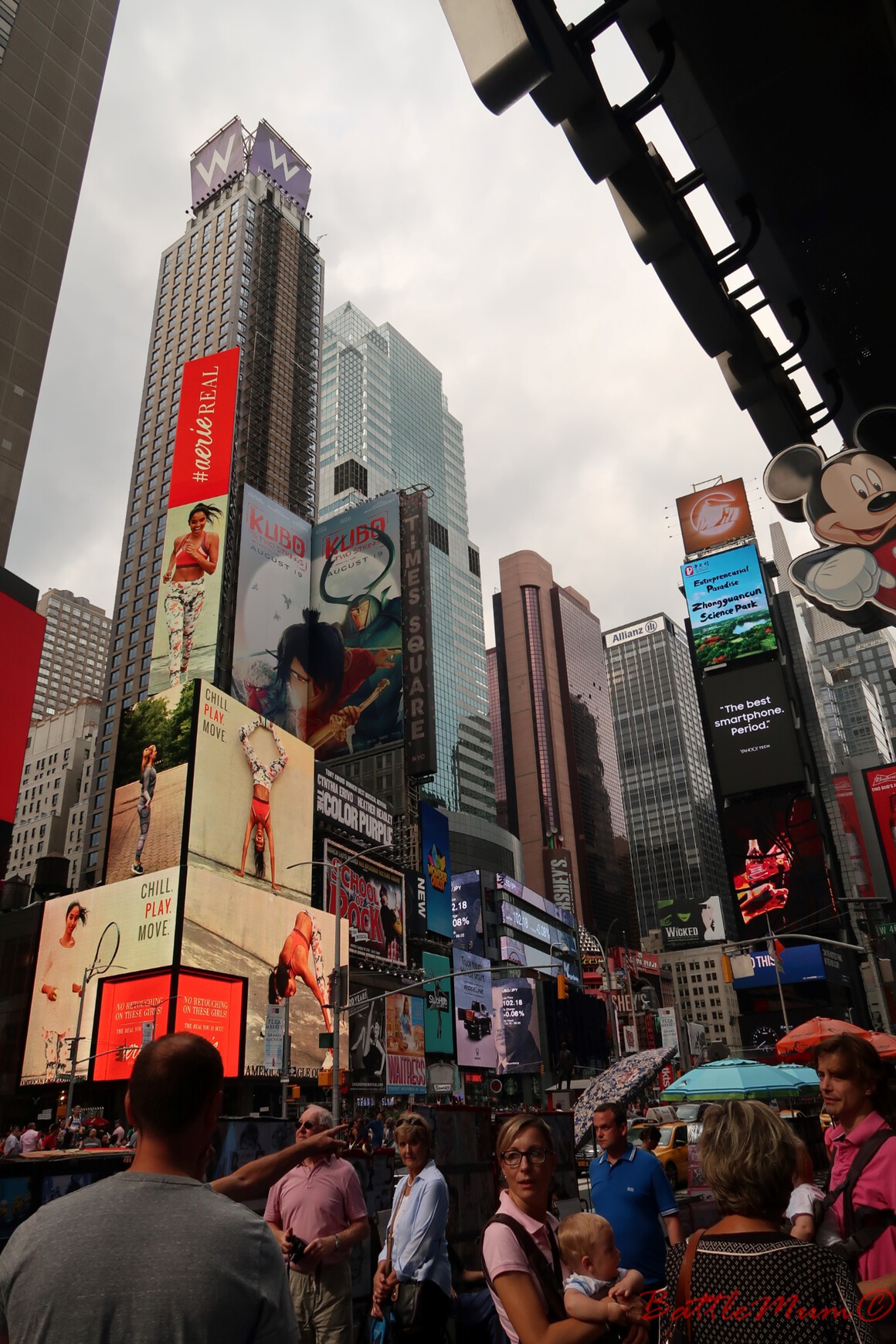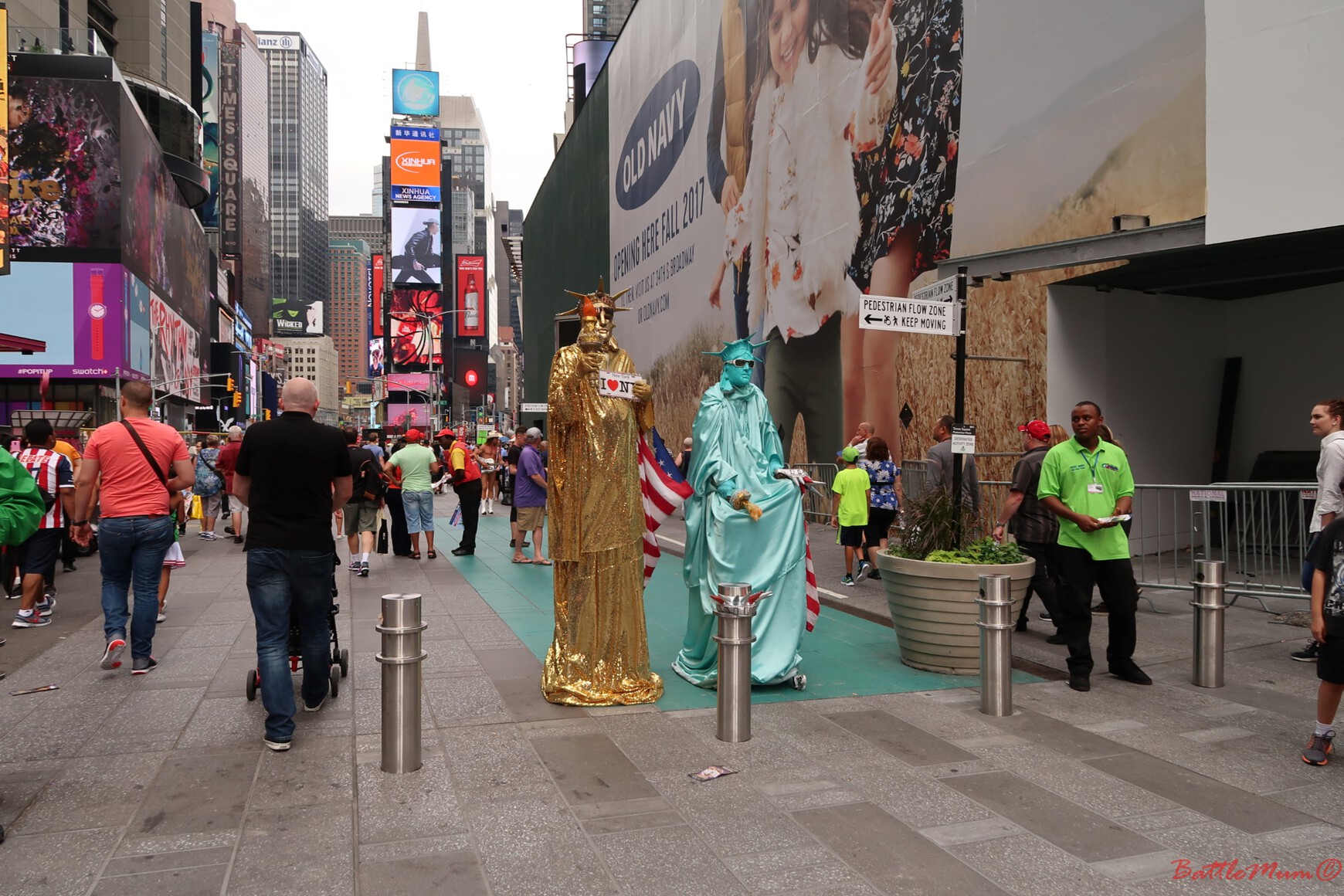 We got plenty of pictures before and after visiting the Disney store for BattleKid where we got him a Halloween Mickey Mouse and a Disney New York t-shirt. One thing we did notice was a heavy police presence and it was no bad thing in my eye. It made me feel alot safer knowing they were on the streets.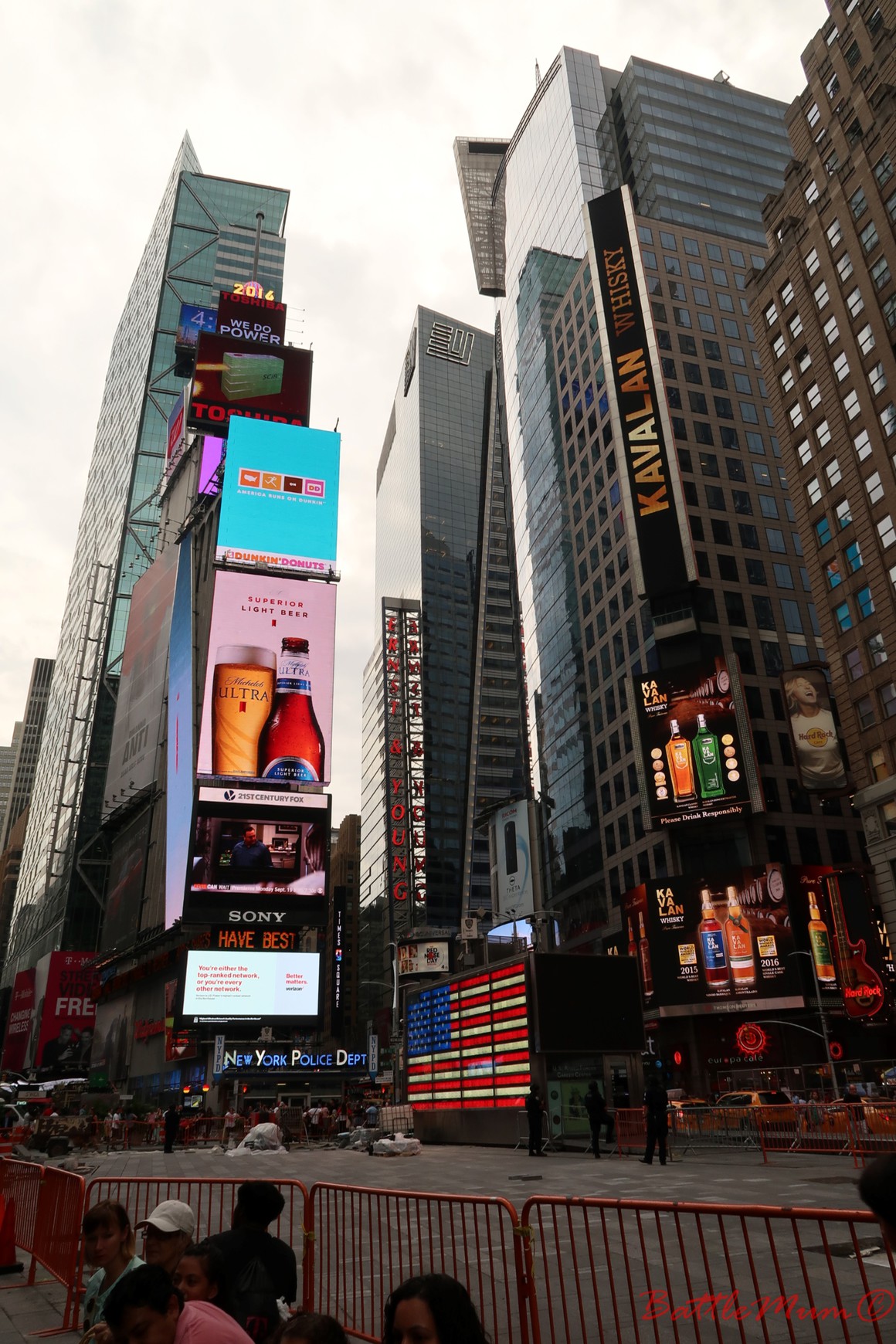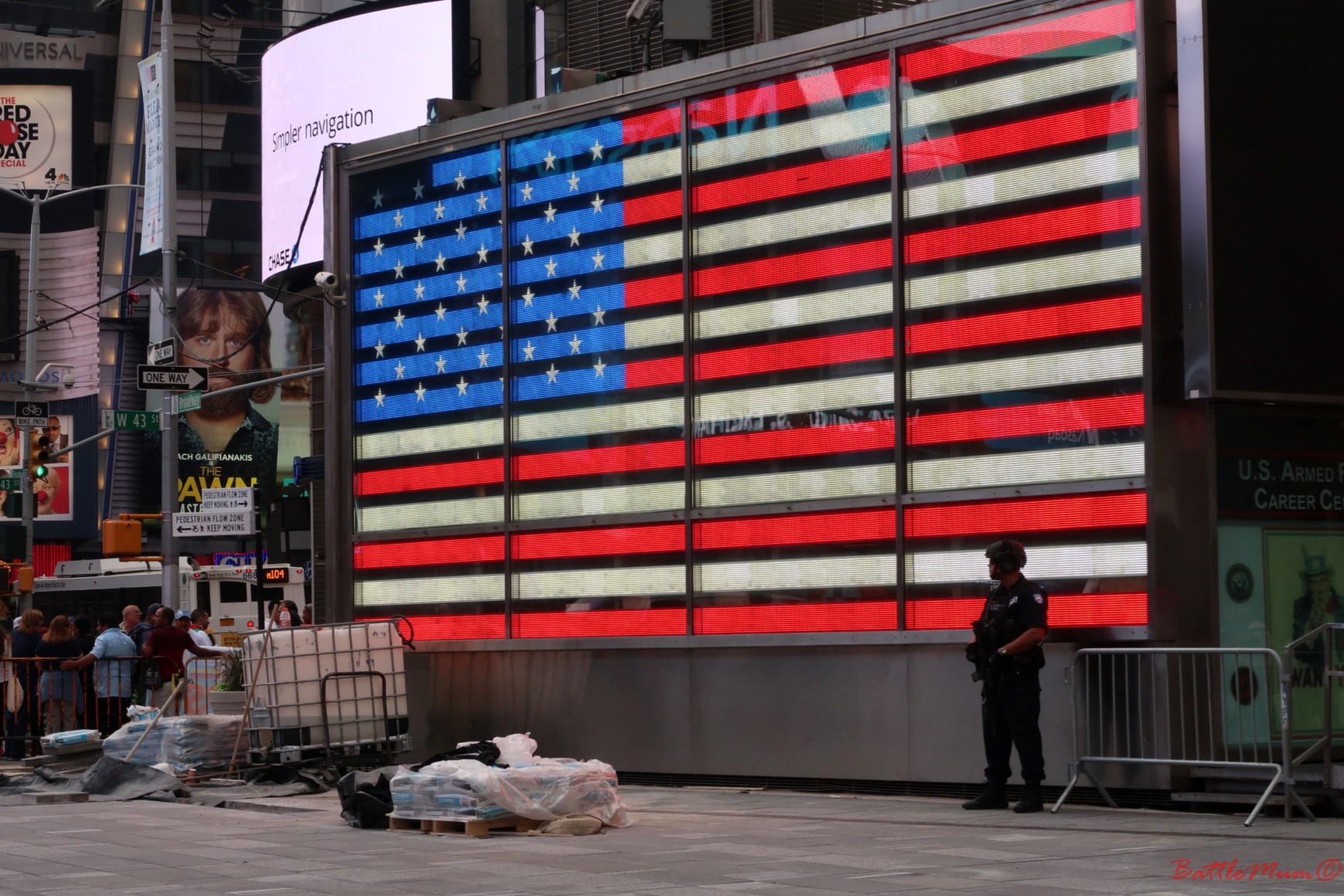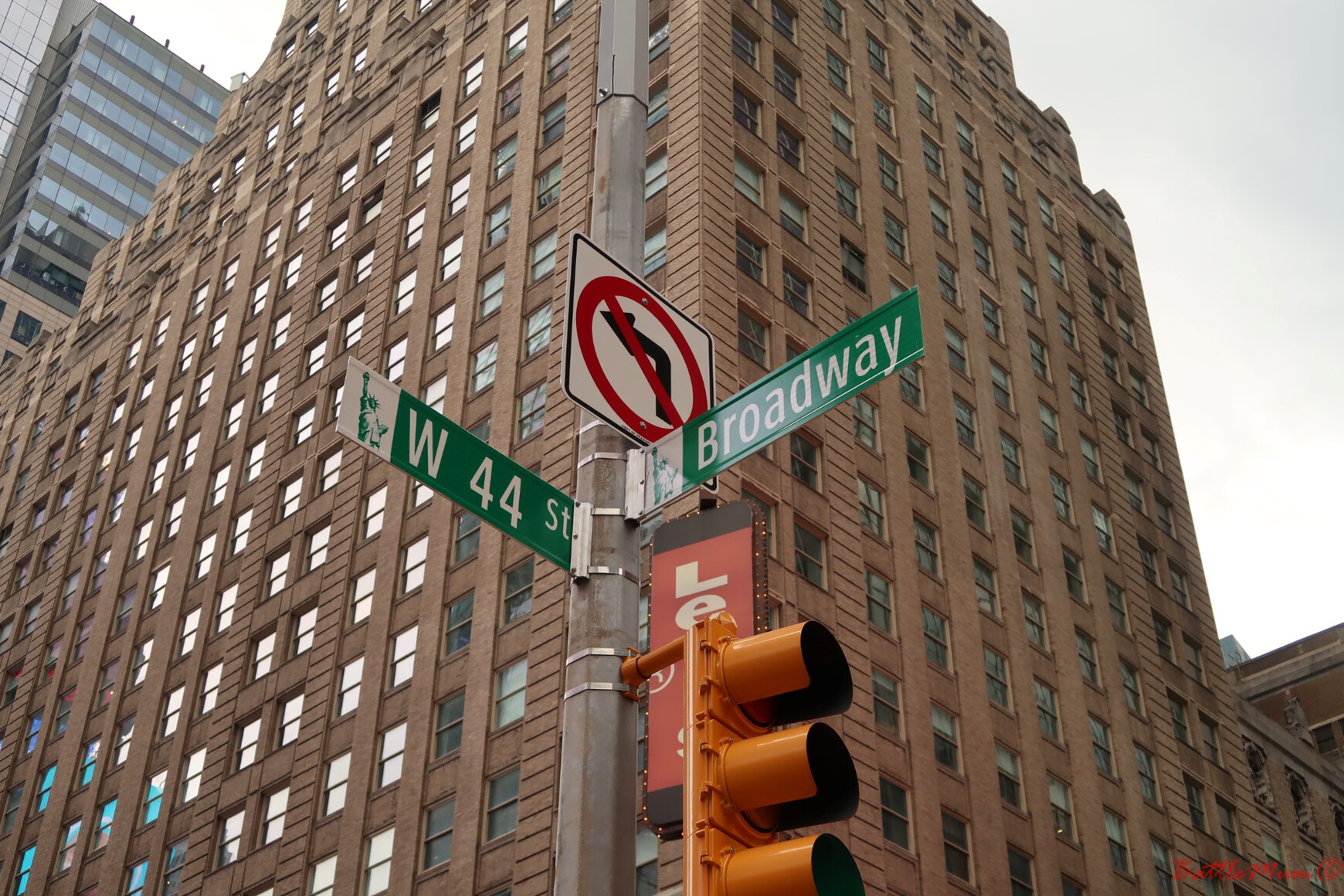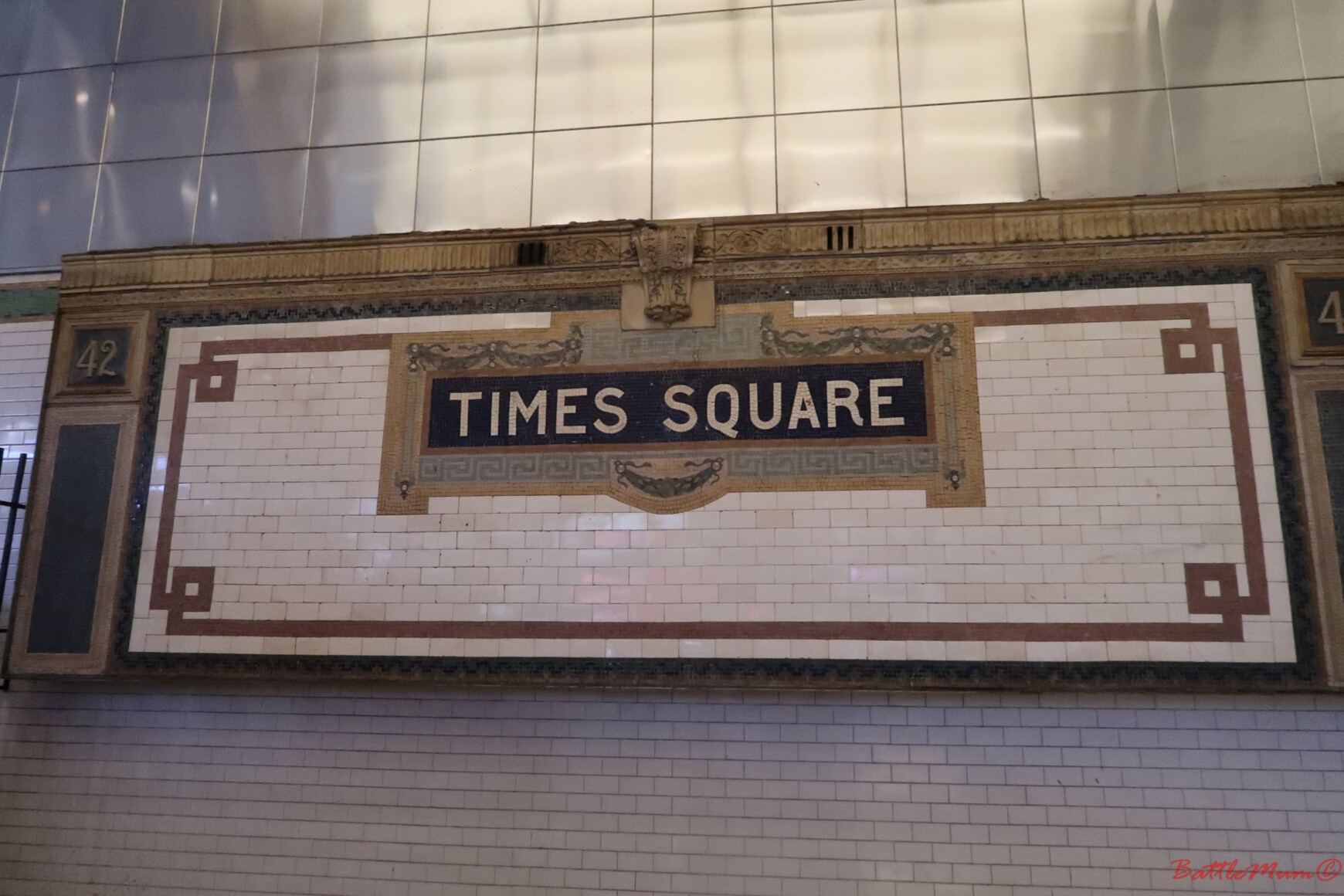 On our way back to the Subway we bought a print picture of the Manhattan skyline which we plan to put on our travel wall at home. We got the subway back to Astoria and stopped at a corner shop near the apartment to get a few supplies before ordering pizza for dinner. And it tasted good I can tell you. We were hungry after all that travelling.
After dinner we had showers, got into our pj's and had BattleKid in bed by 7.30pm after a long day. He fell straight asleep and I followed soon after, absolutely beat. He slept well until 2.30am when the air con in our room started giving BattleKid a dry throat and the coughing started.
BattleKid woke on and off during the night and BattleDad ended up taking him into his room. I napped until I eventually woke fully at 5.30am.
I find the travelling day is always long and tiring and I was hoping for a good first full day in New York. Come back tomorrow to see if we got it.
Cath x