I recently got the chance to receive what can only be described as a magical towel for beach-goers. Why magical you ask? Well, you'll have to read my Tesalate Beach Towel Review to find out, won't you. Tesalate claim this sand-free beach towel will ensure you leave the beach behind after a fun-filled day, but can it be true? Can you really bring a towel home sand-free?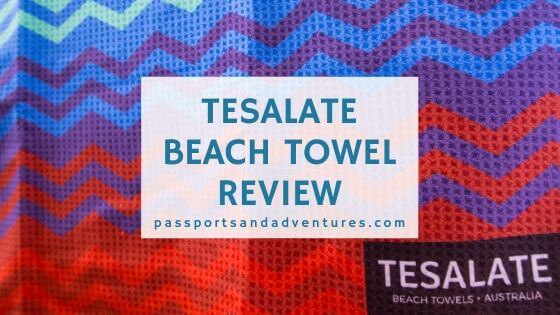 Tesalate was started by two Australians who, after a hike to a secluded beach in Sydney, returned home with wet, heavy, sandy towels. They wondered if it was possible to make a better performing towel which would still look amazing. After 18 months, Tesalate was launched and were sold in over 70 countries in its first year.
Tesalate Beach Towel Review – What makes them different?
Tesalate are
A revoluntionary new type of beach towels that is lightweight but large, super absorbent but quick drying, and totally sand-free.

Tesalate
Tesalate towels are made from cutting-edge, exclusive AbsorbLite microfiber textile which contains 80% polyester and 20% polyamide. The AbsorbLite's engineering allows sand to flow freely from it, meaning you can leave the beach where it belongs, at the beach.
Not only that, but it also means Tesalate towels are super absorbent, retaining up to a litre of water. However, they don't hold onto this water like conventional towels do. They have been designed to dry in half the time regular towels do. What more could you want!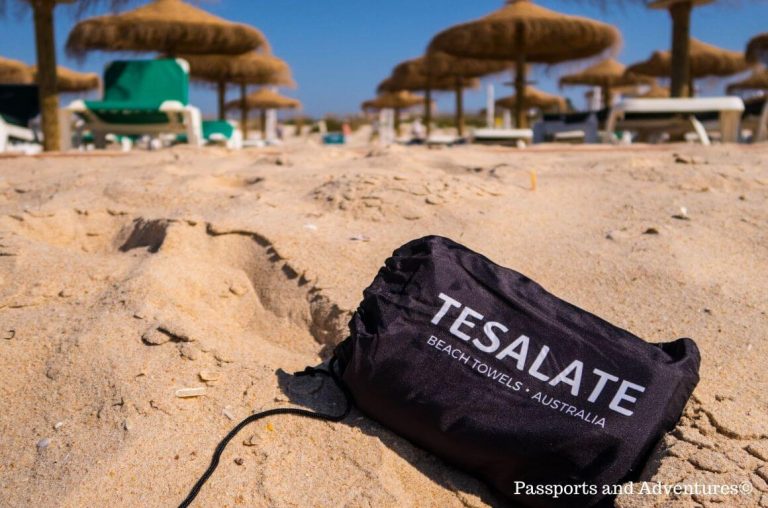 Tesalate Beach Towel Review – What did I think of it?
I took our Tesalate beach towel with us on a recent trip to our local beach one morning. With it being July and temperatures starting to soar, we tend to head to the beach early in the morning and leave well before mid-day. On this particular day, we didn't get into the sea as it was quite chilly despite the morning sun.
That said, we laid it out and enjoyed playing in the sand with our son and dipping our toes in the water. And I can tell you, sand just flows off it like water off a smooth rock. It didn't get caught in the towel like sand usually does in traditional cotton towels. It ran off it easily and we were left with a truly sand-free towel.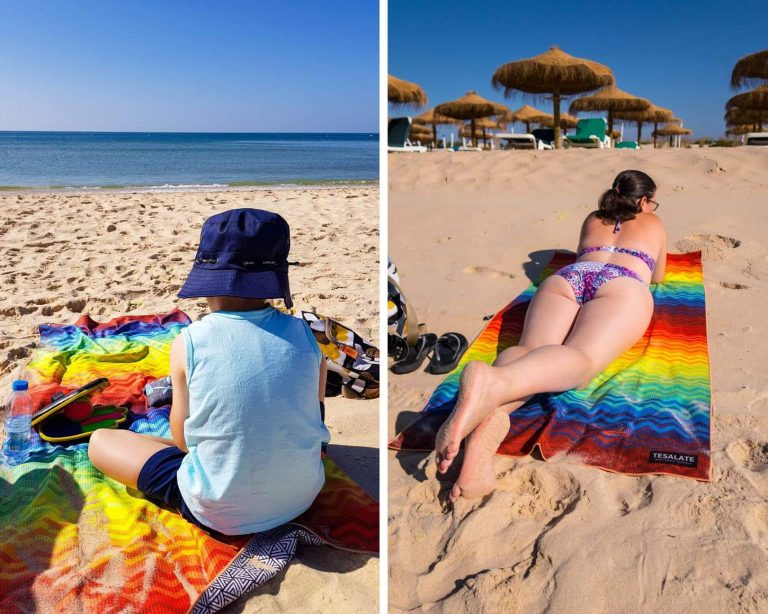 If you are wondering if it is absorbent, I can tell you it is. Very absorbent. I've used this to dry off after a swim in our pool and it dries me well and absorbs a lot of water. So, it's great in that sense. However, it isn't as quick drying as I thought it would be. It seems to dry at the same rate as our other towels, possibly because it does absorb so much water.
Now, not only does the Tesalate towel perform well, it also looks great. The one I was sent for this review was the Heartbeats design and it is bright and colourful. And if I'm not feeling a colourful vibe, I can simply turn it over to reveal the signature black and white triangle pattern of Tesalate, as these beach towels are double-sided.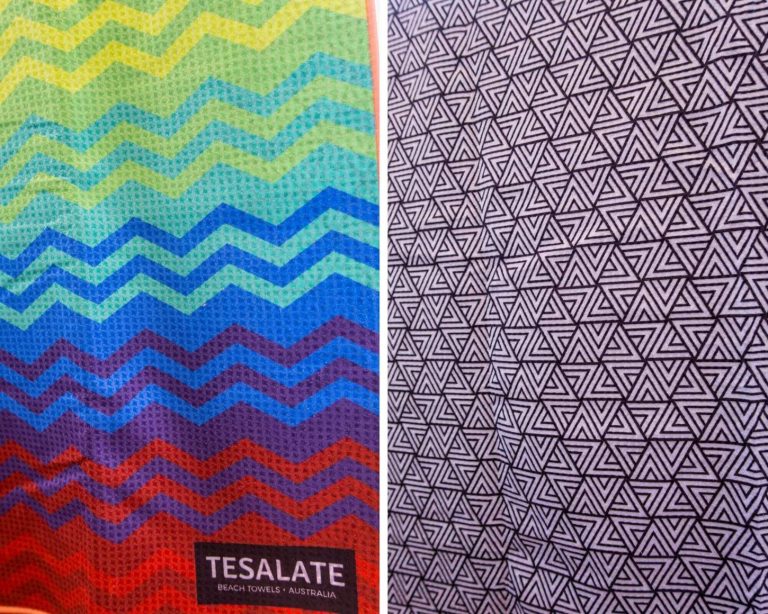 What I also love about the Tesalate towel is how compact and light it is, without compromising on size. Measuring 160cm by 78cm it is as long as our regular beach towels, if just a little narrower. That said, the fact you can fold it up into a handy carry bag (which it is supplied in) means it takes up a lot less space in your beach bag, always a bonus when you're a family visiting the beach.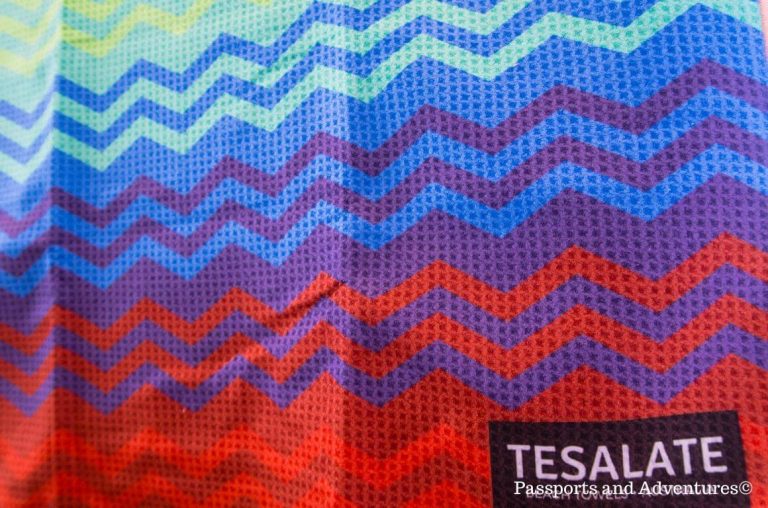 And it is lightweight, weighing in at 533 grams (yes, I weighed it on our kitchen scales). Since it is this lightweight, it makes it a very versatile towel for not only taking to the beach, but to the gym, to a yoga class or even travelling. And we all know how precious saving weight can be when travelling, especially as a family. It also has a handy hook for hanging it up after use.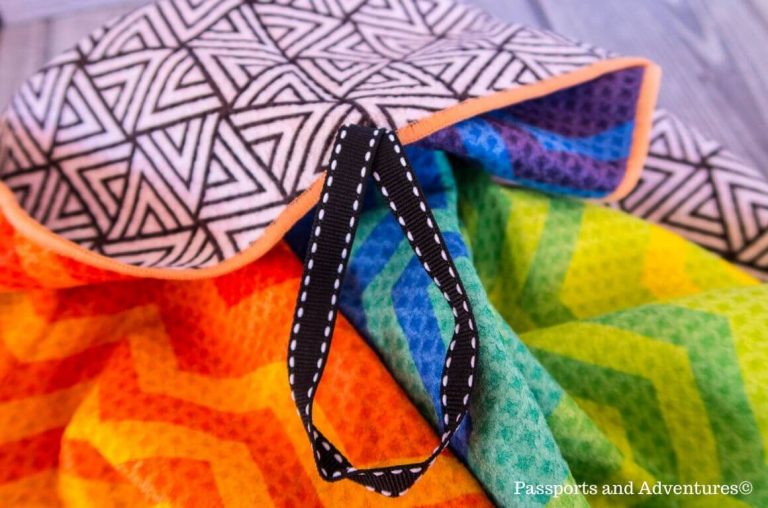 Tesalate beach towels come in so many designs, that there is bound to be one to suit everyone, even the dads. I also spied no less than two flamingo-inspired towels that I know a few people would love. And I can confirm the Heartbeats design I received was a hit with a certain 4-year-old.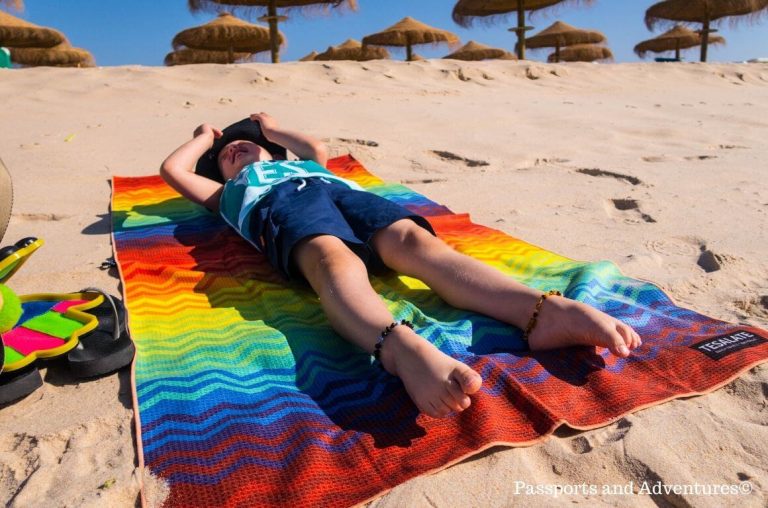 What I love about the Tesalate Beach Towel
A truly sand-free towel. You really can leave the beach at home.
Huge range of designs to choose from.
Come sin a hand pouch for storage and popping into your beach bag.
Lightweight yet doesn't compromise on size.
Very absorbent.
Double-sided with the signature black and white triangle pattern on the back.
Has a handy hanging hook to aid with storage or for hanging up to dry.
Although not made from traditional textile, it still feels soft to the skin.
What I don't love about the Tesalate Beach Towel
It isn't as quick drying as I thought it would be but that's not a negative for me.
Personally, I love my Tesalate towel, but they are a lot pricier than traditional run-of-the-mill beach towels, costing £45/€49/$59/AUD$79.
I have to say I'm thrilled to have received a Tesalate Beach Towel for review. I've spoken before about my love/hate relationship with the beach, solely down to the sand. Living where we are in Portugal means we do, and will be, spending a lot of time at the beach, especially with our son. But having a Tesalate towel means at least we won't be bringing half the beach back home with us.
I'm so impressed with them that I am seriously considering buying one each for my husband and our son and resigning our traditional beach towels to the bathroom. This beach towel is now well and truly installed in our summer beach survival kit.
So, if you are on the hunt for a towel that is absorbent, looks great and doesn't drag half the beach home with you, then I can highly recommend you invest in a Tesalate Beach Towel.
Cath x
*I received a Heartbeats design Tesalate Beach Towel for the purpose of this review. However, as always, these are my own honest thoughts and opinions about the product.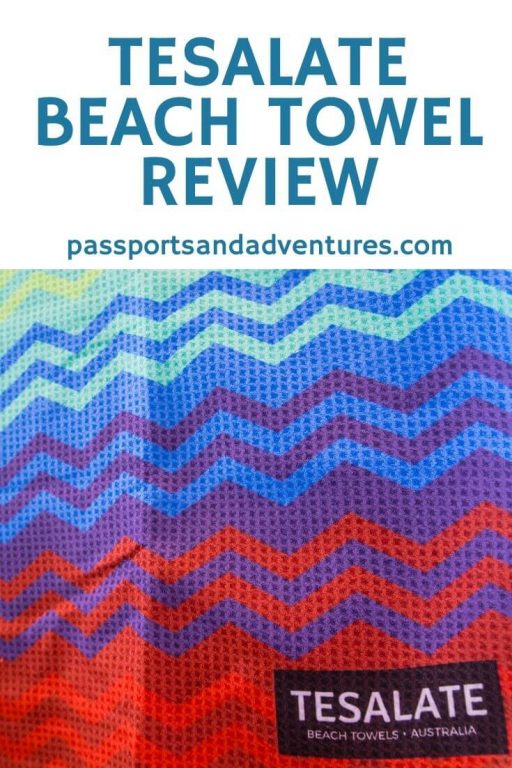 Related Posts