Summer is upon us and if you're in the UK, the kids have just broken up from school or about to. Our son finishes at the end of July but we've already started doing one of our favourite summertime activities after school and at the weekend: a family trip to the beach. We generally pack up one of our Cabin Zero Bags and head directly from school or early on a Saturday morning. Our bag always contains a basic kit and, in this post, I'm going to share with you our summer beach survival kit for families with everything you need for an awesome visit to the beach with kids.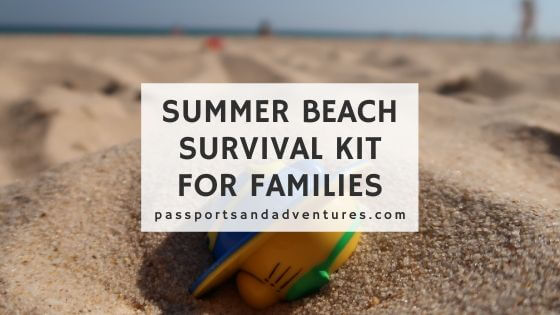 *Post originally published in July 2018. Updated in March 2020.
Summer Beach Survival Kit for Families
Getting ready for a summer with the kids can be an arduous task and none more so than getting things ready for a trip to the beach. But in this post I make things a whole lot easier by listing out everything that is in our summer beach kit so you don't have to worry about forgetting anything. I've also out together a handy list of all the beach must-haves for families which you can download and print. You'll find this checklist at the end of the post.
Beach Towels
Let's face it, no trip to the beach can be done without some beach towels. Whether they are for lying on to read a book, or for drying off after a dip in the sea, you're going to need a few beach towels with you. And these days you can get them pretty cheap. They start from around £6 in the likes of Primark (that's Penneys for my Irish readers), and you can even pick them up while on holiday if you don't want to lose valuable packing space by bring them with you on holiday.
We always bring at least 2 and also a poncho towel for our son so we can wrap him up as soon as he comes out of the sea. That said, our summer beach survival kit now contains a Tesalate sand-free beach towel, which I reviewed on the blog.
Hats
If you are planning a visit to the beach with children, then your kids beach kit must include sun hats for them, as well as for yourself. My husband always brings a cap and I have a sun hat (which needs replacing soon) but most importantly, we never go to the beach without a hat for our son. It's needed to protect him from the sun.
When he was younger I loved the Legionnaire-type hats which covered his neck as well, but they are not something I've come across in the shops in Portugal. If anyone knows any good international seller of them, please let me know so I can get him a few.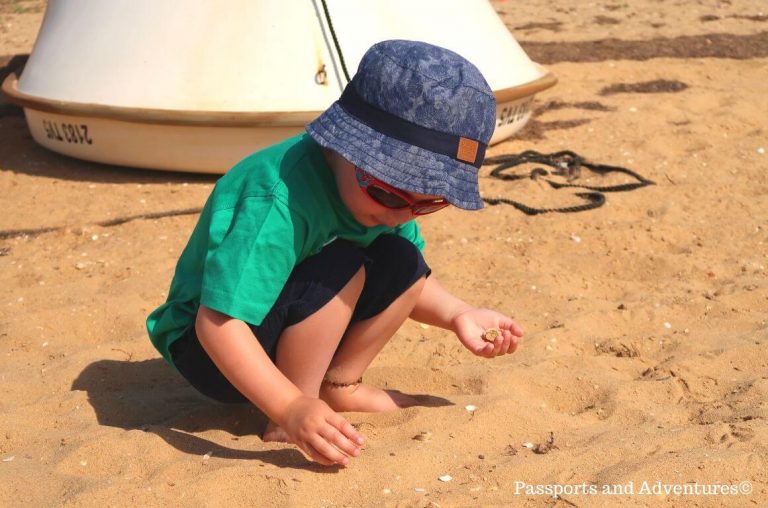 Sunglasses
The best beach kit always includes sunglasses. With the sun, comes harsh light, so sunglasses must be at the ready. If your kids are anything like our son, they'll love wearing them, if only to feel more grown up. Just make sure that the glasses you buy your kids have a CE mark on them and if possible, a rating of 3 or 4 for their UV protection.
In my last job we tested sunglasses for their UV protection and you wouldn't believe the amount of children's glasses we tested with little or no UV protection. Their eyes are just as important as their skin when it comes to protection from the sun.
Sun Cream
When it's your summer holiday survival kit, or simply your at-home beach kit, if there is one thing you MUST have in your kit, it is a good sunscreen for both you and your children. We use two different ones in our family. Our son has factor 50 paediatric sun creams as he is allergic to many of the general children's sun creams available on the market. Us adults, meanwhile, start with factor 30 at the beginning of the summer and end with a 15, or 6 in my husband's case.
Protecting both your children's skin and your own is vitally important, and you should always ensure your sunscreen has both UVB and UVA protection. Make sure to apply it 20 minutes before you hit the beach, and reapply at regular intervals, especially after paddling or swimming in the sea.
Drinks Bottles and Water
Keeping hydrated in the sun is important to help combat dehydration and sun stroke. We bring a large 2L bottle of water and our son's drinks bottle with us and top him up regularly. Also, make sure your children are drinking plenty of fluids while at the beach. Each time they come back to you, make sure they take a drink. We make a game out of it by making our son drink to the count of 5 before he can run off to play again.
Why not get everyone in the family a reusable drinks bottle. We adults have reusable ones which will keep our drinks cold for most of the day if refrigerated the night before. Shop the full range on Amazon here.
Snacks
Drinks and snacks go hand-in-hand when it comes to kids and visiting the beach with children is no exception to this rule. If we know we're going to be there during and after lunch, we pack a picnic including sandwiches, some fruit and crisps. Fruit pouches or frozen yogurt pouches are another great thing to pack into your bag. Biscuits, crackers and cereal bars also work well as snacks in your summer beach survival kit.
For a great list of toddler beach essentials, check out this awesome post from Baby Can Travel.
Buckets and Spades
No beach kit for kids would be complete without these. Families all over the world know there is nothing more important when going to the beach with kids than a bucket and spade.
I don't know about your kids but our son could spend hours digging sand, gathering water, kicking down his castles to rebuild them. Hours of entertainment from something as simple as a bucket and spade. He often ropes in Mum and Dad to help with the construction project. Buckets also make great shell collecting vessels, although our son always makes a beeline for broken shells.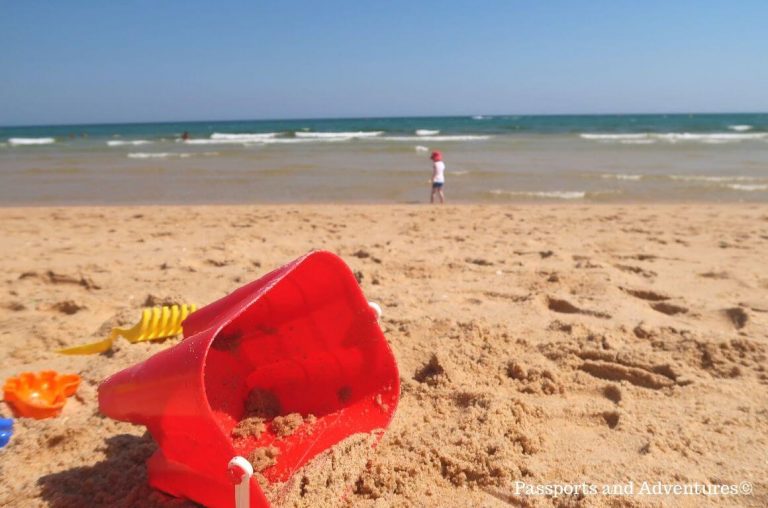 Wet Wipes
We never venture to the beach without some wet wipes in our Cabin Zero bag. Although they're not 100% brilliant at removing sand, they do help with getting little hands ready for eating snacks. They also help clear eyes of sun cream when he insists on wiping his eyes right after we've reapplied his sunscreen. Anyone else's children do that?
So, wet wipes are a must for us. We also bring a small packet of tissues to bring to the toilets as they never have toilet paper in the public toilets at our local beach in Portugal. If you'd prefer to use reusable wipes, why not invest in some Cheeky Wipes. Use THIS LINK to get 15% off any order over £40.
Nappy Bags
For families with babies these are used for the purpose they're intended for. For families like us past the nappy stage, they make great little rubbish bags. I hate visiting a beach only to see rubbish left behind by other families, so we use a nappy bag to collect all our rubbish to dispose of, either at the nearest bin or at home. It doesn't take much to collect your rubbish and bring it off the beach with you. Nappy bags are also useful for storing wet swim shorts on the journey home.
Bikini, Swim shorts and Costumes
A no-brainer but some sort of swimming costume or shorts are a must for any visit to the beach. We daren't visit the beach without them as our son will have a fit if we do. He'll lose his shizz if he is told he can't go into the water further than his ankles as we don't have swim shorts with us. We tend to use a 2-piece suit for our son these days. If his top gets very wet, we take it off as he starts to shiver. We also use ones that have some UV-protection properties, mainly from the likes of NEXT. It's just an added bit of peace of mind when it comes to protecting his skin.
Flip flops or Sandals
Well, you're hardly going to wear boots to the beach, now are you? Not unless you're my Dad. Flip flops and sandals are the easiest footwear we've found when it comes to visiting the beach with kids. They can be slipped off as soon as you hit sand and can be slipped back on if the sand gets too hot to walk on in bare feet.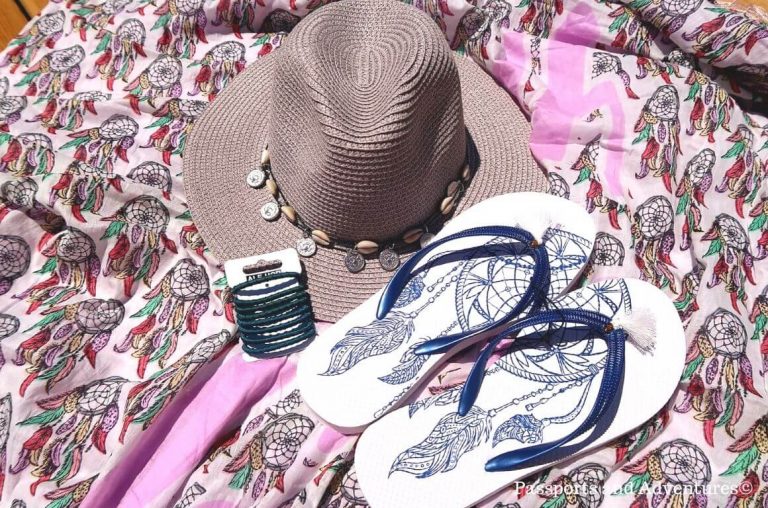 Camera
Going to the beach, particularly if it's not a regular thing like it is for us, warrants you bringing your camera. Younger children might not remember that one time you went to the beach and found a huge shell with the sound of the waves in it. But if you bring your camera with you, you can document those precious family moments to look back on together in years to come.
Even better if you have a waterproof camera so you can get closer to the kids at the water's edge without worrying about splashes getting on your camera. We have a waterproof, underwater camera and regularly bring it with us, but have recently upgraded to a GoPro Hero 8 Black and we LOVE it!
A change of clothes for the kids
Despite the fact our son wears his shorts and t-shirt to the beach, we always bring a second change of clothes with us, you just never know when you're going to need them. It's also advisable, if you're visiting a beach in the UK or Ireland, to bring a hoodie or cardigan with you to put on them once you're finished. Kids can feel the cooler evening air faster than us, so popping one on them once they're dried and dressed will ensure you minimise them getting a chill.
A small first aid kit
Where kids are concerned there are always accidents waiting to happen. So popping a small first aid kit into your summer beach survival kit wouldn't hurt. Make sure you've got things like plasters, disinfectant, antiseptic cream and antibacterial wipes and hand gel in it, so you can deal with cuts, scraps or stings as quickly as possible. It might be worth popping a tweezers in there as well in case there are boardwalks down to the beach where splinters could be picked up. Trust me, I speak from experience.
Talc/Baby Powder
Some of you may have heard of this trick before but, believe it or not, we only started using it after moving to Portugal last year and visits to the beach became a regular occurrence. Talc, or baby powder, is hands-down the best thing for removing sand from legs, arms and hands.
Whether the sand is dry or wet, talc is brilliant for removing it AND drying the kids at the same time. It's great for getting sand off feet before you pop your flip flops or sandals back on too. Just be careful which way the wind is blowing as you don't want to smother your fellow beach-goers in a cloud of white dust.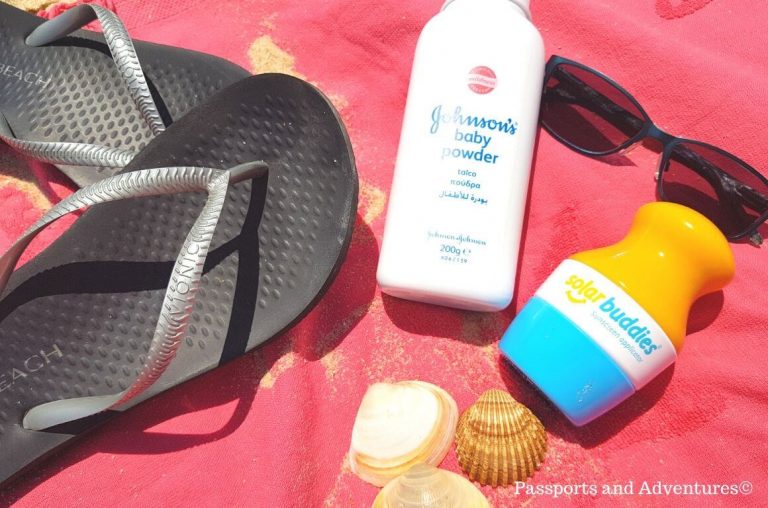 Summary
These are all the items we ensure are in our own family summer beach survival kit for enjoyable and smooth days at the beach. Admittedly there are times one or two things get missed during the packing process but nine times out of ten we have these things in our family beach bag.
And for the best family beach bag? For our family beach bag I use our red Cabin Zero bag as mentioned in the post. Not only are these awesome travel bags but they made brilliant beach rucksacks too! And the bright red colour means it's easy to spot!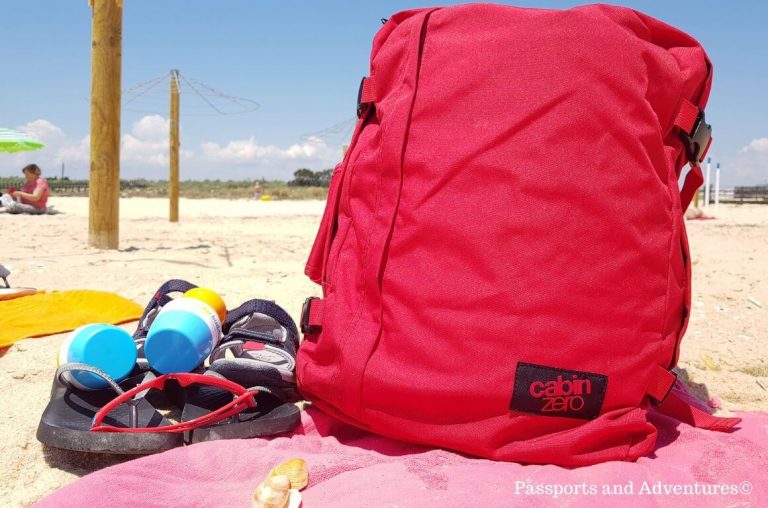 And to make your summer even EASIER, get my FREE printable check list for family beach bag essentials you should always pack for your day at the beach. Click this link to download it or PIN it below for later.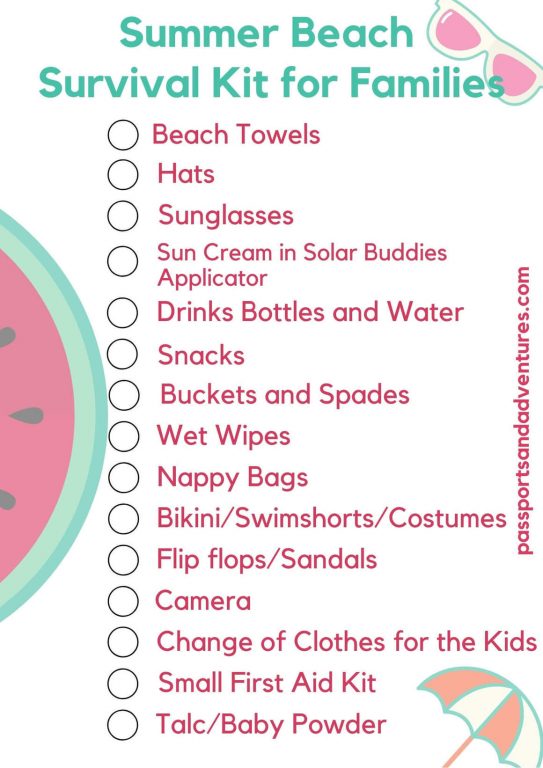 Is there anything I've missed off the list that you think should be included? What other beach must-haves for families would you include? Share them in the comments below for both me and my other readers.
Cath x
If you think the kids will let you relax for 5 minutes, why not grab one of these books for summer, sit back and turn a few pages.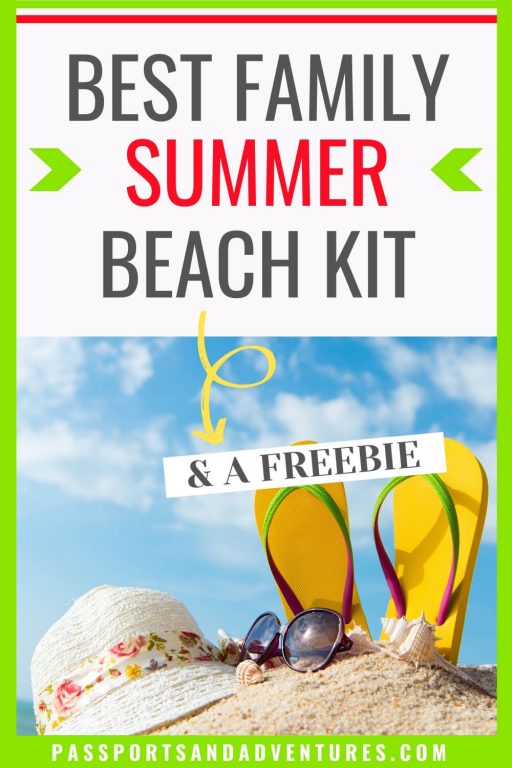 Passports and Adventures is a participant in the Amazon Services LLC Associates Program, an affiliate advertising program designed to provide a means for sites to earn advertising fees by advertising and linking to amazon.com, amazon.co.uk, amazon.ca. Amazon and the Amazon logo are trademarks of Amazon.com, Inc. or its affiliates. To learn more about affiliate links, read my Disclosure Policy here.
Related Posts