As some of you will know, we spent a day in London prior to our USA Road Trip. We acted like tourists and visited the London Eye, did a spot of dragon hunting in the Tower of London and we also went to Sea Life. It was a day dedicated to BattleKid as we knew he was facing some long days of flying and driving ahead. In this post I tell you all about our visit and give you some tips about visiting Sea Life, London with kids to ensure you have an awesome visit.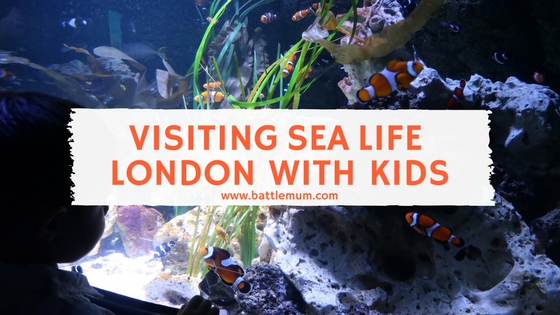 Sea Life was our second attraction of the day, after our trip on the London Eye. It is conveniently located right beside the London Eye, meaning you can easily combine the two. As with our tickets for the London Eye, I booked Flexi Anytime Priority tickets. Given that it was the end of the summer holidays, I thought it was best to book these tickets as it meant we could arrive at anytime on our chosen day and by-pass any queues. As it was there wasn't a huge queue when we arrived, but this isn't always guaranteed.
Sea Life was opened in 1997 as the London Aquarium and is located on the ground floor of County Hall in Southbank. It plays host to one million visitors a year. Within Sea Life there are around 500 species of fish and various marine areas including a Shark Walk, Ray Lagoon, Nemo's Coral and Penguin Point. There are various feeding times during which staff give family-friendly talks. Sea Life is also heavily involved in conservation and has programmes including ray breeding, coral propagation and a big fish campaign.
When we arrived, we had to pick up a Ranger Pack for BattleKid which I had ordered when I booked our tickets online, and then we were in. I had been apprehensive about what visiting Sea Life with a toddler would be like, whether it would be any good. And we weren't disappointed. Sea Life London is huge!
We started out by walking over the shark tank, and to be honest, it gave me the heebie jeebies. I'm not a huge fan of sharks but walking over them on glass was a bit disconcerting. Things like "the glass is going to crack and break" were running through my mind. BattleKid, however, found it fascinating. From the Shark Walk, we entered the Atlantic Coasts area, we saw sand eels and an octopus.
We soon found ourselves at the Ray Lagoon and saw rays and sharks of various sizes before moving onto Rockpools. In Rockpools we saw anemones, starfish and crabs too. In this area there are open tanks, allowing you to get your hands wet, although we stopped BattleKid from doing so.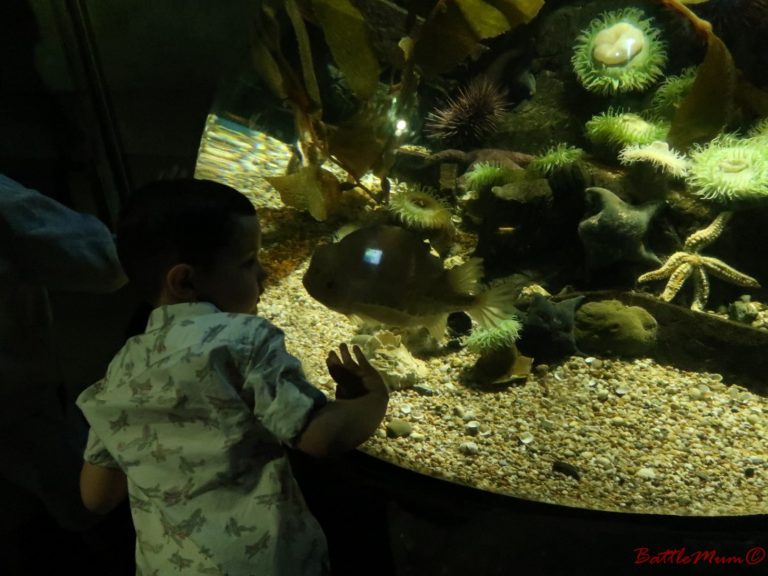 From Rockpools we passed under the Ocean tunnel, giving us another chance to see more shark and ray swimming over our heads. It was a cool tunnel and reminded me of the one in the Blue Planet Aquarium. We also saw some Green Sea Turtles in this area. They were so beautiful, so majestic. They were one of my personal highlights of our visit to the aquarium in London.
The tunnel led us to the Pacific Wreck area where I discovered the skeleton of a whale inside one tank (see our vlog video for a glimpse of this). And then came the main attraction for kids of all ages, Nemo's Coral Reef. There was a tank huge of both white and orange, and white and black, clown fish (Nemo to you and I), and a certain little boy did not want to leave this tank I can tell you. It was hugely popular with kids and was the busiest place in the aquarium during our visit. Be prepared to spend quite a bit of time there!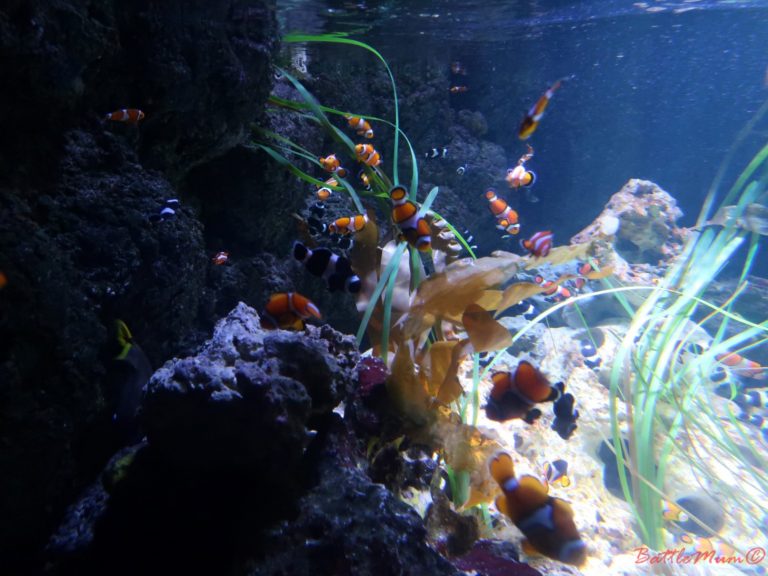 We visited the Seahorse Kingdom and saw a few different varieties. BattleKid wasn't that interested in them and we swiftly moved on to the creatures of the Rainforests of the World. Here we saw fish, including piranha with vicious looking teeth and catfish, as well as a crocodile. From the Rainforests area, you pass by the Thames Walk where you can learn about the creatures of this great river, as well as the efforts it takes to clean the river and its banks.
Then it was time to meet the penguins. You pass through an ice tunnel to reach their enclosure and it's a bit chilly in there. The penguin enclosure is not the biggest I've seen but it more than caught the attention of BattleKid. He loves seeing the penguins swimming past him at the window. They are one of his favourite creatures thanks to the Oliver Jeffers book, Lost and Found.
By this stage someone was starting to get hungry, so we quickly passed through the Conservation Cover before entering a new area for Sea Life in London, Ocean Invaders. In this area there were tanks of jellyfish of various shapes and sizes, and jellyfish projected onto the floor, which BattleKid loved jumping on. It was a really impressive display and one BattleKid enjoyed a lot.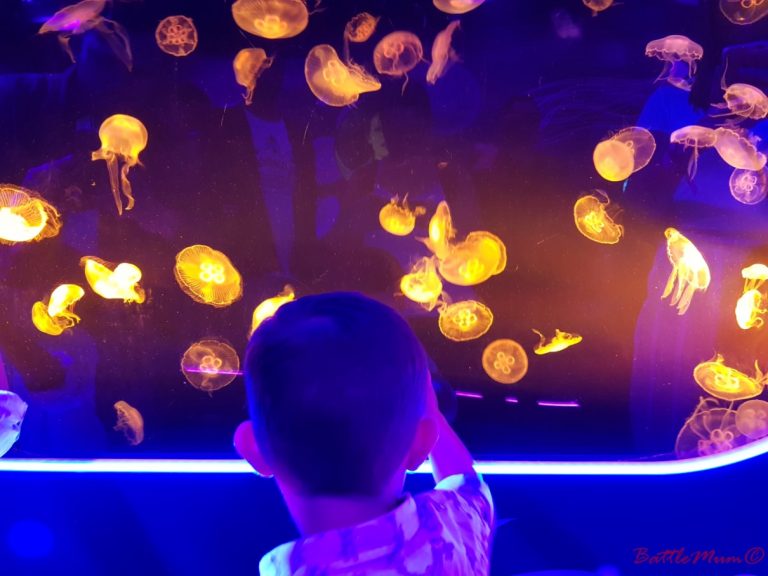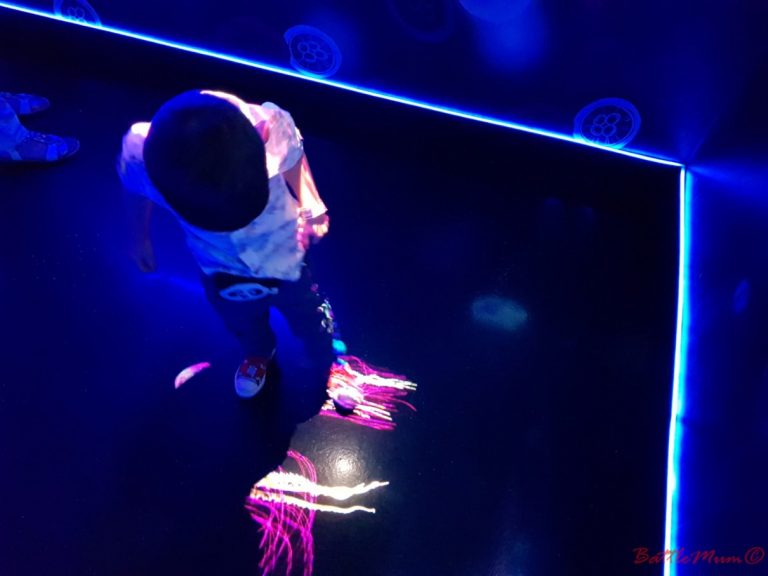 While all the areas and tanks of Sea Life London Aquarium are impressive, none are more so than the main and biggest tank around which the London aquarium in centred. It forms most of the Pacific Ocean display and spans the three floors of the aquarium. You pass this tank on several occasions during your visit and it is by far my favourite part of the aquarium at Sea Life. It houses fish, ray, sharks and turtles and plays host to some Easter Island Head statues. It is the most impressive aquarium tank I've ever seen. Each time we came upon it during our visit I was awed by it.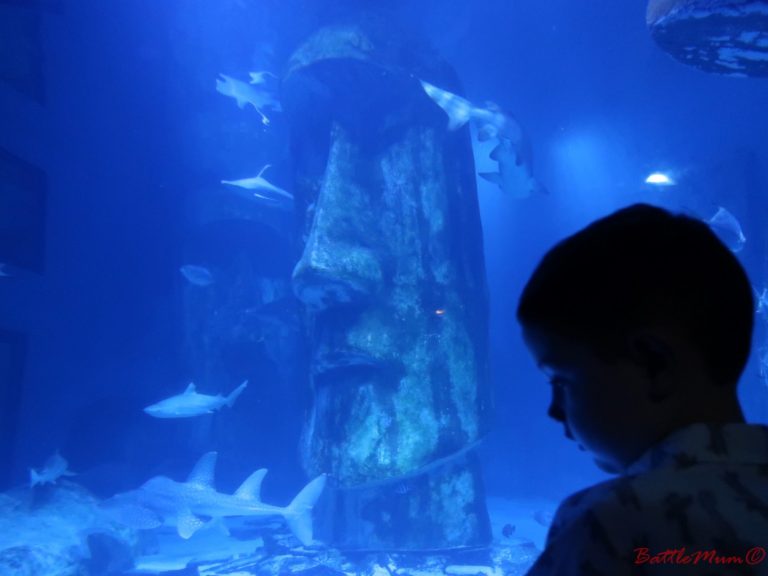 After visiting the gift shop for a magnet for our fridge (we collect them everywhere we go), and buying a little treat for BattleKid, it was time to say goodbye to Sea Life Aquarium in London and move on to our next stop on our 36 hours in London.
Tips for visiting Sea Life in London with Kids
Sea Life London is open 7 days a week from 10am to 7pm, with last entry at 6pm.

It will take you a few hours to get around so plan your visit accordingly.

Sea Life London ticket prices are as follows*: Standard adult tickets cost £26 and children are £21 (ages 3 to 15), under 3's are free. There are savings to be made online if you book in advance, and Sea Life tickets can be combined with certain other London attractions. We booked Anytime Priority tickets at a cost of £25 per adult and £17.55 per child. These allowed us to arrive at anytime on our chosen date and enter with no queuing.

Sea Life is also part of the Merlin Annual Pass, making it easy to visit regularly if you are pass holders. If we were still in the UK I'd seriously consider getting Merlin Passes.

A Sea Life Ranger Pack is available for £4 from the ticket office and includes an activity trail, magnifying glass, dress-up accessories, trading cards and a lanyard for tickets. This will make the visit a truly interesting one for kids a bit older than BattleKid (three and a half at the time of visiting).

There are toilets available on every floor, along with baby changing facilities.

Sea Life is fully wheelchair accessible with lifts going to all floors.

Note that there is no café or restaurant in the aquarium and you are not allowed to bring food in with you. There are plenty of cafes and restaurants nearby for refreshments though.

There is no parking at the Sea Life London Aquarium. For details on how to get to the London Aquarium, nearest parking to Sea Life and the nearest tube station to Sea Life London Aquarium, visit the information section of their website.

There is an area for official Sea Life photos, although I am afraid I cannot remember how much we paid for our 3 photos.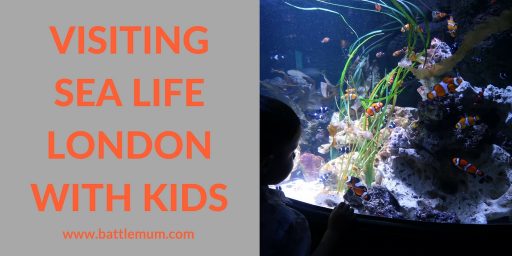 We thoroughly enjoyed our visit to Sea Life in London. Although it was the end of the summer holidays it wasn't too busy. We kept bumping into the same group of mums with their buggies, but apart from that it wasn't crowded. We also liked the fact the aquarium was right beside the London Eye, meaning we could easily combine the two. And there are additional attractions nearby for kids of various ages too.
Sea Life in London is definitely worth a visit with kids and wasn't as busy as I expected at the end of the summer holidays. If you are planning to go during the peak of the summer holidays, I'd suggest getting there early or booking the Fast Track tickets. Be prepared to take your time and go at your children's pace. And expect a lengthy stop when you come across Nemo. By keeping these points in mind you are bound to have smiling children, although they might be reluctant to leave.
If you are visiting London with kids and are looking for an interesting and enjoyable place to visit with them, then we highly recommend a visit to Sea Life. They won't be disappointed.
Cath x
*Prices correct at the time of writing this post. We were not asked to write this review of Sea Life London