Several years ago, my husband and I tried, and failed, to visit the London Eye. We arrived late to the Eye and saw the length of queues and decided to try again another day. Fast forward a few years and I was going to be in London with my sisters for a concert. We had two days to fill, so we settled on a few London attractions including the London Eye. I enjoyed my first ride in it but wondered whether you could enjoy a trip on the London Eye with kids.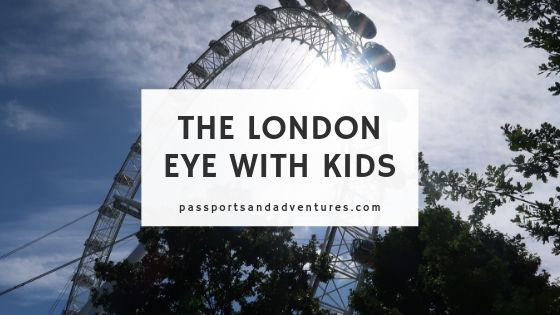 *This post contains affiliate links. To read more about affiliate links, please visit my Disclosure Policy page.
*Post and Prices have been updated June 2019
Where and what is the London Eye?
The London Eye, for anyone who doesn't know, is a giant Ferris wheel on Southbank of the River Thames. It opened in 2000 as part of the millennium celebrations and stands 443ft (135m) tall, with a wheel diameter of 394ft (120m). It is the most popular paid attraction on the UK with over 3.75 million visitors a year. And that number is growing.
The Eye has 32 sealed, air-conditioned passenger capsules which can hold up to 25 people, although the two times I've been, there hasn't been 25 people in the pod. It rotates at a speed of 26cm (10 inches) per second and one complete revolution takes 30 minutes.
Our Visit to the London Eye
A short few months later, we were in London for 36 hours before flying to America, and we decided to visit the London Eye as a family. I wasn't too sure what our then three-year-old son would make of it, but as it is only a 30-minute revolution, it should have been short enough for even him. I pre-booked our tickets online to save any hassles and printed out our Flexi Fast Track before we left for London.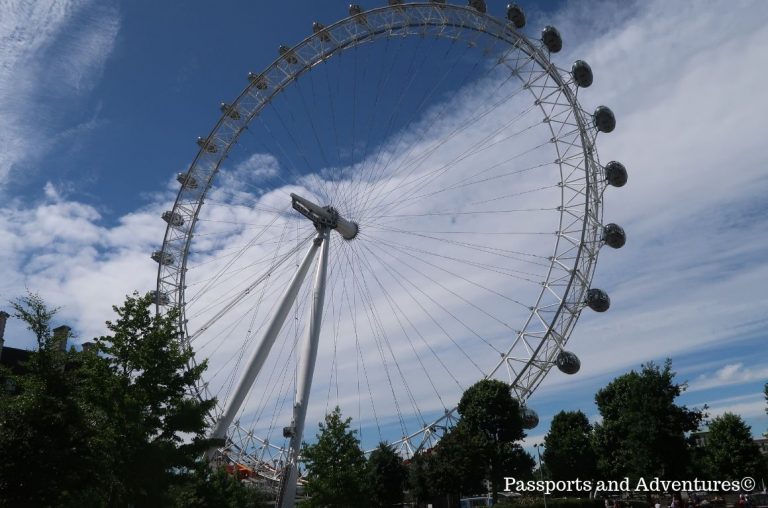 The Flexi Fast Track tickets meant we could visit at any time during the day on our chosen date and we would join the fast track queue. So, after a yummy breakfast in a café around the corner from the London Eye, we made our way around and joined the fast track queue with our printouts in hand.
Despite visiting the London Eye with our son at the end of the summer holidays, the fast track queue moved quite quickly. The same could not be said for the standard tickets queue. We entered our capsule, or pod, and we were off.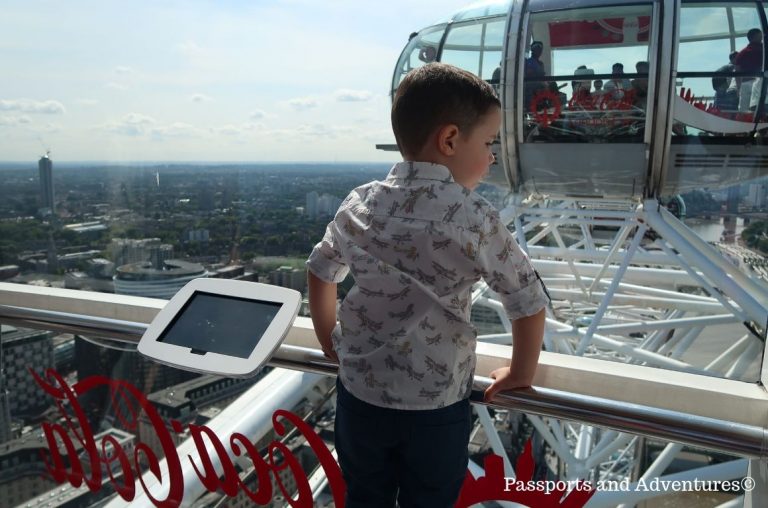 Our son was fascinated by the fact we were being chased by another pod and that we were getting higher. But the thing that grabbed his attention the most was the information tablets in the capsule. He loved switching between the day and night mode, much to my annoyance as I tried to spot various landmarks (during our visit in August 2017). These appear to have since been removed at the time of my most recent visit in May 2019.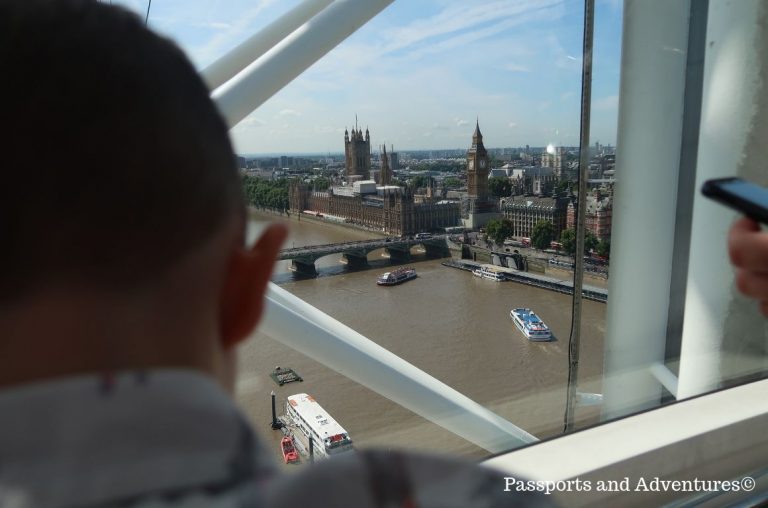 Although the revolution is only 30 minutes, I felt it was ample time for a toddler. And as we stepped off the capsule, our son made noises about wanting to stay on. I don't think he grasped the idea of one turn. All-in-all he enjoyed it as he was still talking about the big wheel for weeks to come.
Tips to ensure you have a successful trip to the Coca Cola London Eye
To ensure you have a successful visit to the London Eye with kids, I've put together some hints and tips to help you plan your trip to the London giant Ferris wheel.
Plan when you want to go visit the London Eye and book your tickets in advance. This will not only save you time, but you can often save money too.
If you can afford to, book fast track tickets, especially if you plan to visit during school holidays. Both times I visited, the standard ticket queue was at least an hour long, possibly more. And no one wants to queue for that long with kids in the holidays.
If you do plan on getting standard tickets, ensure you bring some water, snacks, sunscreen (for summer), have a raincoat in your bag (just in case) and entertainment to keep the kids quiet while waiting.
Ensure you arrive well before your allotted time if you book Fast Track tickets. Flexi Fast Track tickets allow you to arrive at any time on your chosen date.
Ensure everyone in your party has visited the toilets before you queue as there are no toilets on or at the London Eye. The toilets are located in the Coco Cola London Eye ticket office, as well as a disabled toilet and baby changing facilities.
If you are bringing a buggy or stroller, it must be completed collapsible and kept folded throughout the duration of your visit. I'd suggest using a baby carrier or sling if visiting the London Eye with a baby.
No food and drink, apart from drinking water, is permitted inside the capsules.
There is one bench inside each capsule, and seating is on a first-come-first-served basis.
While the London Eye is wheelchair accessible, only two wheelchairs are permitted in each pod, and only eight are allowed on the Eye at any one time. It is highly advisable to pre-book tickets in advance if your party includes a wheelchair user.
Other information to note before visiting the London Eye with Children
Here are some London Eye facts to help you plan your visit, and also information about how to book the London Eye, London Eye ticket prices for kids and adults, London Eye Flexi fast Track ticket information and prices, and the London Eye opening hours.
The London Eye is open every day of the year except Christmas Day typically from 10am until 6pm during weekdays and 8.30pm during weekends. It remains open later both on weekdays and weekends during the summer months. Check the website for the opening hours at the time of your planned visit.
Standard entry London Eye ticket prices are as follows: Adults £30, Child £24 (3-15 years of age) when purchased on the day. Under 3's are free. If you book online you receive a 10% discount bringing the London Eye adult ticket down to £27 and the London Eye child price down to £22.
Fast Track London Eye tickets cost £40 per adult and £34 per child, allowing entry to the London Eye at a specific time slot when bought on the day. Pre-booking online brings the tickets down to £37 and £32 respectively.
Flexi Fast Track tickets for the London Eye cost an extra £4.00 per person and are only available for purchase online. These allow you entry at any time on a specific date. This also allows you entry to the Eye Lounge.
Capsules are available for private hire for 3-25 guests and there is also a champagne experience available if you fancy something special.
You can also purchase combination tickets which allow entry to the London Eye and certain other attractions in London including Sea Life, Madame Tussauds and Shrek's Adventure, ideal if you're making a day of it in London with the kids.
Book your London Eye Tickets HERE.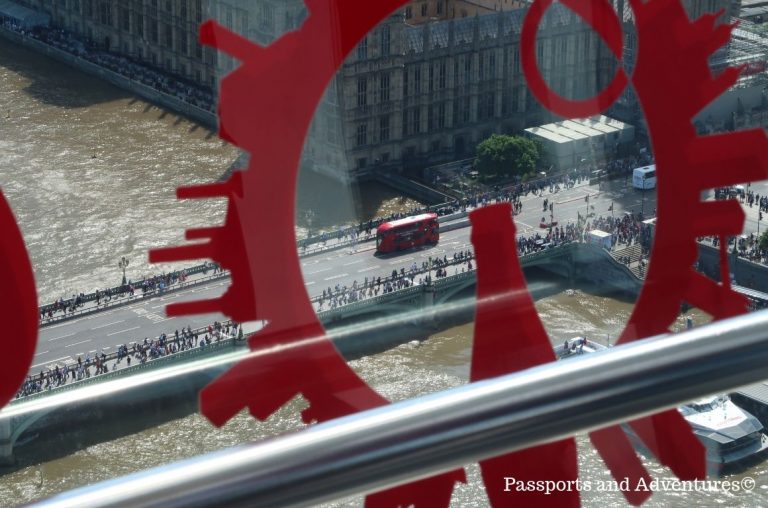 Combine the London Eye with other Merlin attractions and save money. Find tickets and the latest prices of combined tickets HERE.
In Summary
We visited the London Eye before heading into Sea Life and I was surprised that our son enjoyed it as much as he did. He liked watching the boats going past on the river, and of course, the information tablets, and he didn't complain once. Except when we were getting off, and he didn't want to. So, yes, a visit to the London Eye is even suitable for toddlers. And, by taking into account some of the tips I've mentioned, you can have a successful visit to the London Eye with kids.
Have you taken your kids to the London Eye yet? We're visiting again very soon, this time with a five year old.
Cath x
*We were not asked to write this review. Prices are correct at time of updating post.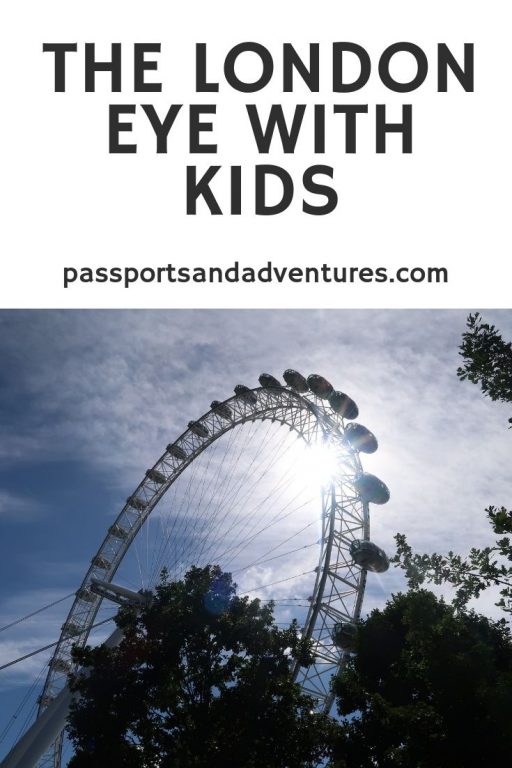 Related Posts