We were recently given the opportunity to receive a product from a company called TeacherBoards for the purpose of a review. At first, I considered something that only my son could play with, but with us all trying to get to grips with Portuguese, I thought something to help us all would be more valuable. Today I'm going to tell how we are learning a new language with TeacherBoards (review).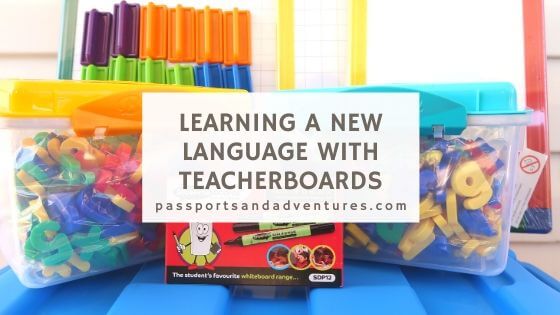 TeacherBoards is a Yorkshire-based company that has been manufacturing and distributing boards to educational facilities for over 30 years. With a huge range of boards and educational tools, all manufactured within the UK to highest quality and specifications, TeacherBoards have something to suit everyone. They say
We aim to offer high quality, innovative products with outstanding customer care from specialist knowledge experts, providing you a simple and reliable service time after time.
As already mentioned I had considered choosing something for my son to play with but I thought better of it. We didn't start learning Portuguese before moving to Portugal but that hasn't stopped us starting as soon as we landed.  We're all at various stages of learning Portuguese, although our son is way ahead of us as he is immersed in the language everyday in school.
But at home we often find ourselves referring to Google Translate or our Collins Portuguese-English dictionary when our son asks us "mummy/daddy, what's that in Portuguese?". Once we find the word we are looking for, we find we often forget it and are continually referring back to the dictionary or translator.
Our son is very inquisitive and is eager to learn the Portuguese words for things. He accepts that there are two words for everything and never questions why. He surprises us everyday with the things he comes out with but there are still words and phrases he hasn't learned.
So, in an effort to answer his questions and further our own learning, I asked TeacherBoards if they would be prepared to send us their Magnetic Dry Wipe Workboard Starter Kit, A Show-Me Boards product, as I felt this would be the ideal tool to help us with our learning at home. Not only does it have a large dry wipe workboard and smaller ones too, but it also has a pack of lower case letter and numbers, which would help our son with his alphabet and numbers learning.
I was absolutely thrilled when they agreed to send the kit to us. Learning Portuguese was about to get a whole lot easier at home. We eagerly waited for the kit to arrive and once it did, we got to work straight away.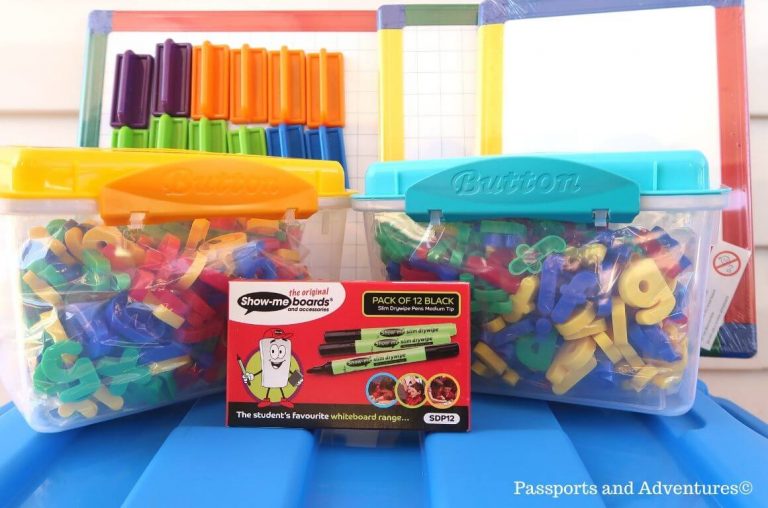 The Magnetic Dry Wipe Workboard Starter Kit contains the following items:
10 x A4 Magnetic Drywipe boards
1 x A3 Magnetic Drywipe boards
12 x Slim Barrel Medium Tipped Drywipe Markers Black
12 x Magnetic Mini Erasers
1 x Tub 286 Magnetic Lowercase Letters
1 x Tub 286 Magnetic Numbers/Maths Symbols
Multi-coloured storage trunk to hold everything.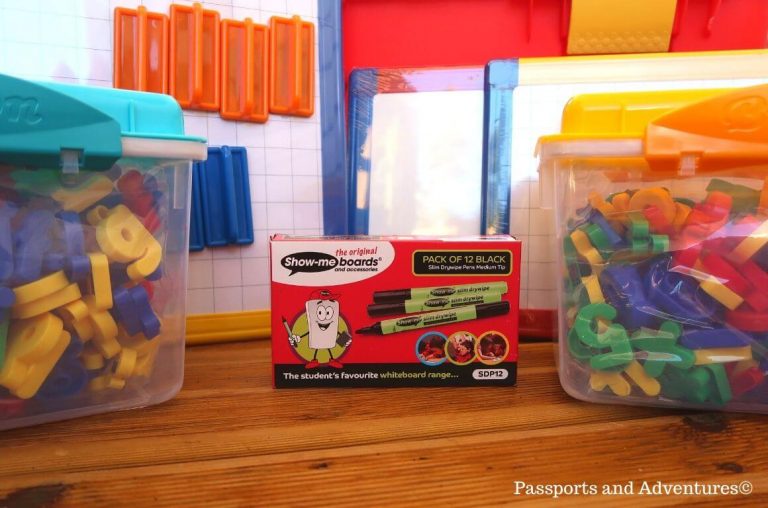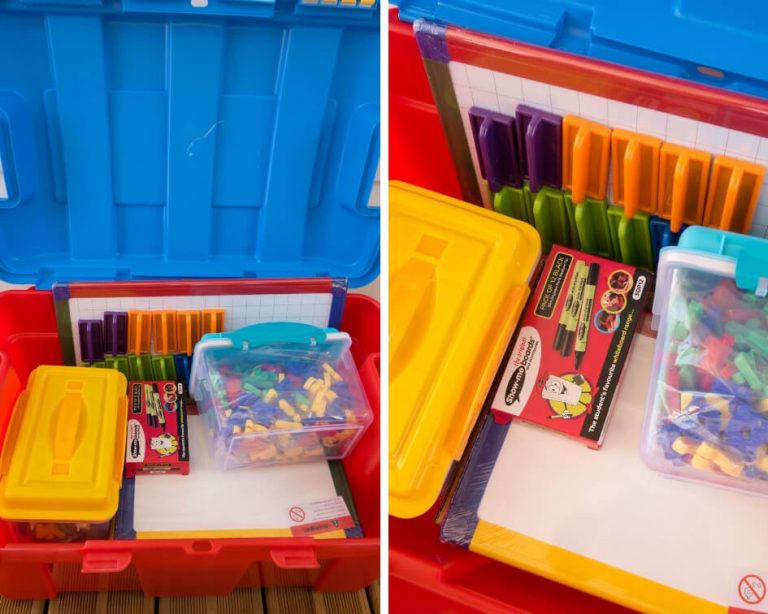 How we are learning a new language with Teacherboards – review
We decided to put the A3 board on a cupboard by our fridge so that we could add new words to it as we learned them. The idea is that by having the board in a prominent place, we can read the words we are learning, any time day or night, and absorb the Portuguese for them until we are comfortable enough to replace each word with a new one.

The first word to go onto that board was the word for flag, bandeira. I asked one of my son's teachers what it was as he had brought a toy flag into school one day and I realised I didn't know the word for it. My son's teachers are so helpful and are always telling us new words when we ask them. I think they appreciate the fact we are trying to learn the language and they hear us using what little Portuguese we have with our son, so they know we are making the effort where so many other expats don't.
In a short space of time our A3 board was filled with words my husband and I want to learn, some for ourselves, others such as monkey, sheep and donkey to use with our son. We will probably keep the words there for a few weeks before replacing them with others.
As for the A4 boards, we've used them in two ways. Firstly, we decided to put one in each room to help us learn the words for the items of furniture in that room. For instance, in the kitchen we have one with the word for things like the cooker, the sink, the fridge and the kettle. Beside each word you'll notice an "M" or an "F". These denote whether the word is male (um) or female (uma). Portuguese follows the same sort of rules as French with words being either male or female. So far this hasn't been a problem unless you are referring to two of the item or thing as there are two ways to say "two X's" depending on whether the singular is male or female. But it makes sense to learn that now rather than later.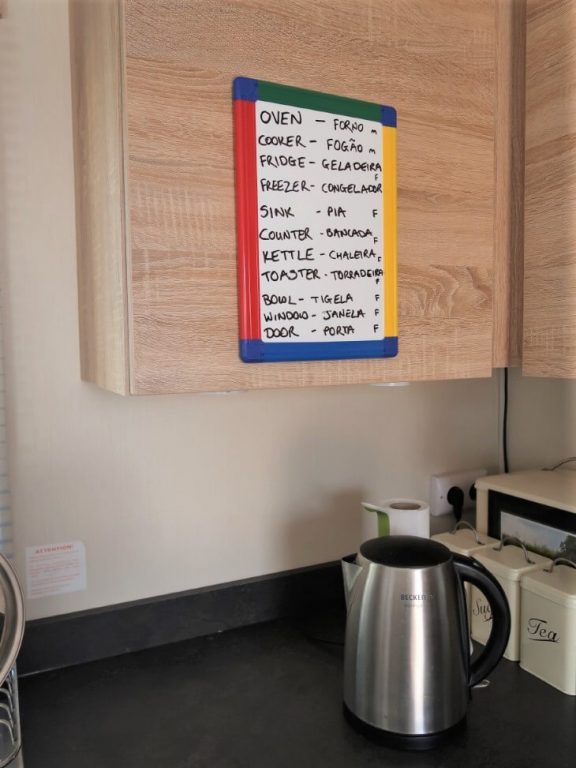 Secondly, I've been using the A4 boards with my son to help him learn and recognise the letters of the alphabet. In school he has been learning his vowels and can recognise them and write them too, much to our surprise. I've also used the A4 drywipe boards to help our son with his writing. Although he doesn't start real school until he is six here in Portugal, he has started learning to write in preschool and I'd like to continue that learning and help him improve at home.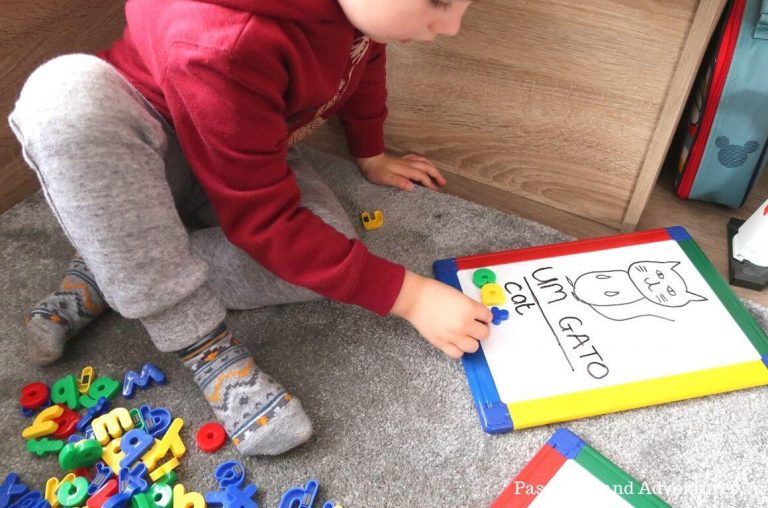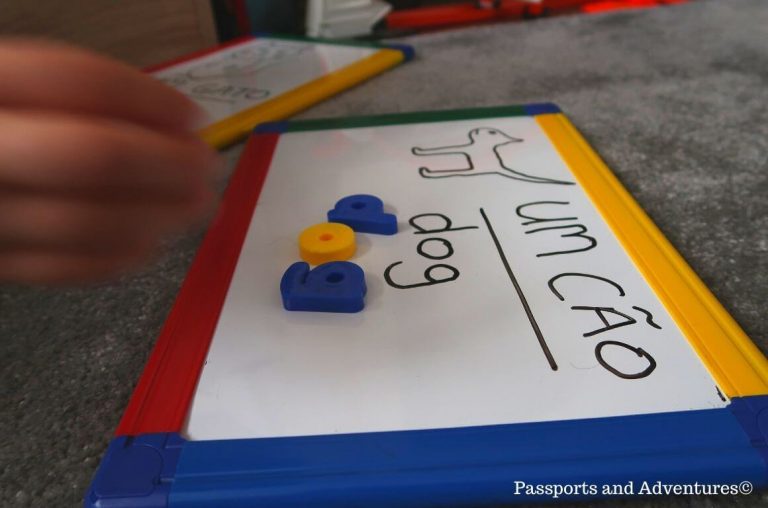 So, we've been having fun in the evenings after dinner with letters and writing. And it's a much better use of that hour before bedtime, rather than him watching TV. It's also been great seeing our son starting to recognise other letters apart from the vowels, and also to see him writing. It's a milestone I wasn't expecting to see so soon for some reason.

What I love about the Workboard Starter Kit from Teacherboards
A fabulous teaching aid.
A3 board is a perfect size for learning several words.
A4 boards are great for putting up in various rooms.
A4 board is the perfect size for little hands.
The drywipe nature of the boards make it easy to change up the words we are learning.
The magnetic letters and numbers are a huge help to continuing our son's learning and education at home.
The board, erasers, number and letters are bold, bright colours and will appeal to children.
The storage trunk is perfect for keeping everything together when not in use.
This kit will be so useful within the classroom situation for any teacher.
What I don't like about the Workboard Starter Kit from Teacherboards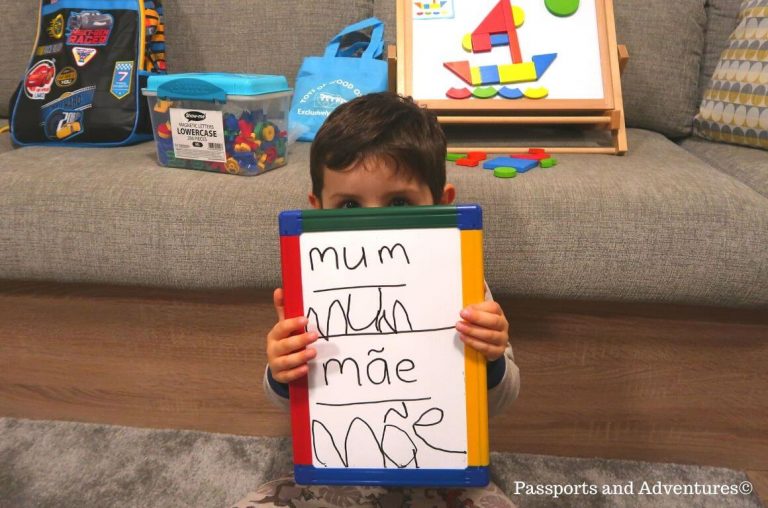 If there was just one thing I could change about this kit, it would be to have a smaller 'home' kit. We really don't use all 10 of the A4 boards and it'll take quite a while for us to get through the full box of pens. We also aren't using all 286 letters at one time either. My suggestion to TeacherBoards would be to create a smaller "at home" kit for parents to use with their children. The kit could be recommended by the teachers who use the full starter kit within their own classrooms.
That said, I love this dry wipe board kit. It has become so helpful and useful around our small home in helping us learn everyday Portuguese words. It has also become a favourite of our son's for practising his writing and his letters. In the future I think it will help tremendously when he starts Maths as well.
Summary
This kit not only helps us in learning a new language with TeacherBoards but will help with our son's continuing education at home. The dry wipe workboard starter kit would also be an invaluable piece of kit for anyone embarking on home education. The bright, bold colours will make the boards, erasers, numbers and letters appeal to kids and will help make learning fun.
I can highly recommend the Magnetic Dry Wipe Workboard Starter Kit (A Show-Me Boards product) to anyone wanting to learn a new language or home educate their children. TeacherBoards not only have this kit but a full range of whiteboards for teachers, and other teacher boards ideas. So please do check out the TeacherBoards website to have a look at their full range of educational boards and teaching aids.
TeacherBoards are confident that you'll find what you are looking for. However, if not, they can alter a product to meet your specific needs. You can't ask for anything better than that.
Are you learning a second language at home or are going down the road of home education? Then TeacherBoards might be able to help you out.
Cath x
*We were very kindly sent a Magnetic Dry Wipe Workboard Starter Kit for the purpose of this review, However, as always, these are my own honest thoughts and opinions of the product.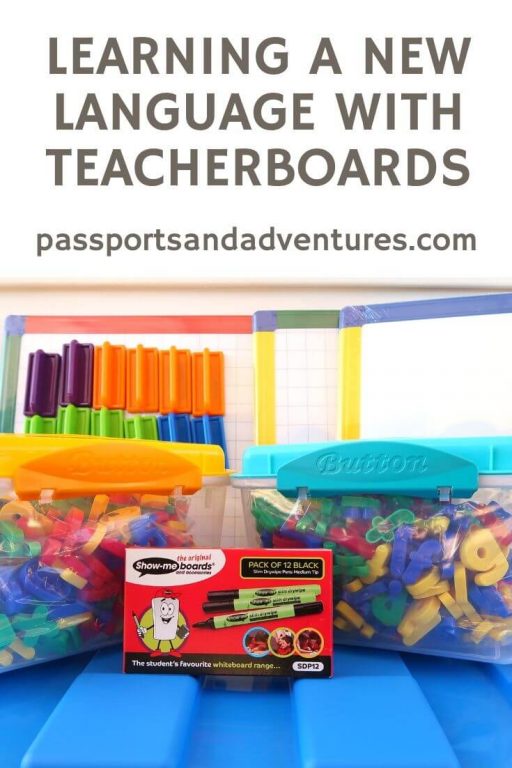 Related Posts