Today it is my great pleasure to welcome fellow family travel blogger Emma, from the fab Wanderlust and Wet Wipes, to the blog. Today, Emma is sharing with us her family's best and worst holidays. Over to Emma.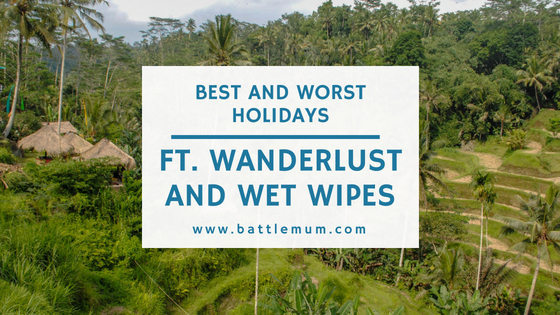 Worst Family Holiday
Our worst family holiday was in 2015. We had just moved to the Middle East with 2 small kids and were excited to start exploring the region and to take advantage of our proximity to new countries. We were looking for something a bit different but within a reasonable budget. I'll be honest, we were feeling adventurous and we may have lost a little bit of perspective while we were planning. 
We headed to Kerala in India for 10 days, excited to be doing something that felt more like "us". Before that our holidays with 2 kids had involved resorts and not much adventure. And that really didn't feel like us. We knew our limits and weren't going on public transport for this trip. We had a driver and all our accommodation was booked in advance through a travel agent. We pre-booked cots and extra beds and triple checked the details before we left. All of which was about as unlike the pre-kids us as you could get. But still. I mean India feels adventurous, right?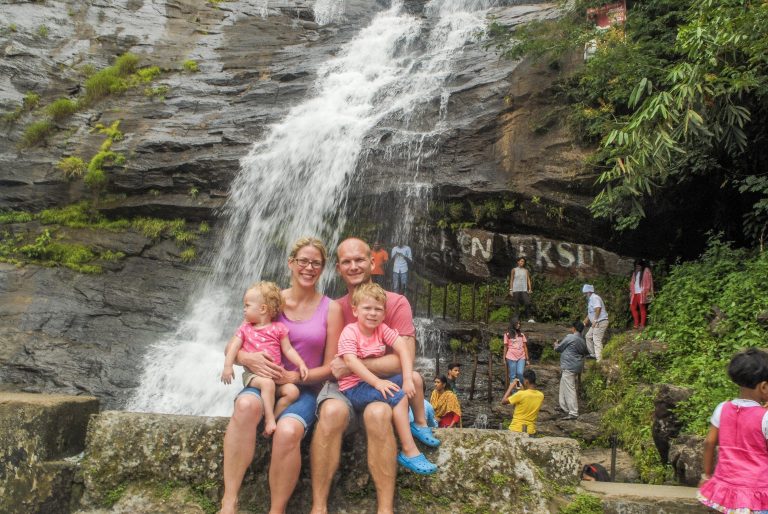 We arrived in the very early hours of the morning off an overnight flight. Again, unlike the pre-kids us, we had decided to book a hotel room so we would have somewhere to crash when we arrived. I was pretty annoyed to discover that the rollaway bed and cot that we had pre-ordered were not already in the room and took 45 minuted to get set up! But eventually it was all done and we enjoyed our first couple of days in Kovalam. 
That was probably the most relaxing few days we had. Over the 10 days we had arranged to stay in 5 different places which in of itself was probably too much to do. (Although we have since done 5 places in 8 days and it was completely fine). On top of the long drives between places, we found that the main attractions in each area were still a pretty big drive from wherever we were staying. It just meant lots of time in the car for the kids really. And the things we were seeing weren't always that interesting for them. Not to mention that they were NOT feeling very adventurous about the food (which we loved haha). 
After that first hotel, every single place we stayed had a problem with cots. There was one that was for a baby and rocked so our daughter would fall out if she stood up when she woke up. There was another one that was about 4 feet tall but with really small rails so she could, again, stand up and fall right out. There was one which had no mattress and rocked so she would have been sleeping on a metal rail. If that wasn't bad enough it was also mouldy. She slept on a mattress on the floor in that place so you can imagine how much sleep we got there!
The final straw came when we got the the last place in Kochi and they told us they didn't have any cots left. We couldn't understand how we had booked one but weren't given one only to be told it's a "request not a guarantee and depends on availability". (Side note this is true in most hotels even though we've never had another issue with it). It was suggested to us that we could go and buy one if we wanted!!! Luckily it was resolved before we really had to lose it but there was some shouting and sharp words from our end before that happened. 
Hindsight is a wonderful thing and there are things I would absolutely have done differently if I could have. With a driver and car we could easily have taken our own travel cot which would have given us so much more sleep. I was so exhausted by day 7 that I seriously asked my husband to look in to getting us on the next flight home. I'd really just had enough. Since that holiday we have also found that we are much better at planning a holiday that works for everyone. Sometimes that means we look harder for places and activities that are simultaneously kid and adult friendly. Other times we have a day of mummy and daddy stuff followed by a day of kid stuff. But we still shudder when we talk about THAT trip to India!
Best Family Holiday
We have been super lucky to have quite a few very successful family holidays since that awful India trip. Last year we spent 3 weeks travelling around Italy and had a blast everywhere we went. But the most memorable was the first holiday that we had where we all had an amazing time. It was the first time that I really felt we could have family holidays that worked for all of us. In fact, it inspired me to start my blog!
We went to Bali for 2 weeks. We stayed in 3 different places and had a variety of accommodation and activities in every place we went. We weren't super adventurous – Airbnb with a pool for 2 pretty mainstream places (Seminyak and Ubud) and a resort (Nusa Dua).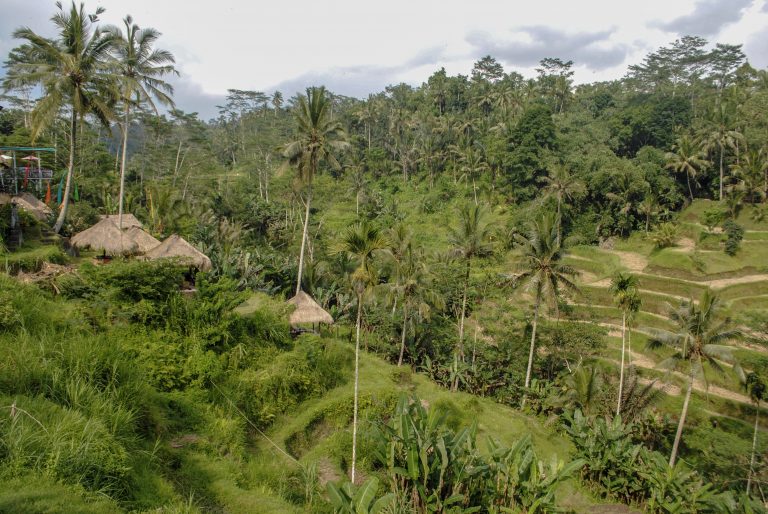 But we did some really fun stuff – and a great mix of things! One day was spent at the beach learning to surf and making sandcastles. Another day we went to some temple ruins in a forest with monkeys everywhere. We went to a Waterpark that the kids loved so much that we took them back for a second day later in the holiday! We had lunch in a (dormant) volcano, did some amazing shopping (including getting a new dining table and chairs shipped to us back in Doha!).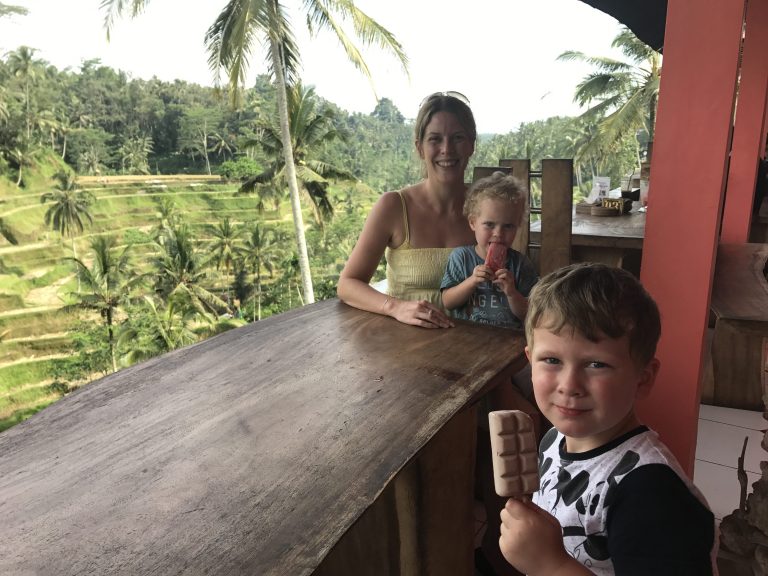 There was such a great balance of all three aspects of things I mentioned before – some things were for us, some things were for them and somethings were for all of us. It felt like everything just… worked. We all completely disconnected, relaxed and recharged and came home much closer as a family. And even better was that we came home knowing that we could still have these amazing adventurous holidays even with small kids in tow. There always has to be an element of compromise – you can't expect to do everything that you used to – but the fact that we weren't destined to sit in an all-inclusive resort for 18 years was mind-blowing to us!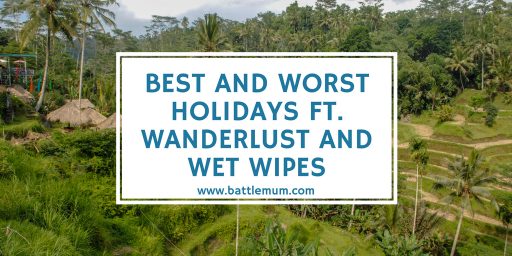 Thanks so much to Emma for sharing her best and worst holidays with us. Emma is a pushing 40, travel-mad mum to 2 young kids (aged 6 and 4) and a crazy dog. Originally from the UK she's lived in 10 cities across 5 continents all over the world. She currently lives in Doha, Qatar. Emma started blogging about her family travels in 2017 when she had an epiphany about how to have successful adventurous family holidays. Emma's wonderful blog is Wanderlust and Wet Wipes and she can also be found on Twitter, Facebook, Instagram and Pinterest.
And if you would like to feature in my Best and Worst Holidays series on the blog, please send me an email at bm@battlemum.com.