Caerphilly Castle in the town of the same name in South Wales is a great castle to visit with kids. In this post you will read about our visit to see the Caerphilly Castle dragons and get some tips and information for making sure your visit to Caerphilly Castle with kids is a great one.

*Post originally published in May 2018. Updated in March 2020.
We have been frequent visitors to Caerphilly Castle during our years of living in Wales. Our son had been a few times before we decided to take him on a dragon hunting adventure at Caerphilly Castle. He even met the original dragon, Dewi, one bank holiday weekend during which we visited the castle with my Dad and sister who were visiting. But somehow our dragon hunting adventures didn't start until after that first encounter with a dragon. That said, during our last visit we got a big surprise.
Visiting Caerphilly Castle with kids
Caerphilly Castle is Wales' largest castle and is also the second largest castle in the UK. It is a medieval fortification located in the centre of Caerphilly and has a double moat system. Constructed by Gilbert de Clare in the 13th century, it was last owned by the Marquesses of Bute before being given to the state in 1950. Caerphilly Castle was also the first concentric castle in Britain, and today is part of Cadw.
On St. David's Day in 2016, a fearsome dragon appears on the banks outside Caerphilly Castle. A smoke-breathing dragon, he moved inside to the rule the castle a short few weeks later. That May bank holiday weekend, we dared to meet the Caerphilly Castle dragon while my father and sister were visiting, it being their first time to visit the castle. Before we emigrated from the UK, we made a return visit.
Our visit to see the dragons at Caerphilly Castle
Before we left Wales for good we decided to make a return trip to the only castle with dragons, Caerphilly Castle.
The first we went to see the Caerphilly dragon took some coaxing of our son to meet it. And meet him he did. Fast forward nearly 12 months and our last dragon hunting adventure at Caerphilly Castle was upon us. We had breakfast across the road in Glanmor's Café, Caerphilly to ensure we had plenty of energy for hunting this dragon. With full bellies, we headed across the road, and through the ticket office and got the surprise of our lives.
Dewi had returned to Caerphilly Castle but he wasn't alone. He had been joined by Dwynwen, a female dragon, and they had two eggs! Imagine our surprise to find two dragons with eggs inside the castle walls. Our son was extremely wary of both dragons. We had thought Dewi was impressive, but his female counterpart was simply beautiful, with her blue scales and female looks. Together they were simply incredible.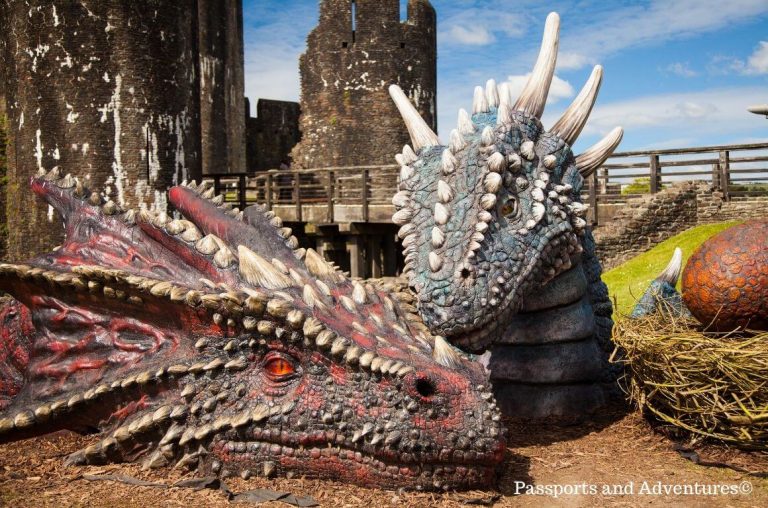 Our son, on this occasion, wasn't having a bar of it, getting up-close-and-personal with both Caerphilly dragons. Even with mum to hold his hand he wasn't going to get too close to them. After a quick photo in front of them he was off, finding somewhere less intimidating to start hunting his own dragon. After all, we were there to find our own dragon.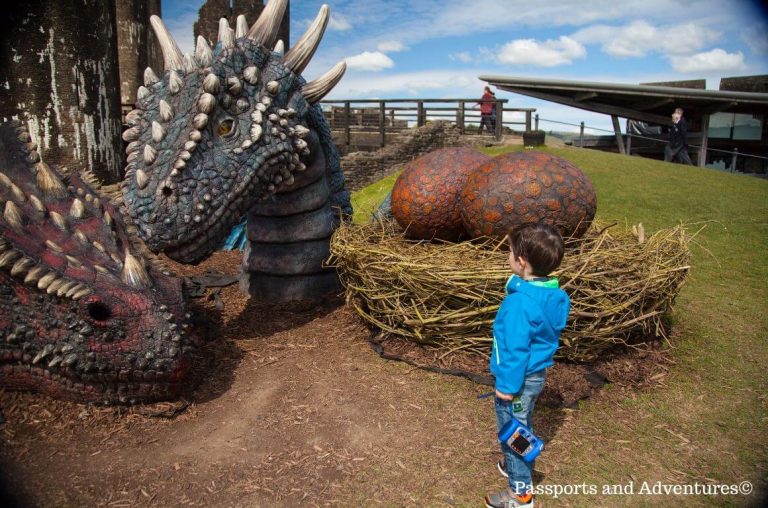 We began our own search around the base of the Leaning Tower of Caerphilly. The slant on this tower is, believed locally, to be as a result of damage caused during 17th-Century battles between Oliver Cromwell's roundheads and King Charles I's cavaliers. But I bet you didn't know that it slants at a greater angle than the Leaning Tower of Pisa, hence it's nickname of the Caerphilly Castle leaning tower.
There is a knight holding up the tower and we searched around him, carefully mind you, but there was no sign of our dragon. Checking the mounds around the leaning tower proved fruitless.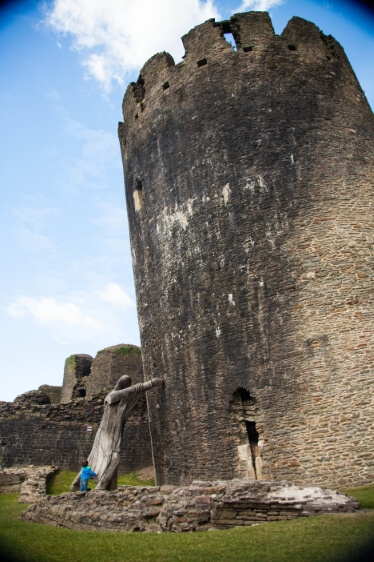 We decided to move our search indoors and started in one of the towers of the main gatehouse. We checked all the nooks and crannies of every floor we could access, but no dragon. Where was he hiding?
We walked along the battlements that lead from the towers along the upper walls of the castle, mum holding the little hunters hand tightly. We had to pause for a minute to view the two dragons and their eggs from up above.
From the gatehouse we went towards the back of the castle and checked in the Northwest tower but still couldn't find any signs of the dragon we were there to hunt. The dragon didn't seem to be anywhere inside the Inner Ward.
Perhaps we would find him in the Middle Ward, so we moved there and started checking the holes in the walls. Sure enough, in a low-lying hole, we found our small dragon, trying to elude us. Our son was thrilled and spent the next few minutes making him fly (that's throwing him up in the air to you and me).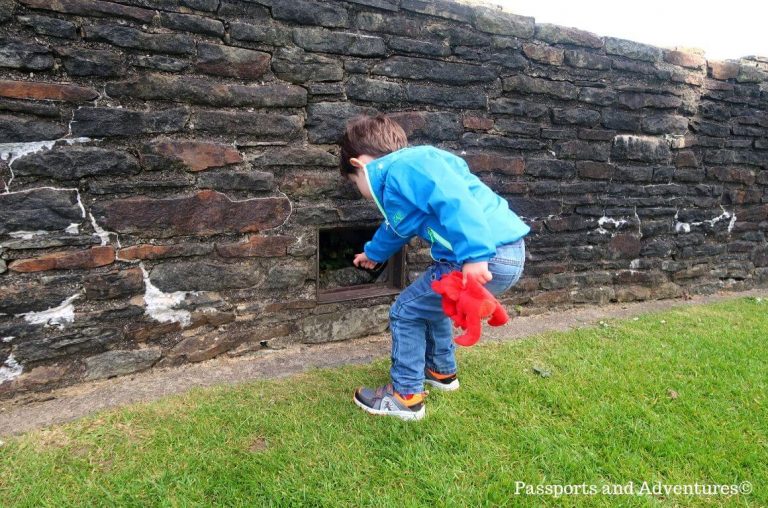 Before leaving Caerphilly Castle, after another successful dragon hunt, we had to stop by the two magnificent dragons for one last look and one last picture. They are spectacular, and I've heard their babies have hatched. What a way to end our dragon hunting adventures in Wales. I was hoping to return to Wales with our son if the dragons went on tour during the summer after we left and we just managed to catch them on a return trip to Wales later that year when their lair had changed. However, we are yet to see them at one of the other many Cadw Castles in Wales when they go on tour. Maybe one day in the future.
Things to note if you visit Caerphilly Castle with kids
Caerphilly Castle is a Cadw site, meaning you gain free entry if you are a member.
The Caerphilly Castle opening times are as follows: November to February 10am to 4pm Monday to Saturday, Sunday 11am to 4pm. March to June and September to October, the castle is open between 9.30am and 5pm. During July and August, the castle opens at 9.30am and closes at 6pm. Last admission is 30 minutes before closing.
Note, that the castle is open every day except the 24th, 25th and 26th December, and also 1st January.
Caerphilly Castle prices are as follows: £9.40 per adult and £5.60 for children under 16, veterans and students, and £7.50 for seniors. Under 5's are free entry.
Toilets are located beside the Great Hall and have baby changing facilities.
The castle is partly wheelchair and buggy accessible. However, upper or lower floors are not.
Caerphilly Castle is a non-smoking site.
There is a gift shop but no café. That said there are numerous cafes in Caerphilly for refreshments.
There is no dedicated Caerphilly Castle parking. The Castle doesn't not have a car park. There is a public car park located across the road from the castle which is pay-and-display. There is also time-limited free parking in Morrisons car park which you can avail of if shopping there before or after your visit.
Dogs are welcome in the castle provided they are kept on leads, and owners clean up after their dogs.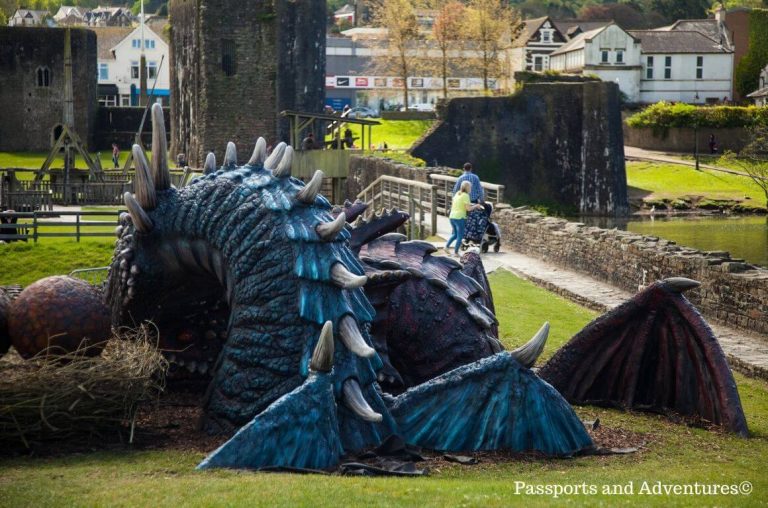 Summary
Caerphilly Castle is a great castle to visit, particularly if you are in Cardiff or the slightly wider South Wales area. Kids will love seeing the leaning tower, the trebuchets, and exploring the various towers and rooms of the castle, including the Great Hall, provided there isn't a wedding on during your visit.
And if you keep an eye on the Cadw website, you might be able to time your visit just right so that you get to feast your eyes on the dragons themselves. There is nowhere else I know of that combines castles and dragons. And a new addition to Caerphilly Castle is Gilbert's Maze, an interactive maze which replicates the layout of Caerphilly Castle. Will you be able to find your way out?
We highly recommend you visit Caerphilly Castle if you are in the area and looking for a great family day out. There are also plenty of places in Caerphilly town for refreshments before or after your visit.
Cath x
*Prices and visiting times correct at the time of updating this post.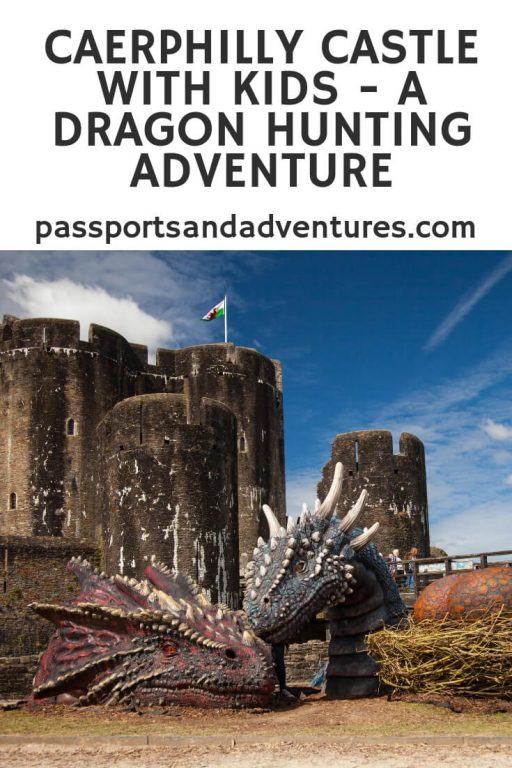 Related Posts