One question I see coming up time and again when discussing travelling with young kids is how to entertain babies and toddlers while flying or on long car journeys. In a bid to answer that question I'm sharing with you some of the best baby travel toys that can help with long journeys, by car, plane or even train.
The Best Baby Travel Toys
When it comes to the best toys for travelling with baby, it very much depends on their age. Most babies under 6 months of age will either sleep or eat on the plane and may not require entertaining at all. One of the easiest sets of flights I had with my son when before he was 6 months old and he fell sleep on take-off and woke just before we landed an hour later. Easy peasy.
However, we've found that once our son was over 6 months, entertainment in one form or another was required, particularly for long flights. While the seat and surroundings can be a great source of entertainment with seat buckles, tray tables and fellow passengers, these can start to become boring after a while.
Sure your baby might nap if you time your flights well but it is always a good idea to have a backup plan. And this is where my suggestions for the best travel toys for babies will come into play.
And once you hit the 1-years-of-age mark, things can get a little trickier, especially if your baby is now on the move. The baby travel toys below will work up to about an age of 18 months before you may need to resort to other forms of entertainment and tactics.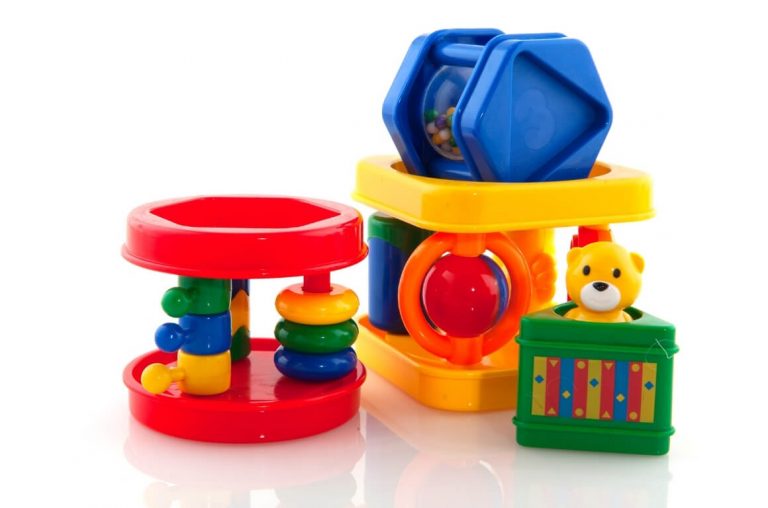 If you are looking for something for your toddler, this post about the best travel toys for toddlers has plenty of suggestions. And if you need additional tips for flying with babies and toddlers, particularly if it is your first time, read this post.
Now, let's take a look at the best baby travel toys.
Ring-o-link Teethers
One of the best baby toys to bring with you when travelling is a ring-o-link teether. Not only are they good for babies who have started teething, but they can be fun toys thanks to their bright colours. Our son used to love trying to pull them apart, although he never fully managed it. There are many ring-o-link teethers on the market, but three I found are perfect travel toys for baby.
Buckle Toys
Another great baby travel toy is a buckle toy. These early child development toys are both playful and educational, and can help with fine motor skills development. Typically they are types of stuffed toys for babies that have straps with buckles on the ends which interlink with another.
They come in all shapes and sizes, and some will even come with zips for added entertainment and engagement. The Bingo Cube buckle toy is a square cube that comes with buckles and zips and is brightly coloured. The Bentley Caterpillar buckle toy is shaped like a caterpillar with lots of buckles and bright section, and there are even flat versions of buckle toys such as the Buster Square buckle toy.
And for something really cute, you could get a Blizzard Penguin buckle toy. He is adorable with five buckles to the front and numbers and shapes on his back. He even has a small zipper section on his back. He can double up as a sleeping companion for toddlers and older kids.
There are lots of buckle toys to choose from. See the full range on Amazon here. Just be aware that these toys' recommended age begins from 12 months of age.
Activity Soft Toys for Babies
Activity soft toys for babies such as the Lamaze baby toy range are ideal travel toys for babies. They have a range of toys which are perfect for car seat entertainment for babies and on planes too.
One of our son's favourite baby toys was his Lamaze stroller and car seat fly toy, similar to Freddie the Firefly. We would bring him in the car and attach it to his infant car seat handle and he would play with him while he wasn't sleeping. Then the toy would be out and about with us, providing hours of entertainment, even outside of the car.
A great Lamaze toy that would entertain your baby on the plane and at your destination is the Lamaze My First Fish Bowl. This soft fish bowl comes with four sea creatures that crinkle, rattle, jingle, or squeak which will delight any baby. All the creatures fit inside the bowl for easy storage and transport. It is recommended from 6 months and above.
And finally, how about some soft stacking rings. The Lamaze Rainbow Stacking Rings toy comes with a soft central pillar and four additional rings of varying textures and patterns. Recommended for babies from 6 months of age.
There is a huge range of Lamaze baby toys available on Amazon. See the options here.
Spin Ball Toys
Great toys for babies under 1 years of age are spin ball toys. These come in a range of shapes and sizes and, as with most baby toys, come brightly coloured. Many will contain a rattle of some type and will make noise as a result.
One of the best baby toys for airplane travel is a suction spin ball. This is a spinning ball toy that has a suction cup at the end of it to keep it on a table, or tray table in the case of plane and train travel. One such suction spin ball is the Baby Einstein Sticky Spinner Activity Toy which is brightly coloured, spins and has a suction cup. What makes it perfect for travelling with a baby is that it does not have a rattle to it so won't annoy your fellow passengers.
Another great spin ball toy is the Baby Einstein Bendy Ball Rattle Toy. This colourful activity ball has an outer frame that holds another ball inside. It is a fun and captivating toy for babies and ideal for travelling with them. It is recommended for ages from 3 months.
Take-along Shape Sorter
One of the best educational toys for babies you can take when you travel is a shape-sorter toy. The best, and most practical, on the market is the Melissa & Doug Take-along Shape Sorter.
Unlike traditional, bulky baby shape sorters, this one comes in a padded, but small, carry case in which you will find nine shape holes for nine plastic shapes. The back also has nine crinkly life-the-flaps corresponding to the case's shapes. And with a carry handle, this is an ideal travel toy for babies. This toy is recommended for babies from the ages of 9 months.
Lift-the-flap Books
Some of the best travel toys for babies are lift-the-flap books. These can be handy and small books, in which the pages have flaps that your baby must lift to reveal a hidden picture. Some may simply have pictures, others may reveal textures and patterns, making them some of the best interactive baby toys. Amazon has a large range of lift-the-flap baby books. See the range by clicking here.
Activity Balls and Toys
Activity balls are also among the best travel toys for babies. These can keep your baby entertained while also helping with their development. Each one has features that help with fine motor skill and other important developmental characteristics.
The Manhattan Click Clack Ball is one such activity ball that is brightly coloured and easily handled by babies. There are handles around the ball which click with each turn making it fun and engaging, and within the ball are beads that rattle too. This is recommended for babies from the age of 12 months.
Another great activity toy to take with you while you travel with a baby is the Coolecool Baby Rattle toy. This brightly coloured toy has lots of activities on it to keep your baby happy and entertained while also helping with their development. There are various aspects to this activity toy: grasp handles, moveable cubes, a rattle, sound button, and more. This is recommended from the age of 3 months of age. A similar product is the Bright Starts Activity Ball which has a central spinning frog and other activities around the grasp handles.
Water Magic Pads
Water Magic Pads are a great way to keep your baby entertained for a while. These can come in a range of sizes and work by using water pens to create drawings and pictures which fade, making the pad reusable time and time again. These are some of the best travel baby toys. Check out the range here on Amazon. Just ensure to check what age the product is recommended from before you purchase.
Dimple Toys
Dimple Toys can make great travel toys for babies to help keep them entertained while helping with their development.
There are lots of options on the market of different shapes and sizes. Dimple toys are colourful toys with silicone bubbles built in to engage your baby. Perfect for ages 6 months and above, these toys, such as the Anpole Baby Simple Dimple Toy, will fit into your hand luggage easily, won't take up too much room and can be easily cleaned as well.
Wooden Puzzles
A nice, quiet toy for travelling with babies are small wooden puzzles. These puzzles have large, chunky pieces, usually no more than 6 pieces and create colourful pictures such as ladybirds, cars and butterflies. These are ideal from the ages of 12 months and won't take up too much space in your carry-on luggage. An example of these are the Magifire Wooden Toddler Puzzles which are available in a four or six-pack.
Lacing Toys
Lacing toys for babies from the age of 6 months and above is a great travel toy that is quiet while helping with their fine motor skills. These usually come with a string and hollow toys to lace through them, but the TUMAMA lacing toy has chunky building blocks that have a double use. They can be threaded with the string (be careful of this with younger babies) or they can be used as building/stacking blocks.
If you'd prefer a lacing toy where everything is incorporated into one item, then there are items such as this available here on Amazon. However, most of these are recommended from the ages of 3 years due to potential choking hazards. It is down to you as a parent to assess these to decide if you want to purchase any of these items.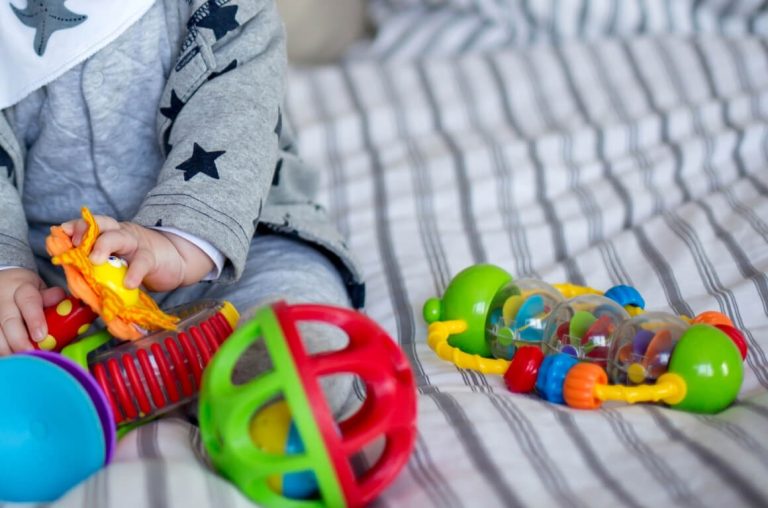 Tips for choosing travel toys for babies
Before you go buying any travel toys for babies suggested here, I thought I share a few hints and tips to help you even further.
Consider size and weight
While you may want to buy some of the best travel toys for babies, whether the ones suggested here or other types, you need to double check the size and weight of the items before purchasing. Most should be fairly light in weight but it is probably worth checking the dimensions. You want to keep the size as small as possible so it can fit inside your carry-on luggage in particular if you will be flying. Large, bulky toys may be great but they will take up a lot of room.
Consider the noise element
While there are some great musical toys for babies, you don't want to be annoying your fellow passengers, especially if it is a red-eye flight and your baby's body clock is still in another time zone. The same goes for toys that rattle. These are great for day time flights but it might be best to hide them for night flights.
Try to avoid small toys that can get lost easily
I suggest avoiding toys that are quite small or that can easily roll off the tray table. Firstly, while your baby might find this game hilarious, it can become annoying very quickly for us parents. And anything that rolls can roll far from your seat and get lost. If your baby loves small activity balls and rattles and you can't leave them at home, consider a travel tray that has four sides such as the Fun'N'Fly foldable Travel Tray on Amazon.
Buy toys that are easily cleaned
You want to make sure that the baby travel toys you buy are easily cleaned. They may end up on the floor, put into your baby's mouth, or slobbered over by your family dog, so you need to ensure they can be cleaned easily. Most plastic toys are easily wipeable as are many wooden ones. And soft toys can often be washed in your washing machine so long as it does not contain any electronic parts.
Best way to sanitize baby toys
There are a few ways to clean and sanitize baby toys. Some apply to home and some are applicable for when you are travelling, but I thought it would be helpful to add all the methods here.
In this day and age, soap and water are the best way to clean hands, and this is also true for baby toys such as rattles, teethers, plastic blocks and other smooth-surfaced toys. However, do not put anything electrical or with electronic parts underwater! This is a quick and handy method whether you are at home or on your travels.
Some baby toys are dishwasher-safe meaning they can be washed on the upper rack of your dishwasher. Check labels carefully before putting anything in there though! Toys that often come dishwasher-safe include rattles, building blocks, shape sorter pieces, stacking cups and teethers.
Environmentally-friendly surface cleaners are some of the best surface cleaners to use on baby toys as there are no harmful chemicals in them. Look for ones that are free from dyes, non-toxic, free from phthalates and parabens, and that are biodegradable. Since babies often put toys in their mouths, environmentally-friendly cleaners are best.
Surface wipes are another great way to sanitize baby toys as they are often dedicated disinfectant surface wipes. These are also brilliant for on-the-go cleaning of baby toys. Pop a packet into your carry-on luggage and use them to clean all the surfaces your baby will come in contact with, as well as having them as a backup for dropped toys.
Stuffed toys can be washed in your laundry machine provided they do not contain and electronic components or parts. Pop them into a laundry bag to give them some protection and wash at the recommended temperature (check the tag on your kids' soft toys for this).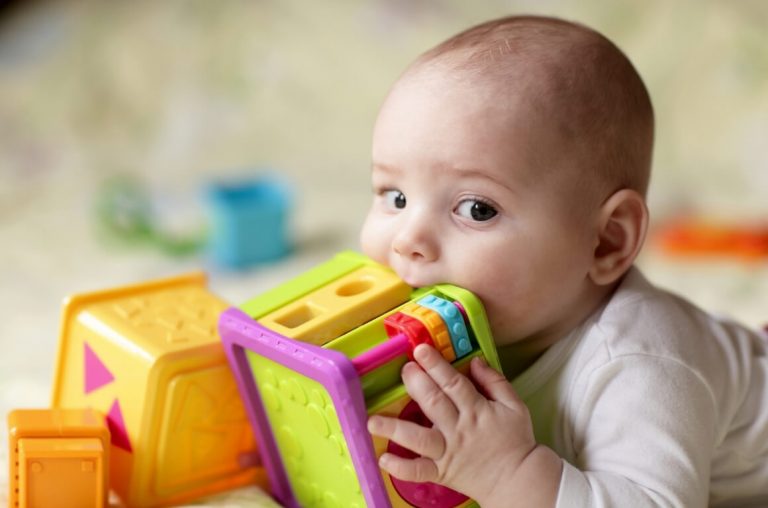 I hope you've found my suggestions for the best baby travel toys helpful. This is not an exhaustive list but many of the items we tried and tested with our son at that age and know your baby will love them too.
Cath x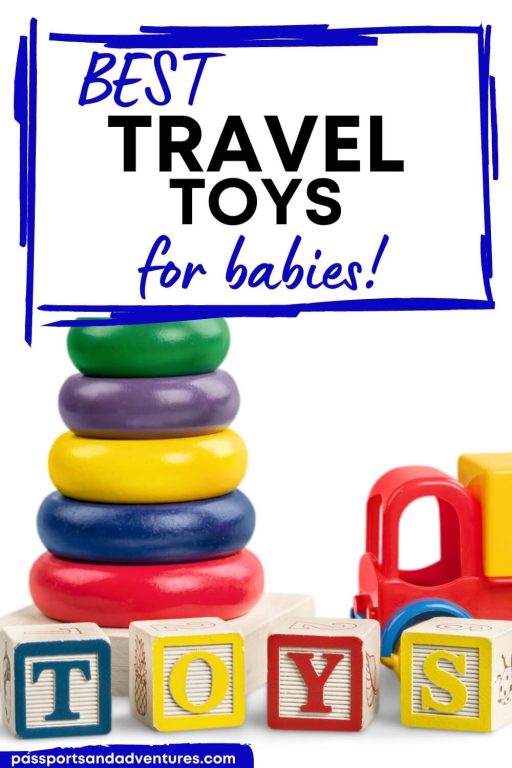 Passports and Adventures is a participant in the Amazon Services LLC Associates Program, an affiliate advertising program designed to provide a means for sites to earn advertising fees by advertising and linking to amazon.com, amazon.co.uk, amazon.ca. Amazon and the Amazon logo are trademarks of Amazon.com, Inc. or its affiliates. To learn more about affiliate links, read my Disclosure Policy here.
Related Posts