Are you planning a summer road trip to any of the US National Parks as a family? Or have you already visited some and are planning which ones to visit next? If so, then you need to grab my free National Parks bucket list printable for kids.
You can find my National Parks Bucket List printable at the end of this post.
While there are over 400 National Parks in the US, 63 hold a prestigious place among them. They have been deemed by the US Congress to be especially important among National Parks and it is to these National Parks in particular that many families flock, especially during the summer holidays.
If you are looking to visit some of the best US National Parks with kids, then you must read my post about the best national parks to visit with kids, as tried and tested by families who have been with their kids.
We have visited Yellowstone and are eager to return to the US to explore many more of the parks. Yellowstone captured our hearts and ignited our love for road trips and adventure. To keep our son occupied on forthcoming US trips, I've put together a National Parks bucket list printable for kids which you can get for free for your kids!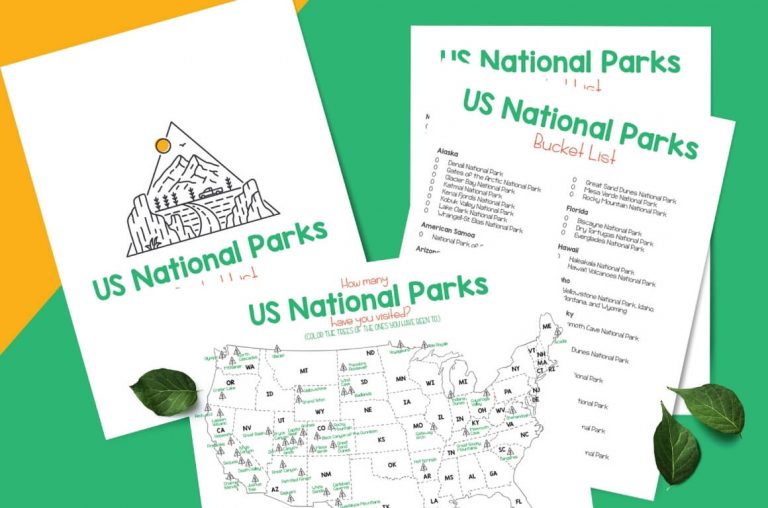 Why you need my Printable National Parks Bucket List
This handy pack contains a front page and three other pages in which kids can mark off which US National Parks they have visited. Whether they have already visited some, or you are planning to take them to their first one, this printable pack will help with the excitement.
The pack is even educational, thanks to the National Parks bucket list map that is included. If your kids are starting to learn the geography of the US, the map will come in handy.
What's inside the National Parks Bucket List Printable pack for kids?
As mentioned the pack has a cool front page and three activity pages for your kids to mark off and to help with learning. Here are the details:
Printable Map of National Parks – This map has 50 National Parks, marked with a tree in the relevant state. Kids can color the tree for each park they have visited. Once they have visited all the National Parks in each state, they can then color the state in too.
Printable list of National Parks by state – On the next two pages is a checklist of US National Parks by state. The kids can tick off each park they have visited and others they visit in forthcoming trips. Note that some of the parks on these two USA National Parks list printable pages span more than one state, so look out for these. Examples of these include Yellowstone National Park and the Great Smokey Mountains National Park, so check they tick both states for parks like these.
How to use my National Parks Bucket List Printable
Print out a set of pages for each of your kids and let them complete the parks they have already visited. This could be done in an evening while you reminisce about past visits. You can also use it to help plan forthcoming trips to the National Parks.
You can also use the US National Parks list map to help explain to the kids the distance you may be traveling in order to reach certain parks if you are taking on a road trip. Mark your home with an X and show them the distance from there to your destinations.
If you are looking for ways to get ready for a road trip with kids, read this post filled with helpful hints and tips.
You can print out this bucket list and combine it with my road trip games for kids printables to help keep them entertained on the journey.
Click here to download the printable National Parks Bucket List for kids now.
NOTE: This printable is for personal use only. You may not SELL or reproduce the file or the printed version of the file for commercial reasons.
I'd love to know how many National Parks your kids have already visited and by what age. Leave a comment below telling me. And enjoy your next US National Park visit.
Cath x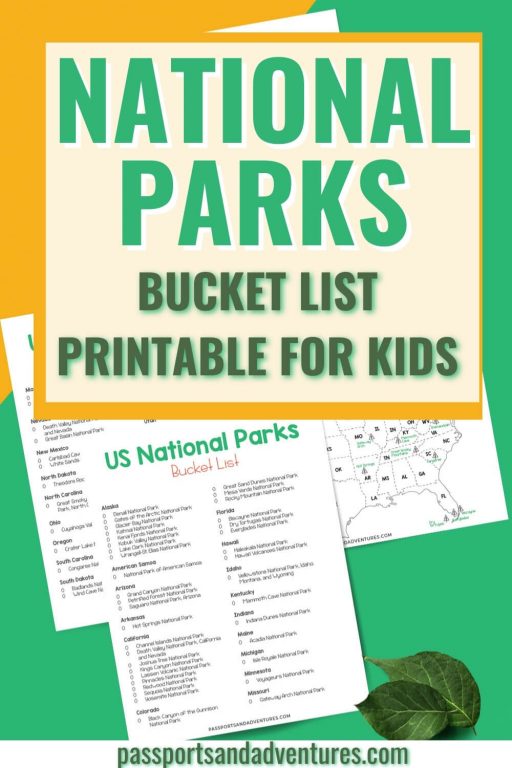 Related Posts