I've rounded up the best travel toys for toddlers so that you can gain ideas for keeping them entertained when travelling. Not only will you find ideas for toddlers, I've also included some ideas for great travel toys for babies to ensure they don't get bored on long trips.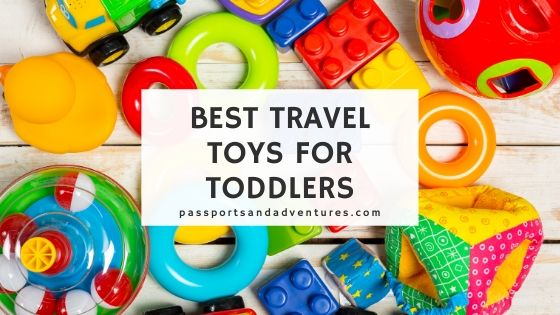 *This post contains affiliate links, many of which are Amazon affiliate links. To find out more about affiliate links and how they work, visit my Disclosure Page.
In this post I've compiled a list of ideas for some great travel toys for toddlers, as well as babies, to try to help travelling with young kids smoother. These toys can easily be enjoyed at home or on the road and have been chosen because they will suit all forms of travel, be it by plane, train or automobile.
I've also listed some things you need to consider when choosing the toys your toddler will be travelling with. It's important to think about these things before shelling out your hard-earned cash. So, let's address them first before we move onto the toys.
Things to consider before buying toddlers toys for travelling
Age
You need to assess the age guidelines for the toys you are considering purchasing. Most toys come with an "age rating" or recommended age group. That said, you know your child better than anyone else and can use common sense about which toys will suit your child. Just remember, travel toys for a 2-year-old will be very different from travel toys for 4-year-old. What keeps a two-year-old toddler entertained for 30 minutes might be wasted on a four-year-old.
Distance you are travelling
You want toys that are going to last the distance, if you'll pardon the pun. Short journeys should not need a mountain of toys. A few well thought out toys will suffice for journeys lasting just an hour or two. However, if you've got a long car trip or flight to take, you'll want a selection of things to keep your little ones happy. Kids will naturally get bored with certain toys, so a good selection for long journeys is a must to ensure they are kept happy and smiling.
Storage
Linking into my previous point, while you want to bring a selection of toys for the duration of your journey, you need to consider storage of said toys, particularly while you are travelling. How are you going to transport them and then store them once the kids have had enough? Are the kids bringing their own bags for their toys? Or, are you the one carrying the toys? And once you've reached your destination, where are they going to stay when the kids aren't playing with them? All these things need to be considered before buying a huge collection of toys for travelling with toddlers. And remember, toys add to the weight of your luggage. So, if you are flying and bringing things in carry-on, remember to bear in mind the additional weight.
Level of stimulation
The toys you choose for your baby or toddler should entertain them and keep them happy for a period of time. Mental stimulation is a must and they should preferably have other benefits such as being educational or helping with their fine motor skills. However, at the same time, if your baby or toddler are still having naps, you don't want something that will over stimulate them if you plan on trying to get them to nap in a car or plane.
Travel sickness
Another thing you need to factor in is whether your child gets travel sickness, particularly for car journeys. Anything that needs their full concentration and won't allow their eyes and ears to coordinate the fact that they are moving may exacerbate the problem. Even now at the age of 5, we cannot let our son watch a screen in the car as it brings on travel sickness in him quite rapidly. So, do bear this in mind before purchasing anything.
Benefits
The type of travel toys you choose for your children should be both entertaining and have other benefits for them and for you. Mental stimulation for your children as already discussed is an important factor. Their travel toys should keep them entertained, engaged and happy. However, there are other advantages to having travel toys for your toddler which are beneficial to you too. You get some moments of peace and quiet while your children are engaged and entertained, and their toys can bring you this benefit even while you are on holiday, for example. It also gives your children an increased ability to travel, which in turns opens up opportunities for your whole family.
So, before you purchase any new toys for your kids, do consider these factors if the toys you are buying are to be used while travelling.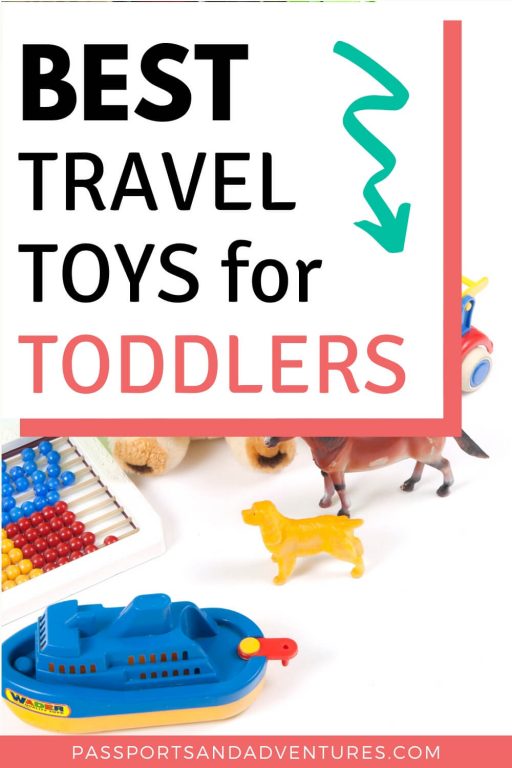 Best travel toys for babies
I am including some ideas for travel toys for babies which might be beneficial if you are travelling with those under or around the 1-year-old mark. Babies don't need a lot of toys to be entertained, in my opinion, as the whole world is a new experience for them. However, the journey you take to arrive somewhere new might not be stimulating enough. So, here are some ideas of toys to entertain babies while travelling.
Spin Ball

Bright colourful toys which encourage fine motor skills development, spin balls are great travel toys for babies. Choose the right one and it can be a great sensory toy with textured outer layers, mirrored insides and other parts that make sounds when moving.
Stacking cups or blocks
You can never go wrong with some stacking cups or stacking blocks to encourage fine motor skills and these are always colourful enough to be engaging. Most will stack neatly for either transport or storage and babies will love taking them out, stacking them and putting them inside one another again. Guaranteed fun and they even make great travel toys for toddlers on airplanes.
Shape sorter

Depending on the size, these are great toys which are highly engaging and great for encouraging development in babies. With shapes for little ones to pick up and try drop through the corresponding hole, babies will love something like this. Just be careful of sizing as some of these can be quite large.
This Melissa & Doug Take-along shape sorter featured is ideal for travelling with young kids.
Ring-o-link teethers
Great for babies who are travelling while teething. These toys are not only useful in that respects but can entertain a baby and keep them happy when their gums aren't causing them too much pain. Always brightly coloured and many with different textured links, ring-o-link teethers are generally a winner. Ideal for travelling by plane or car and for out and about at your destination.
Browse the full range of ring-o-link teethers on Amazon HERE.
Buckle toys

These are generally soft plush toys with bold colours and buckles. Babies and toddlers will enjoy trying to master the buckles and these are great for development in terms of fine motor skills, cognitive skills and problem solving. Some buckle toys come with zips and can clip to strollers/buggies and highchairs providing entertainment on-the-go. These make idea toys for babies under 1.
Soft book
We had a few soft books for travelling with our son as a baby and they were brilliant. They didn't weigh much, didn't take up much room, are great all-round soft toys for babies, and some even come with lift flaps or sound makers to make them even more engaging. There are also waterproof ones that can be used in the bath or poolside if you are holidaying somewhere that has a baby pool.
Lift and flap books

These types of books can be very engaging for young children and are some of the best educational toys for babies. Babies love trying to see what's behind the flap, or trying to find who is hiding behind it. We loved the Dear Zoo lift and flap book, and there is a great series by Julia Donaldson (of the Gruffalo series) and it may prove very popular with your kids if you are looking for these types of books.
These are just a few toys which would be ideal for travelling with babies. As babies become more aware of their surroundings and start to interact with it, grabbing, touching and generally becoming curious, it is useful to have some engaging toys to keep them happy and relieve boredom that might set in if they are sat for an extended period of time like on a plane or car trip.
I would recommend staying away from overly musical toys for babies, especially if travelling by plane. This is just so the noise doesn't become too annoying for your fellow passengers, or for you if you are trying to concentrate on the road during a car journey.
Best travel toys for toddlers
In this section you'll discover some of the best toys to keep toddlers busy while travelling. Whether you are going by train, car or jetting off somewhere nice, you'll find some great ideas for fun toys for toddlers which will go some way to making your journey more enjoyable for everyone.
Stickers and sticker books
While you might not classify them as toys, stickers and sticker books are by far the best plane entertainment for toddlers, especially for take off and landing when they need to be seated.
They were lifesavers for us when travelling with our son by plane before the age of two. No toddler likes to keep still at the best of times, but it's a necessary evil when travelling by plane. To save our sanity, and that of our fellow passengers, stickers and sticker books became our go-to entertainment particularly for landing. They never failed to engage our son enough to get us on the ground.
We have the Usborne First Sticker Book Airports and it is great. I also like the travel-themed Usborne 100 Things for Little Children to do on a Journey.
My busy books

Another great way to keep toddlers happy on a plane is by using busy books. These activity books often come with colouring pages, stickers and more to keep toddlers engaged and happy. Our son still loves these years later.
Browse the full range of My Busy Books on Amazon.
No mess colouring
A great way to entertain a toddler on a journey is by using no mess colouring or doodle toys for toddlers. These toys use water to create the colouring part and the best part is your toddler cannot destroy themselves or a seat with colouring markers. You simply fill the "pen" with water and off they go. These are also great quiet toys as there is no sound to them. You can choose from Crayola Colour Wonder, Water Wow or Aquadoodle toys.
Duplo

Another idea for quiet toys for toddlers travelling by plane is Lego Duplo. Our son loved Duplo because they were brightly coloured, and large enough for his little hands to manage. We took a small selection with us in a drawstring bag and these were great as they didn't make any noise themselves, although the same cannot be said for the happy child playing with them. There is even an airport-themed Lego Duplo set. Just be careful not to go overboard as they do take up room in your bag.
Playset in a tin
Something that makes great small travel toys for toddlers are play sets in a tin. These are a complete play set, with a handy storage tin and there are a range to choose from such as a farm set, zoo, tea party, racing cars and more. You can even get a train set in a tin, perfect as a travel-themed toy for kids.
Cars and road play tape

Small toy cars for toddlers and a bit of road tape can provide lots of entertainment. Ensure the cars you choose aren't too big and don't make too much noise. Push along cars are the best choice as wind up or pull back ones might go missing under other passengers' seats on trains and planes. Our son loved small toy cars when travelling and road play tape means they can create their own play space anywhere. This is a great combination of toys to keep toddlers busy on a plane.
Fisher Price Little People Toys
Fisher Price Little People were great little toys for our son when he was young, both at home and while travelling. While we had the garage and airplane, these were too big to bring with us when travelling. However, the figures and cars were the perfect size and kept our son entertained for hours. These are chunky enough for little hands and brightly coloured to engage young minds.
Browse the full Fisher Price Little People range on Amazon HERE.
Colouring books and crayons
What small child doesn't like to get creative and some of the best airplane toys for toddlers are a good colouring book and some crayons. Aside from the sticker books, these always helped keep our young son from getting bored. If you are travelling by plane or train, pick up some of the triangular crayons to help prevent them from rolling to the floor. But if you are travelling by car, these might not be a great idea if your child suffers from travel sickness. These can also help to alleviate boredom when you are on holiday.
Puzzles
Some great travel puzzles for toddlers can be found in the Melissa & Doug range. We had a few of these for our son when he was younger and they were great for mental stimulation and developing his fine motor skills and problem solving. I find puzzles can be great educational toys too.
Peg board set

Peg board sets are a great for taking with you when travelling with toddlers. This set is brilliant as the pegs are brightly coloured in different colours and are stackable meaning toddlers can get creative and use their imaginations. Peg board sets are great for hand-eye coordination as well as developing both fine motor skills and mathematical problem solving. Make sure to choose a peg board like this that comes with its own drawstring bag.
Magnetic drawing board
A magnetic drawing board can be a great travel game for toddlers who travel. These are often lightweight and don't take up too much room in your bags. They allow kids to get creative and use their imagination, over and over again. Our son still has a small one he plays with. There are even magnetic drawing boards with colour available. Other types of magnetic travel games for toddlers you could consider are magnetic board puzzle games and magnetic letters and numbers boards. Just be careful about the size of these thought as some can be quite large.
Playskool Dressy Kids Dolls
Not only can these dolls provide comfort, they can also keep toddlers entertained with the buckles, zips and fastening and help encourage the start of independent dressing skills. There is both a girl and boy version of these and they are recommended from the age of 2 upwards.
Tablets
While traditional toys are better for younger kids, tablets can provide some much-needed respite and entertainment on long journeys. Loaded with your kid's favourite movies and TV shows, they can give you some peace and quiet when all other options have been exhausted. We recommend either the LeapFrog Epic (which can have additional apps and softwares added to it) or for an easy and quick option, the Amazon Fire for kids. Just remember some kid's headphones to ensure other passengers are not disturbed by Peppa Pig and the likes.
Keep Em Quiet bags
I discovered these after seeing them featured by Travel Mad Mum and bought a return set for our son for some of our travels last year and thought they were great. Keep Em Quiet bags come with some handy snacks for kids, activity books, some small travel games for toddlers or kids (age appropriate) and one or two other surprises. Our son loved opening the bag on our flight to discover what lay inside and enjoyed everything he pulled out, especially the snacks and the portable games for toddlers which included a small magnetic version of snakes and ladders. They really were brilliant for helping to keep our son entertained, both on flights and in our holiday accommodation when we'd finished our days of sightseeing.
Toddler camera

Another investment we made with our son was in a toddler camera. The main reason we bought the Kiddizoom Duo camera was that my son had taken an interest in my Canon G7X camera and while I love that he took an interest, I didn't want my new camera getting broken. So, we bought him what has turned out to be the best toddler camera for travelling. 3 years on he still loves it. It has games, filters for pictures, can take video and is extremely robust. He's dropped it more times than I care to remember and it's still going strong. Yes, the pictures aren't great quality but he doesn't care.
Other travel entertainment for toddlers could include
Play-doh – let them get creative while being quiet.
Lonely Planet Kids books – find some which are based on travelling or about the destination you are travelling to.
Go Letter Travel games – fun, educational games for slightly older toddlers who are starting to recognise letter.
Magnetic building blocks – brilliant toys which store small but can be converted into large creations, these are great travelling toys for getting imaginations and creativity going in young children.
Stickle bricks – these were amongst my favourite toys as a child and are great for bringing with you while you travel.
If you've got a dinosaur fan on your hands, check out this great post from DaddiLife about the best dinosaur toys for kids.
One great accessory for travelling with babies and toddlers is a travel tray. This handy, portable tray table provide a flat surface for babies and toddlers to play on while in an airplane seat or car seat. These are perfect for car road trips where you wouldn't normally have a tray table like you would on an airplane. With sides to prevent things rolling off, these are a great travel accessory for toddlers and babies.

Find a range of affordable kids play travel tables and latest prices HERE.
Other ways to entertain babies and toddlers when travelling
You don't always need to rely on toys and electronics to entertain babies and toddlers on journeys. Here are a few non-toy ideas for keeping younger children entertained in cars, trains and planes.
Songs – singing songs is a great way to engage with babies and toddlers and to have fun with them. Either sing from your memory or pop a playlist on your phone via iTunes or Spotify and have a sing-song session. Just make sure not to disturb passengers around you if travelling by plane or train. But sing at the top of your lungs if you're on a road trip!
Imagination – why not get imaginative with toddlers and either make up a story, play pretend or get them to imagine all the great things you'll be doing when you get to your destination. This is a great way to get mental stimulation going and letting them get creative.
Audiobooks – another great way to keep kids entertained without toys is audiobooks, especially for car journeys. Pop one on your phone or a cd in the car stereo and listen together.
You'll find a great range on Amazon here.
I-Spy – wait, wait wait, hear me out. Because I know what you're thinking. "But toddlers can't play I-Spy unless they know the alphabet and the first letter of each word". There is another way to play I-Spy that doesn't involve the alphabet or letters and, in my opinion, it is one of the best travel games for toddlers on airplanes or for car journeys. Instead of using letters, use colours.
I-Spy with my little eye, something the colour of (insert colour)
Most toddlers will know their basic colours and so this is a great game to play with them. Just be prepared for lots of green grass on car journeys or blue skies during flights.
In Summary
I hope you've found a few ideas for the best travel toys for babies and gotten some ideas of which are going to be suitable for your baby.
I've also listed what I think are the best toys for toddlers who travel, many of which we have used ourselves when travelling with our son. From simple sticker books and activity books, to activity bags and electronics, I think I've given you a wide range of options for travel activities for toddlers on a plane, in a car or for a train journey with them. And of course, you don't need to rely on toys and electronics, there are other ways to entertain toddlers as I've shown.
This is by no means an exhaustive list. If there is something you have used to keep your baby or toddler happy on a journey, and that I've missed off the list, do share it with me in the comments so I can add it to the post to help other readers.
Cath x
If you are thinking about taking your first flight with your kids, here are some great tips for flying with babies and toddlers to help make it as smooth as possible.
And if you are still undecided about travelling with young kids, find out why travelling with young kids is awesome here.
Passports and Adventures is a participant in the Amazon Services LLC Associates Program, an affiliate advertising program designed to provide a means for sites to earn advertising fees by advertising and linking to amazon.com, amazon.co.uk, amazon.ca. Amazon and the Amazon logo are trademarks of Amazon.com, Inc. or its affiliates. To learn more about affiliate links, read my Disclosure Policy here.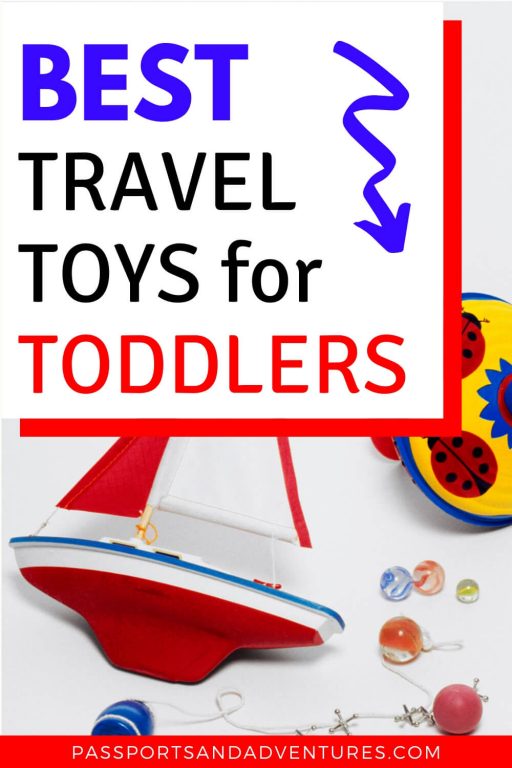 Related Posts