Italy is a dream travel destination for travellers of all kinds. It is the perfect getaway spot for solo travellers, couples, friends and also families. With this in mind, there are most definitely certain places that are better suited for the type of traveller you are and finding the best places for you is simple as can be.
If you are planning to travel to Italy with your family there are quite a few cities that will fit your needs as family travellers. The best places to visit in Italy for families range from historic havens to beachy towns to vibrant cities, all of which have their own special charm and magic. Depending on whether you are travelling with young children or older children, your preferences may slightly differ. Nonetheless, every city in Italy is stunning and well worth a visit. Italy is a great place to visit with children with its kid-approved Italian food, the plethora of gelato and the various feasts for the eyes.
Use this list to inspire your trip to Italy and find the perfect place to spend some wonderful vacation time in Europe. Prepare to fall in love with the warm sun, delicious pizza, and stunning architecture.
Best Places to Visit in Italy for Families
The Amalfi Coast
One of the best and most beautiful places to visit in Italy is the Amalfi Coast. This entire region is filled with beauty and wonder making it the ideal place to visit with your family. There are a ton of beautiful coastal towns here that are perfect for a beach filled vacation in quaint Italian villages that are cozy and welcoming. Travellers of all types quickly fall in love with the unmistakable charm of the Amalfi Coast and the safe, carefree attitude of the locals.
One of the most popular travel destinations along the Amalfi Coast is Positano. Positano is a famous village complete with a black rock beach, pastel-coloured houses, and mountain filled views. A family holiday in Positano is ideal for those wanting easy access to various beaches, mountainous hikes, and wonderful city views. For more things to do in Positano check out this post.
An additional popular city along the coast is Sorrento. Sorrento is much like Positano but the prices are lower and there are often fewer tourists. It is a beautiful place to wander around with the family while enjoying the coastal views of Italy. Plus, it is full of lemon groves to explore since Sorrento is the main exporter of Limoncello – a famous Italian liquor.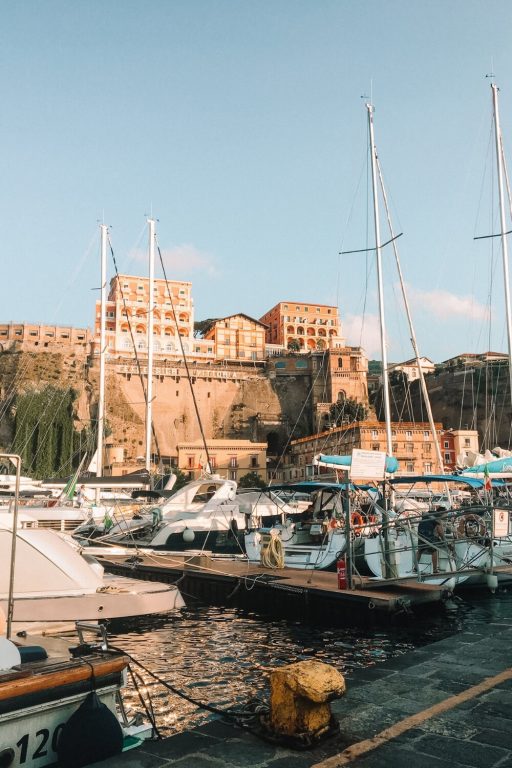 Pompeii & Paestum
Naples and Pompeii are the ideal places to visit if you are seeking a historic and informative trip. These destinations are on the edge of the Amalfi Coast making it extra ideal if you want to combine the two into one amazing adventure. Both of these historic destinations are also very near to Naples, which is a larger city in Italy that is also the birthplace of Pizza. This is also a nice city to explore during the day for fresh pizza and a lively atmosphere. However, it is not super family friendly.
Travelling between the Amalfi Coast, Naples, Pompeii and Paestum is easy and quick, meaning you can see a lot in a short time.
Pompeii is an archeological gem and the perfect place to visit with the family to explore and discover a unique and interesting place unlike anywhere else in the world. It is a city that was once thriving but is now only ancient ruins due to a huge volcanic eruption that happened in 79 AD. This eruption buried the city completely and now people can visit to view the ancient ruin buildings and museums.
Paestum is another historic and archaeologically rich city that is also a UNESCO world heritage site. Here you will find one of Europe's most well preserved archeological sites that shows a very unique and rather ignored side to Italy. It is the perfect place if you are looking for a more adventurous trip to Europe that is educational for the whole family.
Rome
There are very few places on Earth as magnificent as Rome. It is one of the most historic places on Earth with a deep and rich history that is incredibly well preserved. There is so much to see and do in Rome from wandering the charming streets, to viewing the historic buildings to eating gelato time and time again. The plethora of Gelato in Rome is always a hit with children. Luckily Rome is a wonderful place to visit year-round, even in January, Rome it is a perfect place to visit.
One of the highlights of Rome are the famous and iconic landmarks and buildings. Such as the Colosseum and Trevi Fountain. The Colosseum is one of the 7 wonders of the world and shows the true power of Roman architecture. It is the largest amphitheatre ever built and mesmerizing to explore and discover. The Trevi Fountain is a huge fountain in the middle of the city. It is the perfect place to make a wish as a family by throwing a coin in the fountain over your shoulder.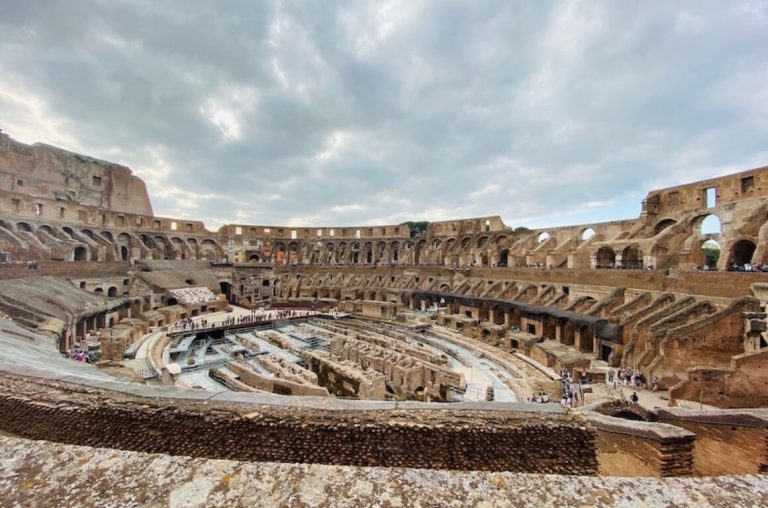 Venice
Venice is one of the most beautiful places in Europe and a must-visit place in Europe. It has the reputation of a romantic city and it is very romantic, but it is also a great place for families. Simply wandering the maze of canals, enjoying the cold gelato, and cruising around on gondolas, vaporetti and ferries is a fun and exciting experience.
It is best to skip the big museums like Doge Palace and Saint Marks Basicilia, especially if you are travelling with very young children as these are very big and exhausting. Rather, it is best to simply stroll the canals, view the carnival masks in the stores, and experience the infectious energy that is Venice. If you are travelling with older children feel free to enter some of the museums to see some of the rich and beautiful histories of the city. Venice is one of the best places to visit in Italy for families of all kinds with plenty to see and do.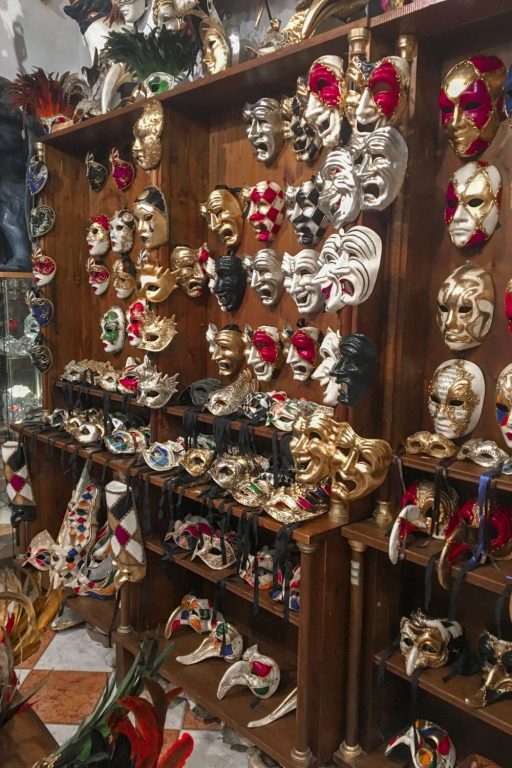 Milan
Milan is the fashion capital of Italy and a great place to visit with kids. It is very cheap to fly to Milan from various European cities and from Milan you can easily travel to other cities in Italy if you want to take advantage of your Italy vacation and see as much of the country as possible. Children will love the famous Duomo di Milano, it is breathtaking from the outside, and you are able to walk on the roof. The views from the roof show you all of Milan and the journey up is very enjoyable.
Milan is not just a place for beautiful streets and tasty Italian food but is actually full of things to do for children. Unlike other Italian cities, Milan is made for entertaining children which is ideal if you want to focus your travels on your children's entertainment. In Milan, you can treat your kids to a visit to the Natural History Museum, and the Science and Technology Museum. Visits here will keep them entertained while learning about history and science!
Cinque Terre
Cinque Terre is a mountainous coastal region made up of 5 stunning villages. At first glance, it doesn't look like the most family-friendly destination in Europe, but it really is. The stunning views, colourful houses, and blue water beaches offer plenty to do and see for families looking for an enjoyable vacation for all. An early morning at the beach before the tourists come is perfect for families with small children who want to enjoy the waters in the magical atmosphere.
It is also the perfect place to get some exercise as a family. Hiking between the villages is a popular activity that allows you to see the beauty of the coast and spend some time outside with family. There is nothing better after a long hike than enjoying a cold gelato and Cinque Terre is home to a ton of gelato shops.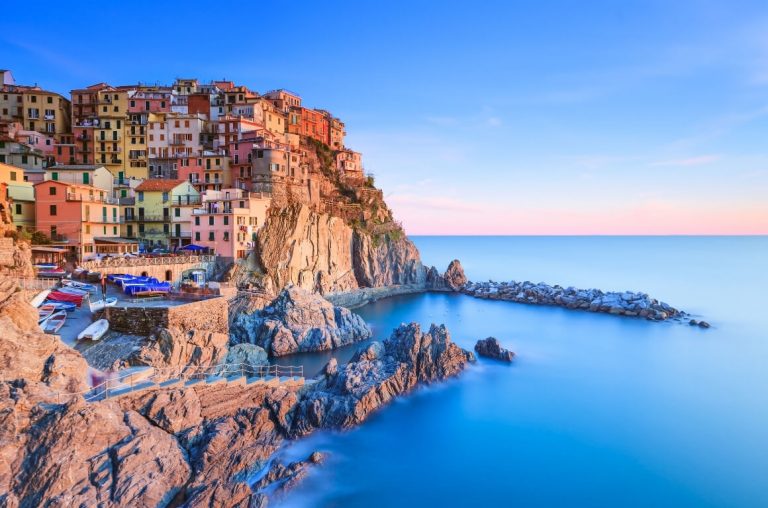 Sicily
Sicily offers an idyllic beach vacation for families. If you are looking for a relaxing and lazy vacation surrounded by beauty, then Sicily is the place for you. The southern Italian sun and plethora of beaches make it perfect for relaxing and laying on the beach and enjoying some down time as a family. Families can enjoy beach day after beach day while getting fresh gelato right from the beach as a special treat.
However, Sicily is not just for beaches, there is also plenty of sightseeing to do in this stunning Southern Italy region. Like most places in Europe and Italy, it is very historic and there is a lot to see and discover!
Italy is a place with a rich history, stunning architecture, beautiful beaches and much more. This list of the best places to visit in Italy for families is just the beginning. You can go anywhere in this country and find something to fall in love with. If you want to play it safe and go somewhere that is tried and tested to be friendly for families, try one of the options above.
Samantha Karen is the founder of the travel blog Sam Sees World. She is a twenty something traveler on a mission to explore the world to seek the new and unknown so she can document her experiences and inspire others to explore this wondrous world. Her objective is to learn about the world while also searching for her place in it. Check out Sam Sees World for valuable information on the best things to do, see, eat, and experience while traveling and making memories along the way. You can also find Sam on Pinterest and Instagram.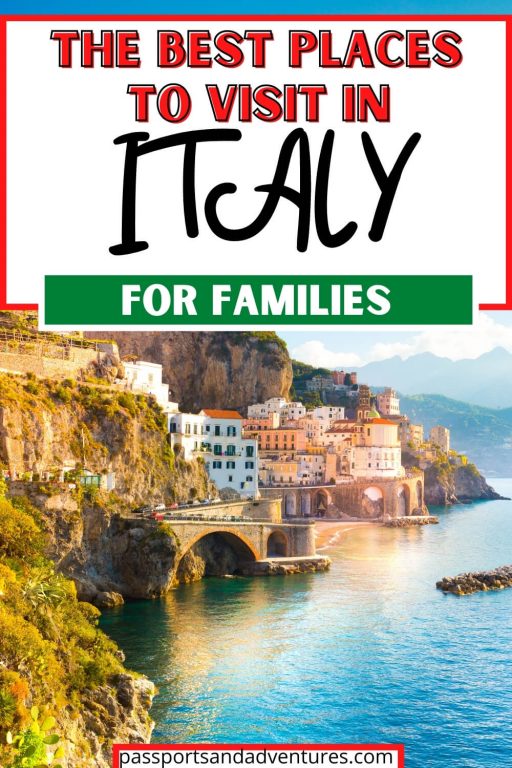 Related Posts