As a family, we love nothing more than a city break, especially in a city we haven't visited before. And one of the best continents packed with fun places for kids is Europe. I would be hard pushed to say which are the best European countries to visit with kids, never mind cities. But, in this post you will learn some of the best European cities to visit with kids to help you decide where might be the best places to travel in Europe for your family holiday. Myself and my fellow bloggers are sharing our favourites right here.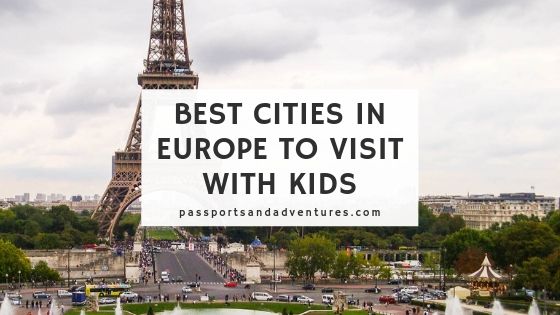 *This post contains affiliate links. To learn more about affiliate links, please read my Disclosure Policy.
Best European Cities to Visit With Kids
If you are considering a family trip to Europe and are wondering which are the best places to visit in Europe with kids, it can all get a bit confusing. Deciding where to travel in Europe can be a hard thing to do when it comes to planning your family holiday, as there are so many places to choose from. Even for those of us who live here, deciding which European country to holiday in is hard. Do we visit France and Disneyland Paris with kids? Do we head to Spain and visit Barcelona with the kids? Or do we stay local and enjoy a staycation in our home country?
Whether you want a beach holiday, a snow holiday, or just a city break, whatever your preferred choice, Europe has it all. And it also has cities for every budget. In this post, myself and my fellow bloggers are sharing what we think are the best European cities for kids which might give you some ideas for some great holiday destinations. Europe is a big place, so there is something for every family.
If you are a vegan family I highly recommend you read this post about vegan hotels around the world from Yum Vegan Lunch Ideas. There are some amazing European hotels featured in this post.
Best Cities in Western Europe to Visit with Kids
Western Europe includes countries such as France, Germany, Ireland, the United Kingdom, Iceland, Switzerland and Austria. It includes at least 2 of the top 10 places to visit in Europe according to Lonely Planet.
Other countries include Andorra, Belgium, Liechtenstein, Luxembourg Monaco and the Netherlands.
This area of the continent has so much to offer families with children of all ages and can boast come of the best European cities for toddlers. From London and Paris, to Berlin, Dublin and even Reykjavik, Western Europe has some of the best cities to travel with kids with an abundance of attractions, activities and amenities for families. It's one of the best places in the world to visit with kids, so read on to find out which cities in this region we would recommend you visit.
Dublin, Ireland
The capital of Ireland is one of the best places to take kids in Europe. A city rich in history and culture, it has a lot to offer families of all ages. Many of the main tourist attractions are located in the city centre, either within walking distance or a short bus ride away. The city has an abundance of accommodation to choose from and a warm welcome can be found around most corners.
If it's history your family is interested in, then visits to Dublinia, Christ Church, EPIC and Dublin Castle would be a great starting point. If you have little ones, then a visit to the Dublin Zoo in the Phoenix Park is a must. See if you can spot the reindeer in the park fields afterwards. Slightly outside the city centre, toddlers and younger children will enjoy Imaginosity, Dublin's Children Museum. And if you have some sports fans on your hands, a visit to Croke Park, home of the GAA, or the Aviva Stadium, home to Ireland's football and rugby, would be ideal.
To learn more about visiting Dublin with kids, check out my post in which I give you a complete guide to visiting the Irish capital.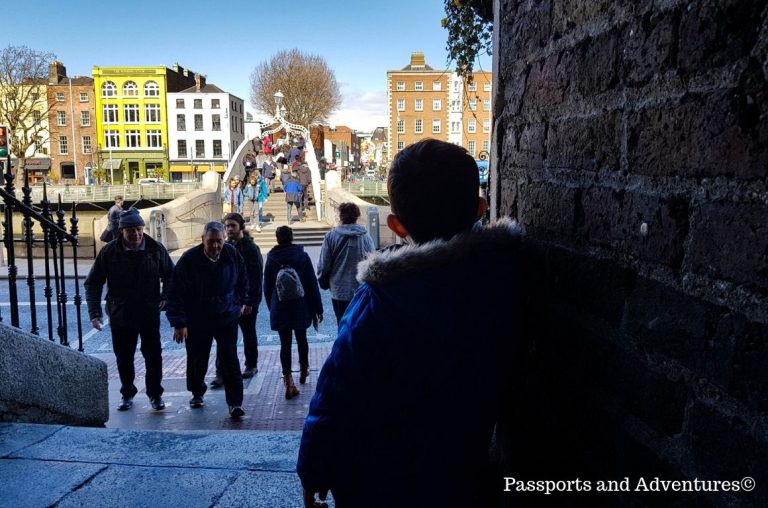 Munich, Germany
Munich is a city we love. We've been as a couple, with a baby, with younger kids,with older kids, in summer and in winter. Every time we find something to do that makes us want to return again and again. It is one of the best cities we have been to for families and it is so easy to visit with children.
In the summer you can find a nice beer garden to have a cold drink and let the kids play in the playground there (you don't have to have a beer) or you can escape the heat by going to the Deutsche museum for a fun filled morning or afternoon full of learning fun. You can wander through the gardens of the Nymphenburg Palace enjoying a spaghetti ice cream from the little shop just around the corner. Just make sure the ducks don't want to share too!
In the winter you can get around the city in the Hop on Hop off bus and get off at the amazing Nymphenburg Palace to see it in the snow. You can tour the inside of the Palace and pop over to have a look in the Marstall Museum that holds the Royal carriages. You can visit the Munich Residenz and even take a train out to the famous Neuschwanstein Castle. The best bit is all these things you can do in any season, it just depends on what you want to do!
Every time we visit Munich we find something else that makes us want to return. We feel safe there and so do our kids which is why we love it so much.
Bec – Wyld Family Travel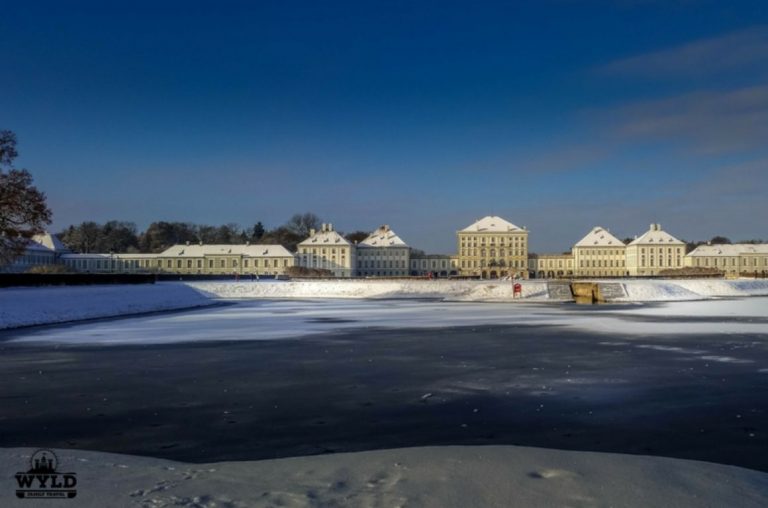 Amsterdam, The Netherlands
Did you know that, according to a UNICEF report, Dutch children are some of the happiest in the world? If you visit Amsterdam with your family, you can get a glimpse of why is that so. With its many world-class museums, green parks, and child-friendly attractions; the Dutch capital has a lot to offer for families.
One of the places you shouldn't miss is the famous NEMO Science Museum, where young and old alike can learn about science and technology in a fun way. For older kids looking for a more adventurous afternoon, head to the Fun Forest, a climbing forest with several courses suitable for children who are at least seven years old.
For younger kids, a visit to one of the many petting zoos in the city is also a must. Here they can get close to a variety of farm animals and even feed them!
Bianca – Nomad Biba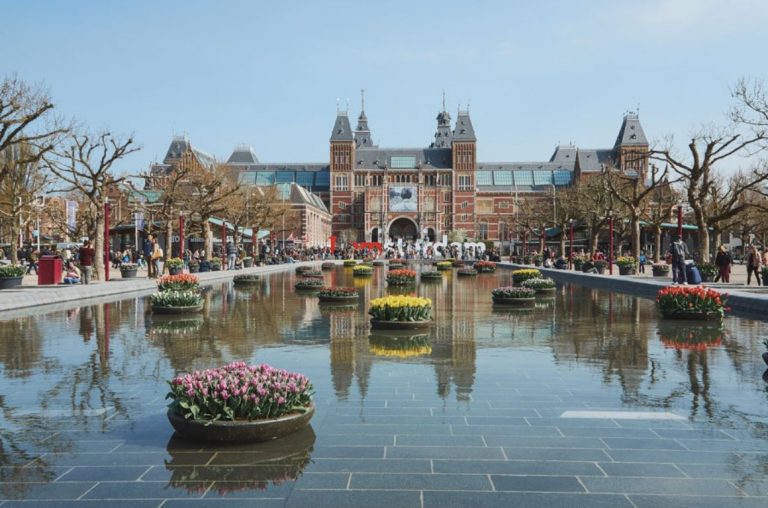 Geneva, Switzerland
Geneva is probably not the first city that jumps to mind when you are looking for family friendly destinations. We chose it because there were cheap flights available from the UK. The good news for us was that we found lots of fun, inexpensive and child-friendly attractions in the city.
We visited in the springtime and were lucky to have the weather to explore Geneva's numerous parks and green spaces. A favourite activity for my four year old was playing a game of dare with Geneva's most iconic feature, the Jet d'eau. This a 140m high fountain that shoots directly up from the edge of Lake Geneva and you can get within metres of it, if you don't mind getting wet.
Geneva also has lots of free family-friendly museums. The Natural History Museum, Botanic Gardens and Science Museum were all big hits with the kids.
Liona – Travels With Ted
Hamburg, Germany
Hamburg is often overlooked by visitors planning a trip to Germany in favour of its better-known destinations. Yet the country's second largest city has a lot to offer visitors, especially ones with children in tow!
Miniatur Wunderland is home to the world's largest model railroad, with over 15 kilometres of track running through the attraction. Kids and parents alike are likely to marvel at the painstaking detail with which themed worlds, including Germany, Austria and USA (among many others) have been recreated. It's even been voted Germany's most popular tourist attraction by visitors!
Want to let the kids run riot? Planten un Blomen is a large urban park and Hamburg's "green lung". With a huge adventure playground, roller-skating/skateboarding rink, giant chess, trampolines and mini golf, it's a dream come true for young ones. Add in concerts, festivals and water light shows and you could easily spend a whole day outdoors!
Alexei – Travel Lexx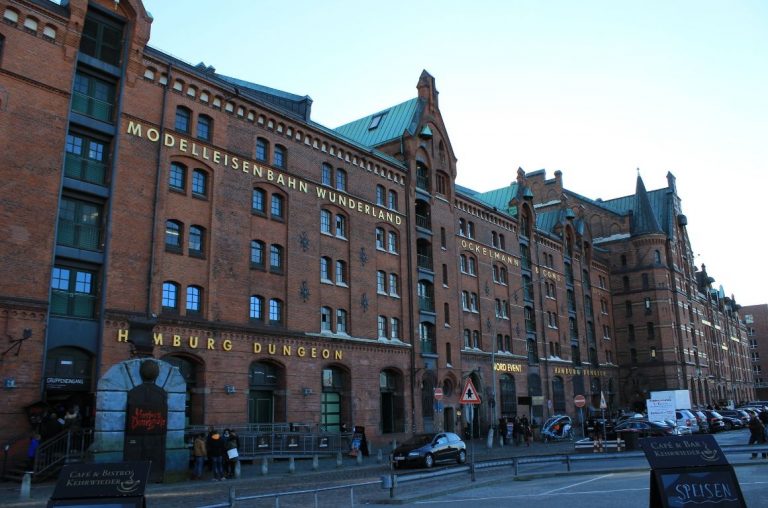 Berlin, Germany
Berlin is one of the most child-friendly cities I have ever been too. By definition, it is a city full of facilities for all people, so it is a pleasure to discover it with a child. The public transport is designed to be easily accessible with strollers (special places for them inside trains, elevator in stations and platforms), some restaurants offer kid menu and the metropolis is full of parks and gardens.
Among the interesting activities great for kids are a visit of the Aquadom and play in Tempelhof park. Aquadom is a giant aquarium with an elevator inside. From the elevator, visitors have a 3600 view with water and colorful fish and that fascinates them! One of the most interesting parks you can spend time with your kids is Tempelhof, an old airport, today abandoned and transformed in a perfect place for picnic and outdoor play. And Berlin has many other attractions and that makes it amazing for kids!
Corina – Another Milestone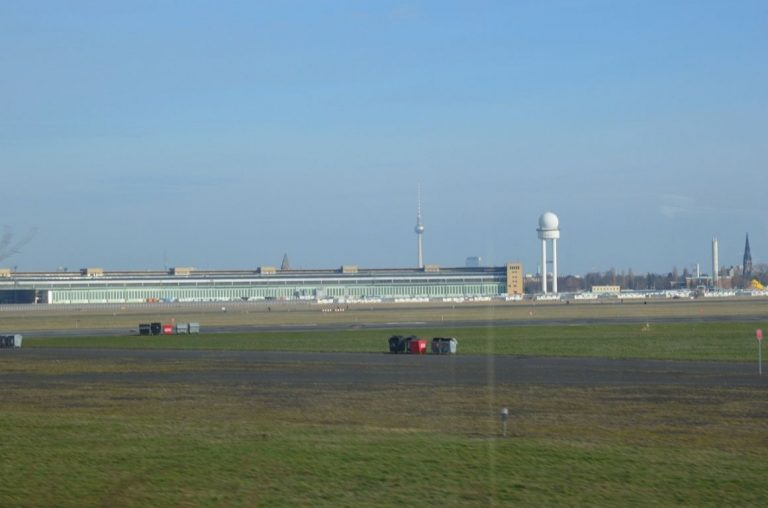 Bristol, England, United Kingdom
Bristol has to be one of the best cities in England to explore with kids. Heck, it's one of the best English cities all round!
Located in the south west of the country, this diverse, historic, multicultural city straddles the River Avon. It's full to the brim with fun and exciting things to experience. There's almost too much to list. However, if I had to narrow it down to a few top child-friendly options, I'd recommend starting at We the Curious, before moving along the river to the SS Great Britain, and finishing at Bristol Zoo.
We the Curious is a cool, quirky, interactive science museum. Kids will love the planetarium and 'Toddle takeover days' devoted to under-5s. The SS Great Britain is a remarkable relic of Bristol's maritime history. You can explore it, climb the rigging, and do your best pirate impression! Finally, Bristol Zoo is another top attraction that could easily keep a family occupied for an entire day. Enjoy!
Danny – What's Danny Doing?
London, England, United Kingdom
London is one of the greatest cities on earth and it's a really exciting city to visit with children. They will love the pageantry of the Changing of the Guards, the grand castles and palaces and the chance to explore some of the best museums in the world, many of which are free.
Take a boat down the River Thames, see the city from above on the London Eye and play in the pirate ship at the Diana Memorial Playground at Kensington Gardens.
And don't miss a trip to the Tower of London, one of the most iconic sights in the city. Beefeaters have guarded the Tower for 500 years and give an entertaining guided tour. You can even see the famous ravens, the Crown Jewels and the execution site.
Children aged six and over will love the Wonderlab gallery at the Science Museum where you can watch explosive demonstrations and have interactive fun doing crazy experiments and playing scientific games.
Clare – Suitcases and Sandcastles
Learn more about visiting London with young kids here, by reading my post.
Edinburgh, Scotland, United Kingdom
Edinburgh, the beautiful capital of Scotland in the United Kingdom, is a great European city to visit with children of all ages. While visiting this lovely city with our one year old, we found that the city was very family-friendly and welcoming. The locals were friendly toward our daughter, there were baby-changing facilities throughout the city, and there were numerous family-friendly activities.
The city is very walkable (just 102 square miles), which made it easy to get around as a family (we used a stroller or baby carrier the entire time and avoided public transportation). Edinburgh's highlight is Edinburgh Castle, which is a great place to visit as a family (even our toddler enjoyed exploring the various exhibits and the Crown Jewels!). Take a stroll through Princess Gardens and stop at the play park, which is designed with a fun castle theme.
Leah – An Adventure is Calling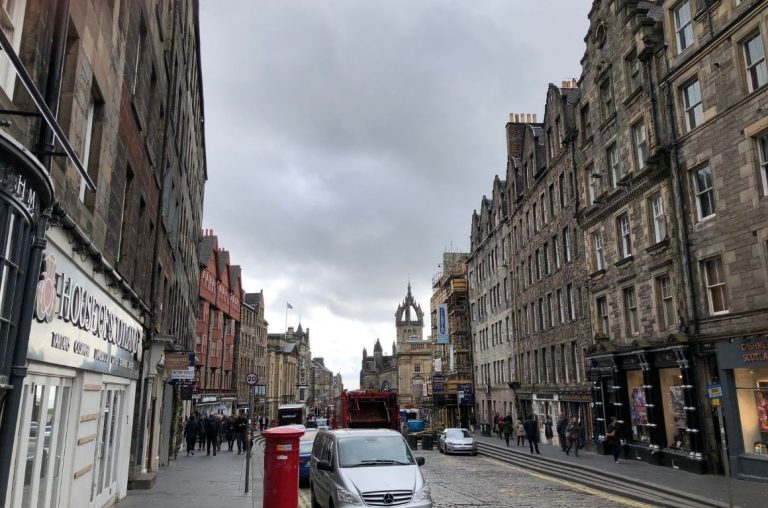 Nice, France
The South of France is a great destination for families, and the seaside city of Nice is the center of it all. Kids of all ages will love to stroll the famous Promenade des Anglais, the scenic boardwalk that sweeps along the Bay of Angels, while the more active can rent bicycles.
The beaches are also a big family draw, and while the private beach clubs that line the bay are expensive, there are a number of public beaches in Nice that are completely free.
For a break, the many ice cream shops are always an attraction, and families with small children or mobility issues can tour the town on the mini Touristic Train. To educate impressionable minds, a visit to the famous Matisse Museum or the Museum of Modern and Contemporary Art add a welcome layer of culture.
Carol – Wandering Carol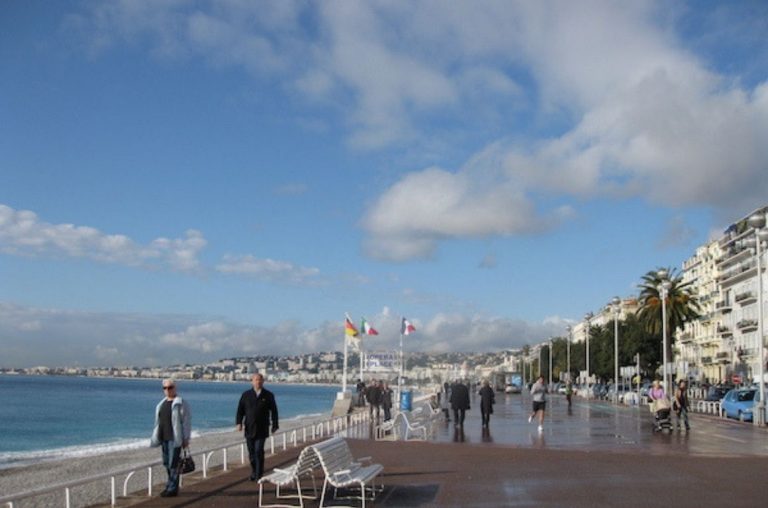 York, England, United Kingdom
The city of York in the north of England is a great city to visit with kids. There are several free activities such as Rowntrees Park, Museum Gardens, the brilliant National Railway Museum or a circuit of the medieval city walls which are the longest city walls in England.
Harry Potter fans must visit The Shambles, a cobbled shopping street said to be the inspiration for Diagon Alley. Children under 16 are free with a paying adult at most attractions making the city an affordable destination for a family. One such attraction is the gothic cathedral York Minster. The ornate cathedral offers daily tours with family-friendly tours every Saturday. Younger children can also borrow Little Explorer backpacks with age-appropriate activities.
Families will love the Jorvik Viking Centre which explains the history of the Vikings in York and displays a range of artefacts found on this exact site. Kids will love the historical 'cab ride' through a life size Viking settlement with realistic sights, sounds and smells from the Viking era.
Sinead – Map Made Memories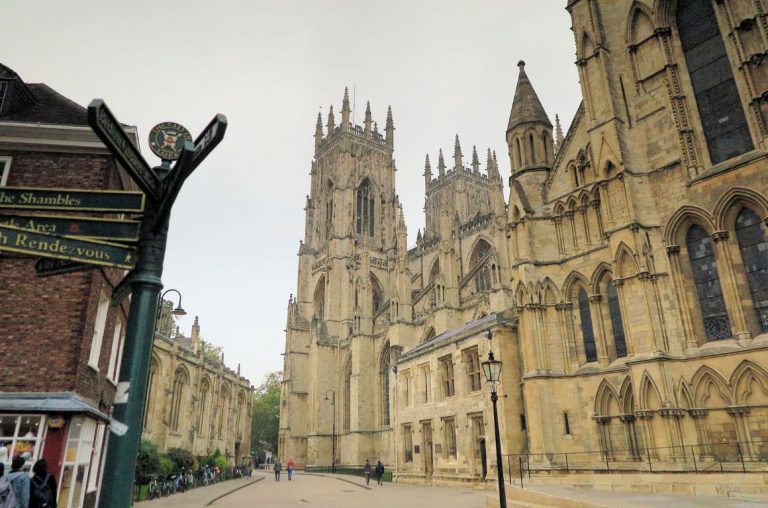 Stuttgart, Germany
Located in a valley and home to a wonderful botanical zoo, Stuttgart is a great city to visit with kids any time of year. From holding two of Germany's largest festivals, the Cannstatter festival in the spring and the Volksfest in the fall, Stuttgart offers families a lot of amazing experiences.
A great place to visit as a family is Killesburg Park, where a steam engine takes you on a ride around the park and playgrounds, flowers fields, and an outdoor swimming pool make for a great visit in the summer. Wilhelma Zoo, a botanical garden and zoo is situated on a hill and is one of the best zoos in Germany, mostly due to its beautiful landscaping, exotic plants and array of animals.
Finally, Sensapolis, Germany's largest indoor playground is just outside of the city and has a castle, slides, a zip line, a spaceship and loads of other fascinating activities for kids. Stuttgart is a city in Germany that shouldn't be missed when visiting with kids.
Diana – The Elusive Family
Dundee, Scotland, United Kingdom
Dundee, one of Scotland's 7 cities, is transforming in front of our eyes into a vibrant and exciting destination. Thanks in part to the opening of the new V&A Museum and also the regeneration of the whole waterfront area, now is the perfect time to visit.
It is an extremely child-friendly city. Next door to the new museum is the RSS Discovery, the huge wooden ship which Captain Scott sailed on to Antartica, the kids love the adjoining discovery centre which as quizzes, interactive displays, games and quizzes. The Dundee Science centre allows kids to climb up a nostril, move ping pong balls with their mind and play games with robots.
The famous Dundee penguins are dotted around the city, waiting for the children to find them and in a city famous for its comics, they might even happen across Desperate Dan. There is no shortage of ways to keep the kids amused in this dynamic city and it's just getting better and better.
Nicola – Funky Ellas Travel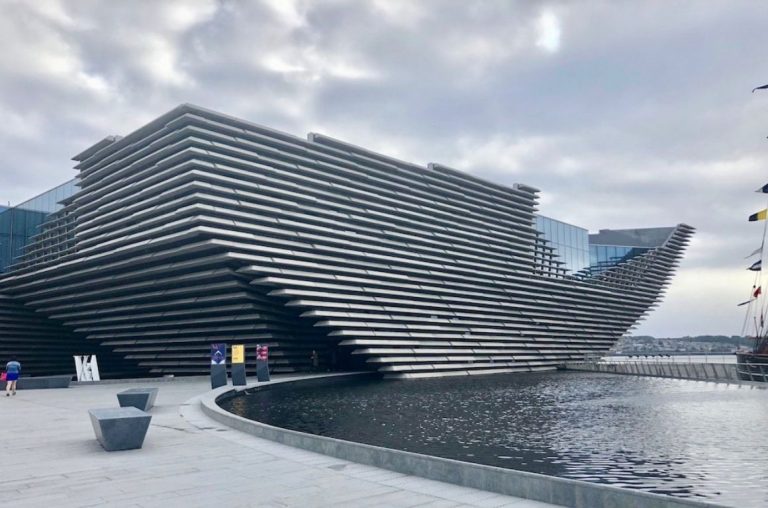 Paris, France
Paris is a great city for families, with many things to see and do for kids. There are many beautiful parks and green spaces where kids can play and burn some energy outdoors but there are also interesting museums and cultural spaces also focused on children.
Head to Paris the Latin Quarter, to La Grande Galerie de l'Evolution, and have a blast amongst dinosaurs and other beasts. Or cross Paris to Place du Trocadero and learn about men and mankind in the fabulous Musee de l'Homme, our favorite museum in Paris for families.
If your children are more Arts oriented a Street Art tour in Paris 13 is always a great idea, but if you prefer a more relaxing day instead, sail the Parisian canals on a self-guided electric boat.
Elisa – World in Paris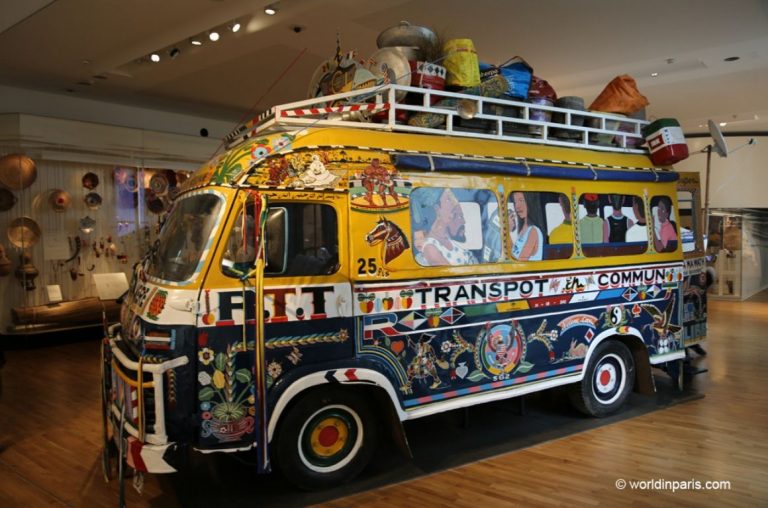 If you are considering a trip to Paris as a family and would like to visit Disneyland Paris with the kids, then read my complete guide to visiting Disneyland Paris to help you plan your trip.
Innsbruck, Austria
Innsbruck, a small town in Austria can be considered one of the most underrated destination for families although it is better geared towards kids above 12. In summers, the mountains are perfect for short hikes, walking tours and the likes. If you're not in the mood, taking the Nordkettenbahnen cable car up to the mountain top is not a bad idea as well. It can make for a lovely picnic up on the mountain and the kids will love the panoramic views from the cable car and at the top of the alpine peak.
Another great activity to do with kids is the Swarovski Crystal Worlds in Wattens. The museum can be reached via a shuttle transfer from Innsbruck and displays a large number of art pieces, gigantic displays and sculptures made using Swarovski crystals some of which are changed at regular intervals. The tour is great and some key exhibits like the crystal dome are sure to get kids of all ages excited about it.
Come winters, the town becomes a haven for ski and snowboarding enthusiasts and given that it has hosted two winter Olympics, the slopes need no recommendations from us. This small town is definitely perfect for a family getaway any time of the year.
Rishabh & Nirali – Gypsy Couple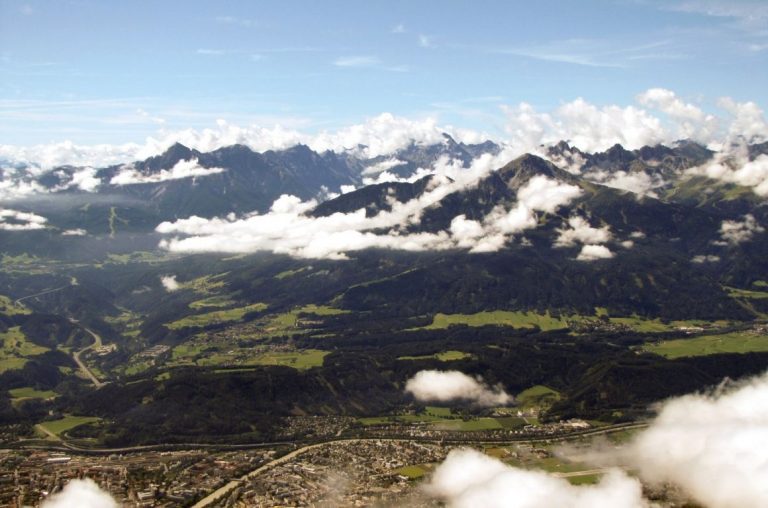 Vienna, Austria
The most liveable city in the world must also be kid-friendly, right? Absolutely. Vienna (named the most liveable city nine times in a row) is a city where families with small children feel especially welcome. Not only is there a myriad of things to do, but many of them are free.
One of the most popular attractions for kids of all ages in the Austrian capital is the Vienna Museum of Technology. Floor after floor of interactive exhibitions, focusing on different aspects of technology, keep kids (and their parents) busy for hours. The best part? Only the parents pay to enter.
The Vienna Museum of Technology isn't far from another top family destination in Vienna – the Schonbrunn Zoo. It's the worlds oldest zoo and on the grounds of the Schonbrunn Palace. There are more than 700 species to admire in the zoo, but guess who are the most loved? Giant panda twins Fu Feng and Fu Ban.
Getting around Vienna with kids is easy too with a good transport network consisting of an underground, buses, trams, and trains. And if you buy a Vienna City Card, kids travel free with their parents.
Linda – Travel Tyrol
Best Cities in Central and Eastern Europe to Visit with Kids
Some of the top places to visit in Europe with kids can be found in Central and Eastern Europe. No less than six of the top twenty-five places to go in Europe according to TripAdvisor can be found in this region of Europe.
It is a region rich in diversity, landscape and cultures, which is why you'll find some amazing European destination for families in the central and eastern part of the continent. Countries located in this part of the world include the Czech Republic, Poland, Romania, Croatia, Slovenia and Slovakia, all of which are up among the best places to travel with kids in Europe.
This region has come great kid-friendly European cities, and many are popular destinations for families. I know many people who have travelled to the countries in this part of the world and said they've had their best holiday there. We've even visited one country which had never been on our radar but certainly surprised us. Some countries in the region are quite affordable both to reach and to explore, making them destinations which can be the best European vacations for families, both in terms of cost and enjoyment. Let's see which cities in this region are recommended as the top places to travel in Europe with kids.
Bled, Slovenia
Bled in Slovenia is one of the best places for kids in Europe thanks to the lake. Lake Bled is set in the stunning Julian Alps and can be enjoyed during both winter and summer.
We visited with our one year old during summer and there was so much on offer for families of all ages. From hiking in the mountains surrounding the lake, to enjoying the toboggan ride, to swimming in the lake, there is so much to keep the kids entertained.
Our favourite activities in Bled were visiting Bled Castle which overlooks the lake, taking the pletna boat out to Bled island to visit the church and of course, eating Bled cake in a cafe along the waterfront. It's a great places for families and one of the best spots in Europe.
If you'd like to know more about visiting Lake Bled with Kids, this post will help you plan your trip and give you some ideas about what do do around Lake Bled as a family.
Prague, Czech Republic
Prague is a unique city where every palace and castle can be seen by kids as an excellent place for activities and fun. However, it will be more interesting for them to visit the Children Island on the Vltava river. There, kids can play sports, build towers in a sandbox, swing on a swing and even swim in fountains.
Prague is also famous for a dozen of charming and mysterious theaters where parents enjoy going as much as their kids. Some of them are called "Black Theaters" where actors perform on a dark background with beautiful lighting effects. The most popular and favorite theaters for many are Image Black Light Theater and Cerne Divadlo or Metro Theater.
If your little one has a sweet tooth, he/she should enjoy the Choco-Story Chocolate Museum. Each tour takes place with an obligatory chocolate tasting and participation in a master class on making a dessert.
The Toy Museum is another place that children and their parents love. No matter how old you are, there you'll travel back to childhood. Eleven halls of the museum are full of interesting antiques and lots of toys that kids can play with.
If time allows, I recommend dedicating an entire day to the Prague Zoo. It is more like a reserve with the territory of almost 60 hectares. The zoo is built on two levels which are connected by a funicular and various paths. In addition to observing wild animals, children can visit the "Zoo-cinema", get to see goats and chickens in a special aviary, play in the sandbox and ride on a swing.
Anya- Road is Calling
Warsaw, Poland
Warsaw is one of the best cities in Poland to visit with kids. There are many family attractions in the capital of Poland but the best of them all is the Copernicus Science Centre. It is perfect for kids above 5 years old. There are lots of interactive exhibitions which bring great educational value not only for our youngest ones. Experimental zone, High Voltage Theatre, Robotic Theatre, science shows, mini workshops – you name it! There is also a planetarium and several labs so that the visit is even more interesting. Visit in Copernicus Science Centre is much better than any physics lesson in school!
If you travel with younger kids you might want to go to Warsaw Zoo. Perfect for kids of all ages. Visit in Warsaw Zoo combines fun with biology lesson – there are about 12,000 animals of 500 different species!
Joanna – Overhere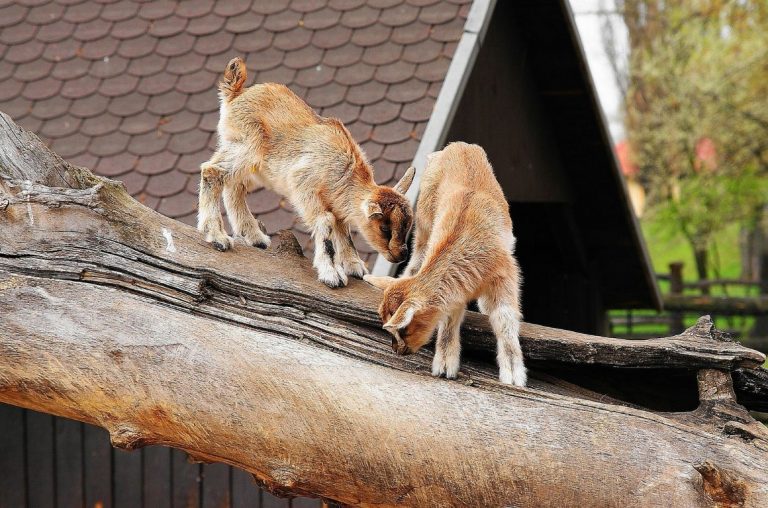 Krakow, Poland
Krakow is one of Poland's most treasured cities and has wonderful things to do with kids. Wawel Royal Castle and Wawel Hill is a not-to-be-missed attraction as the castle and courtyard have amazing historical significance to the city. Wawel Hill fascinates kids as it is a cave where a story of a dragon living within makes curious children wonder if they may spot the dragon inside.
Krakow's main square is the largest in Europe and is a great place to spend time with family. From chasing pigeons, to chasing bubbles and going into the old cloth building in the center to find trinkets, jewelry and other items, the square is the highlight of any trip to Krakow.
Diana – Travels in Poland
Discover how to spend 3 days in Krakow, Poland with this post from Della Loves Nutella.
Budapest, Hungary
Budapest isn't always the first city that comes to mind when you start thinking about planning a family vacation, but I'm here to tell you that it is the perfect blend between amazing history, gorgeous architectural buildings, and family fun!
If you have a train lover in your family, don't miss Miniversum on the Pest side of Budapest. It is a great place to let the little ones push buttons to discover moving model trains, light switches and activate various moving parts along the way. Be sure to save some time for a coffee break while the kids explore the train table area.
Another family favorite is the Great Market Hall where you can shop the food market for your favorite snacks downstairs and then head upstairs to see a variety of crafts, home goods, and unique souvenirs. See if you can find the hand-painted eggs, they are beautiful and a delight as a gift.
Chelsea – Pack More Into Life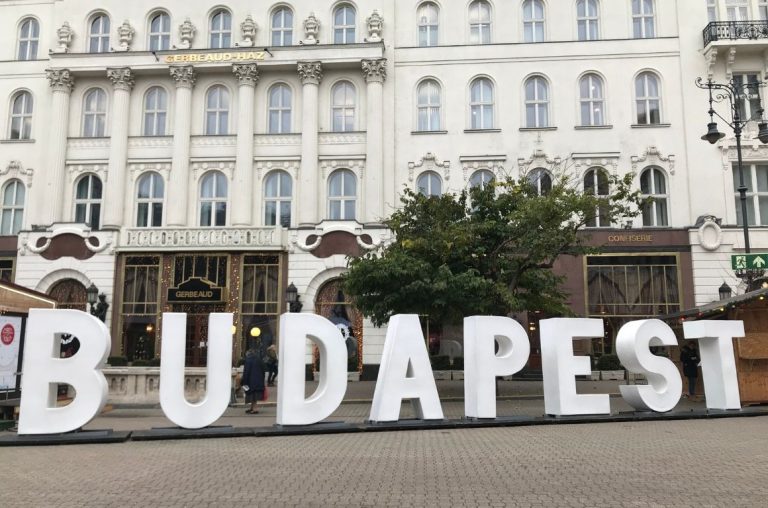 Best Cities in Northern Europe to Visit with Kids
Some of the best cities to visit with kids can be found in Northern Europe. This region is one filled with beautiful areas which see summer sun all night long and cold winter nights for most of the day. The countries in this region include the Scandinavian countries of Denmark, Finland, Norway and Sweden which are often said to have the best European cities for families to visit.
Other countries include Estonia, Iceland, Latvia and Lithuania. Many of these countries are gaining in popularity as the best family holidays Europe as to offer, with Iceland gaining thanks to the popular TV series, Game of Thrones, as it was one of the filming locations for the series. Some of the best European cities for children are in this region because they take the health and happiness of children very seriously and their schooling systems are among the best in the world.
As a family, we have had the pleasure of visiting a few of these cities and plan to visit many more as soon as we can. Let's look at which cities in Northern Europe we think are the top places to go with kids.
Helsinki, Finland
Helsinki, the Finnish capital, is a city which has so much on offer for families. We ended a visit to Lapland with a few days in the city and were not disappointed. The city is not very large compared to some of it's European counterparts and the public transport system is excellent.
For young kids, a visit to Children's town, the children's museum, will be a hit, as will a visit to Sea Life. A ride on the SkyWheel, Helsinki's answer to the London Eye is worth it for the bird's eye views across the city.
And no visit to Helsinki would be complete without taking the ferry across to the Suomenlinna Sea Fortress. The base for the naval forces in Helsinki, this island has many areas and no less than six museums to visit. The Toy Museum is an interesting place filled with old, antique toys and the gloggi is rather enjoyable on a bitter winter's morning from the small cafe inside the museum.
To find out about the awesome things to do in Helsinki with kids, read this post.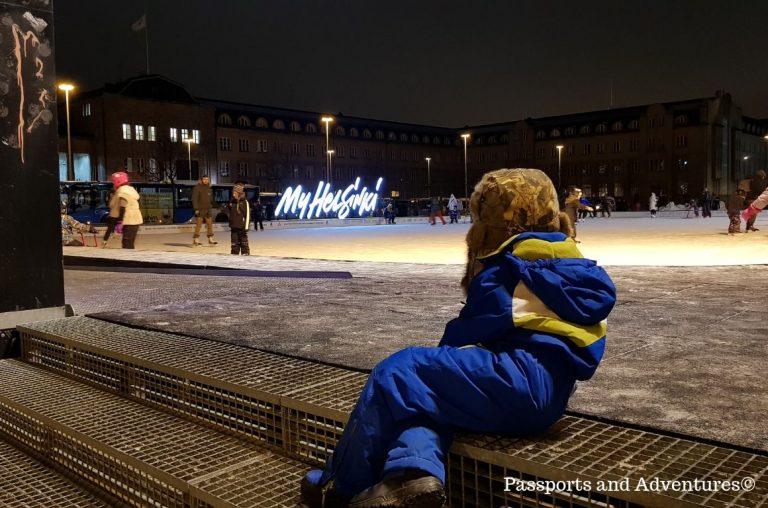 If you'd like to know how to visit Lapland on a budget, read this post to find out how we went to see Santa in Lapland without breaking the bank.
Reykjavik, Iceland
Whether you're using the city as a base for your Iceland travels, or just popping for an afternoon, Reykjavik is a fascinating place to explore in its own right, with lots to keep kids entertained (in both good and bad weather). Indeed, we visited Reykjavik at the end of our 5 day Iceland road trip (with kids aged 3 and 5).
Take a walk along the seafront to The Sun Voyager, get a birds eye view of the city from the top of Hallgrimskirkja, then perhaps pop along to Laugardalslaug. This is the largest geothermal swimming pool in Iceland, complete with a slide and hot pools, and MUCH cheaper than the Blue Lagoon. To escape cold or wet weather, check out one of the city's museums. The Saga Museum, or Whales of Iceland, is your best bet. And finally, you must try a hot dog from the renowned Baejarins Beztu Pylsur.
Jenny – Travelynn Family
Stavanger, Norway
Stavanger on the west coast of Norway is a beautiful town located on the fjord side. Its stunning location on the Lysefjord combine with a bustling harbour and old historic centre. Wander the colourful streets and while away time in a harbour side cafe. Don't miss the old historic houses, left over from the canning industry.
Visit two fabulously informative and interactive museums – the Norwegian Canning Museum to find out all about Stavanger's sardine history, and the Norwegian Petroleum Museum to find out all about oil exploration in this area. Both are fun and engaging for adults and children alike, with lots of interaction.
Within easy reach of the town is some spectacular scenery. Take a boat ride on the Lysefjord for wonderful fjord views. Enjoy some of the best hiking in Norway, with three iconic hikes within driving distance of the town. Pulpit Rock or Preikestolen has spectacular fjord views from above and is do-able with children. It was also the location of the final scenes in the recent movie Mission Impossible Fallout!
Stavanger should not be missed on any trip to Norway.
Nicky – Go Live Young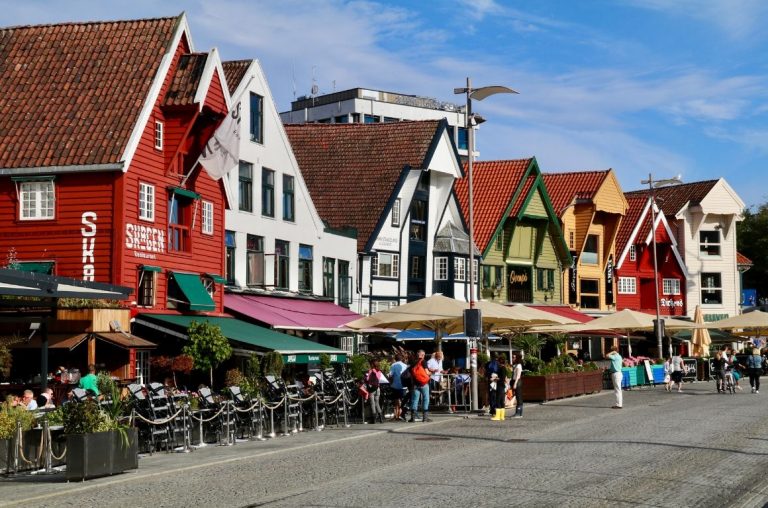 Best Cities in Southern Europe to Visit with Kids
Some of the best family holiday destinations in Europe can be found in the southern half of the continent, particularly if you are looking for a warm and sunny summer getaway. Countries found in this part of the continent include Spain, Portugal, Italy, Greece, Malta and Cyprus. It's easy to see why many would consider the best holiday destinations in Europe for families to be located within these countries.
The Mediterranean Sea and temperate weather mean this region is teeming with fun cities for kids, and it is a hugely popular area for families to visit, particularly during the summer months. The flip side of this is that, if you too are visiting during July or August, you can expect to share your holiday with a lot of other tourists. That said, because of the favourable climate in this part of Europe, you can also enjoy the family-friendly cities in Southern Europe during the other seasons, even winter.
Read my post about some of the Best Family Resorts, Europe here.
Barcelona, Spain
Barcelona on the east coast of Spain, is a very family-friendly city in Europe and a great place to visit with kids. With a great mix of history, architecture and lots for kids, it's one of the best European cities to visit with children.
The main feature of the city are the works of Gaudi and if you are visiting with kids, you can still enjoy places like the Sagrada Familia and Parc Guell with them. Just keep a close eye on kids at the Sagrada Familia as it is a a very busy place. Parc Guell has some open spaces among the gardens that kids can enjoy.
If you have a history fan, get the Montjuic Cable Car and explore Montjuic Castle, making sure to enjoy the panorama views of the city. And for younger kids, we can highly recommend a visit to both the aquarium and the zoo.
To read all about visiting Barcelona with kids, read my post in which you'll find information about getting there, where to stay and things to do in Barcelona with kids.
Rome, Italy
Rome is the perfect European City for your family holiday if you are looking to teach your kids about some of Europe's history. There is plenty of things to do in Rome for families, and most of the main tourist attractions in Rome are kid friendly.
Throw a coin and make a wish at the Trevi Fountain, climb the Spanish steps, or get the kids to place their hand in the Mouth of Truth. Take a bike ride together through Villa Borghese and go out for some pizza and gelato.
Rome is also home to the Colosseum, the biggest amphitheatre in the world, and one of the most iconic tourist attractions around the globe. While younger kids may marvel in how grand it is, older children and parents can learn about the gladiator contests and how life used to be during the Roman Empire. There are plenty of family tours of the Colosseum and the nearby Roman Forum so you don't have to navigate them alone.
Chontelle – Mum's Little Explorers
Milan, Italy
When our son was 3.5 years old we went on a city trip to Milan. Researching our options for this city trip we quickly noticed Milan was quite cheap, compared to obvious Italian destinations such as Rome or Venice. A lot cheaper to fly to and a lot cheaper to stay. Since we always travel on a budget, we decided that fashion city Milan would be a great first introduction to Italy. And we weren't disappointed, Milan has a lot to offer for families!
Of course, you can't really go wrong with pizza, pasta and ice cream, so that was a first win. We particularly enjoyed our visit to Milan's science museum, Museo Nazionale Scienza e Tecnologia Leonardo da Vinci. There's a transport section with lots of planes and trains and even a real submarine in the garden! We also really loved the Indro Montanelli public park. A green refuge in a busy city, with plenty of space for kids to run and play.
Other fun things to do with kids include visiting the natural history museum, taking the elevator up to the Duomo's rooftop, a visit to 15th-century Castello Sforzesco, taking a tour of San Siro Stadium, seeing Leonardo's iconic Last Supper, watching a performance at famous La Scala theatre and the visiting the Monza racing track.
Lisa – Flip Flop Globetrotters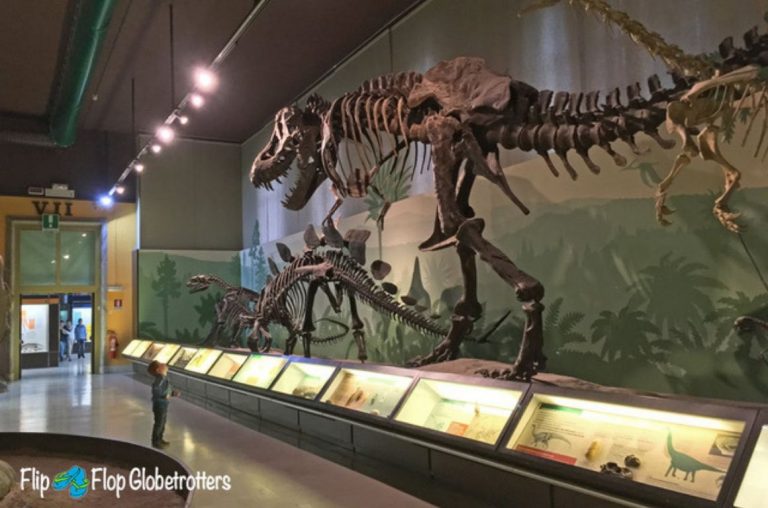 Seville, Spain
Seville is a fabulous town to visit with kids! Not only will the architecture remind them of a fairytale land or even maybe a fantasy park, put the Andalusian capital offers several things to do for families.
I recommend doing a bike tour along the river bank of the Guadalquivir river as it is the best way to discover the highlights of Seville in a fun way. Kids easily get bored, so doing a bike tour will give them a great overview of the Moorish, colonial and Spanish history of Seville without giving them an overload on information.
However please be aware that temperatures in summer can get 40 degrees+, thus preferably try to do this activity in the morning or in the late afternoon when it cools off.
The Spanish are very open and tolerable when it comes to kids! Don't wonder to see kids playing in the streets even after 11pm!
Paulina – Paulina on the Road
And if you are visiting Seville, then I suggest you check out this post about the best day trips from Seville from Gringa Journeys.
Perugia, Italy
Perugia, in the region of Umbria in Italy, is our nomination for a top European City for Kids, mainly due to one thing – Perugina Chocolates. It's Italy's answer to our Hershey Park in Pennsylvania. The factory is located outside the city gates and is a behemoth of a building that can be seen from a mile away.
Once inside, the typical factory sensibility ends and sweetness begins. We brought our daughter to experience a chocolate making class and a tour of the production house. The feeling was akin to having watched "Willy Wonka and the Chocolate Factory" for the first time. Everyone was so nice, and a bit quirky.
The experience was extremely fun for us as a family. The best part, our daughter was able to bring home what she made and there was a gift shop on the way out, where we bought enough chocolates to last us a few months (so we thought).
A second activity worth doing as a family is to explore the Underground Ancient Etruscan City that lies below the Medieval City that was built above. It gives the visitor a true impression of how an antique civilization existed. The nooks that were once houses are now inhabited by shops and art galleries. One of the most unique experiences in all of Italy.
Brenda & Andrew – Dish Our Town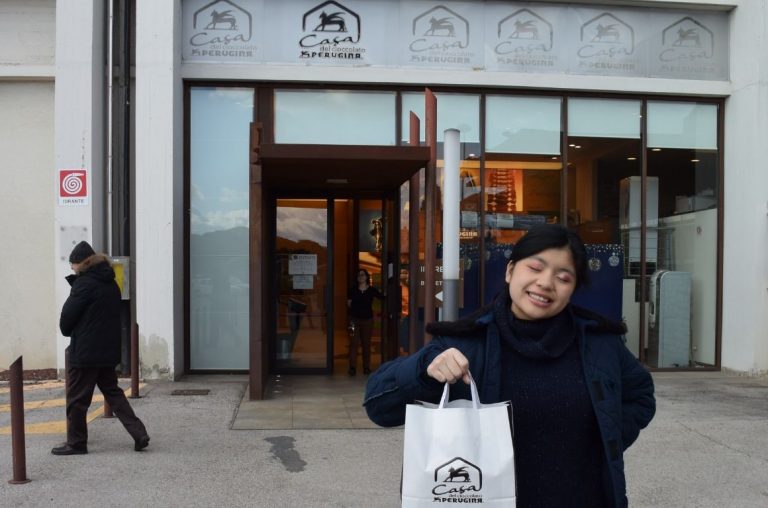 Garda, Italy
Lago di Garda, compared to its neighbor Lake Como, is a popular family holiday destination. It is located in northern Italy between Venice and Milan. It was a perfect stop for a few days when we were visiting Northern Italy. There are many fun places to visit around Lake Garda for families. There are many campsites dotted around the shores of the lake and several theme parks for families to enjoy. You can visit wineries and even learn about olive oil production.
There are many small towns you can visit around the lake. Gardaland, the largest in theme park in Italy, with more than 35 theme attractions for young and old – the park is located in Castelnuovo del Garda. Movieland, dedicated to the world of cinema with shows, animation and reconstructions of film sets is fun for movie lovers, and the Caneva Water Park, a paradise made of big and small pools with slides.
Priya – Outside Suburbia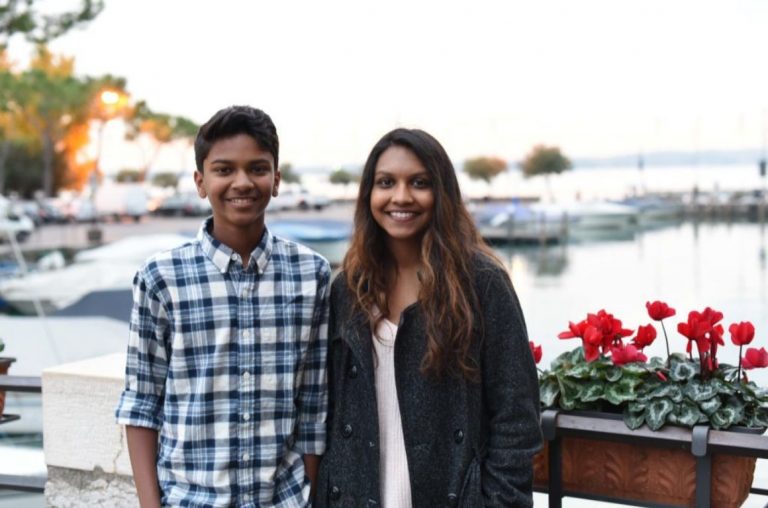 Bologna, Italy
Bologna in Italy is a great city to visit with kids for several reasons. It is a compact city so easily navigable. On the weekends, parts of the historic centre are pedestrianised and there are street performers galore.
In terms of historical sightseeing, Bologna has medieval towers that you can climb. These towers tend to be steep and probably best for children 7+. From the top of the towers, you are rewarded with great views over the city.
Another great view of the city is from the hilltop church of San Luca. It may be a long walk for some kids but there is also a cute tourist train that you can take. Finally, Bologna is known as a city for food lovers. Children will love both the city specialities – pasta bolognese and gelato.
Shobha – Just Go Places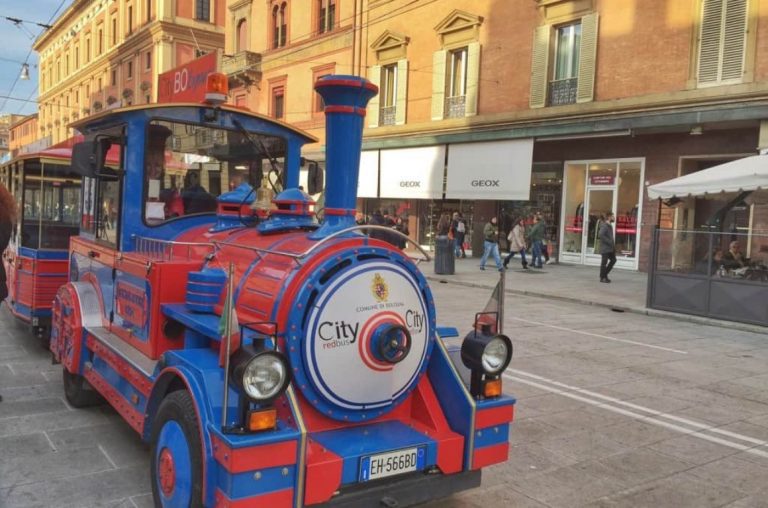 Larnaca, Cyprus
Larnaca (Larnaka) in Cyprus is a fantastic family destination, with a slower pace of life and temperate climate. Our favourite family-friendly activity was a short day-trip from town, to the Ayia Napa beaches. There are plenty of different beaches to choose from making it easy to find whatever you're looking for. The white sand is incredibly soft, and the water is warm and calm, perfect for even the youngest of kids. If you're visiting with older kids, you can rent a pedal boat with a slide, or a jet ski, and keep the whole family entertained.
Our other favourite kid-friendly activity is the playground by the Cultural Center at the Monastery and Church of Saint Georgios. This playground is best for kids ages 3-8. We loved grabbing a coffee and sitting on a bench, enjoying the backdrop of the Monastery while the kids burned off some energy.
Kyla – Where is the World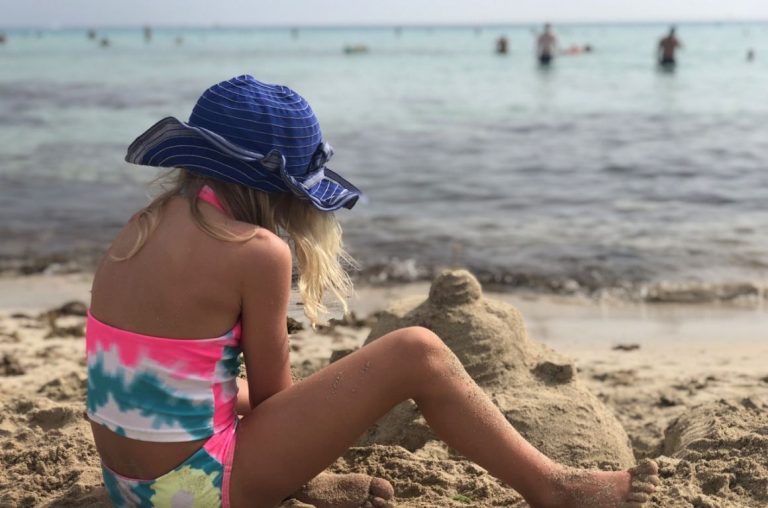 Syracuse, Italy
Syracuse, in south east Sicily, is famed for its striking Baroque architecture and its winding medieval streets. Almost surrounded by the sea and reached via a bridge, the historical heart of the city, Ortigia, is small and easy to explore on foot with little children. Car-free Piazza del Duomo is perfect for unwinding with a granita or a coffee while the kids tear around and let off some steam.
Children will enjoy the traditional puppet shows in Syracuse: the tiny theatre reserves seats at the front for its youngest visitors. The shows recount tales of monsters, knights and mysterious sirens. At the far end of Syracuse is Castello Maniace, a 13th century defence against sea-borne invaders, perfect for would-be pirates to explore.
Annabel – Smudged Postcard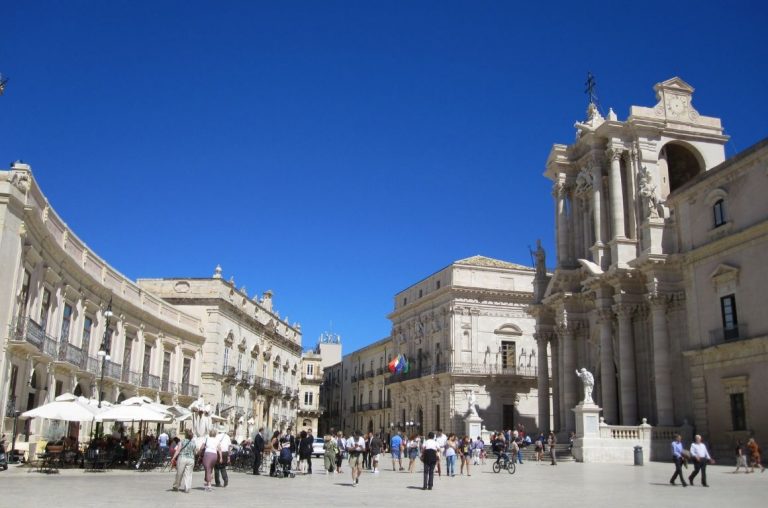 Venice, Italy
Venice is every dreamer's dream and it often gets overwhelming when it comes to exploring Venice with family. It's a perfect Romantic destination, with ample islands, but it is also a fabulous place to create memories with family.
Gondola Ride – While in Venice, you can't miss exploring the beauty, if you haven't rowed through the canals on a Gondola. With cushioned seats and a perfect heritage look, Gondola Ride is one of the best options for family fun. Crossing below the bridges, witnessing the narrow lanes, the mesmerizing houses, the Grand Canal, there's a lot for kids to build memories for their life. Gondola's are suitable for kids right from 2-3 years and more. But it becomes all the more fun, when they start exploring, by the age of 5 years
Mask Hunting – Venice and Carnival Masks, well they are a craze and more amongst kids and teenagers. Look out for authentic Venetian mask makers with artists carving some of them, inside the shops. This not only allows kids to learn the art of Mask Making but is also fun to try "papier mache" original masks. You can get similar masks as a family for some Instagram worthy pictures.
Chandresh – Family on the Wheels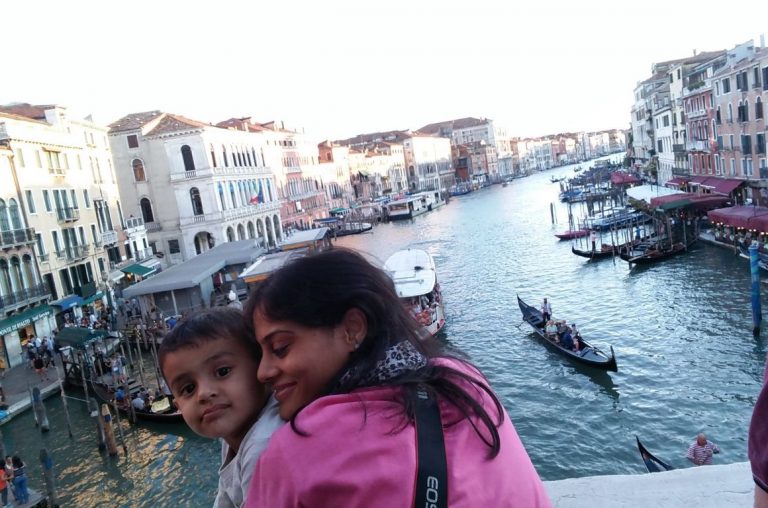 Florence, Italy
Famous for its art and architecture, Florence is one of the most beautiful cities in the world. It's also one of the best European cities to visit with kids. Among renowned sights like the Cathedral of Santa Maria del Fiore and the Uffizi Gallery, the Leonardo Museum and the Antique Carousel in Piazza della Repubblica are undoubtedly the highlight for kids.
The Leonardo Da Vinci Museum is dedicated to the inventions and anatomical studies of Da Vinci. Kids will love exploring the four sections: earth, water, fire and air. The life size, functioning models represent Leonardo's best work and include machines of war, flight and engineering.
The vintage carousel in Florence's main square, the Piazza Della Republic, dates back to the 1900's and consists of retro horses and gold carriages. It costs just 1 Euro to ride.
Both the Da Vinci Museum and the carousel are suitable for kids (and adults!) of all ages and are among the best things to do in Florence with kids.
Elaine and David – Show Them the Globe
Porto, Portugal
Porto in northern Portugal is a vibrant city packed with history, small alleys, good food and a homely vibe. It is a safe and family-friendly city in Europe with many fun activities for the kids.
Although Porto is Portugal's second biggest city, Porto's downtown can easily explored by foot or on bicycle, especially for teens.
One of the coolest features of the city is the Ribeira, the riverside of Douro River. Crossing the river are several bridges, and small boats, called rebelo boats. These boats used to transport the Port Wine through the Douro valley, nowadays they are used for tourism. It is a fun activity for kids to cruise along the river in a Rebelo boat. Besides, you with catch breathtaking views of the Douro Valley which is UNESCO world heritage.
Another perfect activity to do with kids in Porto is going to World of Discoveries – an interactive museum and a theme Park. Indicated for all ages, kids have loads of fun while learning about the Discoveries and Porto's role in the uncovering of the world.
Jorge & Claudia – Travel Drafts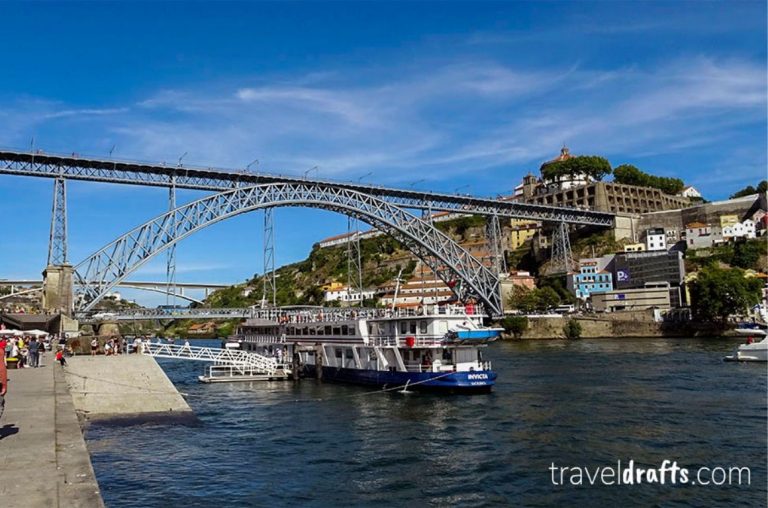 Lisbon, Portugal
Despite being a city built on seven hills, Lisbon is a very family-friendly city, although you might want to opt for a baby or toddler carrier if visiting with little kids. The city is a vibrant European capital and there is a huge amount on offer for families.
We started our visit to the Portuguese capital in the Oceanario de Lisboa, the aquarium which regular features in the top 10 aquariums in the world on TripAdvisor. And once you step inside, you soon realise why.
Kids will also enjoy a ride on the cable car, just at the back of the aquarium. The Carmo Convent is a quiet oasis within the city and we can also recommend visiting the area around the Belem Tower, a very popular tourist destination within the city. With lots of grassy areas for kids to run free, enjoy an ice cream under the shade of the trees before getting those all important pictures in front of the Tower.
If you'd like to know what else the city has to offer families, check out this post about amazing things to do in Lisbon with kids.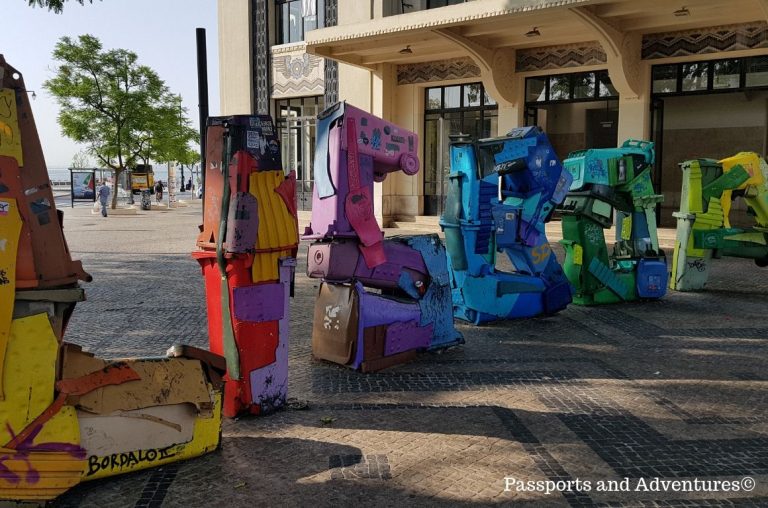 Planning Your Family Trip to Europe
How to get to Europe
If you live on the European continent, then you are lucky enough to have the other countries within easy reach. With many low-cost airlines operating within this part of the world, all of the top family destinations in Europe are within reach and often within budget. We recommend you start your search for flights with Skyscanner. For those located in the UK, Ireland or Spain, start your search here with Skyscanner. For those in the USA, start your search here with Skyscanner.
If you are based within Europe and would like to explore more of the continent yourself, travelling by ferry is a great way to travel using your own vehicle and therefore potentially cutting down on costs. We recommend you start looking at ferry routes and costs with either DFDS Seaways, covering the UK, Denmark, Holland and Norway, or Stena Line from Ireland.
How to get around Europe once you are there
Getting around Europe, for the most part, is easy with many countries having good public transport links, both to and from the airport to the major cities, and within the cities themselves.
If trains are your thing, then why not discover Europe by train with Eurail. Check routes and prices via their website. For train journeys and prices within the UK, we recommend checking out TrainLine.
Travelling around Europe by train is a great way to visit several European cities and countries in one trip, without having to deal with getting your kids through airports and onto planes. Plus, getting a train can turn out to be more fun. And when our son is a bit older I plan on taking him Inter-railing around Europe. Are We There Yet Kids has a great post with helpful hints and tips for Inter-railing with kids. I'll be re-reading their post before we start planning that trip!
If you are planning to stay within the European city for your family holiday, then getting around should be easy enough. Many have good inner-city public transport in the form of buses, trams, metros and trains. It is best to check out the public transport system for the city you are visiting before you go.
That said, I can highly recommend you consider a sightseeing bus tour within the city you are visiting. We have taken these in a few cities, and they are by far the best way to explore and discover a new city, while getting your bearings, and they also allow you to pick and choose the sights you'd like to see along the way. We recommend you start your search for a sightseeing bus tour on Get Your Guide. You'll also find a host of tours, excursions and experiences for every European city you can imagine.
If you want the freedom of your own transport and are not taking your car with you on this holiday, then you may be thinking about a rental car. A rental car gives you the freedom to explore a city and the surrounding area. You will also be able to take day trips outside of the city, as we did when we visit Lake Bled, and you won't need transfers to and from the airport if you are picking your rental up at the airport.
We recommend Rentalcars.com as your starting point for finding hire cars, availability and prices. I've used them on many occasions and have found some great prices with them. My only advice is to be wary of taking out the additional/optional excess insurance with them. I did this once and was told by the rental company that I would still need to pay for any damage above the minimum excess and would need to claim it back from the insurance sold to me through Rentalcars. So, either get your own excess insurance prior to travelling or buy the insurance direct at the desk of the hire car company.
Finding accommodation in Europe
When it comes to choosing your accommodation within European cities, it very much depends on your family's needs and preferred type of accommodation. There are many different types of accommodation to choose from including hotels, hostels, holiday lettings, private rental properties and of course AirBnB.
For hotel bookings, we regularly use Booking.com to find family-friendly hotels or city apartments for our stays. My hubby also uses booking.com for all his business trips. If you can't find what you are looking for there, you can always search TripAdvisor.
For holiday lettings we recommend you start your search with either Holidays Lettings or TripAdvisor Rentals. You'll find a range of accommodation choices on either of these sites.
As a family, if we are not choosing to stay in a hotel, we always opt for an AirBnB in the city we are visiting. They give us the flexibility of finding accommodation with separate bedroom and living spaces, while also allowing us to cook for ourselves, therefore reducing our costs on food compared to eating out all the time, a must in some of the more expensive cities in Europe.
Sign up to AirBnB with this link and get money off your first stay.
In Summary
I hope myself and my fellow bloggers have shown you that for family holidays, Europe is a safe bet. There are so many places to visit in Europe that you will never be short of ideas.
When someone asks me "where are the best family destinations in Europe?" I always have to ask them what they want out of their holiday as each country and city is different. I can only say what our best European city breaks with kids has been to help guide them a little bit. I say city breaks because we tend to take longer holidays outside of Europe lately or we combine our city breaks with either visiting friends and family or as part of longer road trips.
There is an abundance of cities to visit in Europe with kids and each has something to offer families with children of all ages. Whether you want to visit a European city for a short break, a long weekend or as part of a longer holiday, I hope we've given you some ideas about the best places to visit with kids so you can start planning your next family vacation with ease.
Cath x
If you are looking for more help with planning your family trip to Europe, we recommend these Lonely Planet books.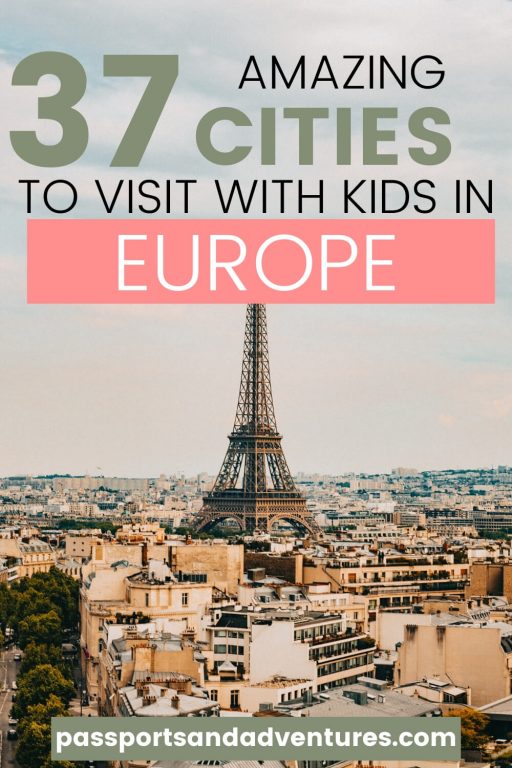 Passports and Adventures is a participant in the Amazon Services LLC Associates Program, an affiliate advertising program designed to provide a means for sites to earn advertising fees by advertising and linking to amazon.com, amazon.co.uk, amazon.ca. Amazon and the Amazon logo are trademarks of Amazon.com, Inc. or its affiliates. To learn more about affiliate links, read my Disclosure Policy here.