In Wales, castles are ten-a-penny. In every region and county you will find a few lurking in a corner. From spectacular castles which are pretty much intact to ruin and tumbledown castles, this is a list of the best castles in Wales for kids.
Best Castles in Wales for Kids
The castles featured in this post are the best castles in Wales to visit with kids which we have tried and tested personally. Most are located in South Wales as they were accessible from where we lived on the edge of the Brecon Beacons. Others are ones we have travelled a bit further to, or have visited on one of our many trips away in Wales.
All are family-friendly and are suitable for the younger members of the family, given we visited these while our son was still quite young.
Castles in Wales map
Caerphilly Castle
One of the best castles in South Wales is Caerphilly Castle and it's worth visiting even if you don't have kids. Caerphilly Castle is a medieval fortification built in the late 13th century by Gilbert de Clare. Surrounded by artificial lakes and covering an area of 30 acres, it is the second largest castle in Great Britain. Caerphilly also introduce concentric castle defences to Britain and is one of the most famous castles in Wales for its large gatehouses.
Caerphilly is a wonderful castle in Wales for families, especially since the resident dragons moved in. In 2016, a dragon by the name of Dewi arrived at Caerphilly and promptly made it his home. A year later he was joined by Dwynwen, a beautiful blue Caernarfon dragon and together they have had two babies.
The dragons are now resident in the Dragon's Lair, just outside the main gate to the castle. It is a wonderful sight to see. You can learn all about the dragons and their tale on the Cadw website.
Caerphilly is a large castle with lots of nooks and crannies to explore. There are gatehouses, keeps, battlements, the Main Hall and Gilbert's Maze to the rear of the castle. The leaning Tower which is 'held up' by a knight actually leans to a greater degree than the Leaning Tower of Pisa. There are also trebuchets which are sometimes used during re-enactment events. If you are looking for things to do in Wales with kids, we can highly recommend a visit to Caerphilly Castle.
Read all about our last visit to Caerphilly Castle with kids here.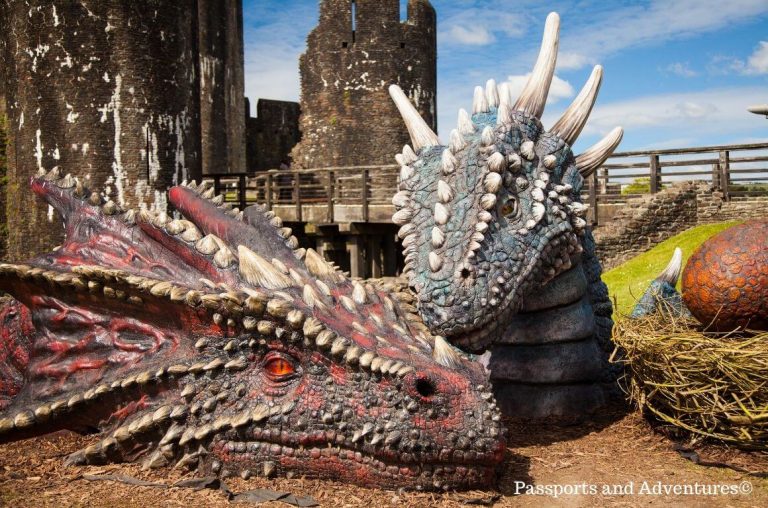 Cardiff Castle
Cardiff is one of the best cities to visit in Wales with kids as there is so much on offer to keep them entertained. And Cardiff Castle, in the city centre, is one of the best places to visit in South Wales.
Located next to Bute Park in the very centre of Cardiff, Cardiff Castle is a medieval castle and Victorian gothic mansion that also has a Norman Keep on the grounds. The Norman Keep dates back to the 11th century and was built on top of a 3rd century Roman fort. Cardiff Castle has large grounds enclosed in walls with battlements. The walls also hold a secret. They were used as air-raid shelters during World War II and are worth visiting, even with kids. Just watch out for the sound effects with younger members of the family.
The Castle Apartments are ornately decorated with stained-glass windows, intricately decorated walls and ceilings, and furniture and tapestries from the 18th and 19th centuries. While these are amazing to see some kids might find them boring so visit these first so you can explore the rest of the castle at the kids pace.
Cardiff Castle often holds music concerts, medieval days and other family-friendly events making it one of the best places in Wales to visit as a family.
Read all about our visit to Cardiff Castle with kids here.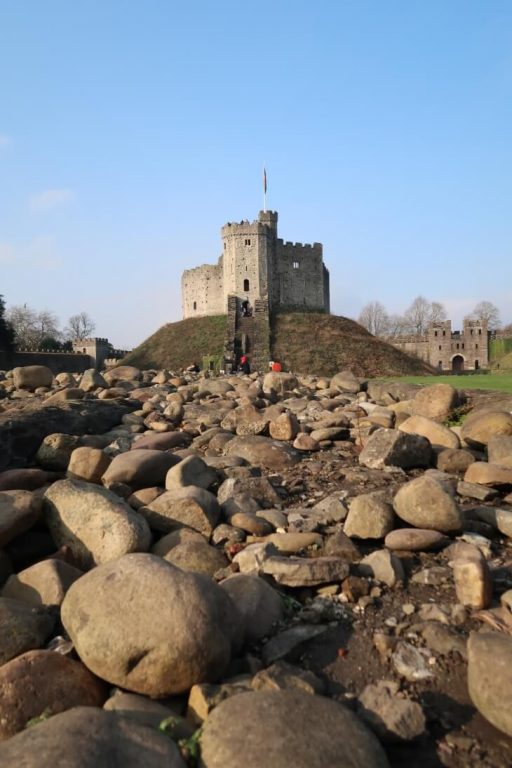 Carreg Cennen Castle
One of the best castles to visit in Wales with kids is Carreg Cennen Castle, located near Llandeilo in Carmarthenshire. One thing I wanted to do with my son before we emigrated from Wales was to visit as many Welsh castles as we could before we left. Having checked the Cadw site, Carreg Cennen caught my eye for its location.
Perched on top of a hill and with stunning views across the Carmarthenshire landscape, Carreg Cennen was built in the 12th century but has been ruinous since the 15th century after it was vandalised during the War of the Roses. But the fact it is ruinous does not detract from its appeal.
To visit the castle you do need to hike up the side of the hill. Some of it can be steep but surprisingly, my then three-year-old walked the whole way up without complaining. The path, although flat in parts, is not buggy-friendly in my opinion.
There are several areas within the castle to explore, although it is quite small. Take a dragon teddy and/or some swords and let the kids pretend they are knights on a dragon hunting quest. And make sure to enjoy the views, which really are incredible. If you are visiting with young kids, make sure everyone is wrapped up well, especially in spring, autumn or winter as the wind can be bitingly cold.
Read about our visit to one of the best places to visit in Wales here in our Carreg Cennen Castle with kids post.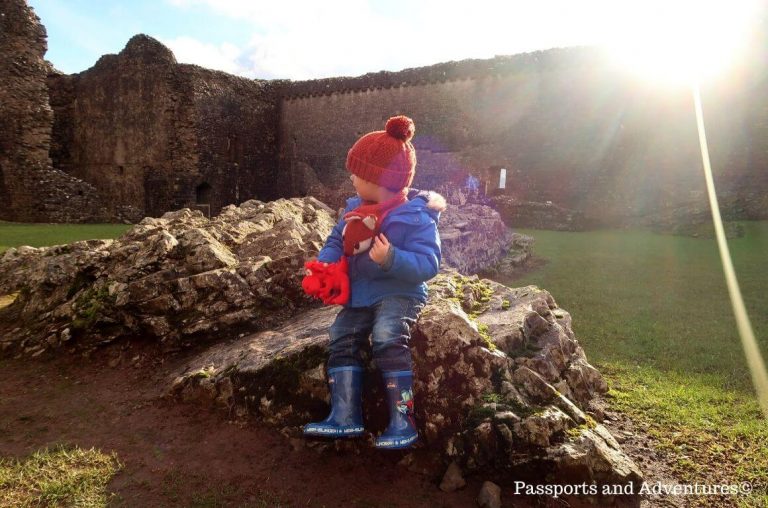 Abergavenny Castle
Of all the castles in South Wales, the one we visited the most was Abergavenny Castle, simply because it was the closest one to where we lived and we often popped into Abergavenny on a Saturday morning for brunch and a wander through the market before our son asked to go to the castle.
Abergavenny Castle is located near the town centre adjacent to the main car park near the post office. It is free to wander the grounds and visit the museum but the museum has limited opening hours. It was established in 1087 by a Norman Lord and is now a Grade I listed building.
The castle is in a completely ruinous state and you do need to watch smaller children to ensure they don't fall on uneven ground, but if you are visiting the town it is a great little castle to visit. You can borrow family backpacks from the museum during your visit which can make the visit more interesting for kids.
Read about one of our visits to Abergavenny Castle with kids here.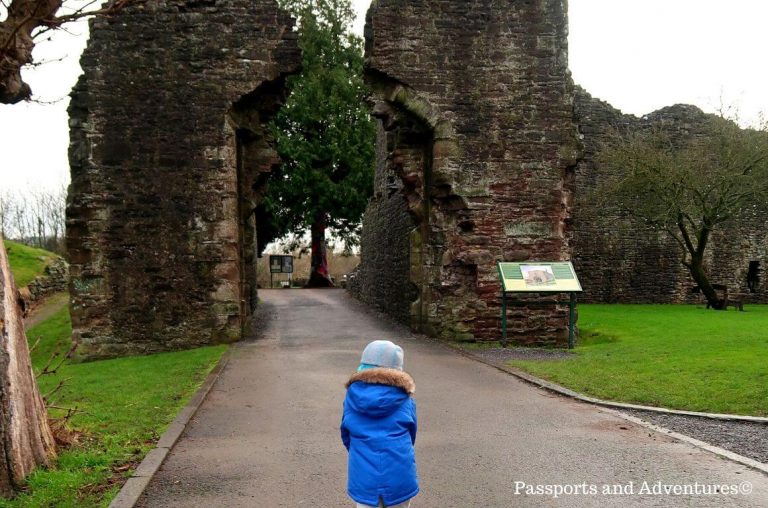 Raglan Castle
One of my all-time favourite Welsh castles is one of the most beautiful medieval castles in Wales. Raglan Castle, located less than 30 minutes from where we lived in Wales, is one of the grandest castles built by Welshmen. It is a late medieval castle, the current castle dating from between the 15th and early 17th centuries.
This luxurious, fortified castle has a large hexagonal keep known as the Great Tower or the Yellow Tower of Gwent which is visible as you approach the castle from the entrance. Although much of the castle is in a ruinous state, you can still imagine what it must have looked like in all its glory from what remains. And there is enough remaining to keep kids entertained.
From the Great Tower to the Castle Apartments, chapel and kitchen, Raglan has plenty of nooks and crannies to explore with kids. It is a beautiful castle and a must-visit if you are visiting this part of South Wales.
Find out if we found a dragon during our visit to Raglan Castle with kids here.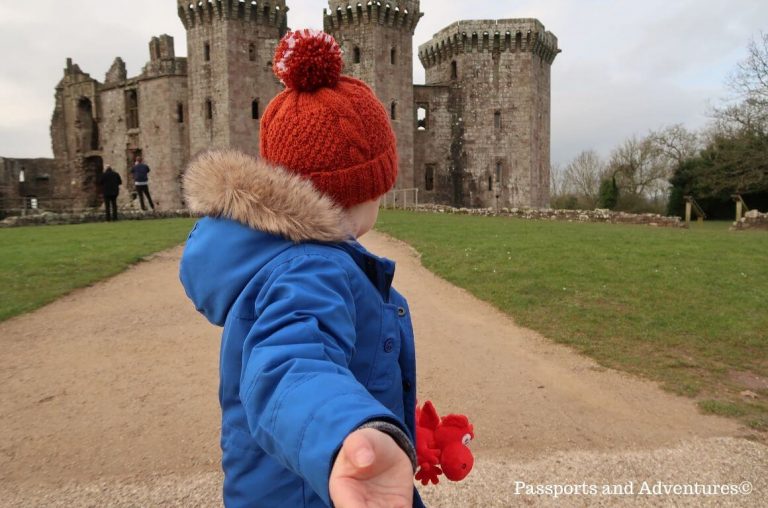 Chepstow Castle
Suggestions for days out in South Wales will often include a visit to Chepstow Castle. As the oldest surviving post-Roman stone fortification in Britain, it is easy to see why once you visit. Sitting on top of cliffs above the River Wye, Chepstow Castle is an impressive castle whose construction began in the late 11th century and continued until the early 14th century.
As far as castles in Wales for kids to visit, Chepstow is one of the best. Built at an important crossing point on a main artery between Monmouth and Hereford, Chepstow Castle boasts no less than four baileys (courtyards). It also is home to the oldest castle doors in Europe, now over 800 years old.
With four baileys and associated buildings, there are plenty of nooks and crannies for families to explore. One of our favourite parts of the castle was the cellar with its very impressive ceiling. Make sure you don't miss it. There are wonderful views across the River Wye from the Great Hall and lots of green space for kids to play knights on. Just watch out for the willow knight further into the castle!
Chepstow Castle often holds medieval events during which the trebuchets are in action across the river. It's a great event to visit in the castle if you manage to time your visit well. However, even if there isn't an event on while you are there, it is still a great Welsh castle for families.
Read all about our visit to Chepstow Castle with kids here.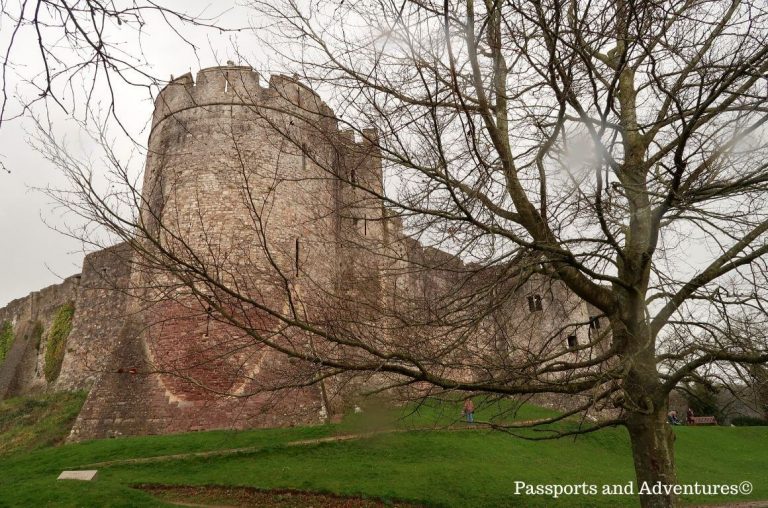 Weobley Castle
Ruined castles in Wales are plentiful and one which is worth visiting with kids is Weobley Castle, known locally as the Wobbly Castle. Situated on the Gower Peninsula and with stunning views across the Loughor estuary, Weobley is one which is quite out-of-the-way.
Weobley (pronounced web-lee) is a 14th century fortified manor house, the existing buildings having been built by the de la Bere family. Still standing are a gateway, hall and kitchen, a chapel and some other ruinous buildings. It is located beside a working farm, so do take care when approaching and watch out for animals and tractors.
The castle itself is quite small and there was a small exhibition about the history of the castle when we last visited. Despite its ruinous state, you can still get a glimpse of what it must have looked like in its heyday. There is a small car park located at the entrance to the farm/castle grounds but since the castle is rurally located, I can't imagine it getting too busy. You won't spend more than an hour or so here, so combine it with a trip to the Gower or Swansea as I did.
Find out how our dragon hunting adventure at Weobley Castle with kids went here.


Tretower Castle
Of all the castles to visit in South Wales, Tretower near Crickhowell in Powys is one of the loveliest to visit with kids. This Grade I listed ruined castle is not far from Abergavenny and could be combined with a visit to the castle there.
Originally built in the 12th century, Tretower consists of two parts. The first part is the impressive four storey monumental tower which was not only created for defensive purposes but believed also for social climbing by the owners. The second part, across a beautiful lush green is the medieval court whose Great Hall is laid out as it would have been for receiving medieval poets, dignitaries and members of court.
Tretower is a great castle for kids as the medieval court has plenty of rooms to explore, many decorated with replica furniture from the 15th century. After you have finished at court, you can enjoy the orchard and gardens if it is a fine day before heading across the green to see the ruined tower.
Tretower often has events on aimed at younger visitors during school holidays, most notably a dragon hunt (treasure hunt) when we last visited that our son loved. Our son being the original dragon hunter in Welsh castles of course!
Although you initially think Tretower is a small castle, it has a lot more to it than first meets the eye. Find out if we found a dragon hiding at Tretower in my post about our visit to Tretower Castle with kids.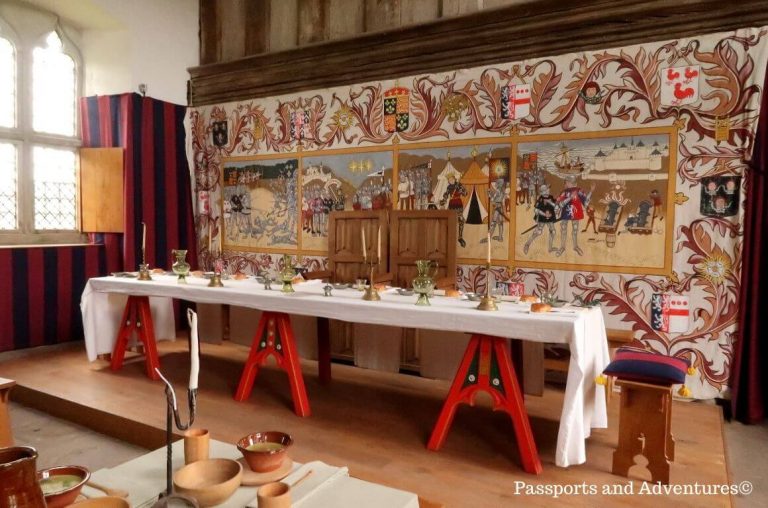 Pembroke Castle
If you are looking for ideas for days out in West Wales, then head to Pembroke Castle. Sitting on the banks of the River Pembroke, this was once the seat of the Earldom of Pembroke. It is also the largest privately owned castle in Wales.
Pembroke Castle is a Grade I listed building which was first built at the end of the 11th century. Most of the buildings still standing today were built a century later. There are wards, keeps, towers, private apartments and more to explore with kids. In the Outer Bailey, as you enter the castle, there is a surprise on the ground; the largest map of Wales denoting the historic sites and castles of the country. It's amazing to see.
Kids will enjoy exploring the Chapel, Inner Gate, Western Hall and the 80-foot impressive Great Keep which spanned five stories. As the floors are now gone, you can see all the way up to the domed roof. Make sure to let your little dragon hunters check the "dragon cave" for any dragons lurking about (the Wogan Cave).
Pembroke Castle is one of the best days out in Wales with kids to enjoy and has plenty of areas to explore and discover. Just note that there is no direct parking at the castle, although there is a payable public car park less than 10-minutes' walk from the castle entrance.
Read about our dragon hunting adventure at Pembroke Castle with kids here.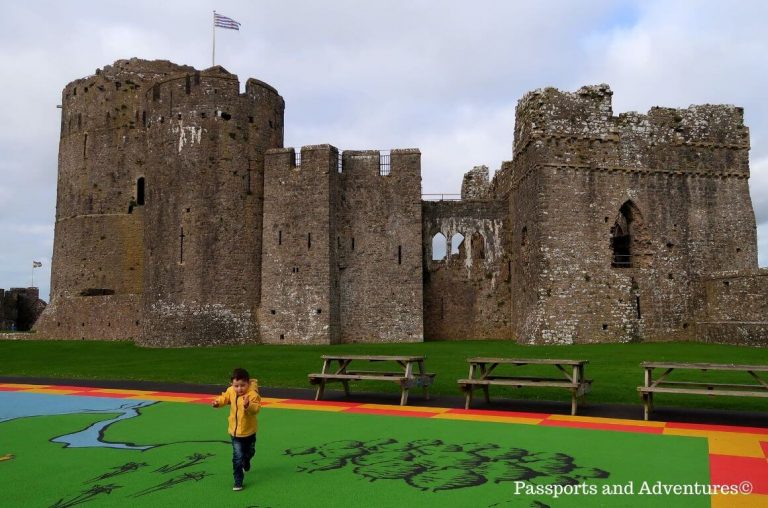 Powys Castle
Often voted in the top 10 castles in Wales, Powis Castle (Powys Castle) near Welshpool on the Wales/England border is one of the most beautiful castles in Wales. This medieval castle, fortress and grand country mansion is the seat of the Earl of Powis and is known for its extensive gardens, terraces, parkland and deerpark.
This ancestral home of the Herbert family, the property is now under the care of the National trust. Visitors can enter some rooms in the castle itself but not all as it is still the home of the Earl of Powis. And note that photographs inside are strictly not allowed. However, you'll be too busy staring in awe at some of the rooms and decorations for this to matter.
The gardens are extensive and there are many areas to them. During our visit we were on a time schedule so we couldn't explore them all but we enjoyed a very nice walk towards the lake and then Ice Cellar. If you are planning to visit Powis Castle with kids, allow a full day to explore the extensive gardens as well as the castle itself. This is definitely one of the best castles in Wales to visit. And if you go in summer, we can highly recommend an ice-cream to enjoy while wandering the gardens.
You can read more about our visit to Powis Castle with kids here.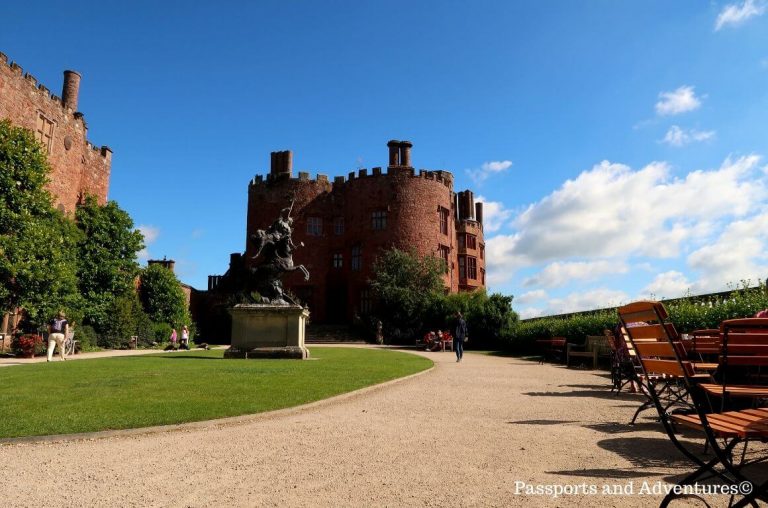 17 Fun facts about Wales for kids
Wales is called Cymru in Welsh.
Wales has a population of just over 3 million people. Its population of sheep numbers more than 10 million.
Wales has more castles per square kilometre than any other European country, totalling over 600.
The Welsh language is believed to be the oldest in Britain at 4000 years old. It is called Cymraeg.
Wales is surrounded by sea on three sides. Its only side not with a coastline is its border with England.
Cardiff is the capital of Wales but only since 1955 making it one of the youngest capitals in Europe. Wales is also home to the smallest city in Britain, St Davids in West Wales.
Wales has two official languages, Welsh and English. Over 20% of the population speaks Welsh as their first language, mainly in North Wales.
The national flag of Wales known as the Red Dragon (or Y Ddriag Goch) was given national status in 1959 and is believed to be the oldest national flag still in use today.
Wales has had an association with the red dragon for centuries.
The Welsh national game is rugby.
Although the leek is the official national emblem of Wales, the daffodil is also considered a national emblem as its Welsh name "Cehinen Pedr" is often confused with the Welsh name for leek "Cenhinen".
The deepest cave in Britain is in Wales, Ogof Ffynnon Dddu, which is 304m deep (1010 feet).
Snowdonia is the highest peak in Wales, towering at 1085 metres or 3560 feet and is located in the Snowdonia National Park in North Wales.
The longest and fastest zip wire rides in Europe are in Bethesda, North Wales.
Roald Dahl was Welsh, having been born in Cardiff in 1916.
Mount Everest, the highest mountain in the world was named after Welsh explorer, Sir George Everest.
Wales has the longest place name in the UK with 58 letters in total; Llanfairpwllgwyngyllgogerychwyrndrobwllllantysiliogogogoch, though it is often shortened to Llanfairpwllgwyngyll. Its meaning is 'St Mary's Church in the hollow of the white hazel near to the rapid whirlpool of St Tysilio of the red cave'.
I hope you have enjoyed this round up of the best castles in Wales to visit with kids. These castles are ones we have personally tried and tested with our son. At each one we brought a small Welsh red dragon teddy bear and during our visit, hid this teddy in a nook or cranny for him to find, turning what could be a boring castle visit into an exciting dragon hunt. It has instilled a love of castles in him which continues to this day and means we can enjoy historical sites and castles with him around the world. So, if you are looking for things to do in Wales for kids, why not take them on a dragon hunt in one of these castles.
Cath x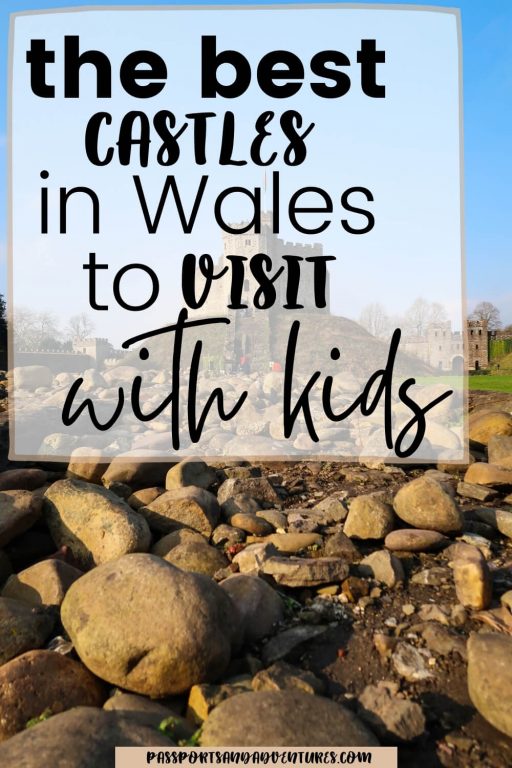 Related Posts