If you're looking for a great family day out in South Wales, I know the perfect place. With everything from farm animals to a huge indoor soft play, Cefn Mably Farm Park is just the ticket. In this post I'm going to share with you one of our favourite places in South Wales and tell you should to enjoy a visit to Cefn Mably Farm Park with kids.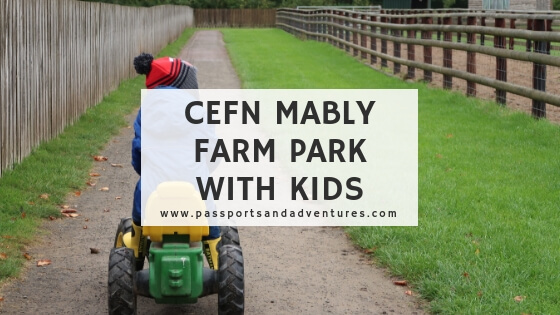 Located not far off Junction 28 of the M4, Cefn Mably Farm Park is a brilliant place to take the kids, whether the sun is shining or it's pouring with rain. You know that saying, there's no such things as bad weather, just bad clothing. Well, it's so true, especially where Cefn Mably Farm Park is concerned.
We discovered this family day out in South Wales back in 2015 when we decided not to sit in the house on a Saturday morning. We had been meaning to find and visit this farm park so thought this particular Saturday was as good a day as any to visit. It took us about 40 minutes to get there from our house and when we arrived at around 11am, there was lots of space in the car park. We made our way into the farm park building, paid our entrance fee (more on that below) and found our bearings. Inside the building is the coffee shop/bistro, the soft play area that has a section for babies and older children, the toilets and the farm shop. From here we made our way outside to explore and see what animals we could spot.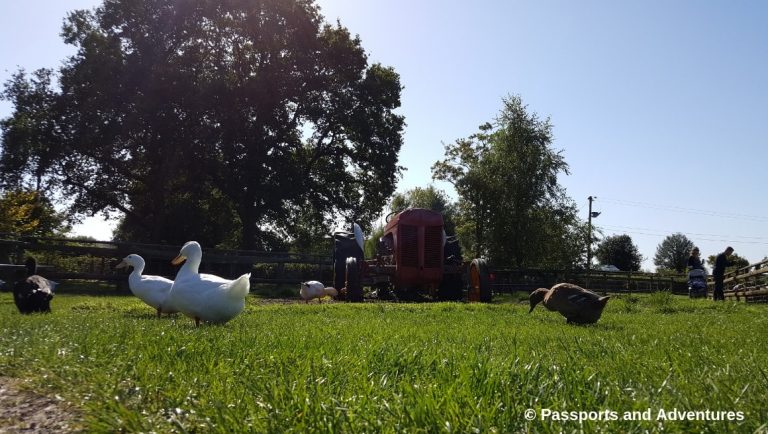 When you enter the outdoor areas, you first pass by the indoor animal pens which included sheep, goats and lots of rabbits. These rabbits, of all shapes, sizes and colours, are pets which have been rescued and need adopting. It was quite sad to see how many they had, and although I felt like this we didn't crumble. I know from friends having had rabbits that I have enough on my plate looking after, at that time, two dogs. We had bought a bag of animal feed when we paid our entrance fee and I fed the animals as our son was having none of it. I guess he was still a little young at the time and wary of the various animals.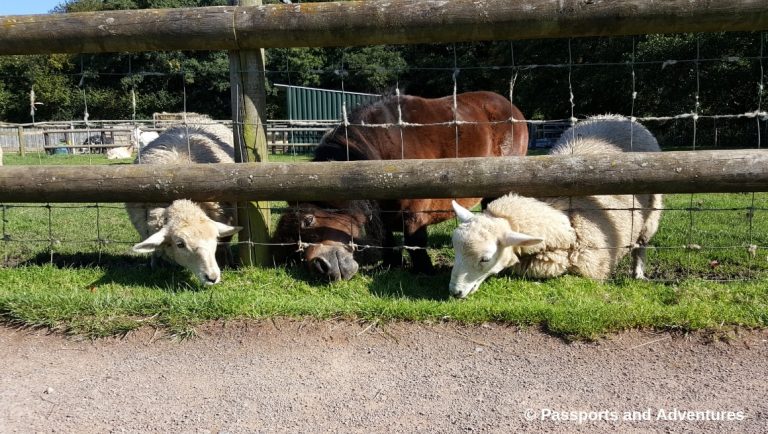 From the petting area you venture outside and pass by the horses which our son was fascinated by. We usually stop to play in the small play area. The Farm Park has two play areas, this small one beside the pony and horse pens, and a much larger one too further around the park. Our son loves the swings in this area and then usually he makes a beeline for one of the many play tractors they have around the Farm Park. These ride-along tractors are a huge hit and he generally doesn't want to get off them, even when it's time to let other kids have a go. That's when bad cop Mum comes out!
There are lots of various farm animals at Cefn Mably including pigs, donkeys, sheep, goats and horses.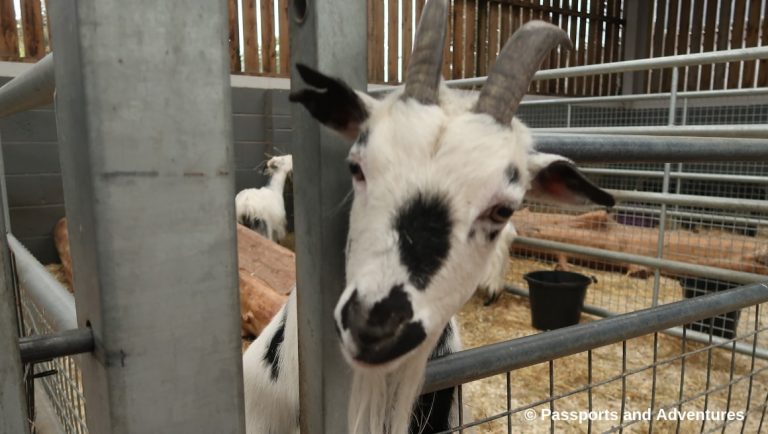 Ducks roam freely near the pond, and the horses are clever animals. If they see a brown paper bag of animal feed in your hand as you pass by they run their hooves on the ground to attract attention. Clever! I can never resist feeding these ones. They're not stupid.
We generally spend about an hour to an hour and a half wandering around, feeding the animals, before heading to the second playground, where it has been known for our son to get wet pants on the slides when it's raining during our visits. I don't mind this as I always bring a change of clothes. We also tend to only go round the outdoor areas of the park once, so he can get as wet as he needs.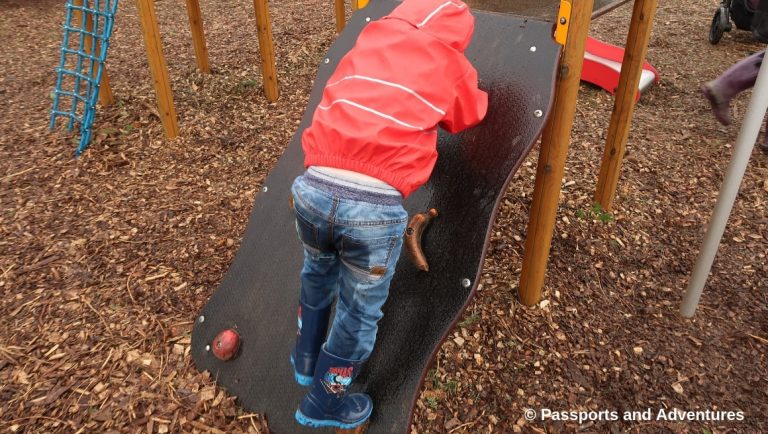 Once we're finished outside, we generally head indoors where I change our son and we relax with a cuppa on the sofas at the soft play while he plays. The soft play area has two designated areas. One for younger children and one for older, although Alex always ends up in the older section shooting balls from guns. It's so well hidden I usually have to go looking for him to make sure he's ok. But he always has a ball in this soft play. We've also eaten at Cefn Mably and I can highly recommend the steak baguette, it's delicious.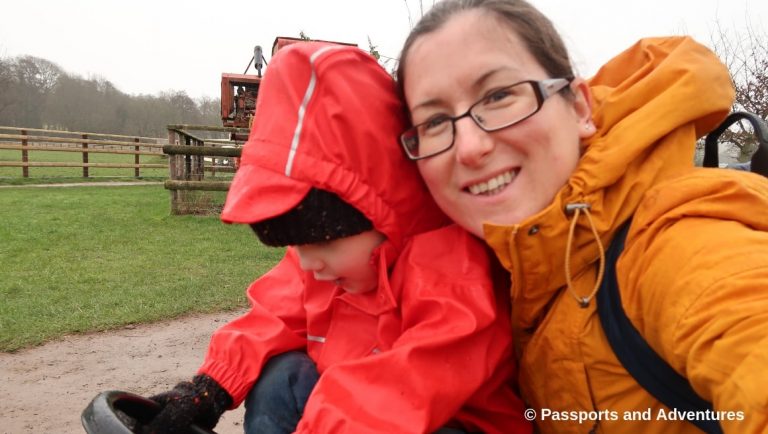 On a recent visit to Cefn Mably, we arrived before our friends did and I let our son have fun jumping in puddles while we walked around outside. It has to be done, so long as you've got a pair of wellies on. As usual, I got him changed once we were inside and let him head for the soft play while I had a cuppa and a Welsh cake while waiting for friends to arrive. On this visit we went back outside with our friends and Alex got to ride one of the ponies, his first ever pony ride. They cost just £2 and the token can be bought in the cafe. However, he was on strict instructions not to get wet again as I had used the spare change of clothes for him.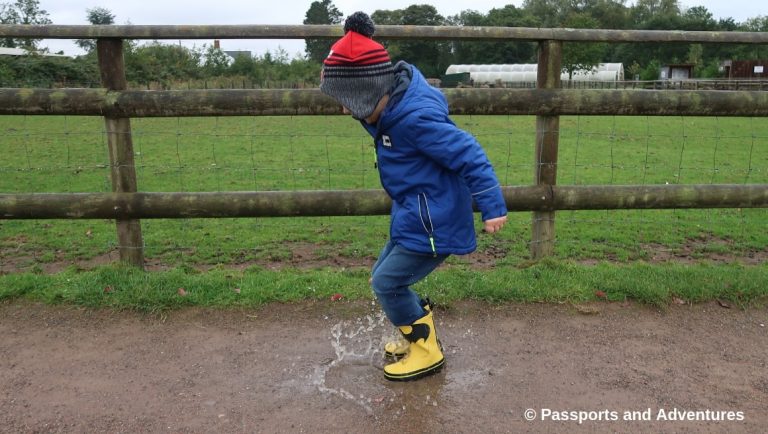 To exit the farm building you pass through the farm shop and when we lived in Wales we always took a few minutes to browse the shelves. They have everything you can imagine from chutney and jam of all flavours, to fresh vegetables grown locally, to a butchers selling meat produced on the farm itself. We often couldn't resist buying a few things including sausages and rashers for a Sunday morning breakfast.
Things to note when visiting Cefn Mably Farm Park with Kids:
Cefn Mably is open from 10am to 5pm everyday except the 24th-28th December and New Years Day.

Admission costs £4.50 per person over 18 months old during weekdays and term-time. At weekends and non-term time, admission costs £6.50 per person. Family tickets for 4 people cost £24. *

Digger rides, cart rides, pony rides and animal feed cost extra. Digger and cart rides are payable at the rides while animal feed and pony rides must be paid inside at reception or the cafe.

Cefn Mably has a coffee shop and bistro to buy drinks and hot and cold food.

There is a large soft play with two areas for babies and younger children, and for older children. no food or drink is allowed in the soft play, and shoes must be removed but socks must be worn at all times. There are disposable socks available to buy at Cefn Mably.

Outside there are two playgrounds, a smaller one near the pony ride and a larger one near the vegetable patch.

The farm shop sells gifts and produce either produced on the farm or locally.

There are toilets next to the soft play with baby changing facilities available.

Plentiful seating is located beside the cafe for eating and there are comfortable sofas with small tables located around the soft play area.

Only guide dogs are allowed in Cefn Mably Farm Park.

The car park is quite large and is free of charge.

There are plenty of hand-wash stations around the indoor and outdoor areas to keep hands clean and germ free. Use them.

Make sure to bring waterproofs, or wellies at the very least, and also a change of clothes. That way you can all enjoy the park whether it's raining or not and you can change the kids before they head to the soft play.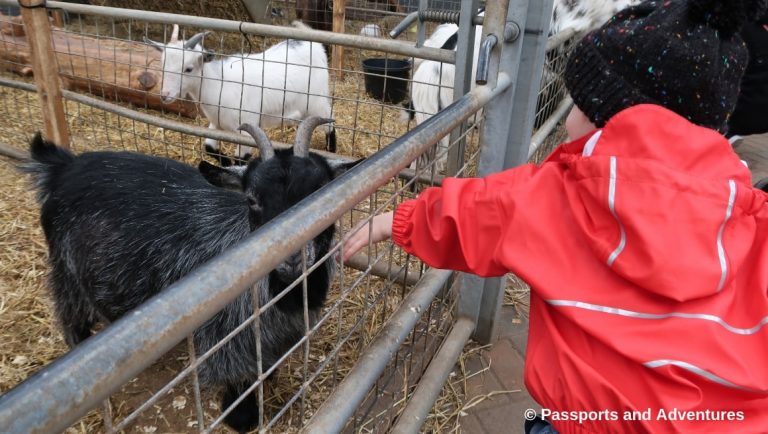 All in all we have spent many a lovely Saturday morning at Cefn Mably Farm Park, both just as family and also with friends. It was a great family day out when we lived in South Wales as it never took us long to get there. We've even returned for a visit while in Wales recently, as mentioned.
Cefn Mably Farm Park is a great place to visit with children of all ages. It's a wonderful place to let kids get up-close-and-personal with farm animals. You can touch and hold animals in the indoor area and pet the various farm animals through their pens in both the indoor and outdoor area. They're all very friendly and none of them have tried to eat our fingers yet!
There are plenty of hand washing stations dotted around the park to keep both little and big hands clean and free of germs. You can buy animal feed at the admissions desk and parking is free of charge. As I've already said we arrived as late as 11am on a Saturday morning and there was plenty of parking, but by the time we left at 12.30pm the main car park was full and arriving visitors were starting to park in the overflow car park. It takes approximately 10-15 minutes to get to from Junction 28 of the M4 and I'd recommend it to anyone in South Wales as it's a great place for little people to get up close with farm animals of all shapes and sizes. We've always enjoyed our mornings there and I am sure we'll be visiting again in the future.
Cath x
*Prices correct at the time of writing this post.
**I was not asked to write this post.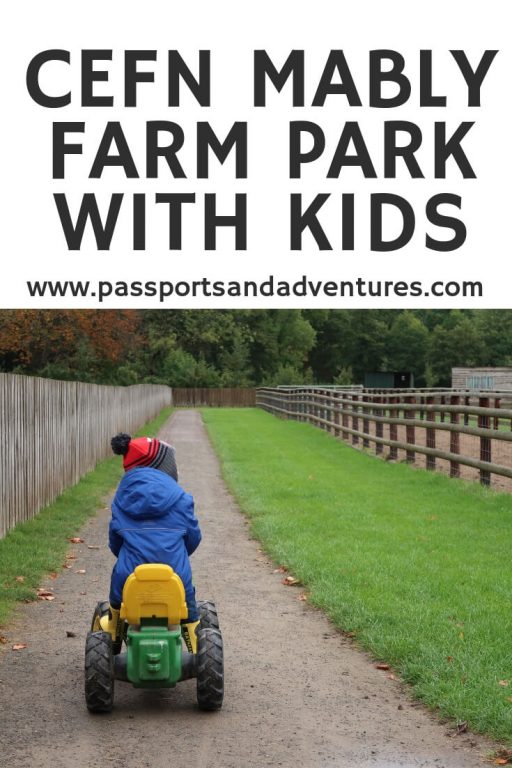 Related Posts