One place that almost eluded us during our time in Wales was St Fagans National Museum of History. Nestled on the outskirts of Cardiff, we nearly missed seeing this amazing place before we left the UK. However, we made sure to set time aside for it and today I'm going to tell you about visiting St Fagans with kids and how you too can enjoy it.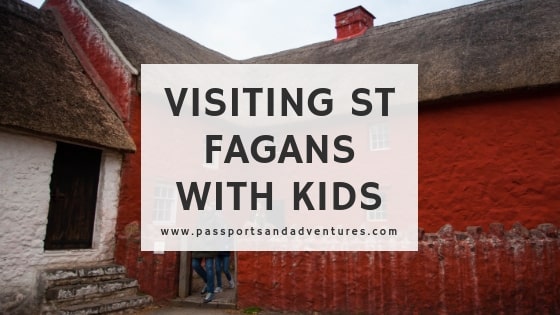 [The task] was not to create a museum which preserved the dead past under glass but one which uses the past to link up with the present to provide a strong foundation and a healthy environment for the future of their people.
(Iorwerth C. Peate, 1948), excerpt from the St Fagans website.
St Fagans, Wale's most popular heritage visitor attraction, was opened in 1948 as the UK's first open air museum. It chronicles the historical lifestyle, culture and architecture of the Welsh people. The site holds more than forty buildings, taken stone-by-stone and re-erected at the site near the village of St Fagans, after which it was named.
Also known as the Welsh Folk Museum, buildings at St Fagans include a chapel, school house, tannery, bakery, sweet shop, flour and woollen mills and many other buildings and houses. Originally started to depict rural Welsh life, it now includes buildings that depict industrial working life, many of whose industries are now extinct in Wales. The oldest building at St Fagans is that of St Teilo's Church, dating from between the 12th and 16th century, although there are reconstructions of Bryn Eryr Iron Age Roundhouses at St Fagans.
Visiting St Fagans With Kids – Our Visit
We very nearly missed a visit to St Fagans, but it was one place that we really wanted to visit before we left the UK for our new life in the sun. After chatting with friends, we decided on a date in just 10 days before our sailing. We met them in the car park of St Fagans this particular Saturday morning shortly before the opening time of 10am, and after paying our parking, we headed in to explore St Fagans.
Our friends had been a few times before but were happy to tag along so we could spend more time with them before we left the UK. They have a son who is 11 months younger than our son, so it was great they got to run around together.
First up on our visit was a playground that had several ride-on tractors. Well, you can imagine the trouble we had trying to drag two young toddler boys away from this area. But we knew we had the whole of the St Fagans Museum to see.
We eventually managed to drag the boys away on the promise of returning later, and we started our walk around St Fagans National History Museum in an anti-clockwise direction. The first building we came across was the Pen-rhiw Chapel, dating from the late 1700's and originating from Carmarthenshire. A beautiful building, our son enjoyed looking out the windows from the upper level.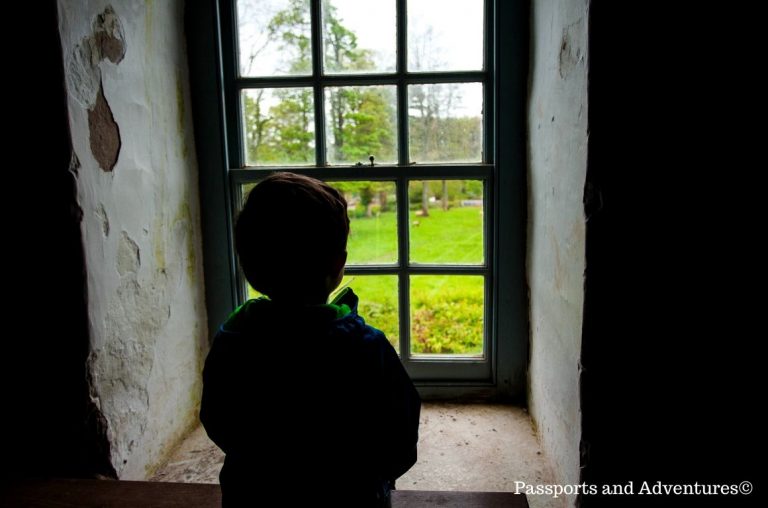 We continued towards a Farmhouse, with the two boys enjoying the walk alongside trees and sheep fields. We passed an old Hayshed before stopping to check out the Cilewent Farmhouse. From the Farmhouse we walked towards the Village of St Fagans, stopping to look inside the School and Saddler's Workshop.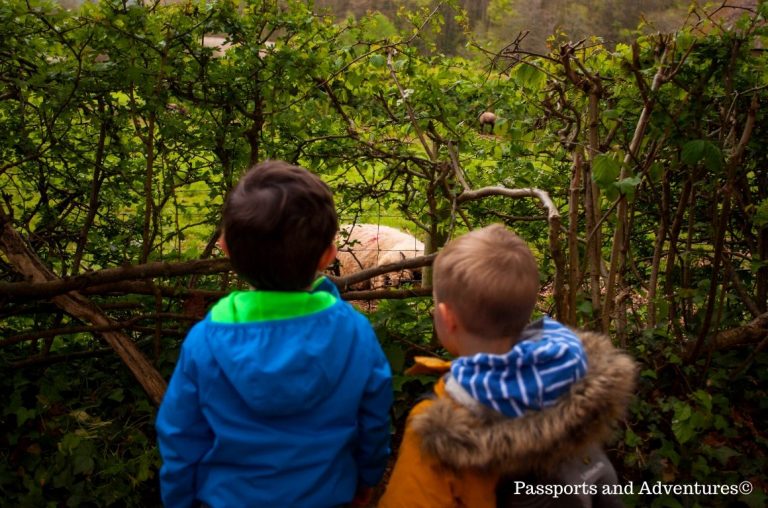 The Village area of St Fagans National History Museum seems to have the highest concentration of buildings. We popped into the bakery and bought some bread to take home with us. There were picnic benches beside the bakery, so we also indulged in a cuppa and some cakes while our friends fed their young daughter. The two boys had snacks which us mums had brought with us.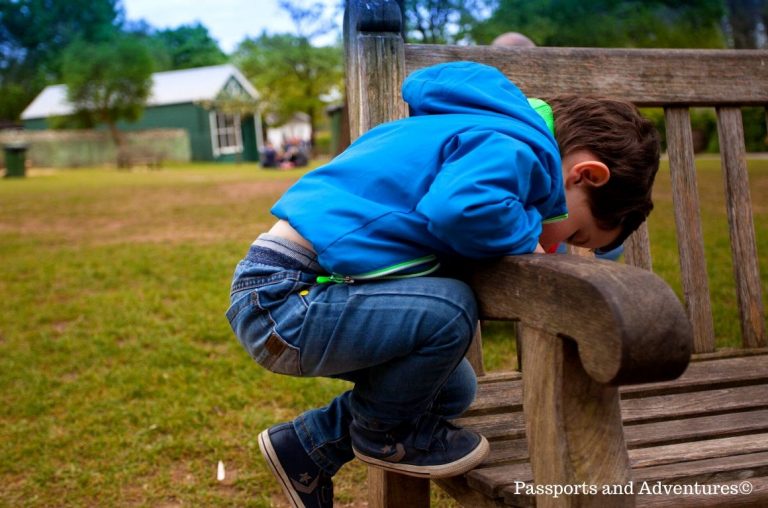 From the old Post Office of Blaenwaun to the Gwalia Stores, the Village was a hive of activity during our visit to St Fagans. There was also a fairground with a small carousel. Our son spotted a motorbike on it and insisted on going on it. However, just a minute in he decided he didn't like it and wanted off!
From the Village we made our way towards the Newbridge War Memorial and the Workmen's Institute via the Rhyd-y-Car Ironworkers' Houses. These were where we really got a feel for the home lives of the workers of Ironworks throughout Wales during more industrial times. The six houses depict life from the turn of the 1800's all the way to 1985 and have furniture and furnishings from the period from which they originate.
After a short stop to look inside the Workmen's' Institute, we made our way to one of the highlights (for me) of our visit; St Teilo's Church from Llandeilo, Tal-y-bont. This beautiful building sits in a clearing on its own and has a stunning interior. The inside was lost to 3-year-old our son and his friend. They had more fun trying to blow Jinny Joes (Dandelions) on the garden outside.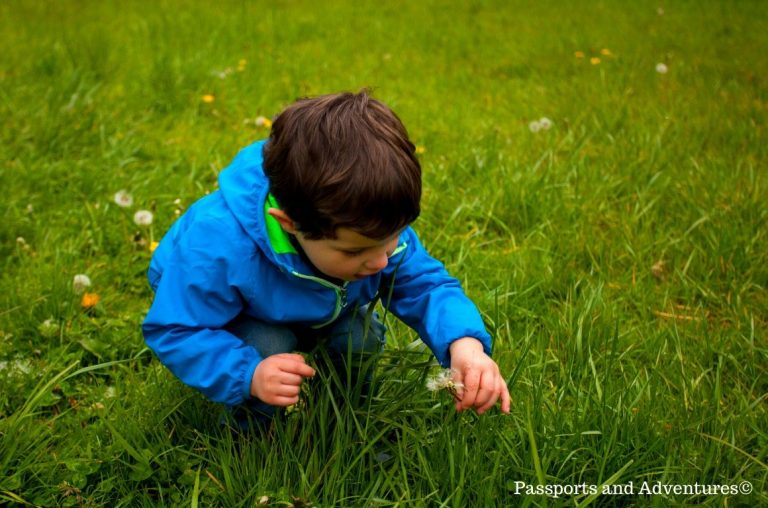 The Tannery was our next stop during our visit. Dating from the late 18th century, this wooden structure was impressive, and the boys had fun climbing the stairs to have a peek in the upper half of the building. From the Tannery it was a short walk through a wooden area to the Iron Age roundhouse, known to my husband and I as Cránnogs.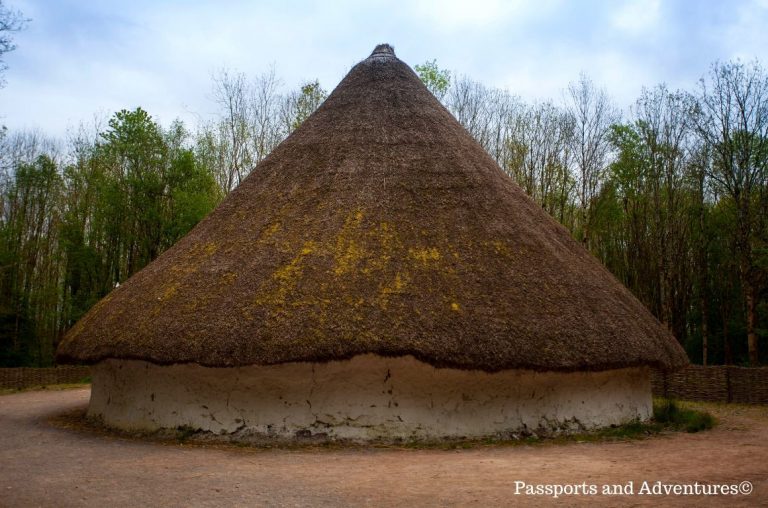 By this time, our two youngsters were getting tired, so we decided to cut our loses and head towards the exit, despite not having seen all that St Fagans National History Museum has to offer. We did, however, get to check out the Kennixton Farmhouse before we left. This building from the early 1600's, originating near Swansea in Glamorgan, is the building that is most frequently photographed in St Fagans, thanks to its red exterior.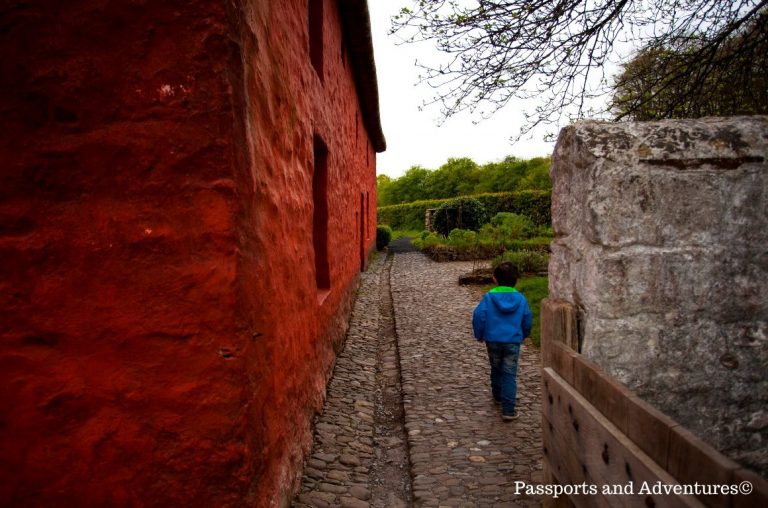 We departed St Fagans and had lunch in the lovely Plymouth Arms, St Fagans. We can certainly recommend this pub for lunch. Overall, we thoroughly enjoyed our visit to St Fagans, Cardiff, and although we didn't cover everything, we came away satisfied by what we had managed with kids in tow.
Visiting St Fagans With Kids – What you need to know and some tips
St Fagans opening times are daily from 10am to 5pm. Under 16's must be accompanied by an adult.
The St Fagans admission price – there is none. It is free.
There is ample parking at St Fagans, although be aware there is a £5 daily charge. You can get an annual parking ticket for just £25, great value if you plan to visit a few times throughout the year. This is available from Reception. Be advised you need change for the ticket machines in the car park as they do not accept notes or cards.
Buggies and wheelchairs are welcomed at St Fagans. The grounds are completely accessible, although the buildings are not.
If you are wondering if dogs are allowed at st Fagans, yes they are, provided they are kept on a short lead. Only guide dogs are allowed into the historic buildings. Owners are responsible for cleaning up after their dogs.
There is a restaurant at the entrance to St Fagans and there are a number of places to grab a tea or coffee around the site, mainly in the village. For full details on food and drink available at St Fagans, please visit this section of the website.
Toilets are located in the main entrance buildings, the castle and at the Workmen's Institute. Note that accessible toilets can be found at the main entrance, near the Rhyd-y-car cottages and in the Castle Yard, while baby changing facilities are only in the main entrance buildings.
Some picnic benches dotted around St Fagans and you are welcome to bring your own food and drink with you.
Several shops within St Fagans sell a range of products from jewellery to accessories and food and drink. We purchased some craft items from a stall near the Pen-rhiw Chapel and bread from the Bakery.
Tips for Visiting St Fagans with Kids
Keep an eye out for toilets and try use the ones in the entrance building before you start your walk. Regularly check if they need to go when you spot more, particularly newly toilet trained younger children.
Let children explore the buildings but keep a close eye on them. Watch out for signs saying not to sit on furniture or touch them. This is a museum after all.
Watch out for the sheep in the fields near the Abernodwydd Farmhouse.
Bring some change in case you want to visit the fairground.
If you want to end on a high, try to walk quickly passed the playground as you enter and visit it before you leave. There are lots of tractors in this area which children can ride.
Bring some snacks and a drink to help with hunger, thirst and boredom before you reach the village area.
If you want to avoid a tantrum in the stores within the village, have one parent stay outside while the other ventures inside. I let our son climb on some chairs and run around a tree while my hubby browsed the shops.
Most importantly, keep a hold of children in the car park, particularly at busier times.
The food outlets within St Fagans can get busy, so either bring a picnic or plan a visit to the Plymouth Arms Pub in the Village of St Fagans beside the National Museum of History. Service was a bit slow on the day we visited but the food more than made up for this.
Summary
If you are in the Cardiff area with children, I can highly recommend you bring them to St Fagans Museum of Welsh Life. It is a great place to explore, to discover the history of Wales and makes for a great family day out in South Wales.
Cath x
*We were not asked to write this review.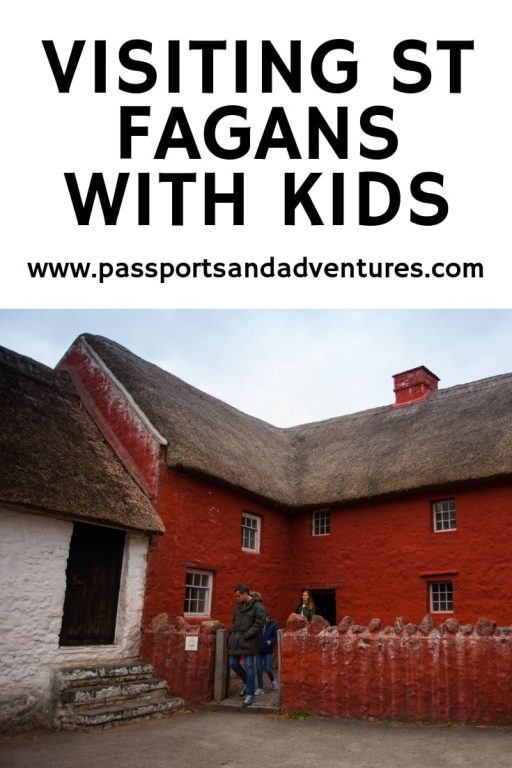 Related Posts