Cardiff is a city that we always enjoyed visiting with our son. Living in South Wales, we were regulars and always found something to enjoy with him while in the Welsh Capital. Our visits usually happened at weekends and we often combined food, sightseeing and shopping on our days out. In this post I'm going to share with you 5 fun things to do in Cardiff with kids to help you get the most out of your visit to this wonderful city, as well as give you some helpful tips for visiting Cardiff City with kids.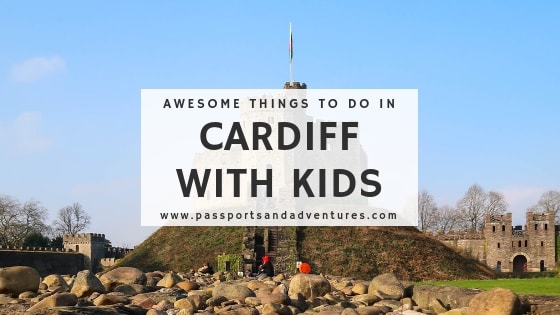 *This post contains affiliate links. To learn more about affiliate links, please read my Disclosure Policy.
*POST UPDATED JUNE 2019
Awesome Things to do in Cardiff with Kids
And now for the fun stuff. Three of the best things to do in Cardiff with children are located within the city centre and within easy reach of one another. The remaining kids activities in Cardiff are located in Cardiff Bay and on the outskirts off the Cardiff Ring Road. All are places we've enjoyed with our son, so can recommend them as things for kids to do in Cardiff.
Cardiff Castle
The former home of the Marquess of Bute, Cardiff Castle is a medieval castle whose motte and bailey originate from the late 1100's. Located in the city centre, it has many buildings to explore including the Norman Keep, the castle apartments and the Clock Tower. The battlement walls hold a surprise for anyone who explores them, making it one of the best Cardiff things to do with kids.
My husband and I had visited Cardiff Castle before we had our son and were quite surprised by some of the things we found inside. It is not the biggest of castles we have visited but there is plenty to explore at Cardiff Castle to keep adults and children happy.
The Norman Keep, one of the oldest parts of the castle is a great place to start. You can get a feel for medieval times and later within the castle apartments with its intricate wooden carvings, stained glass windows and opulent furnishings. There are tours for those with older children to enjoy as well.
The battlements have been one of our favourite places to explore within the grounds of Cardiff Castle. Not only can you walk long the top, but few visitors realise that the walls are actually tunnels until you visit the castle. These tunnels housed air raid shelters for people living within the vicinity of the castle during World War II.
Within the tunnels are atmospheric sounds and sirens to give you a feel for what it must have been like to be hiding in the walls during an air raid. They also have bunks, kitchens, supply and first aid rooms on display within these tunnels. It is one of the more interesting things to do in Cardiff for children who want to know more about the history of the city and castle.
Cardiff Castle is a wonderful place to visit in Cardiff with kids and should be on your must-do list for your time in the city. There are various events which take place in the castle during the year, namely the Meet the Knights or the Medieval Melee.
However, if you are not lucky enough to coincide your visit with these events, why not make your visit to Cardiff Castle more interesting for your little ones by turning it into a dragon hunt. We have done this with our son and it makes visiting castles so much more interesting for him. Boys can be knights hunting for the dragon, and girls can be princesses trying to escape one.
Read all about exploring Cardiff Castle with kids and our visit here.
Click here for latest ticket prices for entry to Cardiff Castle.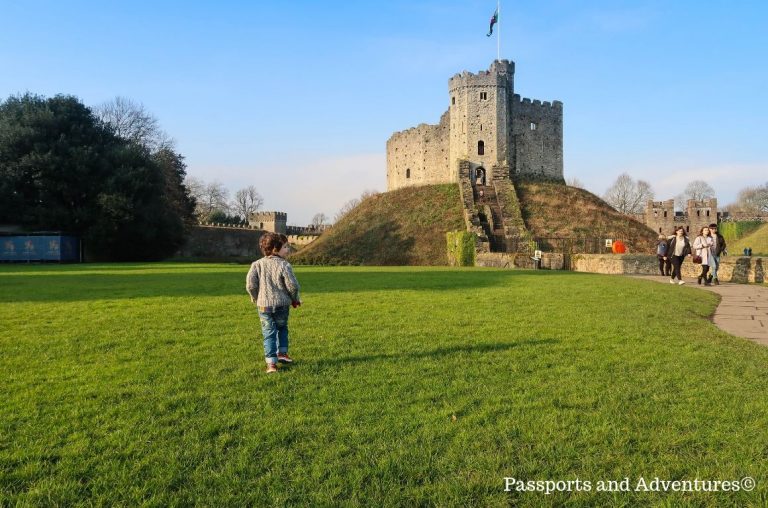 Bute Park
Nestled right beside Cardiff Castle, Bute Park is a great place to let the kids run off some steam during a visit to the city. It's also one of the best free things to do in Cardiff. This 130-acre Cardiff park, which was once part of the grounds of Cardiff Castle, was named after the 3rd Marquess of Bute. The landscapes gardens and parkland offer a combination of arboretum (with a large tree collection), flower gardens and recreational grounds.
Bute Park is open all year-round, from 7.30am until 30 minutes before sunset. It has 3 cafes and tearooms, extensive sports pitches, an education centre and a woodland play trail for kids to enjoy. If you want to venture further there are two bridges to take you to Sophia Gardens and Pontcanna Fields which lie just across the River Taff from the park.
We have ventured into Bute Park a few times with our son but never got the chance to really explore the park. My son and I explored some more of this brilliant park while we are in the city a little while ago. The first time we visited he enjoyed climbing a few trees. So, if you are wondering what to do in Cardiff with toddlers, I highly recommend a visit to Bute Park.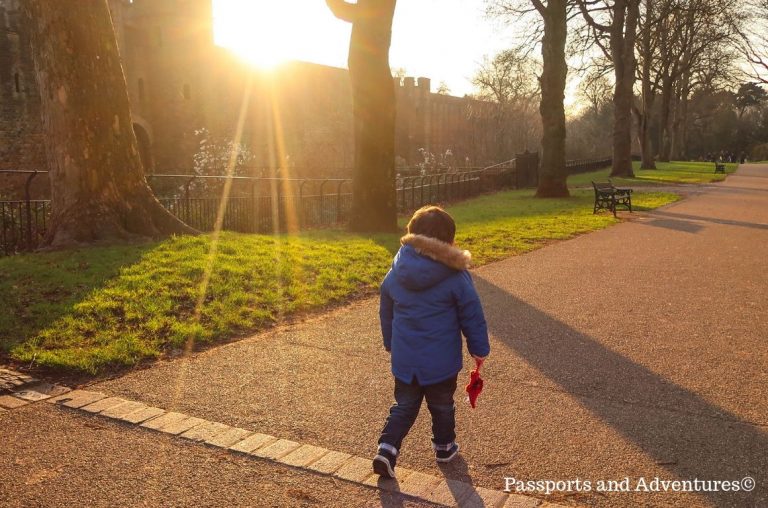 National Museum, Cardiff
Also known as the National Museum of Wales, this museum and art gallery is located across the road from both Cardiff Castle and Bute Park. Founded in 1905, the museum is located in a beautiful building in the centre of the city which was opened to the public in 1922, having shared a building with Cardiff Library until then.
The National Museum Cardiff has collections including archaeology, botany, art, geology and zoology. There are both permanent and temporary exhibitions at the museum. They even hold events called Toddler Time every Friday during term-time for younger children to explore the museum through play with special boxes of toys and games in different galleries. Events like these are some of the best things to do in Cardiff with toddlers.
My son and I attended the opening of a special exhibition in 2016 called Wriggle, the Wonderful World of Worms, which was an interactive exhibition about worms. It had several displays of various worms throughout time, a play structure in which children were introduced to the underground world of worms and other interactive activities. It was highly enjoyable and ran for several months at the museum.
Alongside exhibitions like this, the National Museum Cardiff holds other family-friendly events throughout the year and particularly during the summer months. Even if there isn't an event on, the museum is well worth a visit and it's also free. So, if you are wondering what to do in Cardiff with kids, especially on a rainy day, then a visit to the museum is recommended.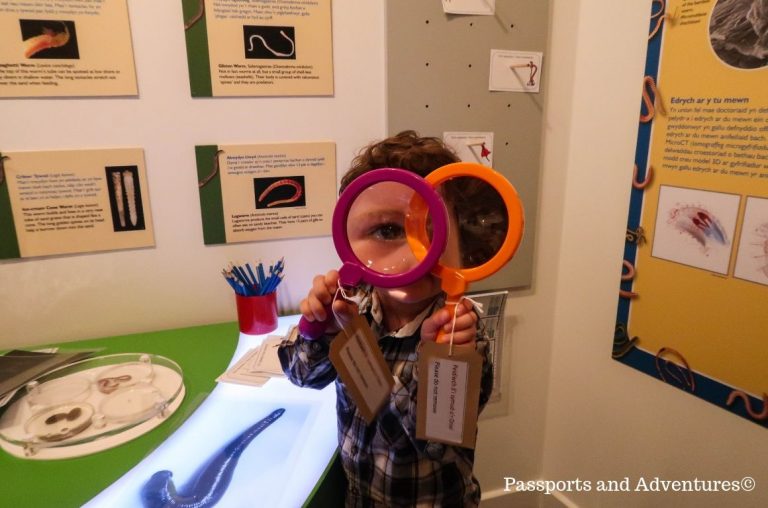 Techniquest
Found in the beautiful area of Cardiff Bay, Techniquest offers visitors a hands-on experience in science and technology. With a planetarium, science theatre and discovery centre, children will have hours of fun at Techniquest. It's one of the best places in Cardiff for inquisitive kids.
As well as the play and discovery areas, Techniquest offers exhibitions, shows and programmes designed to make science accessible to everyone, even toddlers. Once a month during term time, Techniquest is taken over by toddlers in their Toddler Days, which are often themed. During these days toddlers take centre stage, being allowed to explore through play, and it is one of the best things to do with toddlers in Cardiff.
On other days of the year, children of all ages as well as adults can learn about science and technology through a range of displays, exhibitions and talks. Being the UK's longest established science centre, Techniquest has something to delight everyone.
My son and I visited Techniquest with a friend and her son on one of their Toddler Days and it was a very enjoyable visit, albeit a very busy one. The two boys had fun exploring the displays, splashing in the water section and had the most fun with some ribbon in a wind tunnel. If you are in the Cardiff Bay area with children I highly recommend you take time to visit Techniquest. It is by far one of the best places in Cardiff Bay for kids.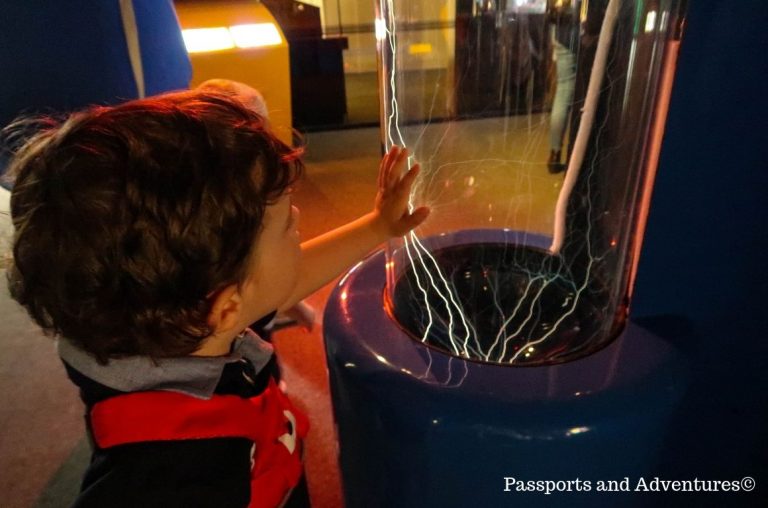 St Fagan's, National Museum of History
St Fagan's is one of the best kids attractions in Cardiff in my opinion. Situated beside the village of St Fagan's after which it was named, along one of the main ring roads around the outskirts of Cardiff, St Fagan's is a fun day out for the whole family in Cardiff.
Originally known as the Welsh Folk Museum, it opened in 1948 and is the top heritage attraction in Wales. Each building has been taken, stone-by-stone, from its original location and rebuilt at St Fagan's. From the oldest building of St Teilo's Church from Swansea dating back to around 1100, to the youngest, a prefab bungalow from 1948 (not including the newer purpose built main entrance and House of the Future), St Fagan's is a chance to literally step back in time.
Each building contains furnishings from the time of its origins or in-habitation, and gives visitors a sense of what it was like to live in those years. There are six iron-worker's cottages which span from the year 1800 to 1985 and show how the houses of the workers developed and evolved through nearly two centuries.
Although it was originally meant to depict rural life, industrial houses and buildings were added, many from industries now extinct in Wales.
St Fagan's is truly a place not to miss if you are visiting Cardiff. There are over 40 buildings to see and explore, as well as the village, the hub of St Fagan's.
You can imagine life in Wales from as far back as the Iron Ages, all the way up to the 1980's. There is a school, tannery, bakery, general stores, post office and many more to visit within the grounds.
A playground near the main entrance will delight any young children who are fans of tractors. But be warned, it's hard to drag them away from here. There are lots of open spaces for kids to run around and let off steam, sheep to "Baa" at and one or two tearooms and cafes to grab a cuppa at.
We visited St Fagan's with friends of ours shortly before leaving the UK for good and it was a very memorable day out. Both our son and his little pal thoroughly enjoyed themselves, as did we adults and it is somewhere I would love to return to during return trips to Wales. If you are ever in the Cardiff area, I urge you to set aside a day to visit the St Fagan's National Museum of History. It is one of the best family things to do near Cardiff.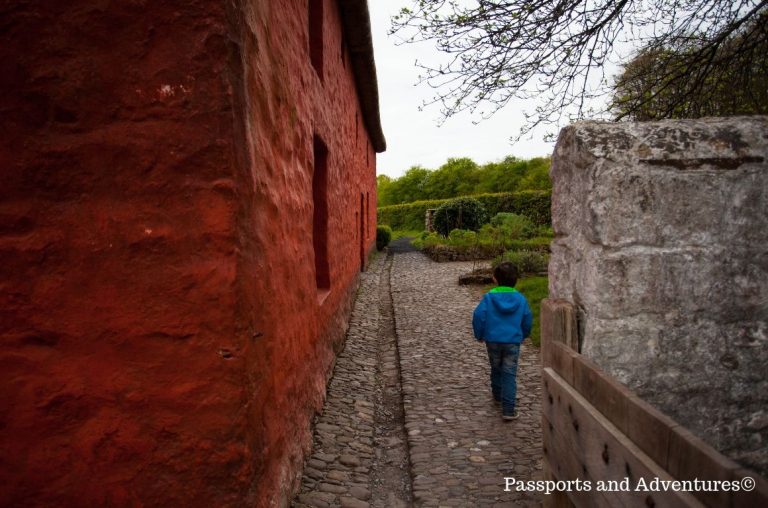 Other great things to do in and around Cardiff with kids
If my top 5 things to do in Cardiff for families isn't enough, or if you are looking to get a bit further outside of the city, then you could add some of these suggestions to your Cardiff itinerary.
Principality Stadium Tour – One of the best things to do in Cardiff for kids who love sports would be a tour of the home of Welsh Rugby.
Roath Park – The other of the main Cardiff parks, Roath is a lovely place to getaway from the hustle and bustle of the city with kids.
Treetop Adventure Golf – Located in St David's 2, this can provide lots of fun in Cardiff for kids.
Cardiff Story Museum – Another great free Cardiff activity for kids and their families, located in The Hayes, this museum allows families to learn about the history of the city.
Aqua Park – A new fun, splashy addition to the city for the summer, it's one of the best fun things to do in Cardiff Bay during the summer.
Infinity Trampoline Park – A great rainy day activity for kids in Cardiff, let them bounce to their hearts content.
Boulders Climbing and Pebbles Soft Play – Another great indoor place to take the kids on a rainy day in Cardiff. Older ones can try their hand at the climbing walls, while younger ones will love the soft play.
Royal Mint Experience – One of the best things to see near Cardiff is the Royal Mint. Take a guided tour and learn about the history of the Royal Mint and much more.
Cefn Mably Farm Park – Located just of Junction 28, Cefn Mably is a great farm park to bring the kids near Cardiff and will provide hours of fun as they get up-close-and-personal with farm animals and more.
Caerphilly Mountain View Ranch – Just located over the mountain towards Caerphilly, the Mountain View Ranch is one of the best things to do with kids near Cardiff. With a Gruffalo Trail, Fairy tree house and more, you'll easily spend most of a day there.
Hop On Hop Off Sightseeing Bus – One of the best ways to get to know a city is by hopping onto one of the sightseeing buses. And the same can be said of Cardiff. Get your bearings, visit some of the great things to do with children in Cardiff, and use it as a form of transport. Click here for latest prices and to book your tickets.
Things to do in Cardiff City with kids – Shopping and Eating
Whether you have one day or several days in the city, Cardiff can be enjoyed with kids in tow. Much of the central part of the city, around the shops, is pedestrianised so you can enjoy wandering around the shops with your little ones without having to worry about crossing streets or cars. Queen Street is the main shopping street, completely pedestrianised, where you'll find all the usual high-street shops.
Off this is St David's Shopping Centre, with two sections; the older original part, and the newer St David's 2. Be warned, St David's 2 houses a Hamley's, Disney Store and a Lego Store, all within yards of each other on the lower level. And they are unavoidable with kids in tow! You've been warned.
Within St David's you'll find a number of food outlets, but if you are after breakfast, we highly recommend you visit Truffles, a small restaurant located in Church Street, around the corner from the market. The Eggs Benedict was my personal favourite, while our son loved their pancakes.
As for lunch, we often stopped into Jamie's Italian for some tasty dishes but this is unfortunately closed now, or we ate in Bill's Restaurant on Mill Lane. Neither venues ever served us a bad meal. These eateries can double up as places to have dinner. We were never in the city for dinner but would wholeheartedly recommend either of these restaurants for dinner as well. Another great place to eat with kids is the PieMinister. Read a review of this established from Mummy's Diary.
And if you'd like a treat, why not book afternoon tea in Cardiff. There are lots of places to choose from and the kids will love being posh for an afternoon!
Tips for visiting Cardiff with kids
Now that you know some of the best things to do with kids in Cardiff, I thought it would be a good idea to give you some tips for planning your visit to Cardiff with children, some tips on where to stay in Cardiff and how to get around Cardiff once you are there.
How to get to Cardiff
Cardiff has an international airport with good links to a few UK and European cities. It has links to other cities around the world via connections in some of the main European cities such as Dublin and Amsterdam. To check flights, routes, availability and prices, I recommend you use Skyscanner. Click here for the UK Skyscanner website, or here for Skyscanner USA.
Cardiff has good connections to other UK cities via both bus and train. The main train operators to the city are Arriva Trains Wales and Great Western. Cardiff has direct links to London Paddington and the journey time is approximately 2 hours.
You can also reach Cardiff by flying into Bristol Airport and getting a bus or train to the city.
By car, you can reach Cardiff from anywhere else in the UK. The main motorway running near Cardiff is the M4. You can also reach Cardiff from Ireland by using Stena Line ferries from Rosslare to Fishguard and driving to the city.
Where to stay in Cardiff
Cardiff City Centre is relatively small and easy to navigate. There are some good hotels within the city including the following:
There are also lots of B&B options, particularly along Richmond and Newport Road, as well as other hotels. You can also find plenty of AirBnB options within the city. You can also choose to stay outside the city if you have a car. I can recommend the Premier Inn at Caerphilly Crossways for a budget, family-friendly option. Or for pure luxury, the Celtic Manor Resort.
How to get around Cardiff once you are there
Cardiff is a city with good public buses serving most of the city. They are cheap and reliable and most will have areas for storing strollers/buggies. There are also good connections between Cardiff and some of the outer suburbs via train and Cardiff is directly connected via train to the likes of Caerphilly, Bridgend and Newport. For bus routes and timetables check Cardiff Bus. And for trains within the city and further afield, check the Trainline website.
There are also plenty of taxis throughout the city and the city has introduced a bike hire scheme too.
Within the city centre, walking is the best option as much of the centre is pedestrianised. Cardiff is relatively easy to get around and with much of the centre being quite compact, you won't find it hard to navigate your way around.
In Summary
Cardiff has so much to offer families with kids. These are just some of the great things to do in Cardiff with Kids. There are many more attractions in and around Cardiff for families to enjoy but these rate high on our list.
And if you are looking for a quiet getaway without the kids, why not check out this awesome guest post I featured a little while ago on the blog from a local to Cardiff.
Have you visited the Welsh Capital before?
Cath x