So, you're planning a trip to Disneyland Paris, but not sure how to spend your time there wisely. Well, let me take the stress out of that process and give you some guidance with my Disneyland Paris 3-day itinerary. Do you also need basic help to plan Disneyland Paris for your family? I can help you with that as well. If you've already booked your tickets and know how you are getting to one of the most fun places on the planet, skip past the planning section and head straight to the itinerary for Disneyland Paris section.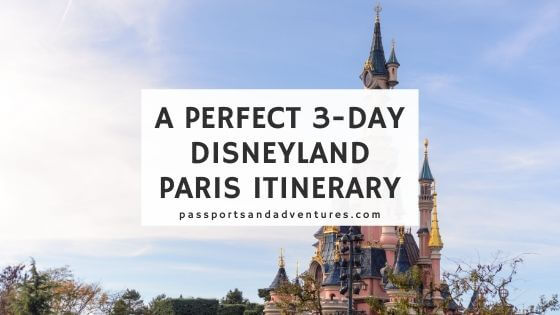 *This post contains affiliate links. To read more about affiliate links, please visit my Disclosure Policy page.
Going to Disneyland Paris and planning this trip can be daunting for some people. Where do you start? Before we took our son to what was once called Euro Disney, I did a lot of research. From how to plan a trip to Disneyland, to getting from the airport to the park, to which hotel to stay in and more, I investigated it all and learned a lot in the process.
Once we had booked our flights, hotel and transfers my focus went to planning how to ensure we saw and did the best of Disneyland Paris in the time we had.
We were arriving into Paris late on a Monday afternoon and leaving on Friday lunchtime. So, although we had four nights, we only really had 3 days in the park and I wanted to maximise that time, especially as I did not know how many trips to Disneyland Paris we would make in the future, if any at all. If this was going to be our only one, I wanted to make it the best it could be.
I searched high and low for a Disneyland Paris itinerary planner but couldn't find any. So, I decided to create my own. In this post I'll help you by sharing our itinerary and how I planned our time there so you can create your own Disneyland itinerary. Although we had 3 days in the park, the plan I outline below can easily be used to create a 2-day Disneyland itinerary if you are short on time.
Covid-19: Disneyland Paris phased reopening and important information
Getting to Disneyland Paris
Before you plan your time in the parks you need to know exactly how long you have to maximise it well. Are you taking a day trip to Disneyland Paris from either the city or somewhere close by? Are you planning a trip to Disneyland Paris for a few days? How much time you have to spend in the parks will dictate what you can achieve. Both parks CAN be visited in one day, but you are going to be limited in just how much you can fit in.
Also, are you arriving by car, train or are you staying in one of the Disney hotels? Because this too will dictate how much time you have in the parks.
For the ultimate list of Disneyland Paris tips, read my how to guide here. This includes my full guide to getting to Disneyland Paris by ferry, car and plane, where to stay and other tips and tricks for Disneyland Paris with kids.
Our Disneyland 3-day itinerary – How to spend 3 days in Disneyland Paris
In this section I will detail our itinerary for our family trip to Disneyland Paris and how we spent our time in the Disneyland Park and Disney Studios to give you an idea of what can be achieved during a visit to Disneyland Paris.
Day One – Disneyland Park
Taking advantage of Extra Magic Time as we were staying in the Disneyland Hotel, we arrived into the park for opening at 8.30am and made our way to the entrance of Fantasyland at the Cinderella castle. Once the rope was removed, we made our way to one of the most popular Disneyland Paris rides, Peter Pan, which we had been warned would have huge, lengthy queues later in the day. We enjoyed this and other Fantasyland rides including
Dumbo the Flying Elephant
Mad Hatter's Teacups
Le Carousel de Lancelot
We then made our way to the Plaza Gardens Restaurant where we enjoyed a characters breakfast at 9.45am, meeting Mickey, Donald and Daisy Duck, Tigger and Piglet.
After a short walk around, we found our spot and watched the Christmas Parade. After this we enjoyed the following rides and meet and greets:
Pirates of the Caribbean
Buzz Lightyear's Laser Blast
Darth Vader meet and greet
Autopia
After these, we made our way to the Disney Village and ate in Annette's Diner. Since we had seen the Christmas parade, we decided not to see the main parade and as a result got a table for 6 very easily. After dinner, we made our way back into the Disney Park to watch the Illuminations fireworks show at 7pm (early as our visit was in December). Following the fireworks, we hung around, browsing shops before getting a picture in front of the castle.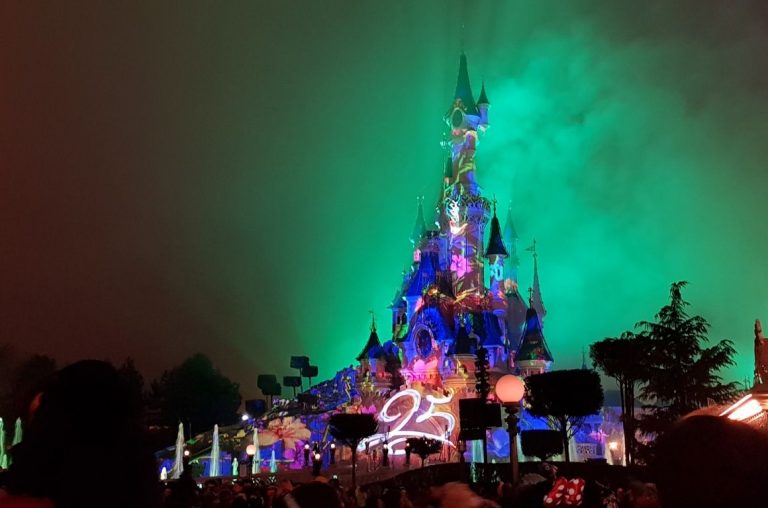 Day Two – Walt Disney Studios
Upon leaving breakfast, we managed a meet and greet with Minnie Mouse in our hotel before making our way to the Walt Disney Studios where we queued for the Goofy Meet and Greet during EMT.
Next was another of the extremely popular rides at Disneyland Paris, Ratatouille. We had been advised to do this during EMT to avoid the queues of over an hour later in the day.
While my husband went to ride the Tower of Terror, I queued with my son for the Buzz Lightyear meet and greet. After this, we met up and went to see the Moteurs Action Show. Then it was time for another meet and greet, this time with Spiderman. And finally, a ride on the Cars Quatro Rally before a late lunch at Bistro Chez Remy.
By the time we finished it was evening and dark, so a bit of shopping in the Disney Village ended our day.

Day Three – Disneyland Park
We started our day with another character breakfast in the Plaza Gardens restaurant, this time at 8.15am. After breakfast and meeting some characters, we decided to try and meet Mickey Mouse in his official house. The waiting time was less than an hour which was tiny compared to the 2-hours+ we had seen on the Disneyland Paris app on previous days.
We then took a ride on It's A Small World and my son and I did another ride on Dumbo while my husband went on the Indiana Jones ride, taking advantage of the single rider policy.
We then meet Baloo and King Louis before enjoying a ride around the Disney Park on the Railroad train. From the train we took another ride on the Pirates of the Caribbean, as requested by our son, before having lunch and a birthday cake in Captain Jack's restaurant.
Our final show of the visit was to see Mickey and the Magician in the Walt Disney Studios before rounding off our visit to Disneyland Paris with dinner at the California Grill in the Disneyland Hotel.
Although we had an outline of things we wanted to do in the parks, we had to deviate from our plan due to a mix-up with our lunch timings in Bistro Chez Remy and we decided not to see the main Disney parade due to heavy rain. But apart from these, we ticked off most of the things we wanted to see and do.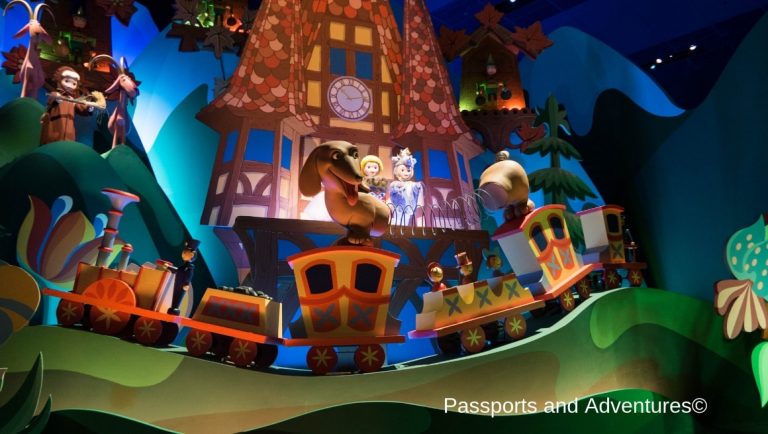 A 3-day Disneyland Paris Itinerary and Plan
Here is what our Disneyland Paris plan and itinerary looked like after I researched and planned our time in the parks.
Day One
8-10am: EMT at 8.30am, Castle Picture at rope, rides in Fantasyland and Peter Pan.
10am-12pm: Characters breakfast in Plaza Gardens, shopping in Main Street before getting parade spot outside Discoveryland entrance.
12-2pm: Christmas parade and lunch.
2-4pm: Rides in Discoveryland including Buzz Lightyear, Autopia, Orbitron, Darth Vadar meet and greet.
4-6pm: Dinner in Disney Village.
6-8pm: Return to Disney Park for Illuminations, shopping and castle picture.
Day Two
8-10am: Meet and greet in hotel, EMT in Studios for Ratatouille ride, any meet and greets and Crush Coaster ride.
10am-12pm: Buzz Lightyear meet and greet, Moteurs Action show.
12-2pm: Lunch in Bistro Chez Remy, more rides.
2-4pm: Cars Quatro Rally, Slinky Dog, RC Racer, Flying Carpets rides.
4-6pm: Mickey and the Magician show, shopping and dinner in Disney Village.
Day Three
8-10am: Characters breakfast in Plaza Gardens.
10am-12pm: Fantasyland rides, Baloo and King Louis meet and greet, Pirates of the Caribbean ride.
12-2pm: Lunch in Captain Jack's.
2-4pm: Fantasyland and Discoveryland rides.
4-6pm: Main Disney parade.
6-8pm: Dinner in California Grill.
Extend your time around Paris and take one of these great days trips from Paris as detailed by Jade from The Migrant Yogi.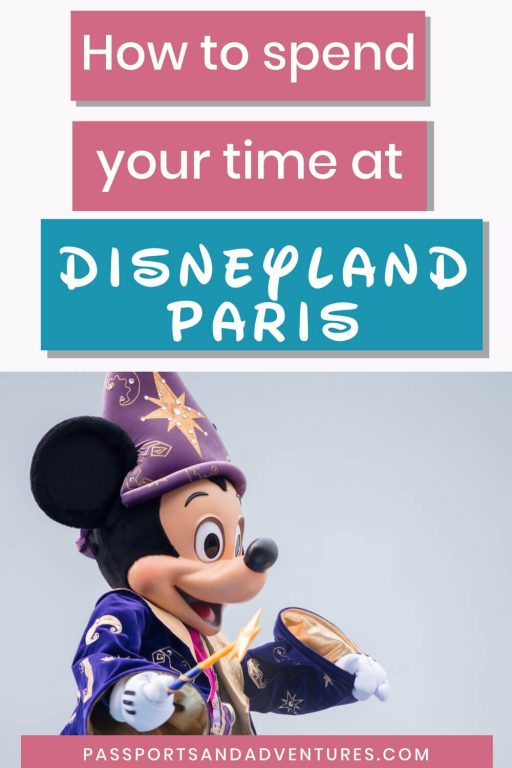 Tips for planning your time at Disneyland Paris
To maximise your time in the two different parks, there are some things you can do before you arrive and take into consideration when putting together your plan for the parks. This will ensure you get the most out of your time, and ensure you know exactly what to do and what to see in Disneyland Paris for all the family members.
You need to list all the things to do in Disneyland Paris that you want to cover. From rides, food, parades, shows, fireworks, character meet and greets, make a full list.
Now you need to delve deeper into the Disneyland Paris rides everyone wants to do. Make a list and note which area of the park they are in. You can find a list of rides, their areas and more Disneyland Paris attractions on the official Disneyland Paris website. Some of the best rides in Disneyland Paris will have long queues, so find out if they are included in Extra Magic Time (which you will get if staying in one of the Disney hotels).
If anyone wants to see them, make a note of the Disneyland Paris parade times which are detailed on the official Disneyland Paris schedule which you can find here. This should also give you details of the Disney shows, their location and times.
If you or any of your kids want to do a character meet and greet, the information of the locations and times of these are also on the official schedule which is updated on a regular basis. Make sure to consult this when putting together your Disneyland Paris itinerary.
Now it's time to start planning. I used a simple table to decide our itinerary. I broke it down into 2-hour slots for each day, but you can use 1 hour slots, whatever works for you.
For Day 1, decide what park you will be visiting and what you want to do including shows, any parades, character meet and greets (making a note of the times they take place) and rides, and whether you'll be using Extra Magic Time. You also need to factor in dining, especially if you are booked into a specific restaurant.
Start filling in your schedule for day, allowing 1.5 to 2 hours for dining, especially if you are using table service. Also, aim to arrive 15 minutes before a character meet and greet is due to start to try to get as close to the top of the queue as possible. And allow up to an hour for each meet and greet.
You will need to allow plenty of time for rides, particularly if you do not have the option of EMT. Download the official app or consult the Disneyland Paris Crowd Calendar to get an idea of live waiting times for rides as these will have to be factored in.
Once you have filled in day 1, repeat for subsequent days. Ideally allow at least one day per park and then split any additional time between them as you see fit depending on what you and your family want to do in Disneyland Paris.
You should now have an outline of what you will be doing and in which parks for each day of your visit.
FAQ About Planning a Trip to Disneyland Paris
What are the two parks in Disneyland Paris?
The two Disneyland Paris parks are the Disneyland Park where you will find the castle and the Walt Disney Studios.
What time does Disneyland Paris open and close?
If you are staying in any of the Disney Hotels, the Disneyland Paris parks open for Extra Magic Time at 8.30am, which may be included in your park tickets. For general admission, the Disneyland Paris park opening times are 10am. The Disneyland Paris closing time changes depending on what time of the year you are visiting. In winter, when we visited, the Disneyland Park closed at 7pm and the Studios closed at 6pm. But in summer, the parks stay open later with the Disneyland Park staying open until 11pm.
Can you visit Disneyland Paris for the day?
Yes, you can visit the parks for one day and you can see and do most of Disneyland Paris in one day, depending on what you want to do. You might need to either split your time between the parks or choose one. My husband and I visited for one day and visited the Disneyland Park in the morning and the Walt Disney Studios in the afternoon. But trust me, you won't get everything done.
In Summary
I hope that I've helped you with your Disneyland Paris planning by sharing our own Disneyland Paris itinerary and giving you my hints and tips on how to maximise your time in the two parks. And remember, if you only have 2 days at Disneyland Paris, you can adjust my itinerary or, with my tips, plan your two days to ensure you get the most out of your time there.
If you'd like a copy of my Disneyland Paris Planner, with my hints and tips for completing it for your own trip to Disneyland Paris, simply click this link to get details on how to download it. You can also join my monthly newsletter for all my latest blog posts at the same time.
And if you fancy extending your trip and spending some time in Paris, check out the great Paris itinerary post from Designs for Travel for some ideas.
Cath x

Related Posts