Taking your kids abroad for the first time can be a daunting prospect, but with this post myself and my fellow bloggers have just made it a whole lot easier. With these first family holiday abroad tips, you're sure to feel less stressed and more excited about flying abroad for the first time with your kids.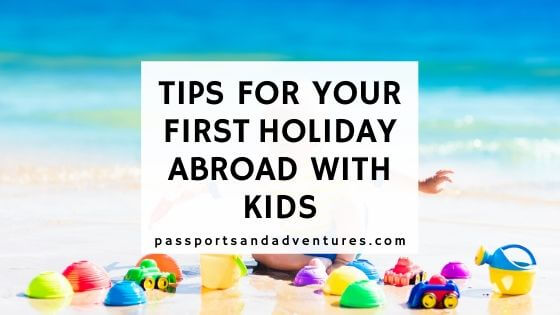 *Post first published in June 2018. Updated in March 2020.
Travelling abroad with your little ones for the first time can bring on all sorts of stresses and worries. I can remember all the thoughts going through my head as our first family holiday abroad drew nearer. Our son was eight months old and I fretted about everything from the flight, to food as we were weaning, and the weather. I wish I'd had a list of tips for parents embarking on their first holiday abroad with kids to help ease those worries and to maybe remind me to keep certain things in mind.
Well, for those of you facing your very first family holiday abroad, I've got you covered. To go alongside my post which detailed tips for flying with a baby or toddler, I wanted to get some insight from my fellow travel bloggers as to what tips they would share with parents who were facing their first holiday abroad with kids. As for my biggest tips for parents about to go on their first family holiday abroad, I would say firstly relax and secondly, plan what you can but be prepared for those plans to go out the window, especially with young kids in tow.
First Family Holiday Abroad Tips – Tips for your first holiday abroad with kids
As already mentioned, myself and my fellow bloggers have out together a list of tips for traveling abroad first time as a family. Whether you are going on holiday abroad with a toddler or this is your fist set of holidays abroad with kids who are older, these tips will help families of all shapes and sizes plan it better and be better prepared for that time in the sun, on the beach or even on the slopes.
Pay for convenience
I covered this somewhat in my tips for flying with babies and toddlers post, when I've mentioned things like paying to park as close to the airport as possible, and I couldn't agree more with Char and Carla who have both expanded on that.
Char from Taylor Hearts Travel recommends where possible you pay for convenience to minimise stress and I totally agree. She suggests getting the closest airport parking because
Who wants to lug kids and a million bags on a packed transfer bus.
She also suggests getting a bigger room or family suite, so when the kids go to sleep, you have your own space other than the bathroom. A bigger hire car will also help reduce the stress of playing Tetris with bags and kids.
Meanwhile, Carla-Marie from My Bump 2 Baby also pays for convenience. On a recent trip to Mexico with their 20-month old, they looked for a resort with a baby club as well as a good bar. She wanted some reassurance that she and her partner could have some time away together if they needed it.
We had a great time and in the end, we barely used the baby club at all, but it was nice to have the option.
Get the kids prepared
For older kids, Nikki from Yorkshire Wonders suggested you encourage them to do chores in the weeks before you go to 'earn' their holiday spending money. Not only does it get them excited for their jollies but it helps them to learn
that the harder they work, the more they can reap the benefits later on.
Packing do's and don'ts
Packing for that first family holiday abroad is probably one of the biggest points of stress for any family. Whether it's a beach holiday or a ski holiday, many families worry a out what to bring and what to leave behind.
Leona from Wandermust Family says that you really don't need as much stuff as you think. She says
you will regret over-packing.
and she's totally right. The amount of times I've packed loads and not worn half of it is too many to count! Even our son hasn't worn all the items of clothing I've packed on many a holiday!
Emma from Me and B Make Tea says to never forget the Calpol.
We took our son away to Lanzarote at aged 9 months and one day in he had a raging fever. I was so pleased we'd taken plenty of Calpol.
If you want to know how to pack like a pro when travelling with kids, you need to read this post I wrote. I detail what you need for each member of the family for both long weekends away and longer holidays. There's even a free printable checklist for you.
And if you are wondering what other essentials you might need when travelling with a baby, check out this post.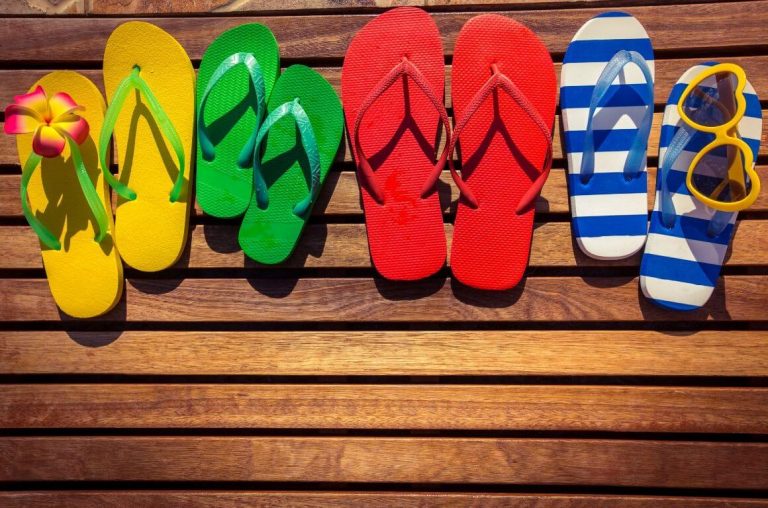 Take it easy
Despite having great plans in place for your holiday destination, sometimes you need to just take it easy, especially with kids in tow. During our two-week USA road trip, I made sure we had some down time after our long travel days as I knew both us and our son would need it.
It's also good to just go with the flow sometimes as Erin from Yorkshire Tots suggests. She says
Take it easy and go with the flow if you can as kids might need more down time in a new place than you think. If you're a planner and can't help yourself, have a bunch of 'ideas' ready rather than 'must dos'.
While Jodie from Jodie and Finn suggests you not only make sure you've got a nice room with a balcony and view for the evenings, you shouldn't worry about routine.
We ruined the first few days of our first family holiday as we tried to stick to routine, so just go with the flow.
We did exactly the same thing during our first family holiday abroad to Gran Canaria, so much so we didn't enjoy it and went home 3 days earlier than planned!
Go local
While in a new country it's good to check out the local culture and food, even with kids. Holidays abroad with children don't necessarily mean you need to stick to what you know. Nor do they need to mean a holiday complex with a pool and kids club.
Emily from Kids and Compass says that if you want to travel through a country rather than staying in on place
… then consider taking a private tour. Having a dedicated driver can be very helpful – they can recommend shops, safe places to eat and help you with any problems that might crop up. This leaves you able to enjoy yourself and entertain the kids stress-free.
Victoria from Fabulous Mummy says to remember to shop locally and don't be afraid to let your kids try local food. They were in the middle of weaning so took loads of little tubs and baby spoons with them and found lots of fresh fruit and yogurt for their baby.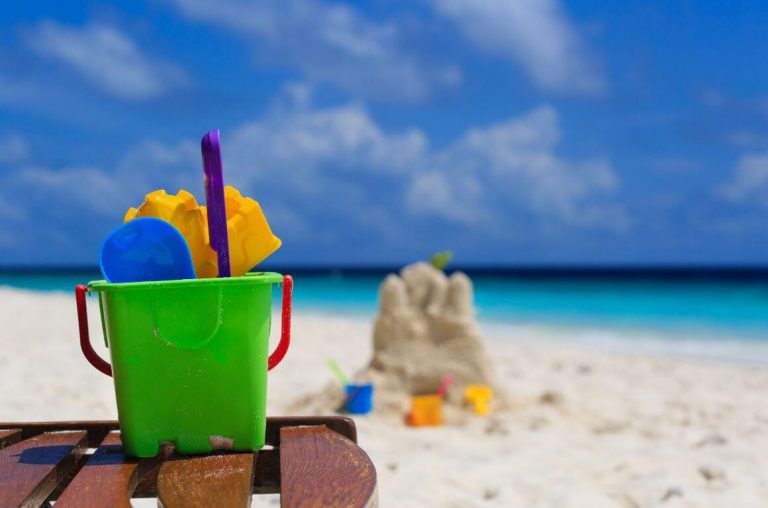 Plan, plan, plan
Despite some of my fellow travellers saying to go with the flow when it comes to your first family holiday abroad, there is still an element of planning that you really should do before you travel.
One of the biggest tips that came through when I asked my fellow travel bloggers was to bring snacks, particularly for the flight.
Hannah from Adventure Travel Family says that bringing some of your kids favourite non-perishable snacks from home such as dried fruit sweets or cereal will help ease them into the new foods at you holiday destination.
As well as remembering snacks and things to keep your children entertained on the flight, Suzy from Our Bucket List Lives says to try and travel in the middle of the day and also try book somewhere with a balcony so you've got somewhere to sit while your kids sleep. She also says to check what extras you can take on the plane
as airlines often allow you to take a car seat or buggy at no extra cost.
It will save you a lot of money taking your own car seat rather than hiring one.
Kelly from Reduced Grub says that time zones can make or break your first couple of days so if you need to wake your kids on a long flight early, do it as
there is nothing worse than being stuck in a hotel room with hyper kids at 3am.
Nicolette from Archie and the Rug says try to plan to travel with bedtime so they can sleep through.
They may flop on you and you might not be rested but your kids will.
Carrie, whose blog Flying with a Baby is a brilliant travel resource, says plan ahead. See what facilities are where you are headed and use that knowledge to pack accordingly. Bring a few snacks and extra nappies in case of flight delays and also
jot down the local emergency number/hospital before you go. Also, screen shot your passports and email yourself a copy in case they ever go missing/stolen and you need to prove your identity.
And for more helpful tips about flying and holidaying abroad with kids, check out this great post from Eva at Captain Bobcat. With tips about the flight, packing and dealing with jetlag, it's a must-read for those about to embark on an overseas holiday with kids.
Summary
These are the top tips my fellow travel bloggers would give parents about to head off on their first holiday abroad with kids. There's even one or two I hadn't thought of myself, so I'm so glad I asked for their help with this post. I hope you find this post helpful and if there is anything you could add to the list, share it in the comments below!
Cath x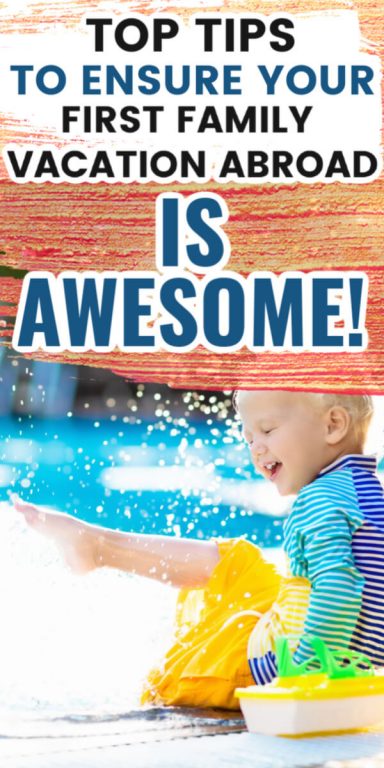 Related Posts