Considering a road trip from Portland, Oregon to Yellowstone National Park? Then this is the post for you. Here you'll find full details of the route we took for our Yellowstone National Park road trip and details on driving distances, travel times and places to stop in this Portland to Yellowstone 2-week itinerary.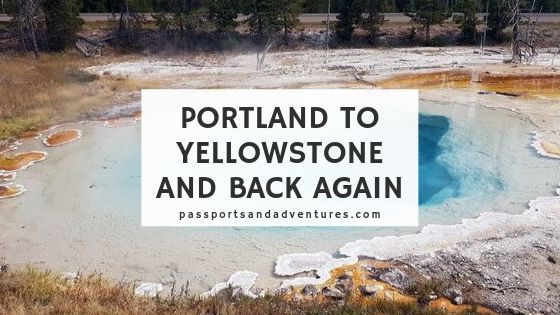 UPDATE SEPTEMBER 2019
Many of you who read the blog and follow us on Instagram will know we did an epic two-week USA road trip in 2017 in which we went from Portland to Yellowstone and back again. It was 11 months in the planning, from Portland to Yellowstone, and came around rather quickly after we moved to Portugal. Before we knew it, we were getting ready to go.
I had so much to write up about our trip. From amazingly beautiful Yellowstone, to smoky Montana, to hip and trendy Portland, we packed in a lot over our two weeks. I had some people ask me about our itinerary so I thought I would share our route, distances, driving times and places to stop for those considering doing a Portland to Yellowstone road trip.
My husband and I shared to Portland to Yellowstone drive, hubby typically starting and me taking over when tiredness started to hit him. If you are planning on driving from Portland to Yellowstone National Park, I highly suggest there are at least two drivers in the car to share the journey.
So, here is what our itinerary for our two-week trip looks like from Portland to Yellowstone and back again, with 36 hours in London.
Portugal to London – Thursday, 1000 miles, 2 hours 30 minutes
When we booked our flights to Portland from Heathrow in October 2016, we were still well and truly living in Wales. Delta Airways had just opened their new (and the only) direct route from Heathrow to Portland, in association with Virgin Atlantic. This made a huge difference to how our trip was going to work out. When we had previously looked into the trip, we would have had at least one, if not two stop-overs, trying to fly into an airport near to Yellowstone National Park. With a toddler in tow, this would not have been ideal. But a direct flight most definitely was.
That said, once we moved to Portugal, we needed to book flights to and from the UK to connect with our Portland flight. The only airline flying to Heathrow from Faro around the weekend of our trip was British Airways. We flew to Heathrow on the Thursday evening (there were no other flights before our Portland one), two days before our flight to Portland. This flight was just under two and a half hours. Following this, we had 36 hours in London and we had a great day in London.
Read about our time in London here and what 5 things you can do in London with a toddler in tow here.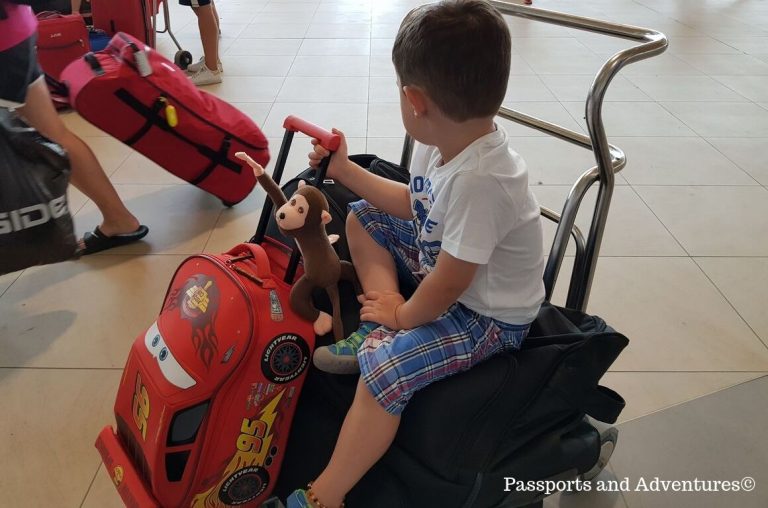 London to Portland – Saturday, 4897 miles, 10 hours
Our flight from Heathrow to Portland with Delta Airways left London at 12.30pm and was scheduled to be 10 hours 55 minutes, arriving at 3.15pm local time. We actually arrived ahead of schedule at 2.30pm. This is the longest flight we have done with our son to date and it was us adults who were getting bored long before he was.
If you are flying with a baby or toddler for the first time, check out my post with great tips for flying with babies and toddlers here.
Portland, Oregon to Richland, Washington – Saturday, 227 miles, 3 hours
Our first destination on our road trip from Portland to Yellowstone was going to be the National Park itself, but the distance from Portland to Yellowstone would have involved between 762 and 829 miles, and a minimum of 12 to 13 hours driving, without stops, depending on the route we decided to take. You can either go over the top of the Nez Perce Clearwater National Forest or around the bottom of the Sawtooth National Forest. We had a look on Google Maps and saw nice roads around the Nez Perce route, so opted for that.
But with our son in tow, we decided to break up the driving by stopping at a town called Richland, in Washington state, for an overnight stay before driving the rest of the way to Island Park close to Yellowstone. So, after picking up our Hertz car for the two-weeks, hubby drove us to Richland via I-84 and the very beautiful Columbia Gorge Creek.

Richland, Washington to Island Park, Idaho – Sunday, 607 miles, 12 hours
From Richland we made our way to our AirBnB accommodation in Island Park, Idaho, located 30 minutes from the West Yellowstone entrance. We had looked into staying within Yellowstone itself but this proved to be outside our budget.
Leaving our hotel at 6am, our route took us along some stunning scenery past Coeur D'Alene, along I-90, until we turned off onto US-287. From there we met up with I-20, just south of West Yellowstone and it was a short hop to Island Park where our log cabin was located. This was a long haul and we stopped four times along the way, twice to fill up with gas (as the Americans would say), once to stretch our legs, and once in Missoula for lunch. It took us a total of 12 hours to drive the 607 miles. Our drive from Santander to Tavira, when we moved to Portugal, was good practice for this trip.
Yellowstone – Sunday evening to Friday morning
We spent 5 nights in our AirBnB wood cabin and toured Yellowstone National Park over four days. Although we didn't get to see absolutely everything, we came away from our visit thoroughly content with what we did see. Our son did not complain once during the trip, as you have a lot of driving around the park to do. We got to see some stunning natural wonders along with quite a few of the animal inhabitants of Yellowstone. I cannot recommend Yellowstone National Park enough.
Read my full guide about visiting Yellowstone with kids here to help you plan your own adventure.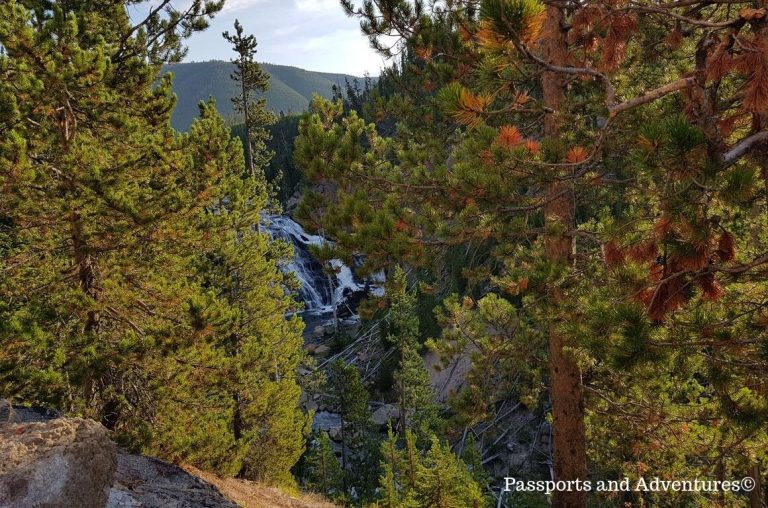 Island Park, Idaho to Lolo, Montana – Friday, 280 miles, 4 hours 30 minutes
Leaving our AirBnB accommodation in Island Park at 9.30am, we took I-20 to US-287. We stopped once to fill up and use the toilet and, taking I-90, we arrived at Missoula, Montana, the main town beside Lolo at 2pm. Since we arrived early and before our check-in time for our next AirBnb, we stopped for lunch at a great Five Guys in Missoula.
This drive back was not as clear as the drive towards Island Park. We later discovered that a lot of Montana's forests were on fire and the smoke we drove through was pretty awful, reducing visibility quite a bit.
Lolo and Missoula, Montana – Friday evening to Monday morning
We spent 3 nights in Lolo, the next town over from Missoula. Our plans were to visit Lolo National Forest while we were there but unfortunately those plans went by the wayside as there were wild fires across Lolo National Forest, along with many of the other forests in Montana. So, instead, we discovered some other delights close to Lolo like the National Bison Range, the Garden of 1000 Buddhas, and Missoula town itself.
Read about the great things to do in Missoula with kids here.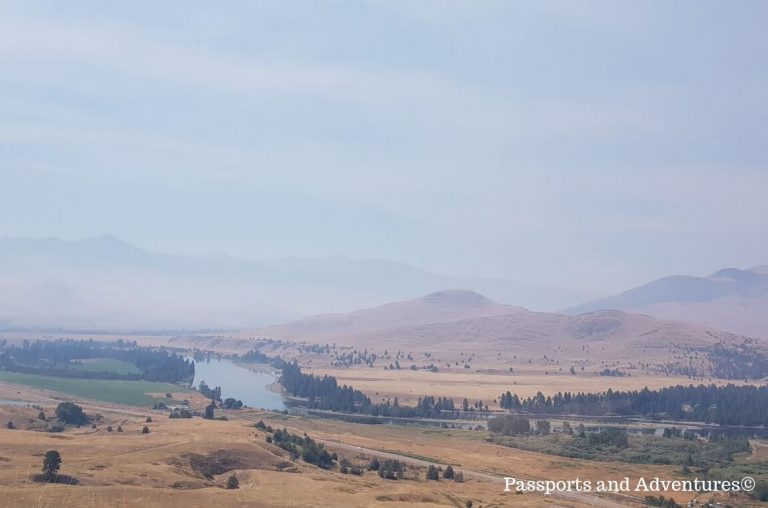 Lolo, Montana to Richland, Washington – Monday, 350 miles, 6 hours
As we made our way back towards Portland, we had another overnight stay in Richland planned. Leaving our AirBnB accommodation in Lolo by 9.30am, we travelled back along I-90, through 350 miles of smoke haze, which had various degrees of visibility, until we arrived in Richland at 4pm, local time. We had crossed a time zone when we left Montana.
We filled up just once on this trip and stopped once for lunch in a town called Spokane. I drove the first 230 miles, while hubby did the last 120 miles. We passed Coeur D'Alene again but could barely see this beautiful lake due to the smoke haze.
Richland, Washington to Portland, Oregon – Tuesday, 227 miles, 5 hours 30 minutes
We left our hotel in Richland at 9.30am but didn't arrive at our accommodation in Portland until 3pm. The reason for this was the forest around Multnomah Falls and along the Columbia Gorge Creek had gone up in flames on the Sunday, and as a result, I-84 was closed. This meant we were diverted around Mount Hood, adding a couple of hours onto our journey.
Our intent was to visit Multnomah Falls on our way to Portland as I really wanted to photograph it, but that never happened. We filled up once on this trip and stopped for lunch off Highway 35 for lunch. Our final long leg of driving had come to an end.
Portland, Oregon – Tuesday afternoon to Saturday afternoon
We spent four nights in Portland and thoroughly enjoyed our break from driving. We visited a few places where our son could relax and enjoy himself like Oregon Zoo and the Children's Museum. It was nice to have a chance to relax after an epic 11 days, 3000 miles and 60+ hours in the car. We did a little shopping, ate good food and got ourselves ready for our return trip to Portugal via London.
Read about some awesome thing to do in Portland with kids here.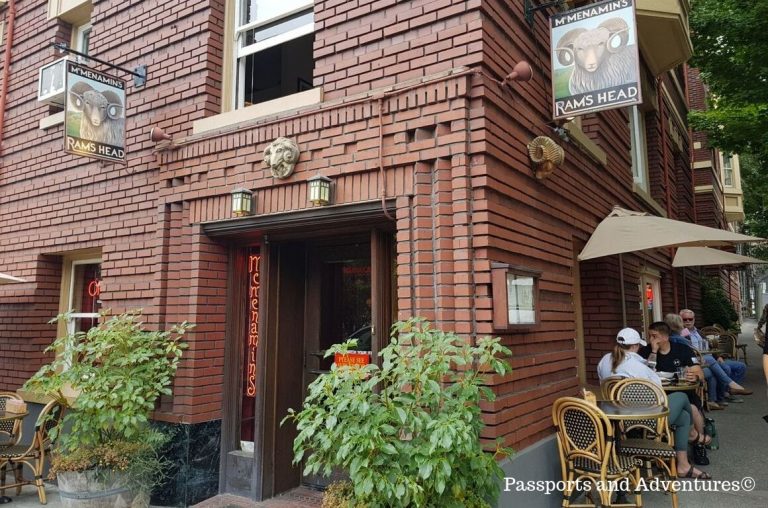 Portland, Oregon to London Heathrow – Saturday, 4914 miles, 8 hours 42 minutes
As always, on the return trip from America, we had a good tailwind, so our original flight time of 9 hours 55 minutes was a lot quicker and we got to Heathrow ahead of schedule. I managed a few hours' sleep, along with our son, but hubby never manages more than a few minutes on planes. It was a pretty uneventful flight.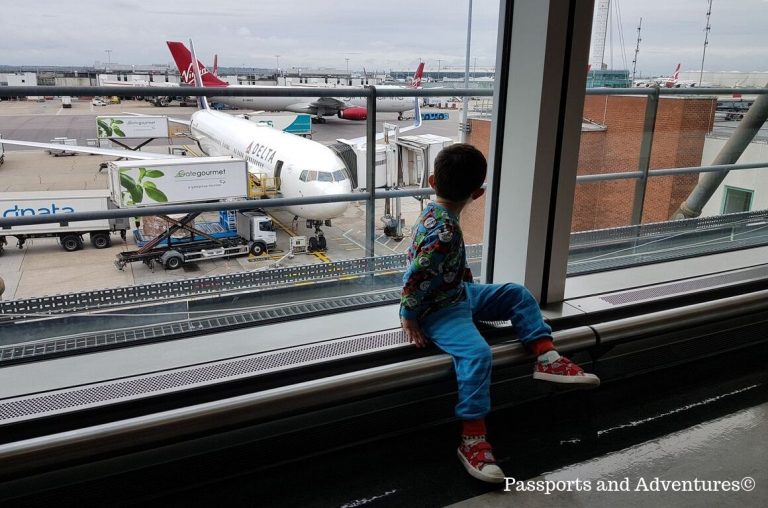 London to Portugal – Sunday, 1000 miles, 2 hours 15 minutes
We had a few hours to kill in Heathrow between flights, so once we got rid of our bags we had lunch and did a little shopping before our flight to Faro was called. Unfortunately, we were delayed by almost 2 hours as they couldn't get a passenger with a broken leg off the aircraft. Not what we wanted at the end of our holiday, all we wanted was to get home to our beds.
Summary
So, there you have it, our full itinerary for our epic 2017 USA, Portland Oregon to Yellowstone road trip, going from Portugal to London, to Portland, to Yellowstone, and back again. We covered a lot of miles, both in the car and by plane, and we'd do it all again. That said, if we were to do it all again, the only thing we would change would be the time of year we go.
Due to wild fires in many of the forests in the Pacific North West, we didn't get to visit Lolo National Park or Multnomah Falls. We also drove through 600 miles of smoke haze from Montana all the way to Portland and had it until our very last day in Portland itself. We'd perhaps choose to go earlier in the summer before it gets hot and dry enough for wild fires. Other than that, we wouldn't change a thing.
Have you done an epic road trip similar to this? I'd love to hear all about it!
Cath x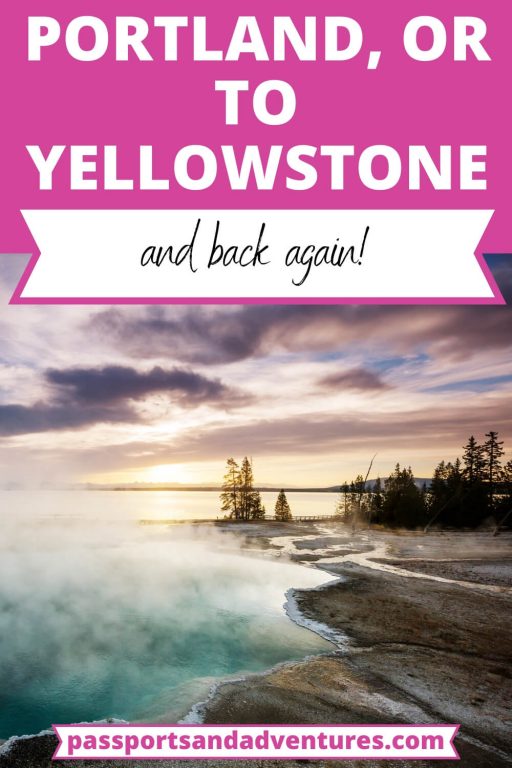 Related Posts